Say Cheese! 6 Indian Wedding Couple Poses That Are Every Photographer's Favourite Shots
Now that you've aced your pre-wedding shoot poses, it's time for the final big event. The wedding! Are you eager to know the tricks to rock your wedding photo-shoot too? Check out these 6 Indian wedding couple poses for some inspiration!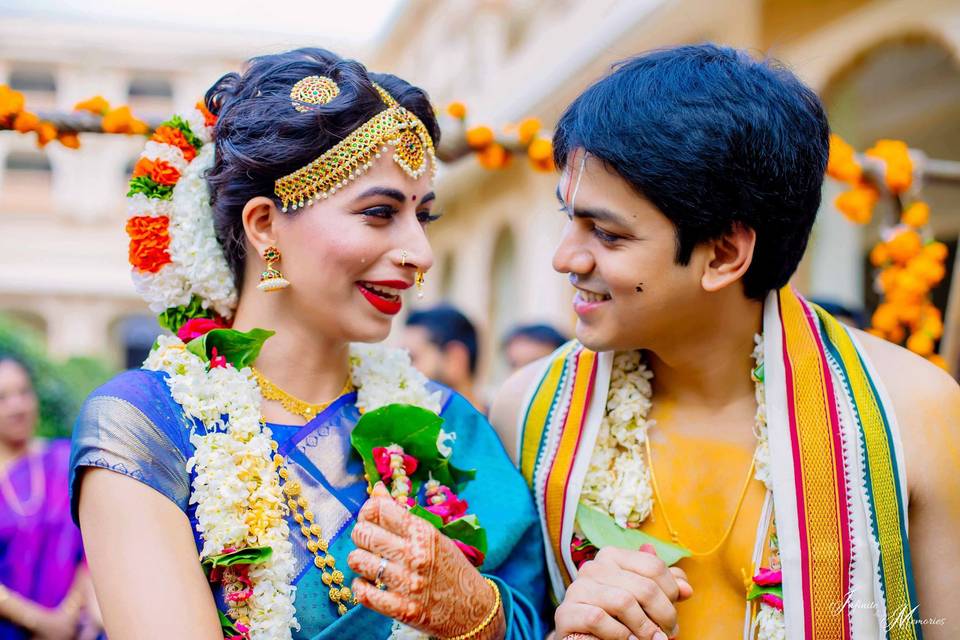 What's the secret ingredient for a smashing wedding couple shoot? Is it the wedding outfit, makeup, lights or the location? Experts say, other than all of these, the most important factor that makes a couple photo a success are the true expressions. Expressions that display the beautiful chemistry between the two. Getting excited to know more? We have come up with six of the most adorable and stunning Indian wedding couple poses that every wedding photographer simply loves to click. Take a good look and maybe you could extract some helpful insight!
1. Romantic Dance Floor Moments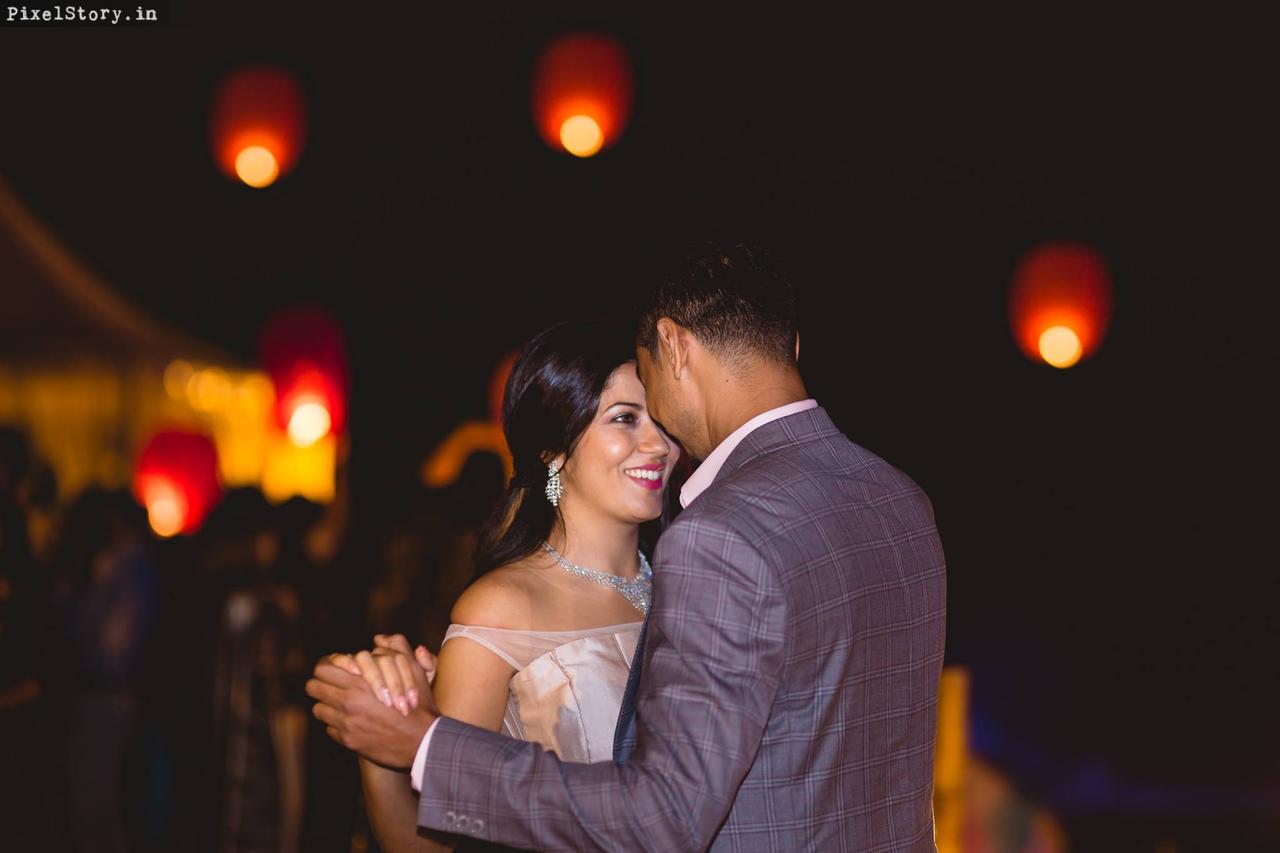 When you take on the dance floor with your first couple dance on Sangeet, everyone can't just keep their eyes off you! The chemistry, the passion that's so real teamed up with your favourite romantic dance songs, would automatically become the key contributor of gorgeous Indian wedding couple poses. Do the tango or sway in each other's arms to a classic Waltz...just feel the rhythm of music with each other and you don't have to worry about posing at all!
Why it works: Dancing is a great way of expressing. So when you swing to your favourite music with your partner, the expressions will be real. And hence a sure recipe for a beautiful photo!
2. Playful Haldi Moments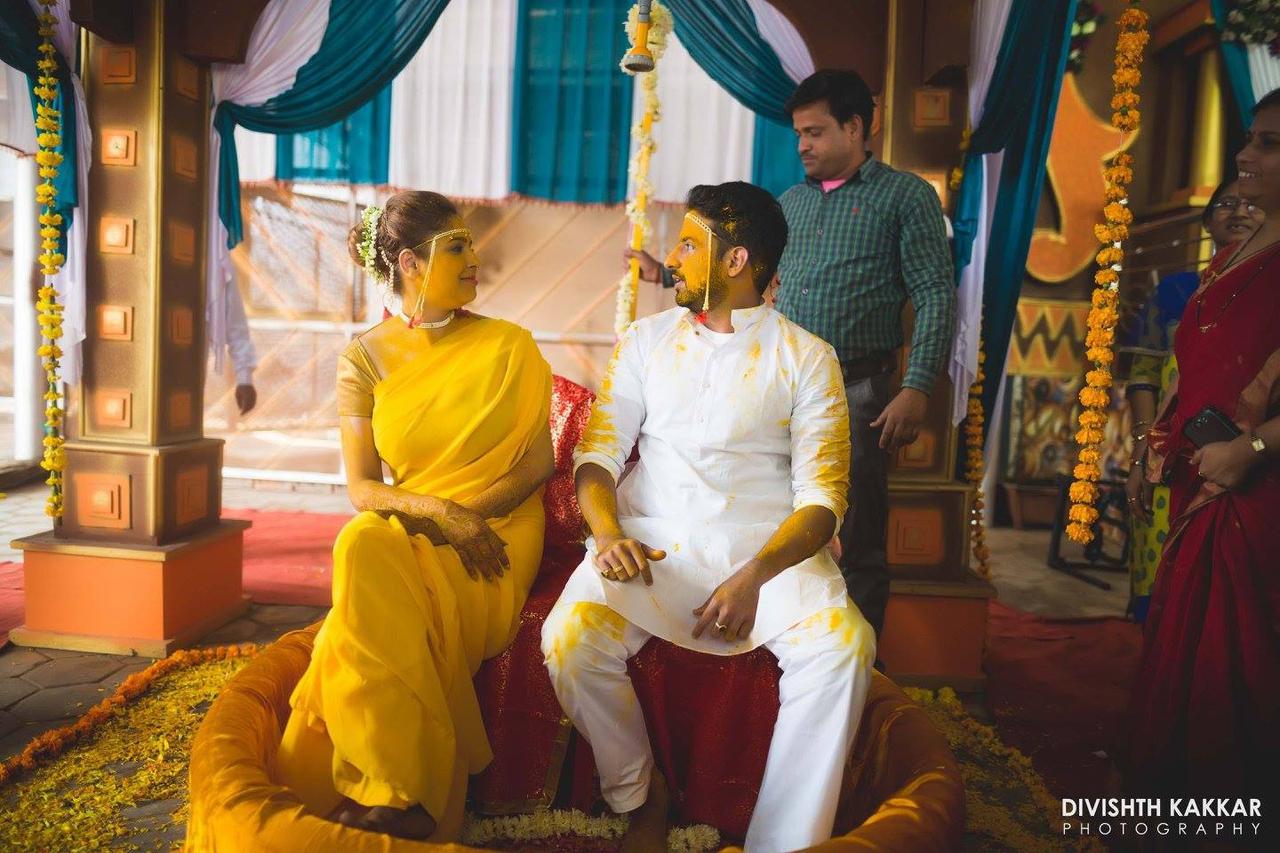 Haldi is undoubtedly one of the favourite wedding ceremonies of Indian photographers. And why not! The colours, the playfulness the cheerful vibes- they all bring out the most candid expressions in a wedding. Wear your brightest kurta pajama and a vibrant looking skirt & top, get crazy with the colours and just let the photographers capture some of the most refreshing Indian wedding couple poses of all times.
Why it works: The sheer fun nature of the ceremony allows the couple to drop all inhibitions and forget about the camera. That brings out the cutest moments which you would enjoy watching over and over again!
3. Steal the Glance Moments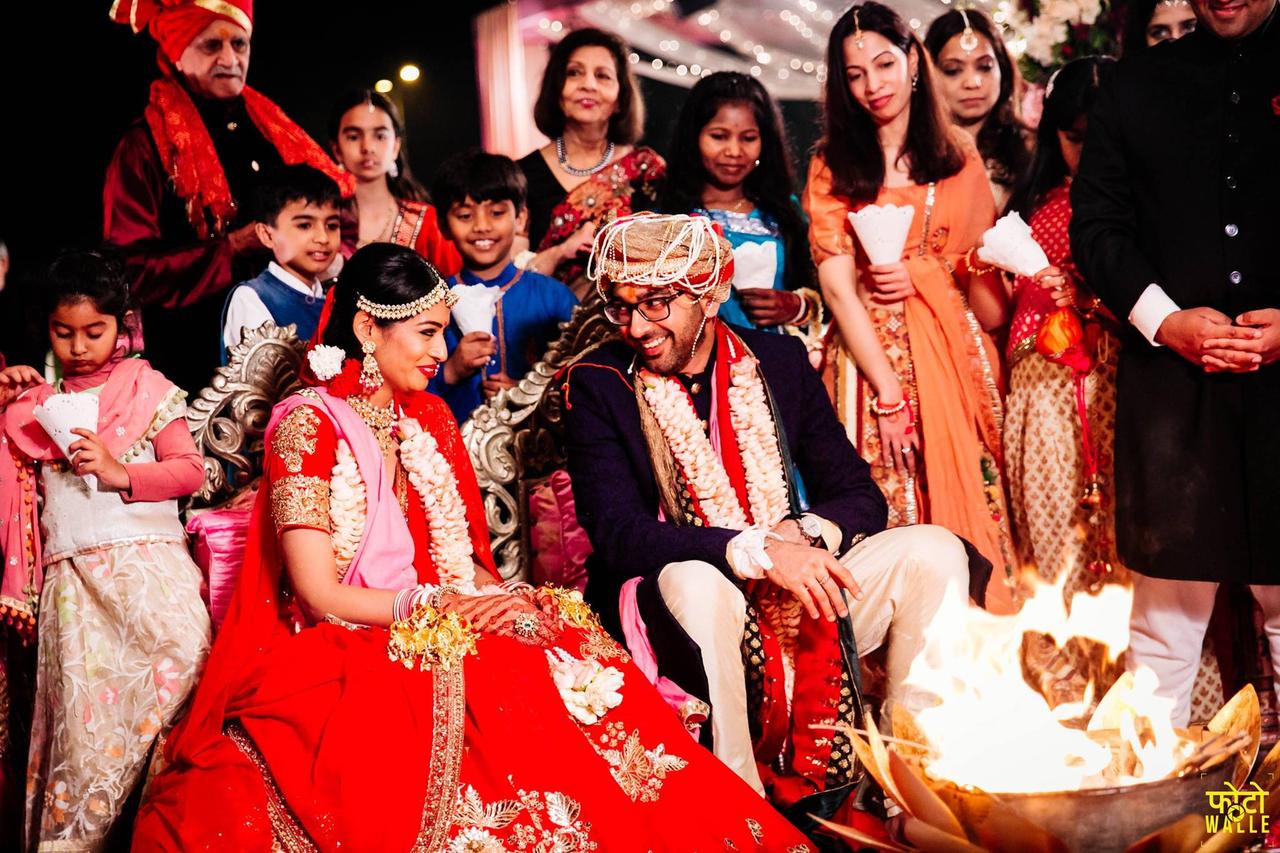 This is one of my favourites! Ever noticed the bride and the groom sneaking a few glances and smiles at each other while the wedding ceremonies are going on? Those are easily one of the sweetest Indian wedding couple poses. Amidst all the wedding rituals, Saath Phere and mantra chanting, there are always a few moments when the two love birds exchange a coded message to each other. Although it's more of a candid bit rather than a pose, try to steal a few seconds to say how much you love each other...if not in words, in smiles!
Why it works: Mainly because it's an exclusive "us two" moment in the middle of the whole wedding crowd. It's like a secret language of love that only the couple shares and uses to express their feelings. If captured right, this could become a wonderful cover photo for your wedding album!
4. Fun Jaimala Moments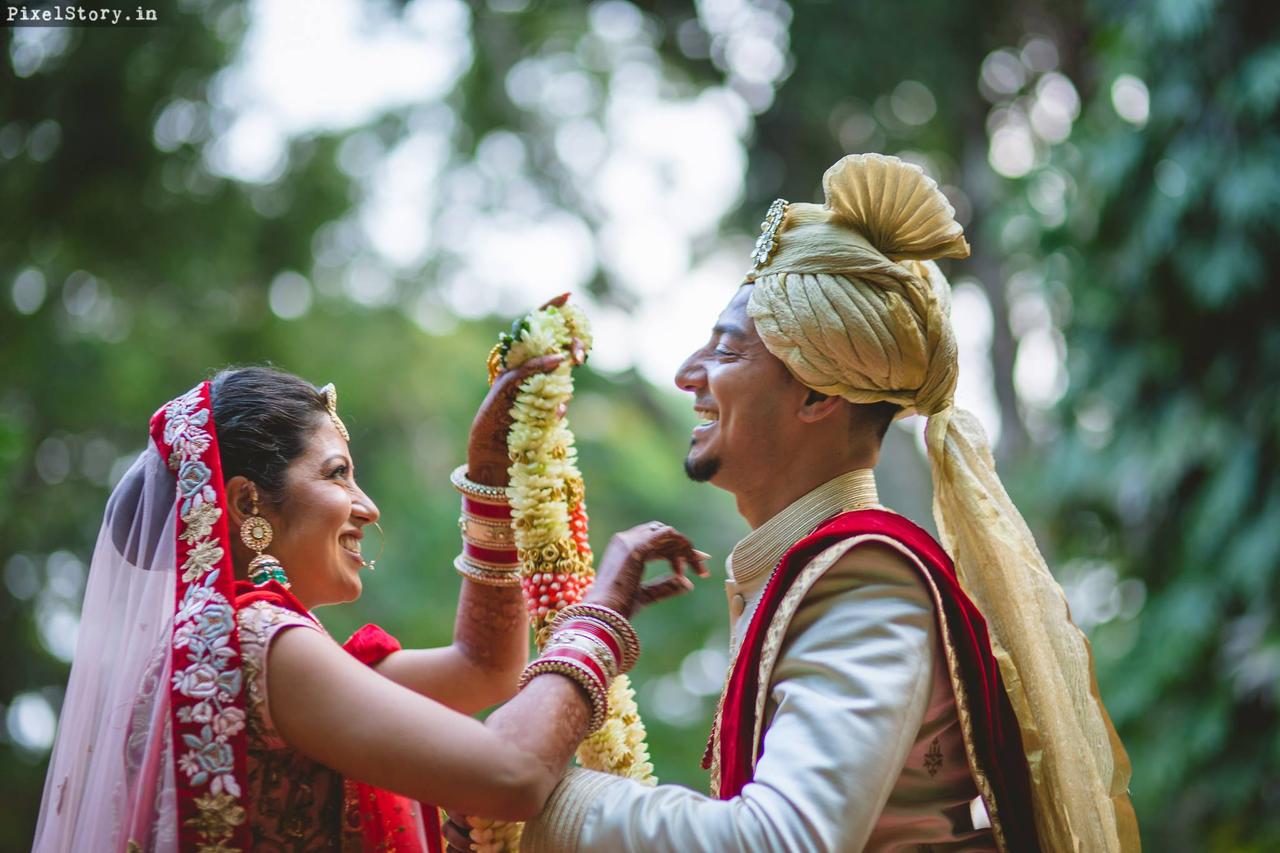 Whether it's a grand Jaimala ceremony with the couple exchanging garlands on a revolving stage; or a fun one with all the cousins lifting the couple up for a Jaimala fight- Jaimalas always have some epic Indian wedding couple poses! A simple garland exchanging ritual turns into a full-blown Bride squad V/s Groom squad battle! Those moments when both the groups compete with each other on who can life higher are simply iconic bits for a wedding album!
Why it works: The cheering crowd, the garland fights, the whole craziness among the bride & groom's teams gives an excellent picture of a big happy family. And amidst all this madness, the blushing bride and the smiling groom just add the final golden touch of a picture-perfectness!
5. "Lift me up" Moments INSERT IMAGE: Indian wedding couple poses-infinite memories-lift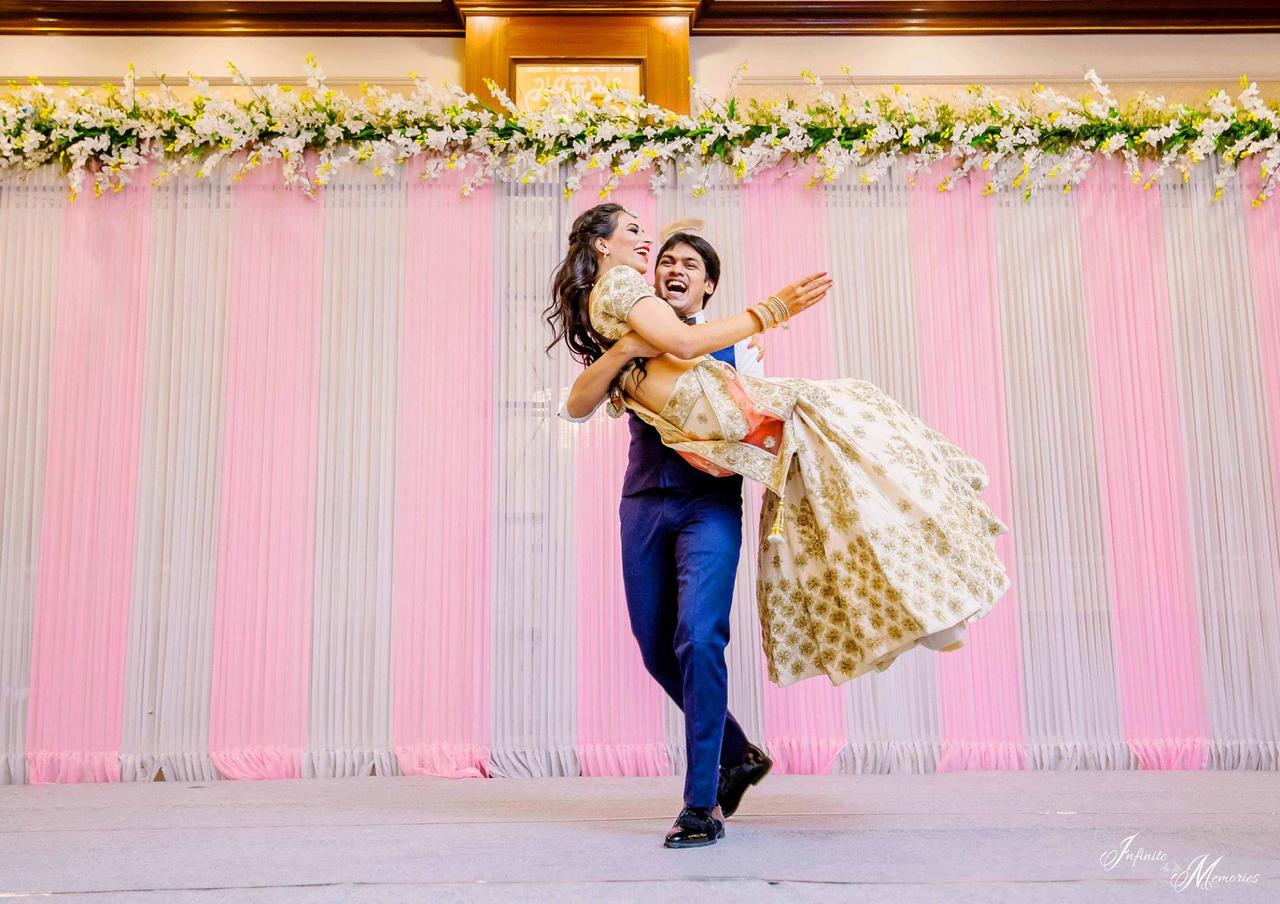 The groom lovingly lifting up his bride in front of the whole family...that's definitely one of the most adorable Indian wedding couple poses! There is a sense of belonging and affection in this particular couple pose.
Why it works: The declaration of your love in front of all your close ones makes it a winning photo! There is a little bit of playfulness along with romanticism that works like a charm.
6. PDA Moments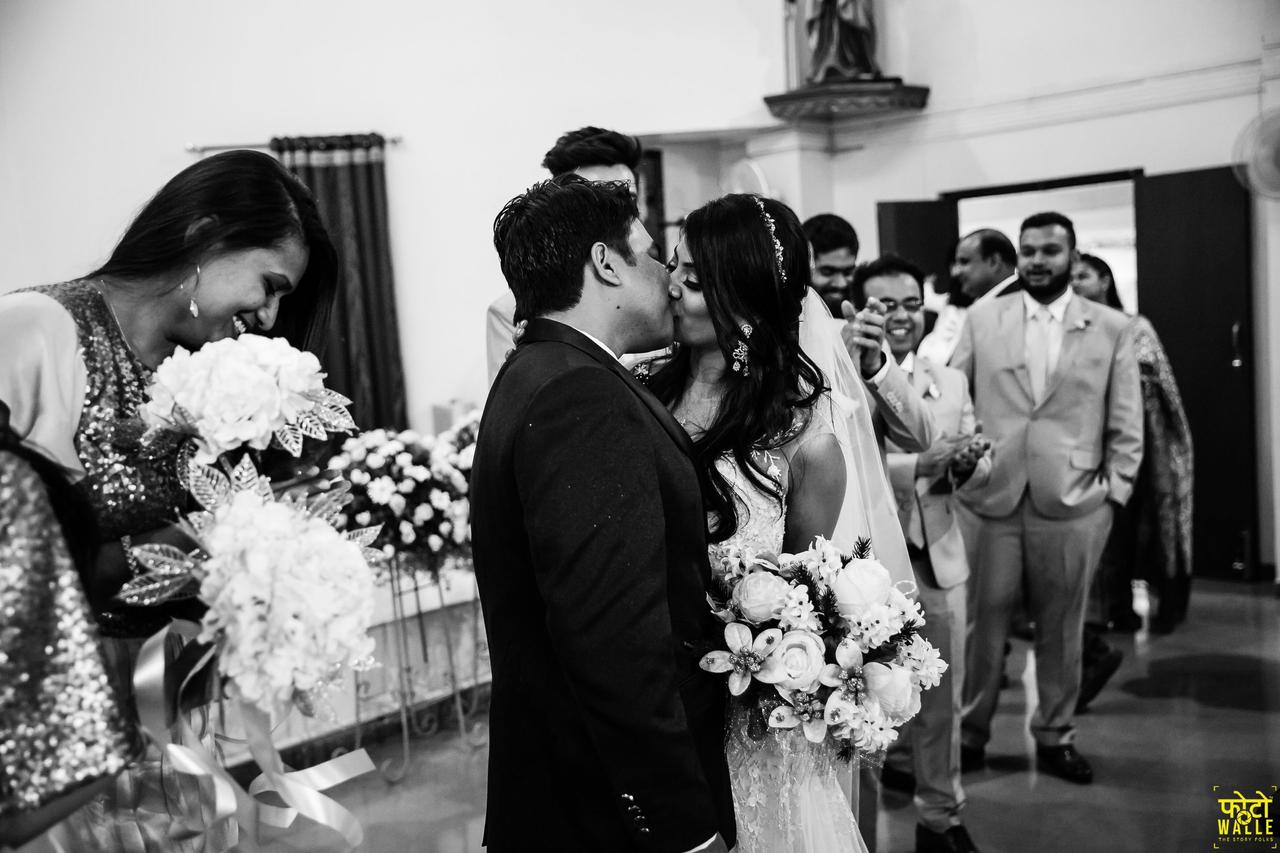 This one is for the couples who don't shy away from displaying their love and passion to the world! An affectionate hug or a romantic kiss- both are gorgeous Indian wedding couple poses if shot in style! Steal a few intimate moments for yourselves to get the most spectacular click!
Why it works: Expressing your love for each other with a warm hug or a cute peck always works. Love is beautiful...so will be your photos!
Now that you know about some of them, try these Indian wedding couple poses on your own wedding. Don't force yourselves just for the sake of posing though. Do what comes naturally to you. Keep things casual and candid as much as possible and trust your photographer! Once you're done with your hair & makeup and outfits, just forget about your looks and leave your wedding couple photography to the pros. Enjoy your wedding and every moment of the ceremonies. Remember, the more fun you have, better will be your wedding pictures!
Were these couple poses inspirational enough for you? Let us know if you've witnessed any other couple poses that you loved in the comment section below.