14+ Romantic Hugs & Kisses Images Ideas for You to Love
Hugs & kisses images are essential to any pre-wedding shoot or wedding album. Here are 14+ romantic and playful poses to serve are the inspiration for yours.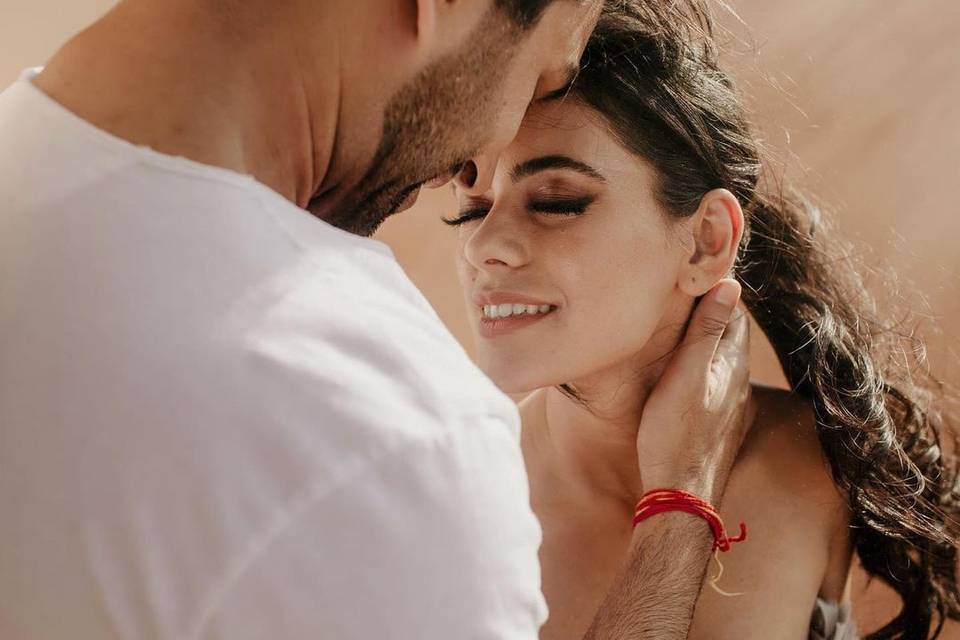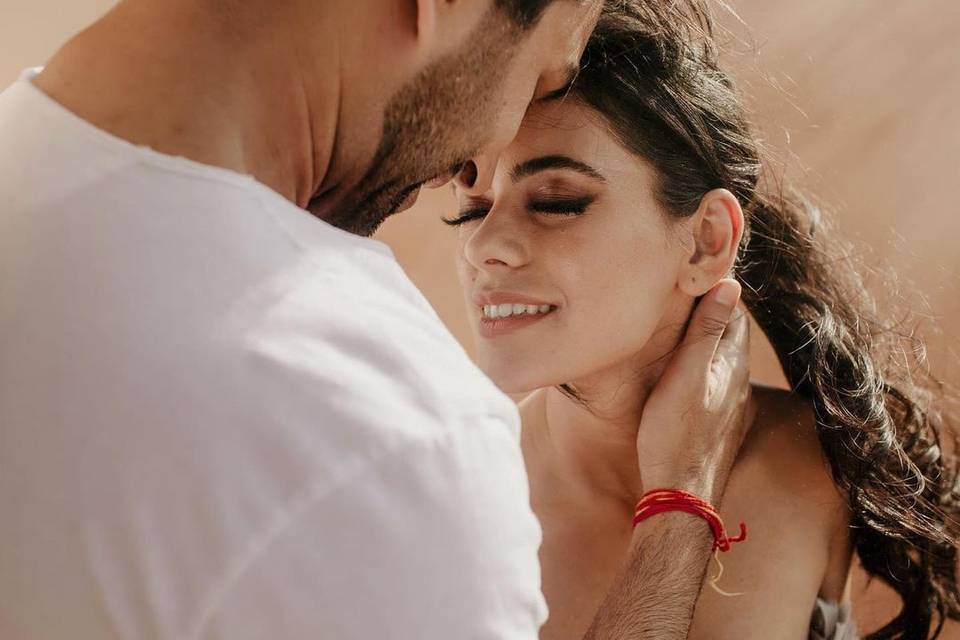 Image Courtesy: House on The Clouds
Are you getting married during Valentine's week or planning to get your pre-wedding photoshoot done sometime around then? Either way, your photoshoot for the same will be highly romantic and we cannot wait to see your couple images. Be it your wedding photos or your pre-wedding photos, you will be clicking lots of them and you will need to come up with different photography poses.
Even though the choice of bride and groom poses differs from couple to couple, we thought, why not bring you some inspiration themed around one of our favourite days of the week of love - Hug Day! However, when the romance is at its peak and the butterflies are so real in your stomach, the hug is meant to turn into a kiss and these romantic kiss and hug images are going to make your wedding album a treasure trove of gorgeous couple images.
Here are 10 hugs and kisses images that you can take a cue from for your wedding pictures.
A Pre-Wedding Kiss on The Forehead from Her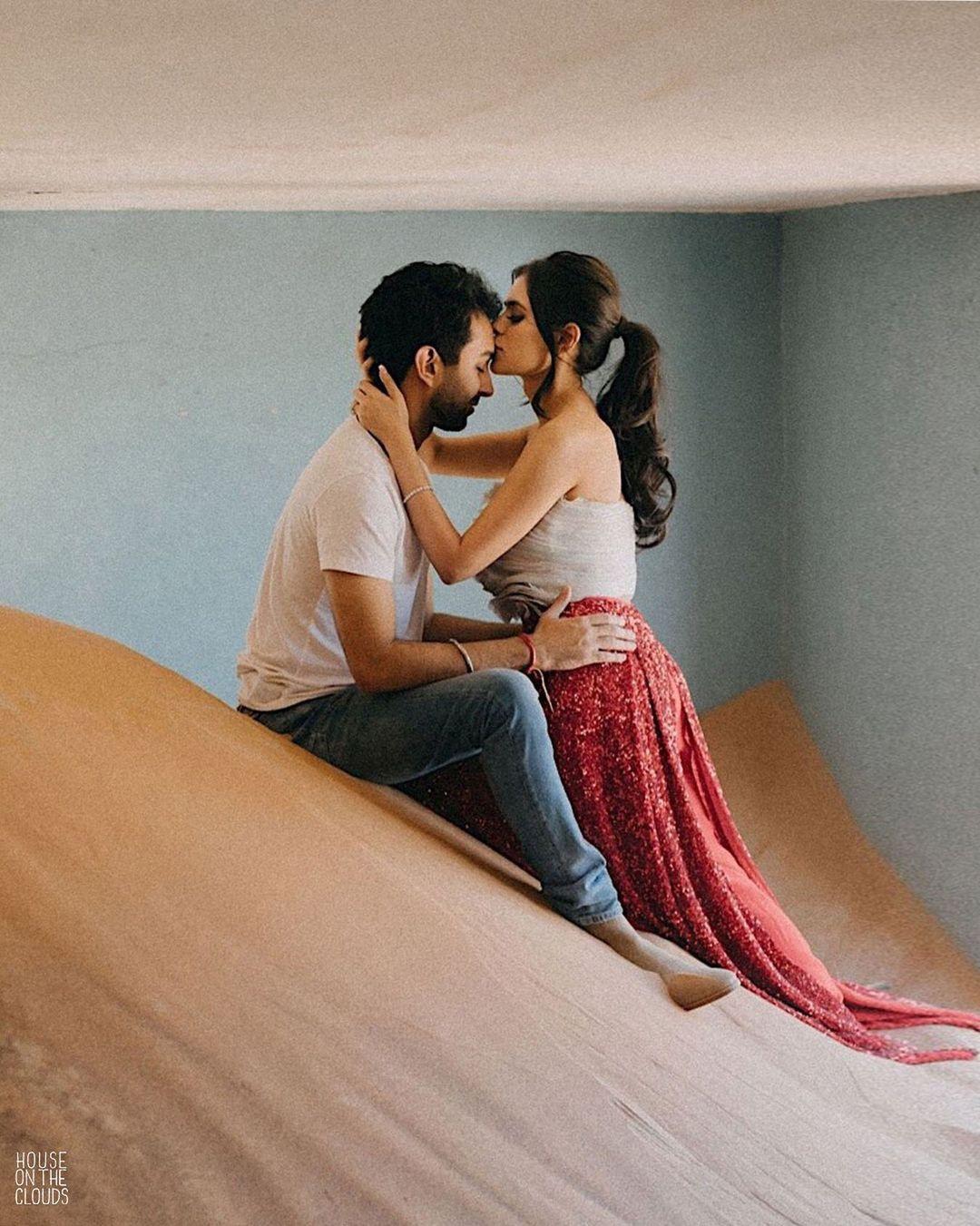 Image Courtesy: House On The Clouds
Right at the beginning of you pre-wedding shoot, you must have this pre-wedding shoot pose included in your itinerary because nothing is as magical as a forehead kiss. The magic of this couple image must be captured in one of the pre-wedding romantic kiss images. Ask the photographer to be on his toes to capture the moment when you get a forehead kiss from her before your big day.
The Kiss of Love at Sunset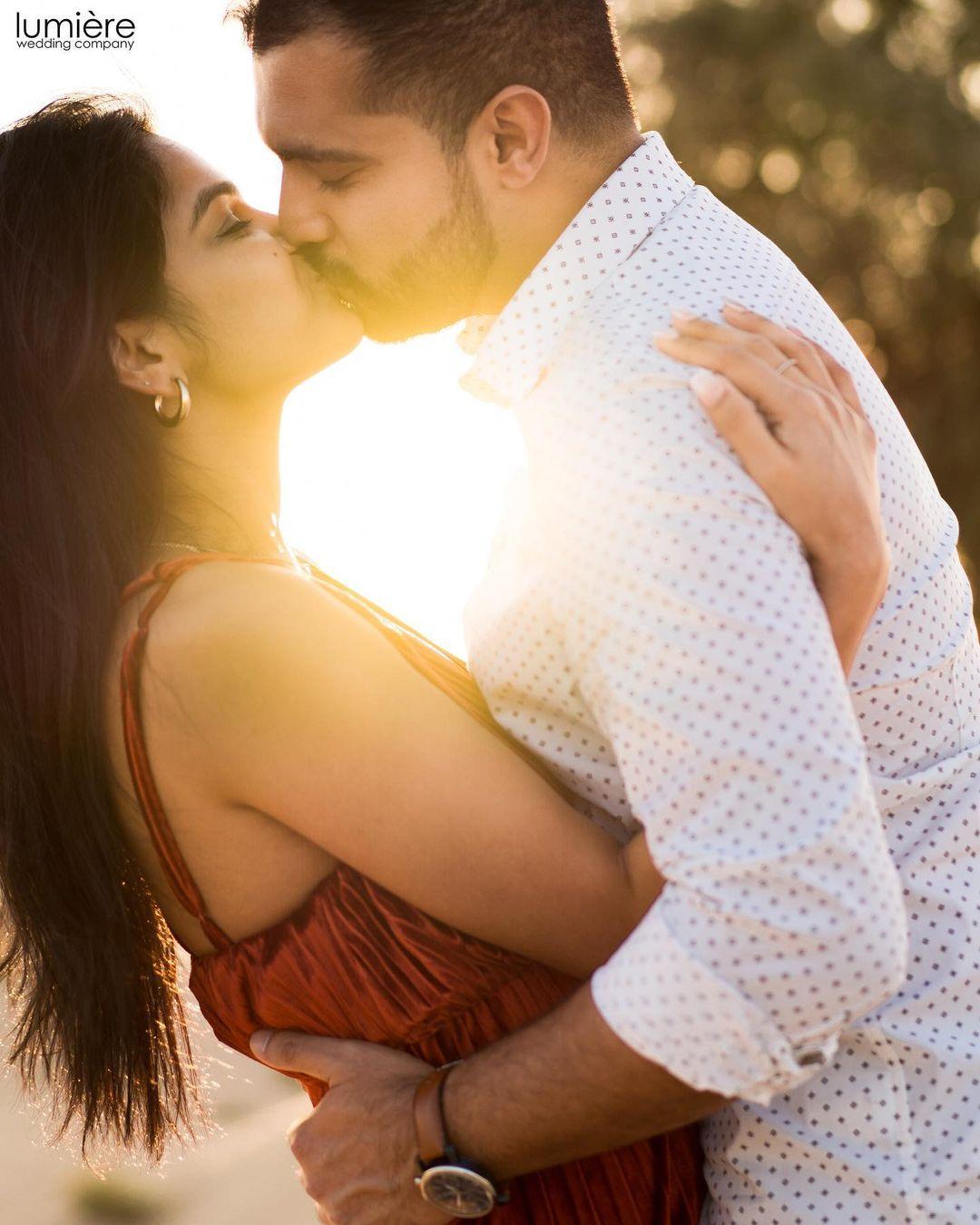 Who else would agree to the fact that sunsets are magical and nothing tops the beautiful crimson horizon at dusk? This romantic kiss image with the setting sun in the backdrop gives you magic in a frame. Talking of a hug or kiss image for your pre-wedding shoot, you must include this pose and let your playful self get the best of this romantic situation.
A Peck on the Cheek from Him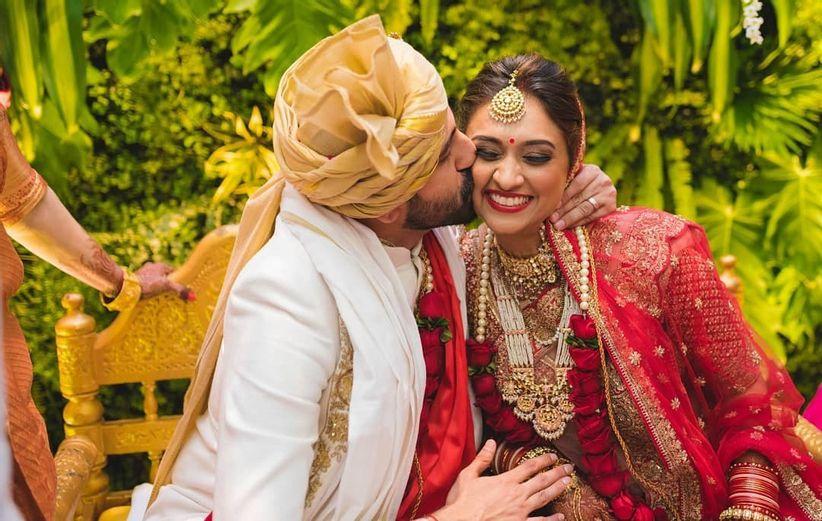 Image Courtesy: The Wedding Toast
Right after your Jaimala ceremony, when you're both feeling overwhelmed, capture the emotions by creating a similar hug or kiss image. Pose for adorable hugs and kisses images or romantic couple images for your wedding photographer and make an irreplaceable memory addition to your wedding day images.
A Peck on the Cheek from Her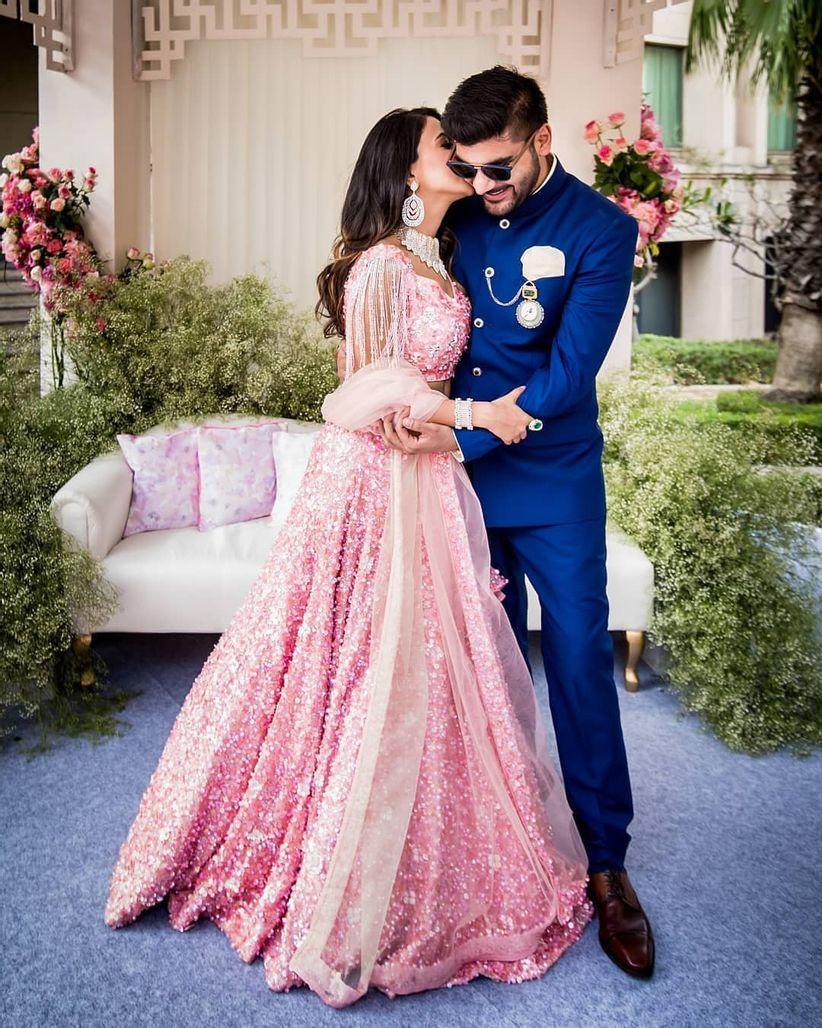 Well, it does not need to be your wedding day to shower your partner with kisses. Pose like this for one of your engagement photos showcasing your love story to the world.
A Hug from the Back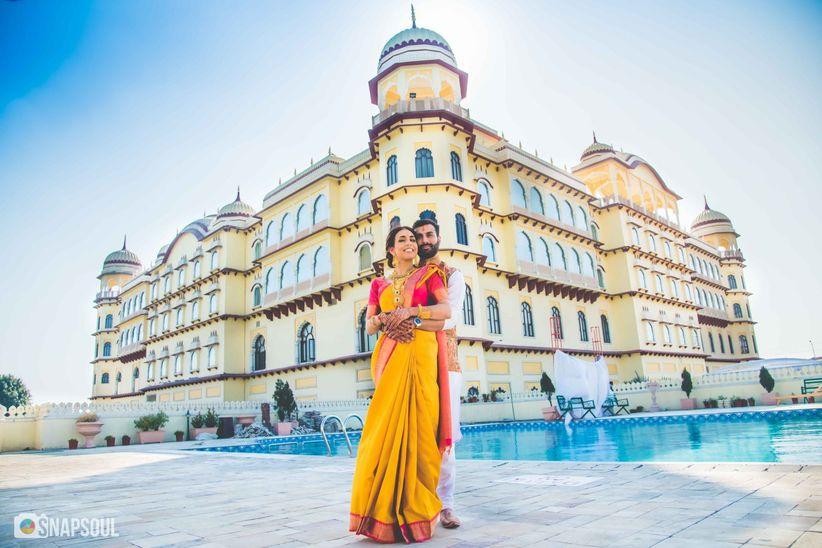 Image Courtesy: Snapsoul
If you're having a destination wedding at a palace like this one here, make use of it as a pre-wedding shoot prop for a drop-dead gorgeous background. A hug from the back will make for an elegant pose in a string of your hugs and kisses pictures.
A Kiss on the Forehead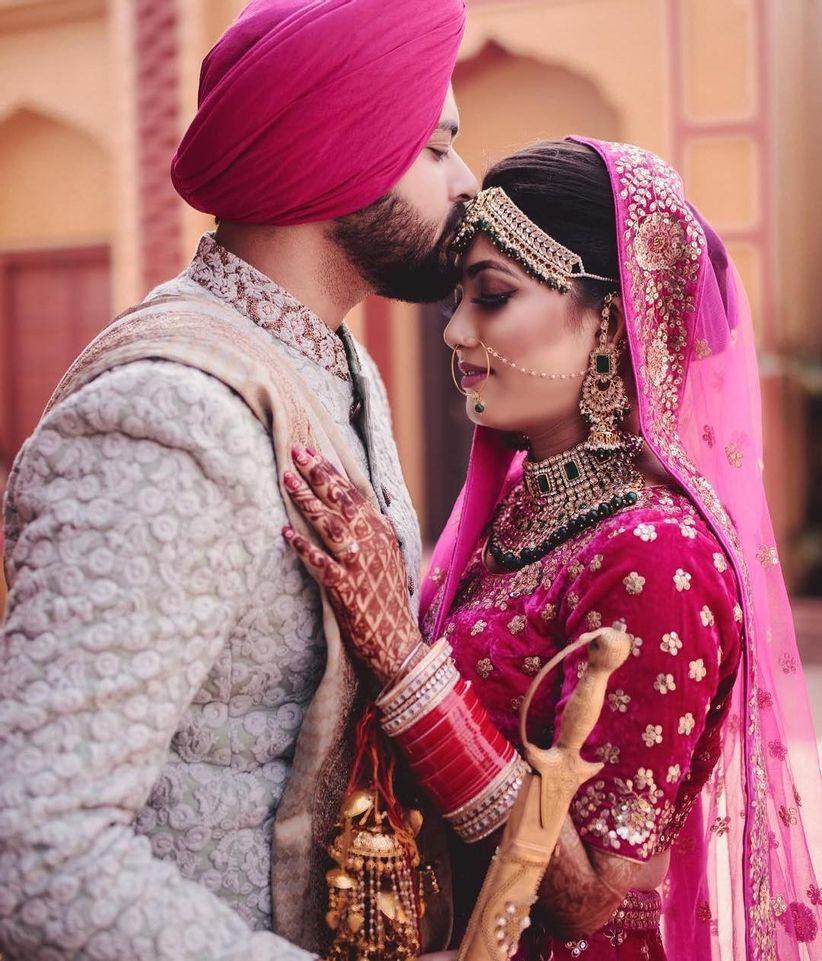 When you love her earnestly, make sure you show her that you do. And a kiss on the forehead perfectly signifies that. Ask your wedding photographer to capture that moment in all its preciousness and seal it in time as one of your hugs and kisses images.
The Attention Shower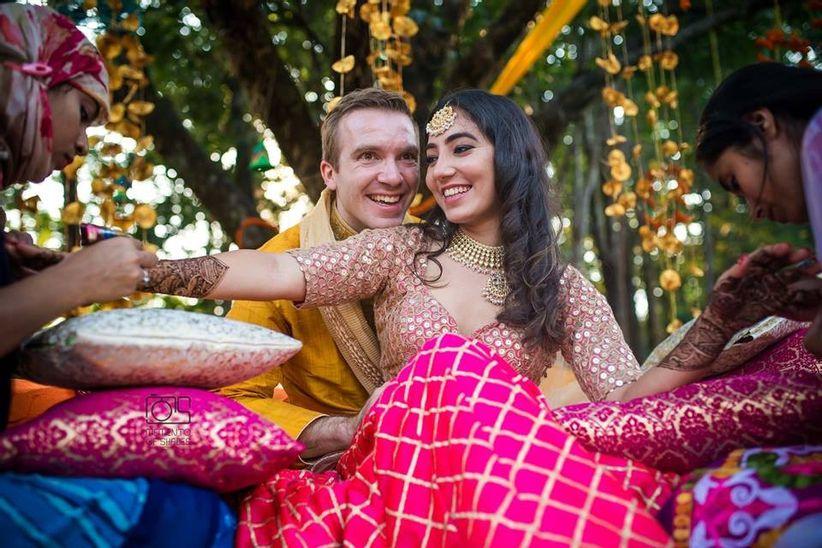 She's busy getting a full hand mehndi design along with beautiful mehndi on her feet, but you're free. Sit by her side, hug her, whisper sweet nothings into her ears and be the cushion that hugs her too. Turn it into a pose for your Mehndi album.
The Romantic Kiss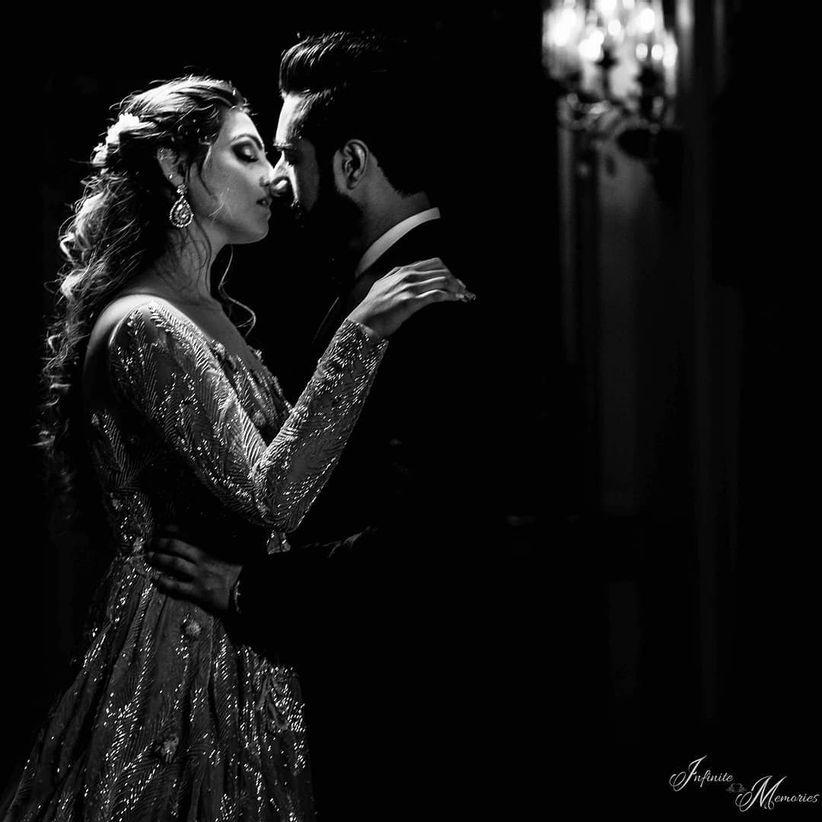 Caught stealing moments during your reception or a candid moment captured in all its glory, however you might perceive it, you will agree for a fact that it is a stunning picture. Do the same for your partner to get some stunning hugs and kisses images.
A Hug Turning into a Kiss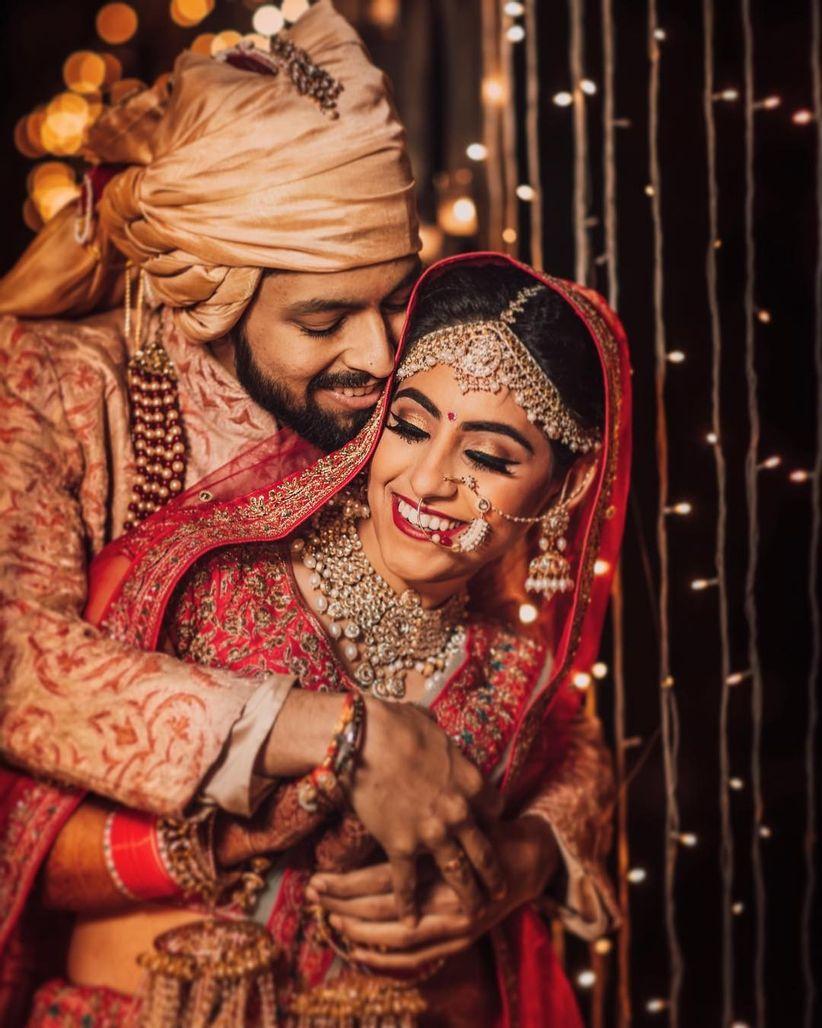 Love and laughter packed into one of the cutest kiss and hug images - that's what this kiss and hug image is about. Pretend to pose for more of such romantic hug-kiss images candid photography shots to ace your wedding.
A Kiss for the Pooch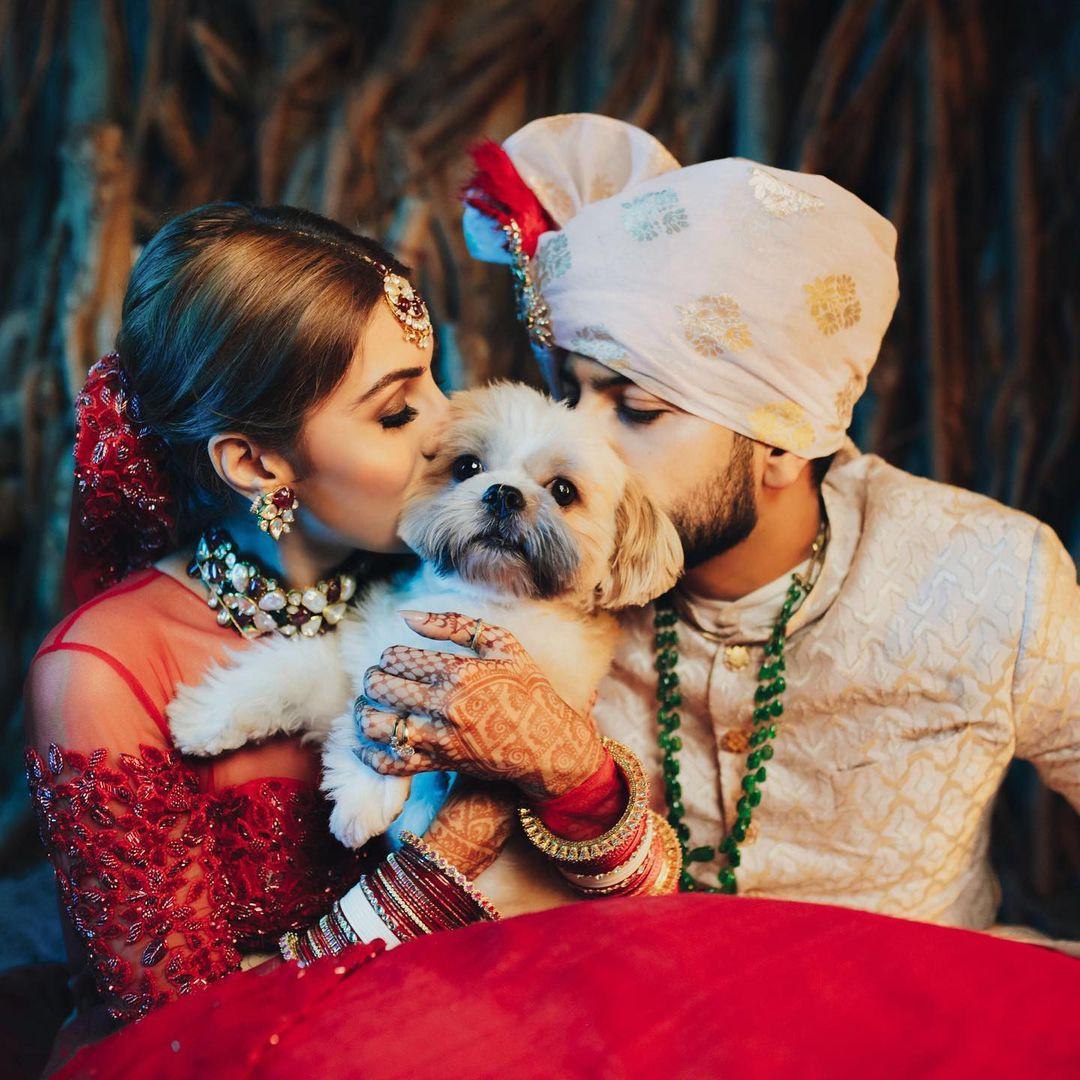 Who said all the romantic hugs and kisses images should have only the two of you. Bring in others whom you love for posing and get classic yet romantic hug-kiss images like this one here. We are definitely drooling over this pooch! Include your pets in your wedding right from the beginning because there is nothing more adorable than your furry friend accompanying you down the aisle.
The Hug That Says You're the One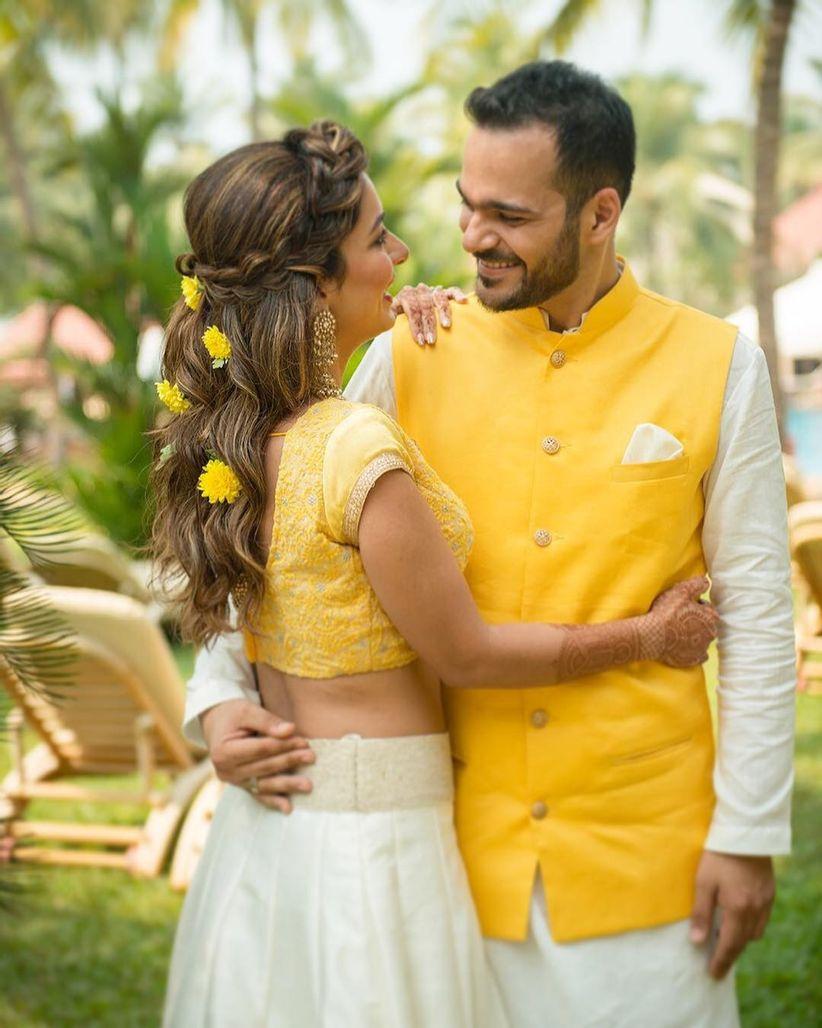 When you're #twinning with your groom, you better capture it the best way possible - posing with a hug. The Nehru jacket and Choli match so well and the hugging pose enhances the combo. Make sure you have such an entry of hugs and kisses images among your wedding pictures.
You May Now Kiss the Bride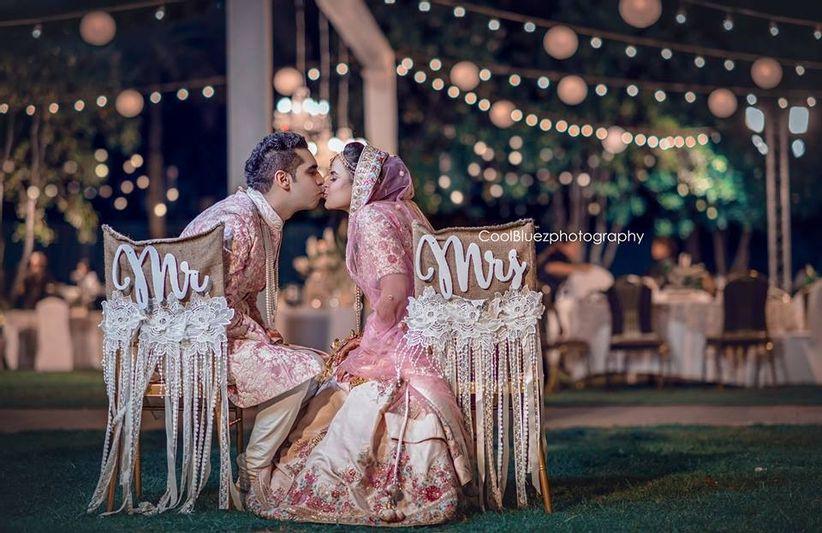 After everything is done and dusted but your wedding photographer is enthusiastic about capturing the decor with you involved, find a way out of it by posing like this couple for your hugs and kisses images. You will have a moment of rest sitting down and a cute kiss from your partner will recharge you right up.
Up in the Air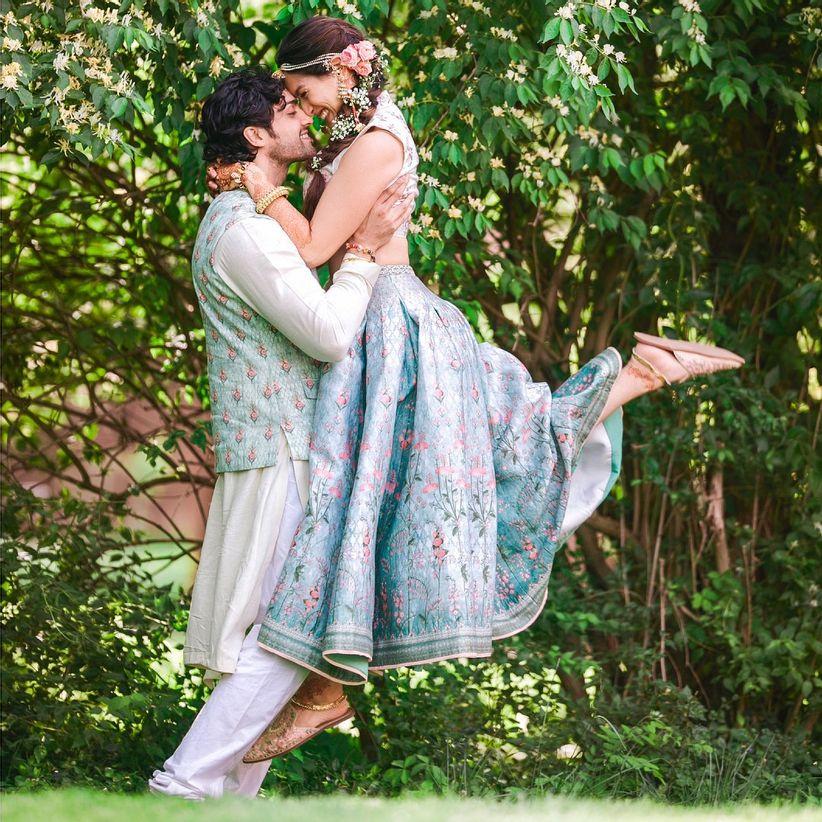 Love is in the air, they say. Then why not, literally, pick your love into the air for a cutesy hugs and kisses pic! This is one such photoshoot pose that comes out as candid and truly natural. You can try it on any of your pre-wedding ceremonies, Mehndi, Haldi, Sangeet or engagement.
Forever Begins Now
Such hugs and kisses pics speak louder than words. No amount of descriptive words will be able to do justice to the emotion that it captures and makes you feel when you see it. You definitely should have one such picture in your album.
These poses might have given you ideas what you want your pre-wedding photoshoot and wedding pictures to look like. Discuss with your wedding photographer some more ideas and poses, then you're all set.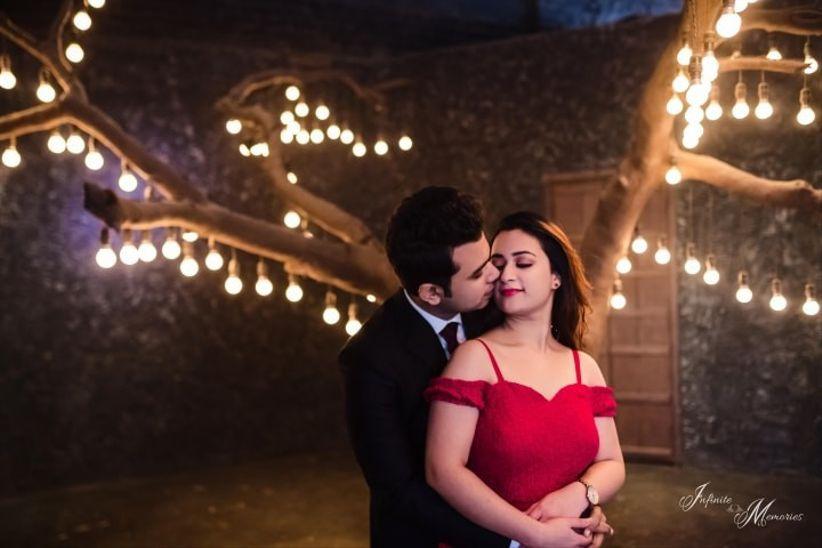 Which pose did you like best? Tell us in the comments below.
-With words by Shrennya Kalyani.