Here Are Some of the Traditions to Include in Your Virtual Wedding
Planning a virtual wedding? Here are the traditions & ceremonies that can be a part of your virtual wedding celebrations to make it unforgettable. Read to know!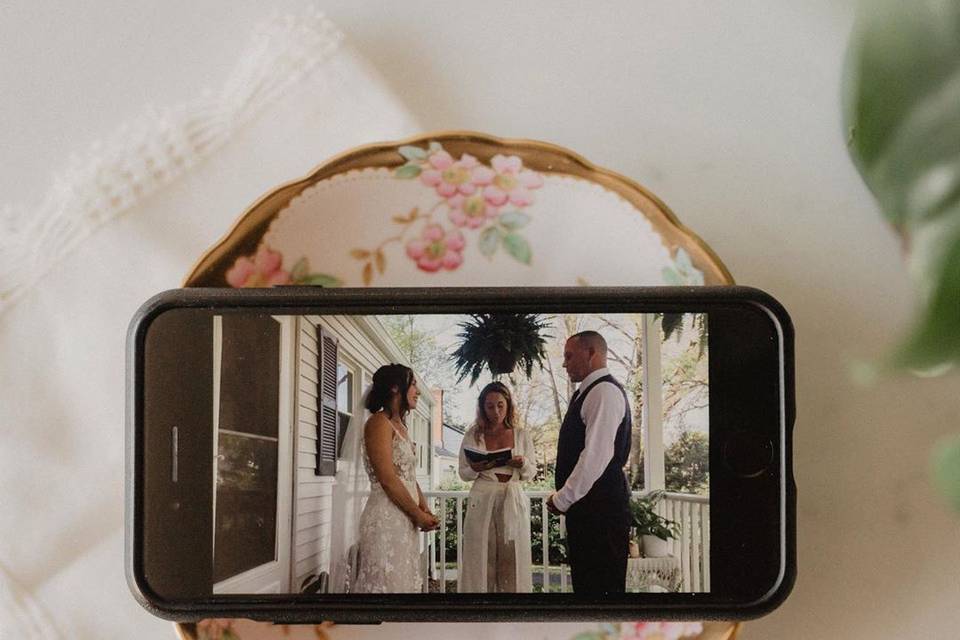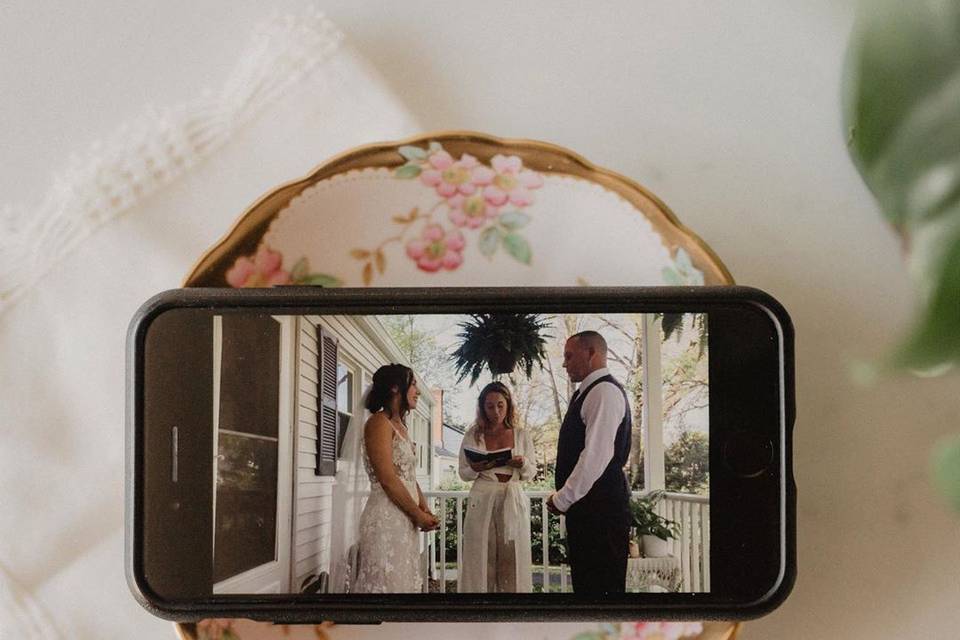 Image Courtesy: Nicole Nero Studio
Who might have thought that virtual weddings are going to be a reality! But with the COVID-19 pandemic unfolding uncertain times ahead, virtual weddings have gained momentum. People are now referring to virtual weddings and small home weddings as the new normal. While virtual weddings are not the ideal wedding planned by the couples and their families, it might just be the need of the hour.
If a virtual wedding is on the books for you, then you must be wondering what ceremonies to include, what to wear, how to go about it and so on. Since a virtual wedding is a very new concept, many things are yet to be decided. You could take a note of some tips on how to host a virtual wedding from our blog. You could also host a virtual wedding bachelorette for your bride-to-be BFF.
If you are working around which ceremonies to include in a virtual wedding, then you have landed in the right place. We have curated a list of all the ceremonies that can be hosted during the celebration of a virtual wedding. Read to know.
Virtual Haldi Ceremony
You can host a virtual Haldi ceremony as a part of the pre-wedding traditions. While only a handful of people are physically present with you with the bowl of the turmeric and sandalwood paste in hand, the rest of your friends and family members from your guest list who could not make it to your wedding can watch it over a video call on platforms like Zoom. You could assign the task of carrying the phone, tabs or camera to one of your family members.
Your friends and family members who are virtually participating can shower their blessings and also put some Haldi on themselves.
Virtual Mehndi Ceremony
The magical Mehndi ceremony is one of the most fun pre-wedding ceremonies of the Indian wedding. While the bride gets beautiful Arabic and other mehndi designs done on her hands, the aunts and cousins and friends of the bride sing folk songs or dance to some jazzy music that blares through the loudspeakers. You can do exactly that, except your aunts and friends can sing songs for you and you can enjoy their dance performances through video calls.
You could set the camera up on tripod stands so that every moment of the virtual Mehndi ceremony can be witnessed by your near and dear ones on the other side of the video call.
Virtual Engagement
The Engagement ceremony or the ring ceremony is mostly celebrated in full swing with confetti and background dancers on the stage too. While that plan is off the table for a while owing to the lockdown and pandemic, you could host a virtual ring ceremony. If the bride and groom are not in one place, they could buy their respective rings and wear it on a video call. If the bride and groom are together, they can exchange their rings as their near and dear ones bless them through the video call.
Virtual Sangeet Ceremony
A lot of practice must have gone into perfecting the step that comes right after the chorus because it is the Sangeet performance. While the sangeet ceremony along with the wedding has been put on hold for a greater cause, you could still celebrate a virtual sangeet ceremony. Make sure your friends and relatives have good internet connection so that you do not miss any moment of their dance performances to buffering. Your cousins and nieces and nephews along with your aunts and friends can all do their bit of the performance inside their homes while recording it live, and you could enjoy your virtual sangeet from the comfort of your home. Do not forget the pre-Sangeet glow up. You could take a look at some sangeet lehenga designs to curate your Sangeet look.
Virtual Wedding
The wedding ceremony is the most important virtual ceremony. There have been instances when the bride and groom were in one place but the priest who is to commemorate the wedding was on board through a video call. Not only do you have the guests on video call during a virtual wedding, but you could also have the bride and groom's parents, as well as the priest, bless your new beginnings virtually. There have also been instances where the guests have actually showered the couple with roses on their phone cameras.
It is very important for you to include some time for an open mic session where your loved ones can say a few words in honour of your big day. They could share a funny story or two to get the party started.
Cake Cutting
The cake cutting ceremony can happen after the engagement ceremony too in some Indian weddings. A beautiful concept of the west, the cake cutting ceremony has slowly become a part of the wedding traditions. It is also one of those moments that cannot go unseen and uncaptured. Your friends and families can get to be a part of your beautiful beginnings marked by the cutting of the cake through the video call and bless you virtually for a new start of your happily ever after.
Virtual Toast
If you are planning on hosting a virtual wedding, ensure that you keep some time dedicated to open mic sessions where every family gets to speak. In a regular wedding ceremony, each guest is busy talking to someone or the other. You will have your family members and dear ones attending to the guests and making sure that everything is on track. However, with virtual weddings, there is a lack of conversation as everyone is put on mute to ensure you have a fuss-free ceremony.
It is very important for you to include some time for an open mic session where your loved ones can say a few words in honour of your big day. They could share a funny story or two to get the party started.
Facetime Photography
Facetime photography is a trend that is very popular at the moment. With all the businesses at pause, many models and photographers have decided to continue work through Facetime or some other medium of video calling. You can read FaceTime Photoshoot 101: A Photography Trend in the Times of Corona to get a clearer idea of this brand new concept. Though just out of the oven, this idea has been applauded and tried by many. Many couples are going for a Facetime photoshoot for their pre-wedding shoot too.
Even if it is a virtual wedding, we are sure that you are going to deck up in the best ways possible with the best available options you can lay hands on. Do not let all the rolling up go uncaptured. Make sure you hire a photographer who can help you with the concept of Facetime photoshoot. Pose for the camera for the virtual photoshoot and let your friends and family take some cool screenshots and pictures over the video call too. You can also hire a photographer who could click amazing pictures of your virtual wedding ceremony hosted in your backyard or terrace.
Couples have gone out of their way to celebrate mesmerising lockdown #WeddingsInTheTimesOfCorona. They have also gone ahead with the simple wedding planning from the comfort of their homes with online wedding planning tools and budget planning and so on. While the wedding is a fairytale come true for the couple and their families, it is indeed a stressful task at hand and might cause relationship troubles between the couple.
This is exactly why we suggest you de-stress from all the wedding planning stress and treat yourself with an easy DIY home spa with hair masks to lay back and relax. The bride and groom need to flaunt their happy glow at the wedding and get your hands on the stress-relieving tasks to do at home.
For some amazing photographs from the wedding, get in touch with the photographers who are opening up for business again as the lockdown recedes in phases.