Things to Consider Before Planning Your Wedding Expenses Checklist
If you need to start planning your wedding, take a quick look at the things to consider before planning your wedding expenses checklist to be on top of everything.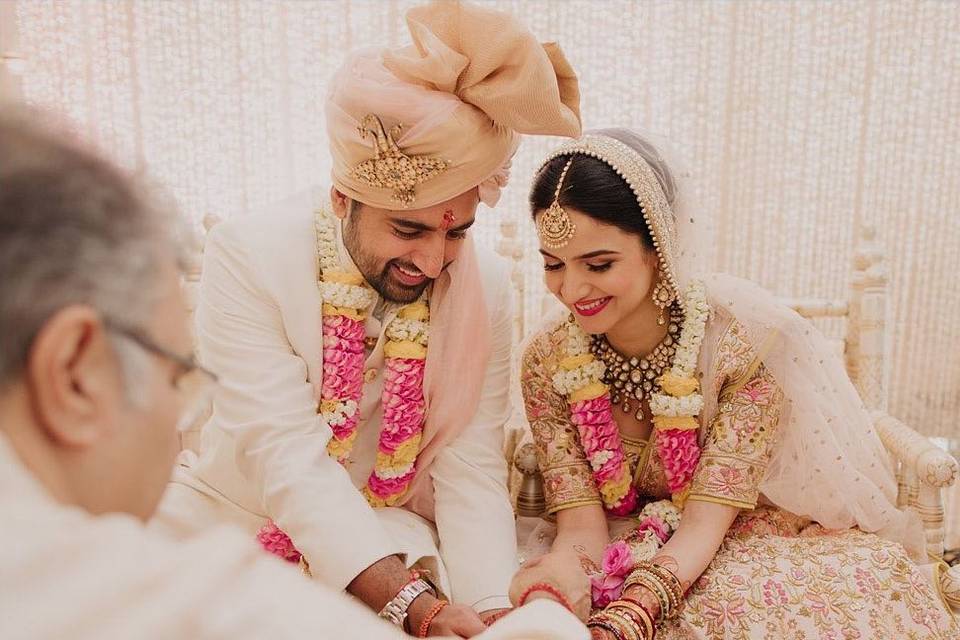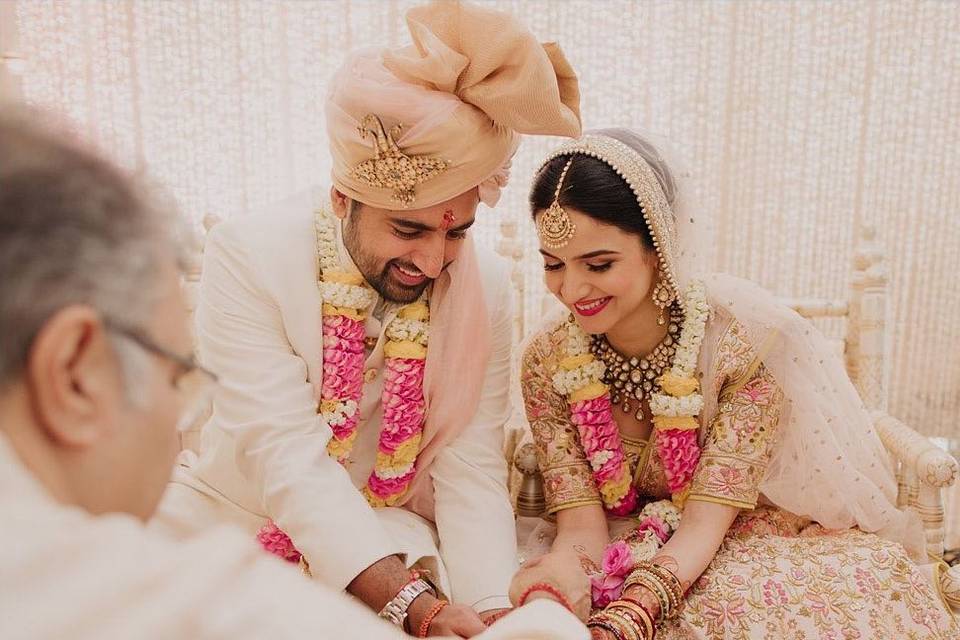 Image Courtesy: Ibtida
Once the date of the wedding is picked in accordance with the auspicious wedding calendars, the wedding planning starts in full swing. This also calls for an exhaustive checklist to make your wedding planning a flawless one. Apart from the major wedding checklist to check what must be done 6 months before the wedding or 1 week before the big day, another very important checklist that will always come in handy is the wedding expenses checklist.
The number of people involved in a wedding is unfathomable. From vendors to guests, there are a lot of monetary transactions that happen throughout the process of wedding planning.
To keep a track of all the expenditures while sticking to the budget that you have in place for your wedding can get difficult.
This is why you need to have it all arranged neatly and in one place. These are the few pointers that every wedding expenses checklist must have- Read to know.
Plan a Budget
Planning a wedding budget is the most important task at hand and on top of the list of priorities on your wedding expenses checklist. This is where you get to check all your planned expenses and the unplanned ones as well. It is very important to know the budget you have planned to spend on your wedding. This helps you filter out the options better when it comes to venues or vendors or even the guests for that matter. While planning your wedding budget you can use the Budget Calculator tool on the WeddingWire, India website and app and make sure to include unforeseen trojan expenses to be on top of everything without ant spillovers.
Shortlist The Venues According to The Date
Once you have shortlisted a few dates according to the auspicious calendars, the next on the list of To-Dos is the venue. When you are shortlisting the venue, you also have to keep in mind the type of wedding you want. If it is a destination wedding, the list of venues and options will differ. It is therefore important to first decide what kind of wedding is on your mind. You also need to plan the visits to these shortlisted destinations to decide if you still want it. If you are looking for open-air venues for your wedding or places where you can host intimate weddings, you must shortlist venues according to the dates to make sure the venue is available. You could try virtual tours before you actually make a visit to the venue (especially if it is a destination wedding). This affects a huge part of the wedding expenses checklist.
Shortlist dates for the pre-wedding functions
Once you have the date of the wedding planned and in place, you will also have to shortlist the dates for your pre-wedding functions. To pick the dates of your pre-wedding functions, you will also have to plan how many of the pre-wedding functions do you want and how many can be celebrated on the same day. For instance, a lot of couples decide to celebrate their Mehndi ceremony during the day and the sangeet ceremony during the night. You can take a call and then plan out the dates you want to celebrate your pre-wedding ceremonies. Ideally, the pre-wedding ceremonies can be celebrated the week before the wedding. Events are an important part of the wedding expenses checklist including the preps involved in it.
Decide whether or not you would want a wedding planner
Wedding planning is not a cakewalk. To make this tedious task an easier one you might want to opt for professional help by hiring a wedding planner. Your to-do list should also include the decision of whether or not you want to hire a wedding planner. The wedding planners and their responsibilities are a great way to make your wedding planning process less stressful and flawless. The budget for a wedding planner depends on the amount of time you want them on-board for. For instance, a coordinator and planner for the day of the wedding might charge less than a wedding planner who will help you plan the wedding from scratch. There are also planners who step in a few weeks before the wedding. Their service charges must be included in your wedding expenses checklist.
Shortlist Vendors
A wedding - small or big, is nothing short of a dream come true. When this spectacular day is being planned, you will need the professional services of the vendors to make it flawless. From the wedding caterers and decorators to the hair & makeup artists and designers for your bridal outfits, you will have to shortlist and finalise the vendors. You can even screen them from the comfort of your homes and take a virtual look at their work. The interviews and screening can be done face-to-face or via calls. Once you know who is going to get your mehndi done and who is your wedding florist, it all kind of starts falling in place. Do not forget to read online reviews of particular vendors on various platforms. Each vendor has a tailor-made package for your wedding, make sure to choose the one best suited for you on your wedding expenses checklist.
Create the first draft of guest lists
Creating a guest list is one of the most stressful tasks while planning a wedding. The names that you, your partner and families want on the guest list cannot be finalised over one draft. You can use some amazing tips to create a flawless guest list without any guilt or stress. The first draft of the guest list needs to be made so that the venue selection also becomes easier to categorise. Downsizing a guest list is not the easiest thing to do either, but communication is the key. You must prioritise drafting the guest list so that you have ample time in hand for the plans to follow. The catering and seating arrangement vendors always calculate the charges per head and this is why guest lists play a vital role in the wedding expenses checklist.
Pick wedding style & theme
Once you finalise the venue and an approx number of guests, picking a wedding style and theme is next on the list. From day weddings to night ceremonies, from intimate weddings to big fat Indian weddings in full swing - the options are many. You could also pick themes to make sure that the decor and attires are coordinated well on your big day. Your wedding style and theme are real factors that must be included in your wedding expenses checklist.
Create a wedding website
A wedding website is your genie in a bottle. There are numerous benefits of a wedding website. To be on top of everything without having to pull your hair, the answer is creating a wedding website. From planning your wedding to sending out save the dates and updating the invitations it is all in one place if you have a wedding website. A wedding website is the easiest way to coordinate with your people without any fuss. You can even share your wedding pictures later and maintain it for anniversaries and so on. WeddingWire offers a free of cost website for your wedding planning, but in case you pick a paid platform, include them in your wedding expenses checklist.
Also read: Here's the Complete Guide on How & When to Share Your Wedding Website
Draft Invitations - pick wedding invitation designs
Another very significant task on your wedding checklist is the invitations. Once you have the 2nd or third draft of the guest list, you must pick your invitation templates and designs. It is also reasonable to print a few samples before you finalise. If you want to personalise each with invitation boxes and sagan included in it, you might have to start earlier than 10-12 weeks left for the wedding. The expenses of printing and packaging these invitations may vary drastically depending upon the design you pick. Make sure to include the costs of sending them too it in your wedding expenses checklist.
Make sure to visit the venue with vendors at least once.
Once the venue is finalised, you might want to make a visit to the venue with your partner, your family and the vendors too. There are many venues that provide you with decor and catering or many more vendor services. Even in that case, it is important to bring everyone together and be physically present at the venue. There might be one extra wall that needs the wedding drapes you picked for decor and would cost you extra if you found it on the last day. It is always safer to sort things out beforehand to manage those extra unforeseen expenses.
Planning your dream wedding is HUGE. To make it perfect a wedding checklist is a must. But you must also take care of each and every expense through a wedding expenses checklist. Of the hundred different transactions that need to be done in a week and maybe a hundred more in the next, having a wedding expenses checklist makes sure that nobody misses out on the tasks at hand. Given the vendors might often accept cash over any card transactions, having a wedding expenses checklist always comes in handy. Tick off the ones that you paid for and highlight the major expenses in line.
Having a wedding expenses checklist makes it easier to maintain the budget or to keep a track of all the transactions made. Your wedding will involve a variety of vendors and other requirements, some even impromptu. Make sure to have a wedding expenses checklist ready always.
Get in touch with Weddingwire, India and use the impeccable and free planning tools available for you to plan your big day with full fervour!