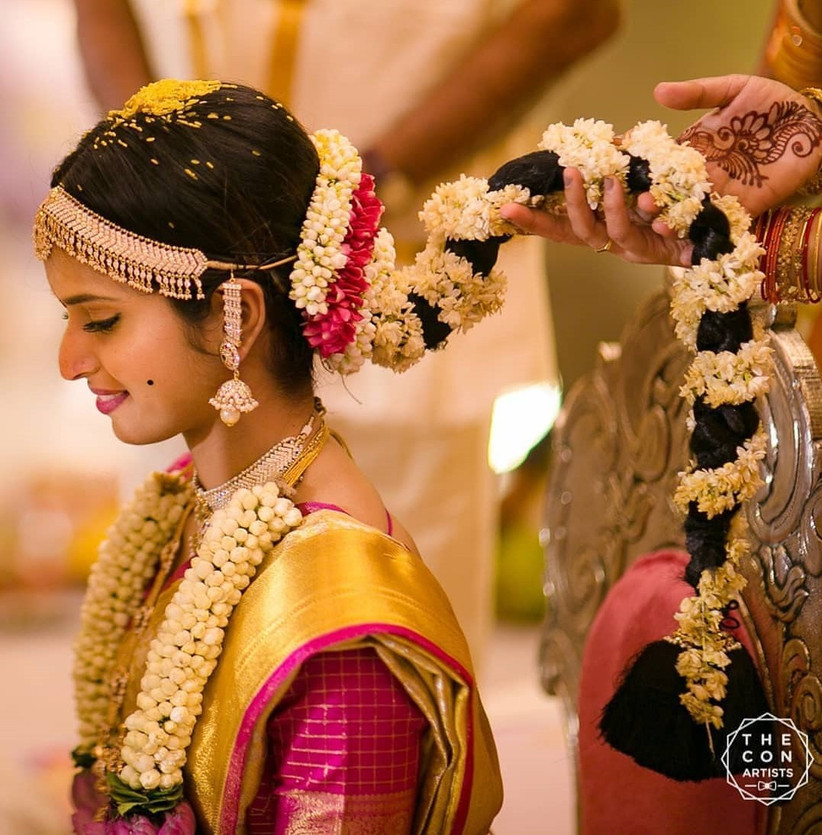 Image courtesy: The Con Artists
Coupled with a stunning silk wedding attire, heavy gold jewellery and grander than grand hairstyle, a South Indian bride is one true diva. Are you too planning a South Indian wedding, and are in search for that smoking hot hairstyle that will suit your long tresses? If so, then look at these awesome South Indian wedding hairstyles for long hair.
8 South Indian Wedding Hairstyles For Long Hair
All these hairstyles are glam and lend an elegant look to your beautiful personality. Be inspired brides to be!
1. Hairstyle with a long braid, dressed with pearl strings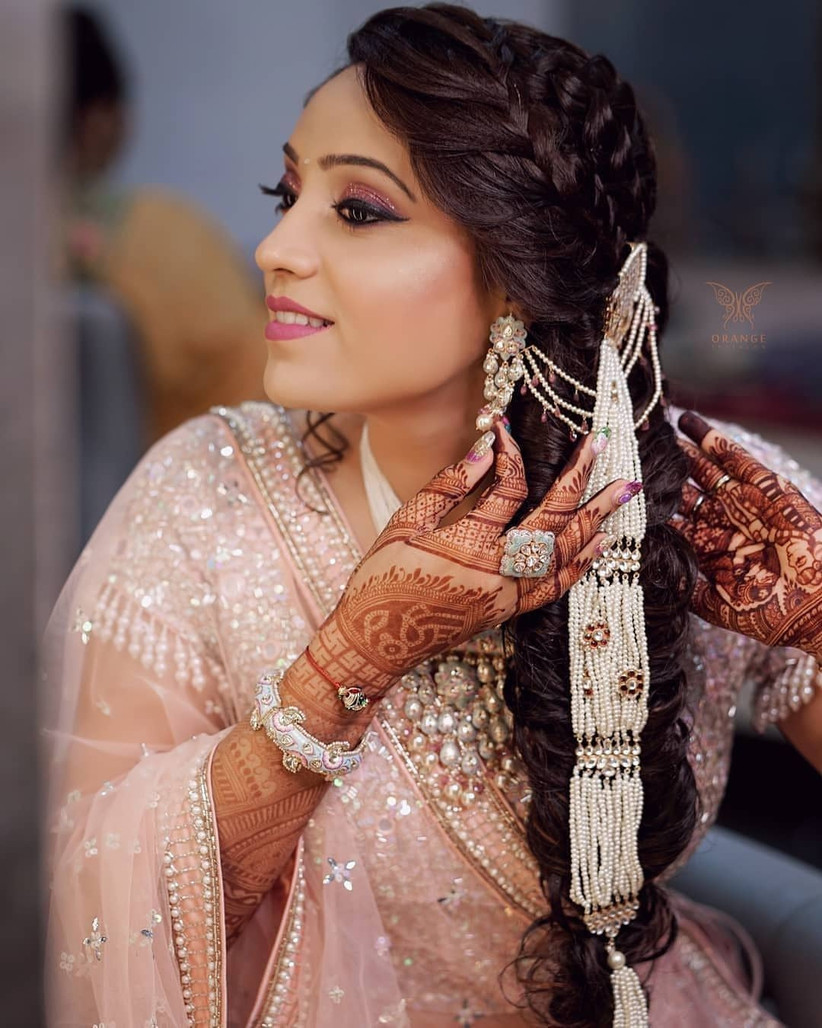 Image courtesy: Aanal Savaliya
Coming up first in this list of best South Indian wedding hairstyles for long hair is the long braided hairdo. It's a very commonly seen hairstyle on most South Indian brides, but its charm is unbeatable.
It is an ever-popular hairdo as it lends a very feminine look to a bride. This hairdo requires you to have a small puff at the front, and a braid that has to be decorated with a gajra or floral wedding garland. If you like a more elaborate look, decorate the braid with strings of pearls to match with your wedding attire.
2. Dressy side fishtail braided hairdo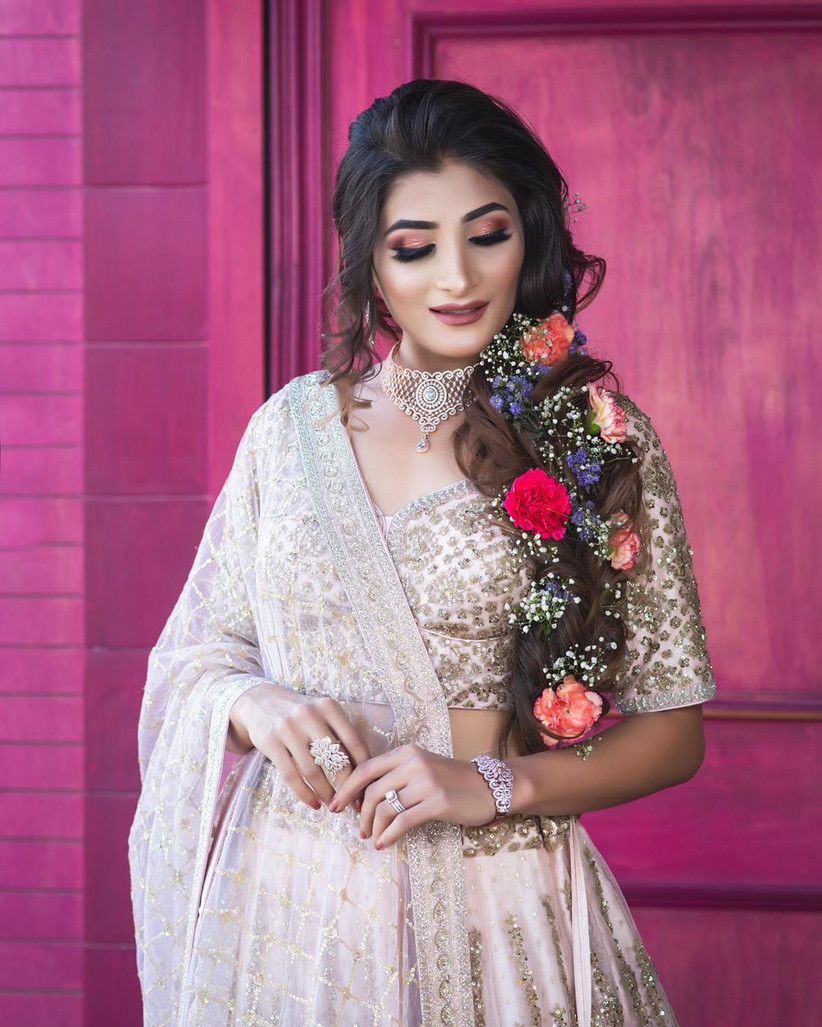 Image courtesy: Simmy Makwana
For those of you who love the fishtail hairdo, the dressy side fishtail braid is the ultimate hairstyle you all can choose for your bridal look. This style never goes out of fashion and looks charming on any bride, irrespective of her outfit.
You have to make a fishtail braid which is simple to do. Then, to give it a distinctive south Indian wedding hairstyle for long hair spin, decorate it with hair accessories like artificial floral hairpins, or pearls.
3. Open hairstyle with side curls
Have long and lustrous tresses to flaunt? What are you waiting for then? Go for this gorgeous open hairstyle with side curls, one of the trendiest South Indian wedding hairstyles for long hair that will add layers of style to your bridal look.
All you have to do is bring your hair to one side and curl them up using curlers. Create a front parting and clip up a portion of hair. Dress it up using a white floral garland or string.
4. Twisted open hairstyle with curls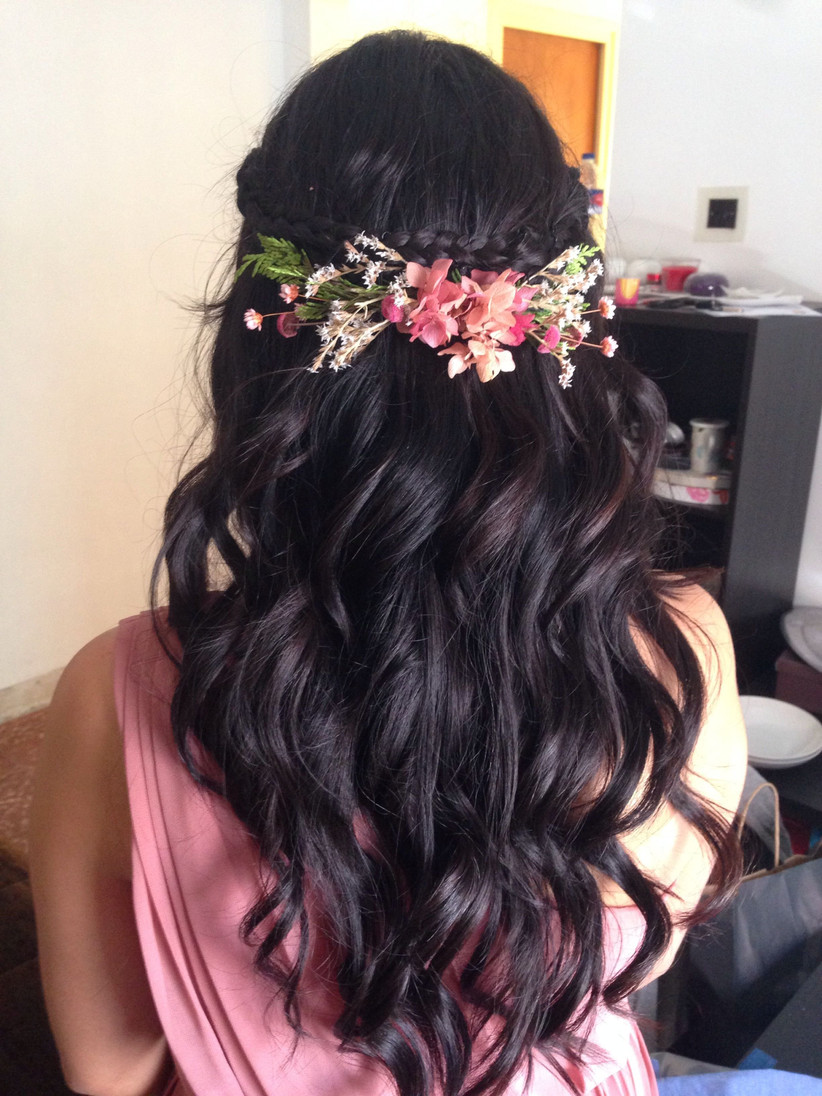 Image courtesy: Pinterest
There are many South Indian wedding hairstyles for long hair, but, this particular hairdo is the one that makes you look magical on your wedding day. Take side portions of your hair and give them a twist.
After twisting the sides, take them back of your head and clip them up using hair pins. Repeat this process with three to four portions more. Now, curl the rest of the hair that you will leave open. Dress up the held up hair with flowers of your choice.
5. Bun with high puff hairstyle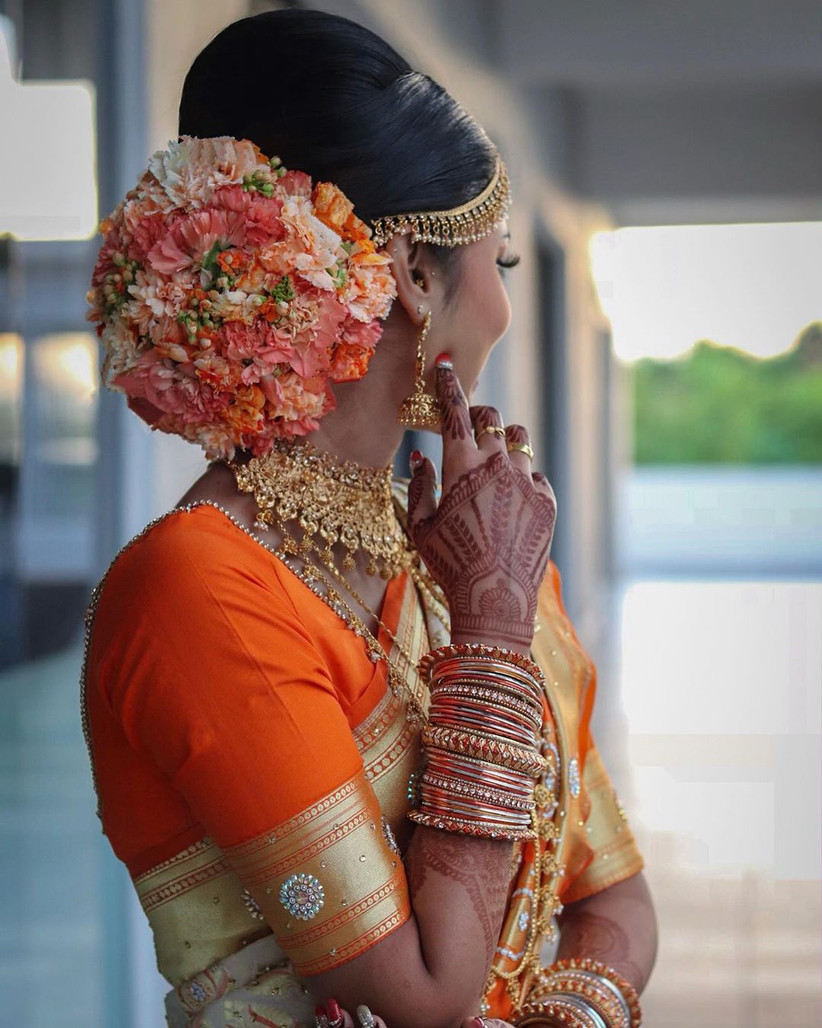 Image courtesy: Sha Hair
Perfect to be flaunted on weddings, this hairdo suits all brides that wear traditional sarees on their special day. This is one of the most popular South Indian wedding hairstyles for long hair.
Women with long tresses can achieve this look easily by creating a bouffant to add volume to their hair. Thereafter, they need to secure a bun using hairpins of their choice. Then, dress up the whole or side of the bun with gorgeous, fresh flowers.
6. Puffy hairstyle with straight hair
Girls if you have long straight hair, go for this hairdo without giving a second thought! It's simply mind-blowing!
With a puff at the front and the rest of the hair falling delicately over your shoulders, you are surely gonna set hearts on fire. Be sure to dress up the back of your hair with a floral garland of your choice.
7. Spiral bun dressed up with flowers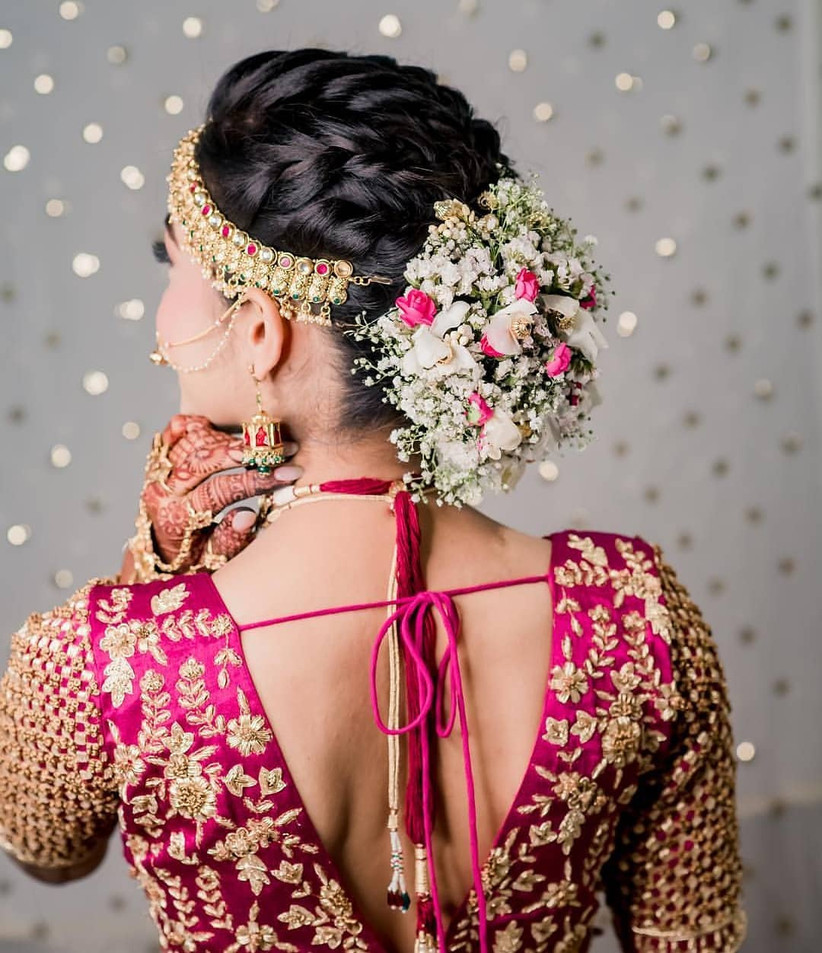 Image courtesy: Noopur and Ami Choksi
Most brides want to play it safe when it comes to choosing the wedding day hairstyle. One among these South Indian wedding hairstyles for long hair is the spiral bun.
This hairdo goes perfectly with any Indian outfit and can be achieved very easily. You may side part your hair and spiral it to one side. Make a bun, either big or small, and then dress it up with fresh flowers.
8. Flowery braided hairstyle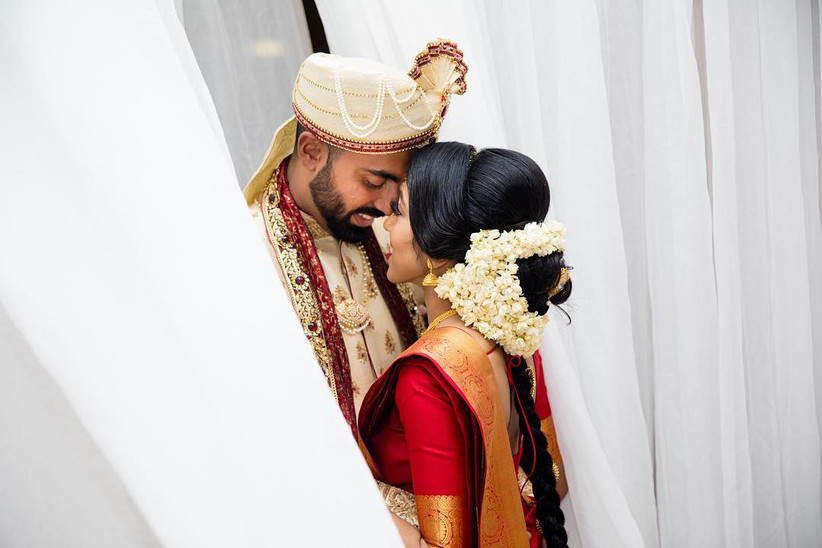 Image courtesy: Treasured Photography
Simplicity is the key to looking elegant and chic. How about trying this simple braided hairdo for a change? This hairstyle always stays in vogue and suits every kind of bridal look and attire. For girls that have thick tresses, making a braid is simple. After making the braid, all one has to do is dress it up with fresh or artificial flowers. Either go for a U shape or put the flowers in between the braid.
No South Indian bride has ever looked plain till date. Do you now know why? Well, these gorgeous South Indian wedding hairstyles for long hair are to be thanked for lending brides a grand look. With matching jewellery and bridal outfit, these hairdos will make you stand out in the crowd for sure.
So which hairdo is your choice for your big day? Let us know through comments.