14 Rangoli Photos To Serve As Cues For Your Own Wedding Decor
A wedding is beautiful chaos and with colours thrown around everywhere, a rangoli is never out of place. So, here are 14 rangoli photos to add a dash to the day.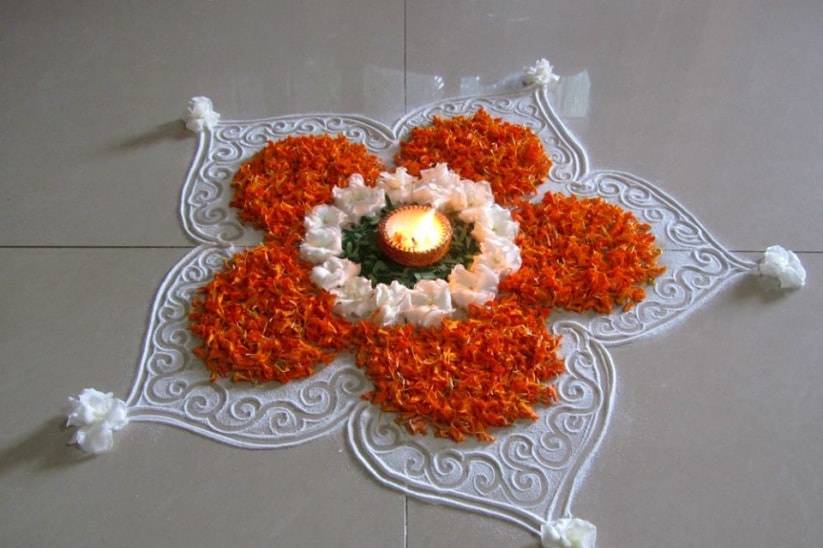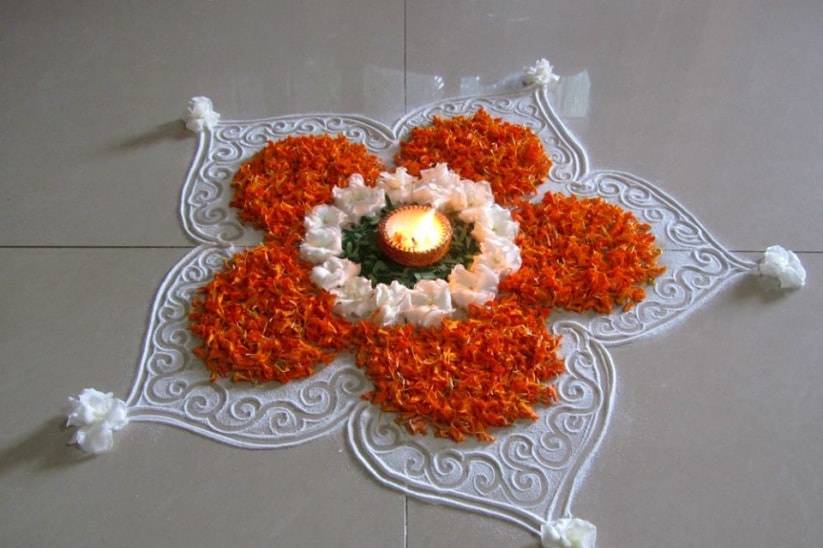 Image courtesy: Blissful Stuff
Crafted from coloured sand, a rangoli is a traditional form of art that has been carried through ages. It is a way to pay respect to god, a way to beautify the house and indicates a time of celebration. Drawn up during festivals and weddings, the design is often etched with the aid of handy rangoli photos.
A wedding rangoli can be designed in any way you want it. It can be a generic rangoli that you see during festivals or something that has your own personal touch too. Rangoli designs at weddings use flowers, Diyas and even lights to personalise and illuminate your wedding decor.
A rangoli is not just as beautiful as a final product, but even the process of making it can be soothing and enjoyable. We have put together some amazing rangoli photos to tell you the different ideas that can help you make the rangoli at your wedding different from others. So, take a look at them and see what might suit you.
1. Rangoli of Hearts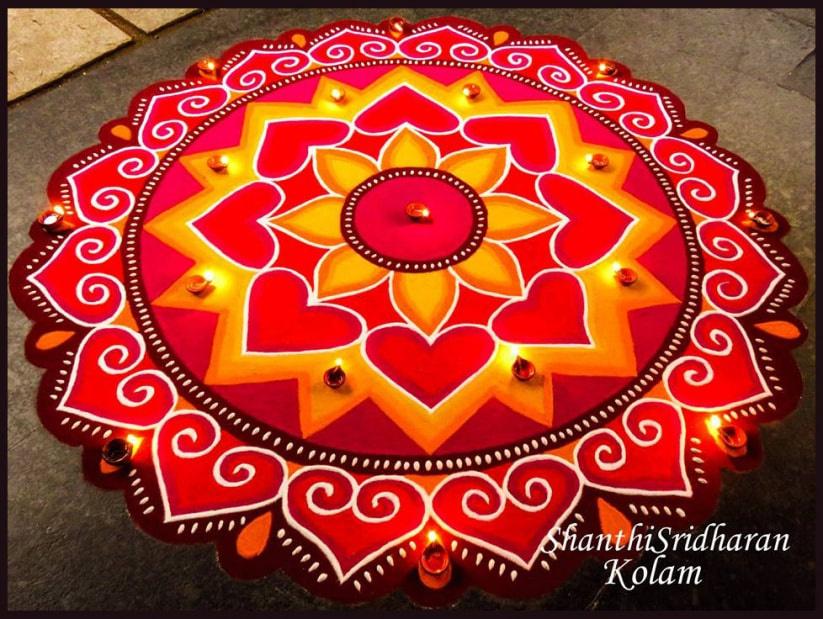 Image courtesy: Shanthi Sridharan Kolam
This rangoli photo beautifully depicts the atmosphere of a marriage with all the hearts going around. This also gives traditional vibes, as the inner pattern looks like a flower and the Diyas illuminate the design splendidly. Though the colour deep red is very much in place with the design, you can choose your own variant, in line with your wedding theme. This design should sit well somewhere near your wedding entrance.
2. Pathway Light Rangoli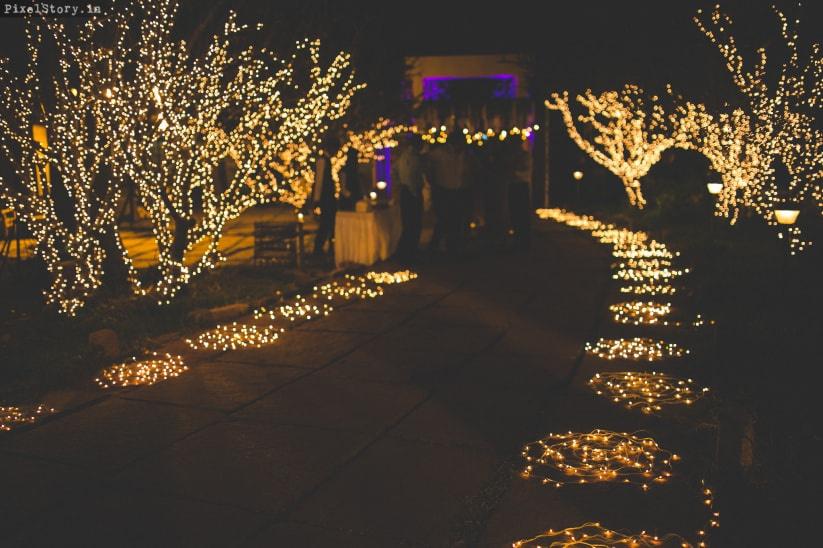 Though not quite extravagant in design, this rangoli definitely adds to the charm of a place as it uses lights to enhance the basic design of a rangoli. When it's done for a nighttime wedding function, these twinkling light would add magic to the pathways leading to it. The best place to do this is the main pathway.
3. The Auspicious Element Rangoli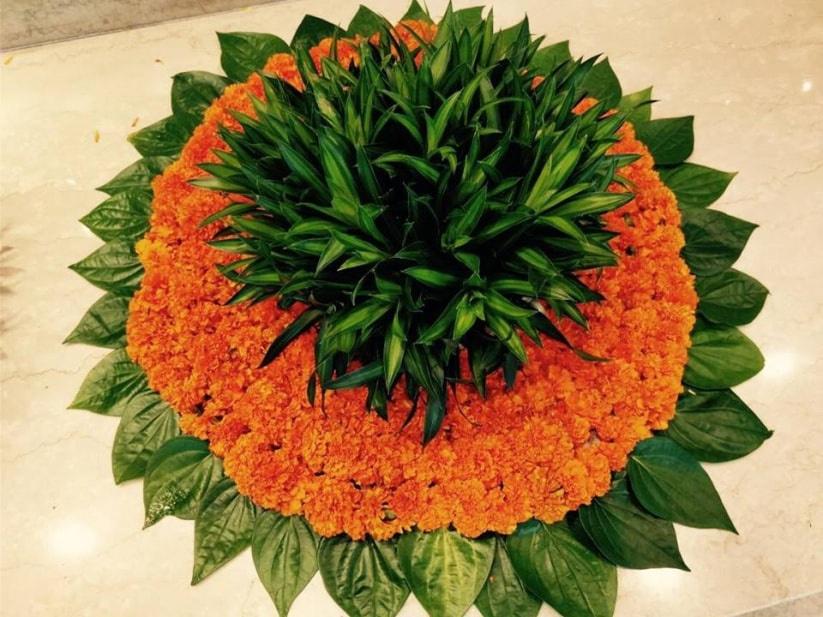 With the Gainda Phool (marigold flowers) interspersed with the mango leaves, this rangoli photo certainly lives up to its name. These items used are considered lucky in the Indian culture, so there is an additional advantage other than its beauty. This rangoli would look pleasing anywhere near the rituals, be it the wedding mandap or pandals.
4. Lotus Rangoli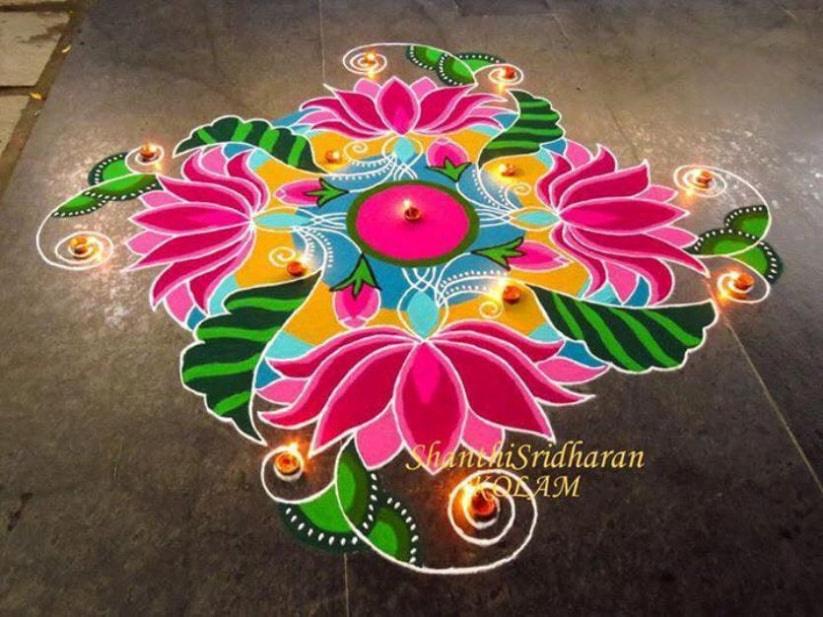 Image courtesy: Shanthi Sridharan Kolam
The lotus is an extremely traditional design. Here, with its shading and lines, it has made to look quite contemporary. It can be personalised by adding your own choice of flowers to the design and add to the colour. It is a good look for welcoming the guests into the venue.
5. Light Design Rangoli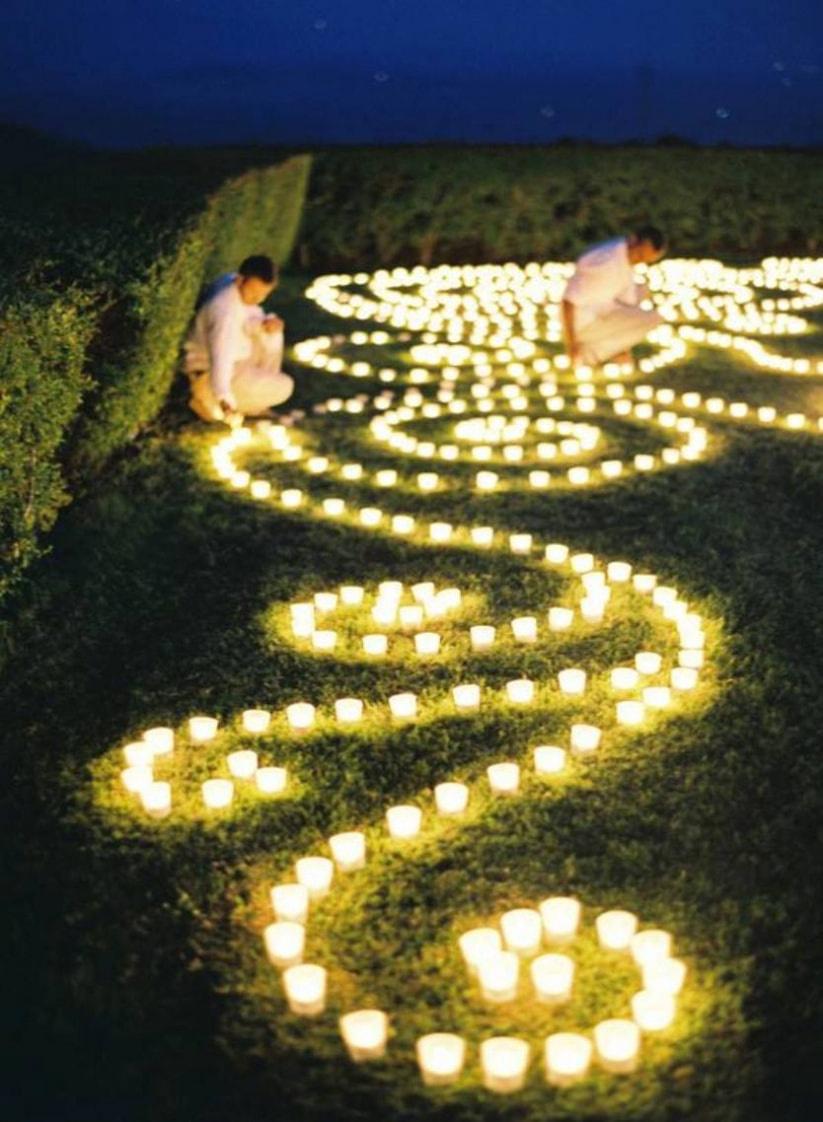 This rangoli photo looks especially marvellous, not just because of its design, but for the light, it brings to the event. This rangoli looks amazing covering the borders of the venue. You can make any kind of pattern with this rangoli, personalising it as much as you want.
6. Pathway Flower Rangoli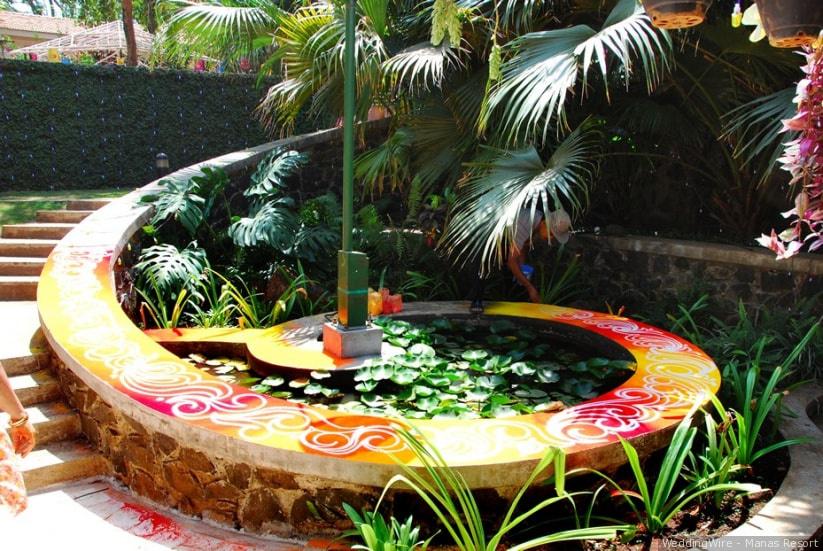 If it's a day wedding, lighting up your pathway doesn't make a lot of sense, so why not decorate them with a flower border? This rangoli design can be made with your choice of flowers, going according to the theme or not. These brighten up the short walk your guest has to take.
7. Floral Pattern Rangoli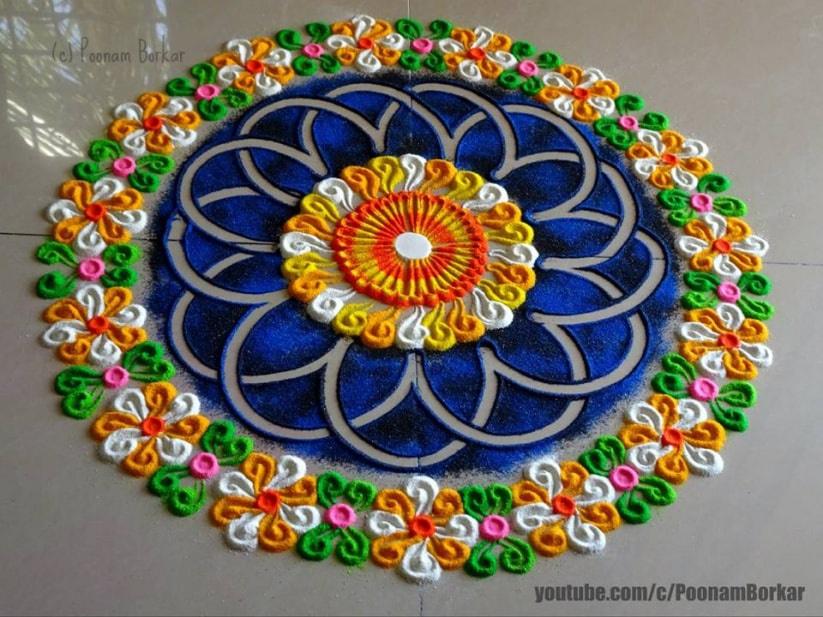 Image courtesy: Poonam Borkar Rangoli
Unlike rangolis made out of flower, this one just stars them in its design. The colourful rangoli is a good fit in a Mehndi function, where it can be placed near the bridal seat. This rangoli can also have names of the bride and groom written in the empty spaces, like in a Dulhan's mehndi.
8. Diya Pattern Rangoli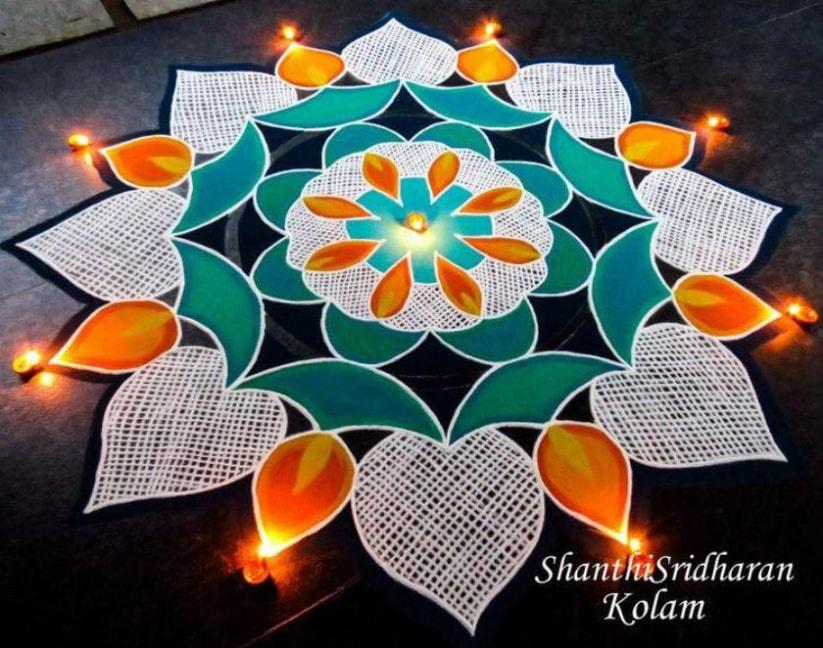 Image courtesy: Shanthi Sridharan Kolam
This rangoli photo incorporates Diyas in every circle of the design. This is then complemented by the Diyas on the side. Though understanding the design in one go is not easy, but that is what makes so splendid to look at. Placing it near a mandir in the venue should look good.
9. Paisley Rangoli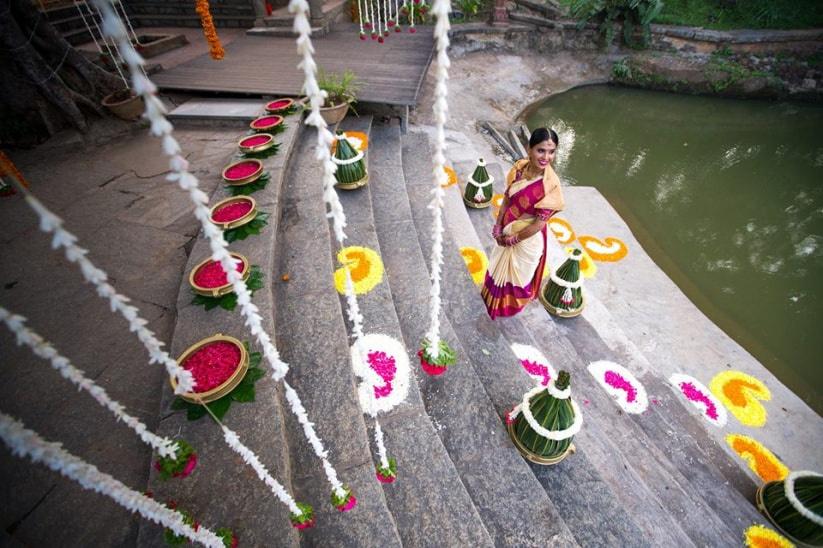 Another very well-known pattern in Indian culture is the paisley. Though this design is not elaborate, the placement of each paisley and the dual colour exchange makes it work. If there is an open space in the venue, which is not used, then cover it with this rangoli.
10. Announcement Rangolis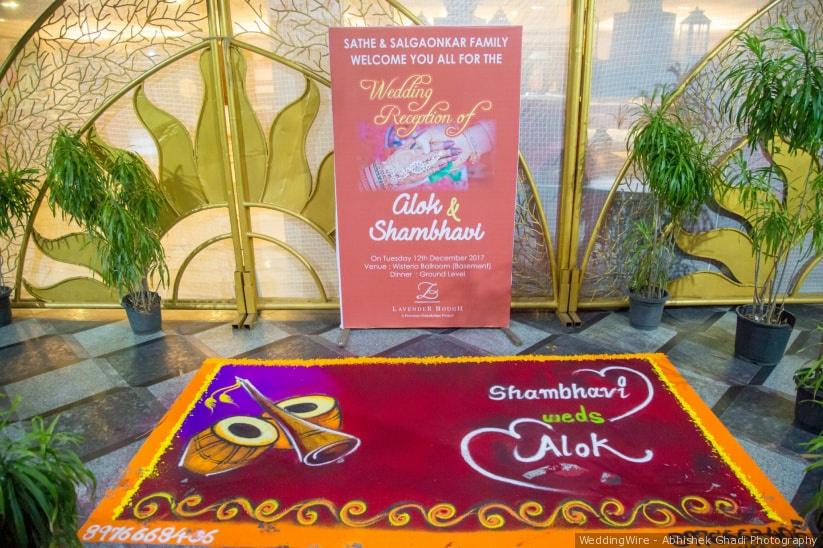 Try to turn the wedding Rangoli into your wedding announcement, just like the case with this Rangoli. This is as personalised as it can be, as you can use whatever designs and colours to make it. It should be placed where everyone can view it and read it easily.
11. Pot Rangoli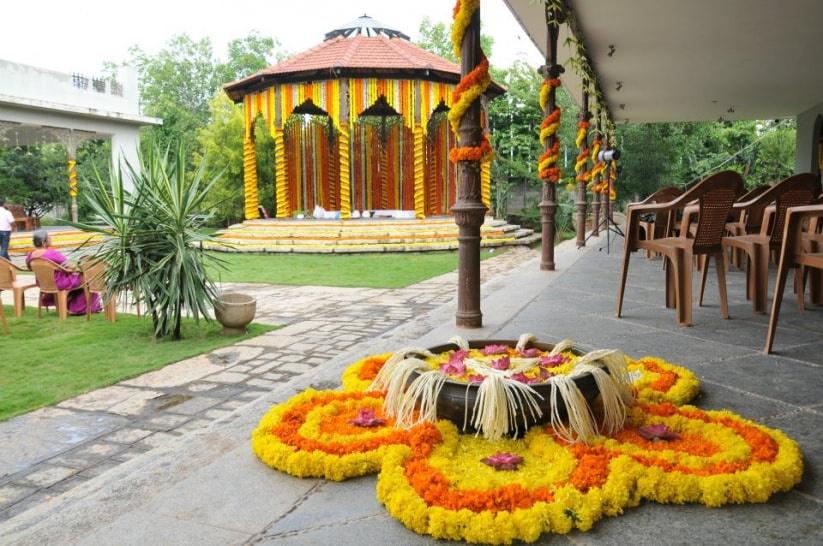 Flowers themselves look extremely graceful and when you put them over water and you have a combination no one can beat. These rangolis should be placed near the function, but enough out of the way so that no one disturbs them. You can use your choice of flowers for it, but if you want it to look traditional, Genda should be your first choice.
12. Carpet Rangoli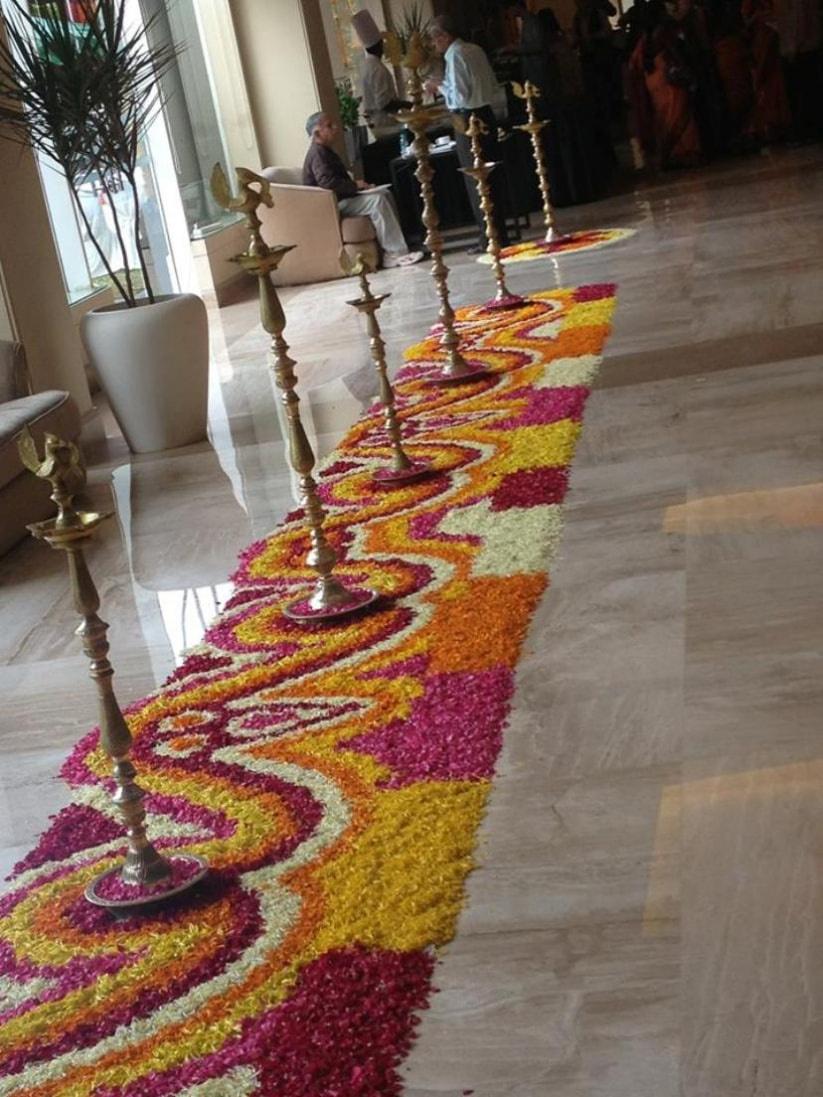 This floral rangoli photo is basically like a carpet made out of flowers. You can place Diya stands or even floating rangolis in the middle of it according to your taste. These rangolis are usually made near the edges of the function venue.
All these rangoli photos have something special about them, from what elements they use, to their design. Each has something that you would want in your wedding functions. If you find it tedious, we are here to help you with it.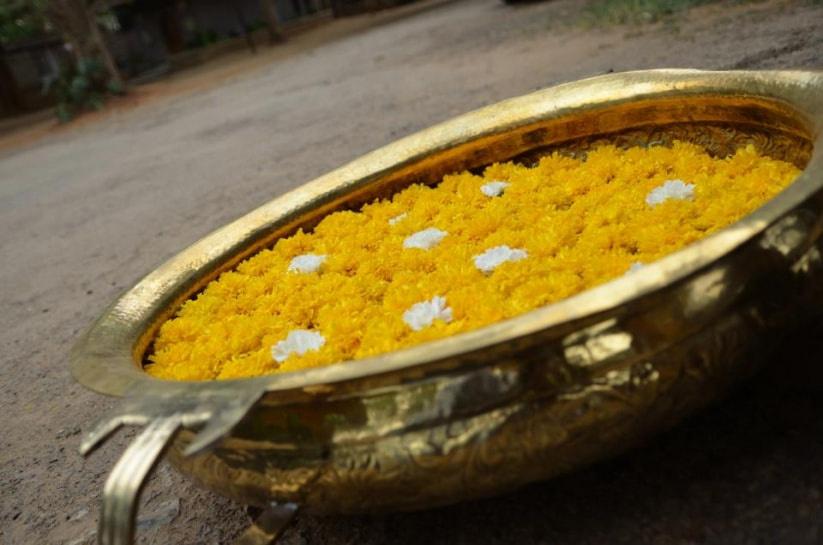 13. Filled in spaces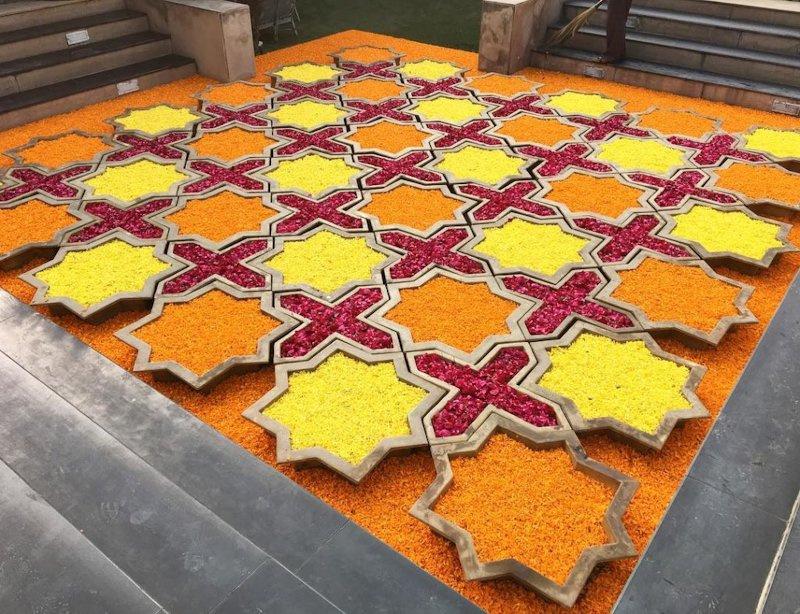 Image courtesy: Pinterest
Sometimes working with your wedding venue and location is the best way forward when it comes to coming up with a stellar set of Rangoli designs. Check the appeal with these Rangoli photos which show filled in petals in different shades of marigolds and roses. The brilliance of such a concept is that you do not need to think about creating a pattern and putting up outlines - it's all about filling them up and that's something that you can easily do yourself or ask anyone to help you out with.
14. Carpeting ideas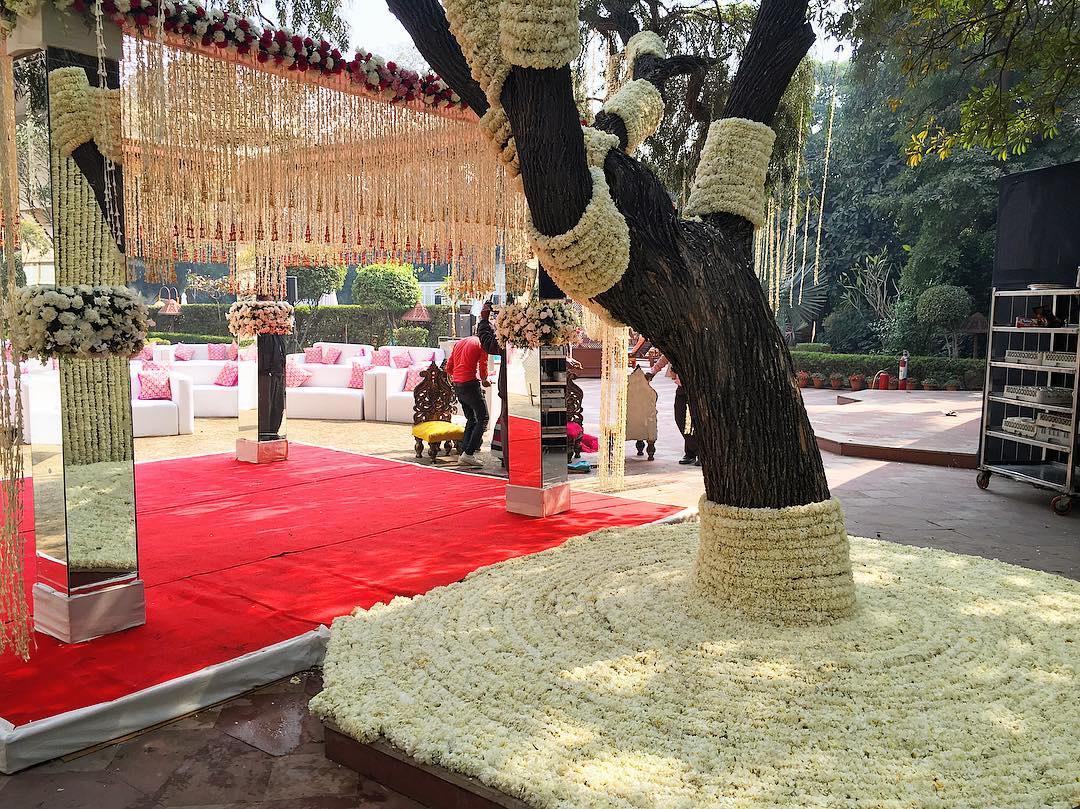 Image courtesy: Taj Mansingh on Instagram
Another idea that always helps amp up your Rangoli designs for a wedding is to have a section around your venue carpeted with flowers. Again, it is not something that requires a lot of precision-based work, but a certain sense of uniformity and neatness helps, as we can suggest from the white candulas above.
Rangoli has always been an integral part of Indian traditions, and while deeply rooted in our culture, we can see beautiful rangoli designs on various occasions. For weddings especially, they are considered pious and auspicious and imbibes good wishes for the bride and groom for their new journey. All the beautiful and colourful designs have a high decorative and ornamental value that you can include in any of your wedding festivities. We hope that you found some inspiration-worthy designs through our list of designs which you can make a part of your wedding day.
Are you in love with these rangoli photos as much as we are? Well, tell us in the comments which one would you pick and for which of your wedding functions.