Check Out These Rangoli Design Images And Spruce Up Your Venue!
The following are some unique rangoli designs images that you can take inspiration from for this wedding season.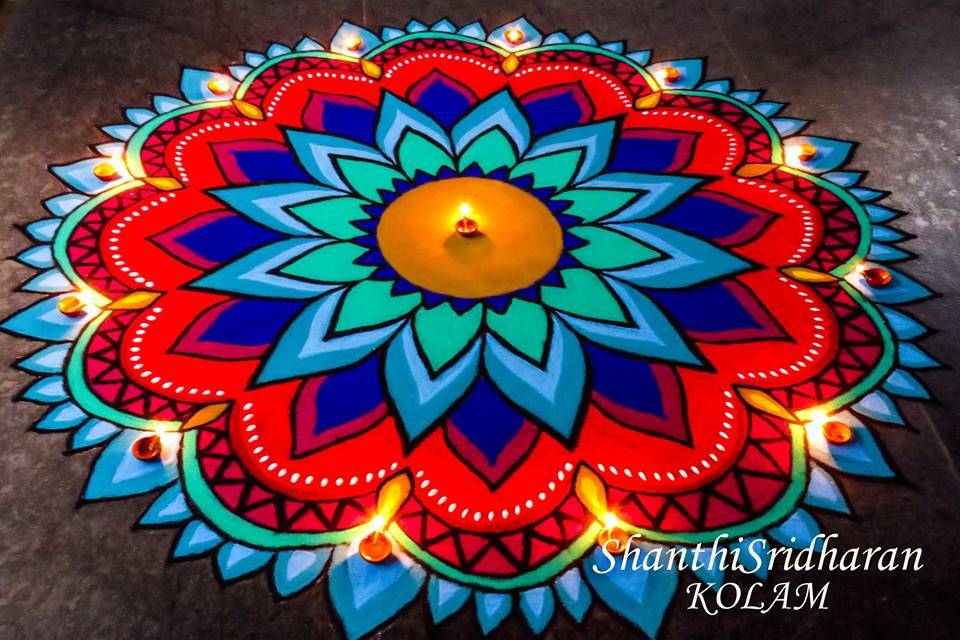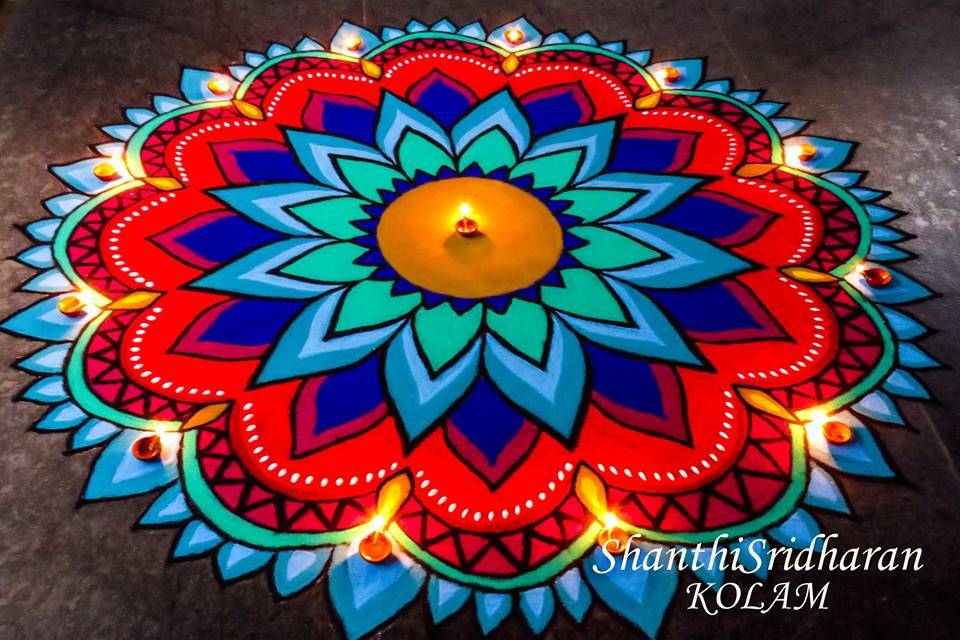 Rangolis are a beautiful and traditional form of art that is native to Indian culture. A beautiful rangoli made of organic colours is one of the simplest yet most creative ways to make your surroundings look decorative and beautiful. They are a symbol of celebrations and positivity, which is why you find these at weddings and festivities so often.
In today's modern times, people in our country have started leaning more towards professional decorators with modern décor for their wedding celebrations. However, there is still a special place for rangoli designs at every event, as nothing can beat them for their understated beauty and their cultural significance. Making rangolis with our own hands gives us an opportunity to fully immerse ourselves in the celebrations and helps us channel our inner artist.
Here, we have a list of unique rangoli designs images that can help inspire you to create beautiful rangolis this wedding season.
1. Floral Rangoli Design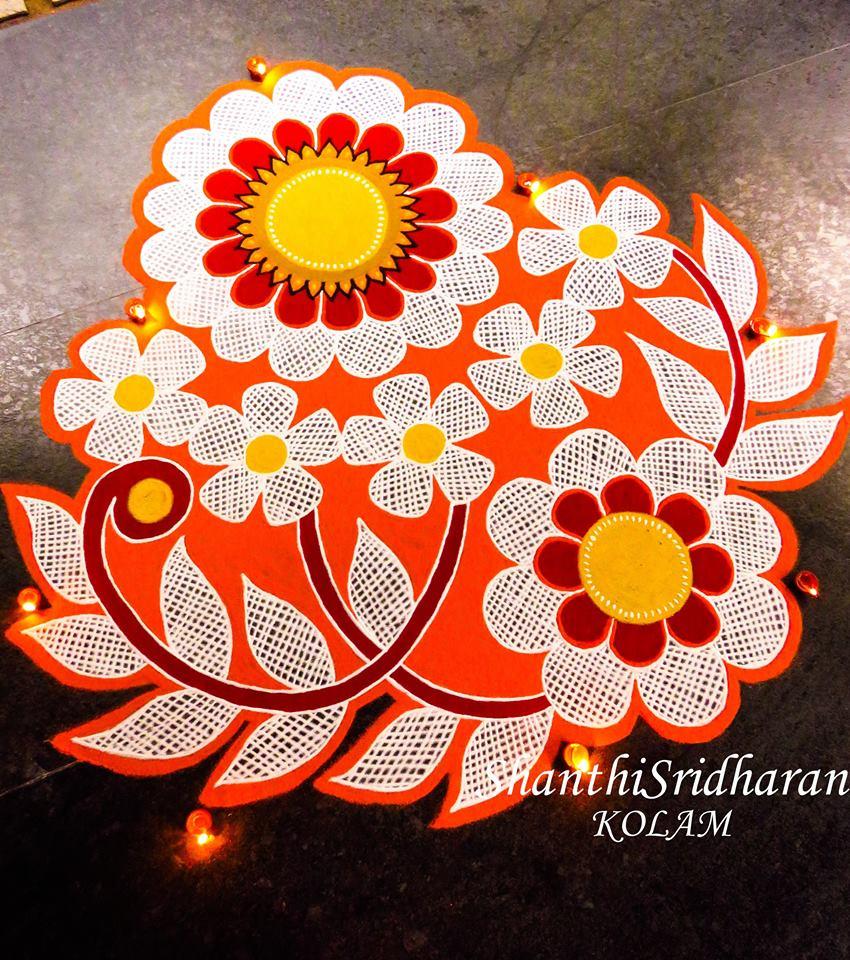 Floral rangoli designs are very popular at weddings and you're bound to find many rangoli designs images this wedding season. This one shows a floral design rangoli with a bright orange base colour.
The bright orange colour symbolises the happiness and vibrancy that comes with wedding celebrations and the delicate floral design with bright yellow sun-inspired designs take the appeal of the design a notch higher. This rangoli blends in modern as well as traditional design elements seamlessly.
2. Intricate Rajasthani style rangoli design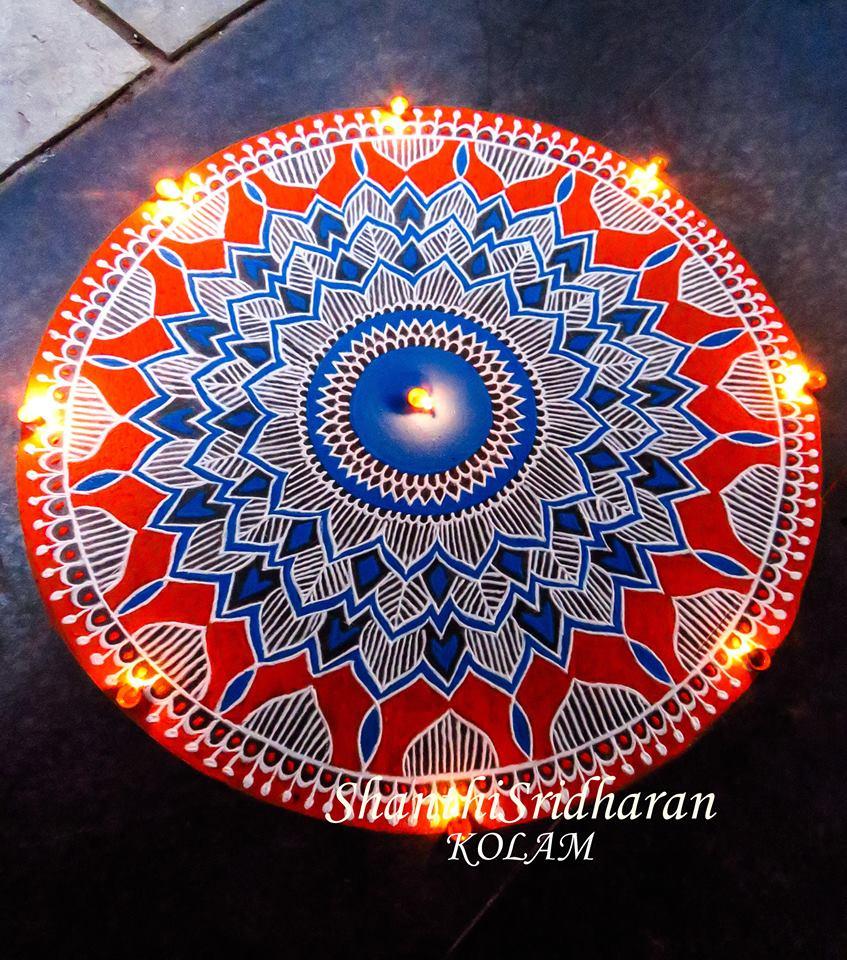 When it comes to popular rangoli designs images, you'll see a lot of Rajasthani inspired work. Here we have an image showing an intricately designed spherical rangoli in contrasting shades of blue and orange. The colour combination feels inspired by Rajasthani style clothing and provides a perfect contrast.
The fine white powder design is what makes this so neat and lovely. If you can pull off such creative rangoli designs for a wedding, be prepared for a ton of compliments!
3. Colourful rangoli in a circular design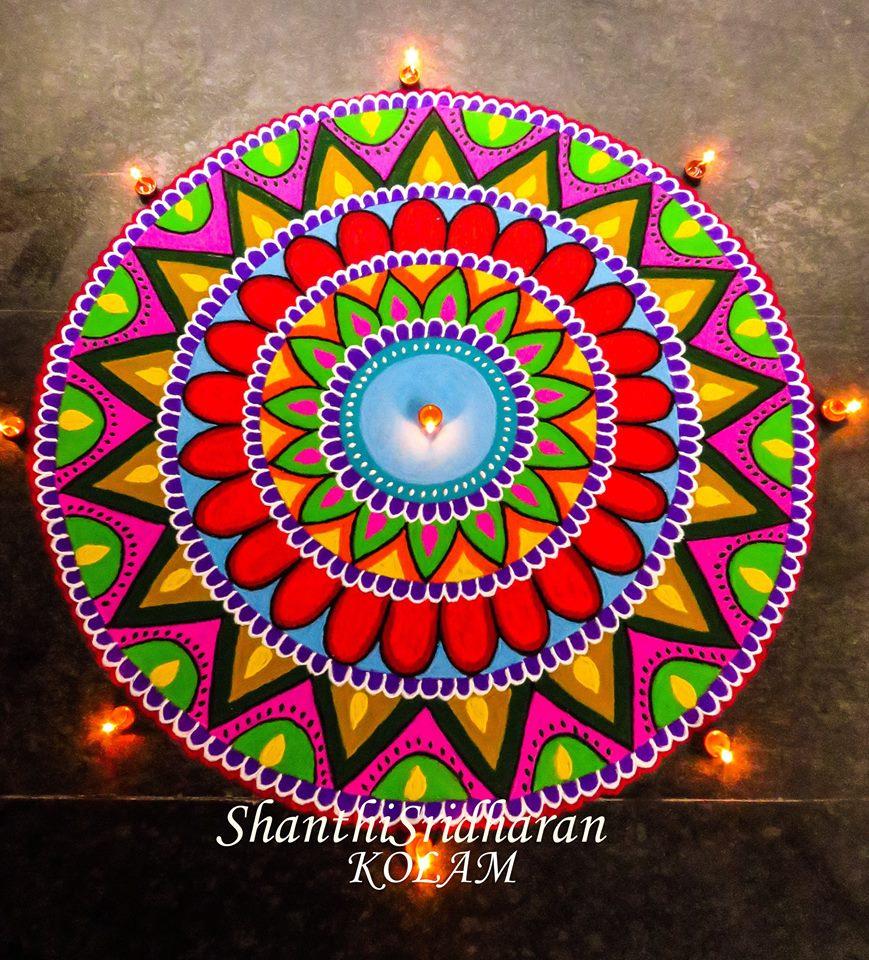 Another popular category when it comes to rangoli designs images is the one that includes circular designs. This image shows a rangoli design with a number of concentric circles and geometrical shapes. The design involves the primary colours of red, green and blue, which go a long way in making it look so vibrant. The rangoli is surrounded by diyas that make the colours and the design stand out and look so beautiful.
4. Rangoli inspired by Mughal designs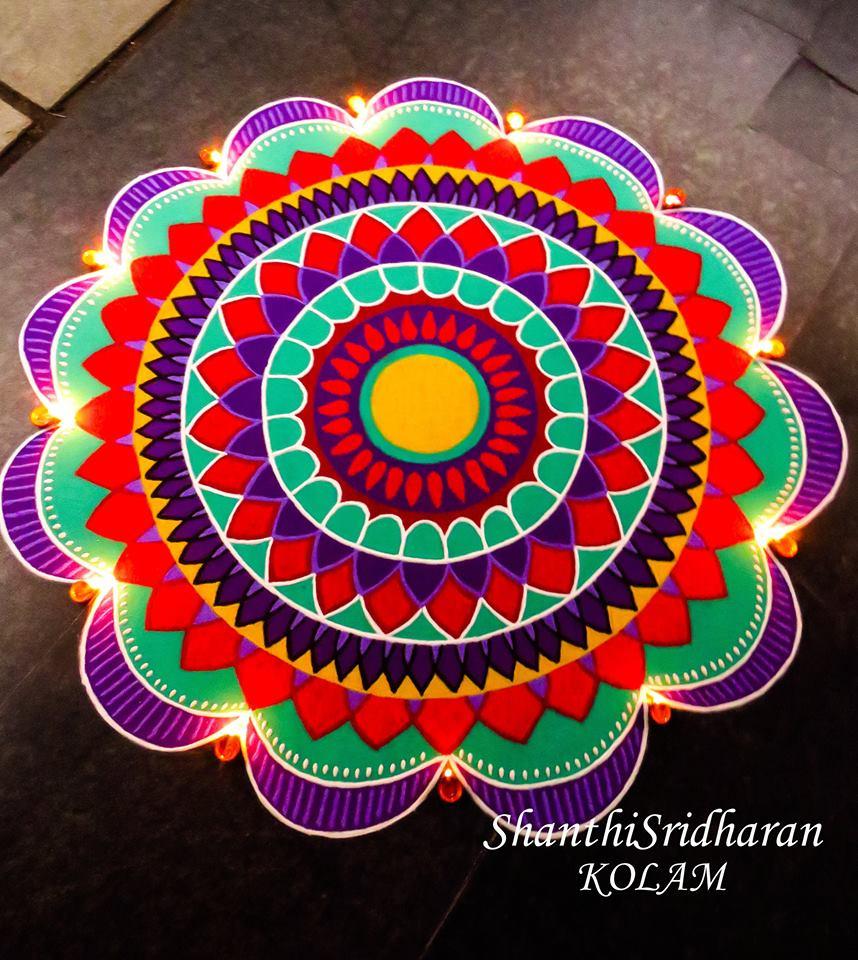 This is a flower-shaped rangoli that takes inspiration from Mughal-era designs. As far as rangoli designs images go, this one shows the use of multiple colours that together make the design so pleasing to the eye. This is a relatively easy design to execute on your own and it will definitely impress your guests.
5. Orange and Blue Peacock Rangoli Design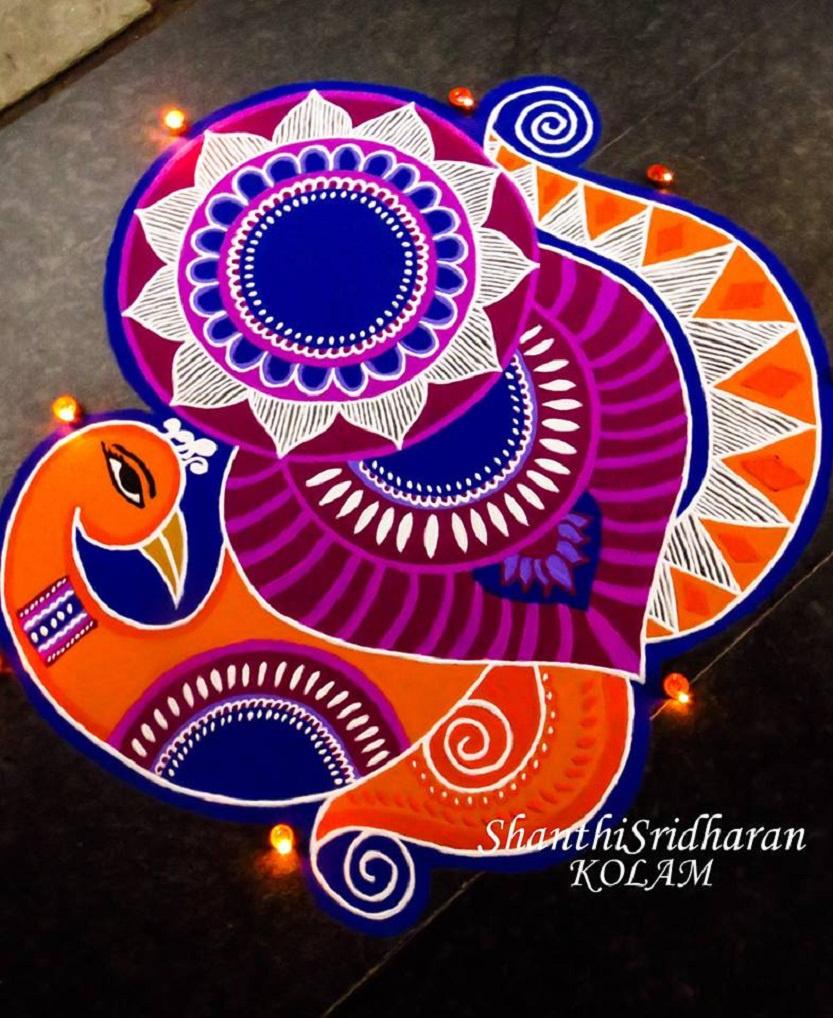 Peacocks have long been associated with wealth, royalty and good luck, which is why there are so many rangoli designs images on the internet featuring peacocks. This image shows a contrasting orange, blue and purple design with an intricate white powder pattern that takes the design a notch higher.
6. Orange and purple rangoli design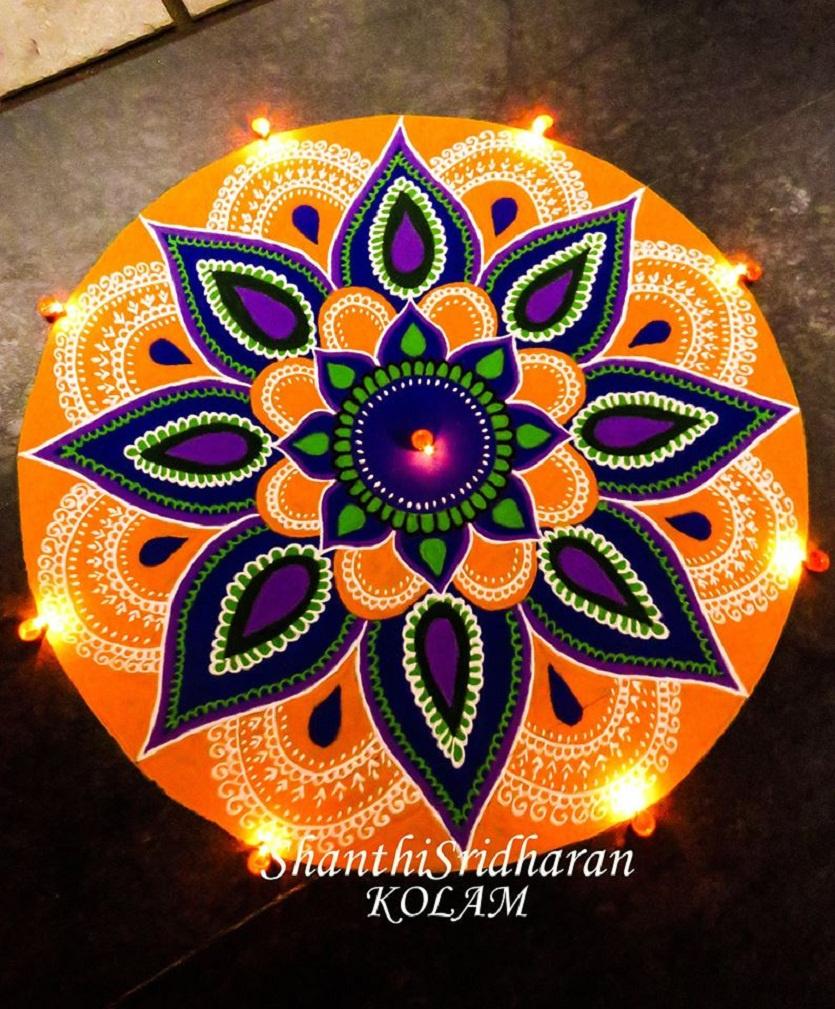 This design is in a spherical shape and contains intricate teardrop shapes. The colour combination of orange, purple, green and white form an aesthetically pleasing design that you will take deep pride in making.
7. Blooming flower rangoli design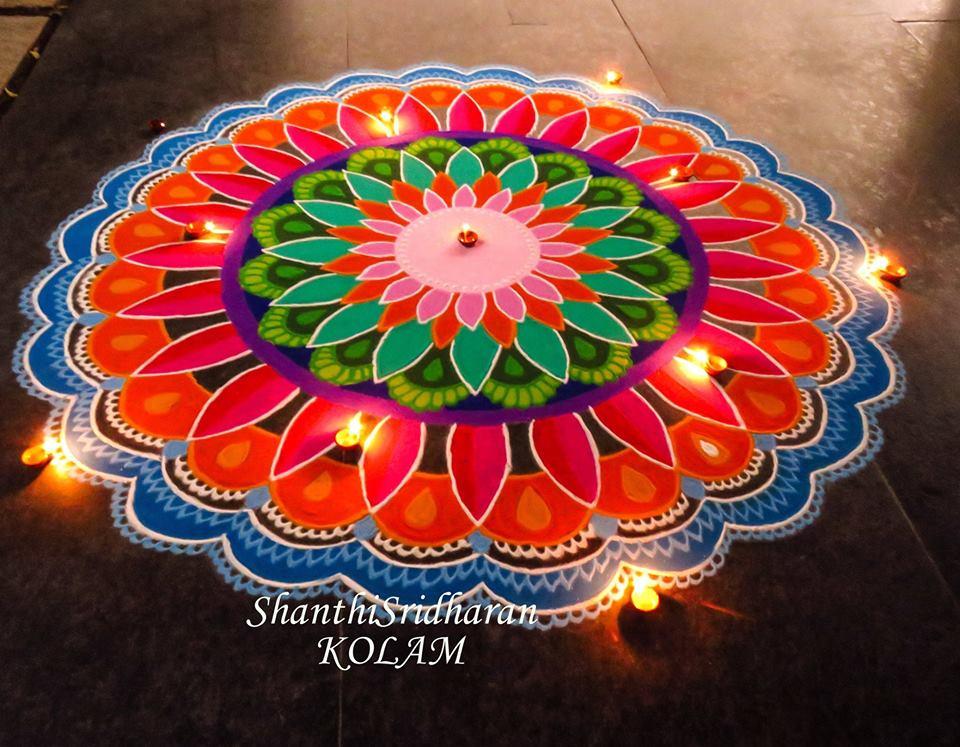 Such rangoli designs images resonate with the bride and groom to be on a deep level as the design depicts a flower that draws a parallel with the blooming romance of the marrying couple. The pink, green and blue colours used in the design are bright and colourful, and they radiate a sense of happiness and celebration during the wedding.
8. Circular Tear-drop Rangoli design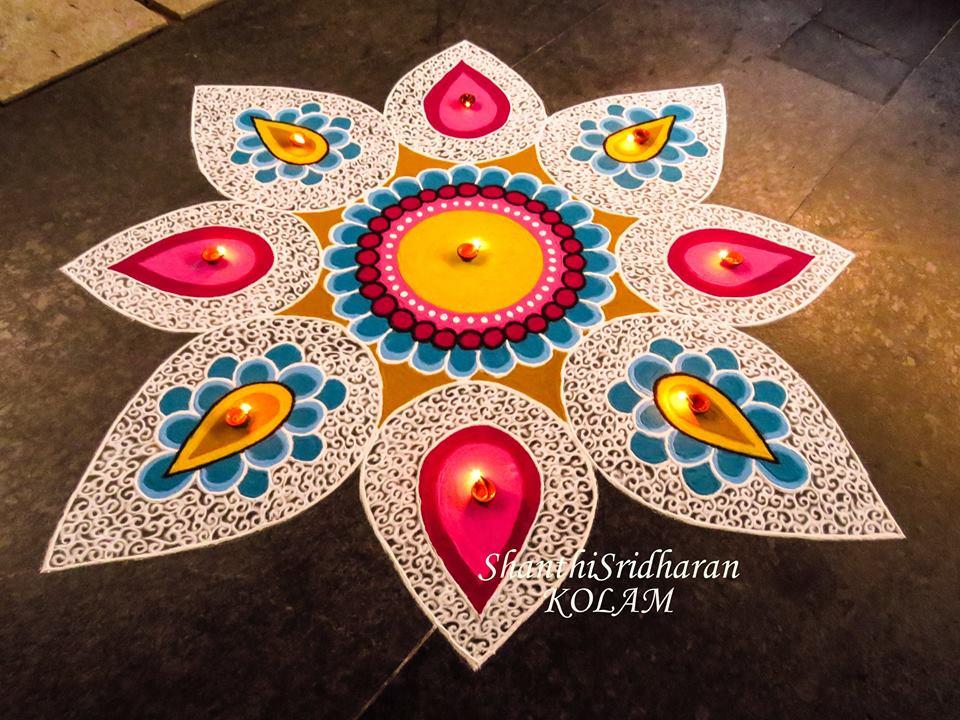 This tear-drop shaped rangoli in a circular layout is another unique creation, which is why it's a part of our rangoli designs images list. The image features fine work using white powder and a splash of bright colours that give the design its vibrancy. The inner bright floral motif ties all the other elements of the design together and completes the rangoli. The design is subtle, elegant and extremely beautiful to look at and we highly recommend you to try something like this on this wedding season.
9. White and Pink Kolam Rangoli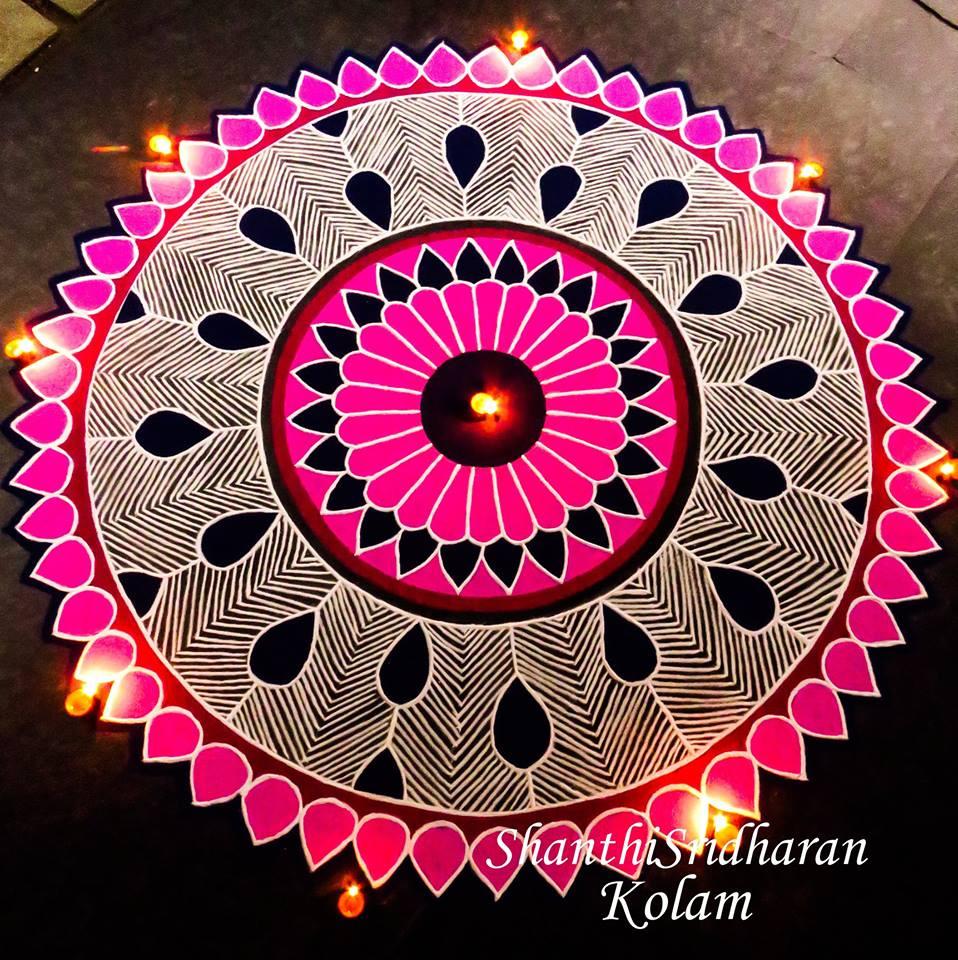 Here we have another intricate, yet effortlessly beautiful pink and white rangoli design. The spherical design surrounded with teardrop shapes on the outside looks very regal and displays the contrast of the calming shade of white and the bright shade of pink beautifully.
Rangoli is a traditional art of decorating during celebration or an auspicious ceremony. The art form is truly one of its kind and is unbeatable for the satisfaction it provides to the designer and
its aesthetic beauty. We hope you take some inspiration from these rangoli designs images and celebrate this traditional artform on this wedding season!
Want your décor to look stunning? Get in touch with these wedding planners who'll help you host the most memorable wedding!
Note: All Images are from Shanthi Sridharan Kolam on Facebook