Pongal Outfit Inspirations for This Festive Season
Find traditional Pongal outfit inspirations. We bring together our favorite sarees for your festive wardrobe.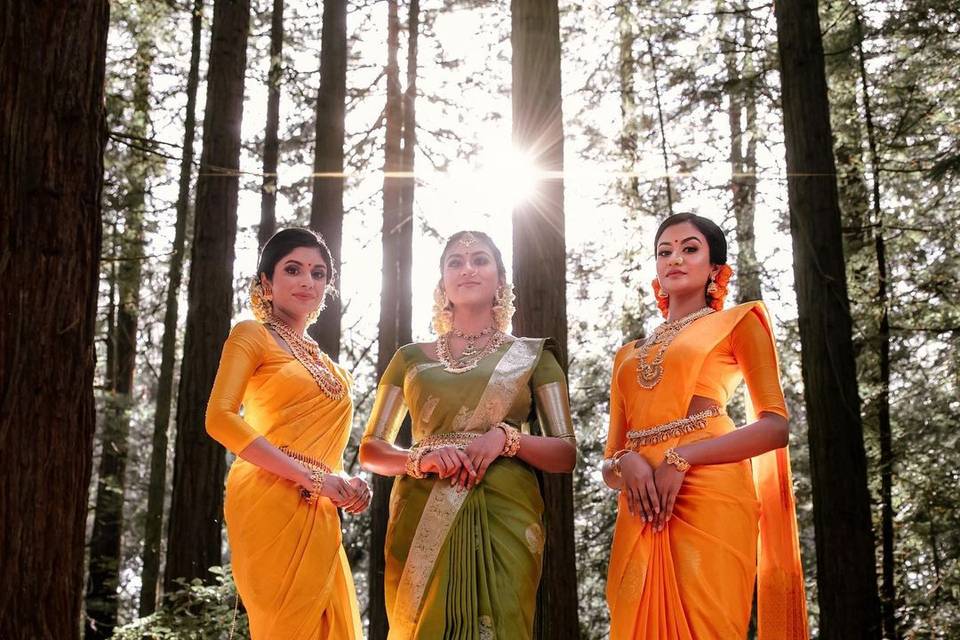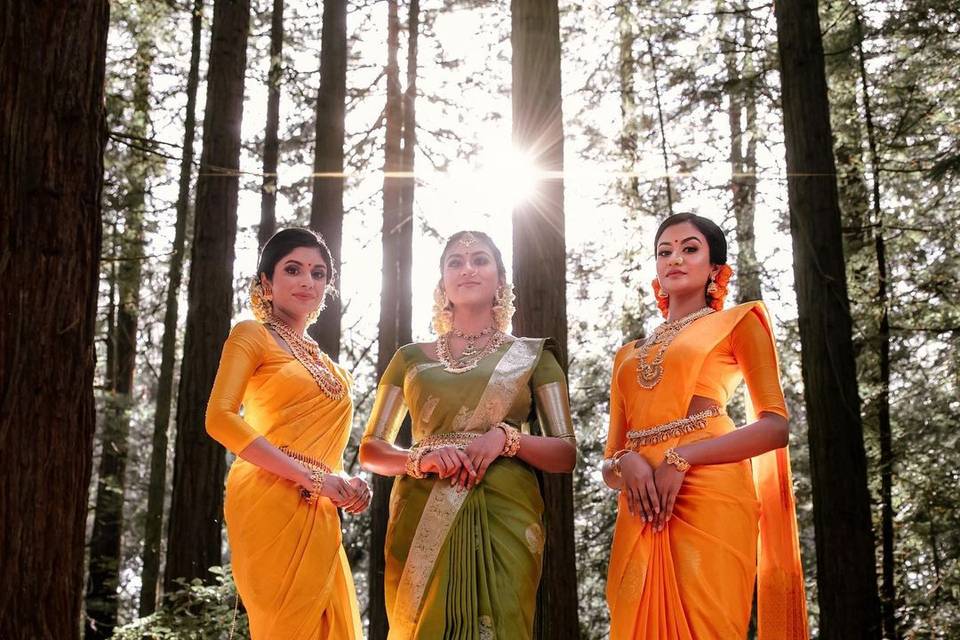 Image Credits - Ranya Sarees
Here we are at the multi-day harvest festival. During the Tamil solar calendar, three days mark the end of the winter solstice and the beginning of the Sun's six-month journey as it enters the zodiac Makara (Capricorn).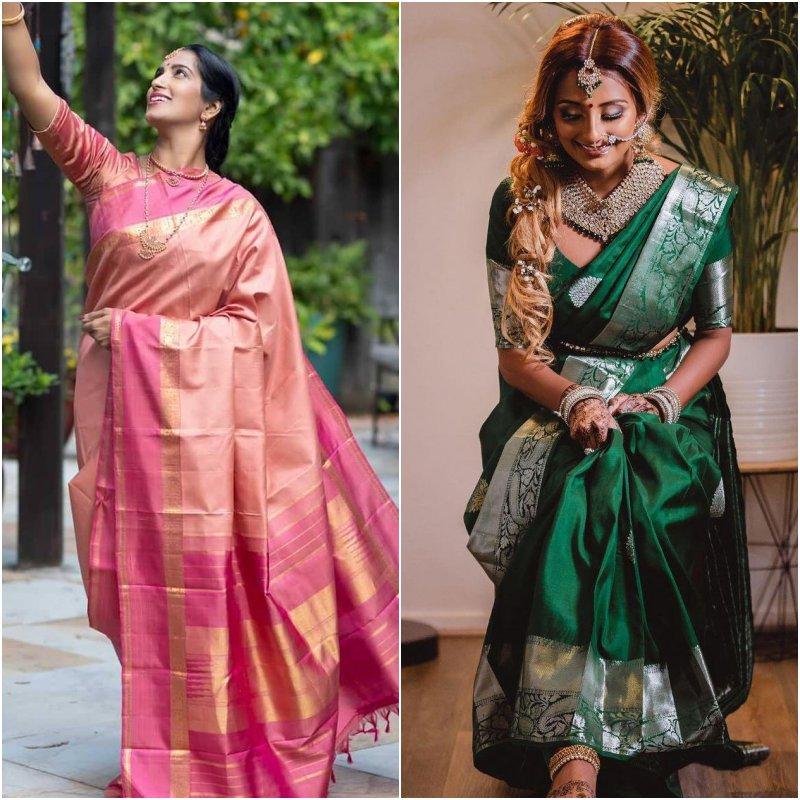 Image Courtesy - Nalli Silk Sarees (L), Ranya Sarees (R)
For all the newlyweds, this is the time to cherish togetherness, relish Pongal's sweet delicacies with family, and enjoy the other processions. We brought together our favorite Kanjeevaram and Banarasi silk sarees and Pattu sarees for your first temple visit and family gathering as the 'newly wed' bride.
In this article -
Pongal Dress For Ladies
Contemporary Banarasi Pongal Dress For Ladies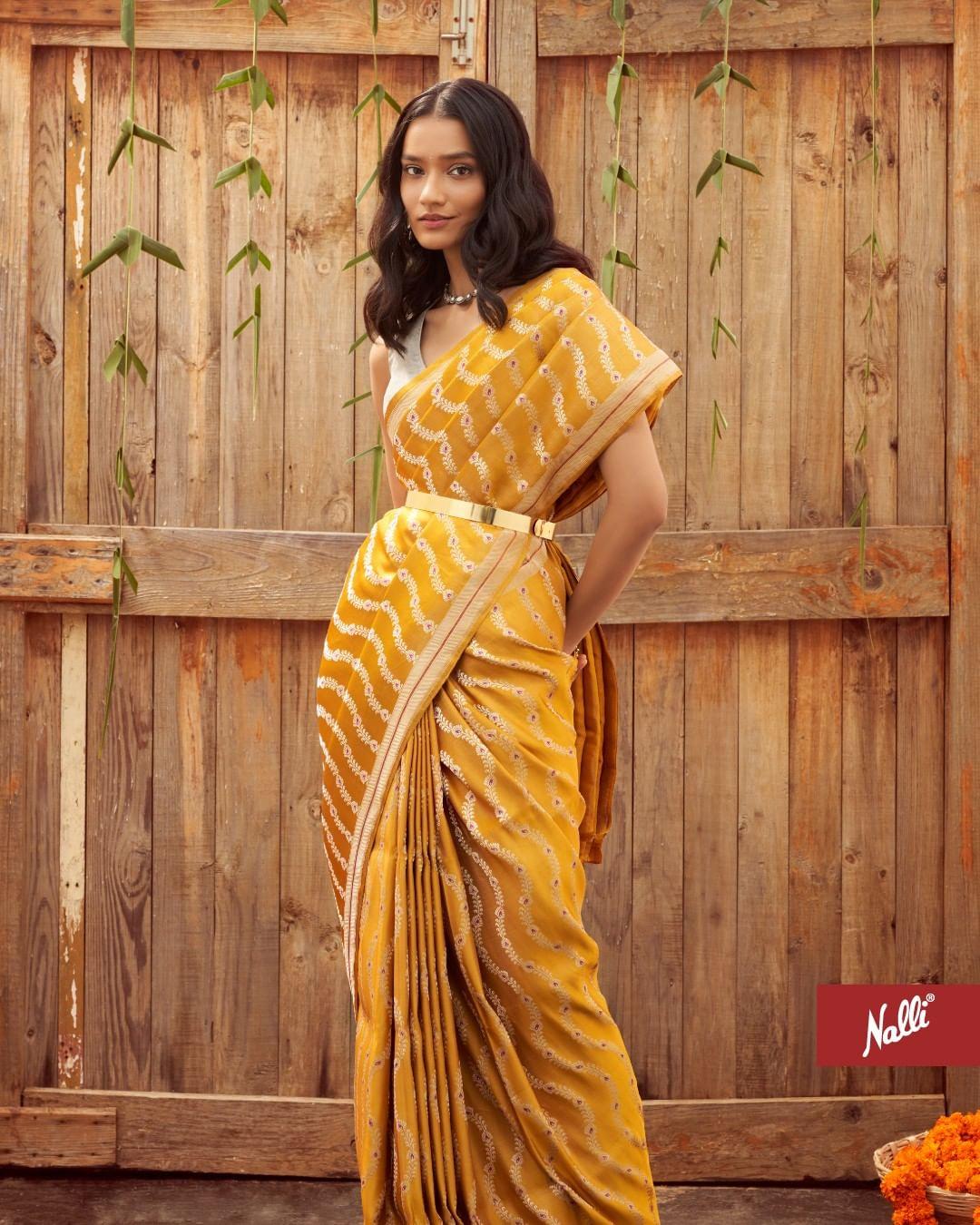 Image Courtesy - Nalli Silk Sarees
A tribute to her bright love, the bride wears a saree decorated with handwoven floral brocade and gold zari embroidery in our 'Dhwani' Banarasi silk collection. Intricate motifs are woven in golden zari elevate the rich shimmer of the bridal silk, while handwoven Meenakari threads complete the front and back of this saree, resulting in an exquisitely clear pattern on the front and back - a mark of its authenticity and long life on the handloom. Isn't a perfect Pongal outfit for every woman.
Green Hues of Festive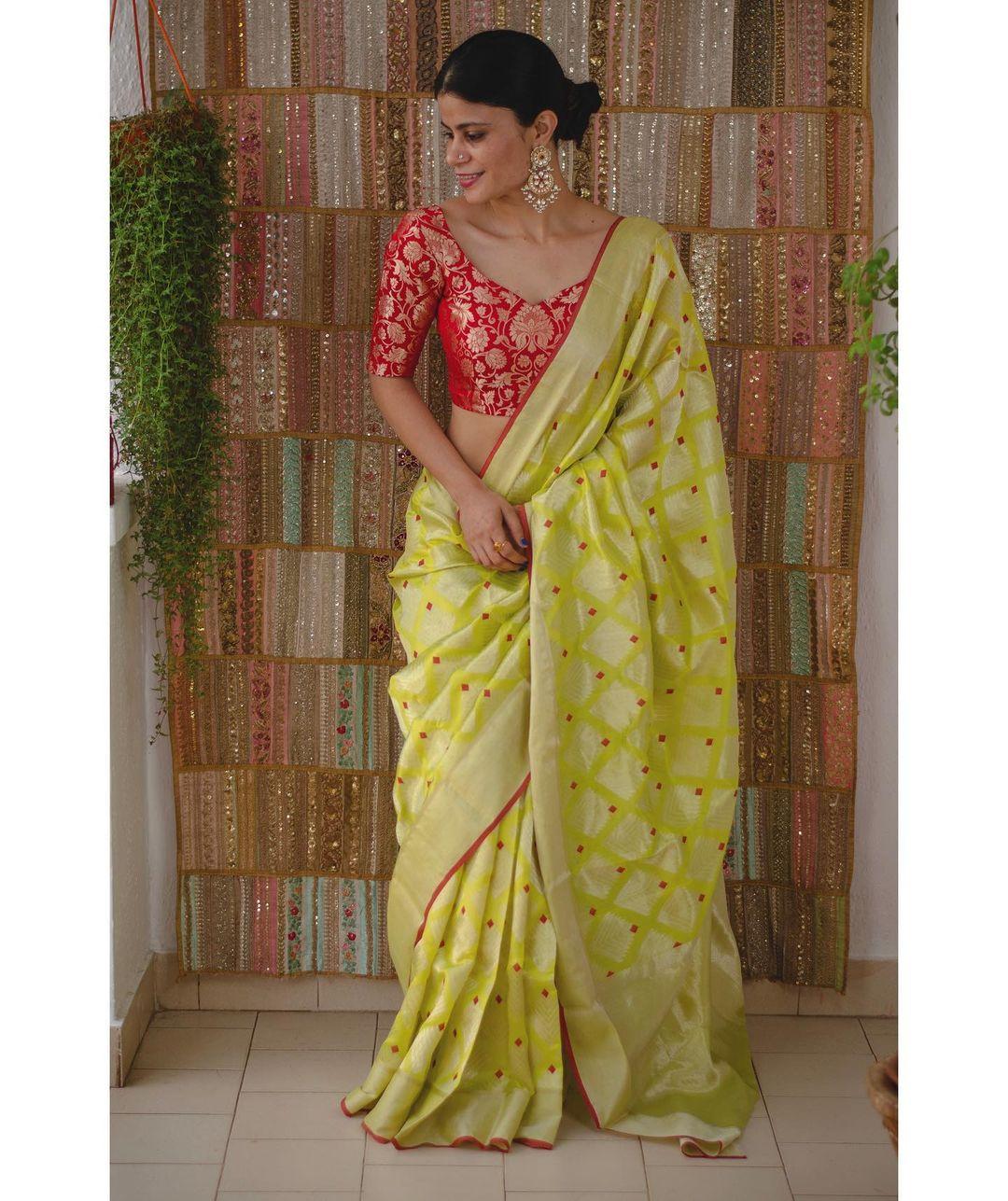 Image Courtesy - Chakori Ethnic
The traditional Katan silk Banarasi saree is bathed in our timeless favorite colors: red and green. Your hair should be left loose or tied into a neat bun and adorned with a floral headpiece. With this ensemble, you will successfully celebrate your first holiday season in style.
Red Traditional Pongal Outfit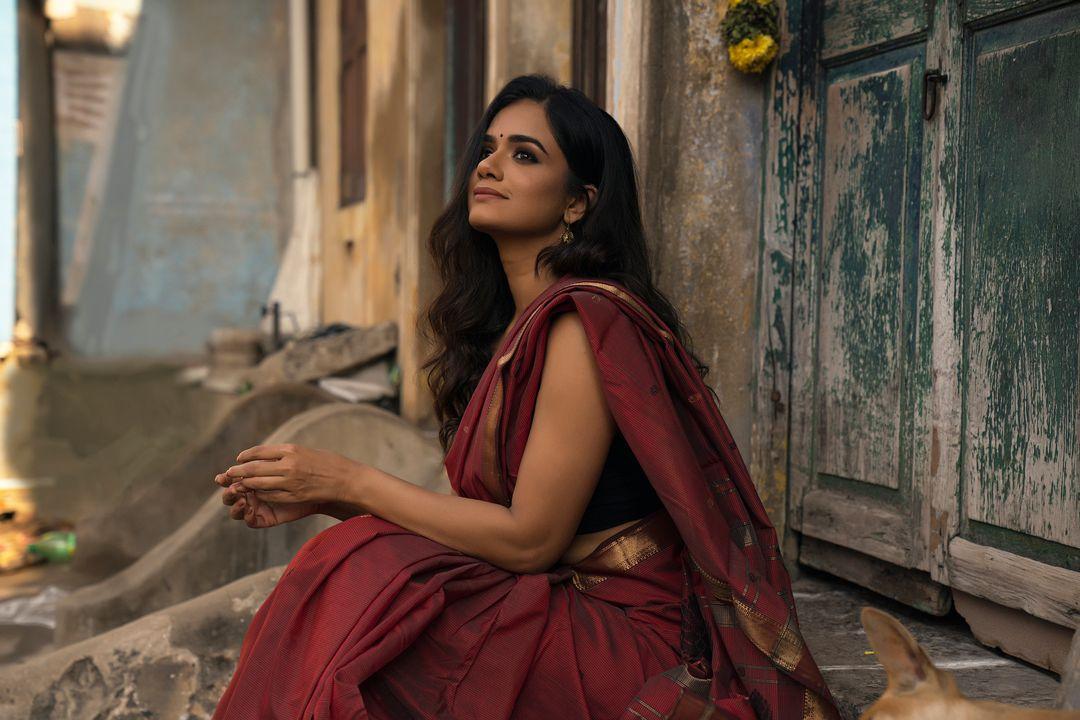 Image Credits - Sarangi
You should bookmark this for the Pongal outfit for inspiration. Handwoven in and around Maheshwar in central India, this silk-cotton product is hand-loomed from silk and cotton. They combine silk in the warp with cotton in the weft and a touch of zari in the borders and pallus, allowing them to be worn through all seasons and occasions. Maheshwari sarees are lightweight with vivid colors in the body and pallus, as well as reversible borders and indigenous motifs.
Floral Love Pongal Outfit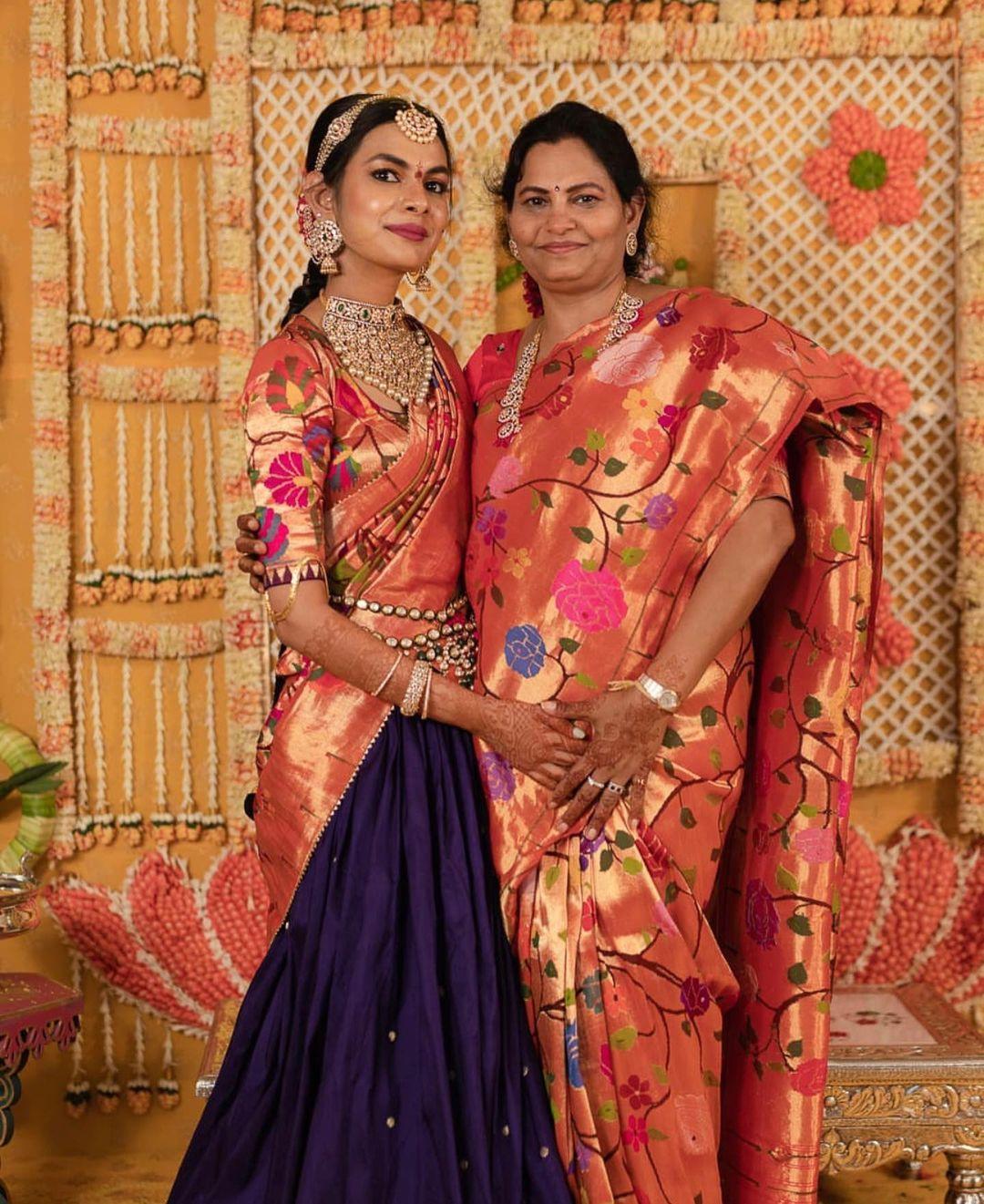 Image Courtesy - Taamara Taamara by Radhika
You should bookmark this for inspiration when you create your Pongal outfit. This silk-cotton product is hand-loomed from silk and cotton. The floral twinning by mother and daughter is spellbinding and beautiful.
Shades of Black & Grey

Image Courtesy - FabIndia
Detailed patterns and motifs sparkle and shine with ease. It's time to get together with your best friends and twin in black and silver. From our online and brick-and-mortar stores, you can get a curated selection of versatile, must-have pieces this season.
Green Kanchipuram Silk Sarees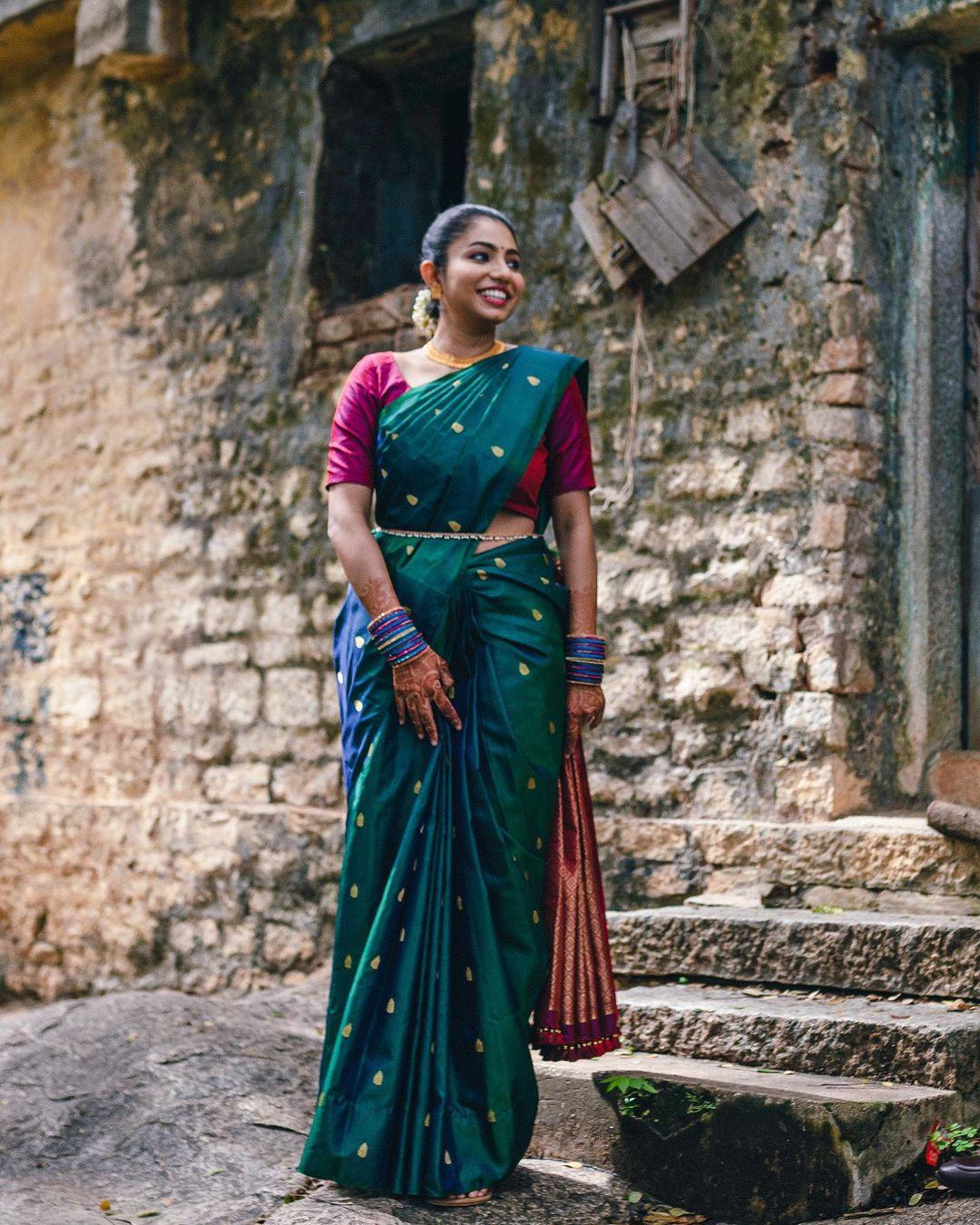 Image Courtesy - Nalli Silk Sarees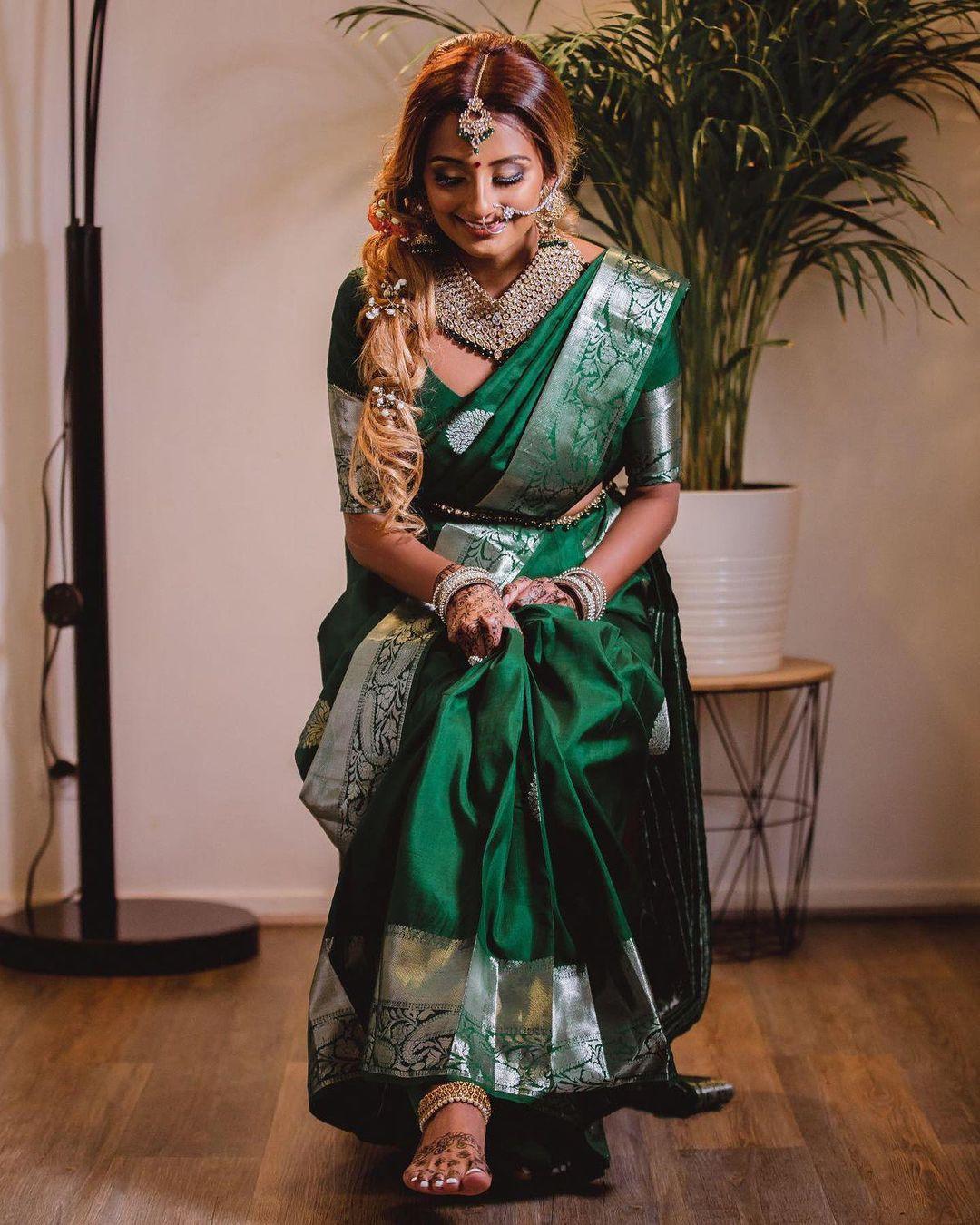 Image Courtesy - Ranya Sarees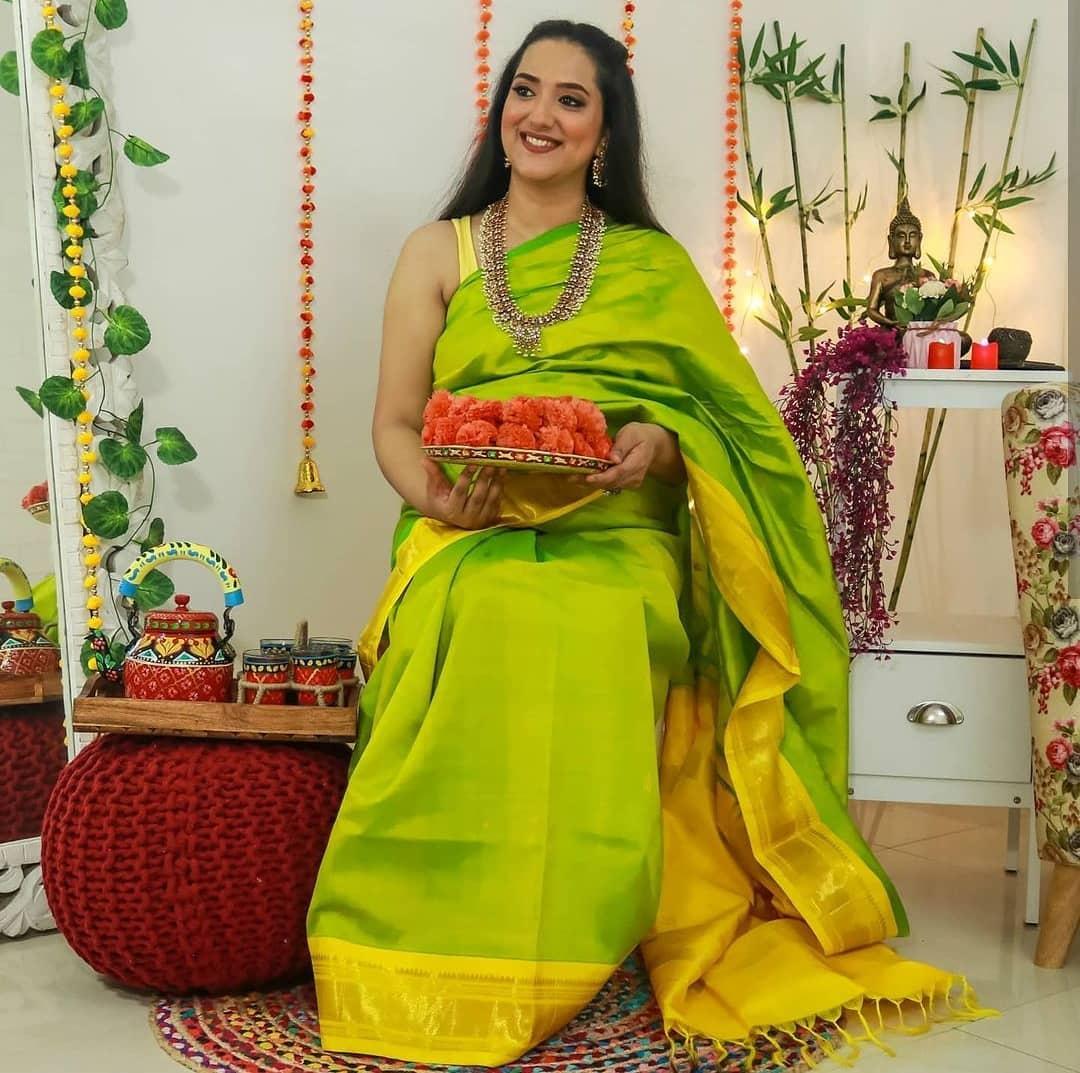 Image Courtesy - Nalli Silk Sarees
Here's our edit of the green Kanchipuram sarees we love! Wear a green Kanchipuram silk saree for your temple visits to this Pongal. Green continues to be one of the most classic colors in Kanchipuram sarees and brings out the beauty of South India's simple and elegant bridal fashion. Our edit comprises Kanchipuram sarees in different shades of green - from neon, lime green to bottle green. Pair them with a blouse design that complements your personality and you are ready for your first Pongal post-wedding.

Also Read - Top South Indian Saree Brands That Have Our Heart
Beige Arni Silk Saree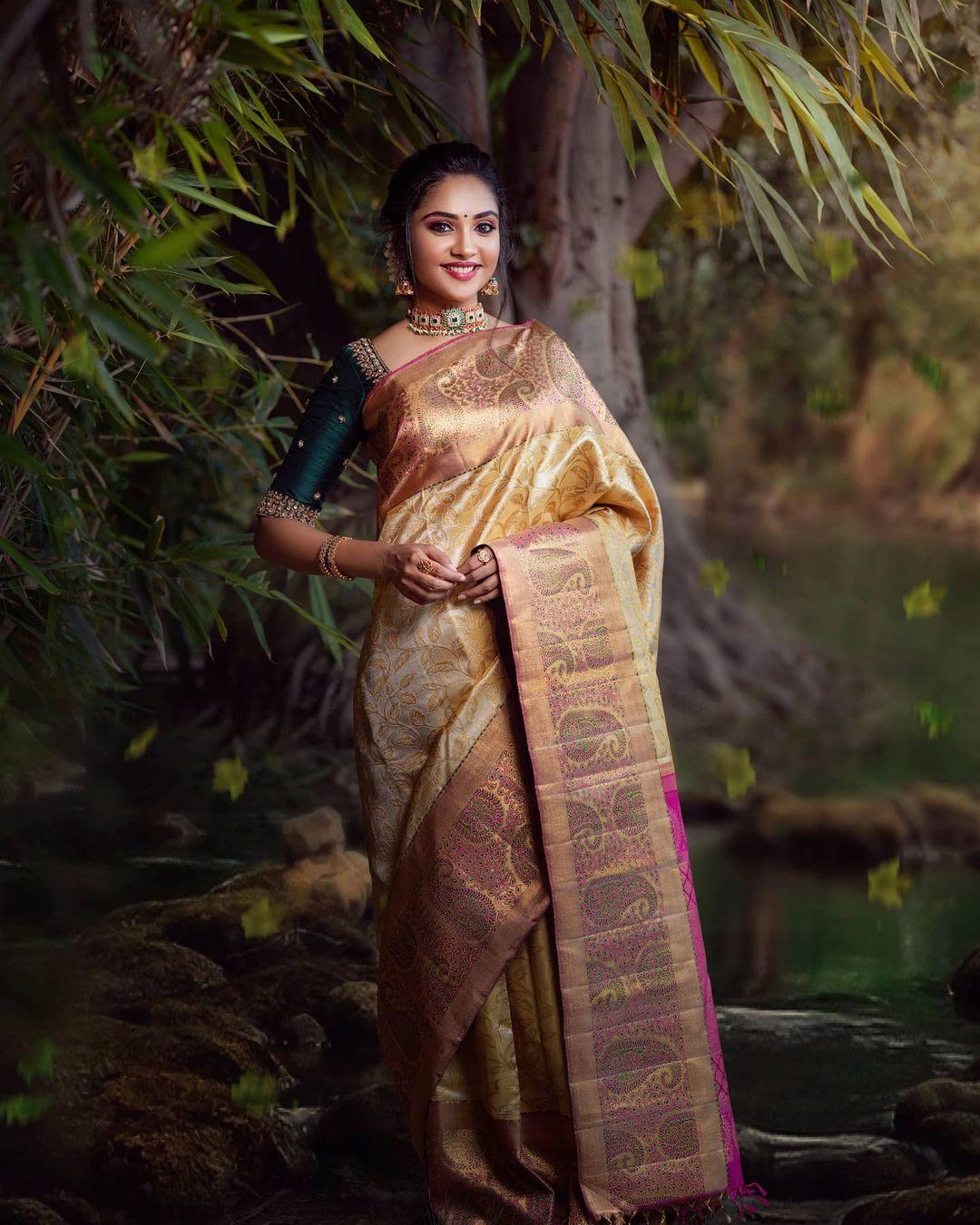 Make an impact in this beige color saree that has leaf floral detailing with silver and gold zari work. The traditional Arni silk saree is brought to perfection with mango motifs at the center of the solid gold border.
Kupaddam Pattu Saree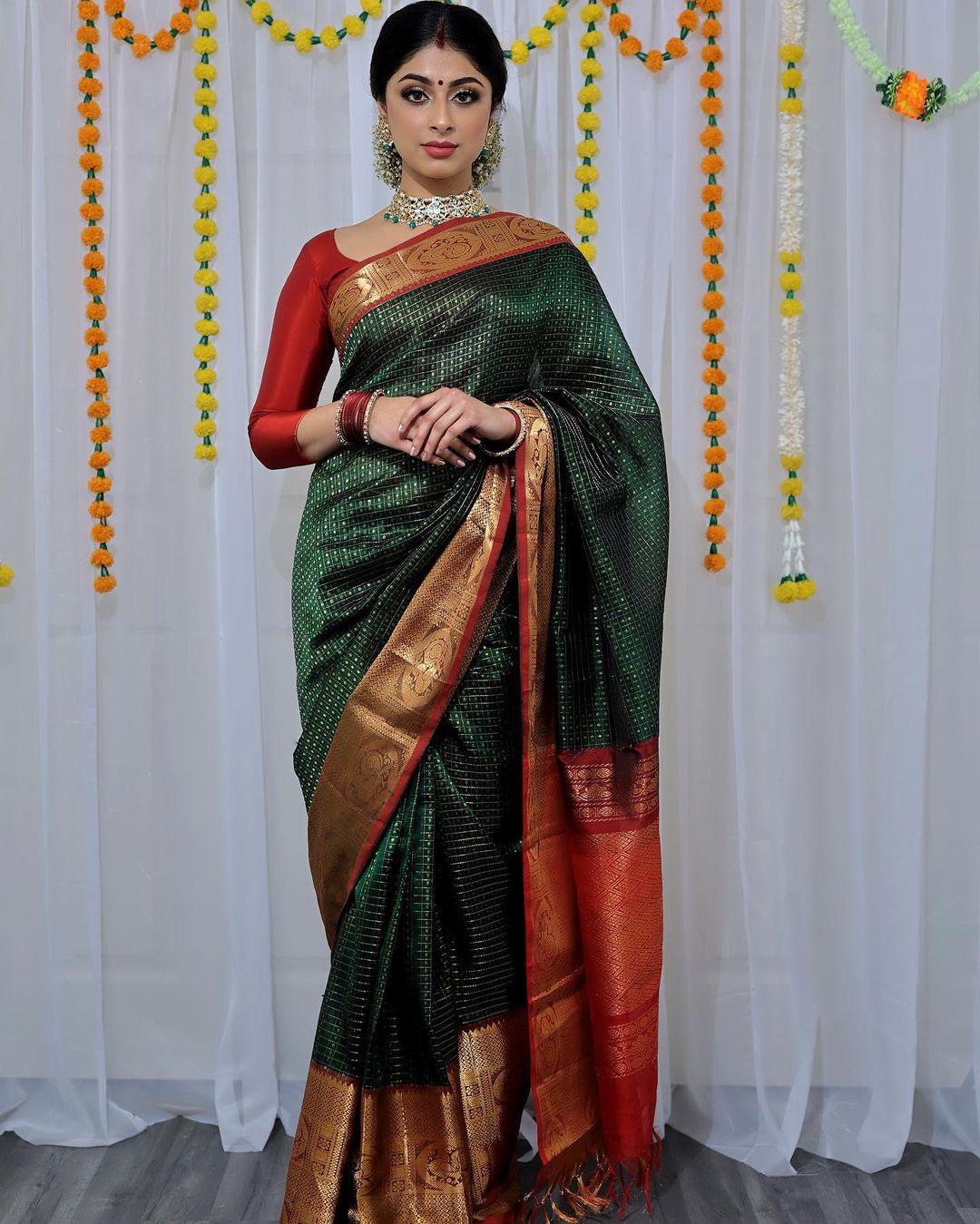 Image Credits- Pinterest
If you favor an absolutely elegant Pongal look, wear an exquisite handwoven Kuppadam Pattu weaved with a zari border. Embrace your love for the timeless classic in this red and green saree with a broad and beautiful border.
Pongal Dress For Girls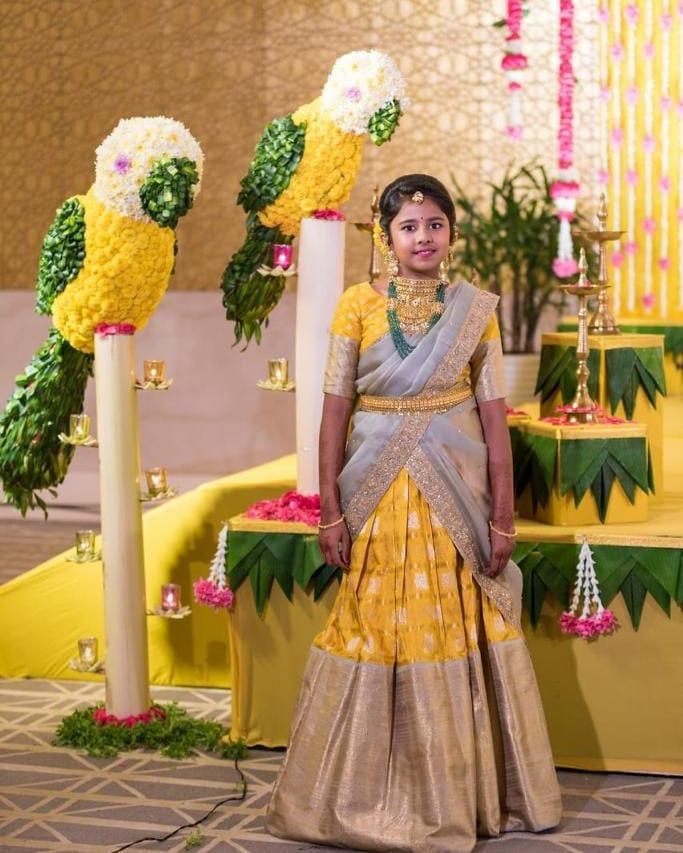 Image Courtesy - Taamara Taamara by Radhika
This little doll has stolen her heart as she adorns a perfect inspiration for the Pongal festive week. She is wearing a beautiful brightly colored lehenga and is acing this look perfectly here.
Red Buti Kurta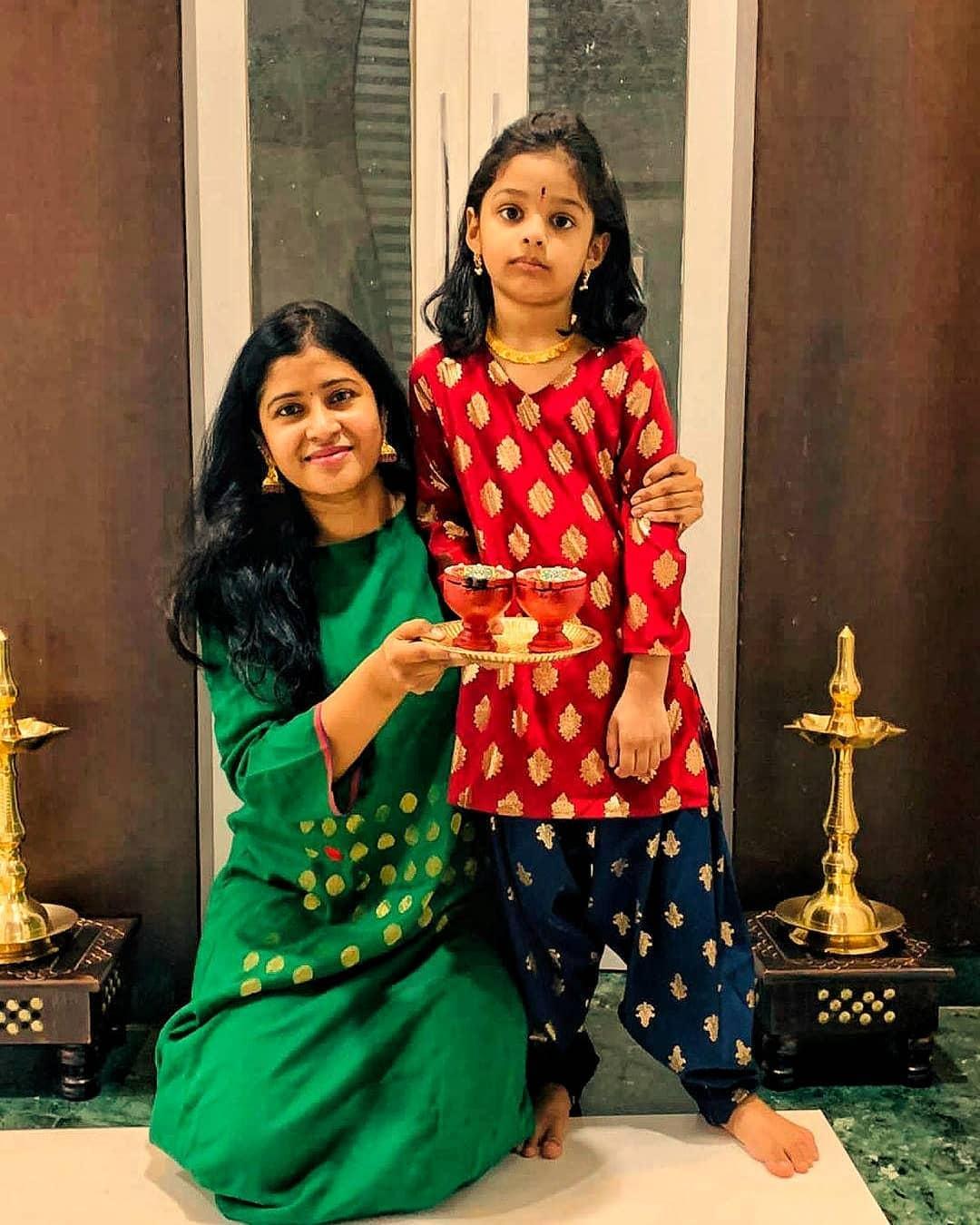 Image Credits - Promita Banerjee
This mother and daughter duo is stealing the limelight in these splendid Pongal dresses with bright shades. Aren't they giving goals to every mother who is looking forward to posing with her beautiful daughter?
Yellow Red Lehenga Pongal Dress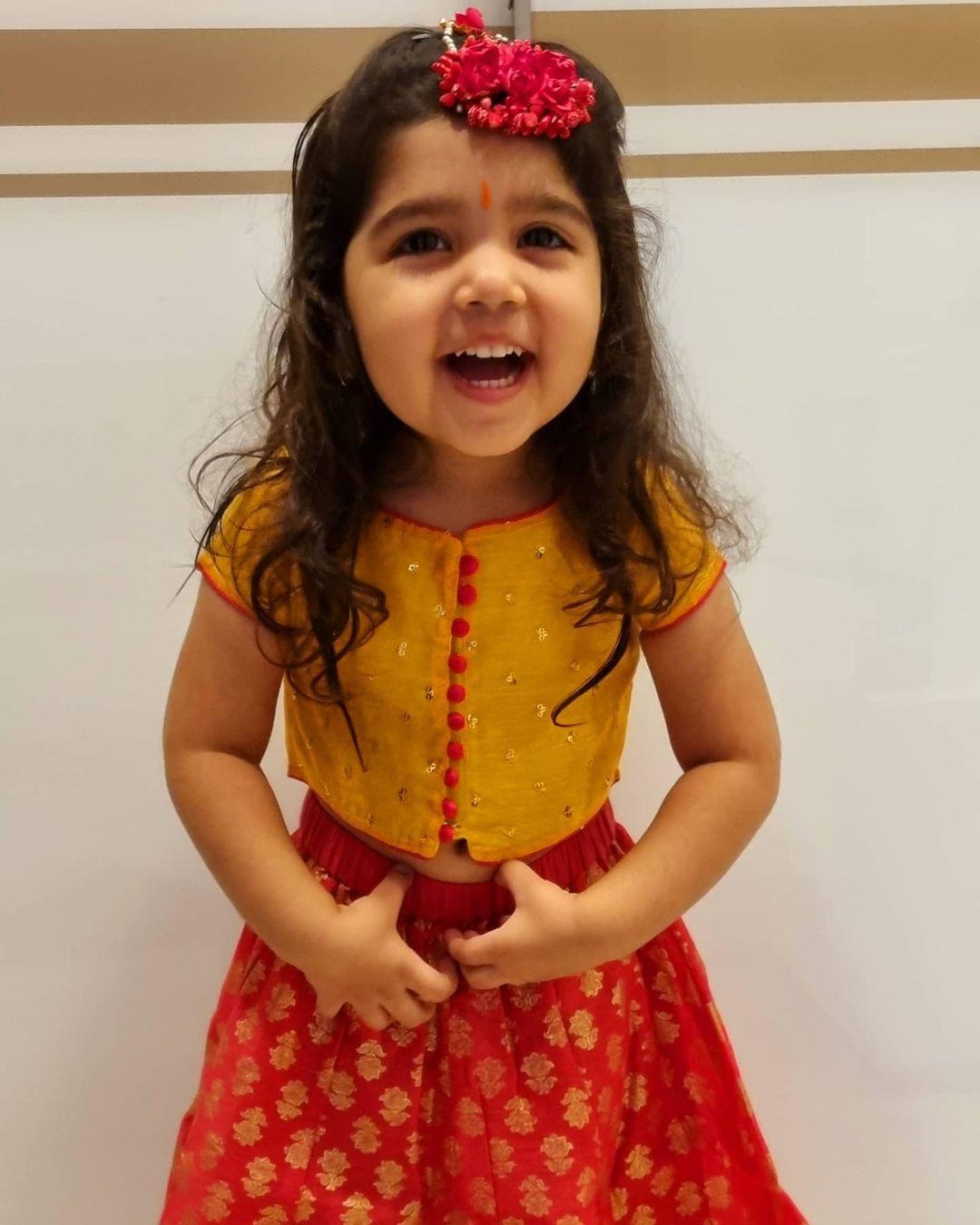 Image Credits - Little Evei in Biba India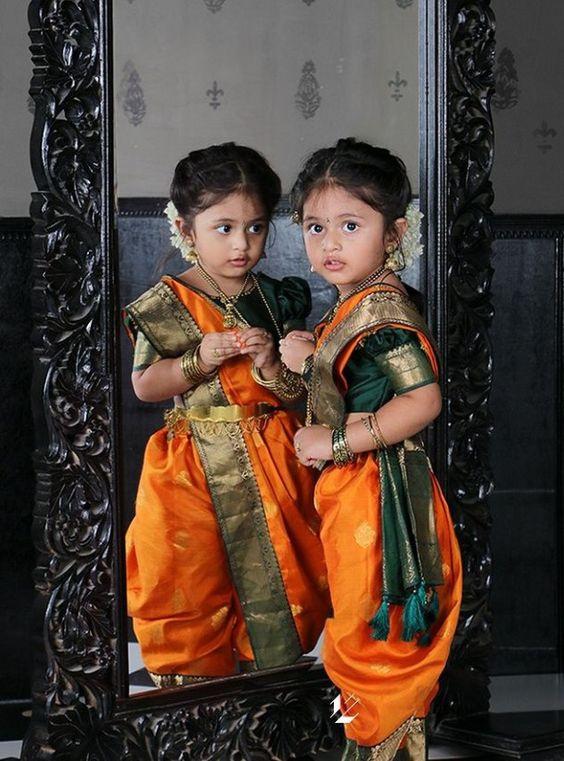 Image Credits - Pinterest
These angels are acing as they wear perfect inspirations for the Pongal festive week. They are wearing bright hues which are in perfect sync with the festive vibes around.
Madras Kattam Padvai Set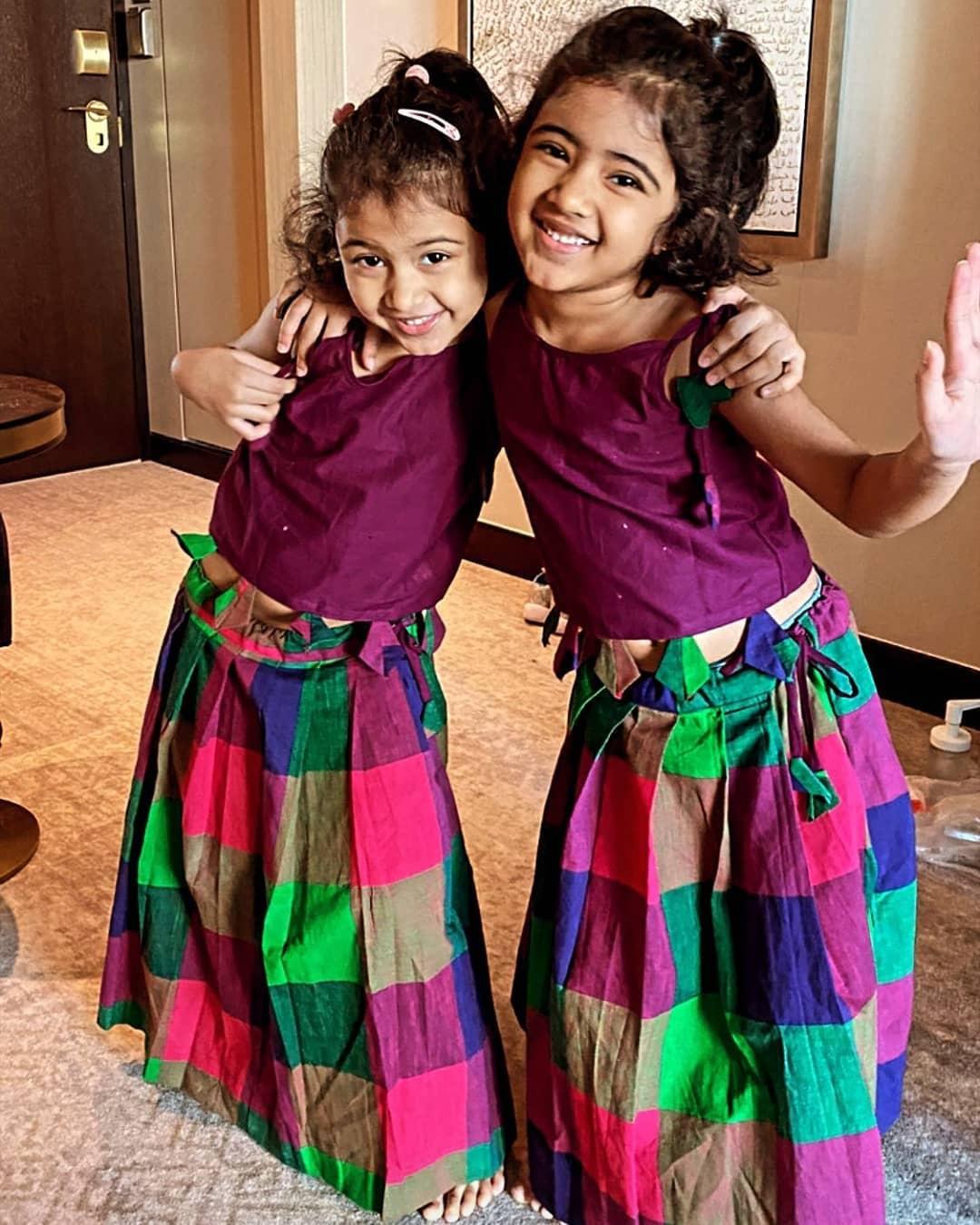 Image Credits - Dollipops
Loved our edit? Tell us what you wore for Pongal. Head to our community page and start a discussion with your Pongal outfit photos.
With words by Rumela Sen
Read More -
Mehndi Design | Proposal Lines | Simple Finger Mehndi Design | Arabic Mehndi Design | Propose Day Quotes for Boyfriend | Wedding Anniversary Wishes for Sister | Change Aadhar Card Name after Marriage | Tamil Wedding Calendar | Simple Mehndi Design | Pre Wedding Quotes | Engagement Anniversary Wishes | Funny Wedding Wishes for Bestfriend | Blouse Design | Rangoli Design | First Night Tips for Bride | Wedding Anniversary Wishes