10 Evergreen Holi Songs to Have a Euphoric Celebration as Newlyweds
What is any celebration without a bashing playlist? Boring! So, bring your first Holi Party, as newlyweds, to life with an evergreen list of Holi songs.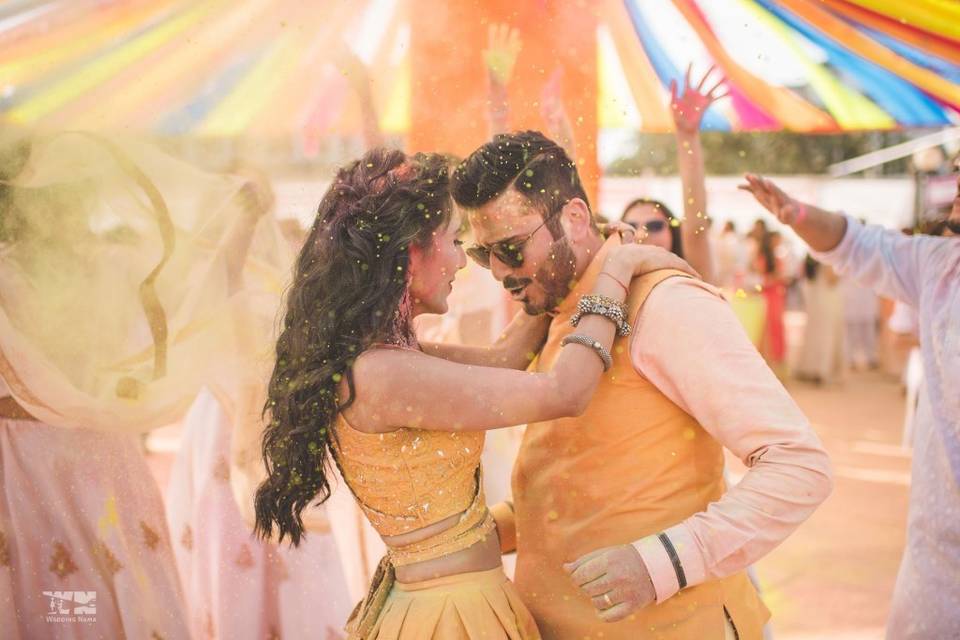 Holi has been one of the most significant festivals in India and it has been all the more special for newlywed couples celebrating their first Holi together. From dressing up in new clothes instead of rags to cousins and friends pulling your leg, from force-feeding the two of you with Bhaang (Holi special drink in India) to PDA'ing unhesitantly–what's not to love about Holi.
Whether you're celebrating this Holi with your group of friends or the Chachas-Chachis & Maama-Maamis are all set with their dhol waalas, this list of Holi songs is perfect for any setting you might be in. Shake off all the hesitation you might have as newlyweds and get ready to have a blast. Remember, the day will pass but the memories will be etched in your hearts for a lifetime.
Scroll below and queue these Holi songs to your playlist now!
New Holi Songs
Balam Pichkari - Yeh Jawaani Hai Deewani
The Holi song that is on the tip of our tongues definitely has to be Balam Pichkari from our oh-so-favourite movie, Yeh Jawaani Hai Deewani. With the most fun lyrics and signature dance steps, it would be a crime to not include this track when curating the Holi playlist.
Khadke Glassy
The energy in this song is contagious! With your favourite gujiyas on one hand and a glass of thandai on the other, you are going to fall in love with the vibe of Khadke Glassy. The upbeat tune of the song makes it an absolutely fun Holi song in Hindi to celebrate your Holi with. This has got to be one of the most underrated latest hindi songs on the list!
Also Read: The Ultimate Pre & Post Holi Skincare Straight From the Kitchen
Jai Jai Shivshankar - War
A power-packed number with two dance icons-Jacky Shroff and Hritik Roshan, Jai Jai Shivshankar from the movie War is the latest addition to the Holi songs list in 2020 for all the right reasons!
Holi Re
If you are on the search for the perfect Bollywood Holi song list or are prepping your own Holi special songs list, Holi Re has to be included without a doubt. Out of the numerous songs made around Holi, this Bollywood Holi song is going to be a surprising number because it has not been very popular with GenZ and millennials.
Holi Biraj Ma - Genius
Watch your soul dance when you play this hit track, Holi Biraj Ma from the movie Genius. Packed with fun steps and bass-full music, this song is sure to make heads bang and feet tap of non-dancing guests too.
Also Read: Hair Care Tips for Holi Are Here to Save You From Bad Hair Troubles
Lahu Mug Lag Gaya - Ramleela
As newlyweds, it'll be just sad if you celebrate your first Holi without some healthy flirting and sweet romance when around your friends and family. A bit of a close dance with some adorable teasing won't do much harm and what better song than Ramleela's hit track Lahu Muh Lag Gaya to do justice to your new love!
Mohe Rang Do Laal - Bajirao Mastani
For new-brides who are dance fanatics or professional dancers, Mohe Rang Do Laal is the perfect Holi song to dedicate a small performance to your hubby. Sweep the floor below his feet and see the romance brim like never before. To have a little fun, make the groom dance on this number while he mimics like a woman. After all, there are no rules to celebrate Holi.
Ik Junoon
La Tomatina festival as shown in the film Zindagi Na Milegi Dobara matches the excitement and vibe check of the festival of colours in our country. This number is also known as Paint It Red and this can become your favourite new Hindi Holi song!
Chhan Ke Mohalla
Holi feels absolutely incomplete without the dynamic beats of the dhol to dance to. This song with its buoyant music and Aishwariya Rai is one of the best Holi songs that can be added to your latest Hindi songs list for Holi. It is not a very recent Holi song but can definitely make it to your top 30 Holi songs 2021!
Holi Dance Songs
Why only restrict it to songs that have a Holi theme when we can go all out? Holi is one of the most OTT festivals in India and as usual, no festival is complete without dancing to fill in for the Holi dance spirit, here are some of our top Holi dance songs for this year:
Param Sundari, Mimi
For all the Param Sundaris out there, make sure to turn your Holi party into an unforgettable one with this song. Dance your hearts out and throw some colours up in the air, please!
Oo Antava, Pushpa
Did we hear Pushpa? Well, check out this song from the blockbuster film Pushpa! A sensational yet hep track that can be used in your Holi songs playlist, Oo Antava brings out the best on the dance floor!
Ghungroo, War
No better song to dance your shoes off this Holi! If you are planning your Holi songs playlist, make sure to add this peppy song and of course, the hook step is a must with the group.
Jugnu, Badshah
Another trendy drop this year, Jugnu is one of those songs that will make your feet groove automatically on the dance floor and all thanks to the reels on Instagram, this song is a hoot!
Dance Meri Rani, Guru Randhawa
Did you know how groovy this song is for a dance on Holi? Add this song to your Holi songs playlist and go all out on the dance floor!
Tip Tip, Sooryavanshi
A song that will make you dance for sure, this should top your dance playlist full of Holi songs.
Old Holi Songs
Rang Barse
How can we forget the iconic Holi anthem of all times - Rang Barse! Every bit of this song celebrates Holi in full swing and sets the mood right for you to get your happy feet to dance to the tunes of this best Holi song and definitely one of the top 30 Holi songs in 2021.
Holi Ke Din Dil Khil Jaate Hai
The on-screen golden couple of the 70s, Dharmendra and Hema Malini sure laid down some serious goals! This retro song is sure to make your Holi songs playlist even better.
Do Me A Favour Lets Play Holi - Waqt
Get raw and rowdy this Holi with Do Me A Favour Lets Play Holi from the movie Waqt - The Race Against Time. This one can never go out of the list!
Soni Soni - Mohabbatein
Soni Soni from the movie Mohabbatein is your reason to go a bit over the top and plan an impromptu flash-mob with your girl & boy gangs, respectively to have a dance face-off. Definitely a killer idea to celebrate your first Holi as newlyweds!
Hori Khele Raghuveera - Baghban
The list of Holi songs is definitely incomplete without Hori Khele Raghuveera from the movie Baghban. No matter how old it gets, it's an emotional yet playful number for both of the families to bond and intensify relations.
Aaj Na Chhodenge - Kati Patang
While the two of you are sure to have a blast, lost in each other, don't forget to light some spark between your parents. Aaj Na Chhodenge will be their excuse to come a little closer and add to the happiness of your first Holi.
Ang Se Ang Lagana - Darr
Soar some temperature with this classic Holi number from the movie, Darr. As literal as it can be, don't forget to get a little touchy with your bae. The first Holi after the wedding is indeed one of the most special days in a couple's journey of togetherness. Enjoy as if the world is blind and the only colour you see is of love.
Are Jaa Re Hatt Natkhat
This is probably one of the oldest of the old popular Hindi songs, but as they say old is gold. With your family members and friends of all age groups, you could actually strike up the nostalgia with this song on Holi 2021!
So, set up your music system and tune on this evergreen list of Holi songs. Fond of playing Holi with colours or not, these songs will keep the festive spirit intact. Jam to this irresistible list of songs while you enjoy festive delicacies with your family & friends.
Have a super safe and joyous Holi!
Have you added these bashing Holi songs to your playlist already? Share your favourite tracks with us in the comments below!
Find Top Blogs -
Mehndi Design | Proposal Lines | Simple Finger Mehndi Design | Arabic Mehndi Design | Propose Day Quotes for Boyfriend | Wedding Anniversary Wishes for Sister | Tamil Wedding Calendar | Simple Mehndi Design | Pre Wedding Quotes | Engagement Anniversary Wishes | Funny Wedding Wishes for Bestfriend | Blouse Design | Rangoli Design | First Night Tips for Bride | Wedding Anniversary Wishes