All About Onam Festival in India
Are you inquisitive to know about the history and other details of Onam festival in India? Read to know more-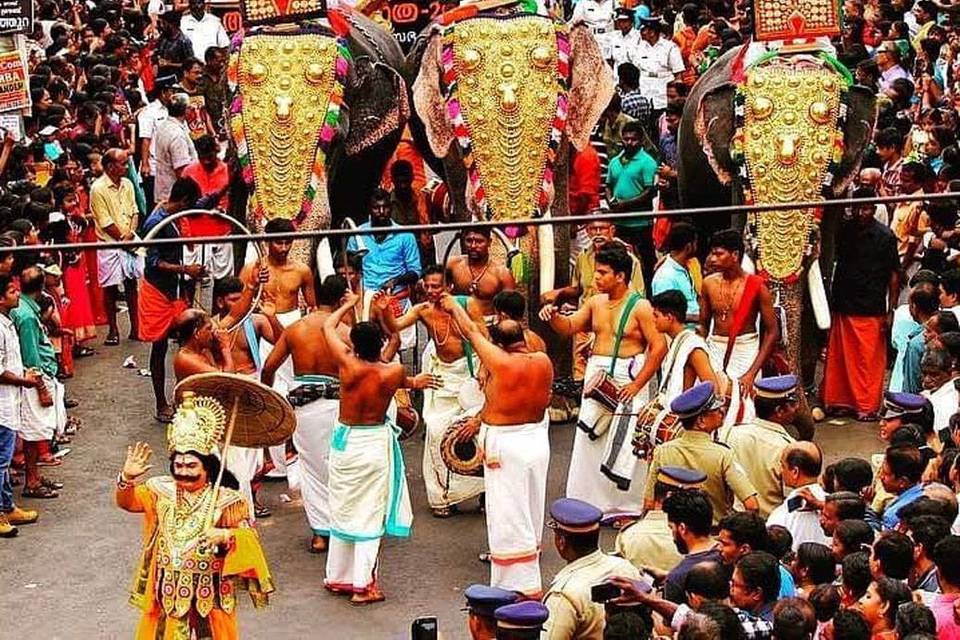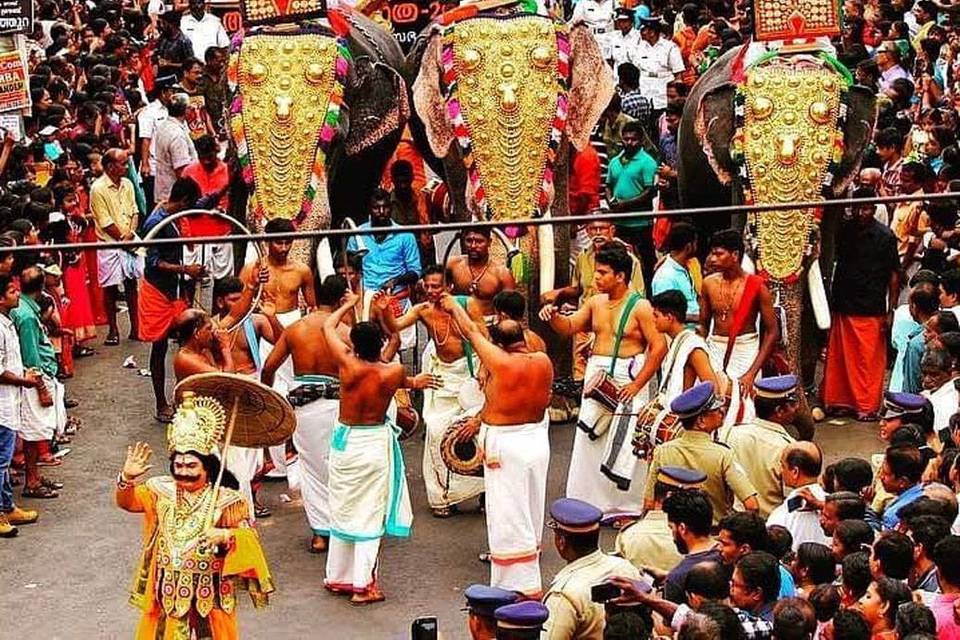 Image Credits - Explore Kerala By Jibin
Onam is a famous festival celebrated by South Indian families. This festival is celebrated on a large scale by Malayalees. It is that time of the year when God's Own Country- Kerala is geared up to celebrate with art, dance forms, floral decoration, lights, colors, etc. The spirit of Onam is vivacious and splendid. Now let us delve into the facts about Onam celebrations in India.
About Onam festival in India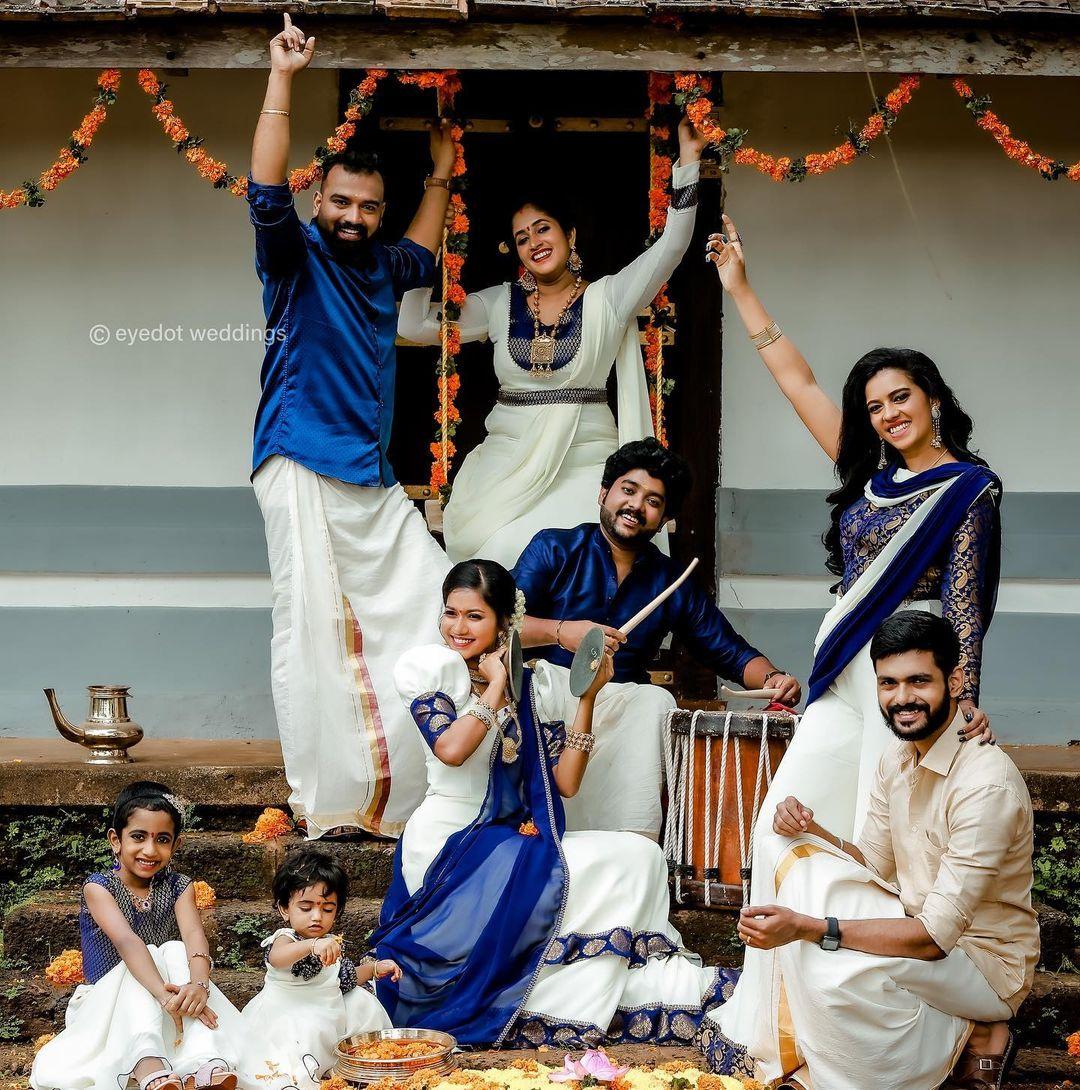 Image Credits - Anil Thalakkottukara
In India, Onam is known as a harvest festival. The date of celebration is derived from the Panchangam, which is the date between Aug- Sept in the Georgian calendar. Onam festival in Kerala is celebrated for ten days in India. Every day has its significance and sanctity. After these celebrations- there are other post-Onam celebrations too. On the first day of Onam, the populace start the celebrations by decorating their homes with yellow flowers, known as Pookalam. On the second day, the family cleans the home to make it more positive and lively. On the third day, the families and friends gather to celebrate the festive season. They gift each other and do shopping together too. The fourth day is the most auspicious as this day leads to the preparation of Onam Sandhya. On the fifth day, the boat race begins amongst the people there. From the sixth to the seventh day, the festivity begins in the full swing. The kids get holidays from the schools. It is believed that on the ninth day of the auspicious festival, people start cooking for the upcoming feast, The tenth day is the final day when people wear new clothes. They enjoy the Onam feast and decorate their homes with rice batter, flowers etc.
When is Onam in 2021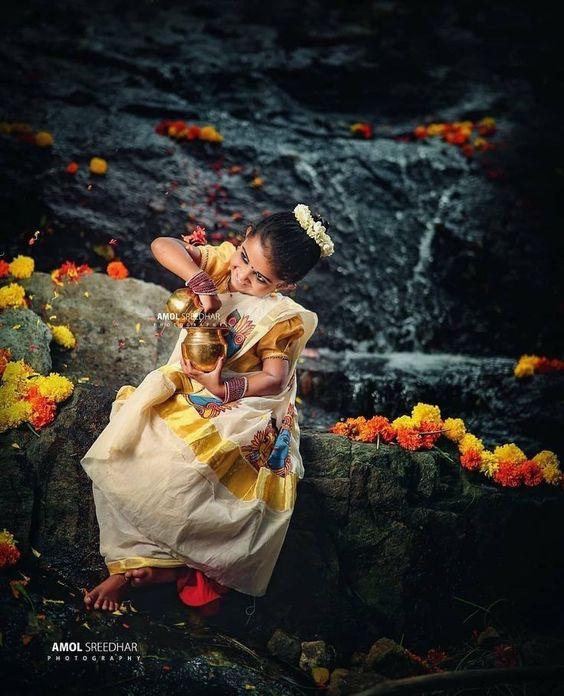 Image Credits - Amol Sreedhar
The Onam in 2021 starts from 12th August and will be celebrated till 23 Aug 2021. Due to the pandemic, people may celebrate at home in a subtle manner.
History Behind Onam Festival In India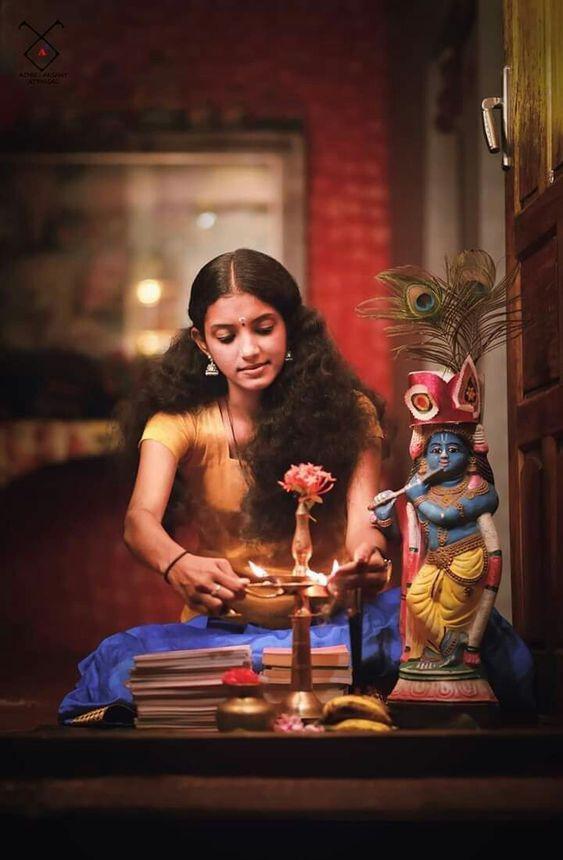 Image Credits - Pinterest
You must be having in mind that which legendary king is associated with Onam? According to the Vaishnava mythology, King Mahabali, from the Asura lineage, defeated the Gods and began ruling over all three worlds. However, the Gods asked Lord Vishnu to step in and control Mahabali. Lord Vishnu took on his fifth avatar, Brahmin paid a visit to King Mahabali. When Mahabali asked Vamana what he wished for, he replied, "three pieces of land". When Vamana was granted his wish, he grew in size, and at his first and second pace respectively, he covered the sky and the netherworld. When he was about to take his third pace, Mahabali offered his head. This act appealed to Lord Vishnu and he granted Mahabali the right to visit his kingdom during Onam.
Onam Dress Ideas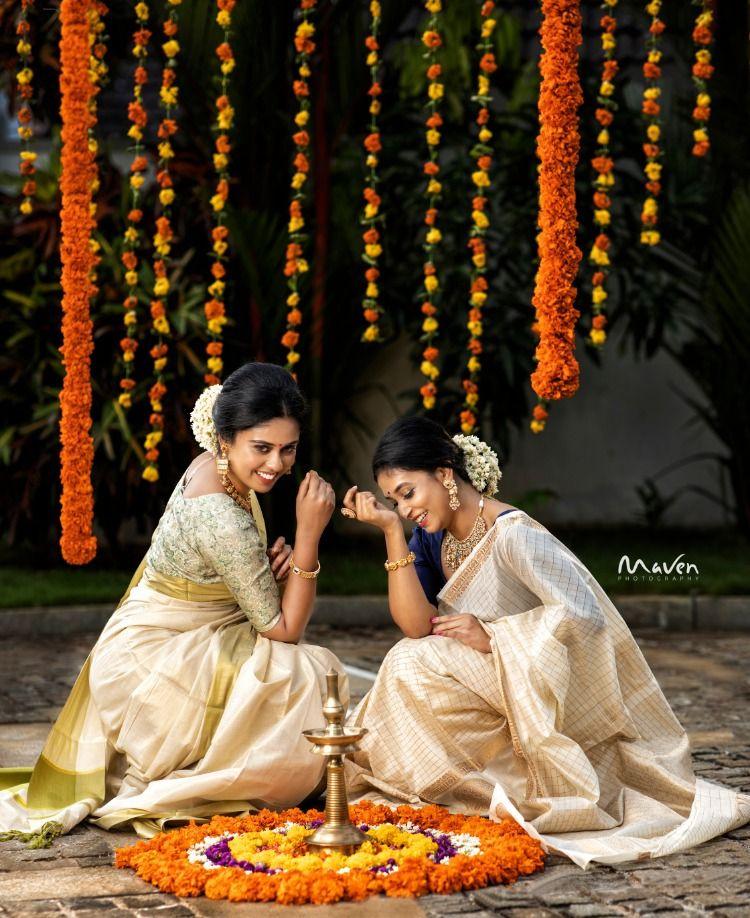 Image Credits - Maven Photography
When it comes to the women's traditional outfit choices for Onam, they almost always wear a traditional saree in white with a golden border. Keeping it light and simple yet elegant, you can go for Onam saree look and accessories it with a light gold jewelry set and maybe gajra on your hair. However, there are new dresses that women in Kerala wear to keep ahead of the fashion curve. For instance, women wear Angrakha Anarkali kurta with a palazzo or flared pants. The women wear splendid long kurta with stylish churidar. Some wear traditional skirts and tops. There are Onam saree available for kids too.
Also read - Check Out These Striking Outfit Ideas We Handpicked for Onam
Onam Special Food and Feast Days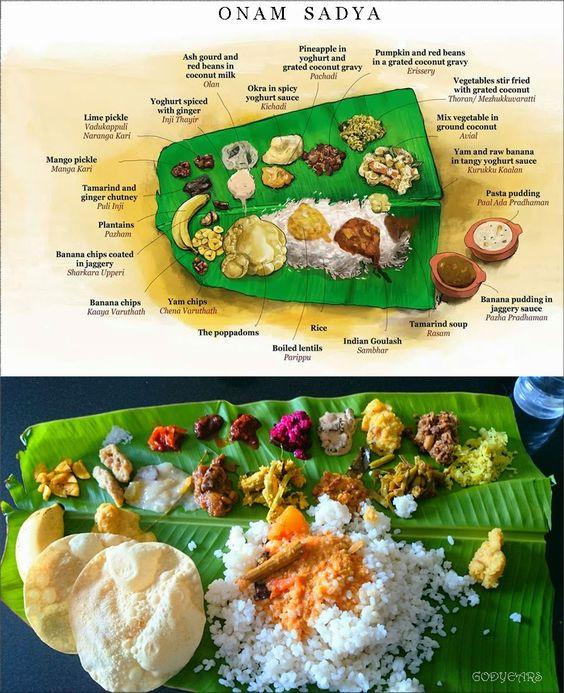 Image Credits - Pinterest
The traditional feast days include various south Indian delicacies. The popular Onam special food items are olan (a famous Onam special food made with coconut curry), kalan (a dish made with sweet potatoes) , koootu curry, rasam, and payasam. Onam Payasam is a popular sweet dish in Kerala which is made by rice and sugar. Onam special food is made from chickpeas and loads of tomatoes and vegetables. Coconut chutney is relished by everyone.
All about
simple Onam Pookalam Designs
Onam Pookalam is Rangoli made with flowers and intricate patters. These designs are made during the Onam celebration days. Here we have picked popular Onam Pookalam Designs -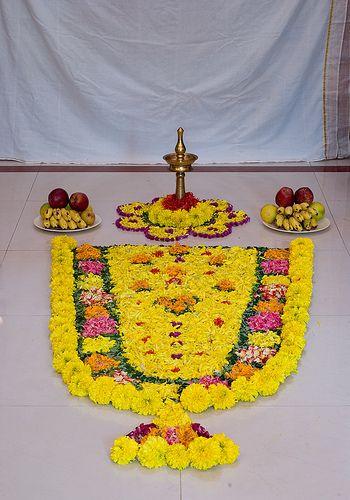 Image Credits - Pinterest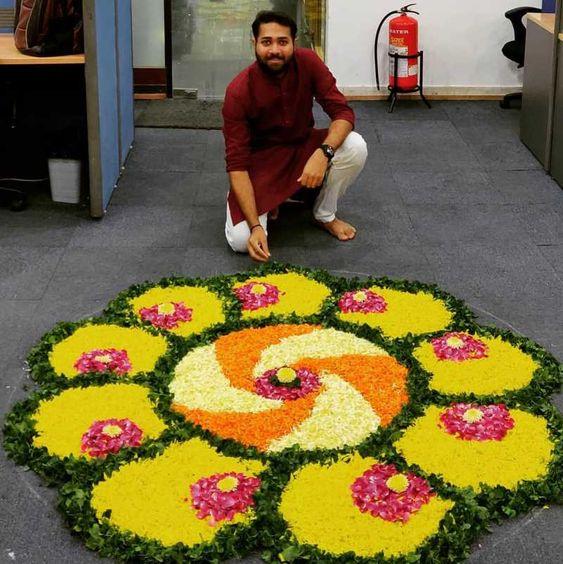 Image Credits - HikenDip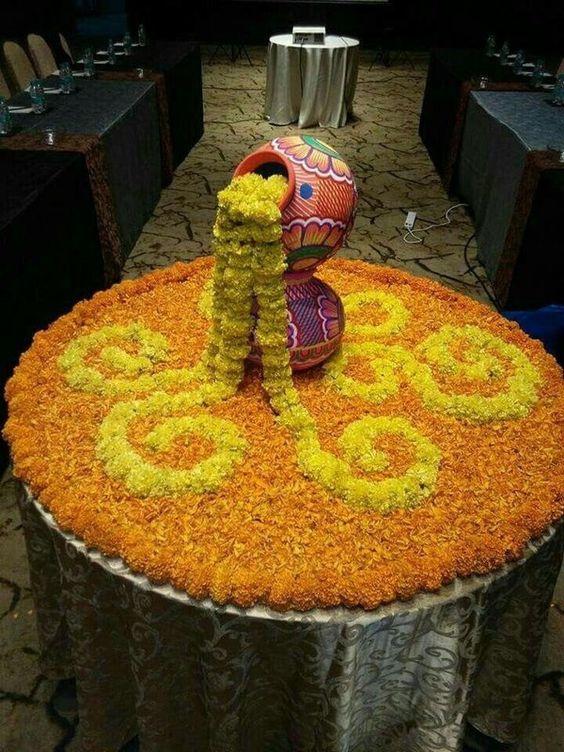 Image Credits - Pinterest
Do not fret, if you are unable to celebrate Onam outside due to the pandemic as being together safely with your family is a celebration in itself. You can merry, dance and celebrate at your home too with each other. While you can watch the boat race on the TV. You can send greetings, e-greeting with Onam's wishes and prayers to each other. Also, you all can cut Onam cake to relish the festival further. After all, safety is important than anything else.
Everyone has loads of Onam Festival memories with their loved ones. Do let us your favorite memory below in the comment box.