Wedding Jewellery Trends Inspired by Top Indian Lifestyle Bloggers
Here is a curated list of jewellery trends inspired by lifestyle bloggers in India for inspiration. Read more to pick right & be in vogue on the D-day.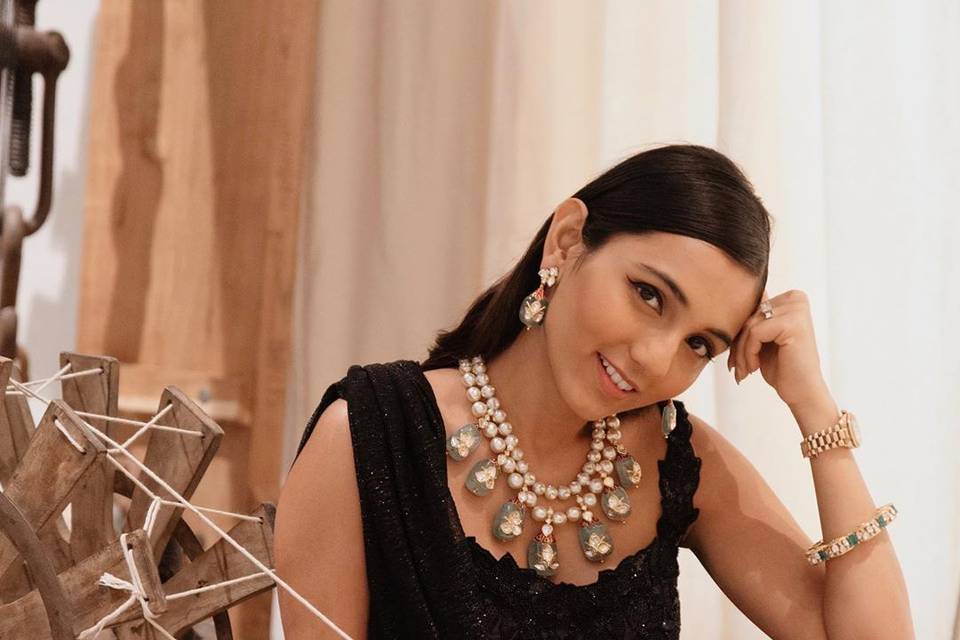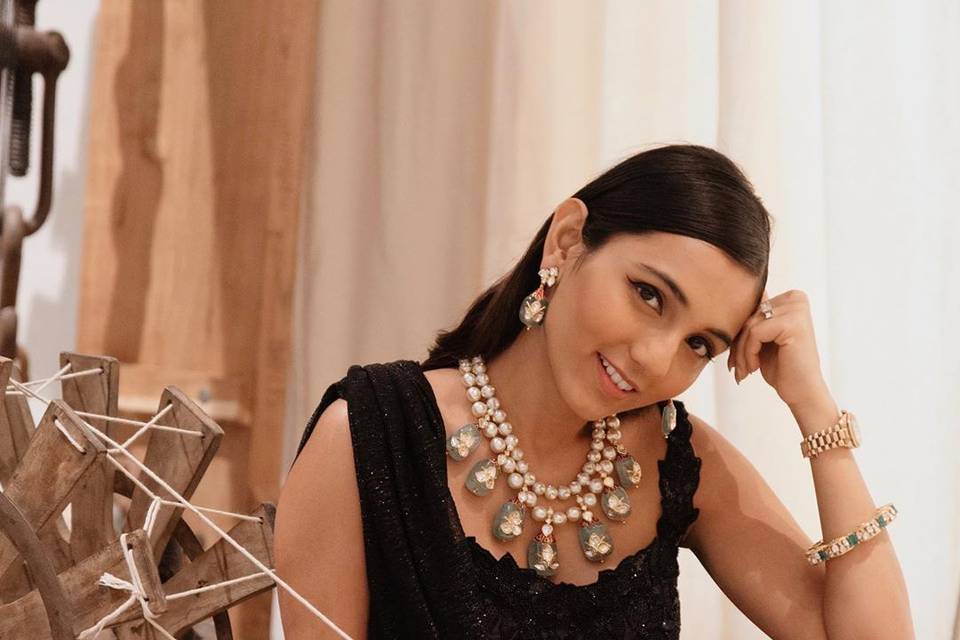 Image Courtesy: Masoom Minawala's Instagram
Jewellery has always been the priority on a bride's shopping list. It is also one of the most prized possessions of the bridal trousseau. There are gold jewellery sets, diamond jewellery sets and so much more that the brides have their eyes on, from the day their wedding starts to be planned.
The lifestyle bloggers in India have come to the rescue and flaunted some jaw-dropping jewellery sets for inspiration for brides and bridesmaids who are surfing Instagram and Pinterest boards for the latest designs.
We have curated a list of some of the top jewellery trends inspired by lifestyle bloggers in India.
@houseofmisu in Polki Haar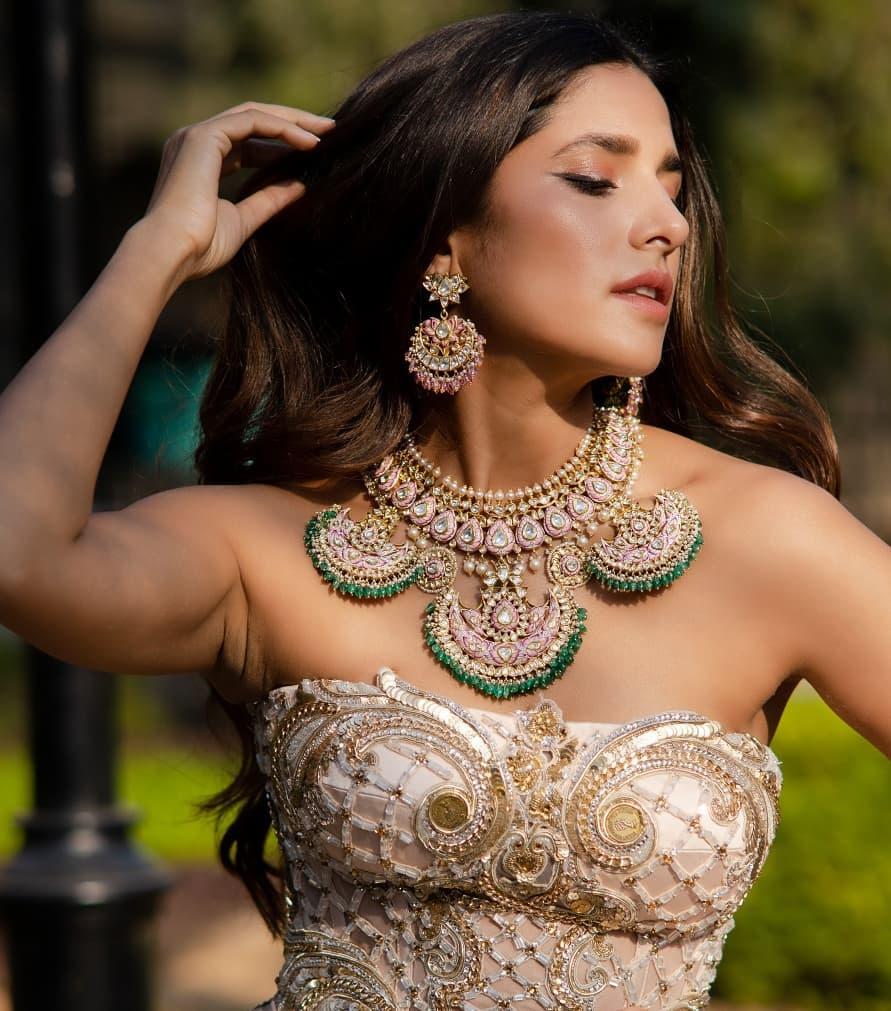 Image Courtesy: House of Misu's Instagram
Mitali from the ace duo of fashion influencers - House of Misu, was seen flaunting this innovatively designed necklace. This choker is a traditional haar inspired piece with uncut diamonds that speak of the legendary craftsmanship of Razwada Jewels. The balance of the gold, pearls and green beads with the hint of pink is a mesmerising yet distinct art.
We suggest: Brides can pick this piece to accessories their pink lehenga on the wedding day.
@shereenlovebug in a Jaal Necklace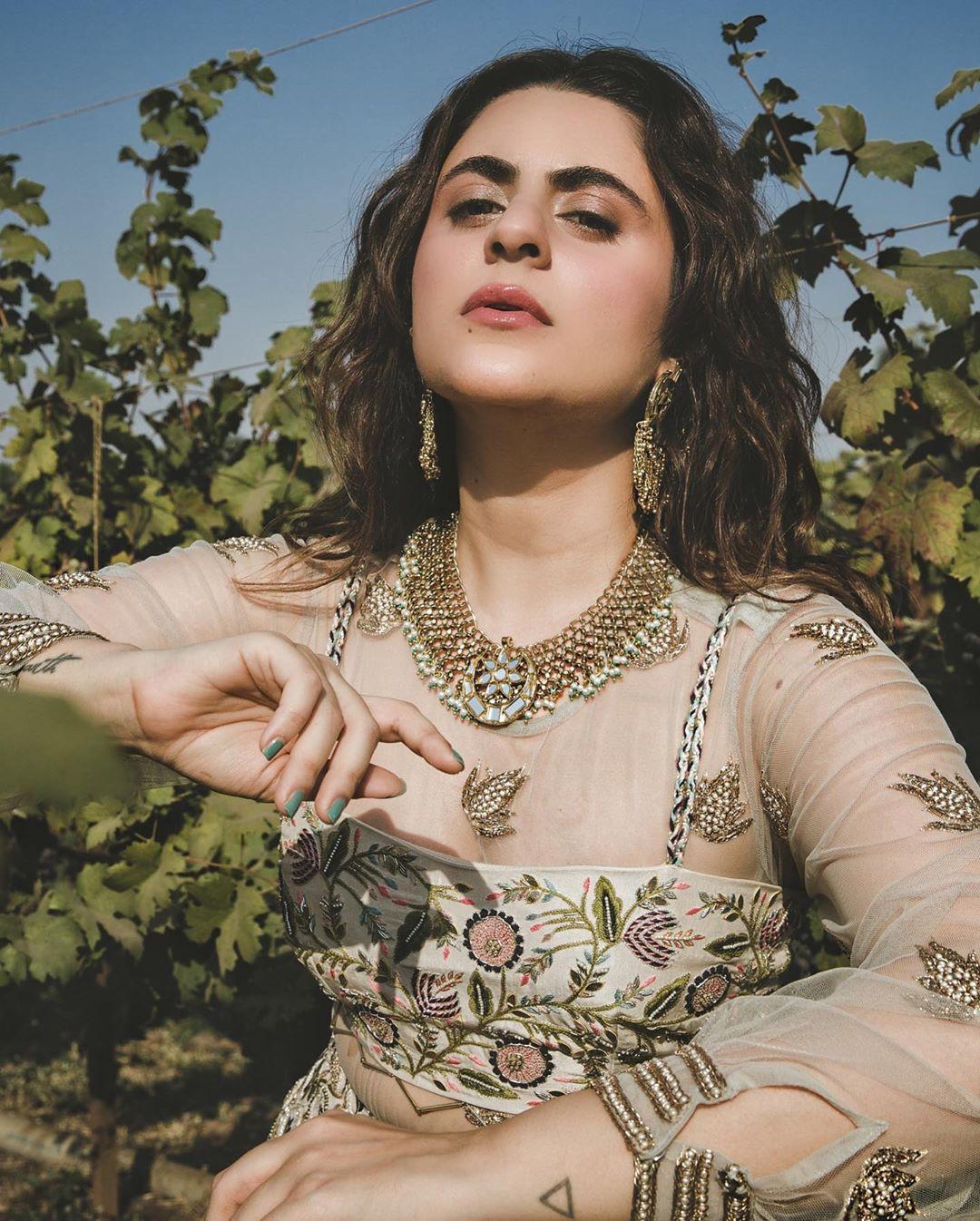 Image Courtesy: Shereen's Instagram
Shereen flaunts a breathtaking Jaal Necklace in golden colour. The traditional style of the necklace is balanced out by a contemporary quirk with a mirror-motif centrepiece. This piece by Ritika Sachdeva is a closet essential and has been handcrafted with precision.
We suggest: This bauble is a must-have if you are the bridesmaid-to-be on your BFF's big day.
@maiasethna.in in a Diamond Jewellery Set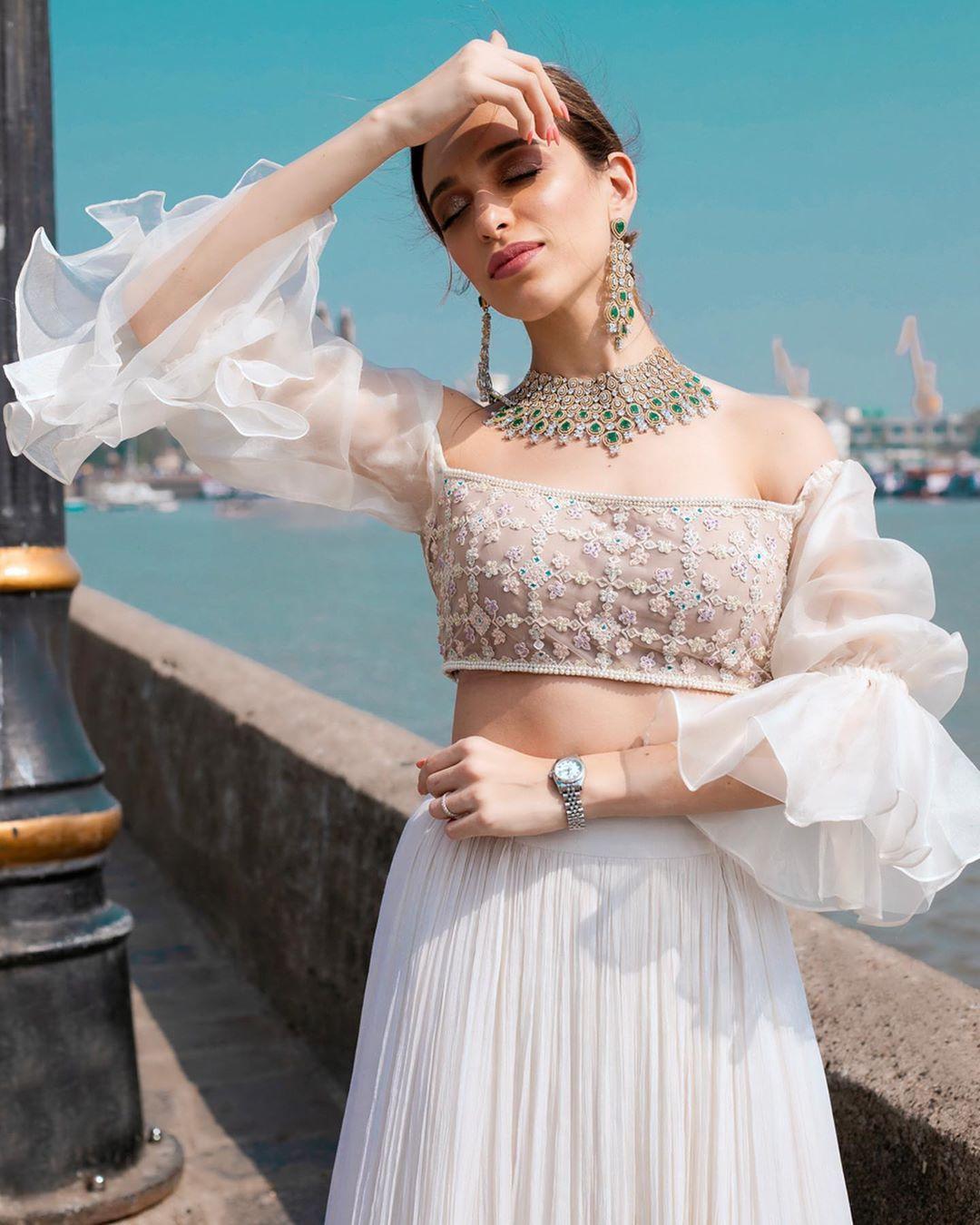 Image Courtesy: Maia Sethna Malhotra's Instagram
Maia Sethna Malhotra is looking jaw-dropping in this Riddhi Mehra ensemble in white. She has paired it with a gorgeous diamond necklace from the Minerali Store with matching chandelier earrings from the same designer. The Bridalaya collection of jewellery by Minerali Store is sure to steal your heart and make its way to your bridal #OOTD.
We suggest: This diamond jewellery set with beautiful emeralds is just the perfect set for the bride for her reception party, engagement ceremony or sangeet function.
@masoomminawala in a Mother of Pearl Set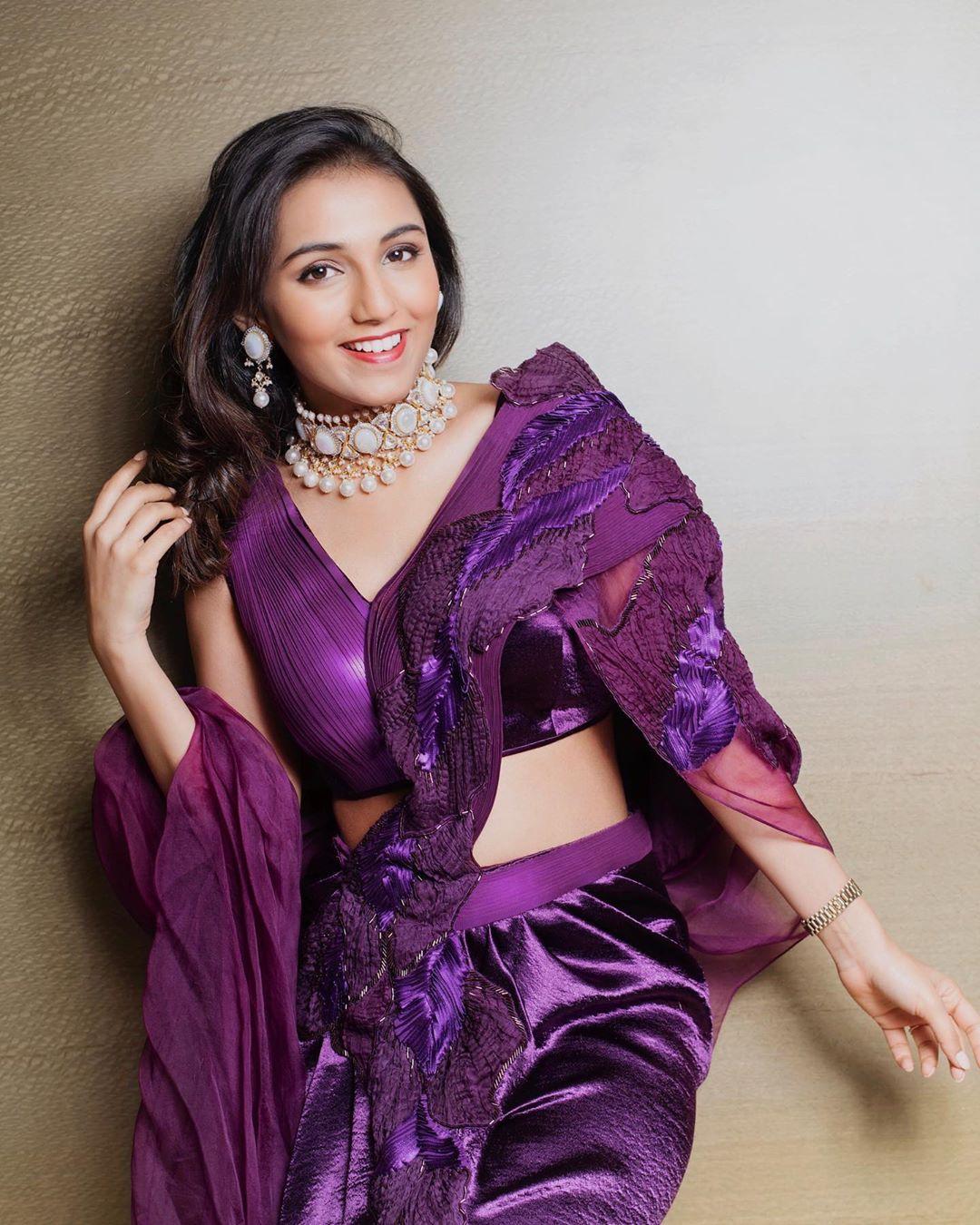 Image Courtesy: Masoom Minawala's Instagram
Masoom Minawala has been the flagbearer of many homegrown brands. Her look in the pre-stitched saree by ace designer Gaurav Gupta is topped off by a Mother of Pearl handcrafted choker by 7TH AVENUE Jewellery. The amazing lustre of the jewellery set is just perfect for any outfit and the choker adds the contemporary touch to your look.
We suggest: This is a perfect pick for a destination wedding look or you can even flaunt it on your Reception night.
@theankitarai in Russian Emerald Studded Jewellery Set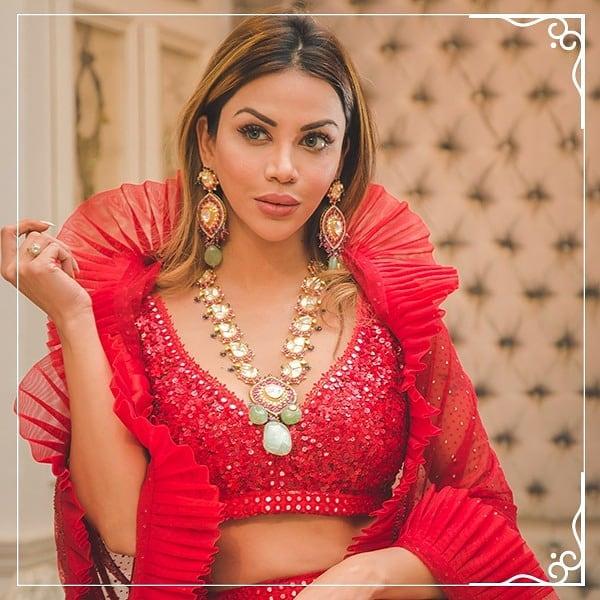 Image Courtesy: Ankita Rai Tiwari's Instagram
Ankita Rai Tiwari is a well-known fashion blogger and the magnificent piece of earring and necklace that she is seen wearing in the picture with her gorgeous red attire is from the House of Rambhajos. It is a set made using Russian Emeralds with Jadai work longido rubies, Polki set diamonds and tanzanite too.
We suggest: If you are a bride who has a destination wedding or a day wedding in the books, this jewellery set is a must-have.
@houseofmisu in Detailed Statement Jewellery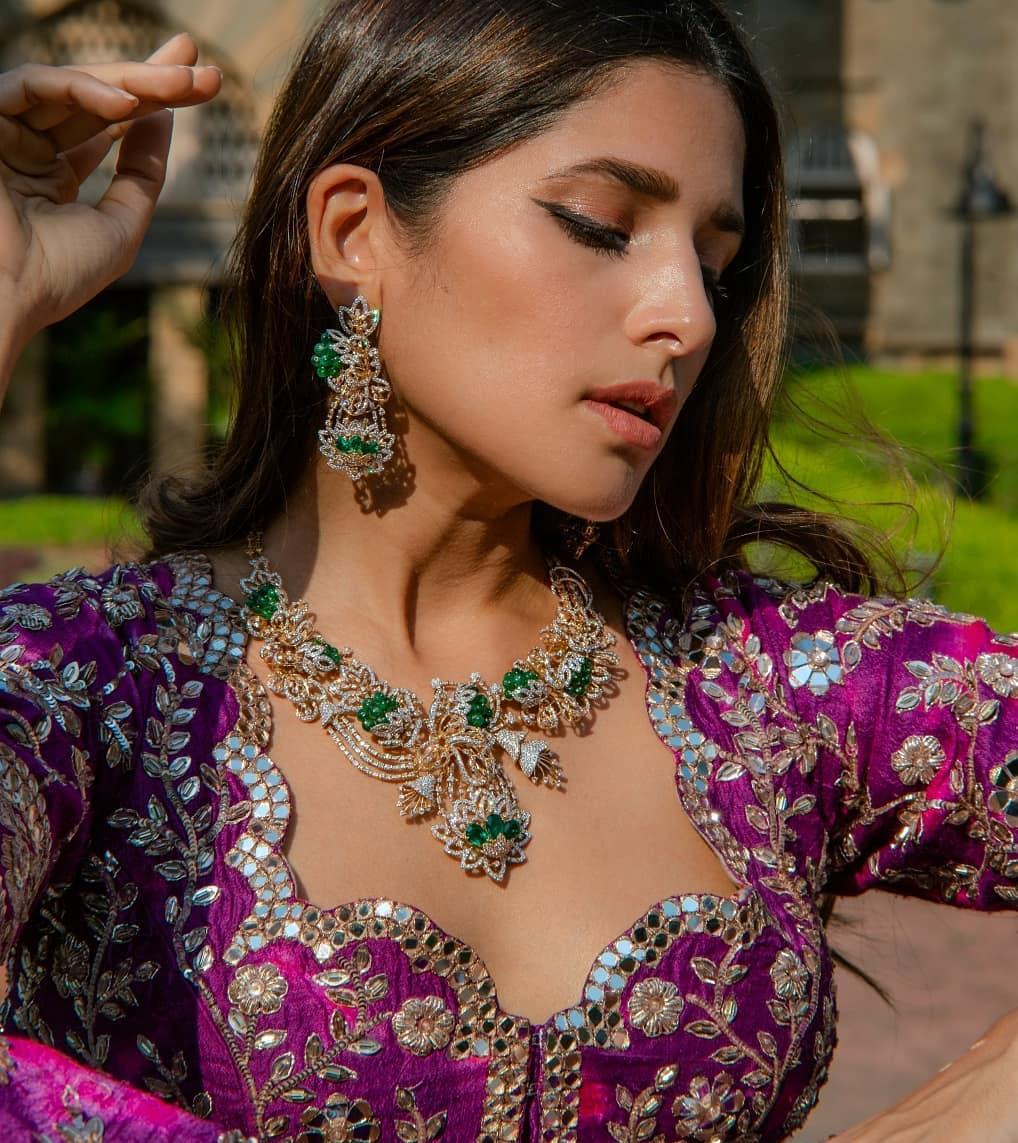 Image Courtesy: House of Misu's Instagram
This detailed piece that Mitali from House of Misu has used to accessories her Akanksha Gajria purple lehenga is a breathtaking statement jewellery piece by a homegrown name - Angel Jewels. It flaunts intricate designing and the contemporary style of the necklace with matching earrings makes it just perfect for all the millennial brides and bridesmaids.
We suggest: Pair this piece up with a pastel lehenga or a multicoloured lehenga for your big day. Even bridesmaids could pick this for their BFF's big day.
@houseofmisu in Uncut Kundan Jewellery Set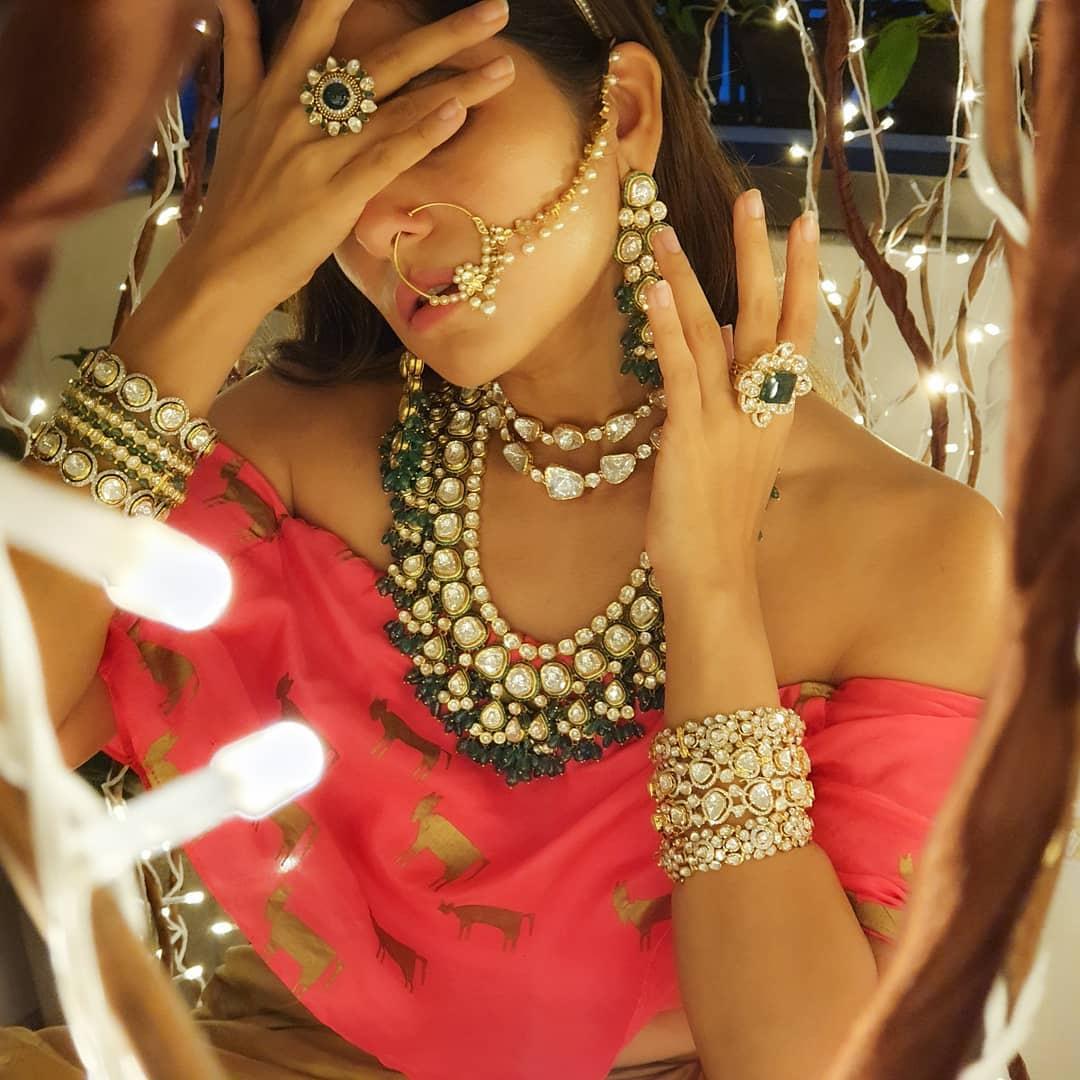 Image Courtesy: House of Misu's Instagram
This set worn by Mitali of House of Misu is designed by Anmol Jewellers. It is an exquisite emerald and diamond-studded set in Kundan. Uncut diamonds adds to the lustre of the beautiful haar and is a perfect set that can be paired with the Dulhan lehenga.
We suggest: If a sunburnt or red coloured lehenga is on your list, get your hands on this set and recreate a mesmerising look on your D-day.
@houseofmisu in Fine-cut Diamond Jewellery Set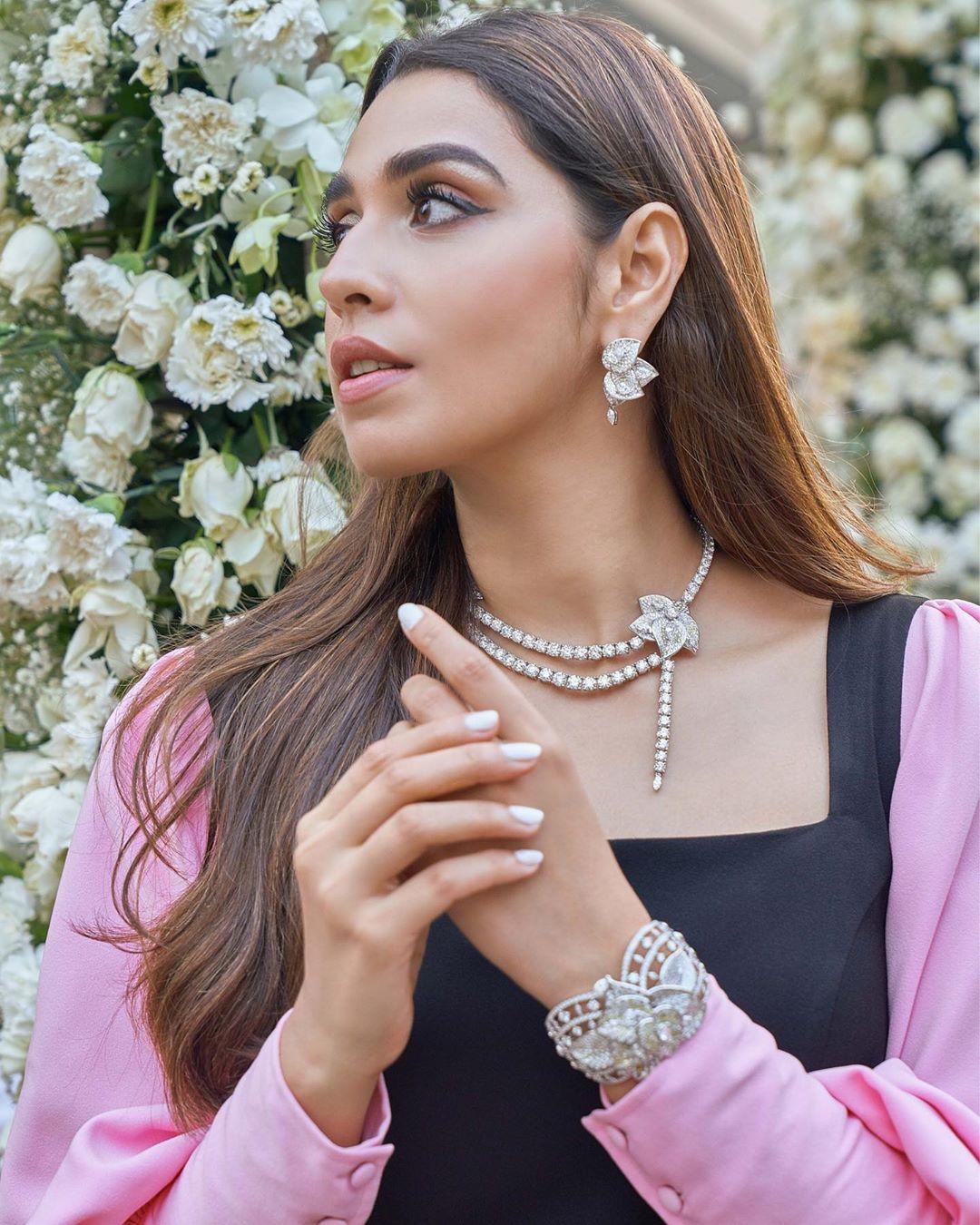 Image Courtesy: House of Misu's Instagram
Sumaiyya from House of Misu is one of the gorgeous sisters who has been a fashion inspiration for many. She has accessories her outfit with a handcrafted jewellery set studded with Forevermark diamond. This set is a remix of a classic and traditional take on High Jewellery by PMJ Jewels and has been designed by Bibhu Mohapatra.
We suggest: The excellent cut diamond that provides the lustre and timeless brilliance are perfect for the bride to pair with her latest gown designs on her Engagement or reception.
@shereenlovebug in Oxidised Silver Jewellery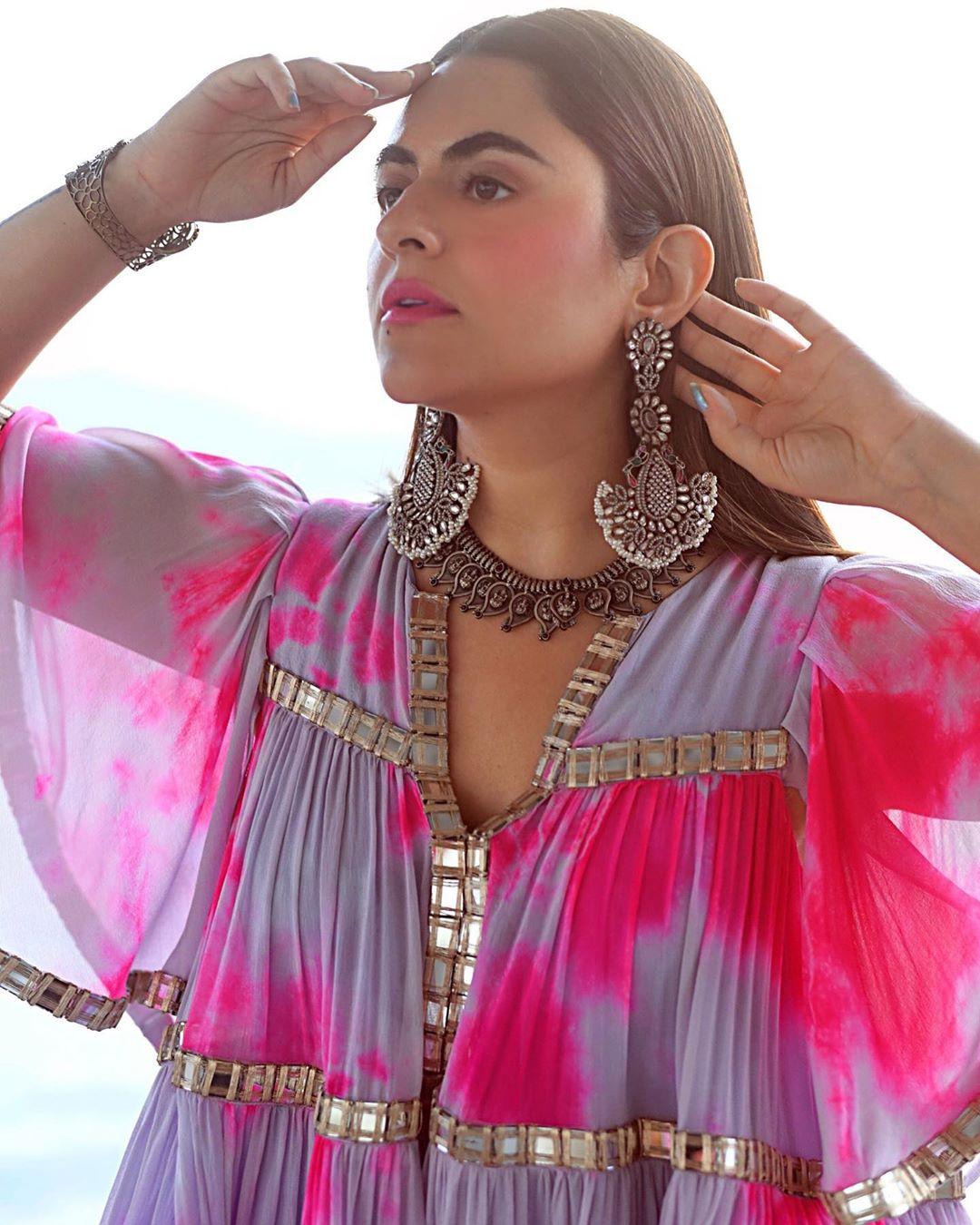 Image Courtesy: Shereen's Instagram
Shereen, popularly known as @shereenlovebug on Instagram is flaunting this Akanksha Gajria tie and dye tiered sharara set and has accessorised this amazing look with oxidised jewellery from Tribe by Amrapali. Their silver jewellery collection is called Devaya and it is an amazing pick for all the bridesmaids and even for brides on their pre-wedding functions.
We suggest: Oxidised silver jewellery and junk jewellery is the millennial brides' and bridesmaids' go-to option for pre-wedding ceremonies.
Picking the right piece of jewellery is very important. Be it the princess cut diamond rings for you to pop the question or the satlada or rani haar to complete your bridal look while you take your seat pheras, the significance of jewellery in a bridal trousseau is impeccable.
Bridal jewellery also often becomes the start of an heirloom and remains as a heritage in the family for generations to come.
If you are looking for trending jewellery pieces to add to your trousseau, these influencers in India with their stunning sense of fashion are sure to inspire you with their trendsetting jewellery collections.
Get in touch with the jewellers on board to find a ready-to-wear jewellery set or get one made for your big day according to your choices to make the heads turn at the wedding.