Goa Mode On! Check out Some Major Goa Fashion Tips for an Epic Destination Bachelorette Party!
Planning to have the ultimate bachelorette party in Goa? Then you absolutely must listen to the fashionista in you! From beach wear to junk accessories…we've covered it all for you! Here are some Goa Fashion Tips for a glam bachelorette album!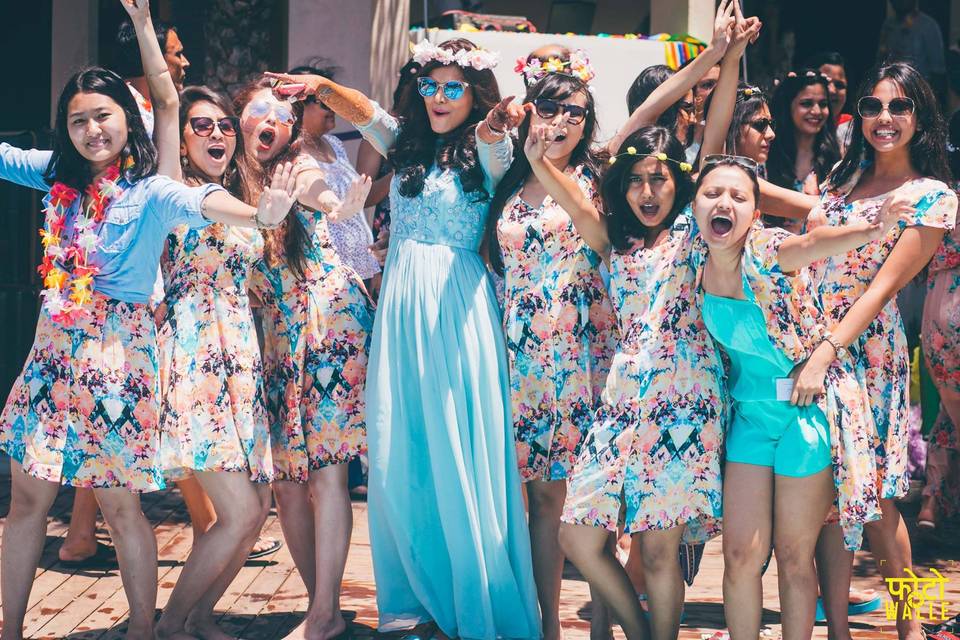 Organising a bachelorette party at a lavish lounge in CP is fun! But going for a destination bachelorette party in Goa is the epitome of fun & crazy! No matter how many times you've been to Goa, it can never be enough! And when you're having a 3-4 day long bachelorette party there, you can expect for some major life-changing experiences.
So, you must be prepared with a special wardrobe as well, to go with your Goa themed holiday! After all, your epic party pictures must be something you are going to cherish forever! So, start reading and taking notes for some invaluable Goa fashion tips to look like a style diva!
1. Rajasthani printed Long skirt with shirt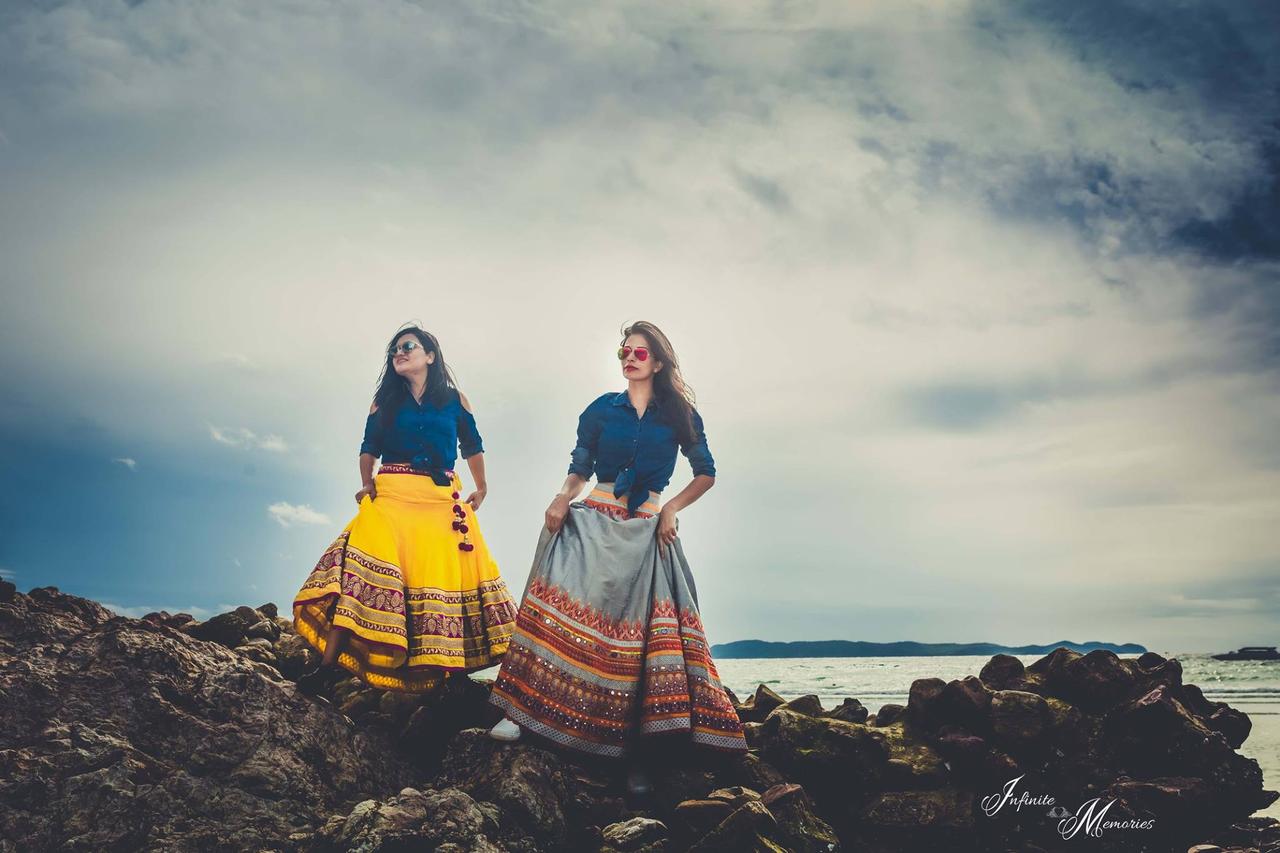 Add a little touch of fusion to your attire and watch the magical results! One of our first Goa fashion tips would be, try on a rich Rajasthani printed long skirt with mirrors and embellished borders in bright colours. Now, pair it up with a dark shaded shirt. To further the funk, tie a knot with the shirt ends around your waist. The bride and bridesmaids can wear different coloured skirts but coordinated shirts.
Accessories & Jewellery: Go for a colourful tasselled belt, beach slippers or Juttis and coloured glasses.
When to wear: On a relaxed day on the beach with no activities in the itinerary!
2. Colourful hot-pants with a black t-shirt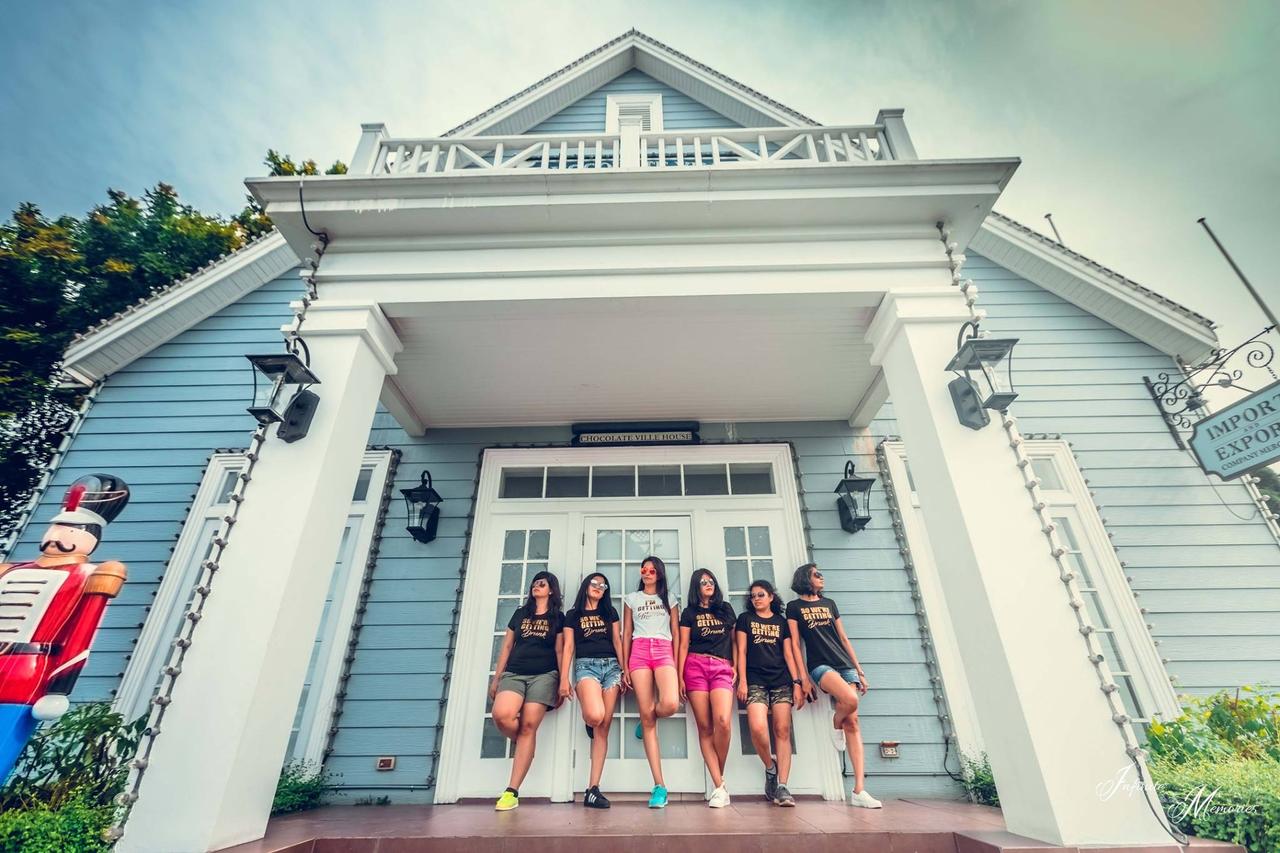 Almost a compulsion, shorts with a t-shirt is one of those Goa fashion tips that you just can't ignore! And if you're looking for some super cool pictures with your favourite bridesmaids, go for different colours for shorts but uniform colour for the t-shirts. Get some edgy lines or phrases printed on your black t-shirts to let everyone in Goa know, there's a bride squad in town!
Accessories & Jewellery: Pop coloured snickers, black sunglasses, hats or caps.
When to wear: When you decide to hire scooters or bikes to explore little towns and beaches of Goa, this would be your perfect outfit. Having said that, you can go with this outfit almost anytime and anywhere.
3. Colourful Sarongs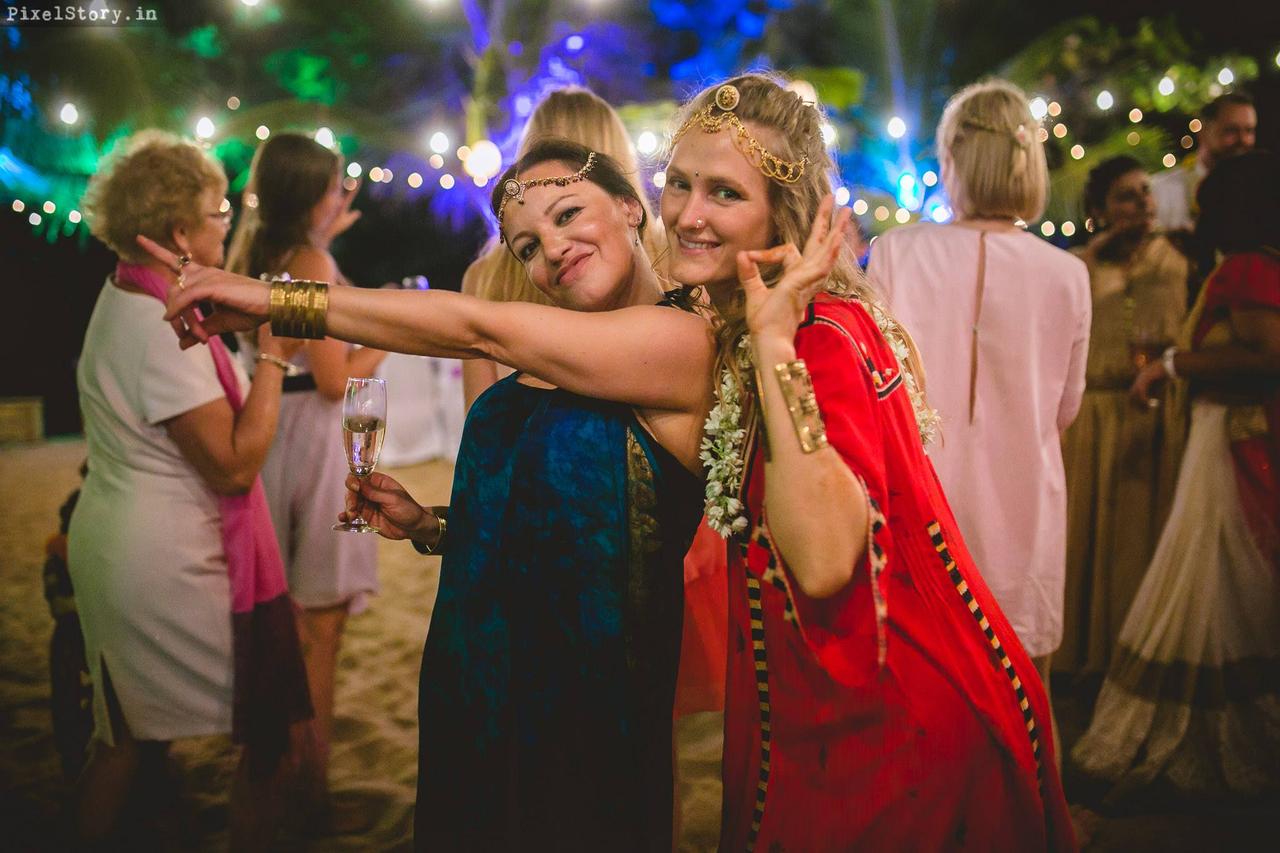 Bring out the Boho in you and flaunt those vibrant sarongs on the beach. When we're talking about Goa fashion tips, a sarong is the kind of outfit that organically blends with the ambience. Choose all the vivid colours in a palette- red, turquoise, yellow, magenta...and brighten up those beach parties with your charm!
Accessories & Jewellery: Junk jewellery, oxidised earrings and bangles. And if you're willing to try something quirky, sport some golden tiaras or Matha Patti, golden bangles and sport some stunning Gajras hairstyles.
When to wear: Beach parties or a simple dinner and drinks with your girl gang at a beach shack!
4. Gowns & LBDs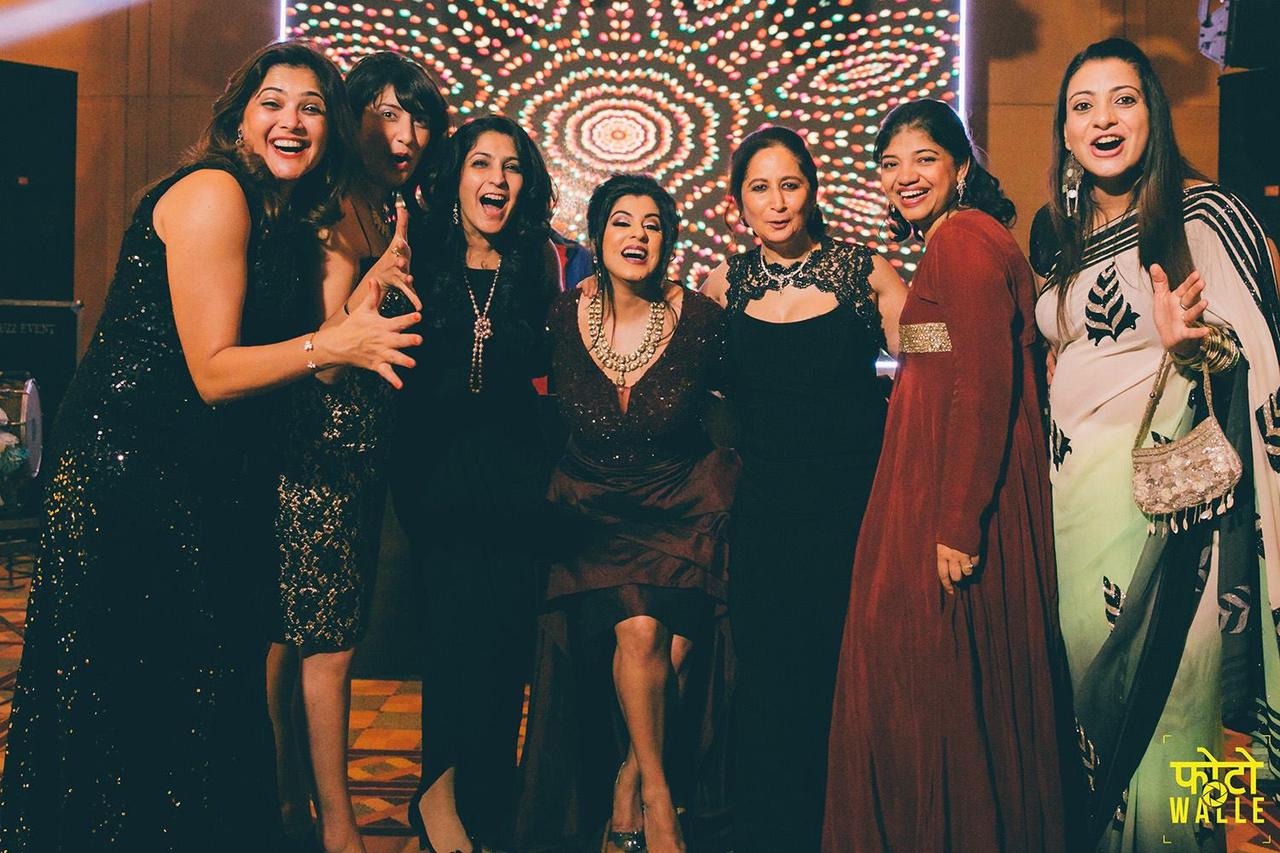 Now get ready to slay the town ladies! Put on your shimmery evening gowns and little black dresses because it's finally your Bachelorette night! Packing your black dress would be one of the most precious Goa fashion tips today. Because you can never go wrong with a black dress. Keep the colour code black each one of you could go with different attire...off shoulder dress, fishtail dress, LBD or maybe even a sequin black saree!
Accessories & Jewellery: You can choose gold or golden coloured artificial jewellery, diamond earrings, pearls or silver jewellery. A clutch in black or silver would just complete the look.
When to wear: Lavish bachelorette dinner and cocktails at a beach restaurant or a night club.
5. Hawaiian Vibes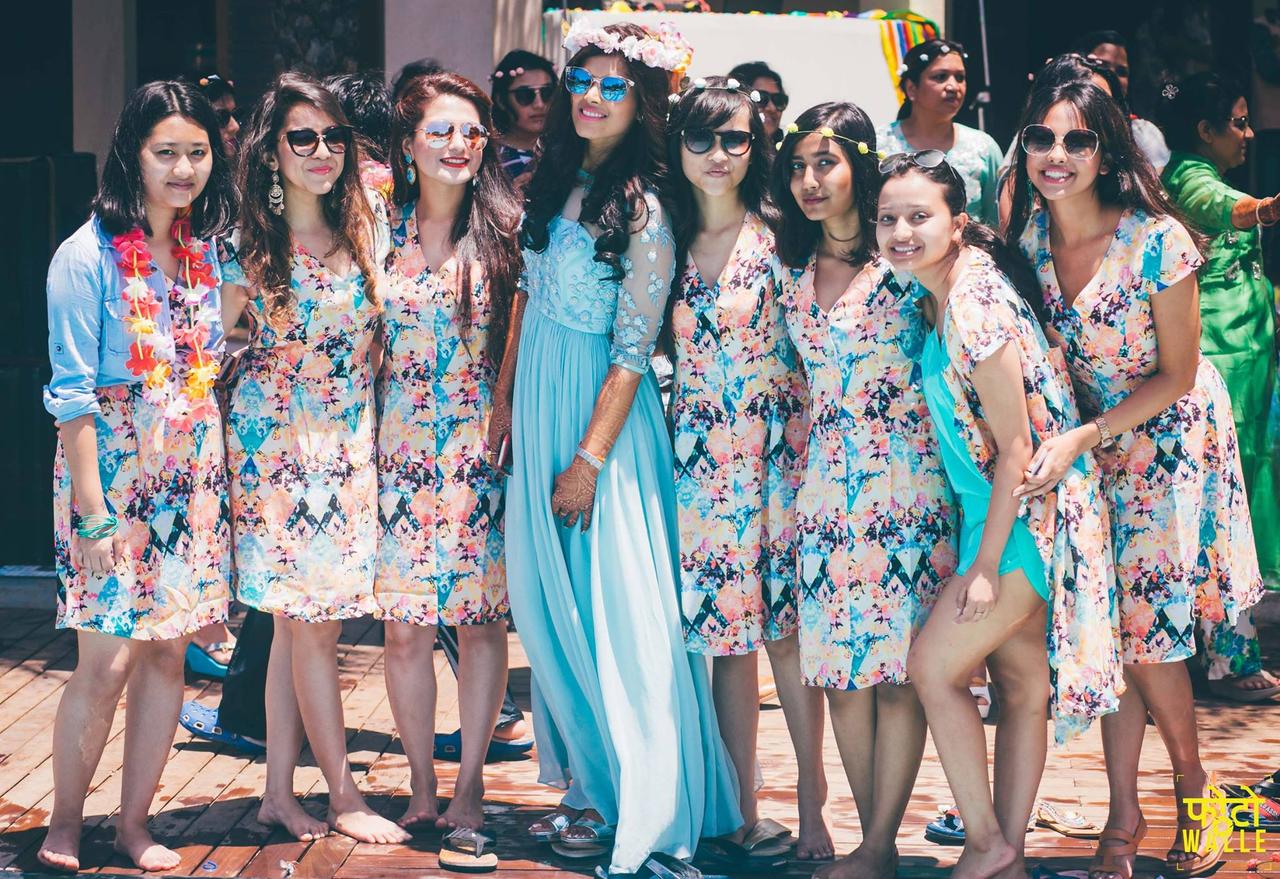 After an all-night party, you need some chill time by the pool the next day! So, how about dressing up accordingly? If you want Goa fashion tips especially if you're thinking to have a chilled out poolside brunch or cocktails, we say go Hawaiian! Sport matching floral printed midi dresses or summer frocks and your whole bachelorette album will simply liven up! Play some crazy pool party games to keep up the fun vibes!
Accessories & Jewellery: Colourful slippers, floral tiaras, luaus, coloured sunglasses and you're sorted!
When to wear: Organise a poolside bachelorette or simply chill with some delicious cocktails and summer drinks by the beach!
6. White up!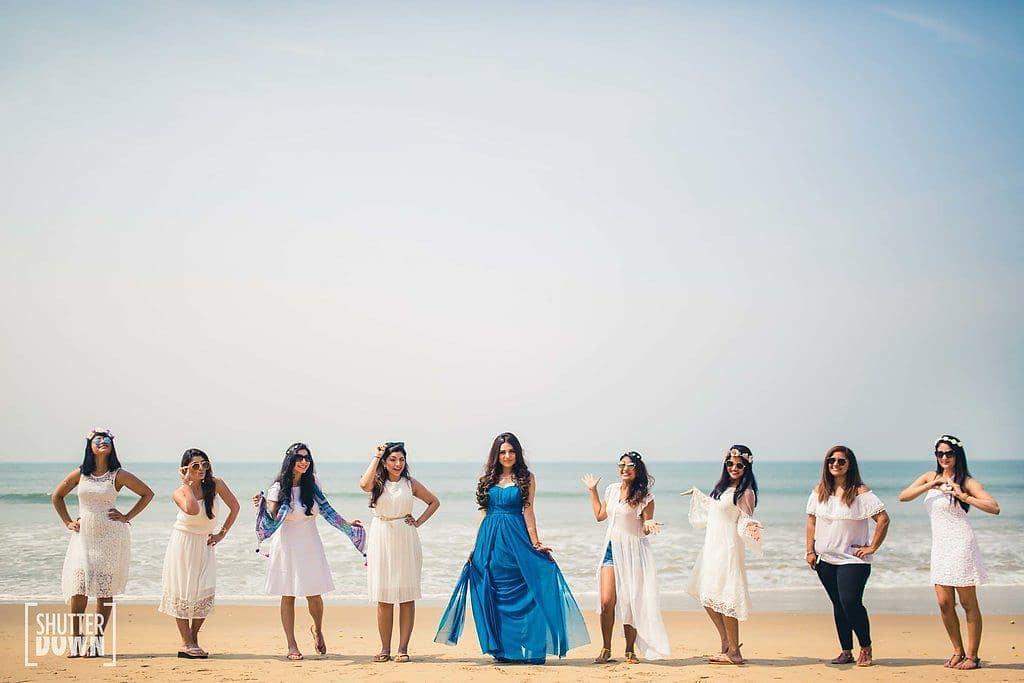 Just like a black dress can never go wrong, similarly white always works on beaches! So if you're looking for Goa fashion tips and not sure what to wear, white is your all-purpose-solution! Go for white frocks, baggy shirts with shorts or midi skirts-they all look great on a sunny beach!
Accessories & Jewellery: Oversized sunglasses, flip flops and floral tiaras in white.
When to wear: Go for an exclusive brides & bridesmaids photo-shoot on the beach in all whites.
Hope you got some insight on Goa fashion tips now! So let the shopping begin! But don't carry too much weight while you go on a trip to Goa. Go street shopping and you can find some excellent beachwear collection at affordable prices. Make your destination bachelorette trip a memorable one. Get matching tattoos and piercings. Get pampered with Ayurvedic spa and massage to rejuvenate yourselves. Dance all night long and binge in scrumptious Goan cuisines. Make friends. Make memories. Let your spinster party be a topic that you'd talk about for ages and laugh!
Check out some bars & lounges if you plan to celebrate your bachelor's party in Goa.