Glamorous and Gorgeous Party Wear Western Gowns That You Can Rock as a Cocktail Dress
A cocktail is hands-down one of the most fun parties at a wedding. For girls, cocktail parties are the perfect time to bring out the inner diva in them and pull up the glamour quotient with exclusive party wear western gowns.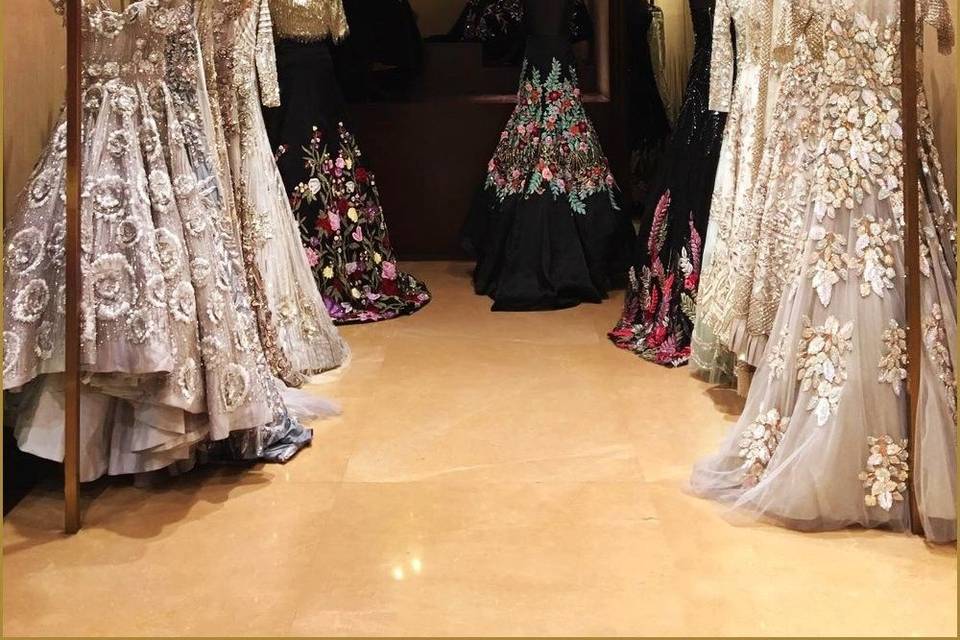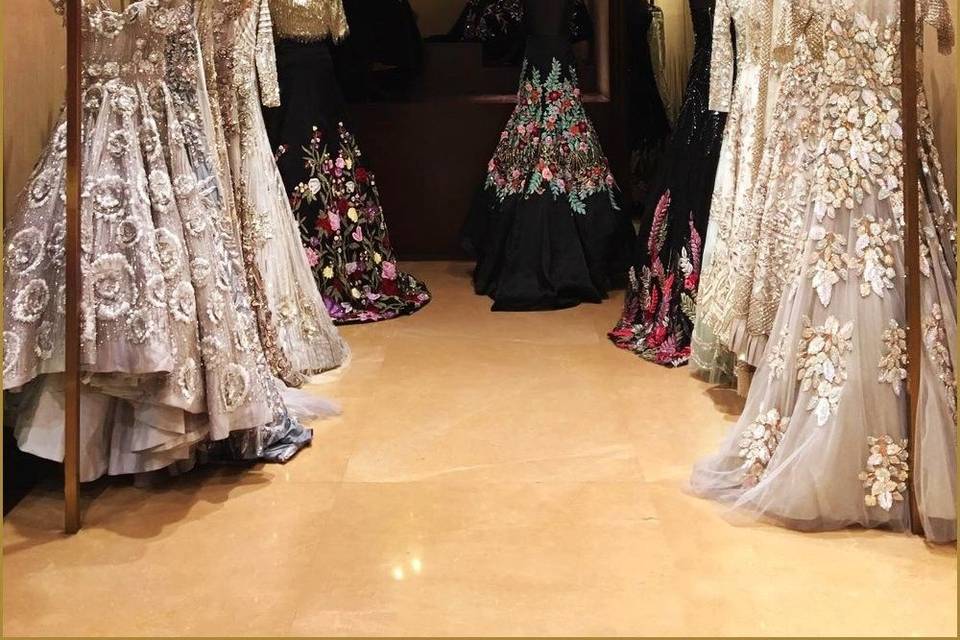 Image Courtesy: Manish Malhotra
Cocktails parties have music, dance, fun and a lot of glamour. Every girl is hyped to put her best feet forward when it comes to cocktail parties. With so many options available for them, the choice isn't easy either. And like most girls, we are partial to party wear western gowns as nothing compares to its elegance and flow.
So, if you're having a tough time choosing what suits your style the best, we've put together some beautiful party wear western gowns with different styles and designs to make this decision easier for you.
1. Pretty-in-Wine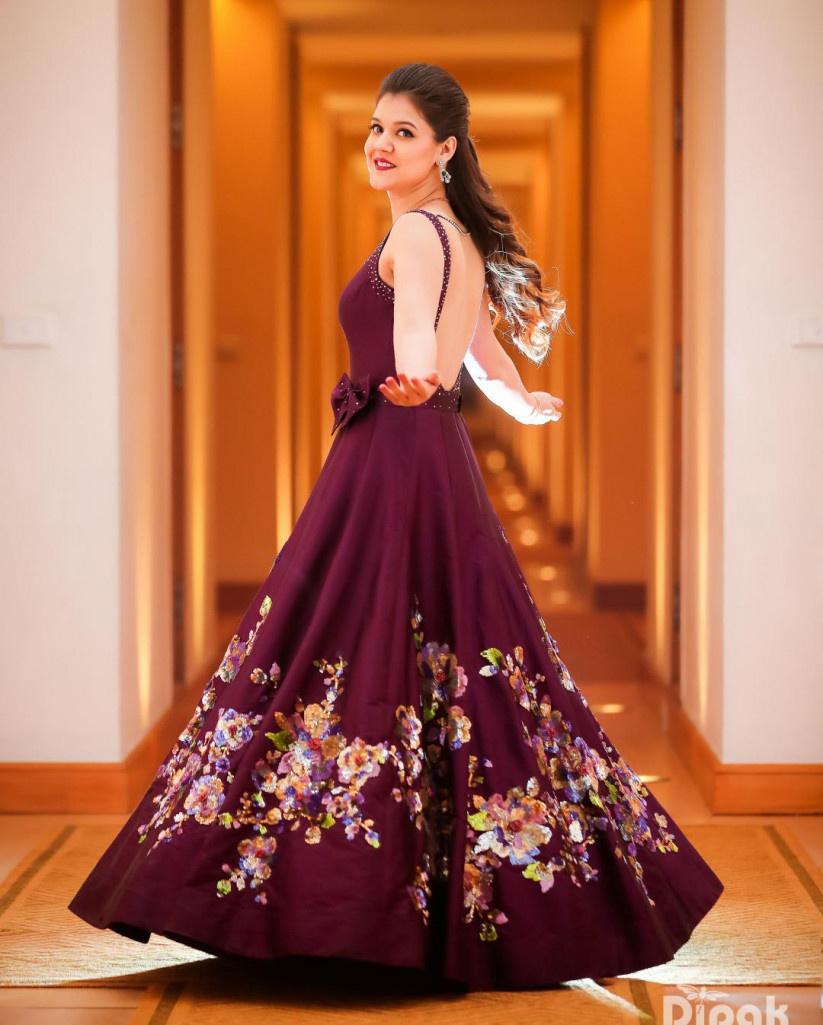 This beautiful party wear western gown is for the girls that like the classic cut and pattern without having too much to handle. This beautiful gown with a spaghetti strap and deep back is all things classy. The colourful flower embellishments on the flare of the gown are minimal and make the cocktail dress look elegant and graceful.
The choice of colour is one that allows you ample scope to accessorise and break the uniformity. Pair this one with colourful studs in your ear and a half-pinned hairstyle to complete the look and keep you hassle-free as well.
2. The Princess Ballgown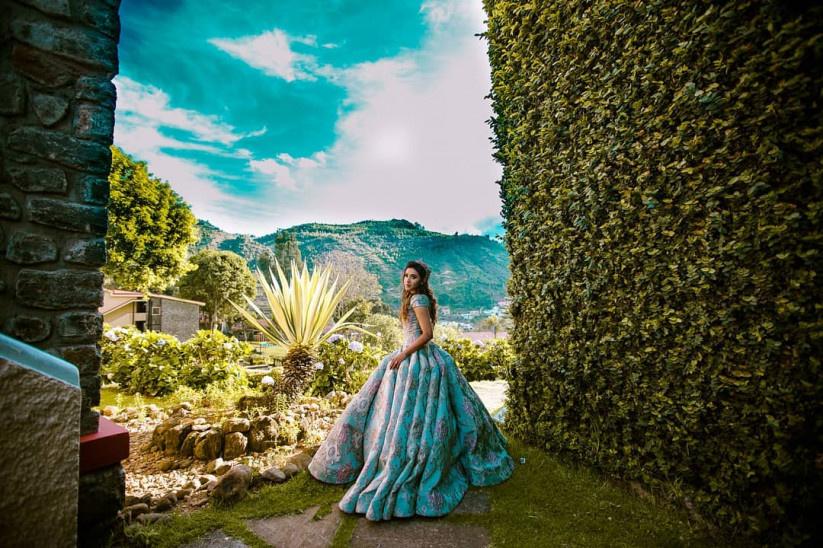 For girls that wish to pull off something eye-catching and voluminous, this is an absolutely appropriate choice. This massive flare of this princess gown is sure to make you look like you've just come out of a fairy-tale. If you decide to go forward with this then make sure that everything else that you wear along with it is minimal and requires no handling, as the gown in itself will be a lot to handle.
Go for party wear western gowns like these if it is your own cocktail party or someone's in your immediate circle as it has all the elements that will make sure that you're the centre of attention.
3. Ruffles in Pink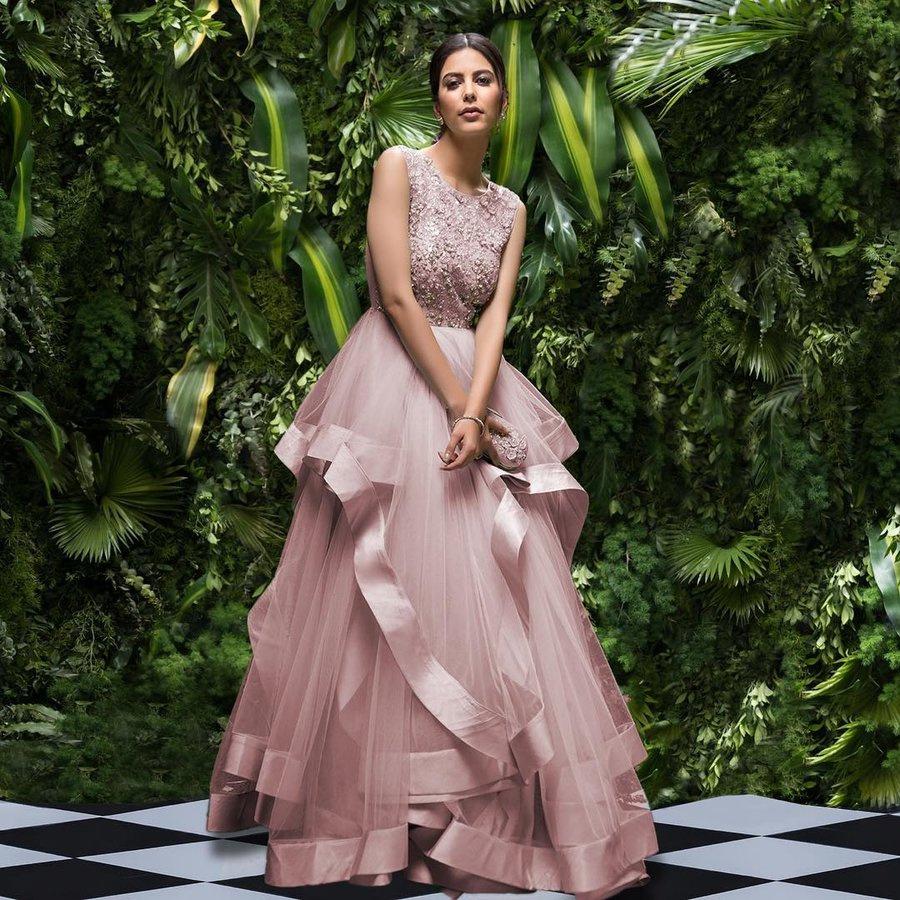 Enough of flared gowns now, we hear you! It is a cocktail party and every girl needs party wear western gowns that turn some heads around. What better idea than to go for a pink ruffled gown that is heavily embellished with Swarovski around the torso. The bottom of this gown has asymmetrical ruffles in net making it look gorgeous and perfect for the occasion of cocktail parties.
You'd want to keep earrings minimal as the Swarovski embellishments have already made the upper half of the gown very heavy. Go all in when it comes to picking a hairstyle with this gown, something tied down will help put more focus on the beautiful embellishments on the gown.
4. Goddess in Gold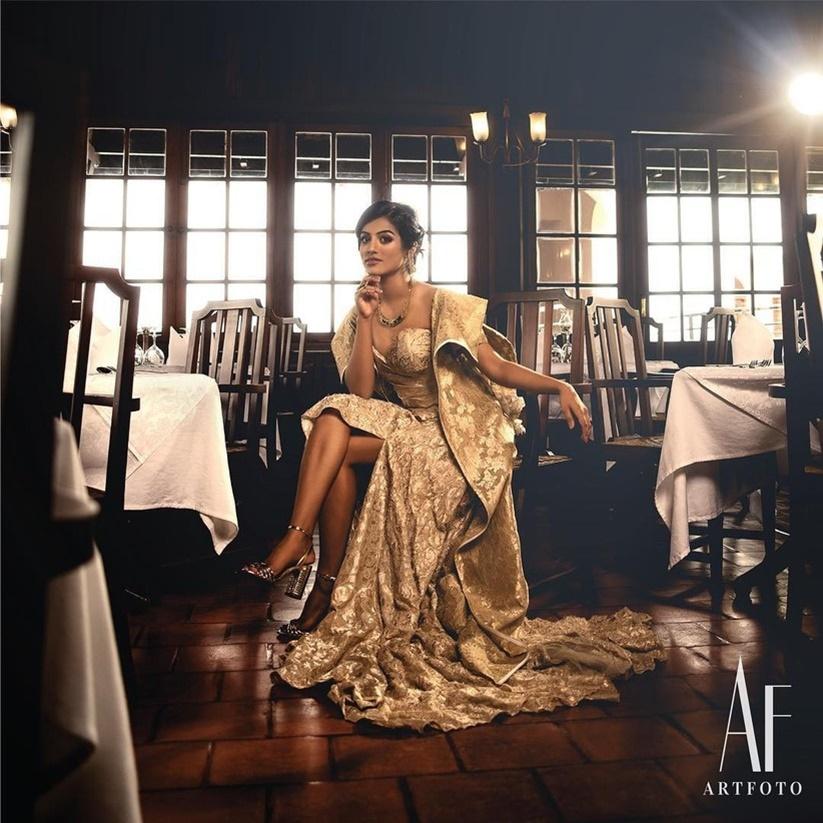 If golden is your colour, then this is for sure going to be your first pick. A beautiful golden party wear western gown with a princess neckline, ruffles on one side, and a thigh-high slit is sure to give you a statement look. Wish to go bold with your choice for a cocktail party and love the eyeballs on you, then this is your pick. Accessorise the neck with a statement piece, choose a messy bun for your hair and you're good to go.
5. Fully Embellished Aquamarine Beauty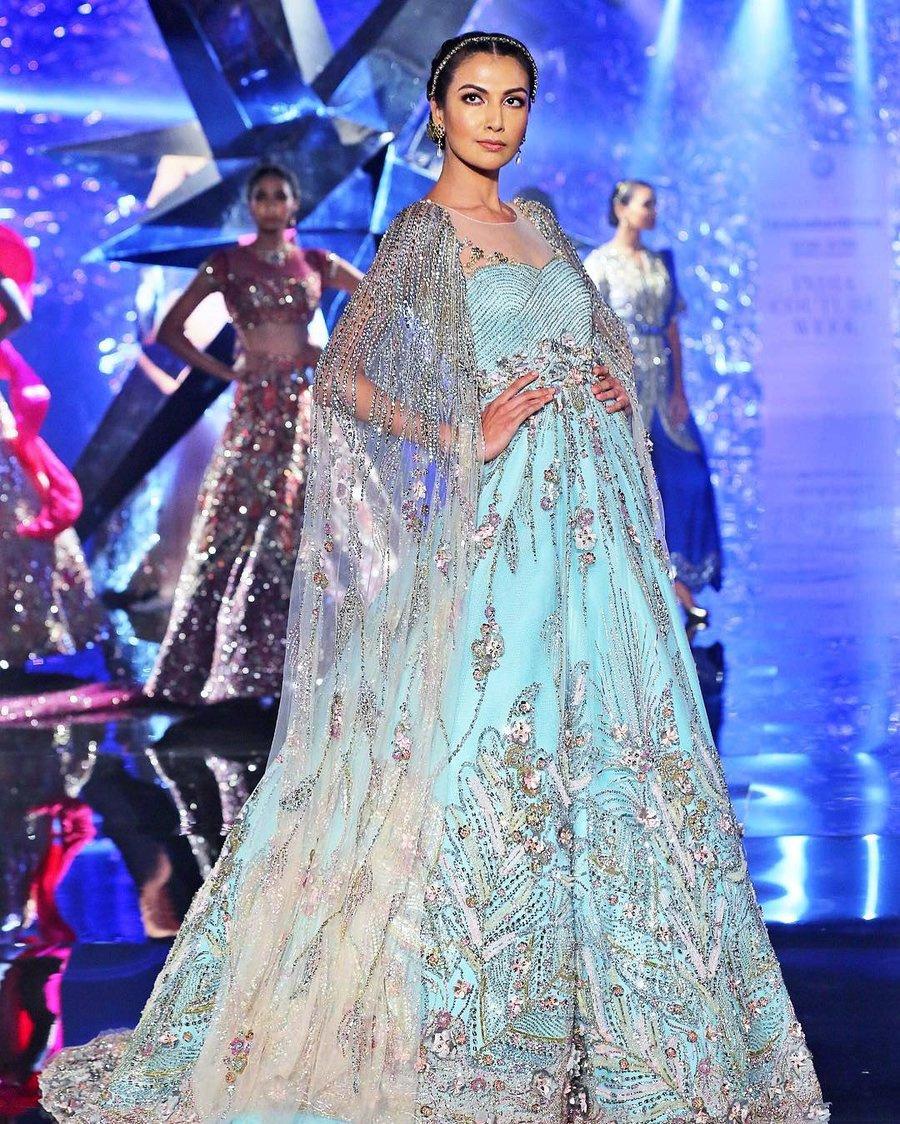 This one almost stunned us with its beautiful embellishments all over. It's a fully- embellished gown with cape sleeves almost touching the floor. The beautiful aquamarine colour of this gown is what makes it unique and eye-catching. Everything that your pair with this gown from your earrings to your hairstyle and even your makeup must be kept minimal as this fully embellished gown doesn't allow for anything else to be the centre of attention. So for girls that do not want to spend too much time figuring out their look, go for this aquamarine beauty as the gown is enough in itself.
6. Sheer Gown with Drape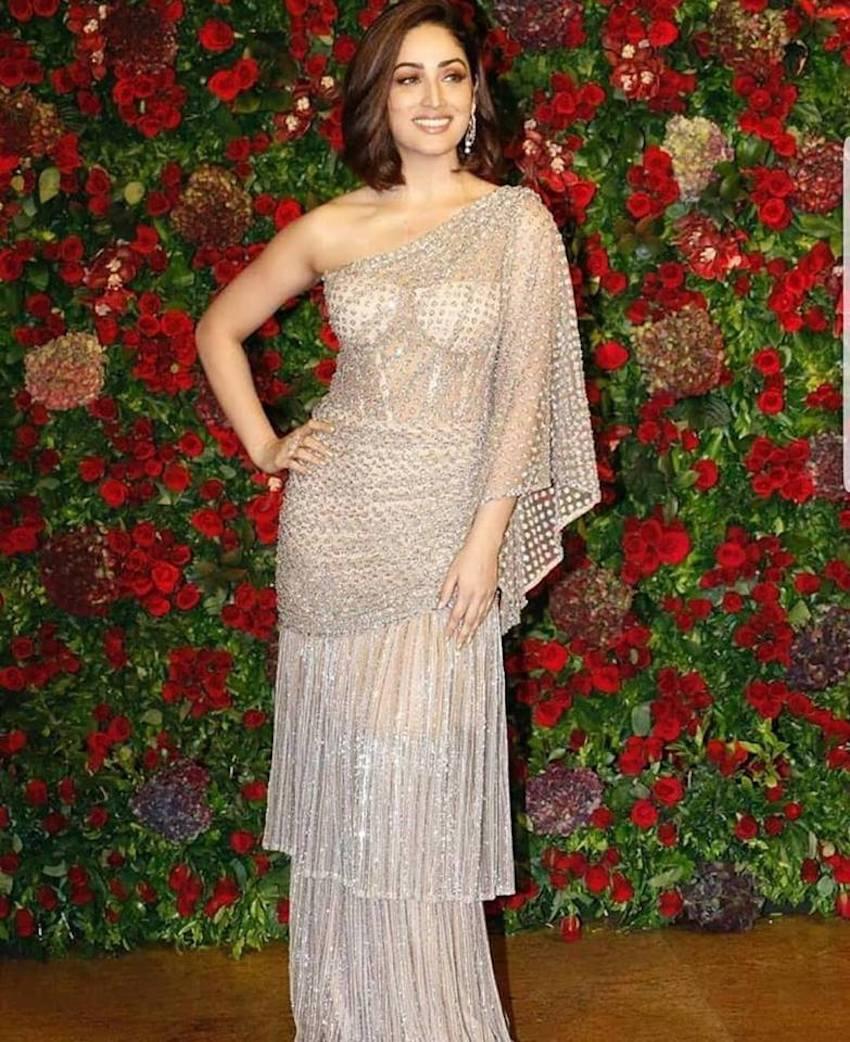 Love the idea of drapes with a party wear western gown, then this one is the most appropriate pick for you. Its sheer fabric is what makes the look of this gown so delicate and pretty while the drape only adds to the elegance. This is the outfit that is going to shine through all the others as it is one that has the most delicate look. The symmetrical ruffles at the bottom give it a structure and look of something unique.
With most gowns having a flare, this one surely makes you feel different. This outfit calls for an open hair hairstyle and minimal accessorising too.
7. Deep-V Stunner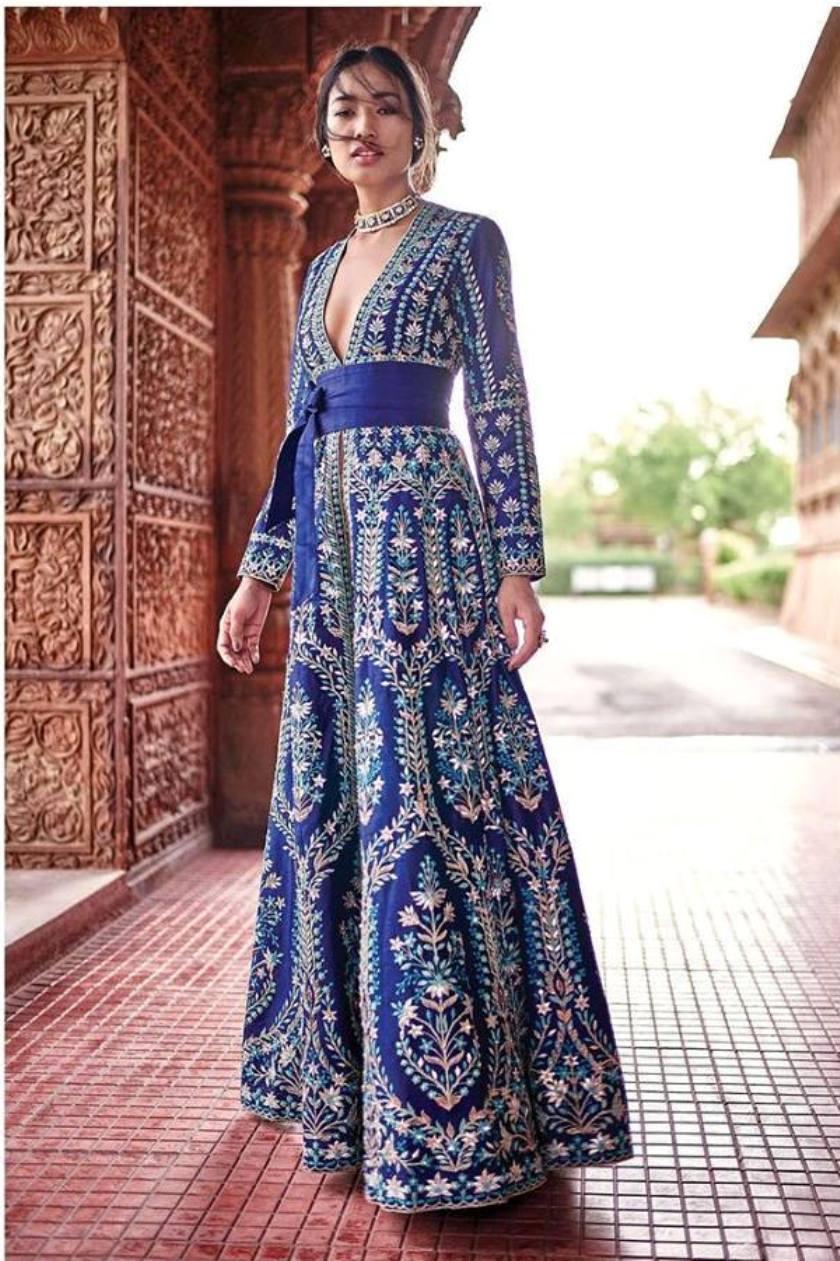 Tired of all the usual party wear western gowns and looking for something unusual, well we have something that might interest you. Embroidered pieces are very rarely looked at for cocktail parties however; this V-neck stunning piece is something else. The belt around the waist not just gives the outfit a graceful shape but also breaks the monotony of embroidery all over.
Pair this with a delicate choker in your neck and studs in your ears and you're good to go. This party wear western gown is sure to be something that will set you apart from the rest. So go ahead, break the rules and wear something that's distinctive and stunning.
8. Mermaid Gown with a Flare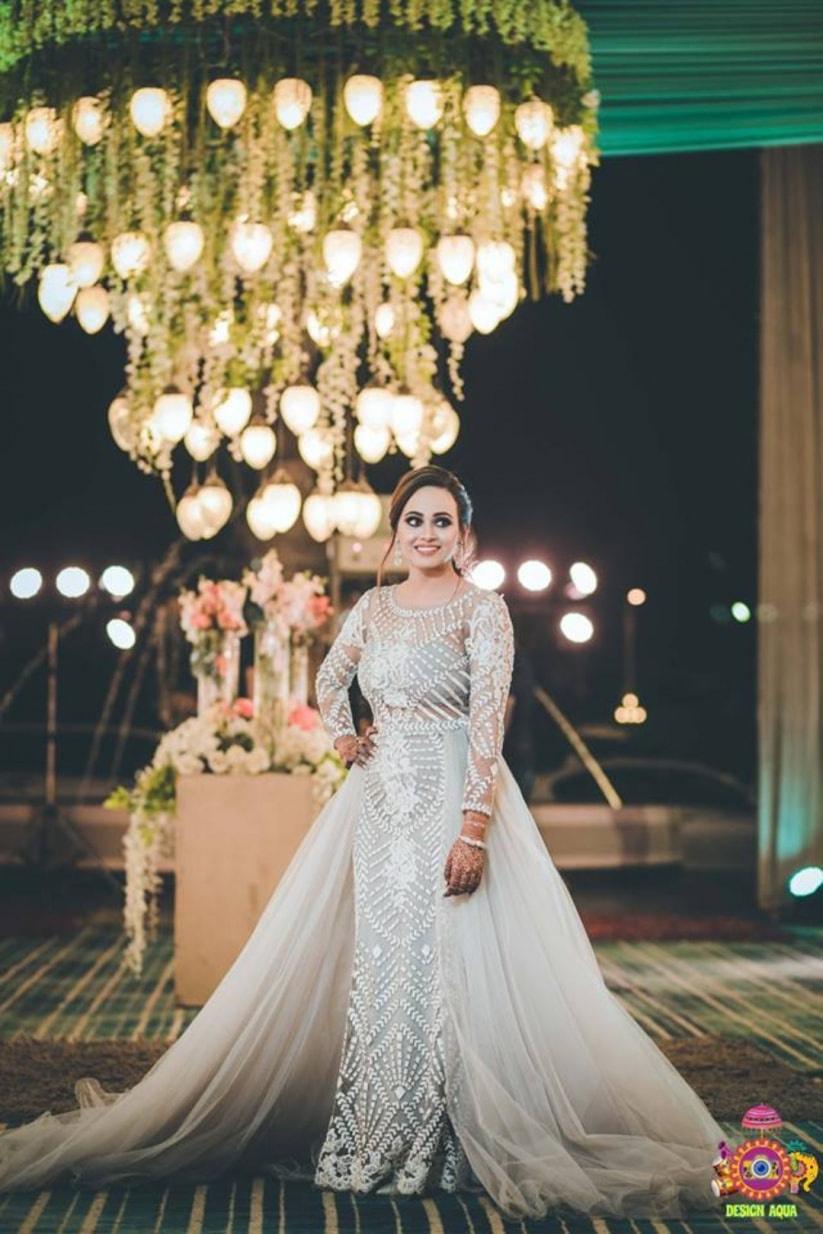 One of the most loved patterns in party wear western gowns is the mermaid gown. The highlight is its fit and how it makes your body look. This gown usually looks amazing on pear-shaped bodies, but our white beauty has added net flare from around the waist, making it an appropriate choice for almost all body types. So those of you, who thought mermaid gowns are not for you, try this one as the flare covers all the flaws and is sure to make you look ravishing. The cutwork on the gown with a tint of grey fabric inside only adds to the look of this exquisite gown.
If you are looking to choose this for your cocktail party, then make sure that the jewellery you wear goes with the entire ivory grey vibe of the gown and is not contrast in any which way. Keep your hair simple and you are sure to look like a fairy goddess in this beautiful avatar.
9. Shimmer and Red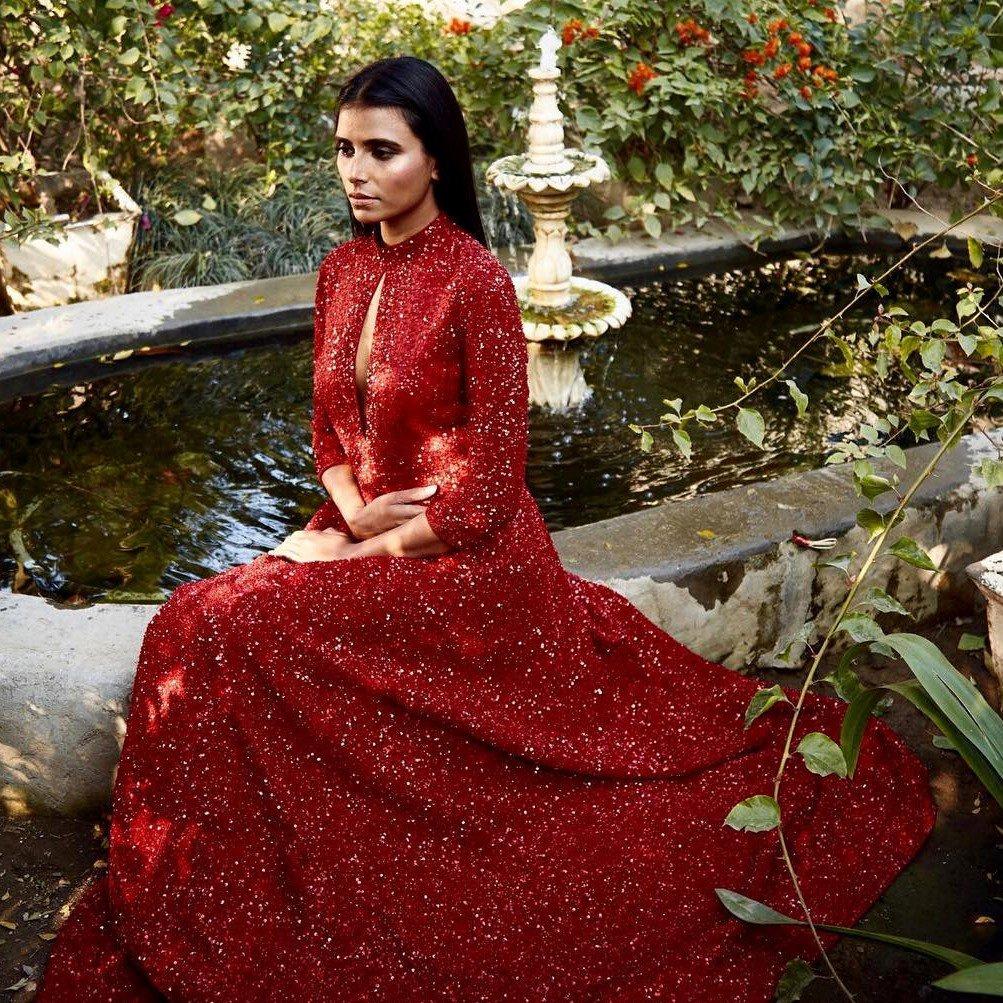 The most simple and yet very magnificent, this shimmery red party wear western gown is an A-line piece that has a high neck design with a slit. This outfit does not need any other detailing to stand out as it is tailor-made for functions like these. Let this gown be the highlight and keep everything else minimal Out of all the above, this is the outfit that requires the least amount of effort and still looks stunning. Just be confident and you are sure to rock the party and mesmerise the boys.
We've tried to put together a variety of choices to make your decision simpler. While all of these party wear western gowns are breathtakingly beautiful, pick something that you'd be comfortable in while attracting a lot of attention as well. While you're at it, have your wedding photographer and wedding videographer capture each and every move!
Which of these party wear western gowns has stolen your heart? Tell us in comments and we'll help you complete your look.