6 of The Most Trendiest and Chic Floral Lehenga Designs That You Need to See
Want to be a step ahead in the bridal fashion game with your wedding outfit? We have a specially curated rundown of some of the trendiest floral lehenga designs that you can get your hands on, this wedding season.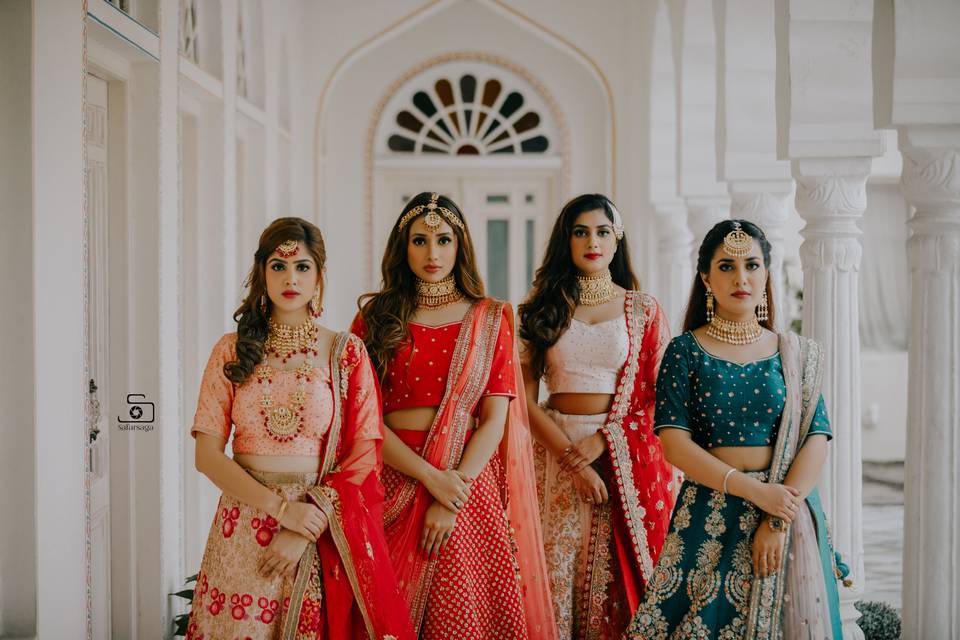 Lights, celebrations at full blast and people at their most spectacular selves, what's not to love about Indian weddings? The wedding outfits are often the reflection of one's personality and style and your wedding guests and you yourself are going to look back at these memories and reminisce about it so it should be chosen with forethought. That's especially true for the women at a wedding - case in point those who choose to don floral lehenga designs.
Floral lehenga designs, a trend that took to the public spotlight after the Virushka wedding two years ago, are here to stay. A rage across all wedding seasons, it's a must for all who decide to go to a wedding shopping spree. And add it to at least one of your wedding festivities.
Read ahead for some of the floral lehenga ideas.
1. Colour Coordinated Floral Lehenga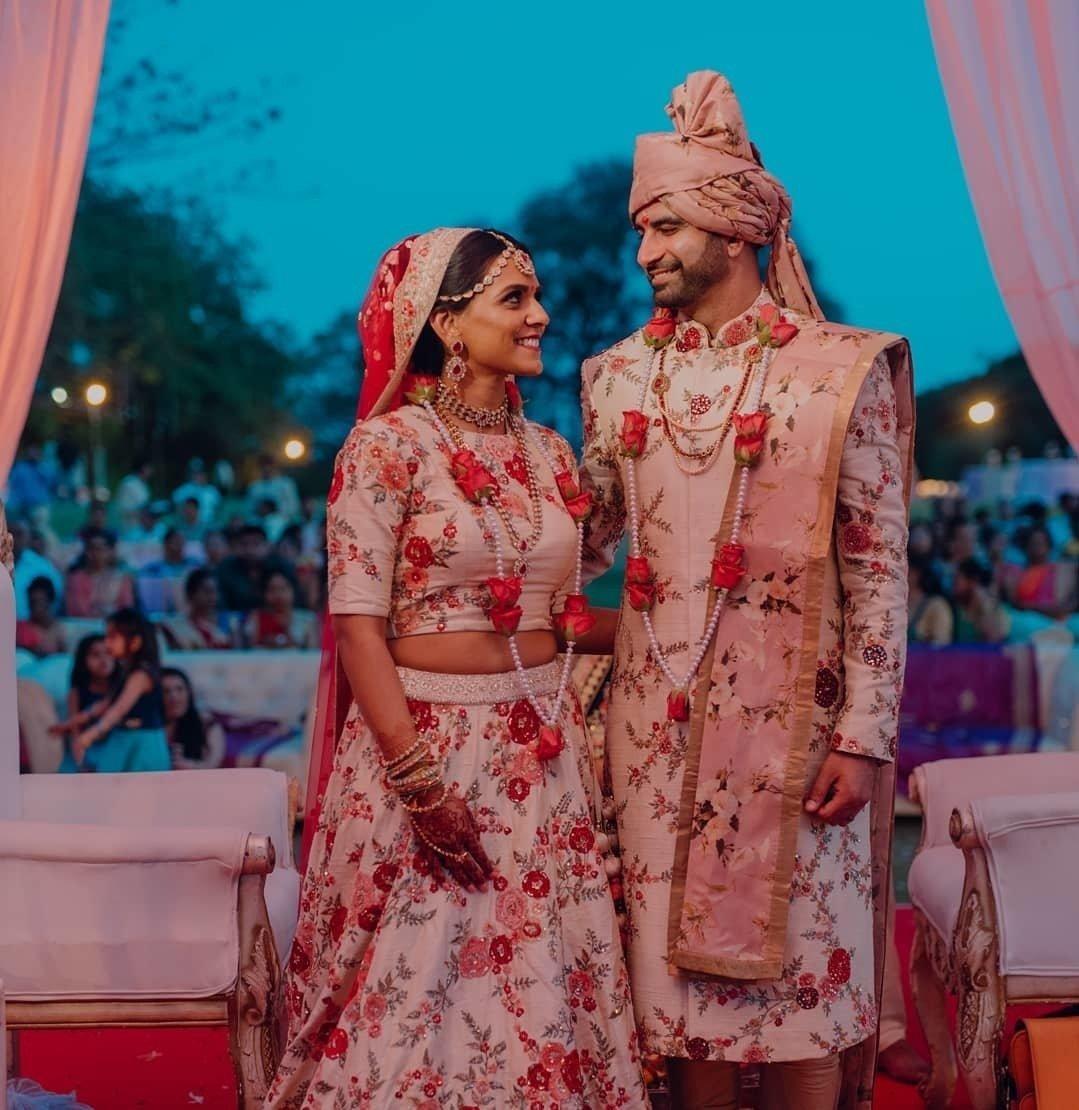 Image courtesy: The Royal Affair
Many brides choose to coordinate the wedding outfits with their grooms, and a floral lehenga print matched with the groom's attire is definitely going to have the compliments flying in. Coordinating your wedding outfits is quite the trend in millennial times and makes the couple stand out.
Along with this, you can also coordinate your floral lehenga with your family by asking them to wear an outfit piece that matches your floral lehenga print, this will surely make your family look exquisite and elegant. You can try outfit coordination with your siblings as well, especially with summer wedding outfits.
2. Heavy Embroidery Floral Lehenga

Image courtesy: Khawar Riaz Photography
Since we can remember, the go-to bridal outfit for any bride is a heavy embroidery lehenga. It's your wedding day and if you want to go all out, a heavily embroidered lehenga is the perfect choice for you. For a millennial touch, check for floral lehenga designs with colourful, heavy embroidery.
This lehenga will be a ray of bright colours that'll light up your wedding venue with smiles and you'll leave people awestruck. The floral applique adds a feminine touch to the whole ensemble. Pair it with the right jewellery and you're good to go.
3. Floral Print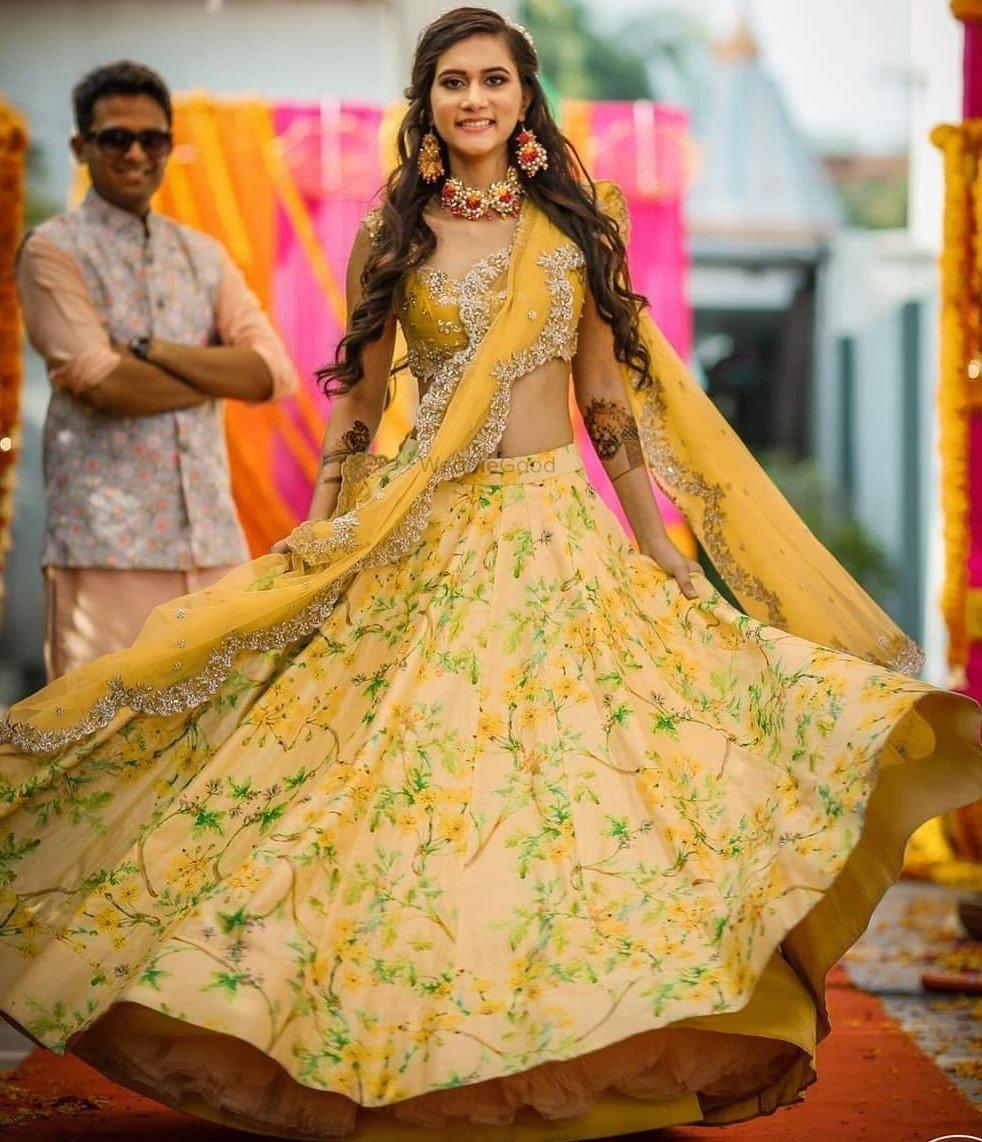 You can never go wrong with a floral lehenga for your Haldi ceremony or Mehndi function. A floral print lehenga in a bright pastel colour can never go out of fashion. Floral prints are the literal personification of feminity and grace and will make you look elegant as ever. We love how this bride pulled off this bright yellow floral lehenga with utter perfection and poise.
Pairing the outfit with the right floral jewellery can do wonders for your look and it works very well for a day function to complement the light.
4. Peplum Floral Embroidery Lehenga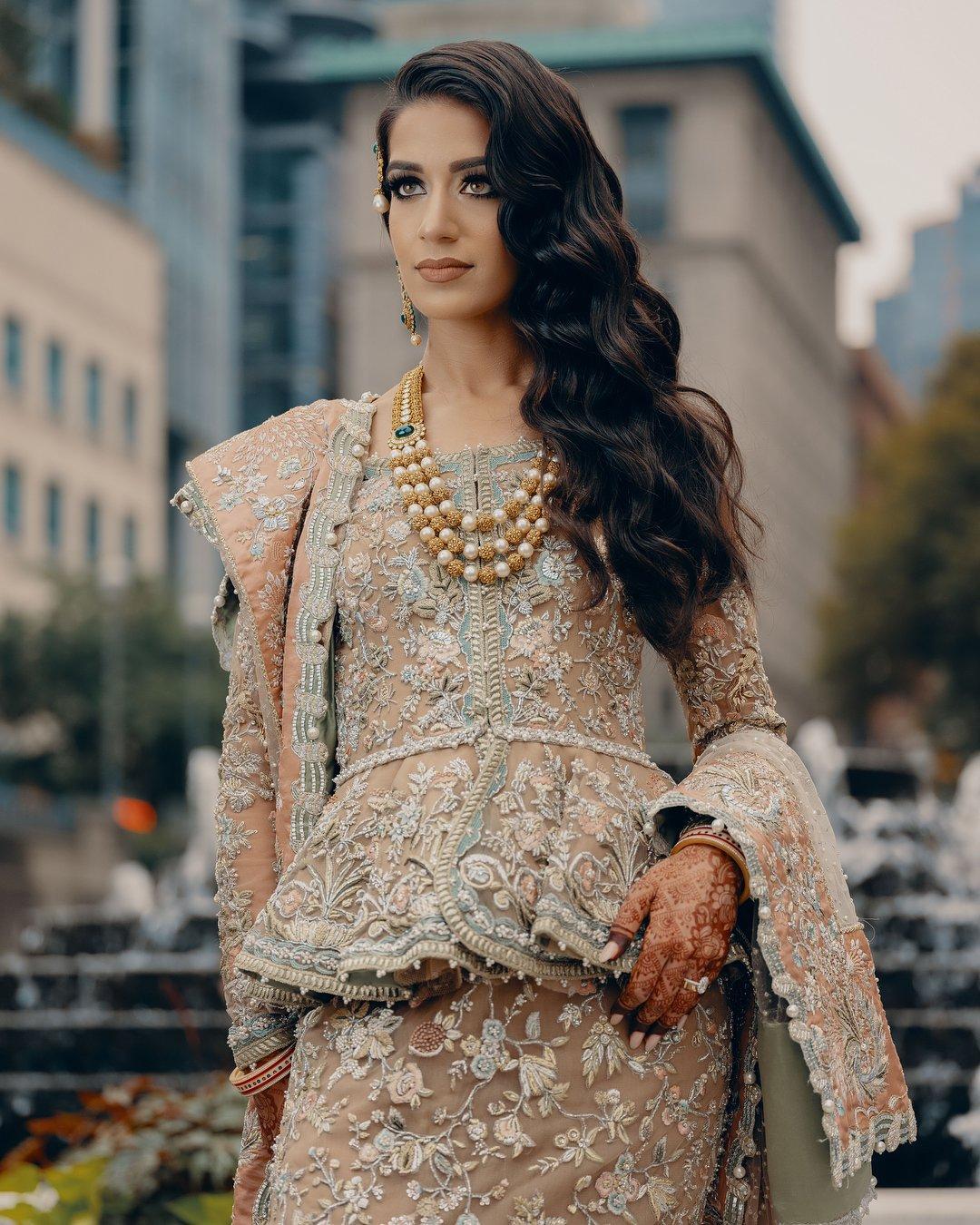 Image courtesy: Deo Studios
The first and foremost thing that we girls love to do is twirl around in our ethnic wear. A peplum blouse worn with a lehenga skirt gives you the best of both worlds to create that perfect Instagram worthy twirl.
Floral lehenga designs with a peplum blouse are all the vogue this season. Silver floral embroidery brings out the intricate details of the design and is a subtle yet elegant look. You can wear this outfit for your Sangeet function or for your reception party as well and it will look great.
5. Gold and Ivory Floral Lehenga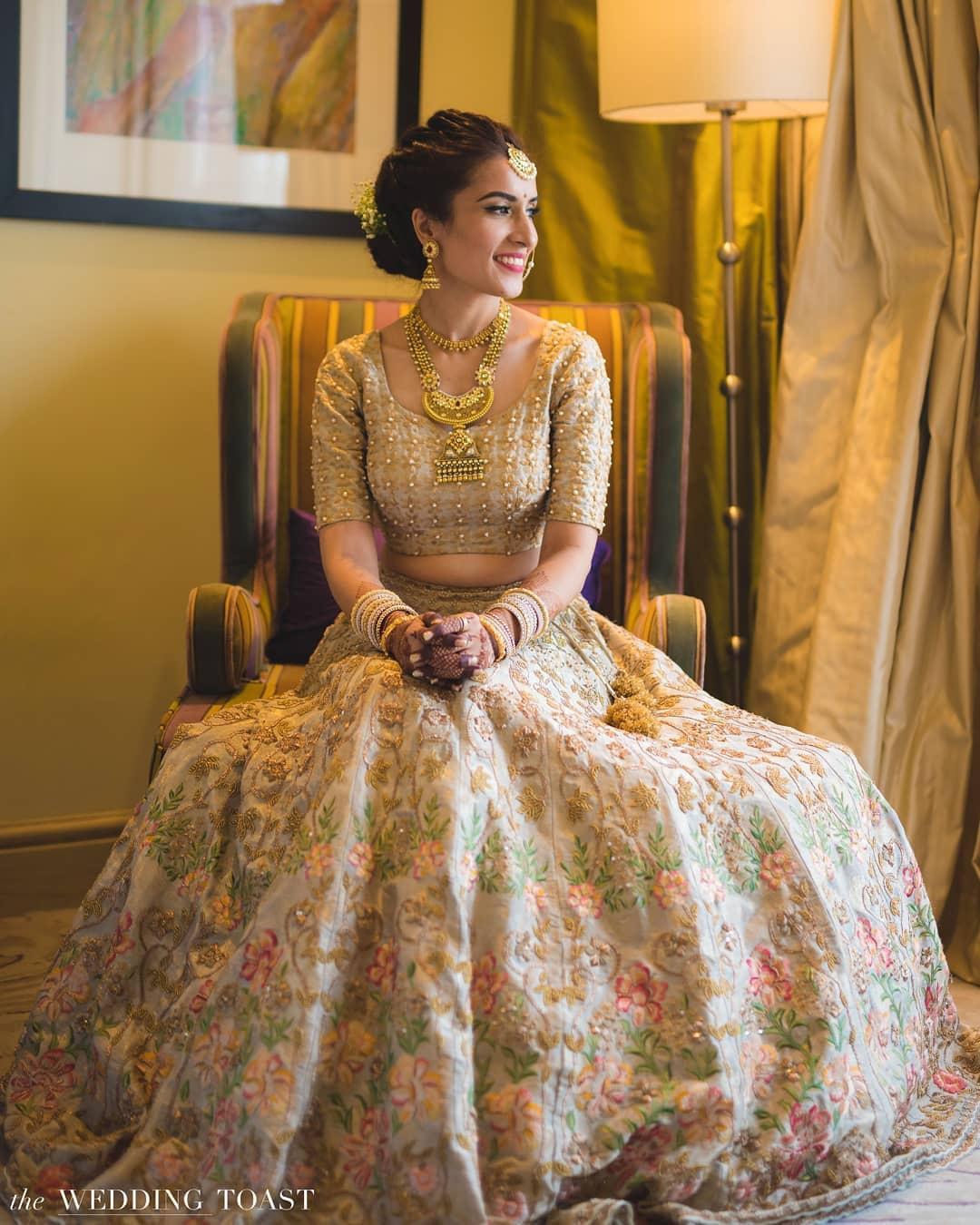 Image courtesy: The Wedding Toast
The most sought after colour combination for bridal outfits has been the gold and ivory colour palette. Pairing the two colours can never go wrong and they scream of charismatic perfection.
If you have your heart set on floral lehenga designs but don't want to go overboard with it, then adding floral design patches on the lehenga skirt are just the choice for you. The floral adornment on the lehenga of a lighter and a more neutral colour palette is sure to catch the eye. Pair it with the right contrasting jewellery to complete your look.
6. Floral Blouse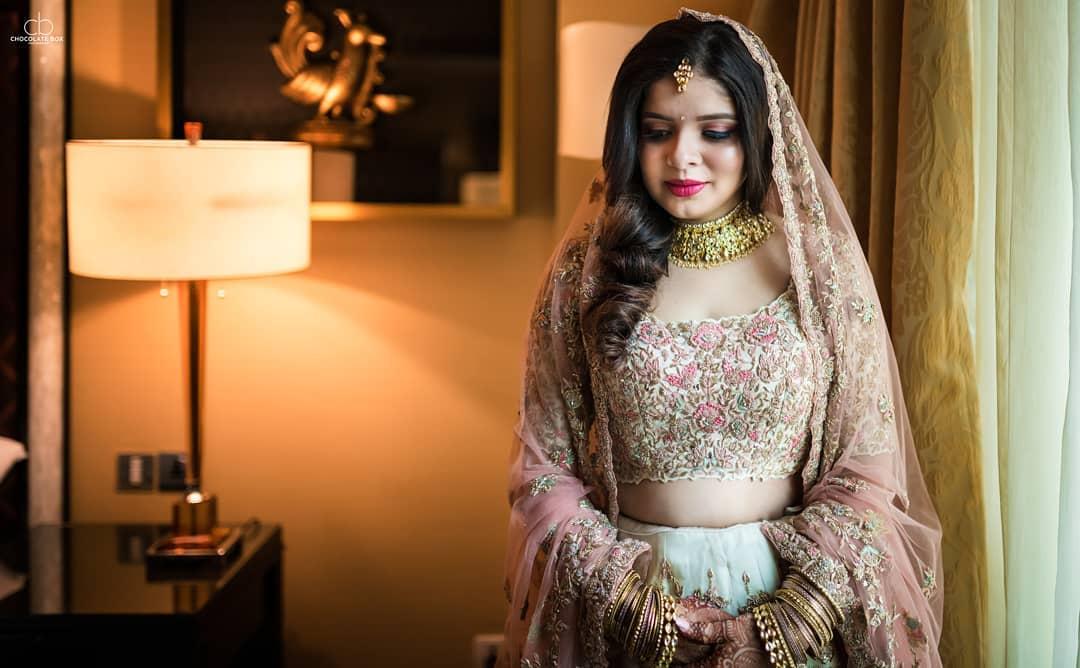 Another variant of the floral lehenga is the floral design blouse. This is one of the most beautiful, straight out of a fairytale outfit. If you don't want to go mainstream with a floral skirt and dupatta, you can always pair a floral blouse with a plain flared lehenga skirt and lightly embroidered dupatta. It is a subtle yet stunning bridal look and is perfect for a summer wedding. You can go for pastel colours or for bright colours to complement the weather.
These lehenga designs are definitely going to steal the show and have all eyes on you. These floral lehengas have a unique sense of charm to them. We hope we've helped all the confused brides out there make a decision about what their bridal outfit should be for different wedding functions. Find a design that matches best with your personality and style and pull it off like the boss lady that you are.
Which one of these floral lehenga designs are you going to pull off at your wedding? Tell us in the comment section below...