5 Cost-Effective Ways for Flower Decoration in Marriage That Make It Look Magical Without Costing a Fortune
Are looking for cost-effective ways for your flower decoration in marriage? Read on to discover ways that will reduce the cost but your celebration would still look grand.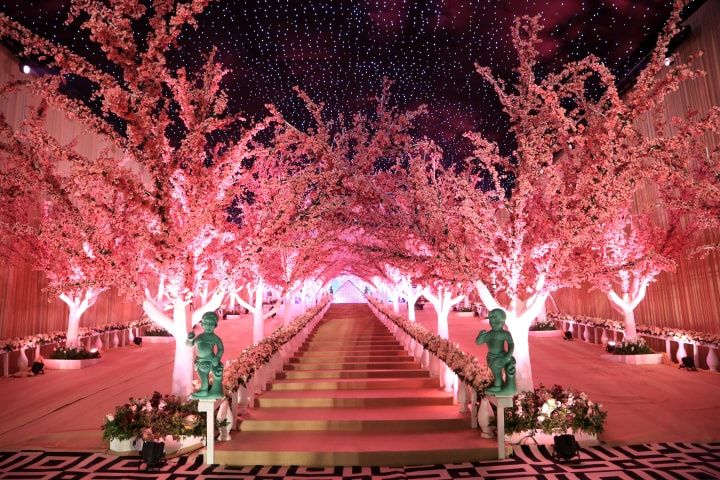 Your flower selection, your wedding location and the time of year all come into play when you create your wedding décor budget. And when you're doing it, you come across a bevvy of complicated decors featured in bridal magazines. These are elaborate staged sets and you need to have them to recreate the craziest, snazziest set of trends that are setting Pinterest and Instagram on fire. However, one of the core elements in play here is your interpretation for flower decoration in marriage. Are you sure you're doing it right?
When it comes to flower decoration in marriage, you need to balance your aesthetic sensibilities with practical points and keep it pocket-friendly. Go for cost-saving ideas by combining floral arrangements with other decor items.
Here are some ideas to help you choose flower decor and centrepieces that won't end up costing as much as a new car:
1. Choose flowers with stems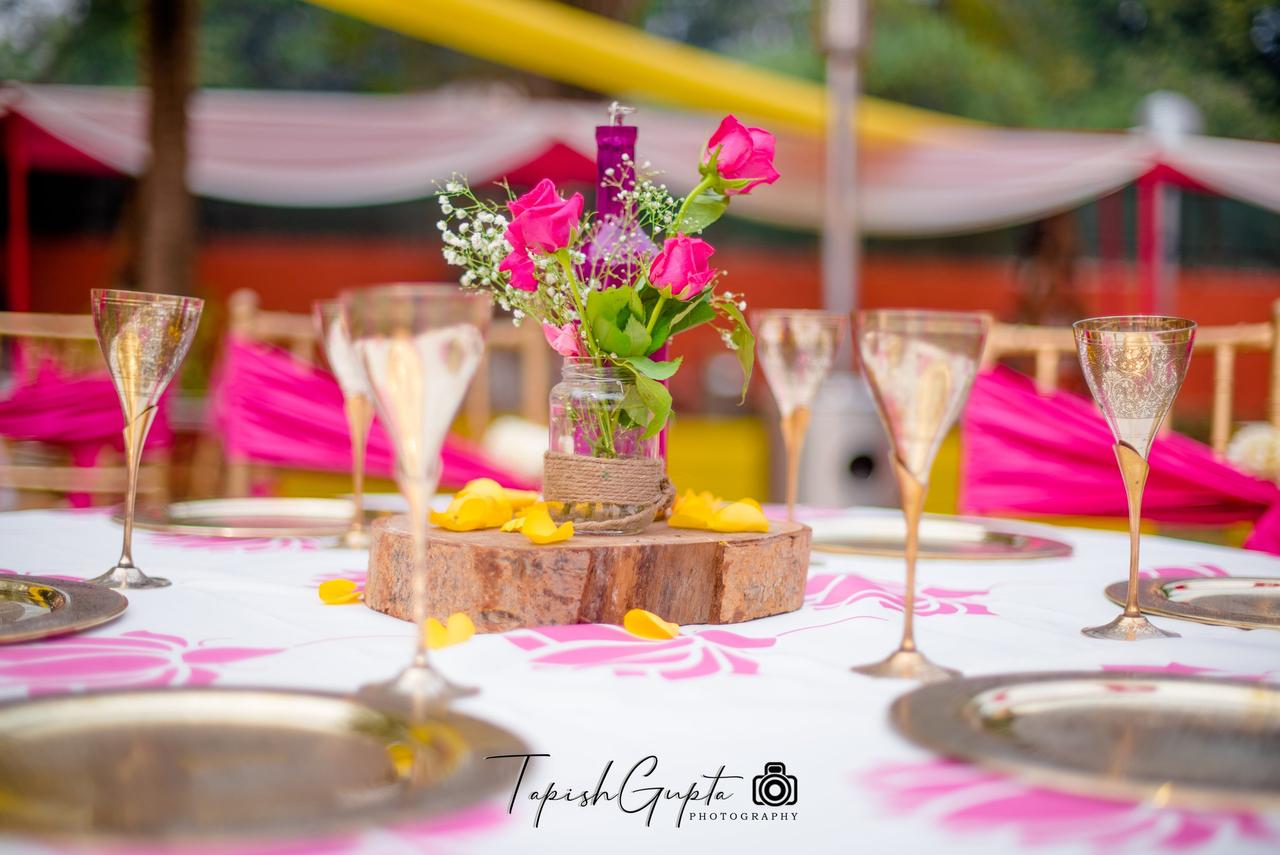 Consider flowers which do not need to be threaded or wired into place before you can begin considering them for your wedding decor. A Stephanotis bloom, orchids or even the desi Gainda Phool need to threaded into garlands, or attached on wires and sticks before you can get them up on the frame of your dreams. Each and every one of them.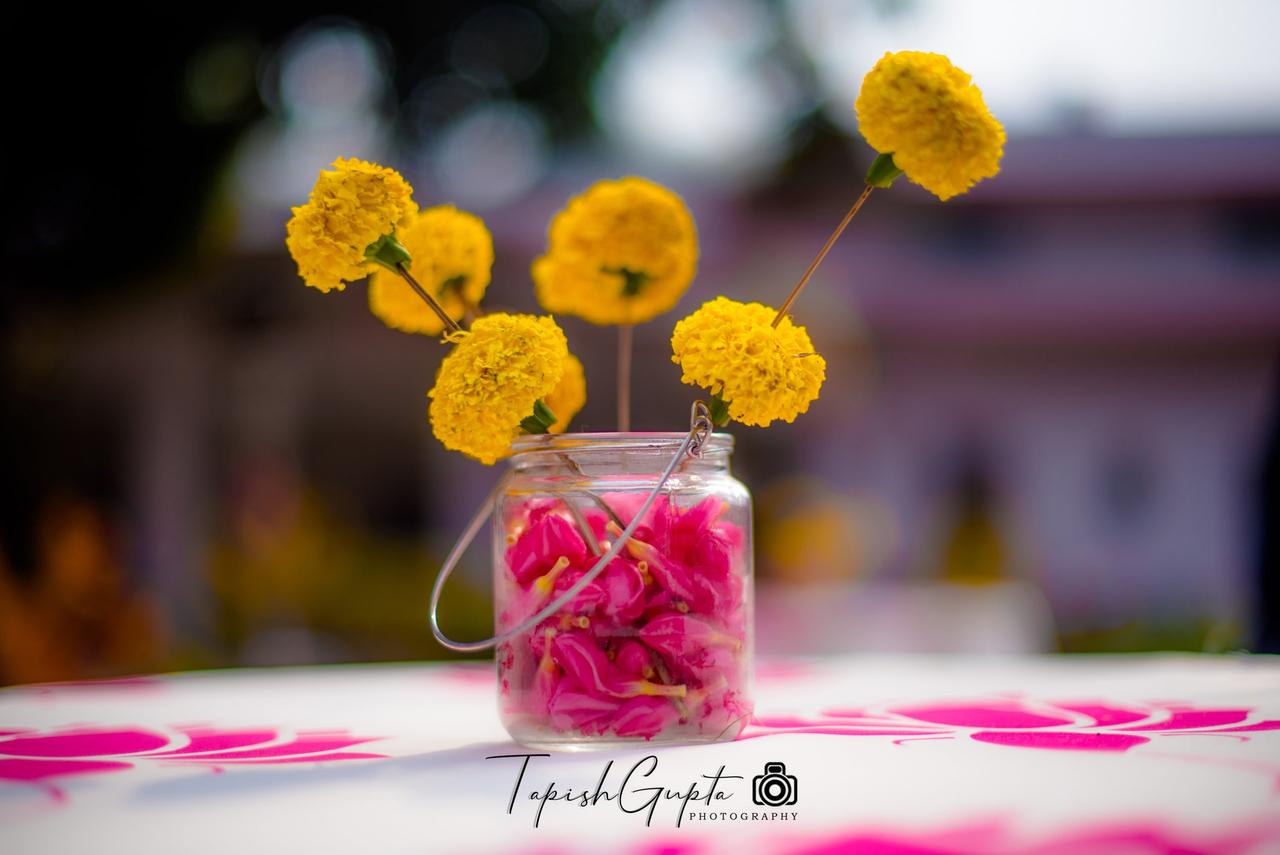 And let's talk about orchids. A favourite for Indian wedding garlands, pinning Orchids into grandiose wedding gate decor is a painstaking task, because they have a small, two-inch stem. It first needs to be elongated, with a faux stem, attached to a water tube.
Choose flowers with legitimate stems – like roses, lilies, calla lilies, Gerbera daisies and many, many more. When it comes to financials for your flower decoration in marriage, this simple suggestion can seriously reduce your bouquet budget.
2. Centrepiece alternatives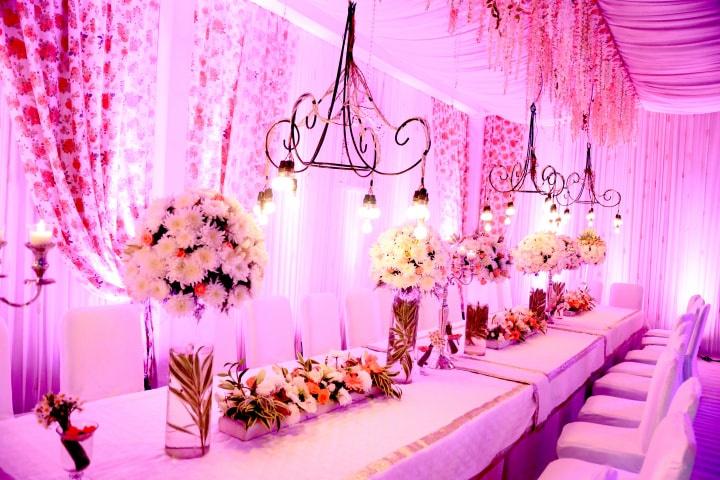 Big and extravagant are beautiful, but that's not a necessity when it comes to your wedding decor, especially if your setting is already world class! Work in the beauty of your wedding venue, instead of hiding it behind tall, floral centrepieces. True life: Your guests hate them.
The contraptions fall flat whenever a wobbly groomsman tries to move or even remove them, in a bid to catch eye time with people on the other side of the table. In place of these tall ideas for flower decoration in marriage, you can use simpler elements like candles, hurricane vases, lanterns and many other things can cost you a lot less than flowers.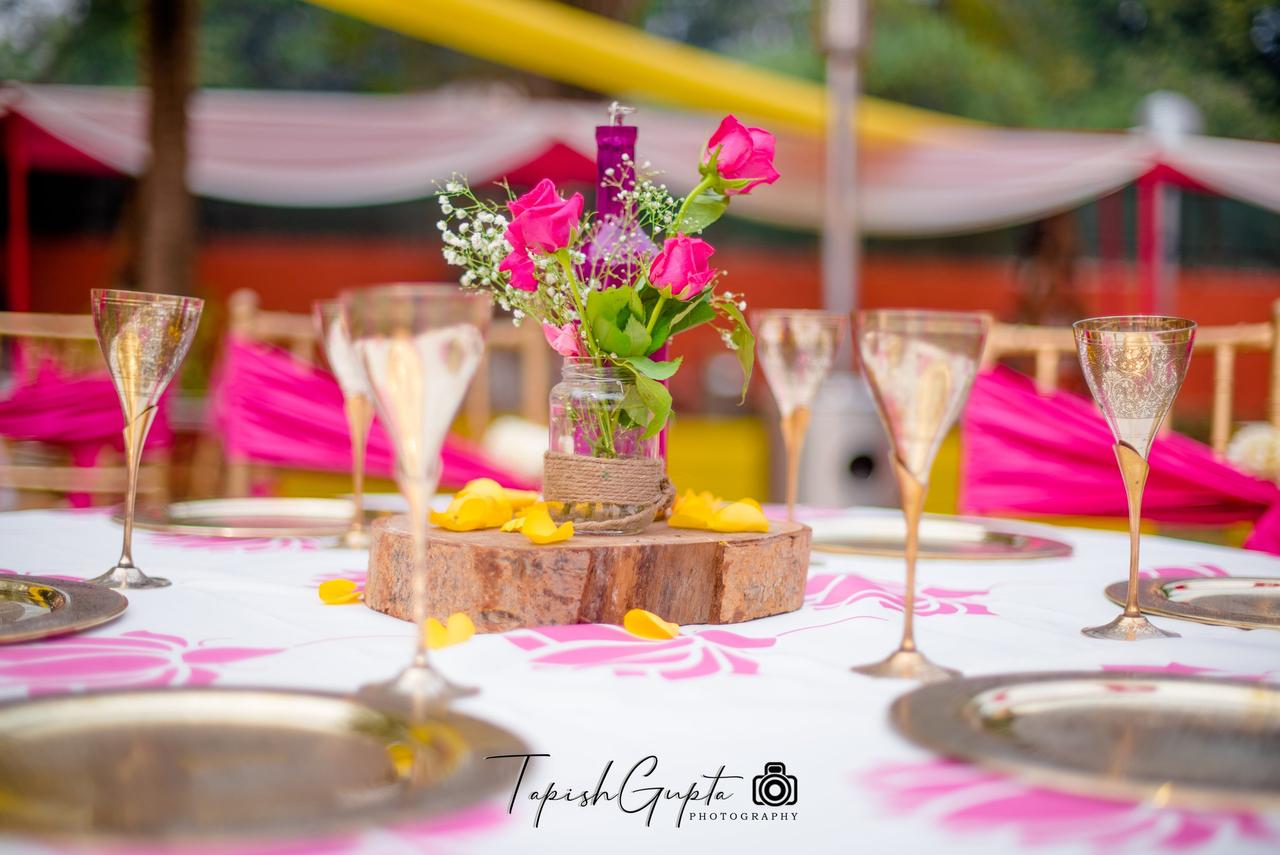 If flowers for wedding rule your heart add them to your tables as little pops of colour. Consider using three different heights of cylinder vases with three individual stems of calla lilies or orchids. Or pin small blooms to napkin ties and add one to a cutlery holder, if you plan to place one on these tables.
3. Other flowers on the table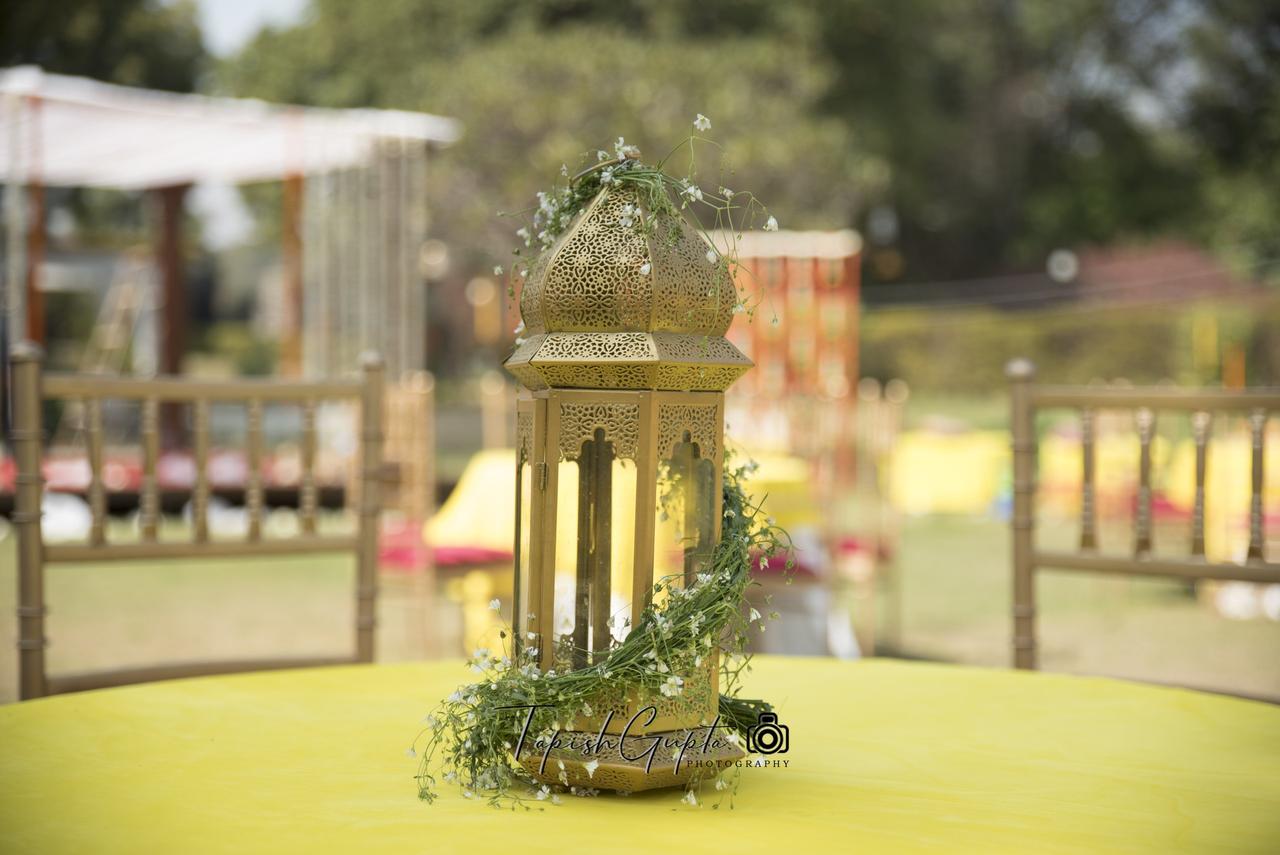 You can have flowers on the table without using them in centrepieces. While the napkin idea above is just as true, you can still have them at the bottom of hurricane vases, with vibrant rose petals as a nest for a pillar candle. You can also add sprigs to lanterns and other focal elements on the table.
Sometimes a stack of petals adds that Insta-worthy appeal to your wedding pictures in candlelight. Though overlarge ideas are great when it comes to flower decoration in marriage, sometimes small is just as good. The fact that it will not hurt your pocket at all, is also a good consideration to keep in mind.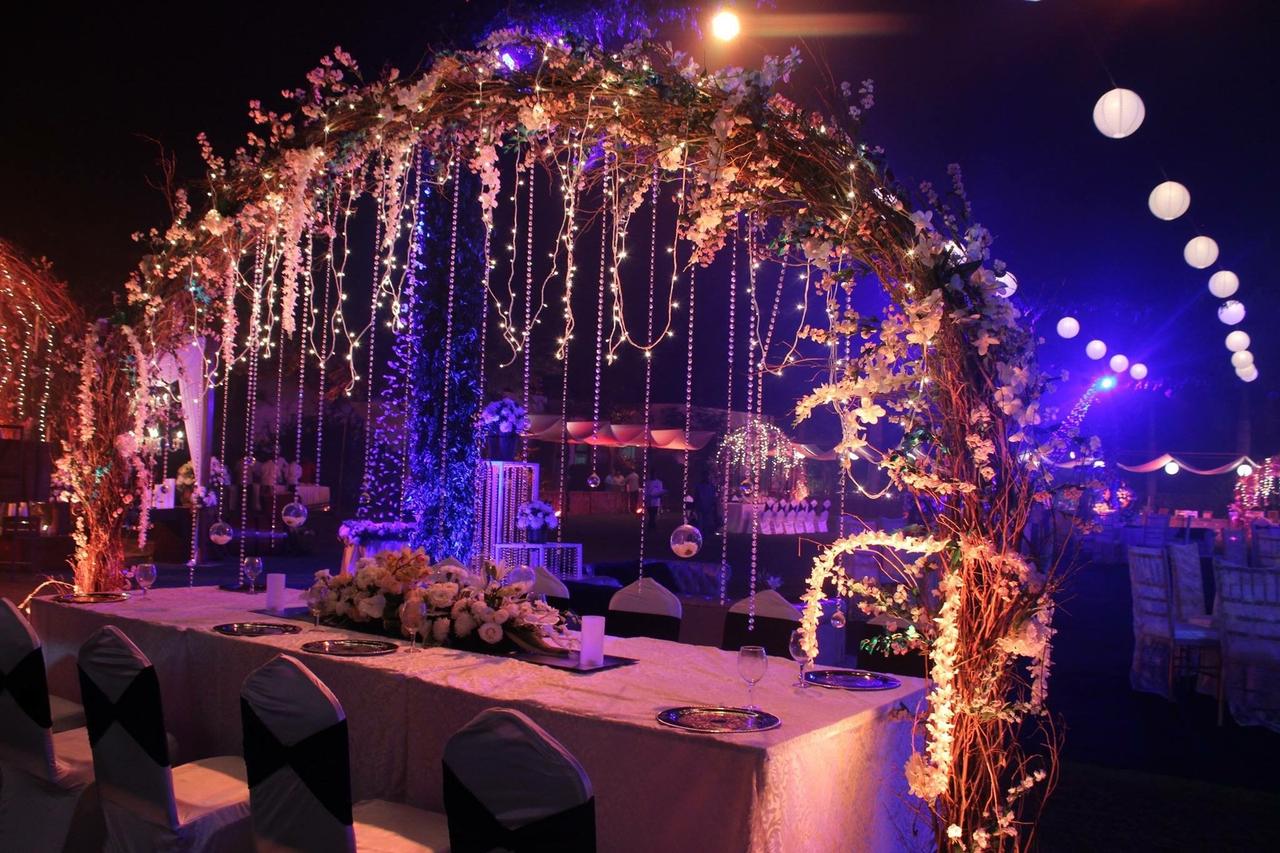 Still, if you're married to the idea of 'big and beautiful', try hanging your flowers above the tables in the form of arches and gates.
4. Consider the season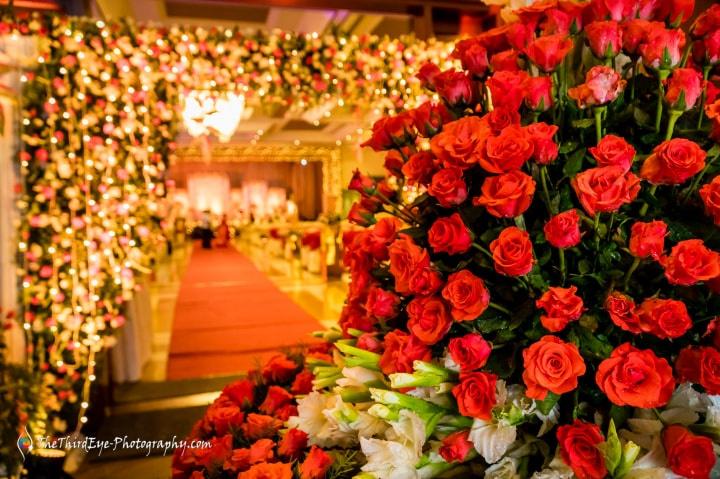 Remember that if you choose flowers that aren't happy in the climate you're getting married in (or it's totally the wrong time of year for them everywhere), you won't be able to re-use the bouquets in your décor because they will likely be dead.
If you choose flowers that thrive in your area and in that climate, you can put those as floral arrangements and bouquets at entry points near your marriage gate, on guest tables or even as the bridal bouquet for the night. Others (especially pricey imports like tulips or peonies at a summer wedding), would begin wilting by the time the Saat Pheras take place.
5. Variety of flowers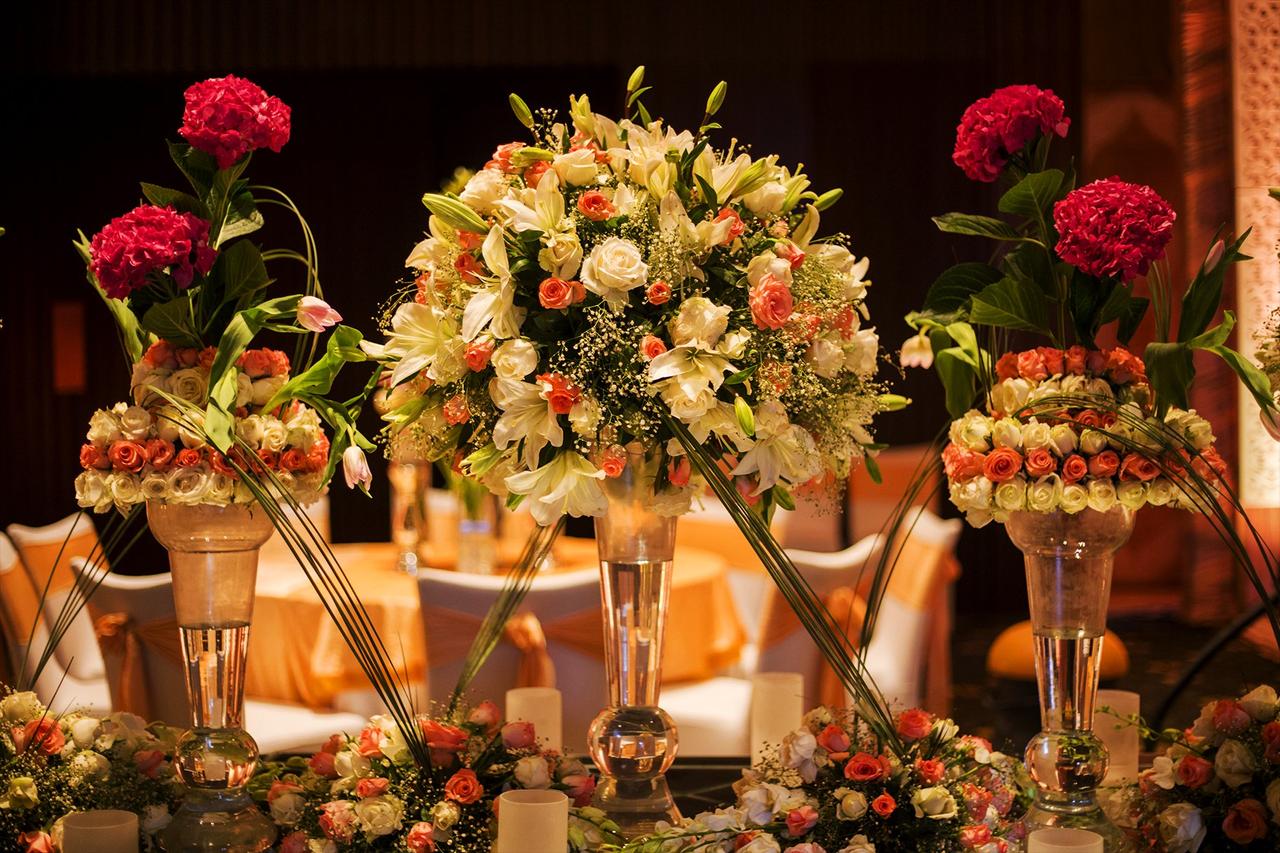 While variety is the spice of life, variation in flower decoration in marriage works within your pocket if you can pick and choose different blooms that won't cost a fortune. If not, then simplify and choose a smaller set that can be used for the wedding decor, table decorations and even as carry-ons for yourself and your ladies.
Ask a variety of wedding florists about the rates for different blooms and the kind which would be the most bang for your bucks and how much should you ideally order for the occasion. You can also ask your decorator if they would cover the blooms required for their installations within their costs or charge you separately for them.
In the end, remember that however much you may spend on your flower decoration in marriage, it will have a life of maximum 5-6 hours. It would be clicked, Instagrammed and wow your guests only for that time. Their focus, however, would still be on you as the bride, the overall arrangements and the food. So, instead of spending a big buck on rose petal aisles and special chair décor, huge arches and canopies dripping in expensive flowers, they could cost an arm and a leg – sometimes more than all the bouquets combined.
So, decide if you really need them and how much do you need before you fork over the cash for them. You will thank us later!
Tell us in the comments what do you think.