11 Stunning Wedding Gate Design Ideas That Will Amp up Your D-Day Decor
Do you want the entrance to your wedding to be magnificent along with other décors? Here are lots of wedding gate décor ideas that will make your wedding day richer.  Your relative, friends won't stop praising about it.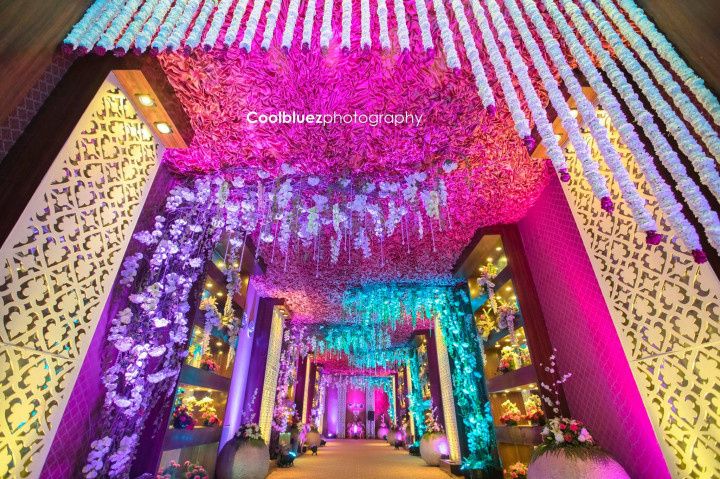 Decoration for a wedding may seem like an insignificant thing but let us tell you it is not. It has a place among the most important things about a wedding. You would never want to get it wrong as the entrance will earn the first impression from your guests. You need to make sure that your wedding gate has the power to greet your guests with awe and they get accustomed to the theme of your wedding décor. You need to allocate a budget to have a splendid wedding gate that will impress your great from the start.
It won't be just beautiful décor but can also be the best spot for clicking all those selfies!
You know your wedding ceremony time and based on it, here are some entrance décor ideas that are sure to make your smile broad:
1. Modern Gateway with Enigmatic Chandelier and Unique Décor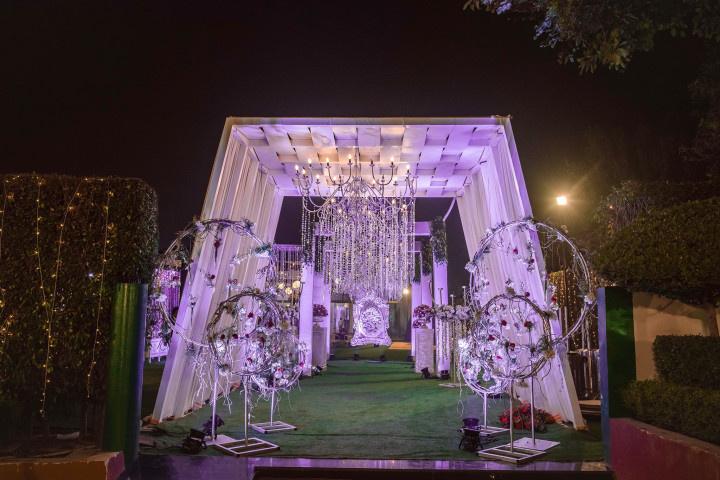 If you love modern décor with a slight touch of tradition, then adding a chandelier on your entrance with some mixture of modern and classic décor will make the entrance dreamy. Using pastel-coloured décor will cause the gateway to stand out in the day time. At night the strategic light placement will make it enigmatic.
2. Gateway with Floral Chandelier and Garden Theme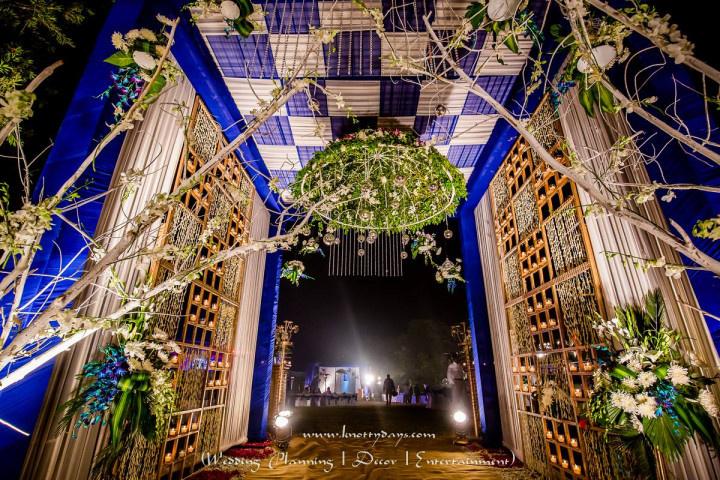 Wooden decorative structure and floral chandelier along with some contrasting-coloured drape placement to make a dramatic look will surely catch everyone's eye with its uniqueness. You can add some garden feel to it and the dramatic positioning of light will take care of the rest.
3. Themed Wedding Gate with Dramatic Lighting and Décor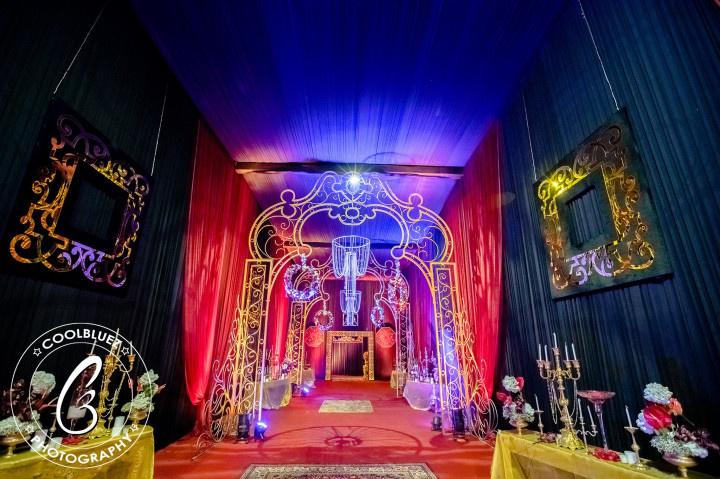 Unique designer frame props of various sizes and designs can make the entryway to your wedding straight out of fairytale wedding. If the right décor and light accompany the theme, your guests can't help but talk about it for a long time.
4. The Classic Arch with Floral Décor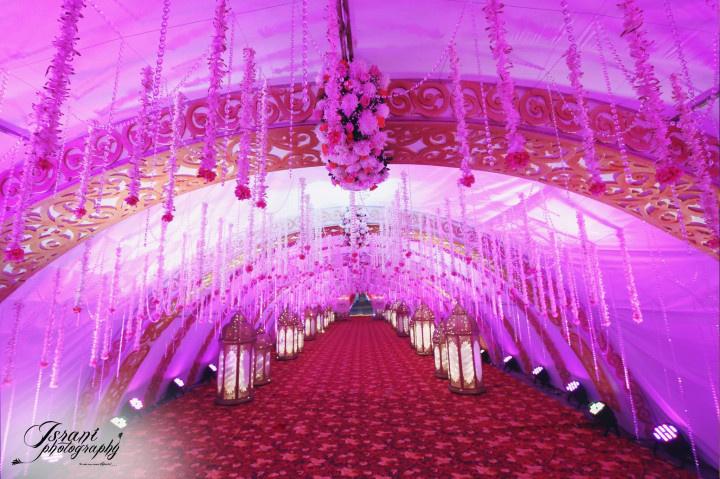 Sometimes the classic look of a wedding gate can steal the heart away of your guests. The arch is an all-time classic, and you can add beautiful decorations idea on top of it to make it all about your taste and style. Archway with some light flower décor and traditional royal lanterns will surely make it unique even while having the classical touch and feel.
5. The Classic Floral Splendour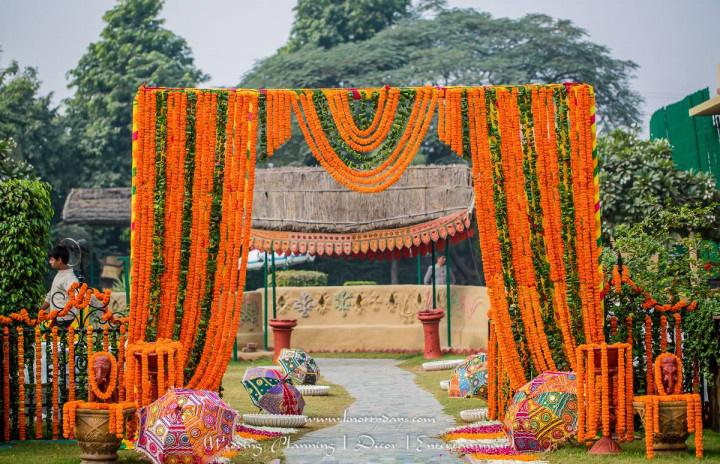 The traditional flower décor can never go wrong. If it can be partnered with some décor ideas that complement the floral look of the gate, then nothing is like the old-yet-beautiful floral wedding gate. The colour of the flower will elevate the look of the gate.
6. Floral Drapes with Light Coloured Floral Archway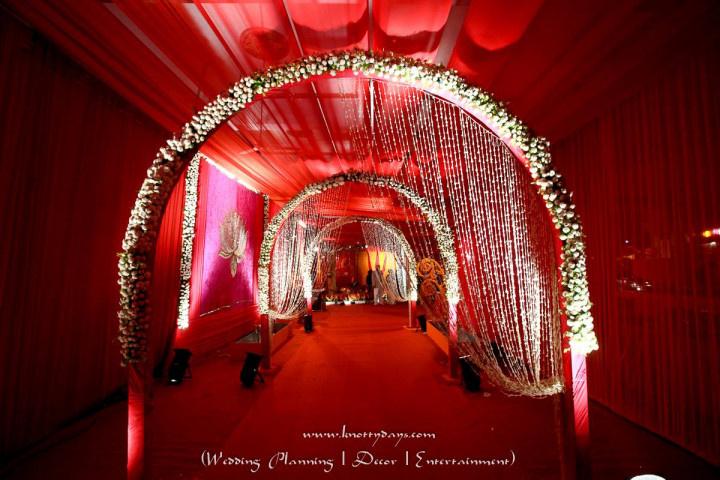 Archway, check. Floral décor, check. And the unique touch of floral drapes from the side of the archway will make the entrance to your wedding elegant. Use flowers of pastel colours and hallway should be dramatically lighted to manifest a warm feeling of getting welcomed.
7. Bright Coloured Flower with Simple Décor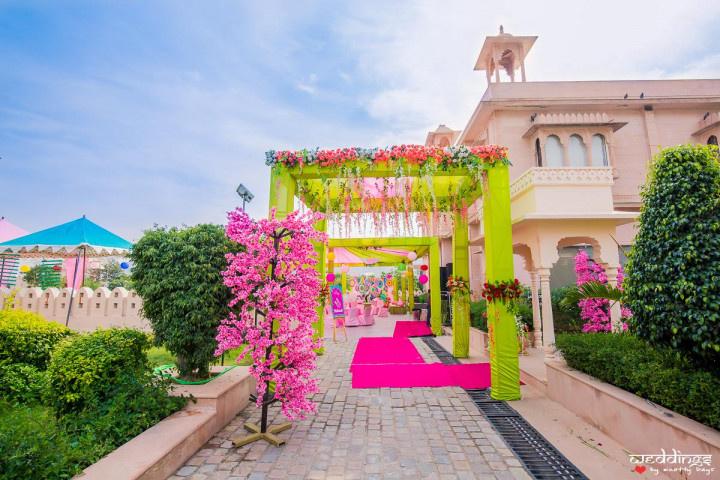 If you want a simple wedding gate decoration, then there are ways which will also make it look special. Ask the decorator to cover square pillars (can be real or false) with bright coloured draper and cover the top of it with some beautiful flowers and other dangling decorations. The drapers should be complementing the colour tone of the flowers that will be used for decoration.
8. Classic Flower, Drapes and Chinese Lanterns Entrance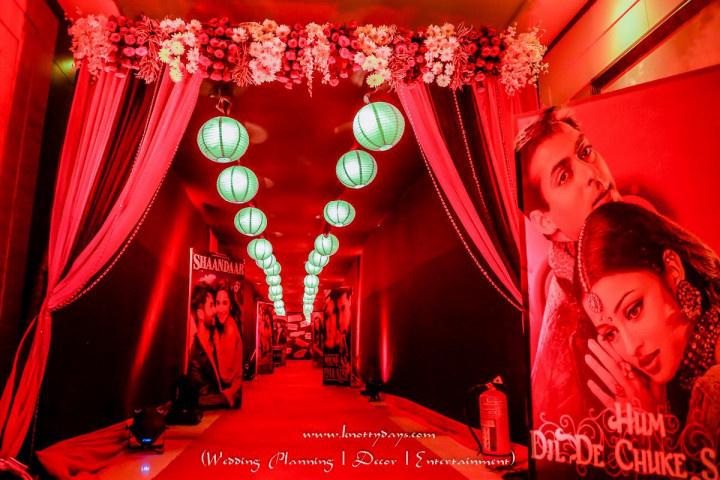 Traditional wedding gate can never go wrong. Beautiful drapers in both sides of the entrance accompanied with flowers at the top will always give a classic feel. Ask your decorator to take the look of the decor a notch higher by lighting Chinese lanterns throughout the hallway from the entrance. It will be dramatic.
9. Assorted Flower Arrangement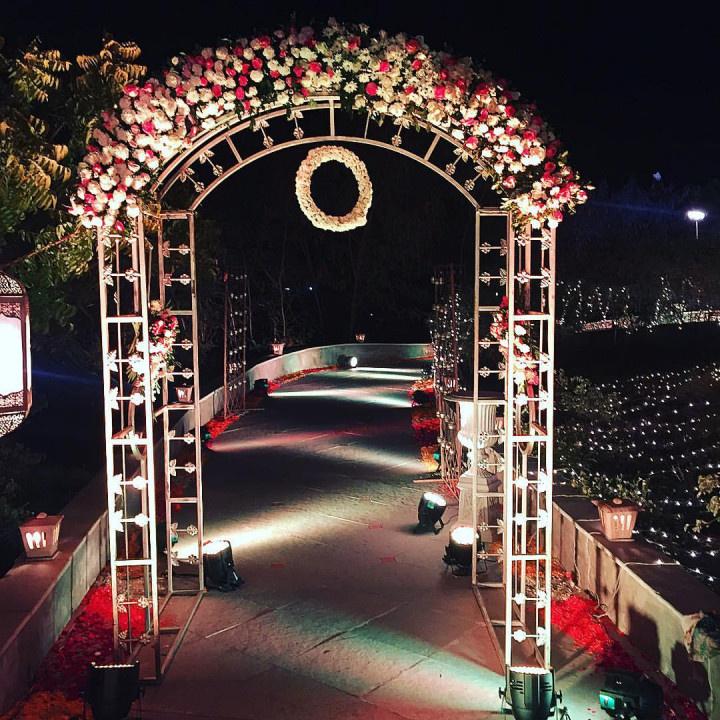 If you want to have minimalistic yet a stylish decoration idea, then this is it for your wedding gate décor. A metal structure with an arch at the top of it can work as the base for your wedding gate design and décor. Decorate the structure with flowers, strategically place some more flower on the sides to make it look little full. Decorators can tie a beautiful garland from the arch.
10. Unique Floral Décor on Structure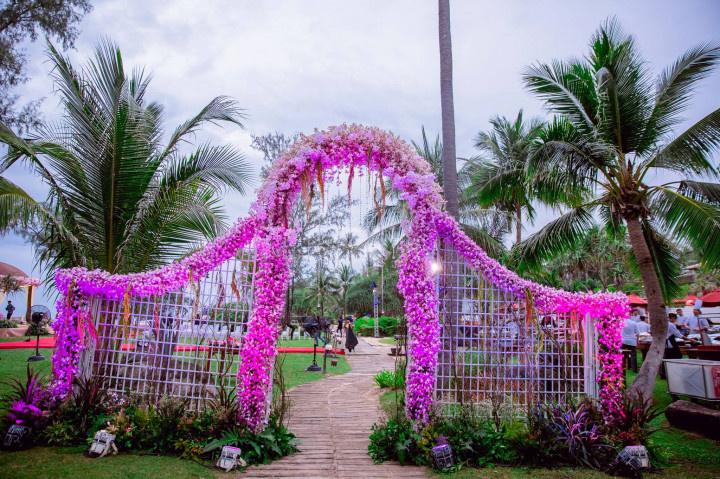 Your wedding is in an open area amidst beautiful nature. And you want to make the décor less dramatic yet unique. It is possible. You can complement the feel of the place with some floral decoration. To make it unique, create a unique designer structure and cover it with elegant flowers. It will stand apart with its fresh look.
11. Fairytale Themed Rustic Décor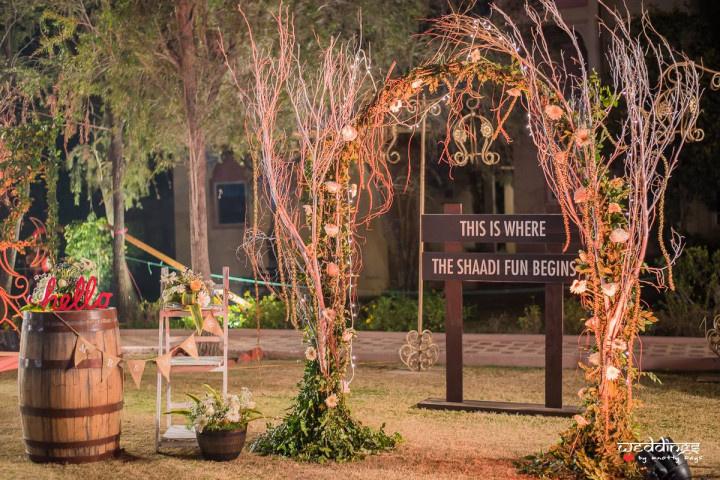 If you some point of your life thought of a fairytale themed wedding decorations, then this is perfect for making your dream wedding a reality. The rustic décor which looks right out from fairytale will enliven the mood of the wedding with its uniqueness.
Choose your wedding gate decoration carefully as it has to be in sync with your overall wedding decoration and theme. To get the best result, you can consult with some good decorators and then come to a conclusion.
Are you ready to make your wedding décor the talk of the town? Go book a wedding decorator today to give yourself and your relatives a breath of relief.
- Written by Prateek Arora