WWI Presents Christmas Gifts Guide 2020
Are you having difficult time whilst searching for a Christmas gift for your family? Do not fret as here we rounded up Christmas gift ides for your family.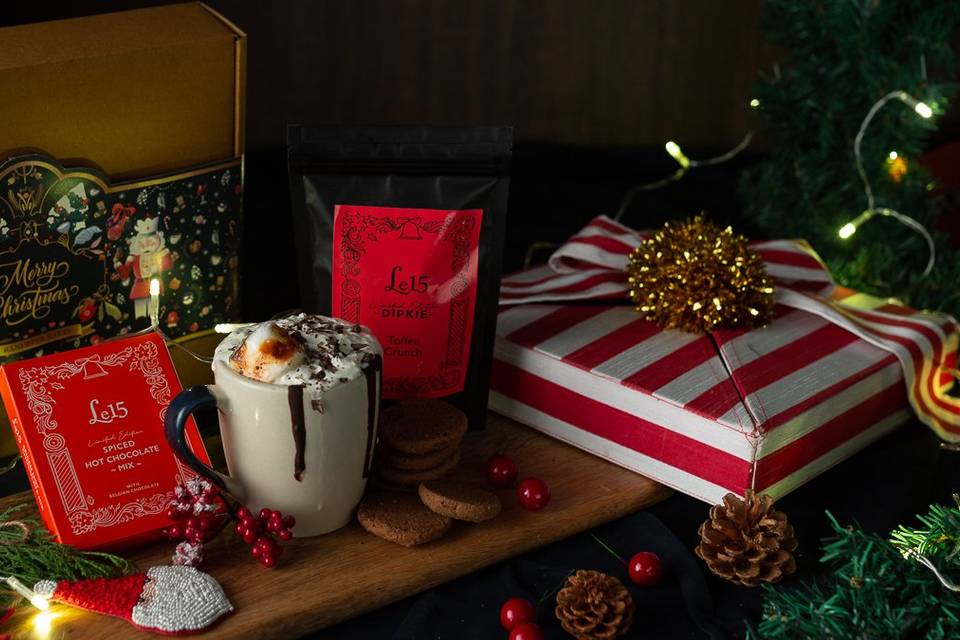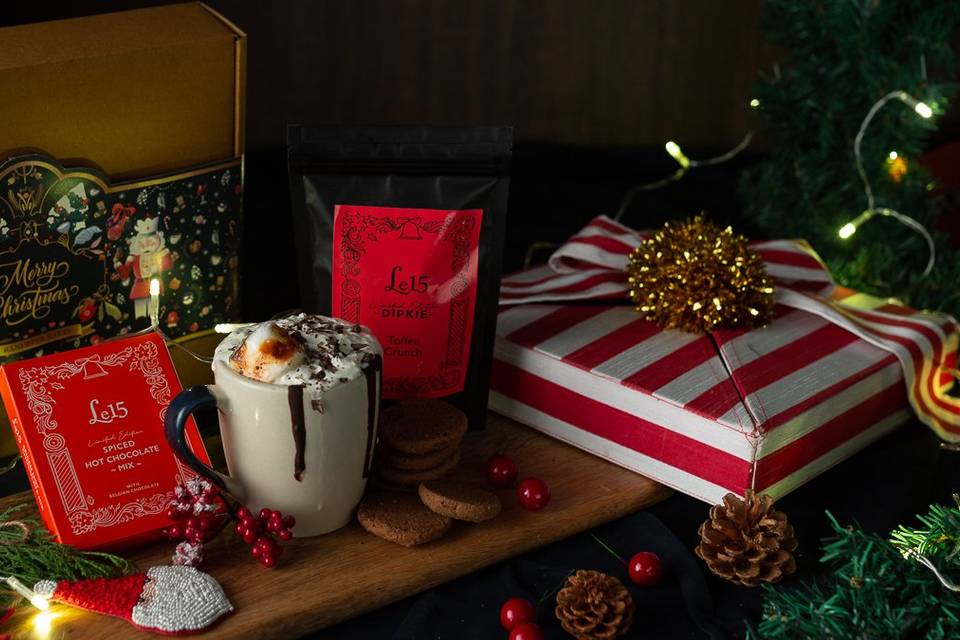 Image Credits - Rani Pink Gifts
Christmas season is all about showing acts of kindness, spreading cheer and relishing togetherness more than ostentatious things. The season is about love, kindness and how you light up the darkness in others life. This year was already gloomy enough for everybody, so now as we wrap up the year, let us wrap it on a cherry mode. Let us bring out the smile that comes directly through someone's heart! Yes, this Christmas we want you to be Secret Santa of someone's life and which why we have rounded up some amazing gift options that you can gift it to your mother-in-law, fiancé wife, girlfriend, boyfriend, and husband.
Gifts for your wife/ partner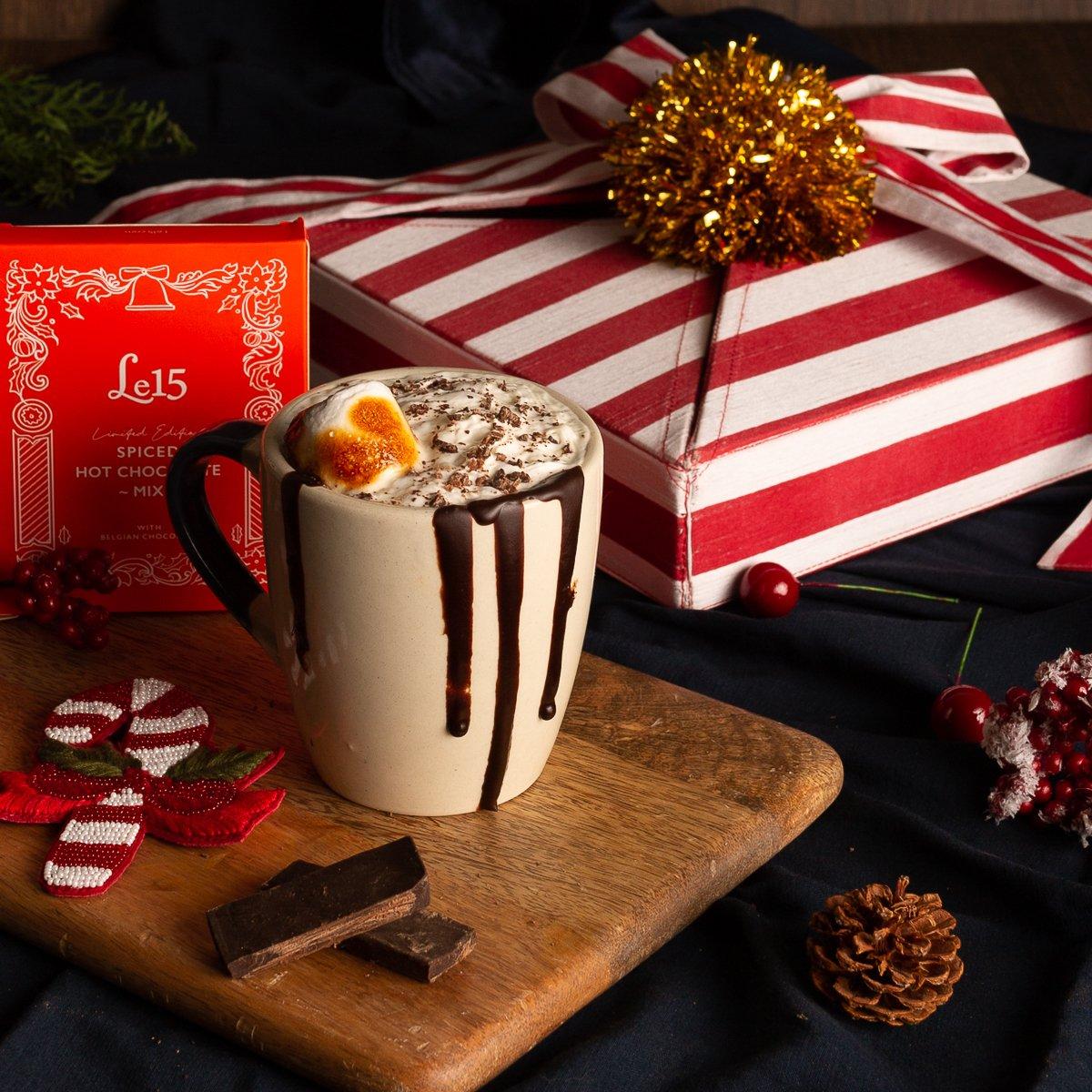 Image Credits - Rani Pink Gifts
Rani Pink Gifts has ushered into the Christmas spirit by adding a dash of red. This holiday season turned their karigars into joyful elves, who have put together this warm winter tradition. They have curated special boxes of festive goodies that would surely make up for the cheer of the Christmas markets we missed this year! There are hampers like - Cosy Christmas Box which encompasses candy cane red and white stripes printed on a rich silk dupion detailed with a matching striped bow and a sparkly gold lurex pom-pom. Le 15 Spice Hot Chocolate Mix contains spiced Hot Chocolate with cinnamon nutmeg and a hint of clove from chef Pooja Dhingra. Le 15 Toffee Crunch Dipkie box has special edition Christmas cookies made with butterscotch, cornflakes, and milk chocolate chips from chef Pooja Dhingra. So what are you waiting for? Surprise her! Price – 1650 (approx. for one hamper)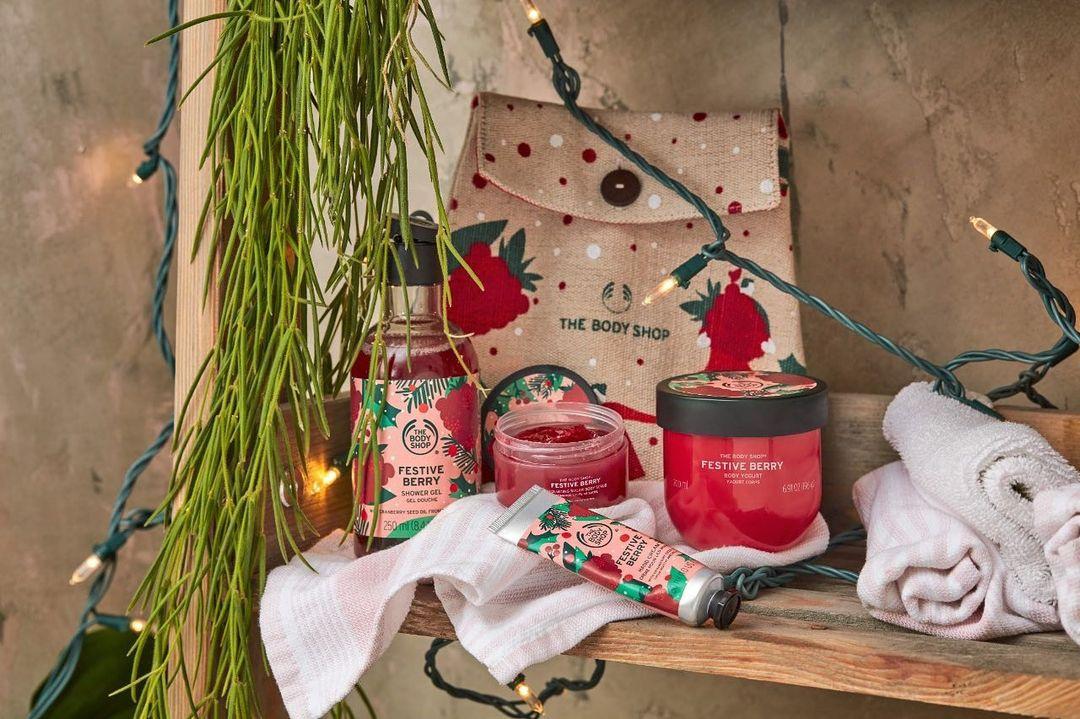 Image Credits - The Body Shop
Gift Festive Berry Hamper by The Body Shop - This December, let the festive vibes get merrier by gifting Body Shop Festive Berry treat to your girlfriend! This hamper comprises of favourite body scrub, body yogurt, shower gel and hand cream and these are now available in our new Festive Berry range, enriched with cranberry seed oil from North America. Undoubtedly, every girl loves jewellery but the products related to body care are special for her, especially for the Christmas Holidays. You can shop these virtually or can hop in the store. Encourage your girlfriend to pamper herself with this Berry Treat. This Berry Gift Sets are designed to give her a range of body and skin care products. Gift range starts from INR 725 onwards.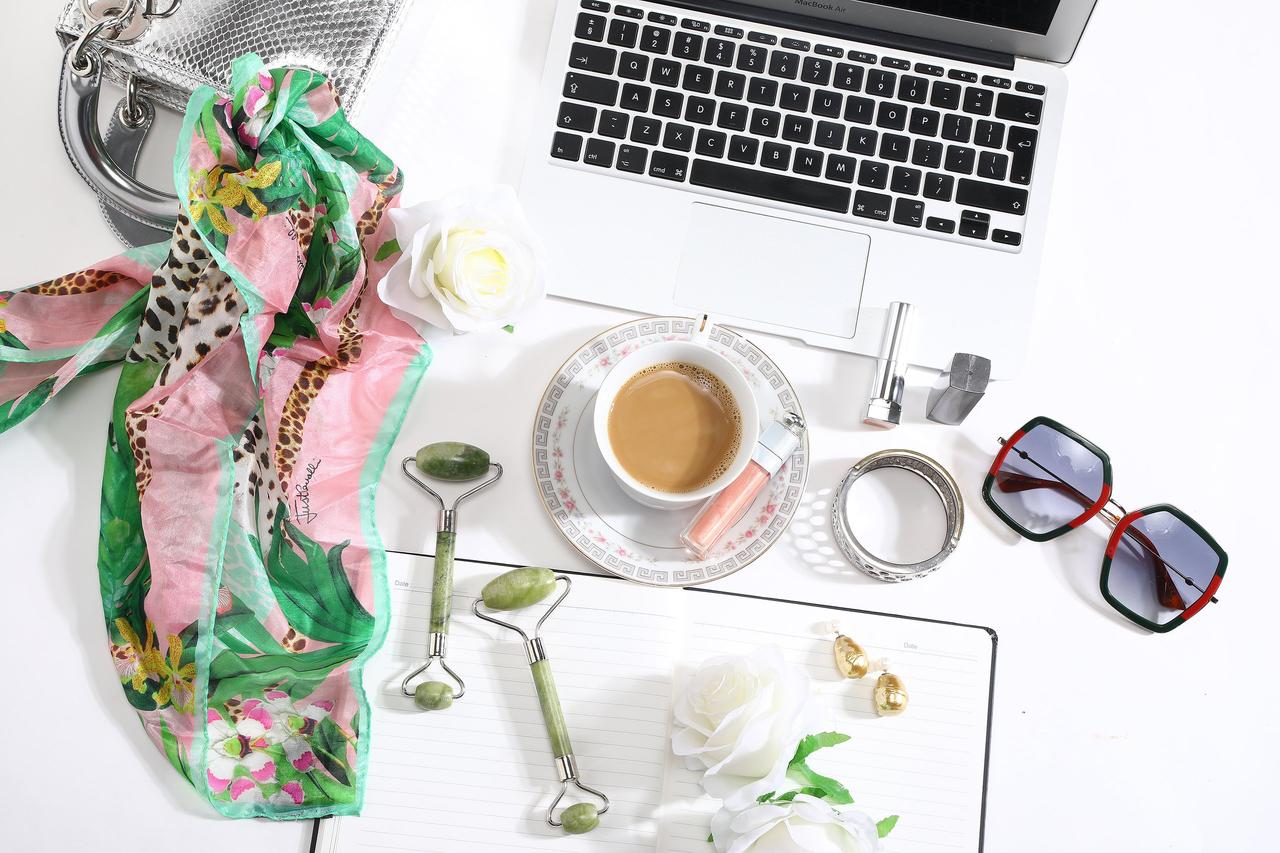 Picture Credits - House of Beauty
Give these delightful House of Beauty India products to your beloved wife. HOB is a Beauty Gym and beauty bar concept combining service and product offering using non-invasive technology to provide face/body care to customers. So this Christmas, gift her some useful products so that she can pamper herself . This hamper will help her to hydrate, tone and sculpt her face. She has been grinding herself all this year, now help her wrap this year on a beautiful note. Price Starts from 3, 500
Christmas Gift for your mother-in-law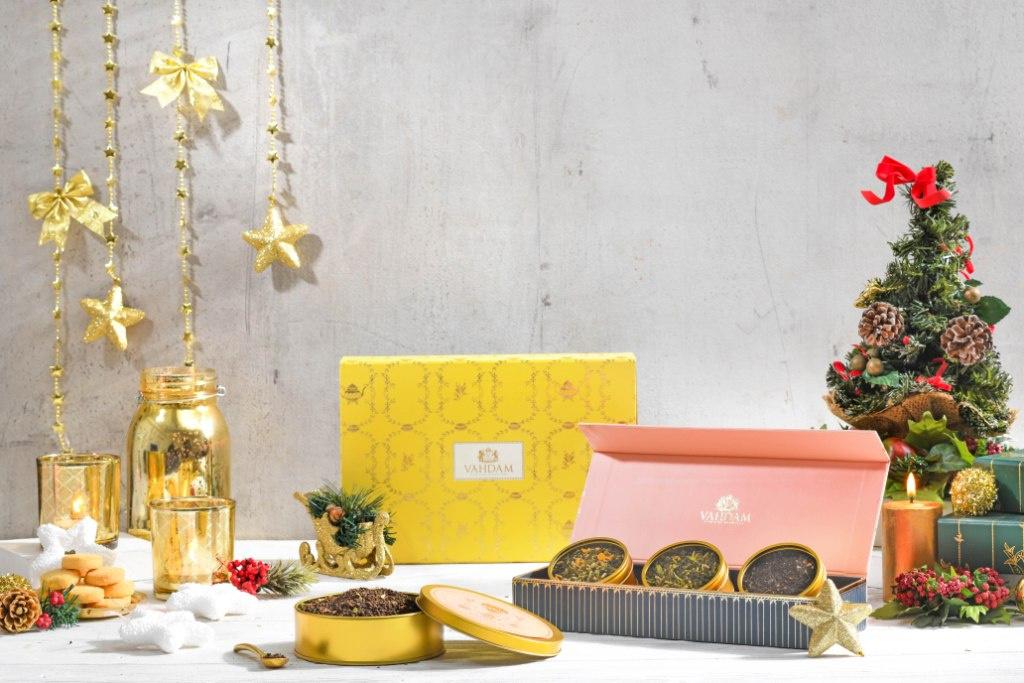 Image Credits - Vahdam India
Glow Assorted Teas Gift Set by Vahdam India – Gone are the days of eggnogs on Christmas, the current times call for enjoying a hot cup of good health and taste together with your mother-in law. Vahdam India, presents a range of happy and exquisite Christmas Gift Hampers to spread joy and merry this year. Gift your elders this healthy substitute and relish some premium fresh flavours with a bountiful of good health and stronger immunity with VAHDAM India's impressive range of Christmas hampers. Glow Assorted Teas Gift Set is An assortment of exquisite loose-leaf teas packed in regal tea caddies, with best-selling blends, perfect for a Christmas gift. Price starts from Rs 1799
Gifts for your Sister & Sister in law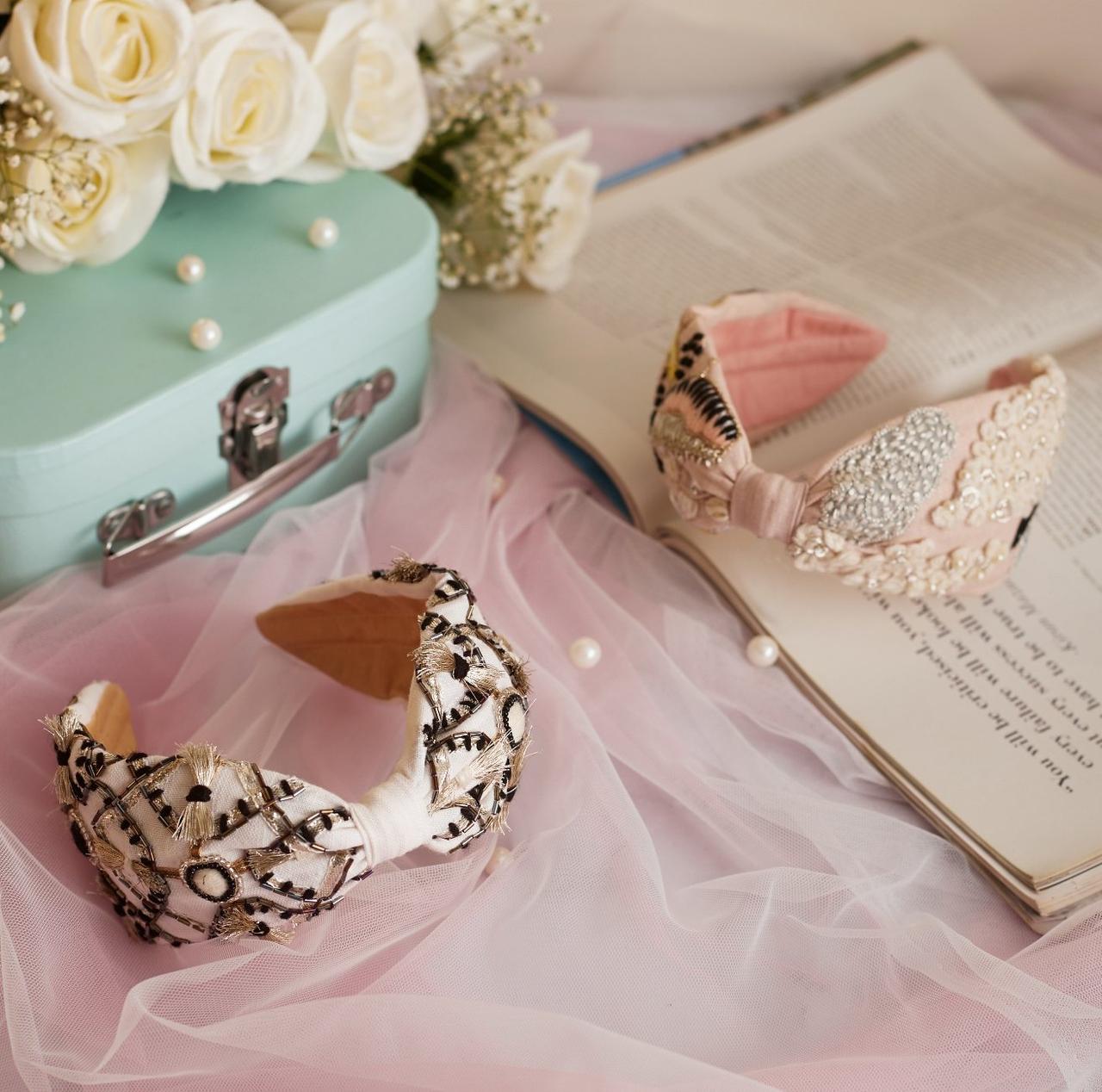 Image Credit - Payal Singhal
Gift Payal Singhal Joey & Pooh - The PS X Joey & Pooh line of luxe handcrafted headbands combines like-minded part-vintage, part-quirky and all-round free spirited design philosophy. These are from the Christmas edit by designer label - Payal Singhal, which is sought after for its contemporary India modern clothing. This gifts under this collection will surely bring a smile on your sister's face. She will love this collection because the collection is festive, contemporary yet playful and quirky. One can spot 3D embellishments mixed with modern embroidery techniques, two prints merged into one, metallic tassels. Your sister can adorn these well in an evening gathering with friends and family during the Christmas Eve.- Priced between Rs 2,999 and Rs 3,899.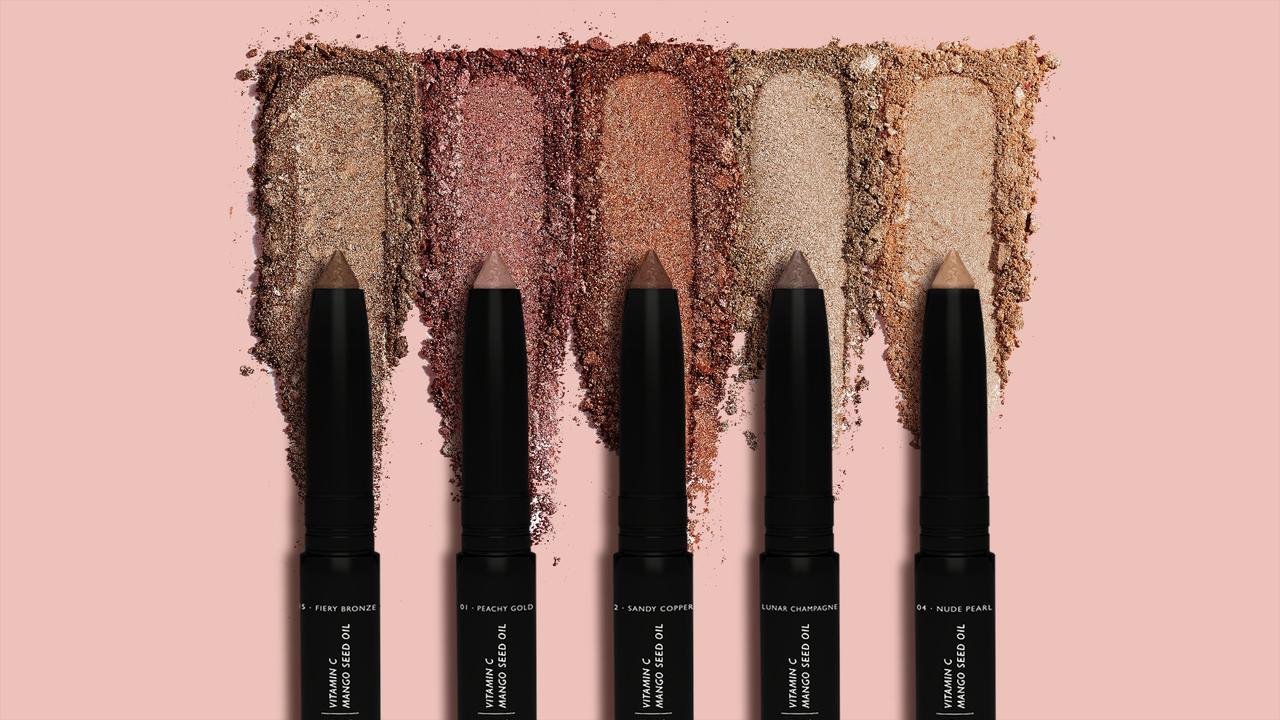 Image Credits - Kiro
Gift the cheer of long wear brightening eyeshadow sticks by Kiro to your sister-in-law who is a beauty enthusiast or a millennial. This range consist of these shades - Fiery Bronze, Peachy Gold, Sandy Copper Lunar Champagne and Nude Pearl. This range is perfect for the common yellow undertone that you find in Indian skin tones. Price for each is Rs 1050.
Christmas gift for your childhood friend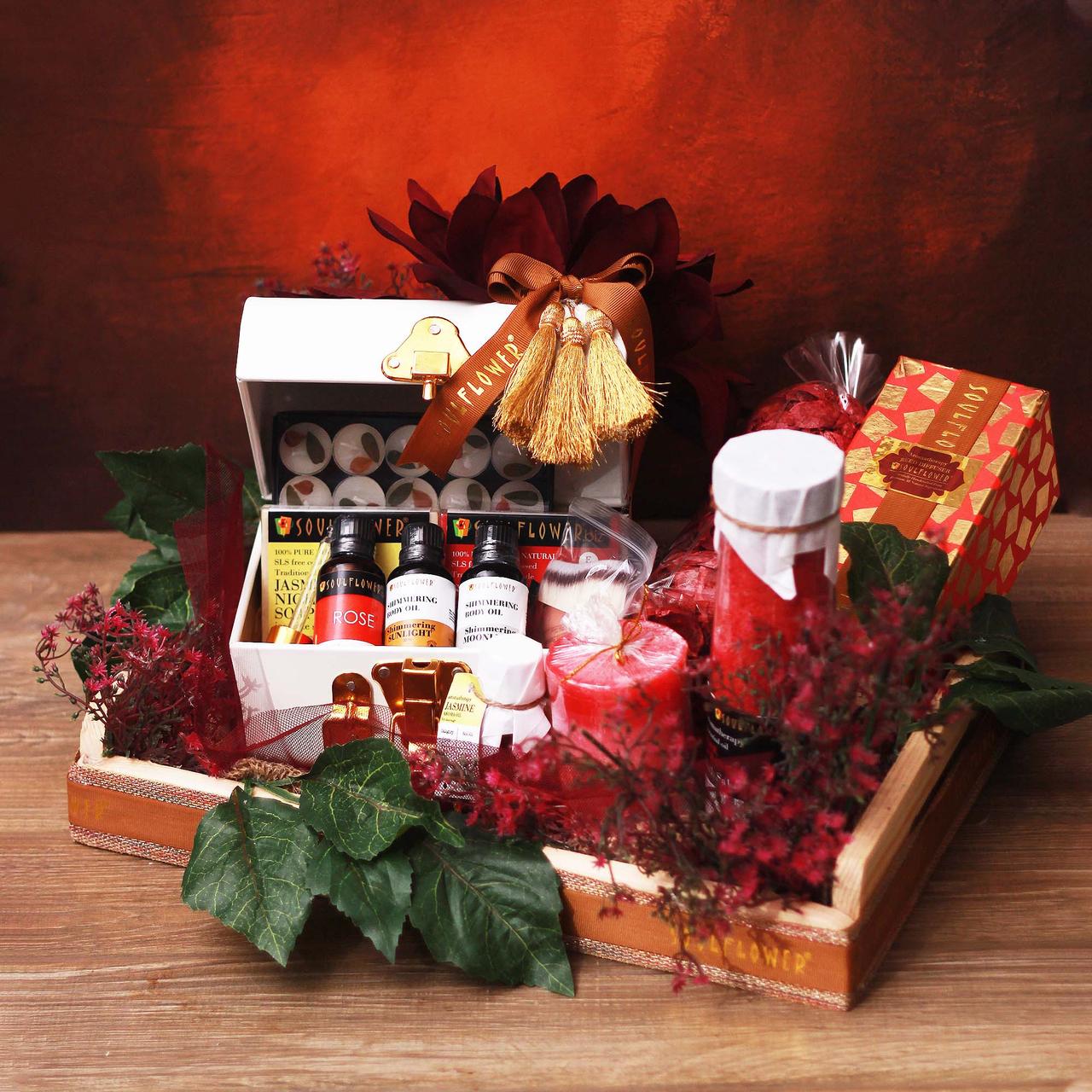 Image Credits - Soulflower
Soulflower's fall in love wedding set is a perfect gift for your childhood mate who is going to get married soon. With this gift, you can let her pamper her body before few days of her wedding. This hamper comprises of fine selection of products that will help her relax and leave your skin healthy and soft. Further the Soulflower shimmering oil brightens and polishes skin. It improves the skin texture with its moisturising benefits. It gives a glowing skin and healthy-looking radiance and increases skin elasticity. Soulflower rose aroma oil is a delicately luxurious floral aroma. Soulflower jasmine Aroma oil maintains healthy balance of mind, body & soul. Its exotic aroma reduces stress, improves blood circulation, moisturises and adds an even tone to your skin. Make your skin feel soft and radiant with the handmade sweet rose Soap. Moisturise, cleanse and detoxify with rose geranium bath salt. The jasmine t-light candles are smokeless and do not leave a wax stain behind. They release a continuous stream of aroma in the air that stimulate the mind. Price - Rs. 7700/-
Gift for your Husband & Partner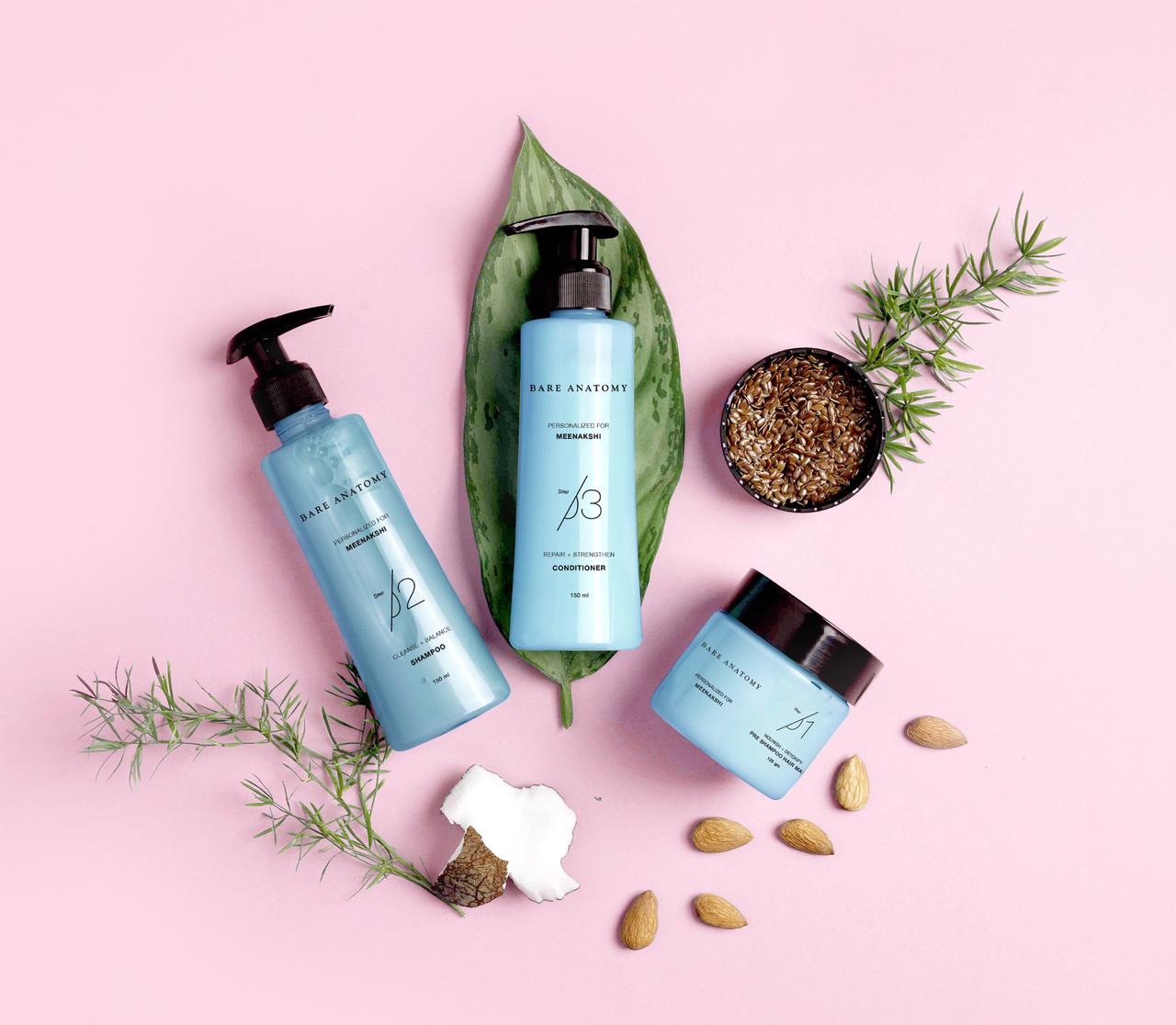 Image Credits - Bare Anatomy
Gift joy of Bare Anatomy to your boyfriend - This wholesome regime constitutes of a Rejuvenating Pre-Shampoo Mask, a Deep Cleansing Shampoo and an Intense Repair Conditioner that is freshly formulated. Your boyfriend will appreciate the complete range because it is free of harmful chemicals and compliant with EU standards of clean beauty. It is 100% Sulphate free, vegan & PETA certified and infuses the goodness of high-grade botanical ingredients sourced from all over the world with advanced scientific technology to keep unruly, dry and frizzy hair in great shape during the chilly sweater weather. Price - INR 1800 (for a kit of mask, shampoo & conditioner)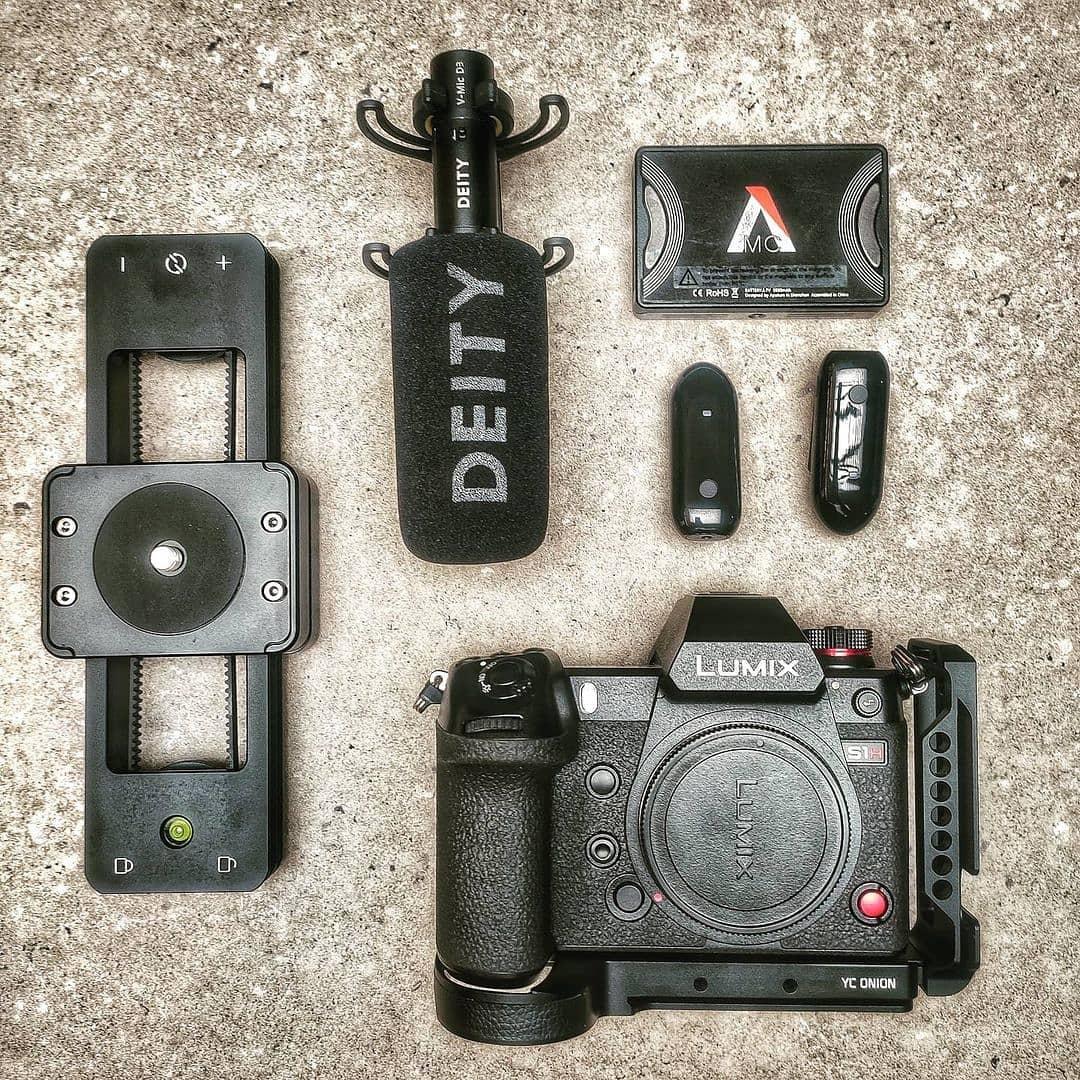 Image Credits - Kshitij Sheetak
Fulfil his dreams by bestowing this Lumix filmmaking kit - If your husband is a filmmaker and he wishes to make for insightful real-time movies then you should definitely give him this kit. The filmmaking kit comprises of LumixGH5 camera which every photographer must have. You husband will be happiest to get this as this camera is known for its spectacular features. Yes, the Panasonic Lumix DC-GH5 is the fifth in the company's industry-changing video and stills 'hybrid' lineup. With its 20MP Four Thirds sensor and deep video-centric feature set. This camera will lure filmmakers and photographers whose interests venture into the realm of motion picture work. The Panasonic GH5 will be available for $1999 (body only).
Gift for your fiancée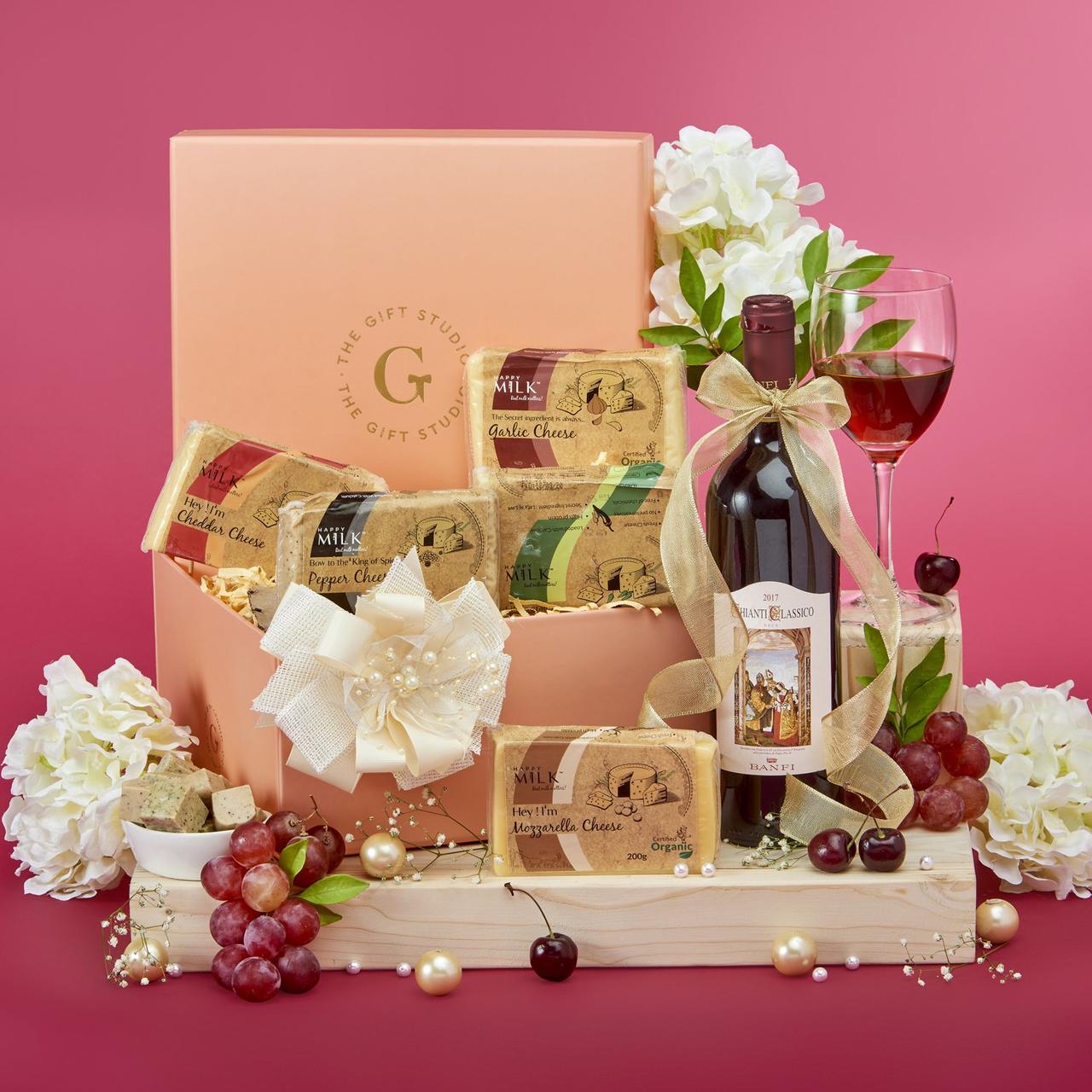 Image Credits- Gift Studio
Time to Wine Down by The Gift Studio - Nothing says Christmas quite like The Gift Studio hamper. Filled to the brim with carefully curated gourmet goodies and meticulously packed with exceptional aesthetics these are a sure shot stand out addition to your festivities. The Time to Wine Down Hamper by The Gift studio offers an exciting combination of the best paired cheeses and wine to add cheer to the festive. The hamper is loaded with a fine selection of Happy Milk organic cheeses like Mozzarella, Chilli, Garlic, Cheddar and Pepper and best paired with a bottle of Chianti Classico. So gift your fiancé this amazing hamper and then indulge in some real time celebrations with him on the Christmas eve. -Price starts from Rs 6199
Aren't these Christmas gifts enticing enough? I'm sure they are! So, don't wait as there are only few days left to shop for much awaited Christmas Eve. Merry Christmas everyone.