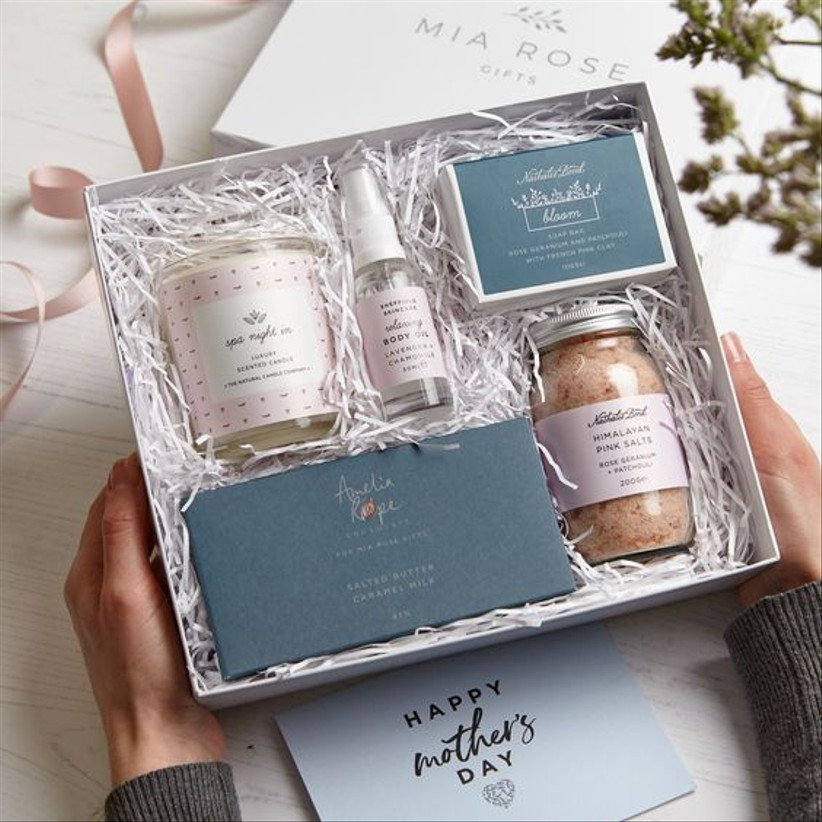 Image Courtesy: Pinterest
The second Sunday of May is not a regular Sunday. It is one of the most beautiful celebrations all across the world. Mother's Day is an international commemoration that is celebrated with fervour. It is a day where you honour and acknowledge the love and bond you share with your mother. While there are many ways to make this day memorable, many occasions are often marked by exchanging gifts.
While mothers thrive to make the world a beautiful place every day, you can make Mother's day a memorable and beautiful occasion for her with Mother's Day gifts. The thought that you put behind picking the mother's day gift matters the most. The range of mother's day gift ideas that you can surprise her with includes flowers, cakes, a surprise dinner to even planning a surprise trip (for whenever you can, given the current lockdown).
With Mother's Day right around the corner, if you are wondering what to pick as a Mother's Day gift you give to your mother or your mother-in-law, here are some suggestions for inspiration. Make this 9th of May beautiful!
Bodycare and Skincare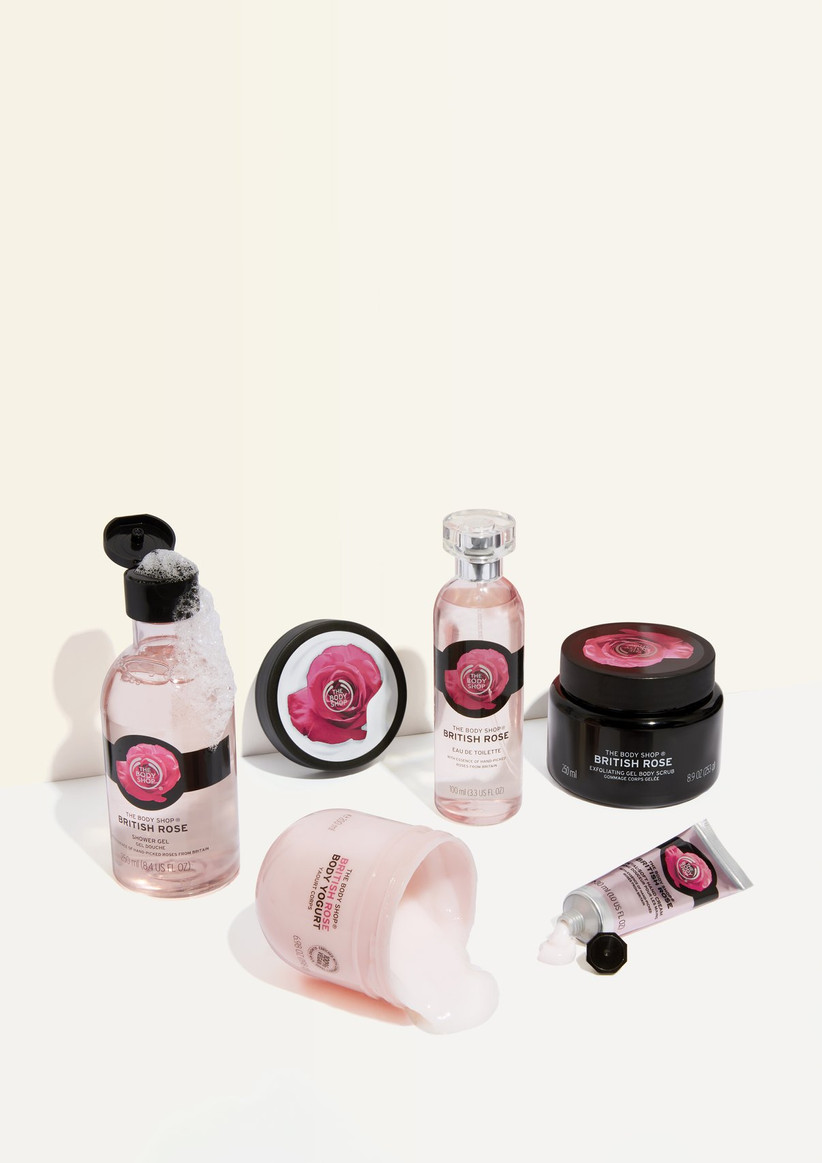 Image Courtesy: The Body Shop
Mother's day is around the corner, and you don't know what to gift to your mommy dearest? Well, we have got you covered! Show your mom how much you love her by gifting The Body Shop British Rose Deluxe Gift Set as a mother's day gift. This lovely pamper collection contains pure elements plucked from the beautifully scented British Rose collection and is one of the best mother's day gifts. This beautiful gift box contains head-to-toe treats from petal-soft hand cream to a plumping face mask.
Are you ready to start the day of your mom with a blossomy mother's day gift?
To All The Chai Lover Moms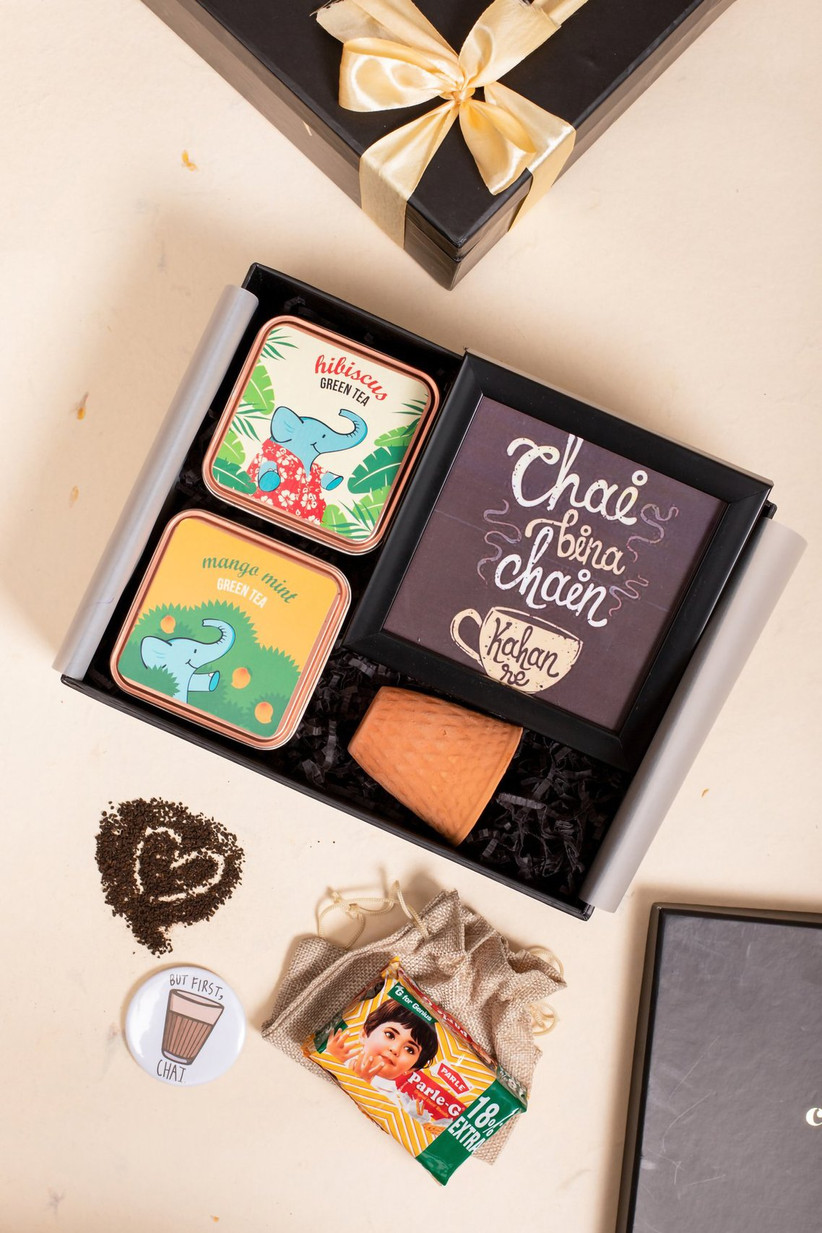 Image Courtesy: The Confetti Box
Is your mom a Chai lover? If yes, then this is it! This mother's day make your mom feel like heaven while you opt for this super-awesome Chai box from The Confetti Gift Box. The box contains Chilli Chai black tea and Hibiscus green tea by Tea trunk, comes with a quirky art frame -Chai Bina chain Kahan re. There are a bunch of mother's day gift, ideas but this one is an absolute hit! This gift will remind her of you at every sip. Make this precious day a memorable one while you opt for this thoughtful mother's day gift.
Self-Care Hamper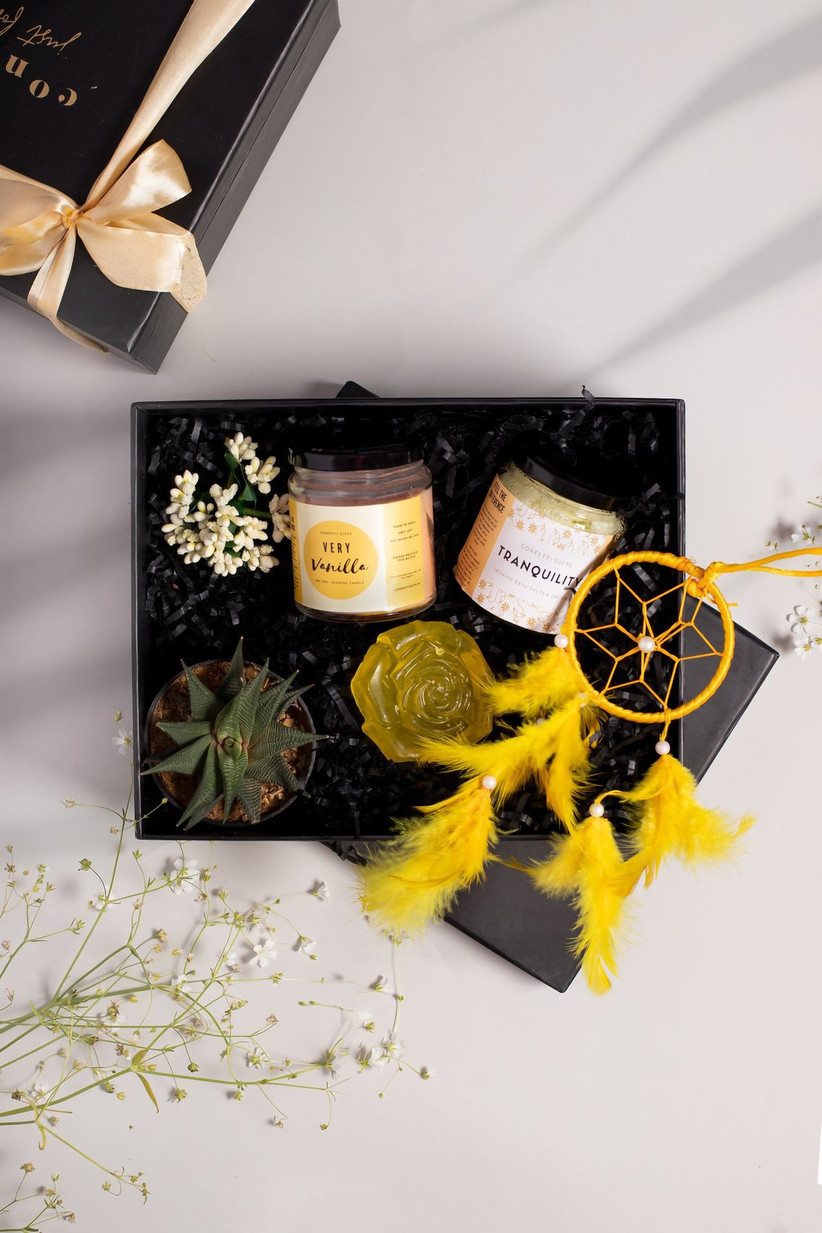 Image Courtesy: The Confetti Box
Mother's are god's greatest gifts. They can easily sense the highs and lows in our life. Why not make this mother's day a cherished one by showering all the love and smiles? Pamper your Mamamia while you add glamour and warmth to your mother's self-care routine. This sneaky sunshine box from the Confetti Gift Box is one of the best mother's day gift for mom. From Succulent Plant, Yellow Dream catcher Jasmine Scented Bath Salts, Lemon Scented Rose Cut Soap to Vanilla Scented Candle, this box has everything to swoon your mom with bliss! Are you ready to bloom the day of your mom with this mother's day special gift?

A Beautiful Saree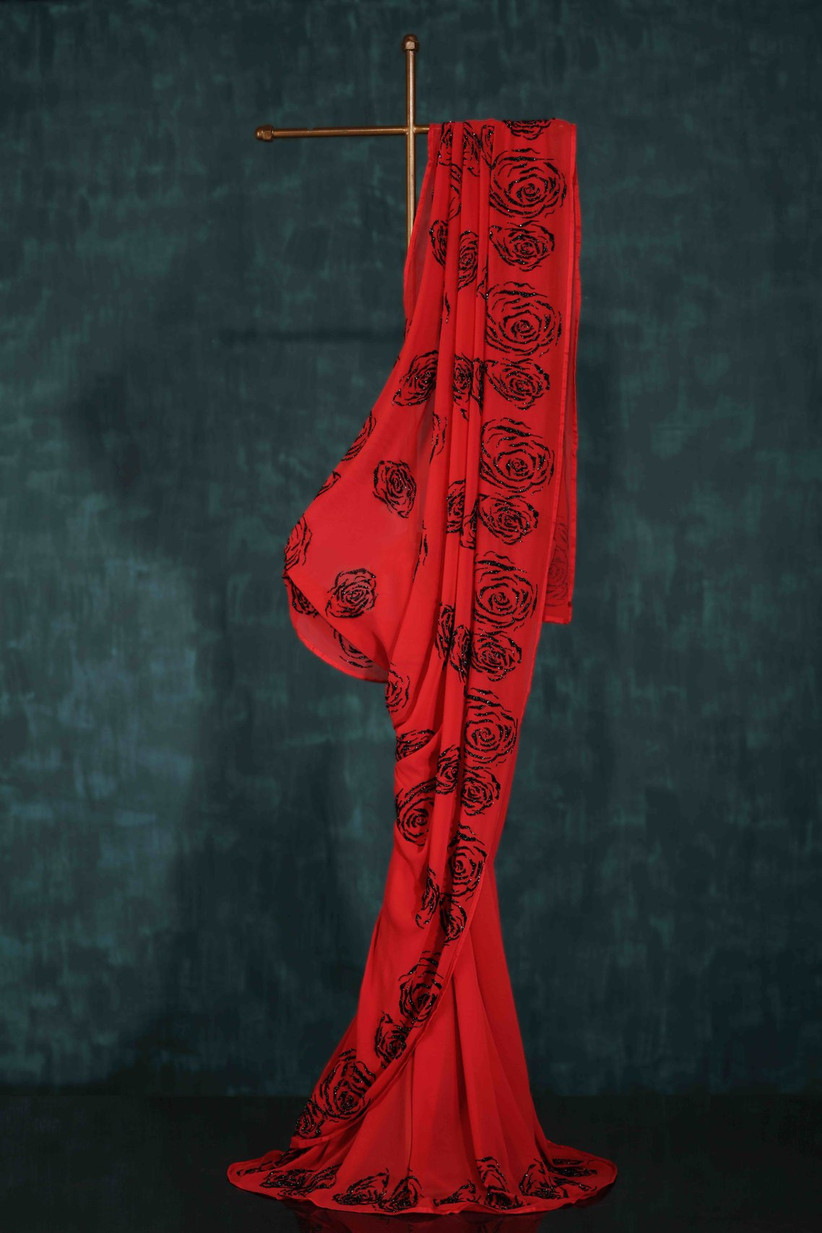 Image Courtesy: House Of Badnore
Here's an ethnic option for your mom. Get ready for a 'Meri Maa' moment while you gift her this astounding saree as a mother's day gift. This timeless rose collection from House of Badnore gives rise to a staggering yet classic production. The mesmerising saree in pure georgette fabric with hand-embroidered contemporarily stylised rose motif in delicate glass beads. As the warp and the weft of the fabric weaves together a tale of skill and toil and all things fragile, the Rose adds to it the romantic saga of love, hope and all things forever.
Mother's day is a heartfelt day for our Mother India. Enlighten her day by gifting this gorgeous saree as a mother's day gift and make her feel and look like Diva!
Cookware & Pan Sets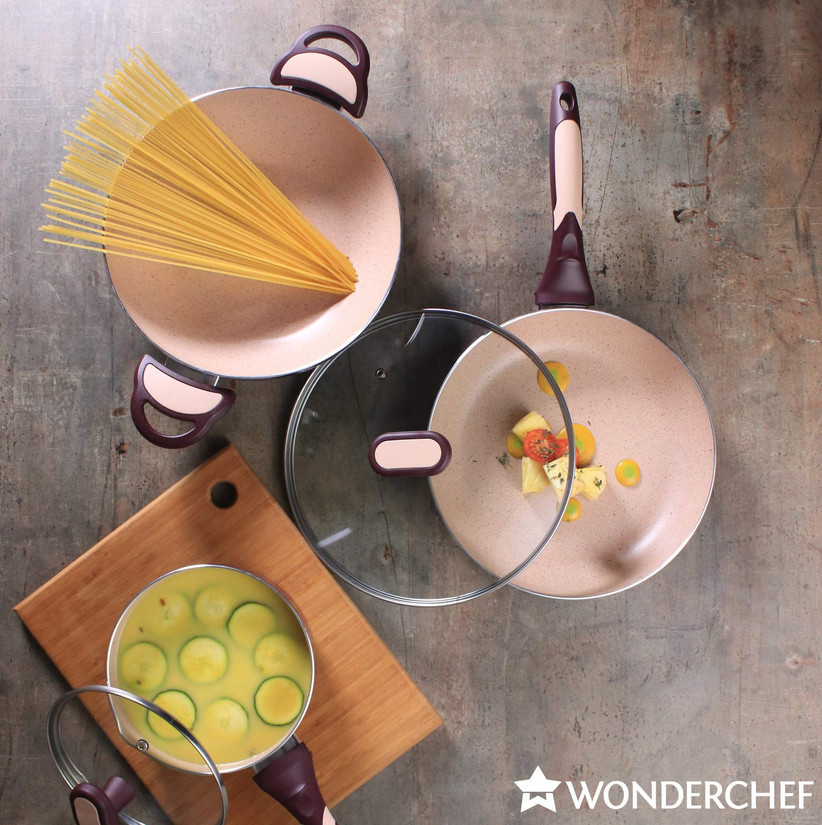 Image Courtesy: Wonderchef Kitchenware
If your mother loves to experiment with new recipes in her kitchen and you want to inspire the Masterchef in her, cookware and sets of beautiful pans are your best pick. If your mom is making sure you do not miss out on healthy food at home while prepping some delicious multi-cuisine dinners, it is a great idea to gift her some premium and beautiful healthy cooking sets as a mother's day gift.
Be it a pan from Wonderchef or a set of serving spoons and a beautiful dinner set, the smile on her face will be absolutely priceless. You can also opt for cooking appliances like a juicer and blender or a food processor from Wonderchef.
Face Rollers & Skincare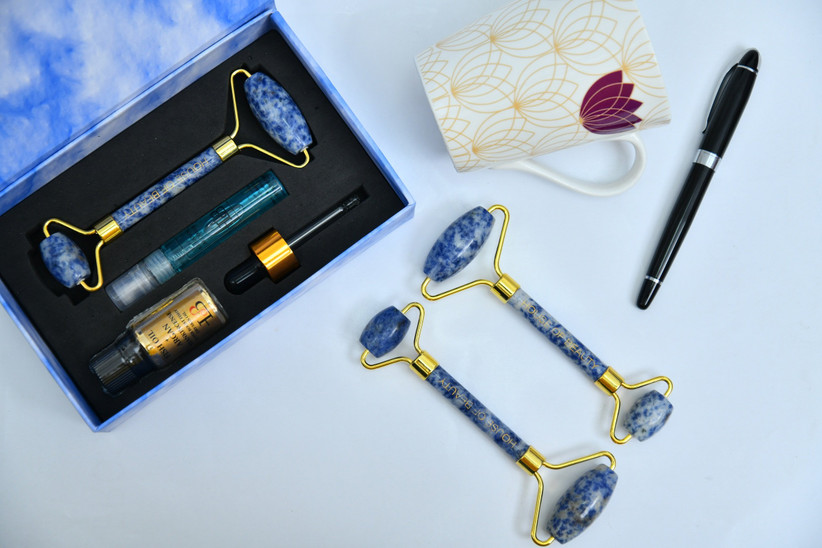 Image Courtesy: House of Beauty
For your ever beautiful mother, the House of Beauty Rose Quartz Roller is a blessing. It assists in better absorption of creams and sheet masks while massaging the facial muscles, boosting blood flow, draining any lymphatic fluids and assisting in collagen-boosting of skin. Apart from these physical benefits of the magic roller, a transcendental theory says it carries healing energy that opens your heart chakra and promotes self-love which is necessary when it comes to having glowing skin. It is designed to massage the face for relieving stress and tension. If your mum loves keeping up with the skincare routine then this is one of the best mother's day gifts for her.
The Rose Quartz Roller and the Blue Spot roller makes for a perfect online gift for your mother this Mother's day. Spread the love and positivity with just one click!
A Face Massager
Image Courtesy: House of Beauty
Are you looking for a special mother's day gift? A face massager is a great way to keep the youthful glow intact. House of Beauty's yet another fabulous online gift for mother's day option is the 24K Face Massager. A massager with its micro-vibrations stimulates the skin to firm it and thus uplift the skin without wrinkles. During these times of coronavirus pandemic, it is inconvenient to step out and find a salon to get your facial and spa done.
While your mother stays home taking care of everyone, and going about her daily chores silently, it is your responsibility to pamper her and these gifts are not for one-time use. They will pamper her for a long long time!
Photographs & Polaroids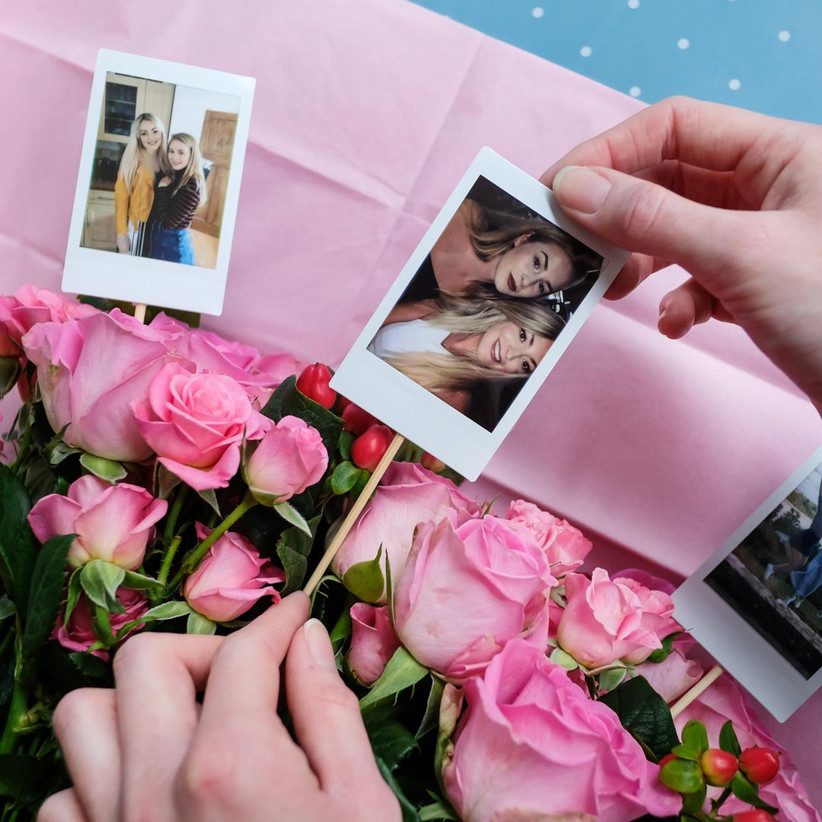 Image Courtesy: Fujifilm Instax
We all remember that time when our mothers got us all dressed for the first day of school and clicked pictures before we left. How the mothers held on to those pictures in a million albums stacked on the shelves in our houses! Photographs have a special place in all our hearts. Be it with the family, a best friend, a lover or even with the siblings - photographs are an underrated treasure we all hold on to. This mother's day gift your mother a photo that can be remembered forever.
It could be a photograph in a frame, a photo collage, a handmade card with a photograph in it. You could use your smartphone cameras, DSLR cameras or even instant polaroid cameras. Freeze a moment in time and gift it to your mother. Make a memory forever!
Clothes & Accessories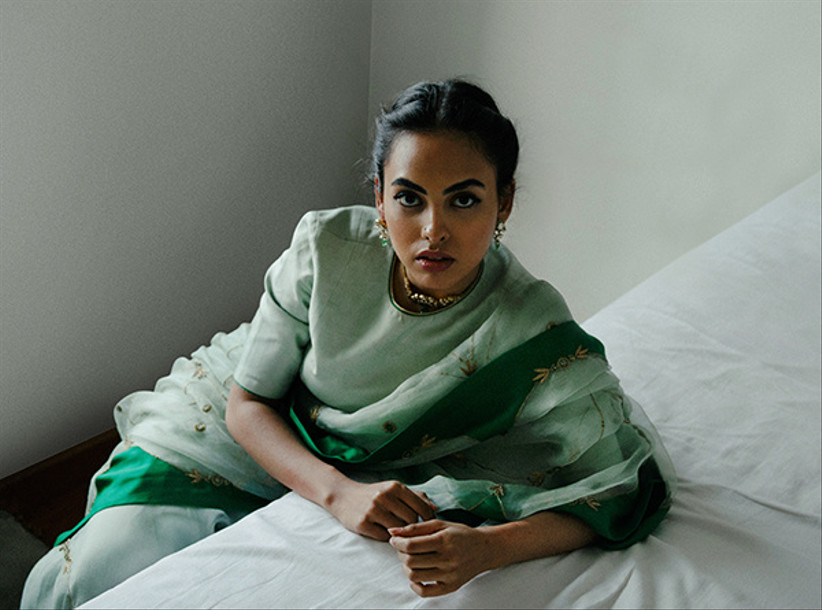 Image Courtesy: Raw Mango
Don't we all keep an eye on her wardrobe where she keeps her sarees and other sets of clothing with beautiful fabrics? While you want to dress up in her favourite Kanjeevaram silk saree for an occasion, you can also add to her gorgeous collection. If you know her favourite brand or you know which silk saree or kurta set she has her eyes on, you can surprise her by gifting it to her. This special mother's day gift will make your mum feel special to the max!
Mother's day gifts are more about the emotions that you express to your mother and make her feel special by being grateful for the eternal love she showers on the family. This expression of gratefulness can also be a beautiful ring or a set of mesmerising bangles she absolutely adores.
Home Appliances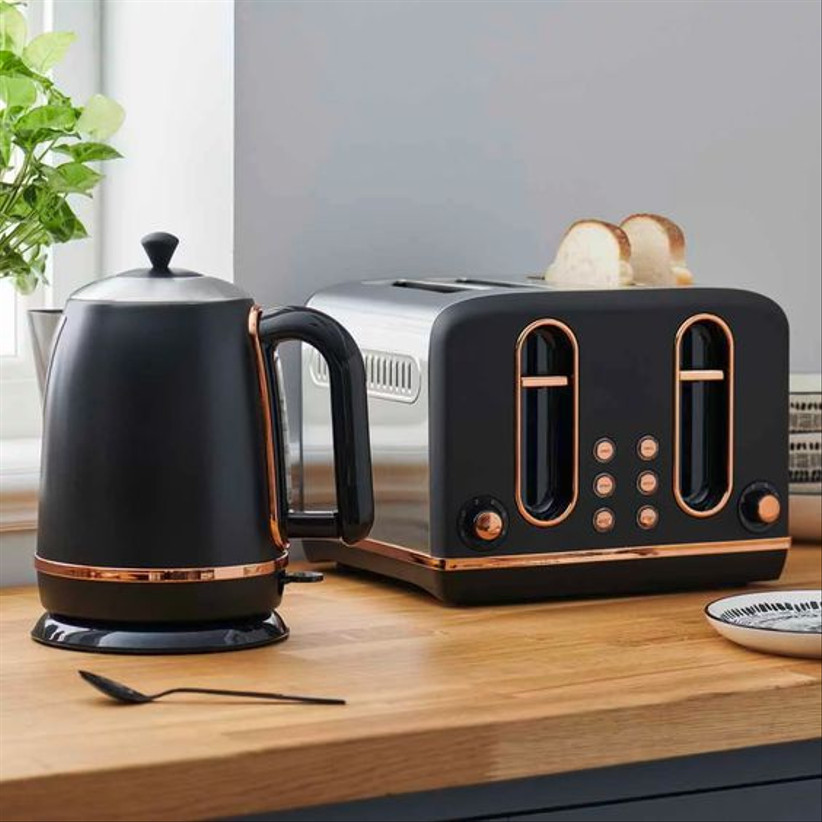 Image Courtesy: Pinterest
We all know how our mothers love to keep the home clean and arranged. From the colour of the curtains and bedsheets to the placement of the furniture, she decides it all. For her love of homemaking, you can gift her home appliances this mother's day to add to her collection. The range of options available for you to choose from is huge. This mother's day gift idea is an apt choice for all mother's who love exploring home appliances.
If your mother loves baking, you could gift her an OTG or a microwave, a washing machine to make it easier for her sounds great too. It could also be an Alexa or a music system where she can listen to her favourite songs!
You could send flower bouquets and cookie baskets to your mother too. There are amazing gift hampers for bath and body care products that have been specially brought together for Mother's Day. You can assimilate one yourself according to your mom's choices. There are many online delivery options available on various platforms that will help you pick the right flowers or the right flavour of the cake.
You can even surprise her with a home-baked cake and watch her priceless smile when she takes the first bite of it. The idea is to gift her a smile this Mother's Day and we have put together a list of useful options that will help you do that! Haven't found the perfect mother's day gift? Explore our gifting vendors while you buy the best mother's day gift for your mom!
If you have any more ideas for Mother's Day gifts, then let us know in the comments below!
-With Words By Anwesha Das.