70+ Mehndi Designs for Hands For Your D-day
The entire saga of an Indian wedding has its core on the ceremony of Mehndi along with various mehndi designs for hands.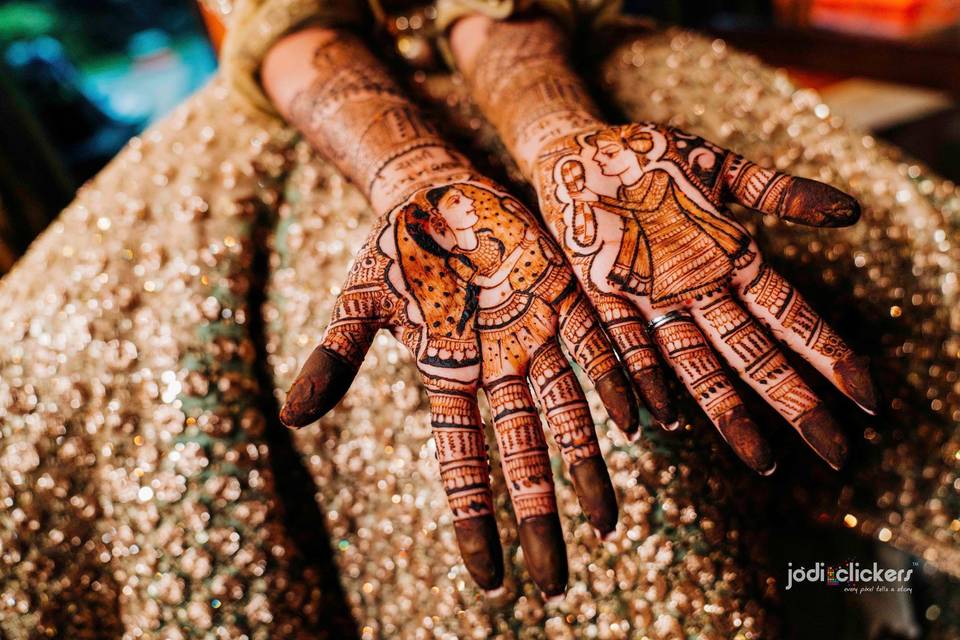 Considered as the oldest form of body art, the Mehndi ceremony has deep-rooted, cultural importance attached to it. It comes from the Sanskrit word, 'Mendhika', which directly signifies the henna plant itself. In fact, this form of body designs and beautiful is available to both sexes, with even grooms donning simple henna prints to their hands and feet.
Today, with the evolution and growing prominence of mehndi designs for full hands, brides know that they can choose from a sheer range of alluring designs. Ranging from historic Arabic designs to modern and colourful designs, every hand is beautifully decorated with a number of designs.
Hennaed hands and the Mehndi ceremony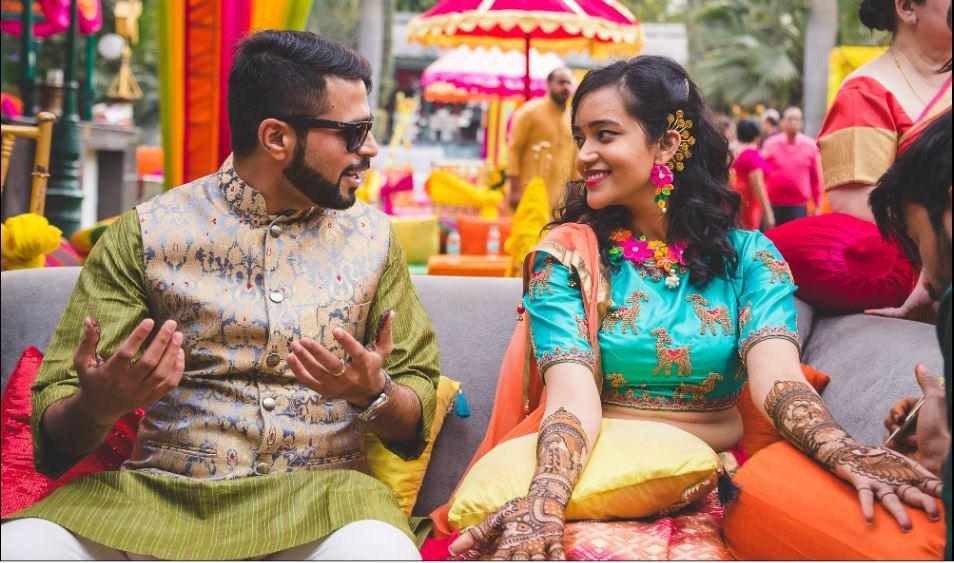 The Mehndi ceremony is an extremely fun-filled gathering where the women of the house apply beautiful mehndi designs along with the bride-to-be. After all, what's an Indian wedding, if not all about glamour and oomph! Endless celebrations take place where family and friends celebrate the union of two souls that will take place soon.
In fact, it's now not just about the bride - the groom gets to be in the frame too! Many couples are opting for a combined Mehndi ceremony, where the two apply mehndi designs on hands together, before getting into comparison contests. We are delighted to see them share these pretty pictures of mehndi designs for hands, on their newsfeeds and profiles!
Coming back to the henna designs themselves, making the right choice (and finding the right mehndi design artist) is more than half the job done. It's important to choose the right type to match with the attire as well as your hand size. While there is always a room for customisation (and making it as personal as possible), here are the more common mehndi patterns that one may go to for their D-day designs.
1. The ever-so-attractive paisley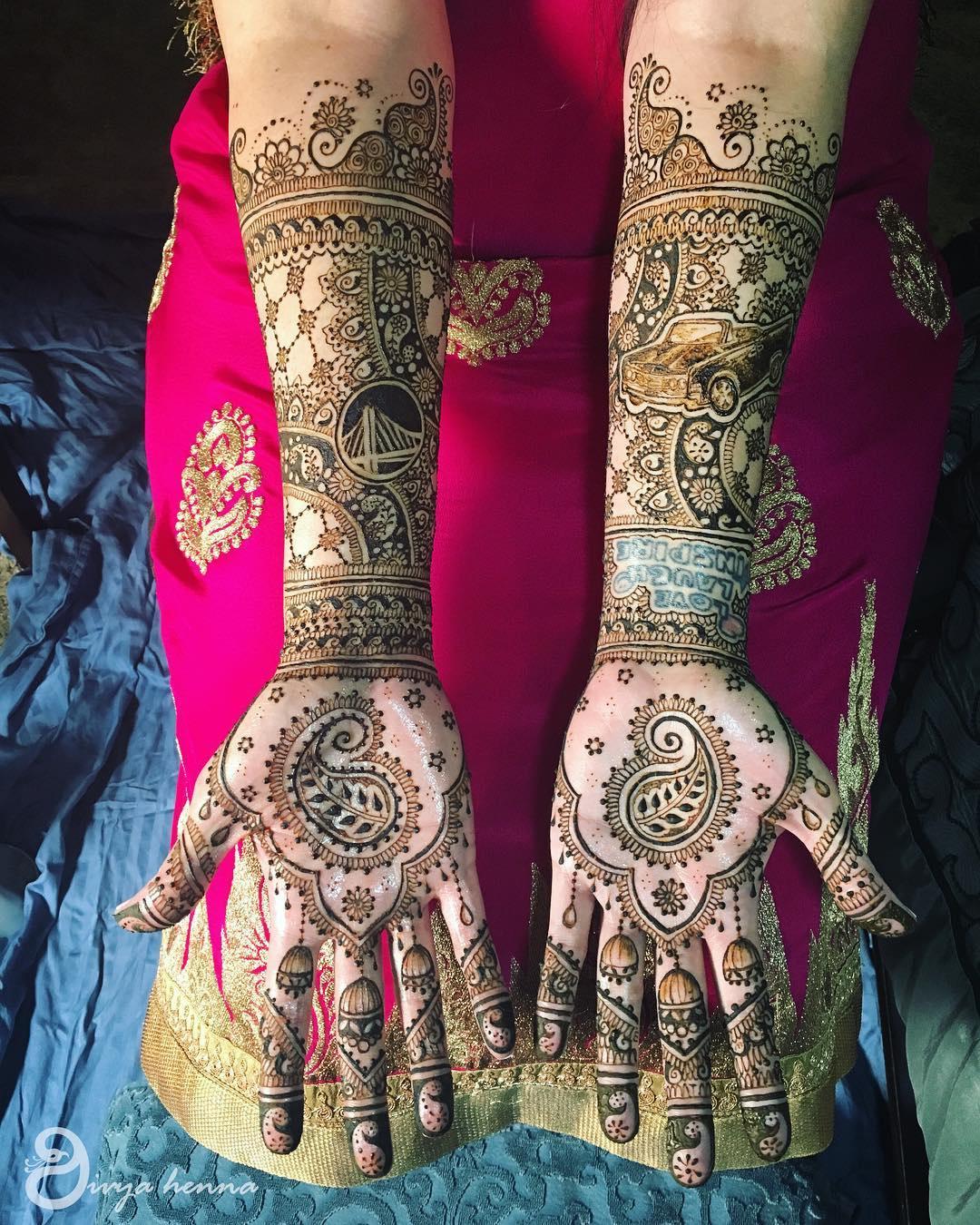 Image courtesy: Divya Henna by Prashanta
Paisley, you have us glued! From the most basic, to the most extravagant, no set of mehndi designs for hands is complete without this small detail. The curved Ambi or mango-shaped design, can accentuate tiny leaves on long fingers, hold the fort at the centre of the palm or build to a longer tail up the arms.
These paisley designs evoke a delicate look, that's intriguing to follow as well. The curvy edges add a swift flow to the design while the delicate strokes work to enhance the symmetry. So, think beyond traditional paisleys as fillers for your more intricate patterns and realise that there's more to the Ambi, if you (or your Mehndi artist) really put your heart to it.
Looking for more inspirations? Here are a few that touched us to the core (and we thank all the talented hands which drew them into place).
A. Paisley column: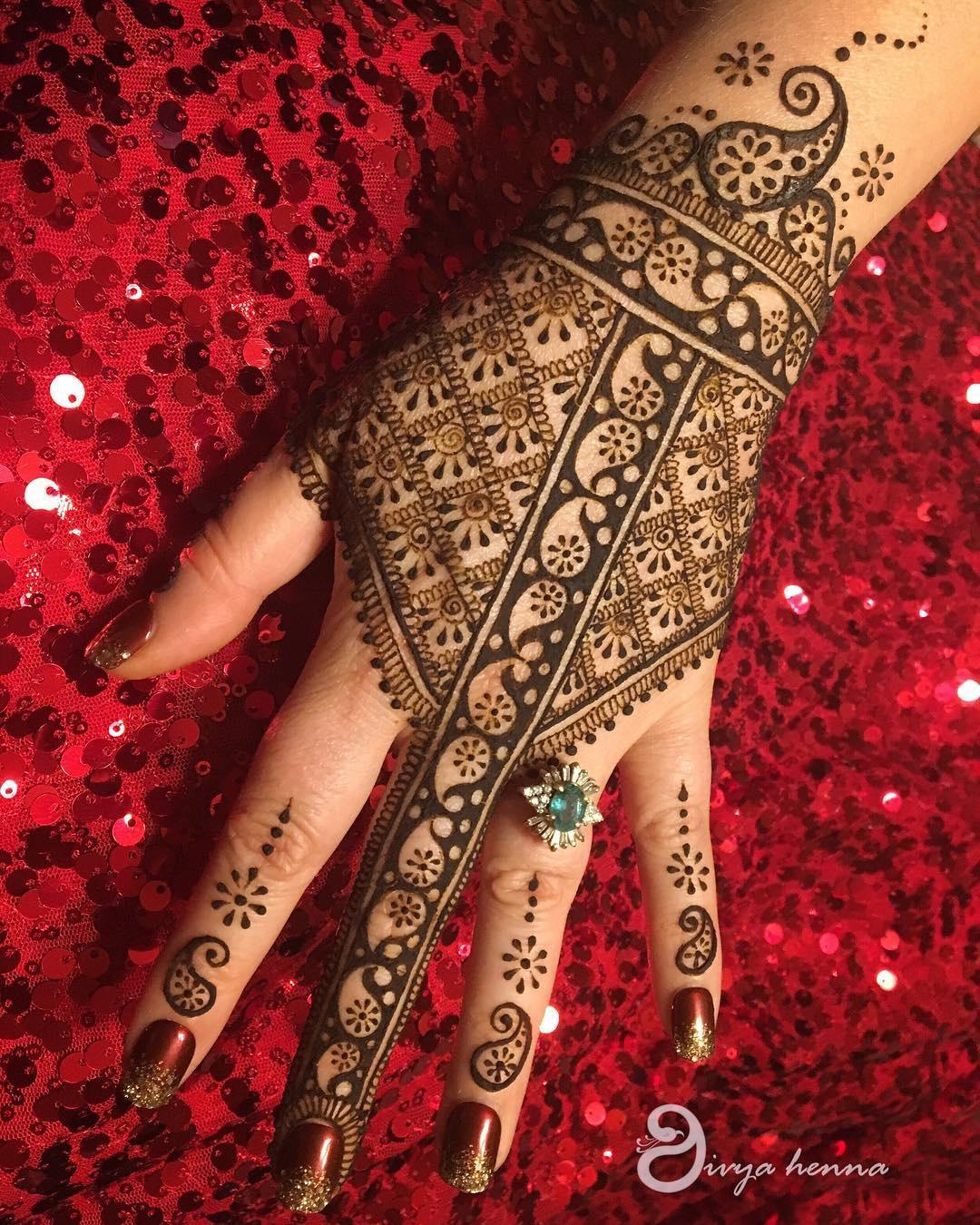 Image courtesy: Divya Henna by Prashanta
Love the paisley print as much as Divya Henna? Then add it to every detail you like - like this reverse mehndi design on the middle finger. The tiny paisleys under the crimson nail beds just accentuate the look further.
B. All Things Paisley Big And Small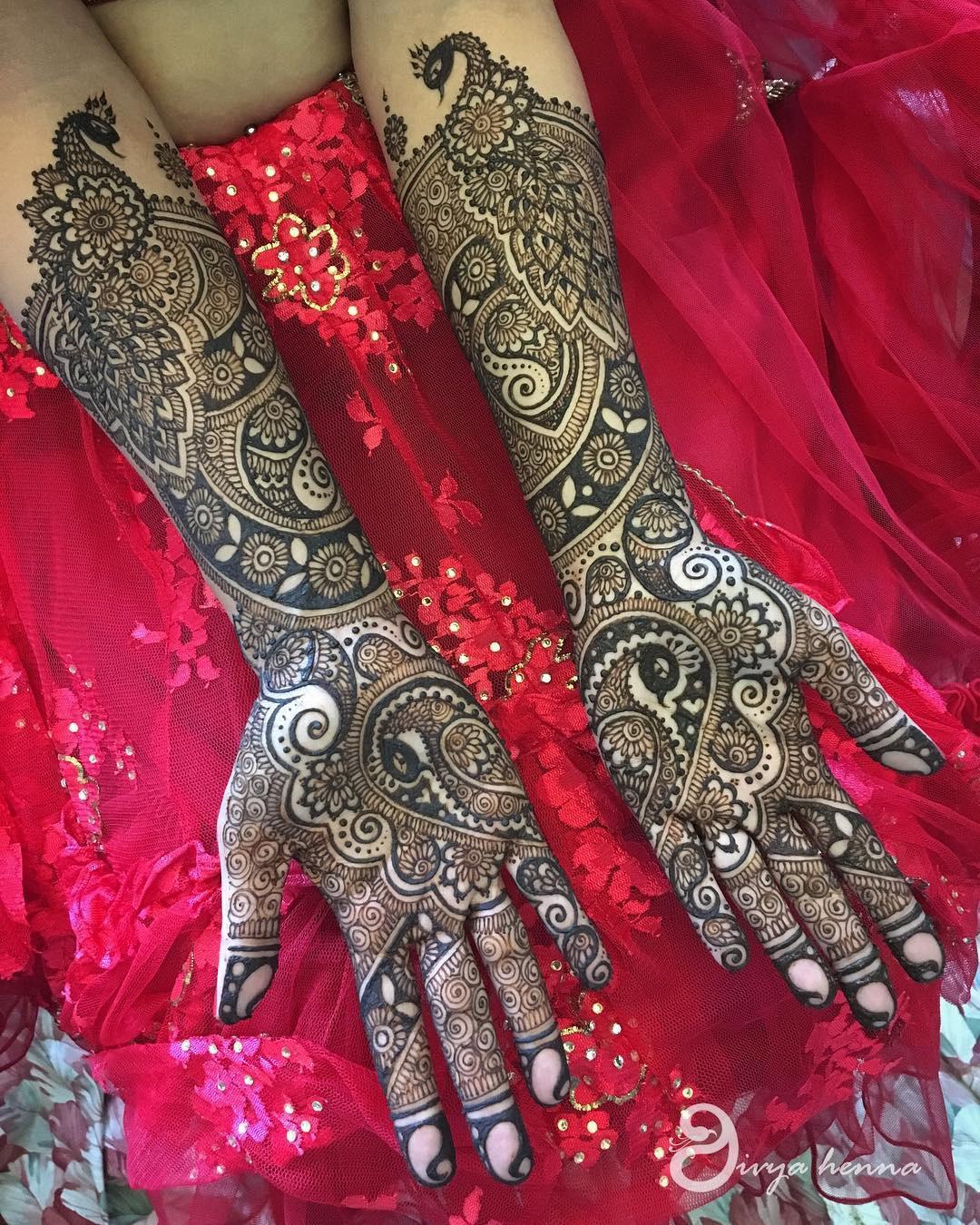 Image courtesy: Divya Henna by Prashanta
Let you love for the tiny Ambi patterns show in the details, if you are one of those brides with their heart set on bridal mehndi designs for full hands. Ask your mehndiwalla to dab the tiny motifs in henna or reverse, while they talk about their "latest mehandi" conquests.
C. Paisley waves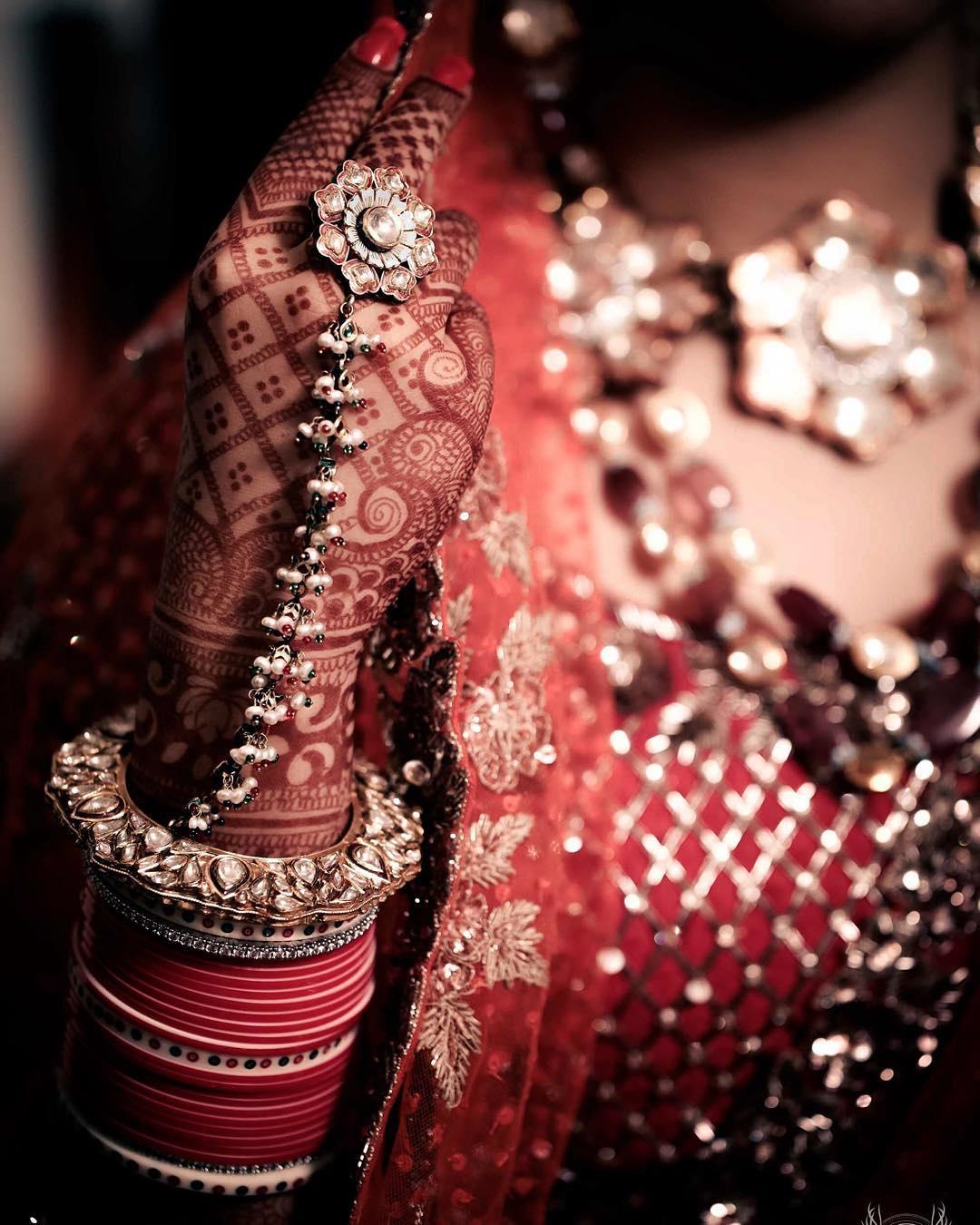 Image courtesy: Morvi images
Ever thought of the paisley pattern as beyond a whimsical curve or leaf? You'd be surprised over how these patterns can be made to convey whorls and waves, completely merging themselves in a larger design. Don't believe us? Ask the "Mehendi Wali Didi" if she could add them in to depict the sea, as this pretty bride did.
D. Paisley in the details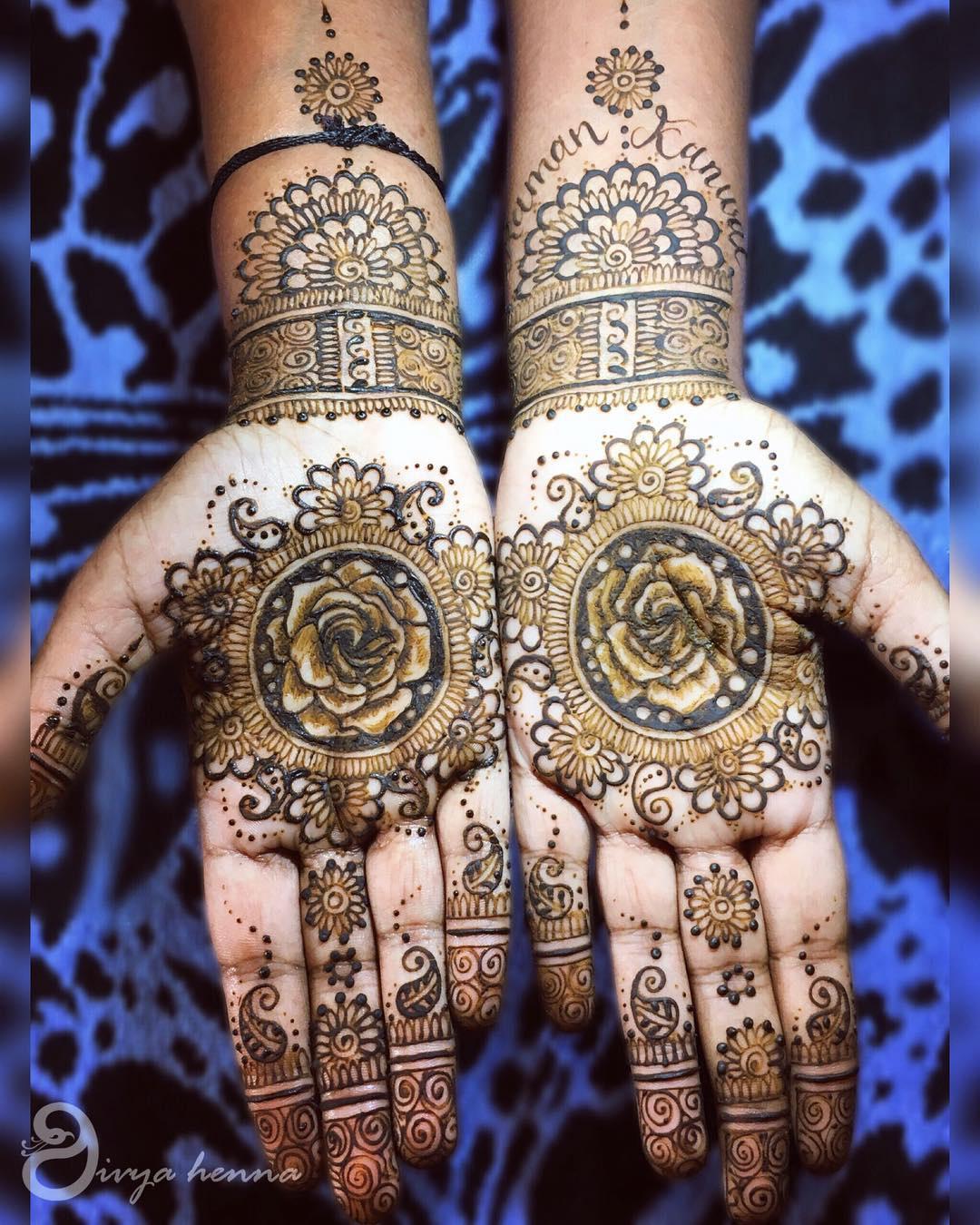 Image courtesy: Divya Henna by Prashanta
Finally, we understand why Divya Henna has a fascination for the paisley in nearly all of their mehndi designs for hands. See how it transformed into a tiny leaf, just above the ornate fingertips?
E. Paisley does it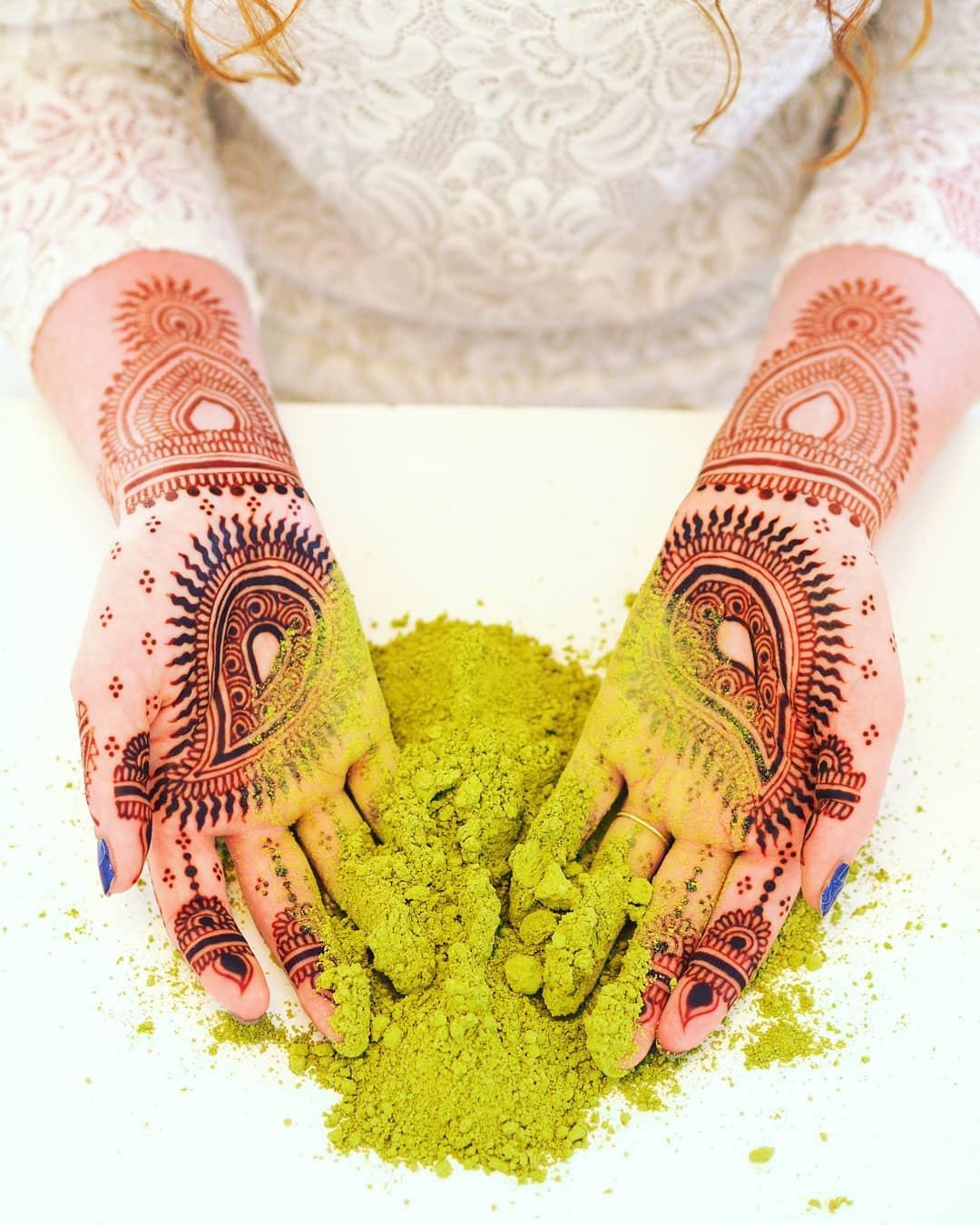 Image courtesy: Henna Lounge
Basic paisley prints on neat hands are an exercise of careful balance and sophistication. Need a moment to be convinced? Then simply scroll above and look at how the basic ambi on these palms glimmers with its own light amid a minimal design pattern.
2. Classic Arabic mehndi design for hands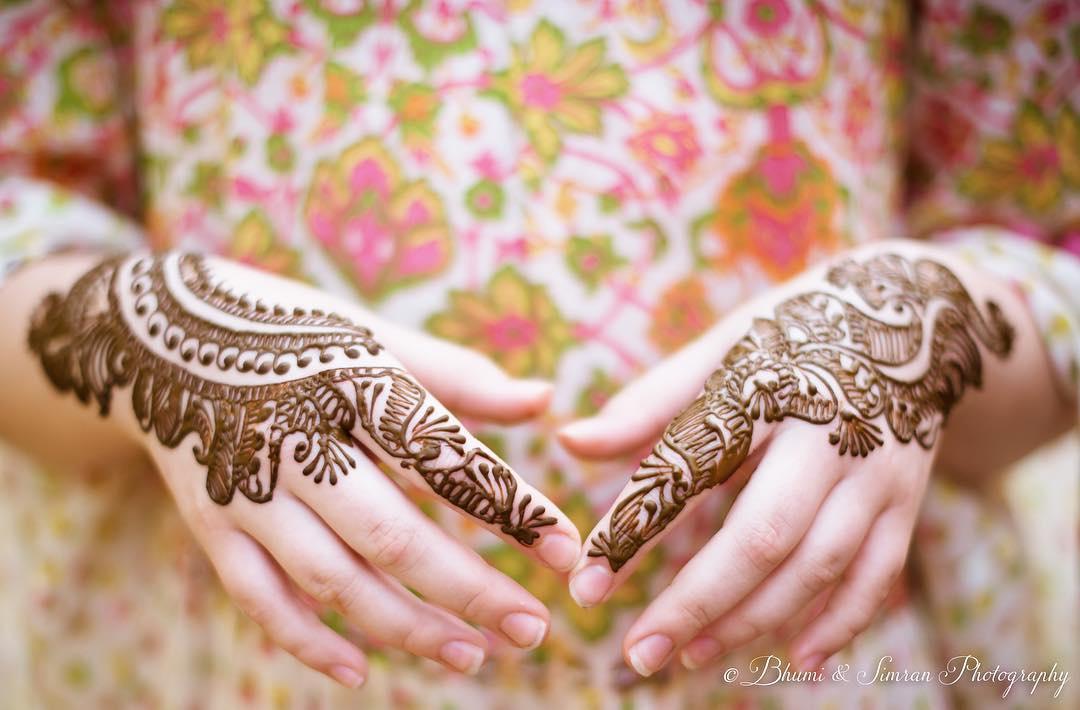 The classic Arabic design has its origin in the Arabian countries. However, with the evolution of big fat Indian weddings, Arabic mehndi designs have become a rather popular design in Indian weddings.
An Arabic set of mehndi designs for hands stands bold and prominent as it is created using dark brown or black mehndi in place of the usual red or orange mehndi. It is a rather easy design to create and pull-off and can be adorned by everyone, from the bride to the bridesmaids and every other female.
You can opt for more than block vines here. There are the intricate, shaded patterns from Dubai mehndi, the Moroccan mehndi prints which are geometric in nature and the Eid inspired patterns with lanterns, stars and moons and you know that you have a winner.
Here are a few more inspirations:
A. The basic vine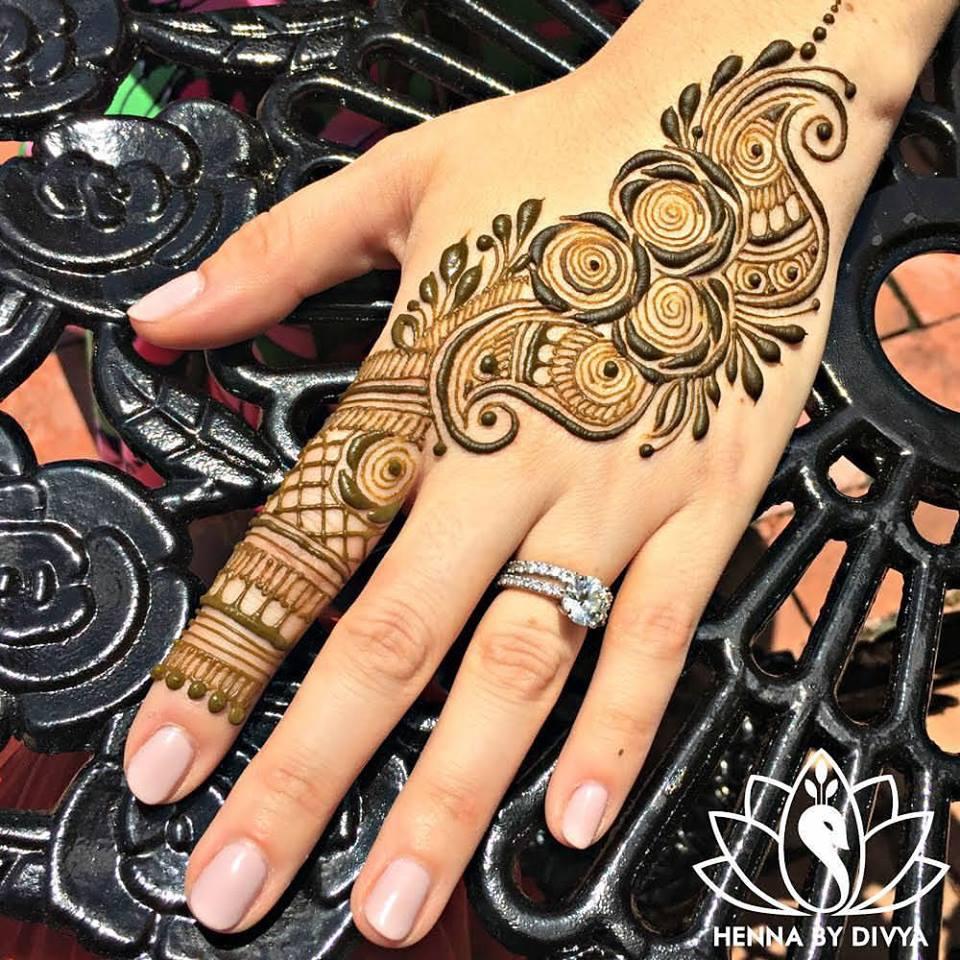 Image courtesy: Henna by Divya
So, simple and yet so exquisite! Take a set of button blooms with two leaves in henna, add a set of squares and voila, you're done! These simple notes in mehndi or "mehendi designs for hands" can be added in a jiffy, dried quickly and then shown off with zeal. Mehndi indeed!
B. Cuff it up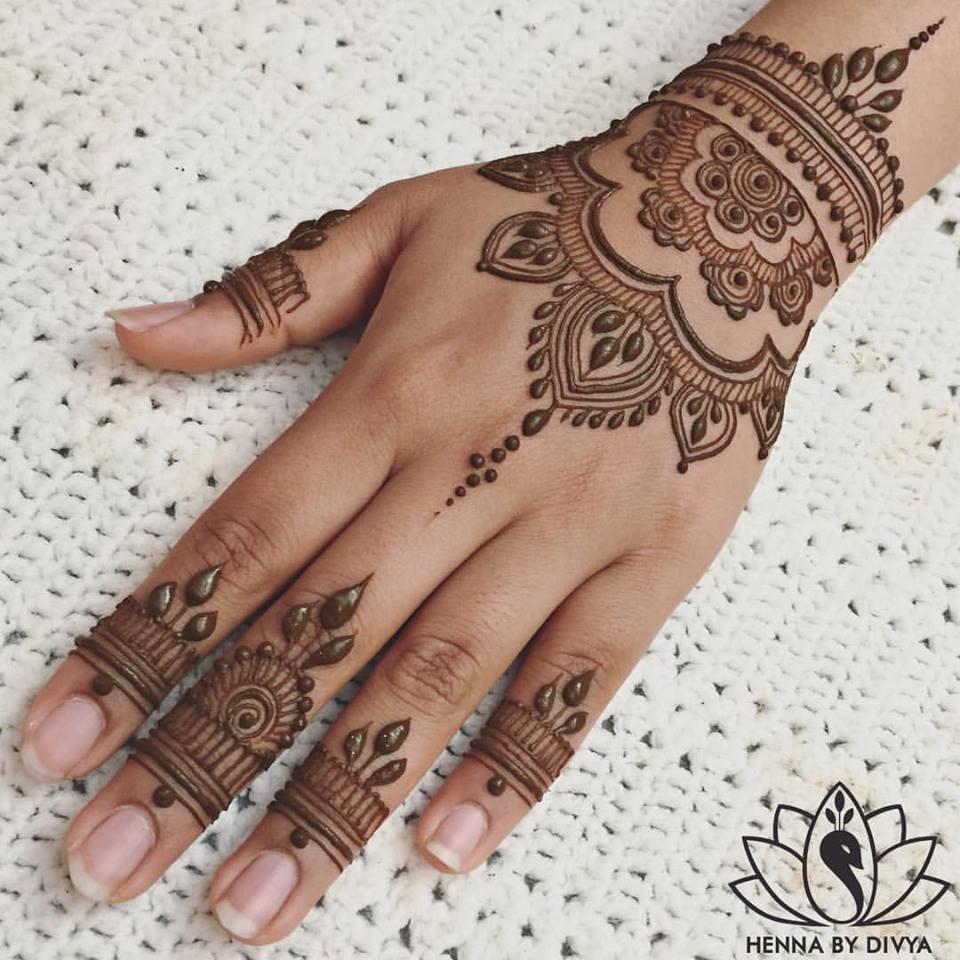 Image courtesy: Henna by Divya
The big broad prints of conventional Arabic mehndi designs come full circle when they're used to depict baubles and gloves. Case in point, this set of Midi rings and a palm cuff drawn in henna. Basic circles, Mandala motifs and spaced-out vines, all work nicely with this set of designs.
C. Curvy patterns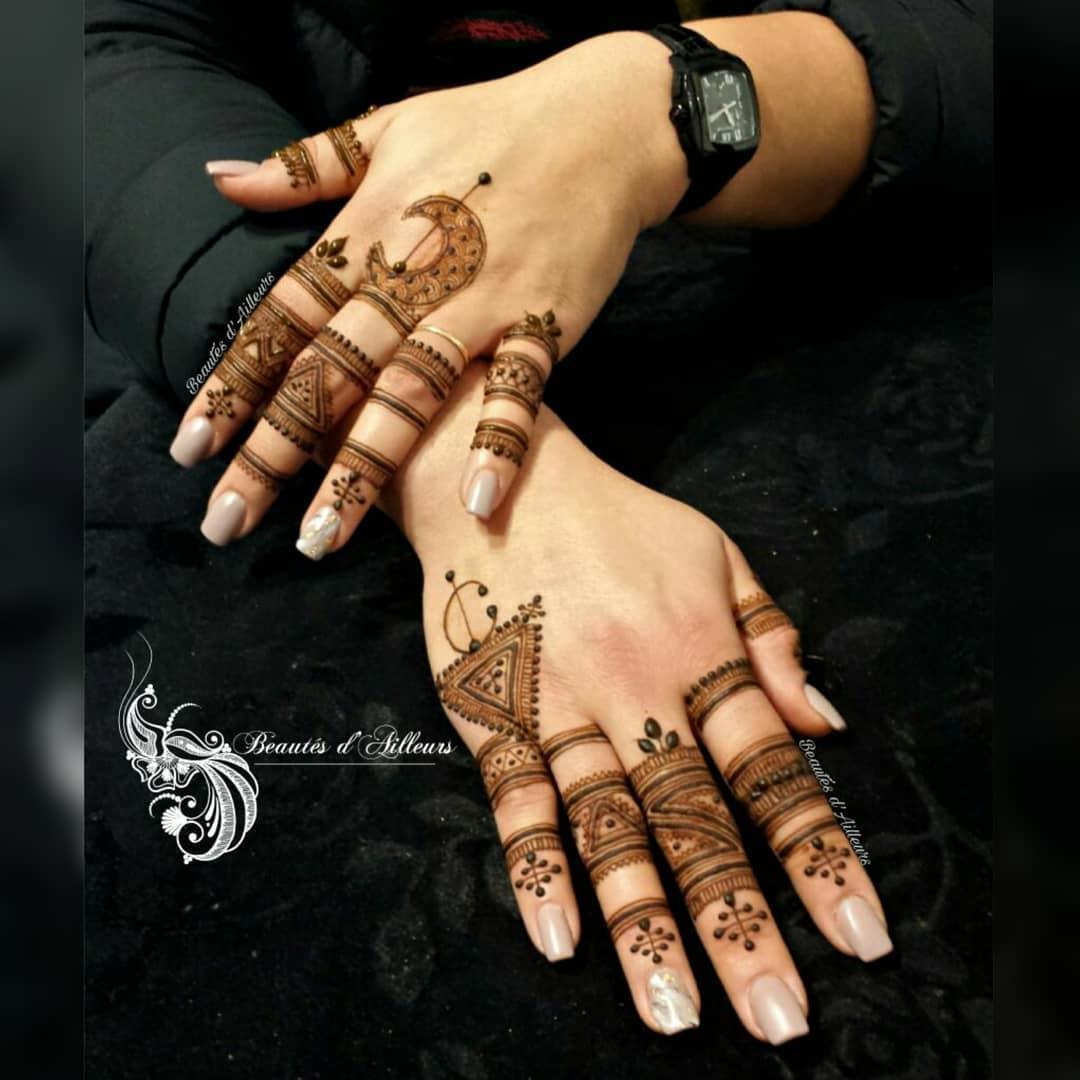 Image courtesy: Beautes D' Ailleurs
Think Arabian-style mehndi and restrict yourself to basic leaves and vines? Think again. You can ask for the bolder set of mehndi designs for hands as a set of midi rings, geometric shapes and even a crescent moon amid the beautiful set of prints.
Case in point? These mehndi or "mehandi designs" with big flowers, leaves and chains altogether. I know I'm going to go for this one soon!
D. Linked flowers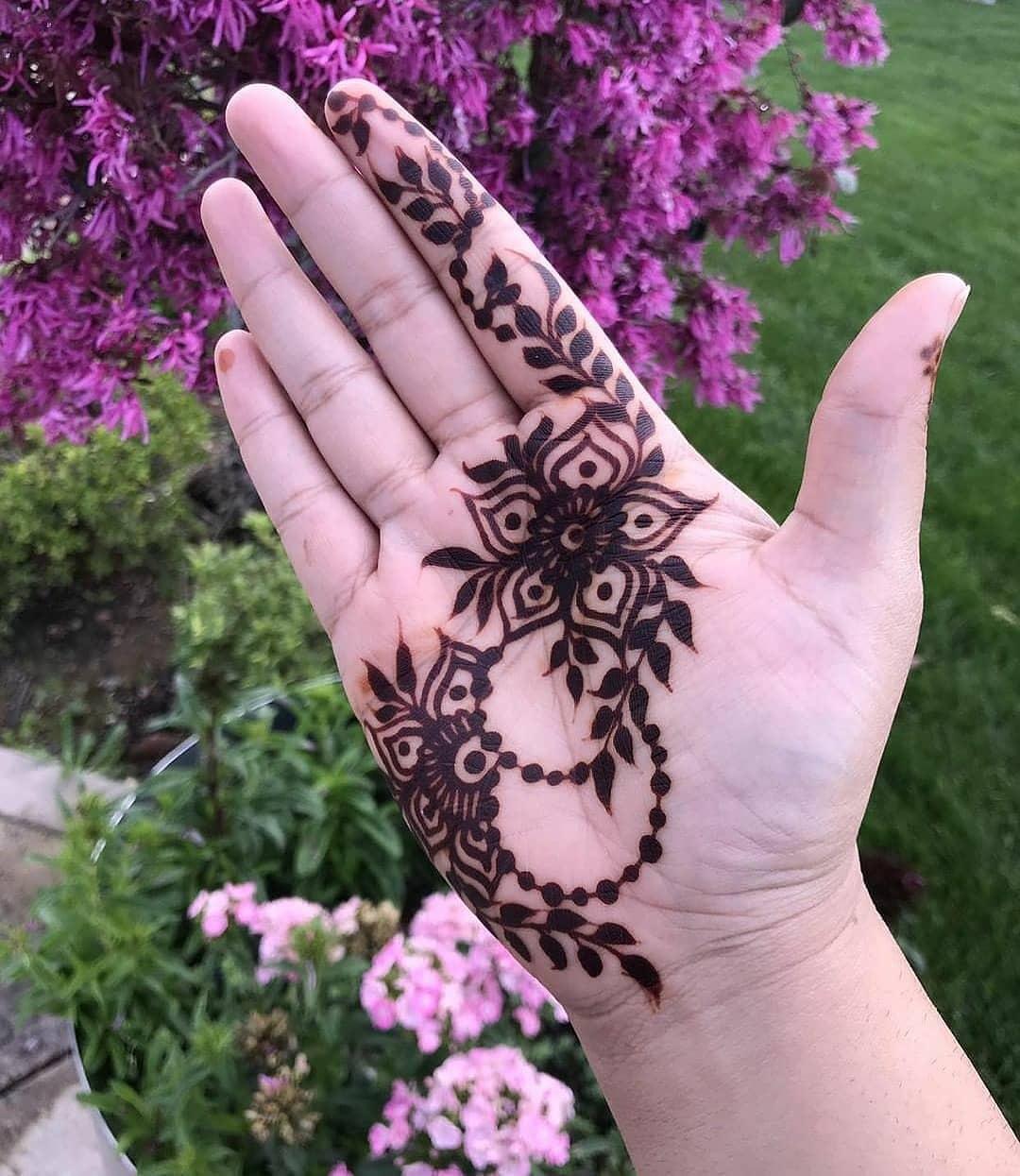 Image courtesy: Henna Land
When you consider Arabic mehndi designs for hands, don't restrict these just for the back of your hand. You can pitch them in the centre of your palm as well.
Try this pattern of intertwined, chained flowers on the palm, which would barely take up 10 minutes of your time. Go for this for your friend's Mehndi ceremony and join in a 'Rail Gaddi' lineup as soon as it's done. It will also be dried and ready by the time you decide to grab a bite for yourself.
E. Vine designs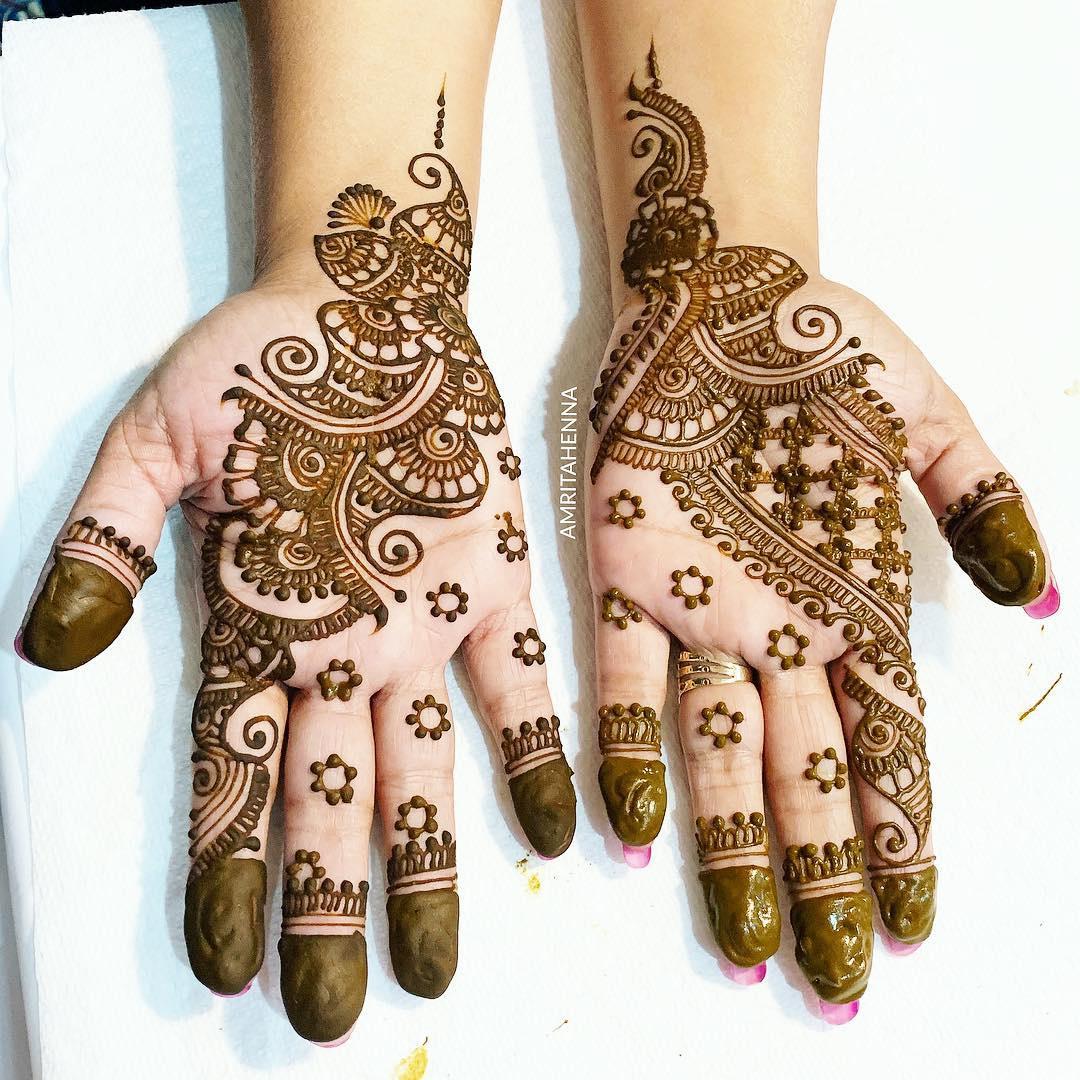 Image courtesy: Amrita Henna
Experiment with the set of mehndi designs for hands, by bringing a more intricate version of the Arabic patterns to your palms, extending them from the fingers to the wrist and up, up, away.
For reference, try your hand at this pattern which is basic and beautiful, yet incorporates the filled up fingertips, conch shells, whorls and leaves you'd find in any conventional traditional mehndi design.
3. The all-time hit – Mandala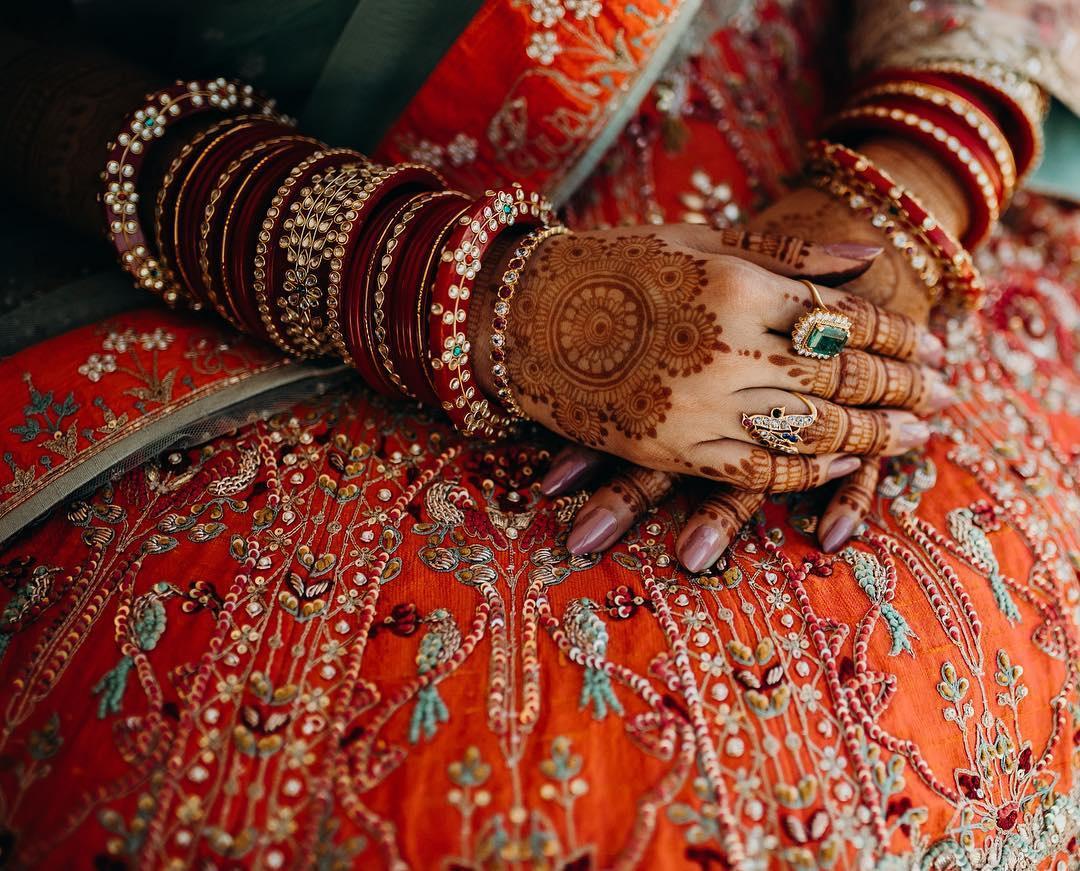 Image courtesy: Mehndi by Payal
Symbolically, Mandala circles represent the cosmos and they're mentioned across Hindu scriptures. These mehndi designs for hands are typically round in shape and can be made putting various henna elements together. They are beautifully placed in the centre of the palm and symbolises pure class.
These designs are very much in trend these days as they can be also carried off well with Indo-western outfits and Indian attire. Ever so simple and elegant, hang on to the Mandala design if you want a simple yet filling design.
What you need to understand with all of these prints is that the Mandala is a symbol of completion - one that sets the viewer at ease with its own balance, aesthetics and beauty. So, your chosen version of this largely circular design should also reflect this.
Here are a few examples:
A. Elaborate circles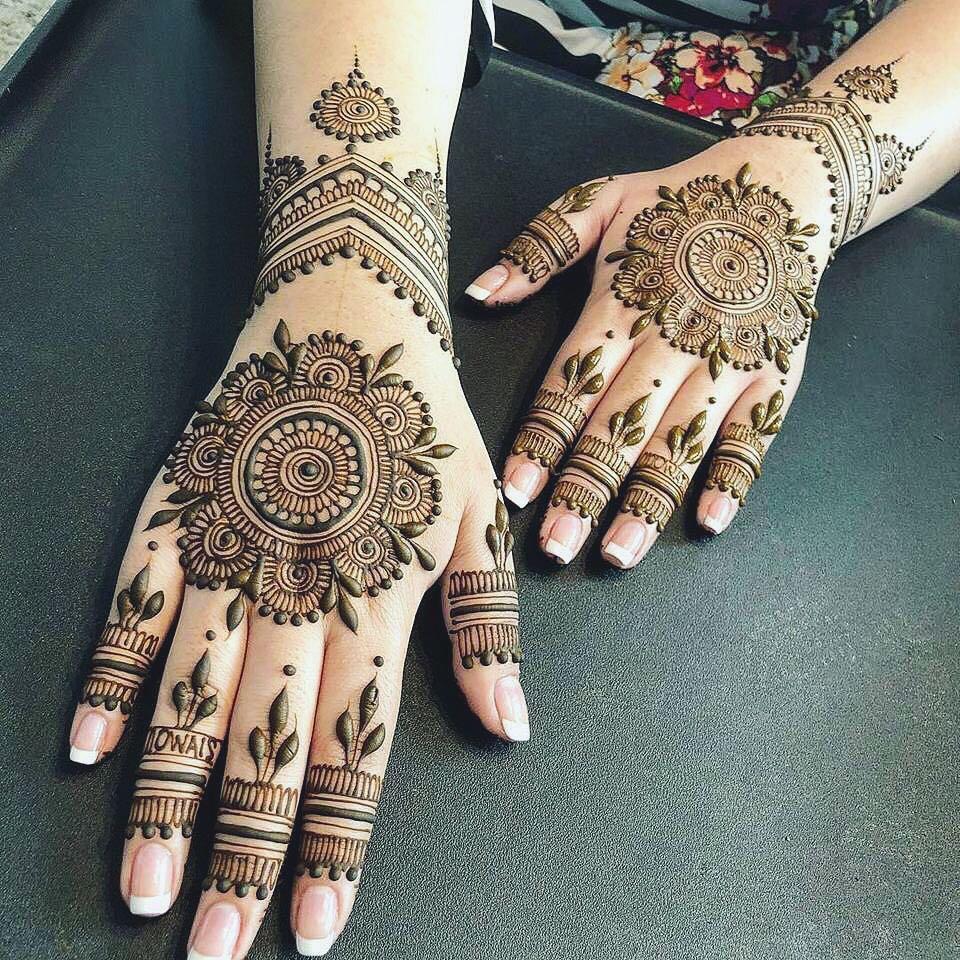 Image courtesy: Raida Mehndi
Make a circle and go around. Take a step back and then still, step around. While basic mandalas are good, concentric circles make them better. Concentric mandalas are sheer perfection when it comes to mehndi designs for hands. Midi rings on fingers and a spaced out cuff complete the look.
B. Neatly spaced out

Image courtesy: Henna by Nedak
Circular mehndi designs for hands are all about beautiful, filled fingers, a central motif and wrist cuffs or bands. We especially loved how this pattern uses filled nail tips, a Victorian-esque set of clubbed squares and a diagonal cut to make itself stand out.
The dainty wristband is a winner all by itself too.
C. Mandala, basically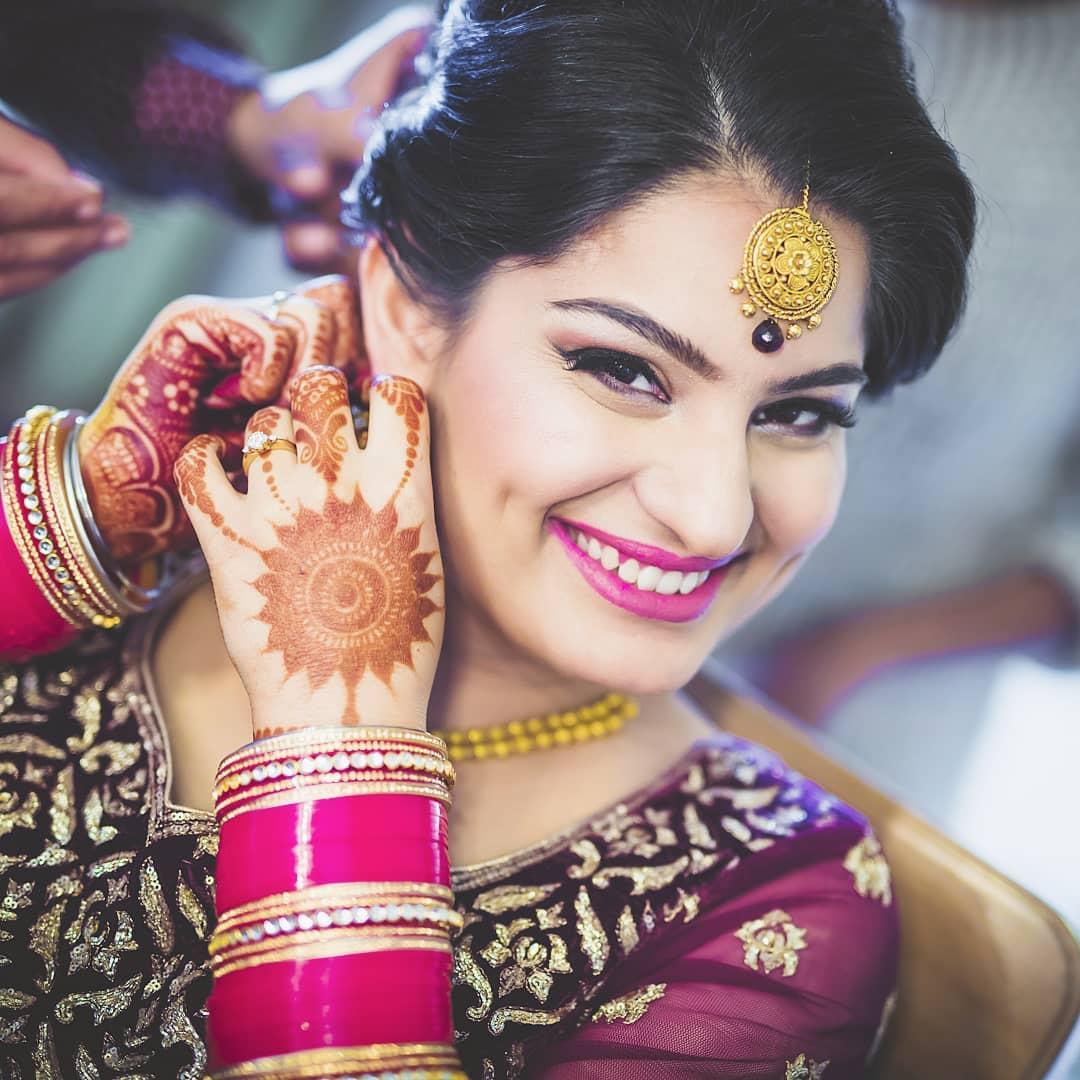 Think traditional, think the Haath Phool design. Then, take it forward by making your mehndi designs for hands all about this large flower, with tiny, ornate petals to finish the look.
D. Clear palm circles

Image courtesy: Henna Arts Leeds UK
The Mandala gets a tattoo-like inspiration with these set of henna circles drawn on a reverse background. What's great about such mehndi designs for hands is that they would work wonders for groom mehndi.
E. The freehand Mandala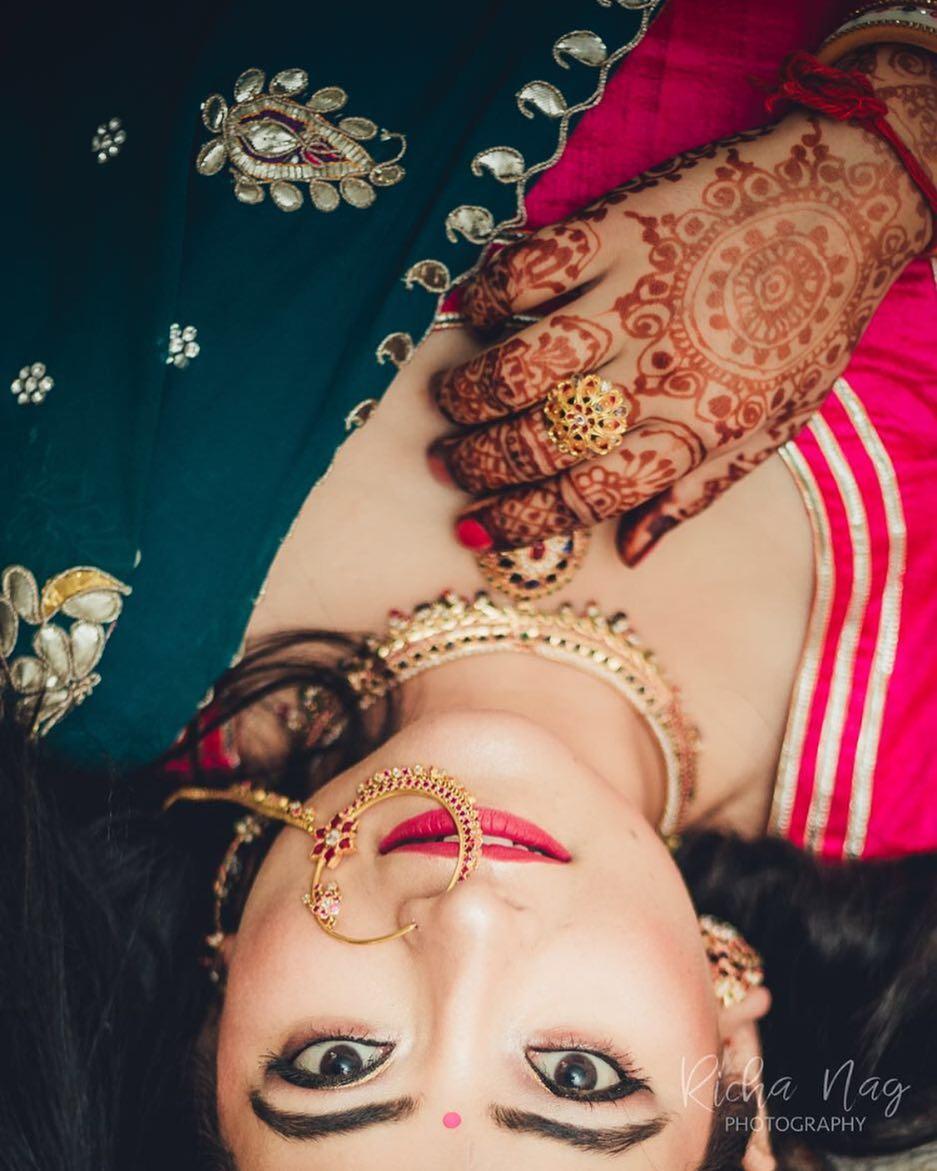 When it comes to mehndi designs for hands, the freehand mandala is a good addition, especially if you want someone among your near and dear ones to dot your hands with it.
Ask your aunts to draw the pattern for you. You can then ask your Mehndi artist to incorporate them into a precise print for you.
4. Floral mehndi designs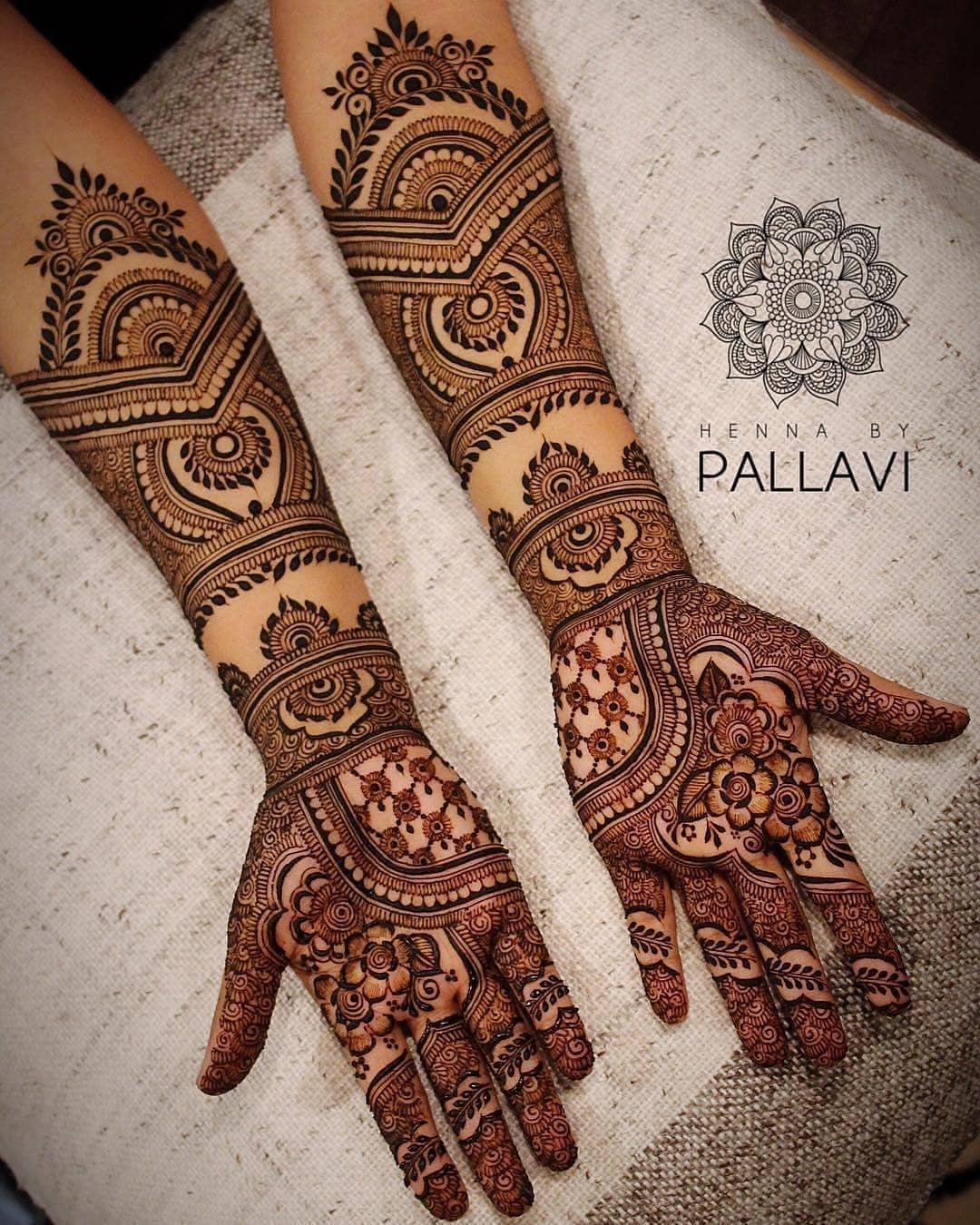 Image courtesy: Henna by Pallavi
Flowers and petals are a part of nearly every set of henna designs, but these go up a notch when your chosen mehndi designs for hands are just about them. From tiny, squiggly circles, to full-blown, shaded blooms there are so many ways in which you can add a floral print to your pattern.
These flowers can be simple daisies to posies, jasmines and button roses and even the traditional lotus. In fact, you can choose whichever flower works best for you. If these don't make the cut, then you can keep scrolling to the more complete rose mehndi designs below.
Here are a few inspirations:
A. Elegant flowers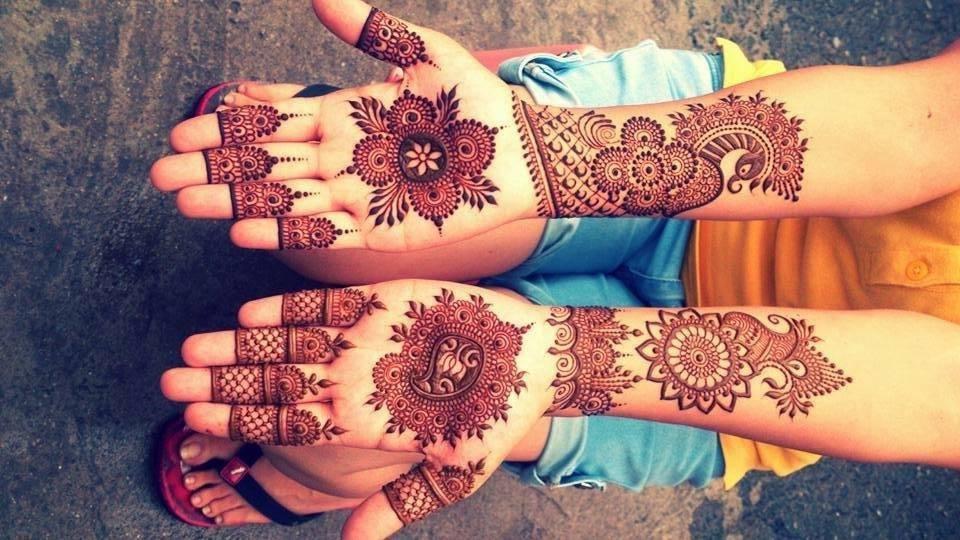 Here's an aside to the common, circular mehndi designs for hands or even the Mandala motif. Check the flower on the right hand, which begins with a basic, five-petal design, moves into satisfying circles and ends with four sets of thin leaves. Perfection indeed!
B. Floral sidelines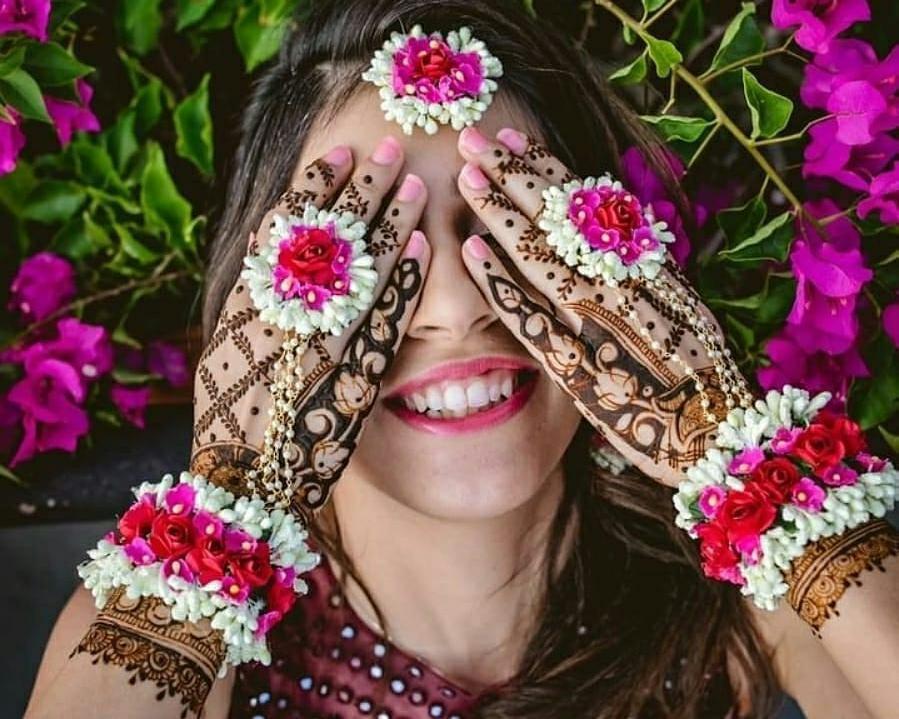 Reverse mehndi designs, especially those with floral details like roses and lotuses are quite a rage these days! These mehndi or "mehandi" designs can be added in contrast to a basic, spaced out print, like the jaal pattern here.
C. Flowers trail down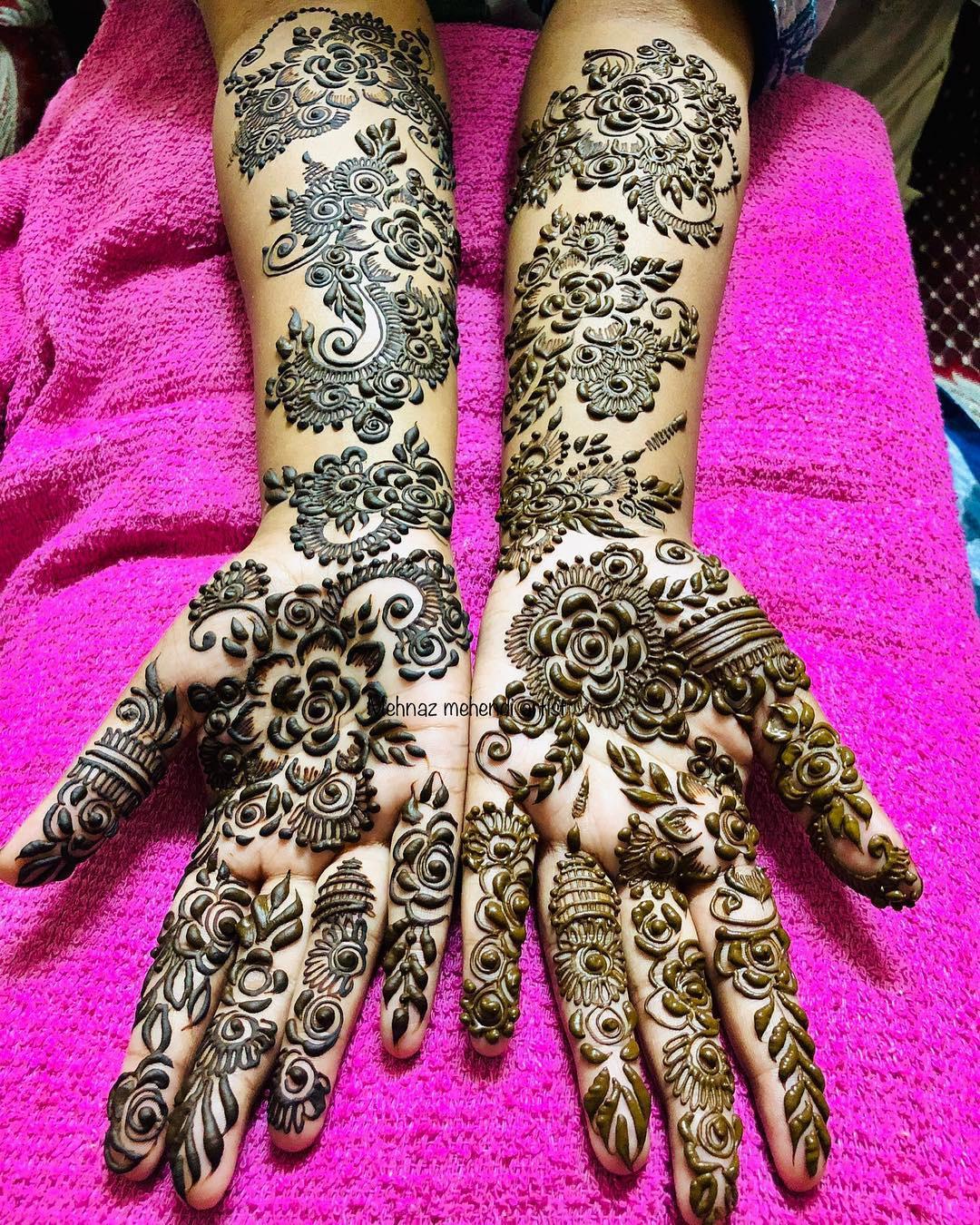 Image courtesy: Henna Mehnaz Mehendi
Can't get enough of floral mehndi? We can't either. Try these set of all flowers big and small to invoke blooms across your palms, like this henna lover who sat down for a set of hands with Henna Mehnaz.
What's more, if you can add floral jewellery to your mehndi, you'd never go wrong!
D. Shaded flowers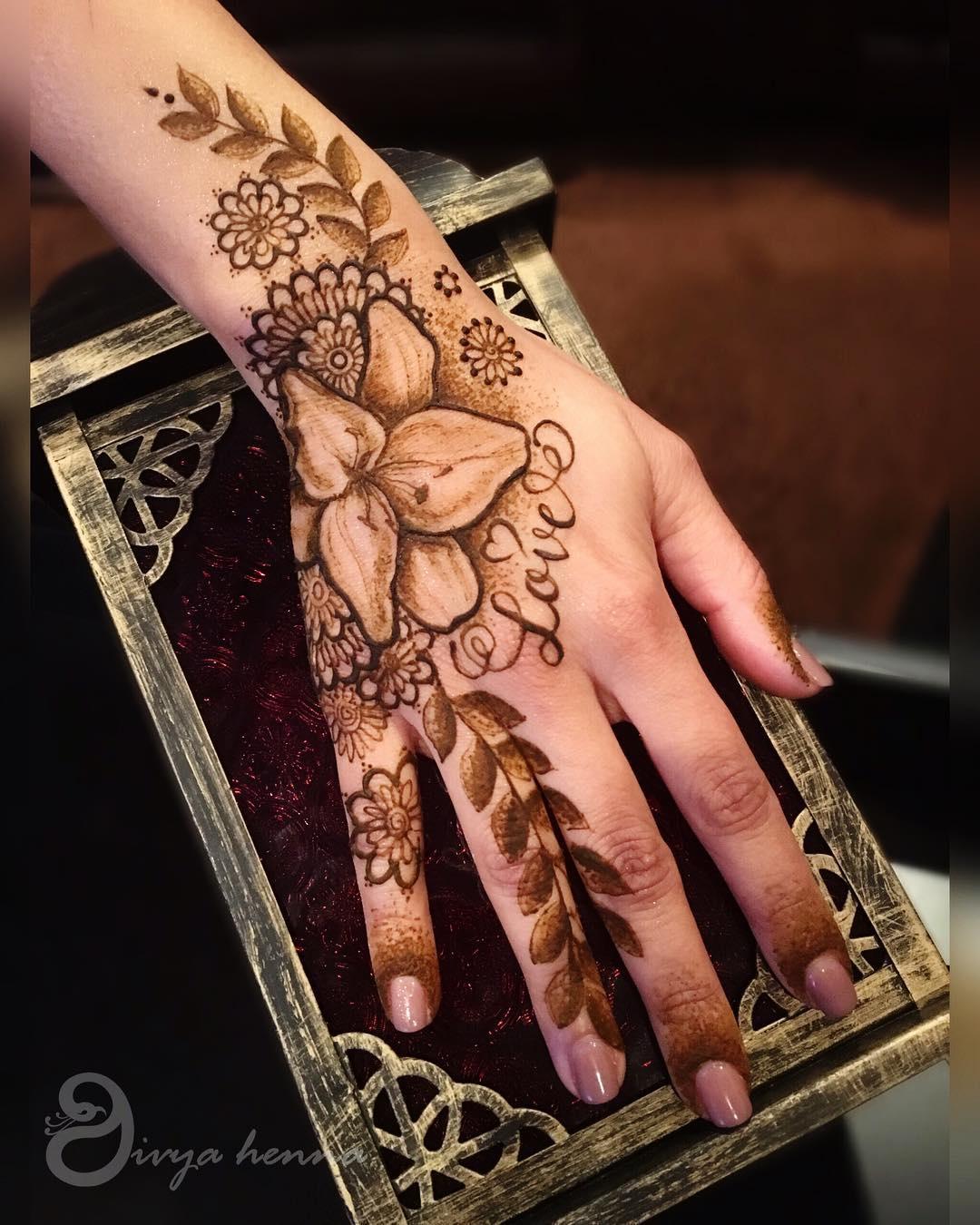 Image courtesy: Divya Henna by Prashanta
Mehndi can also be 3-dimensional in nature, with shading perspectives. Don't believe us? Then see how these flowers jump from the page and sit pretty on the hands of this willing bride.
Add your own favourite bloom to make this as signature you as possible - from hibiscus to lilies or even a Gainda phool!
E. Small, spaced flowers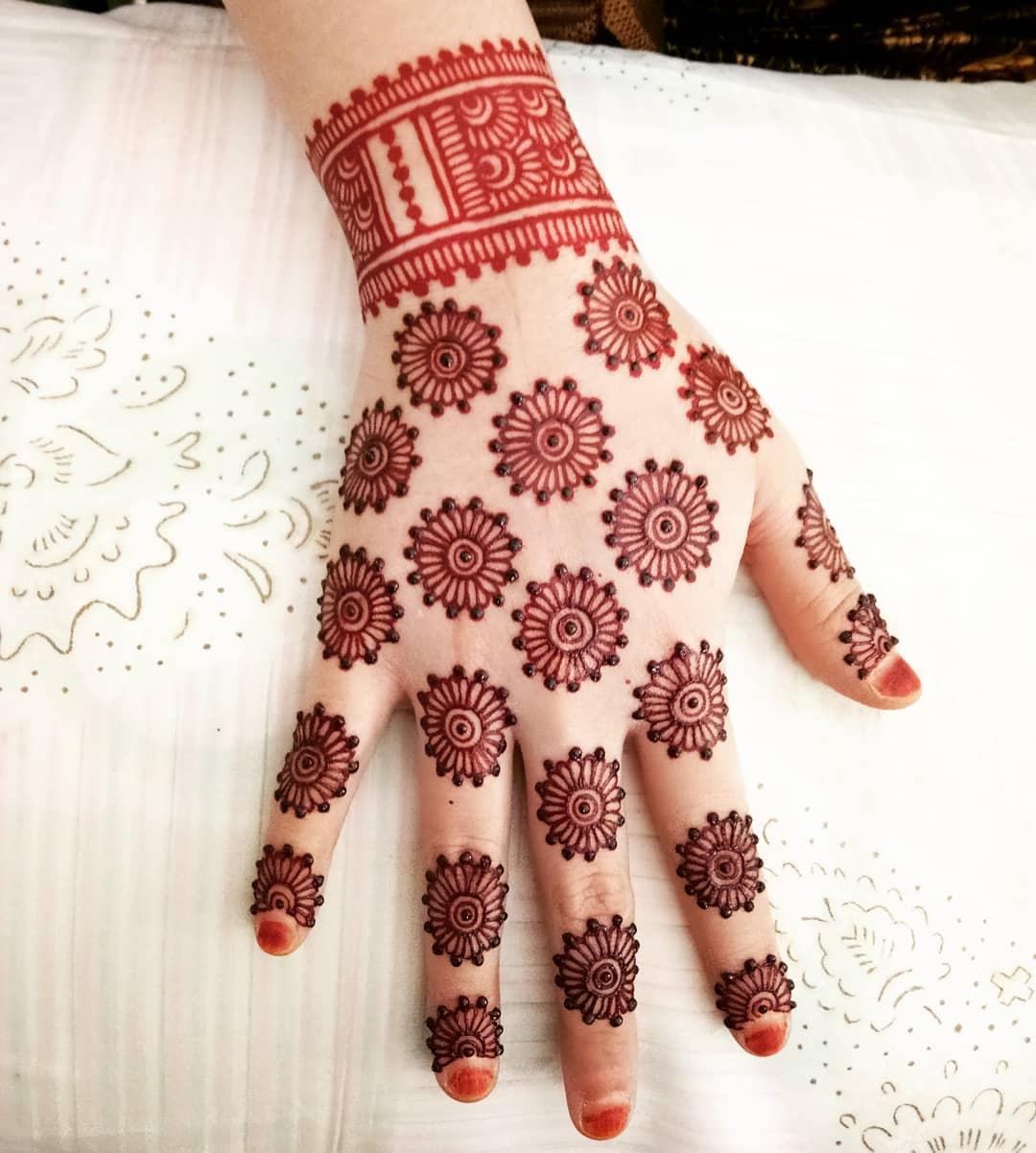 Image courtesy: Khadeeja Mehndi
There's something so soothing about these circular set of flowers, especially as part of one's floral mehndi designs for hands. So, sit back, relax and imagine the whorls softly turn round and round in your head.
F. Perfect mirrors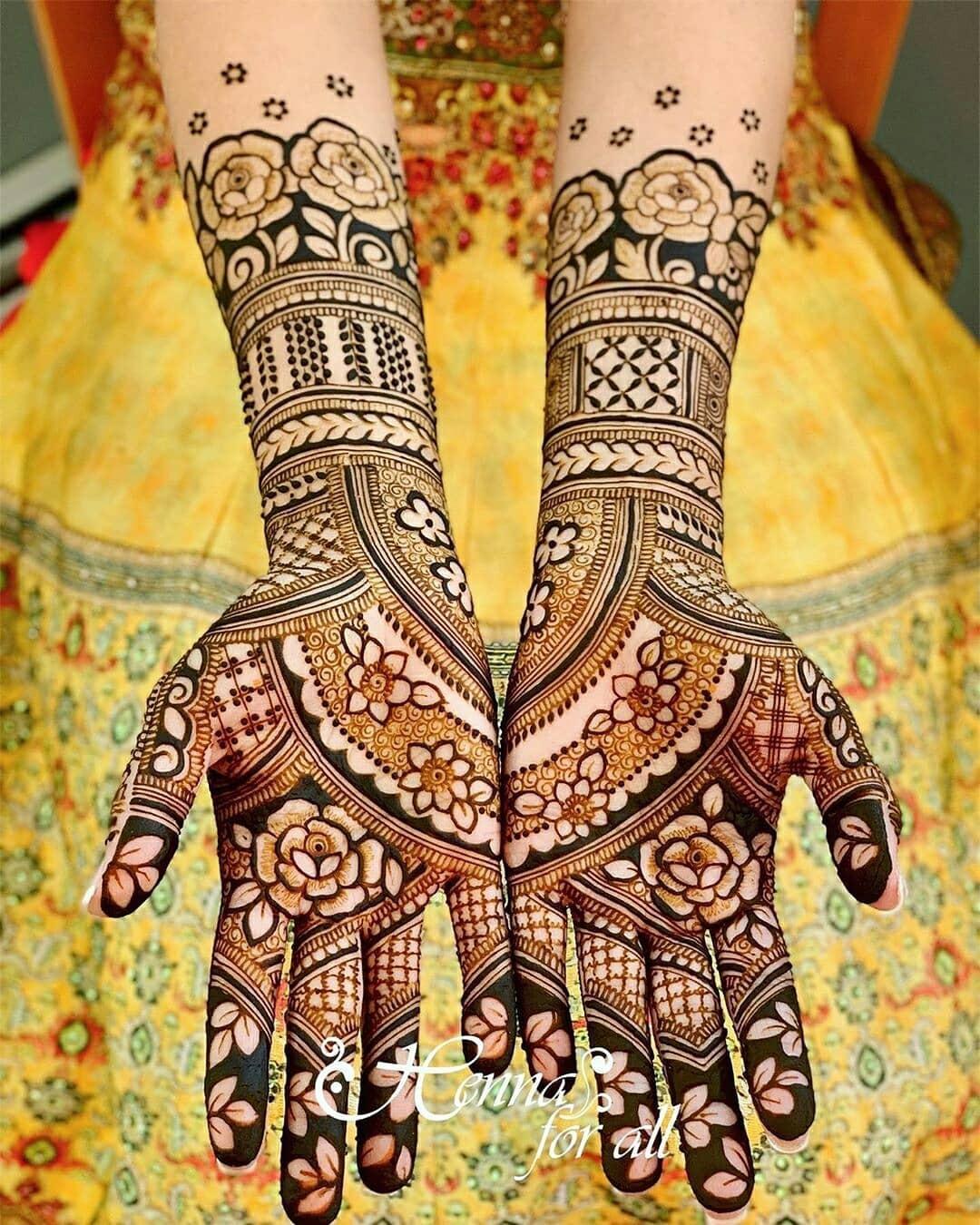 Image courtesy: Henna for all
Roses check. Daises check. Leafy details, check. And a perfectly done set of mehndi designs for hands? Super, super checked.
Sheer perfection, when it come to henna, is a prized art form. If you find such an artist, relish and cherish their hard work. It would be remembered for life.
5. Bringing in the birds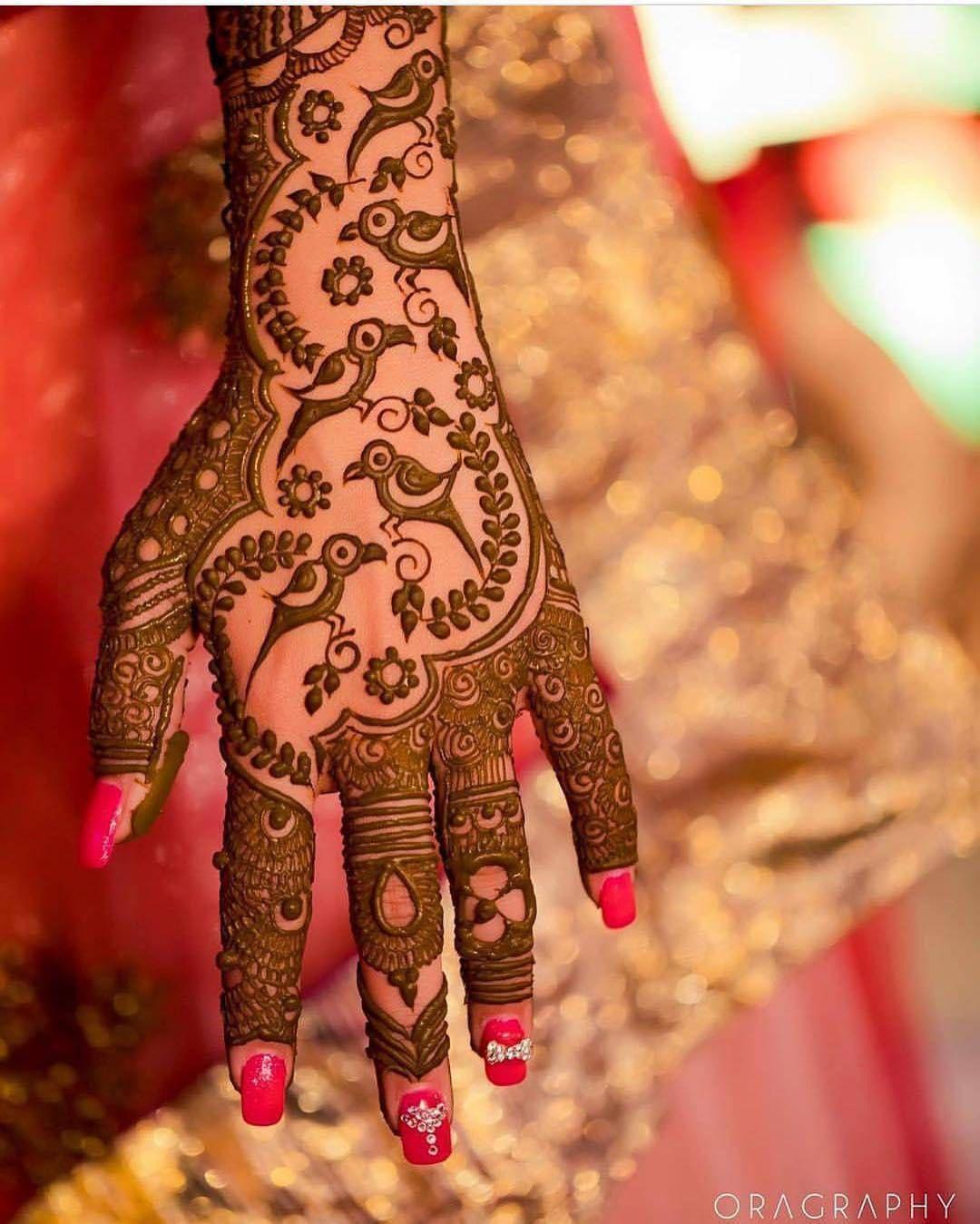 From flora to fauna! Blooms, birds and even elegant animals (from the dainty peacock to a full-blown elephant) often find themselves as part of a blushing (or not) bride's mehndi. Don't believe us?
Here are a few more inspirations:
A. Peacock power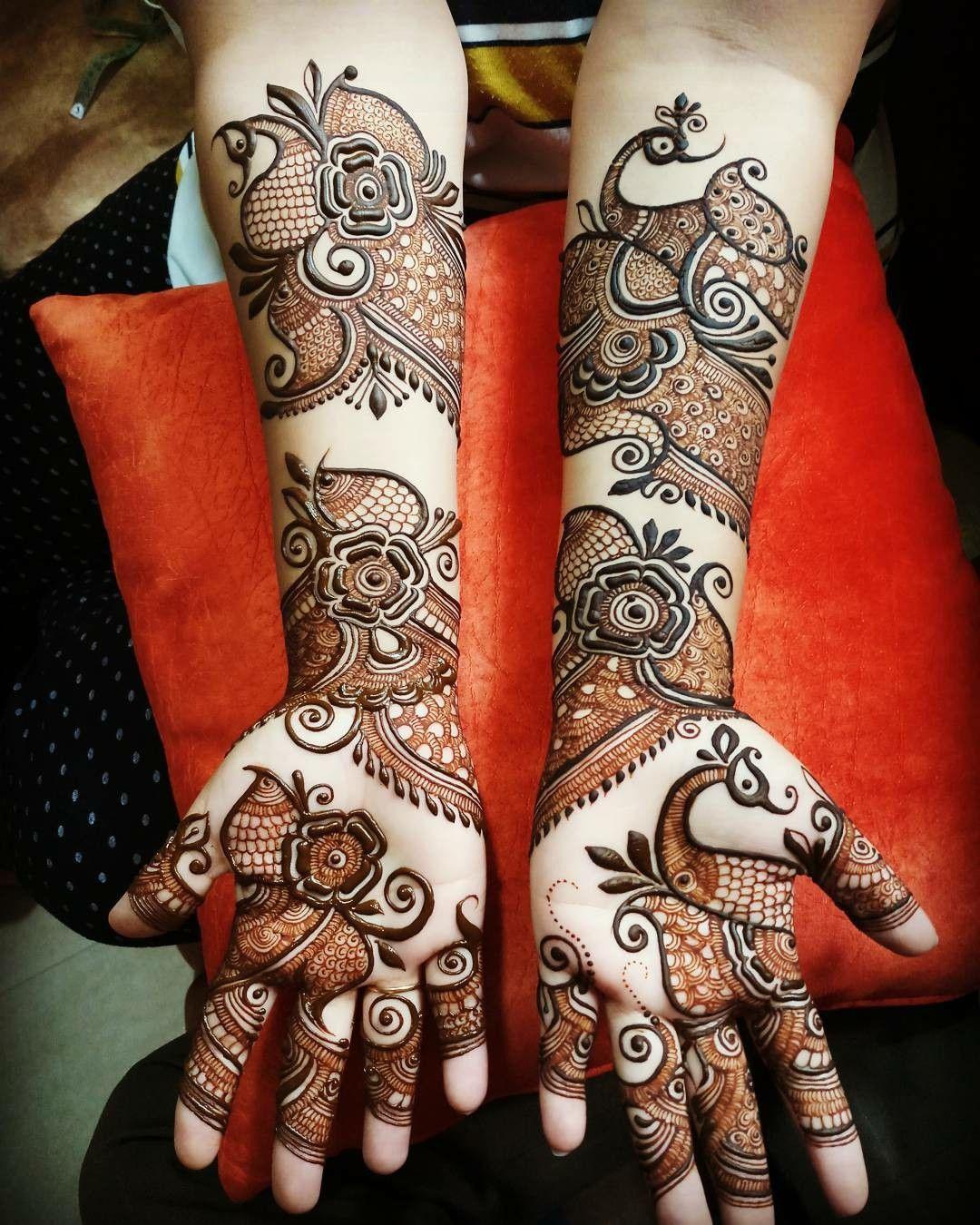 A peacock preening through its fan of feathers is a timeless motif when it comes to mehndi designs for hands. Add to the mystical appeal of the national bird by adding many of them across your palms and arms. Here is one way in which you can do this elegantly.
B. Fans spread out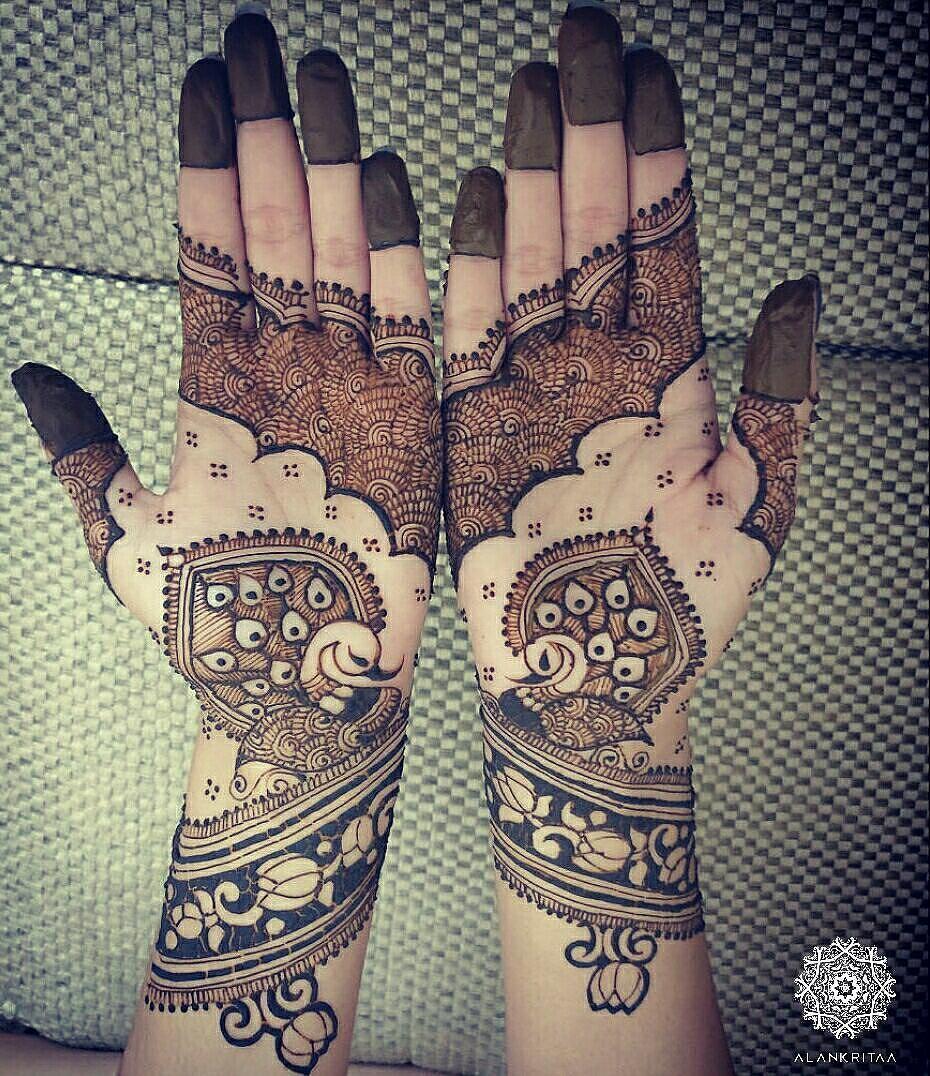 Malhaar moment anyone? The sight of a peacock dancing with abandon in the rains is sure to be sight for sore eyes. Add that magic to your hand with a set of the birds and their spread out fans of feathers.
C. Swan-tastic!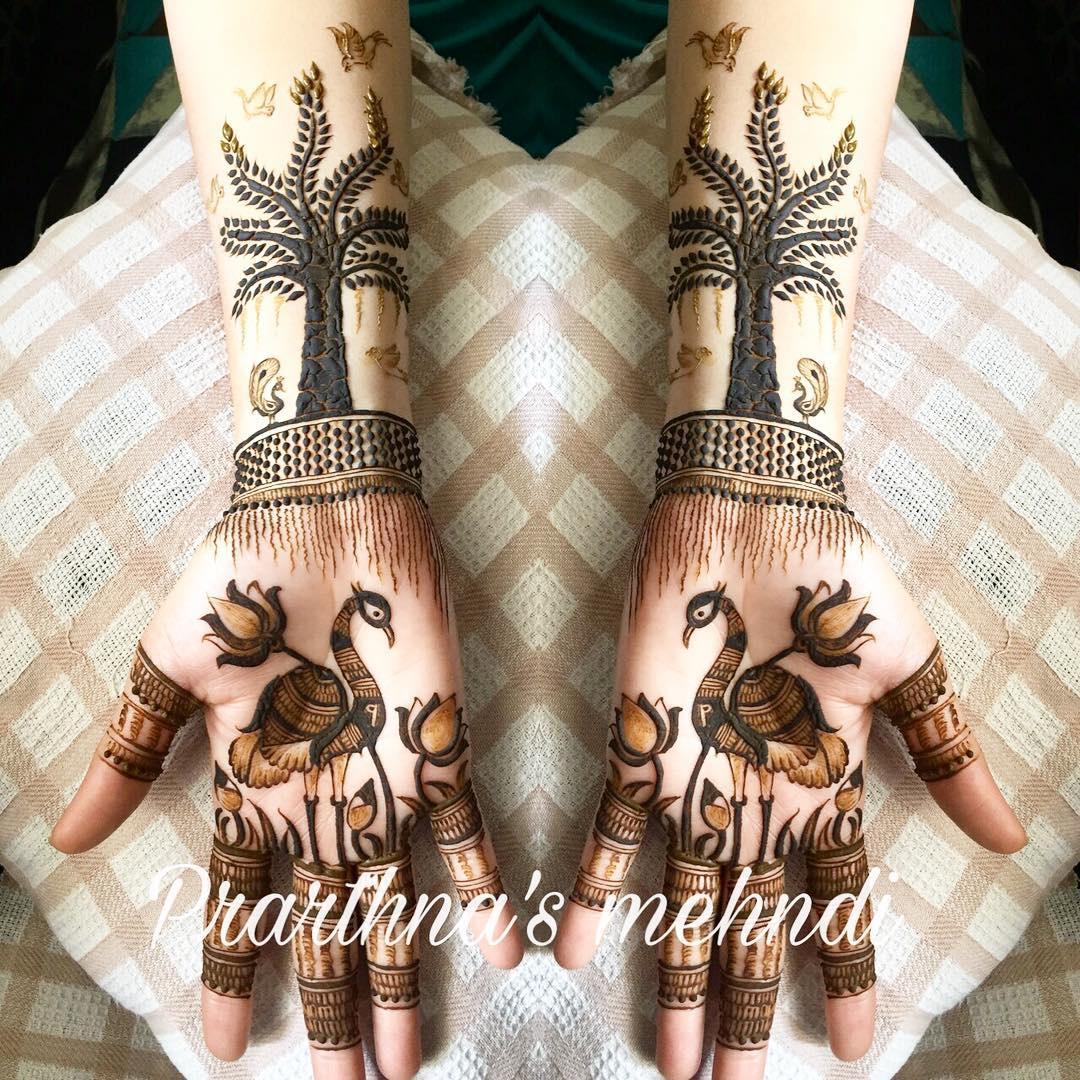 Image courtesy: Prarthna's Mehndi
The swan amid lotus stems is a delicate pattern that evokes the magic of Raja Ravi Verma's paintings and Mughal-style miniatures all in one. Try a shaded version of them as part of your mehndi designs for hands, a la this bride, who sat down for them with Prarthna's mehndi.
D. Parrot away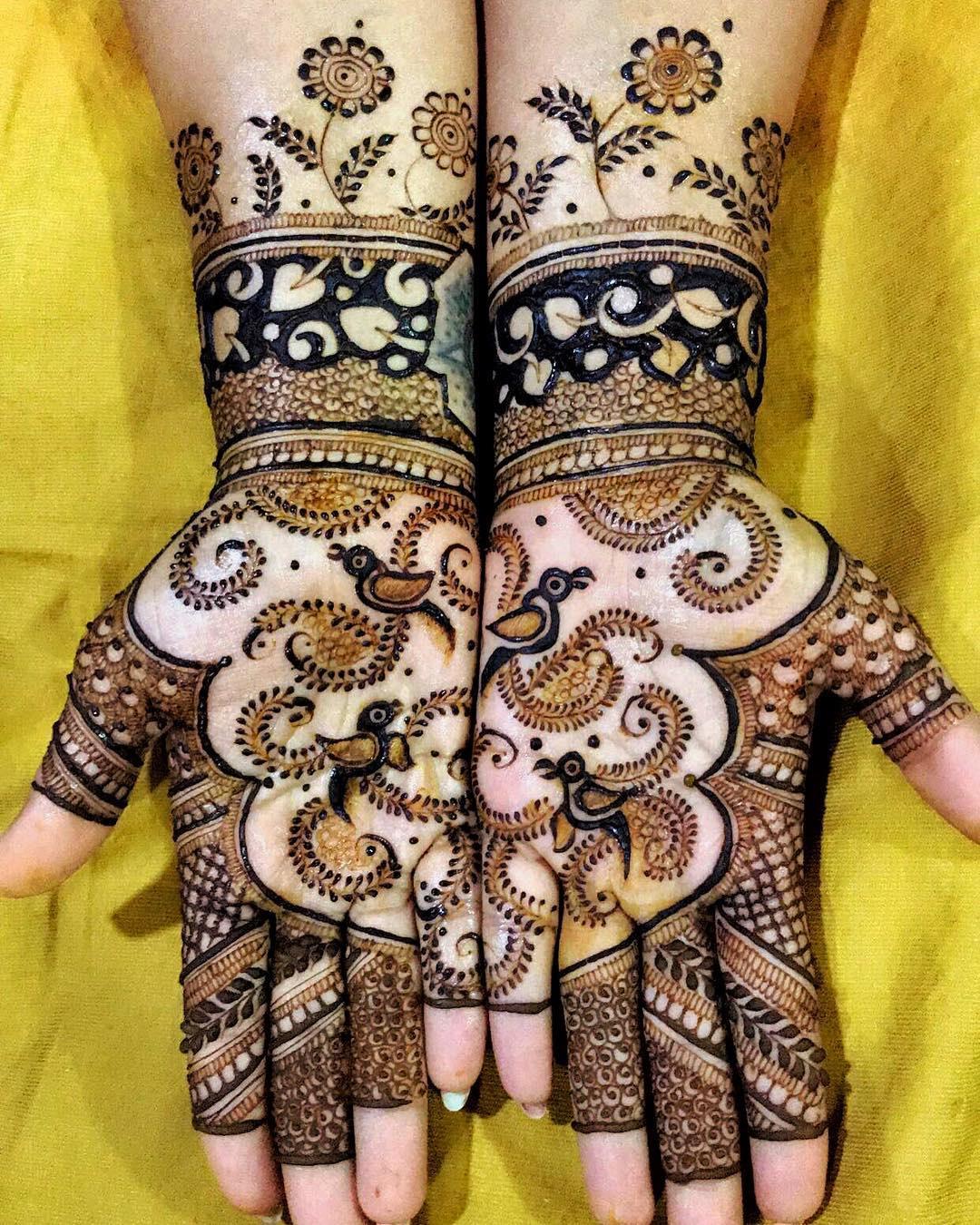 Image courtesy: MeNidhi Artist
And then, there are the noisy and playful parrots. A newer addition to bridal mehndi designs for hands, parrots (be they petite or powerful) add wonders, when done in henna. Don't believe us? Then opt for such a hand of henna designs. They're superbly held together with elements like branches or bird cages.
6. The always-in-sync, mirrored design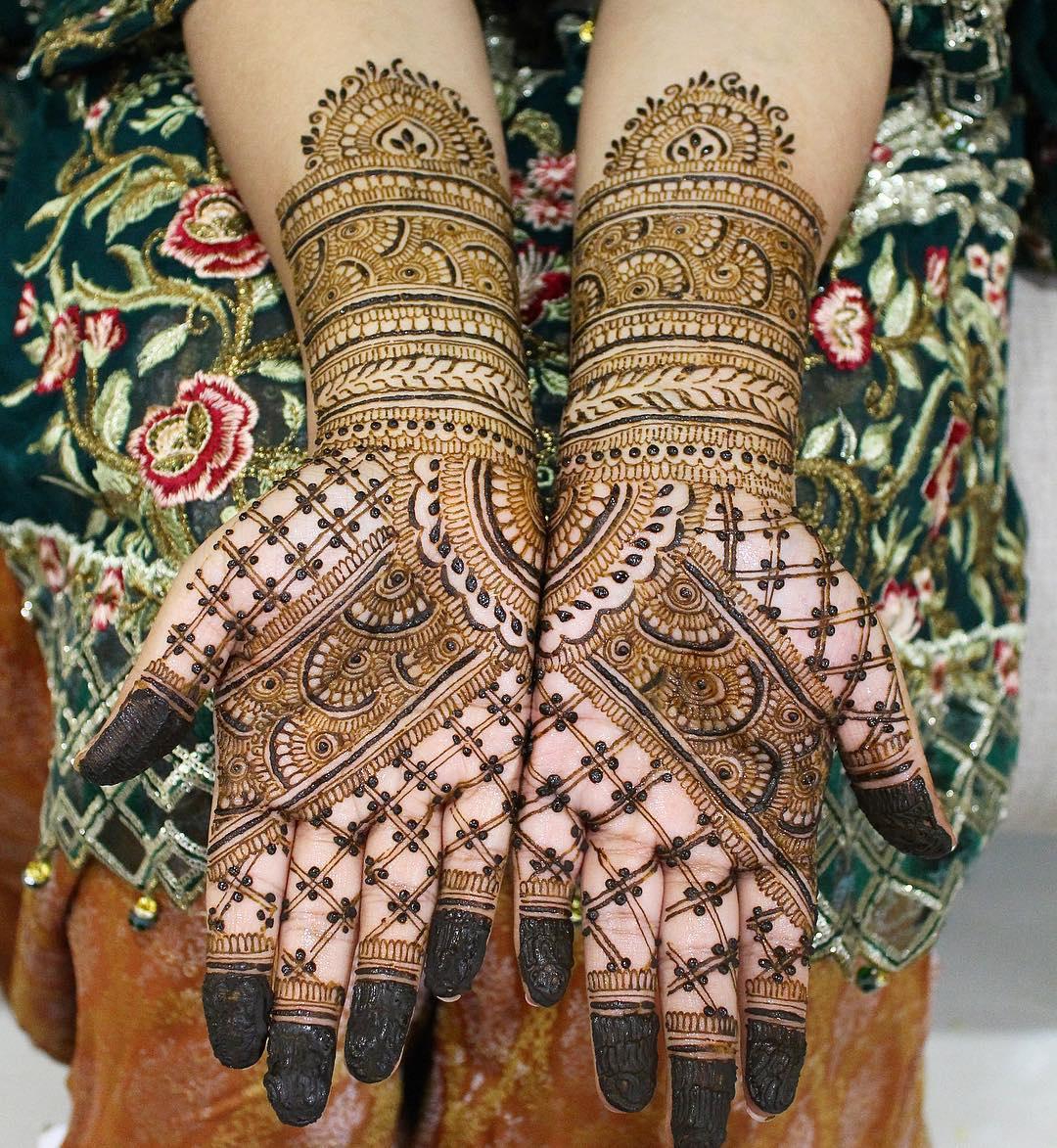 Image courtesy: Henna by Payal
Just like the title, goes, this mehndi design is a replica of each hand design. From the minute intricacies to the major details, everything is right in tally with each other. The design, technique, the pattern is a sheer mirror image of each other.
Symmetry and the intricacies are made for the exact uniform finish. It is primarily the symmetry that makes it extremely breathtaking. It can be said that the mirrored mehndi design for hands is a sheer work of diligence and patience!
Here are some inspirations:
A. Hold em together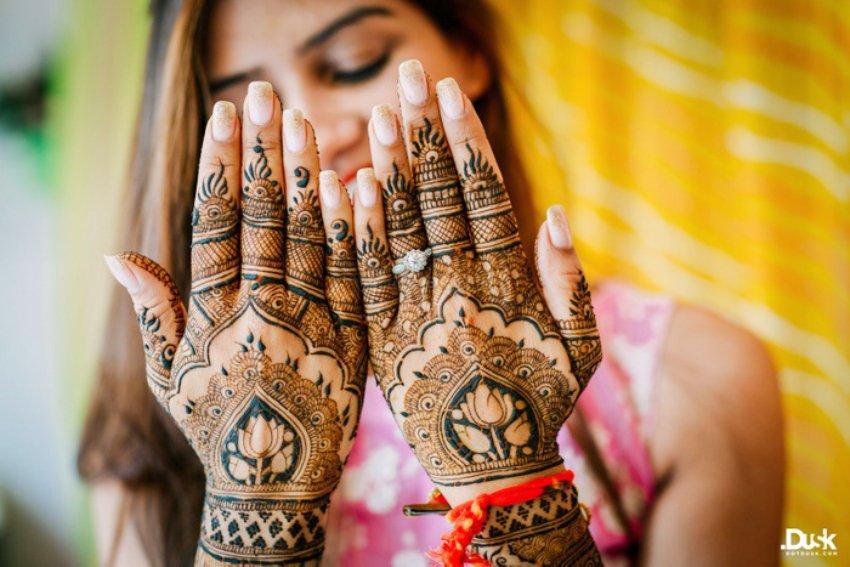 Drawing up a pair of "mehendi " designs or mehndi designs for hands is a task which requires Herculean patience. Give thanks to the artist who chose the technique for these mirrored set of lotus blooms, Jharonkhas, checkered fingers and bands.
B. Fold them out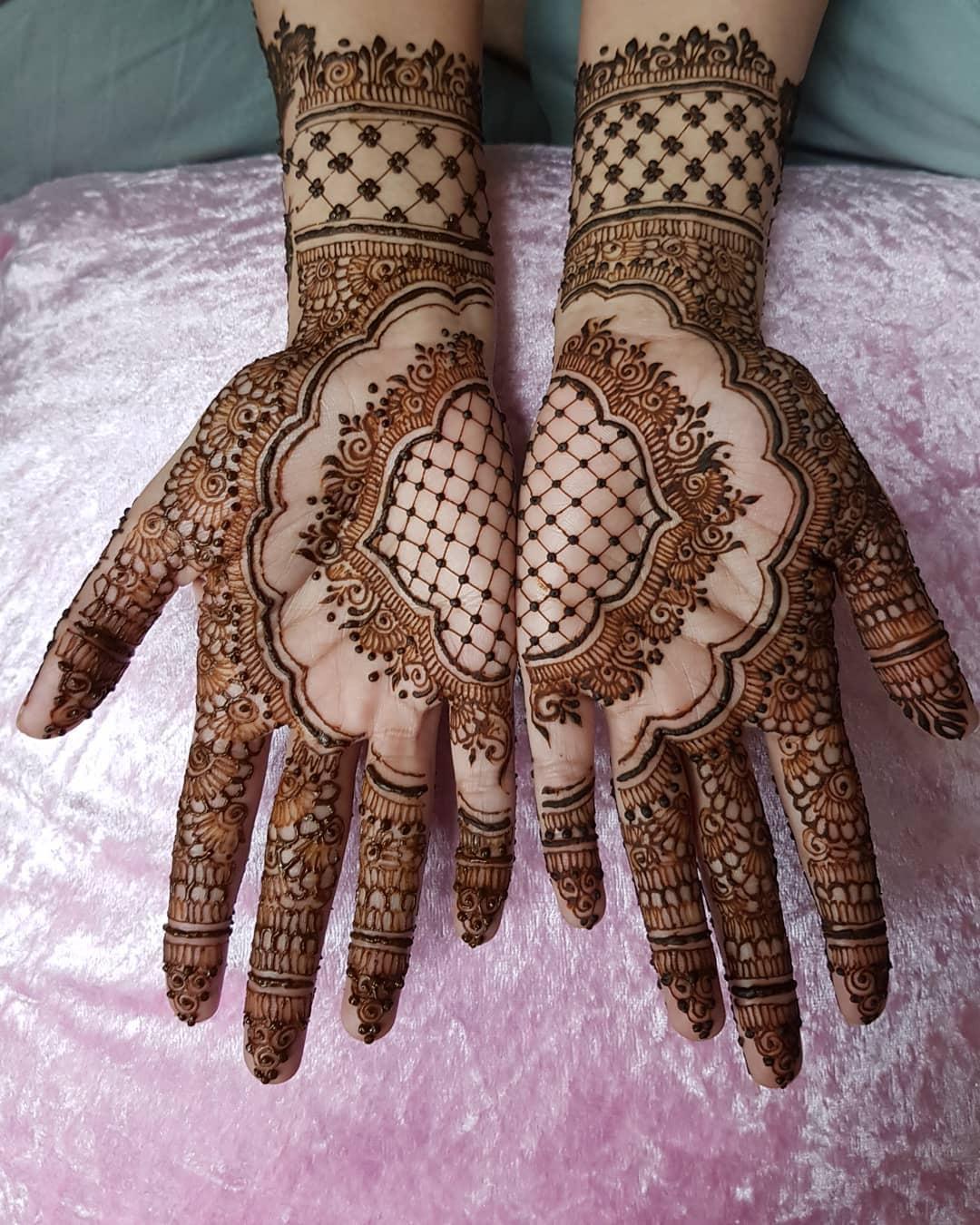 Image courtesy: Mehndi by Samaira
The exquisite plate of henna in the middle with filled in finger mehndi designs is well-worth the time invested into it. Just imagine, using this etched plate design to showcase your set of wedding rings, as part of your photo album!
C. Arms-deep (Ornate and Mirrored)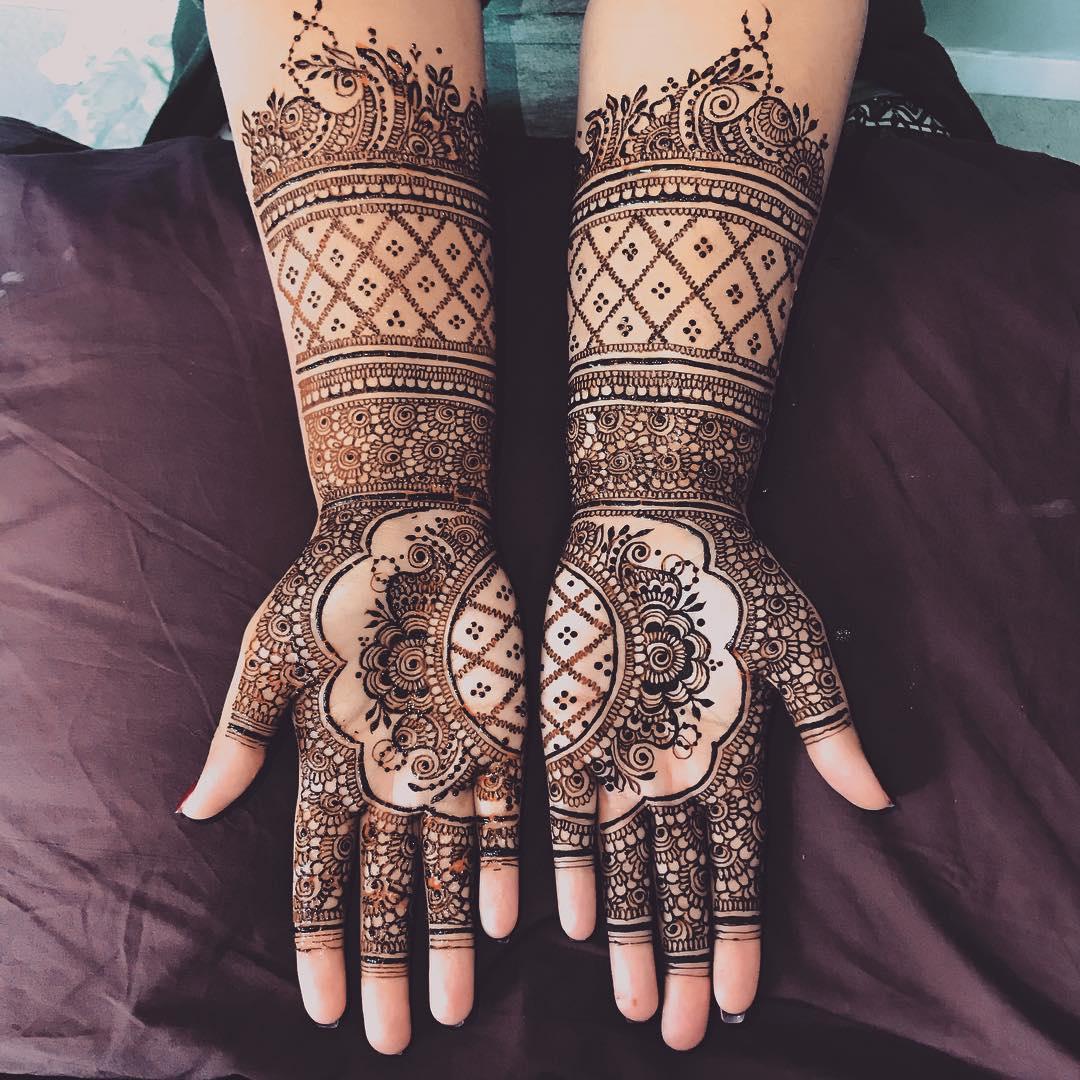 Image courtesy: Henna Mehndi London
Now, this is what we call a work of art! Intricate and detailed, these set of hennaed hands would have involved quite a patient sit down to get tahe central sphere, floral edgings and finger patterns just right. And then, there are the mirrored bands on the arms, with not a single line out of place.
D. Gauntlet up!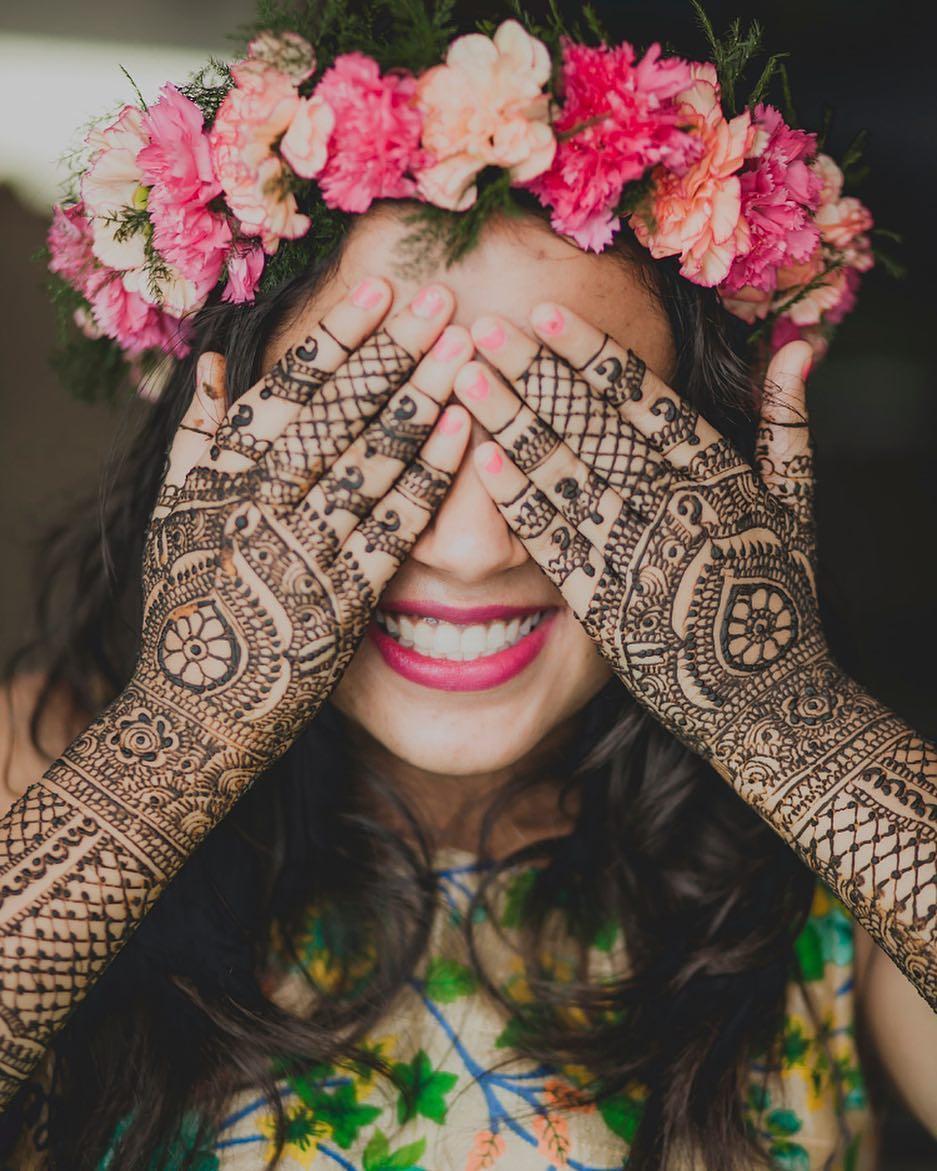 Royal Affairs Wedding
Get your mehndi designs for hands in complete sync with elbow length gauntlets like these. Jaals and fillers hold them up, while a set of Jharonkas anchors them to the hand.
E. Freehand mirrors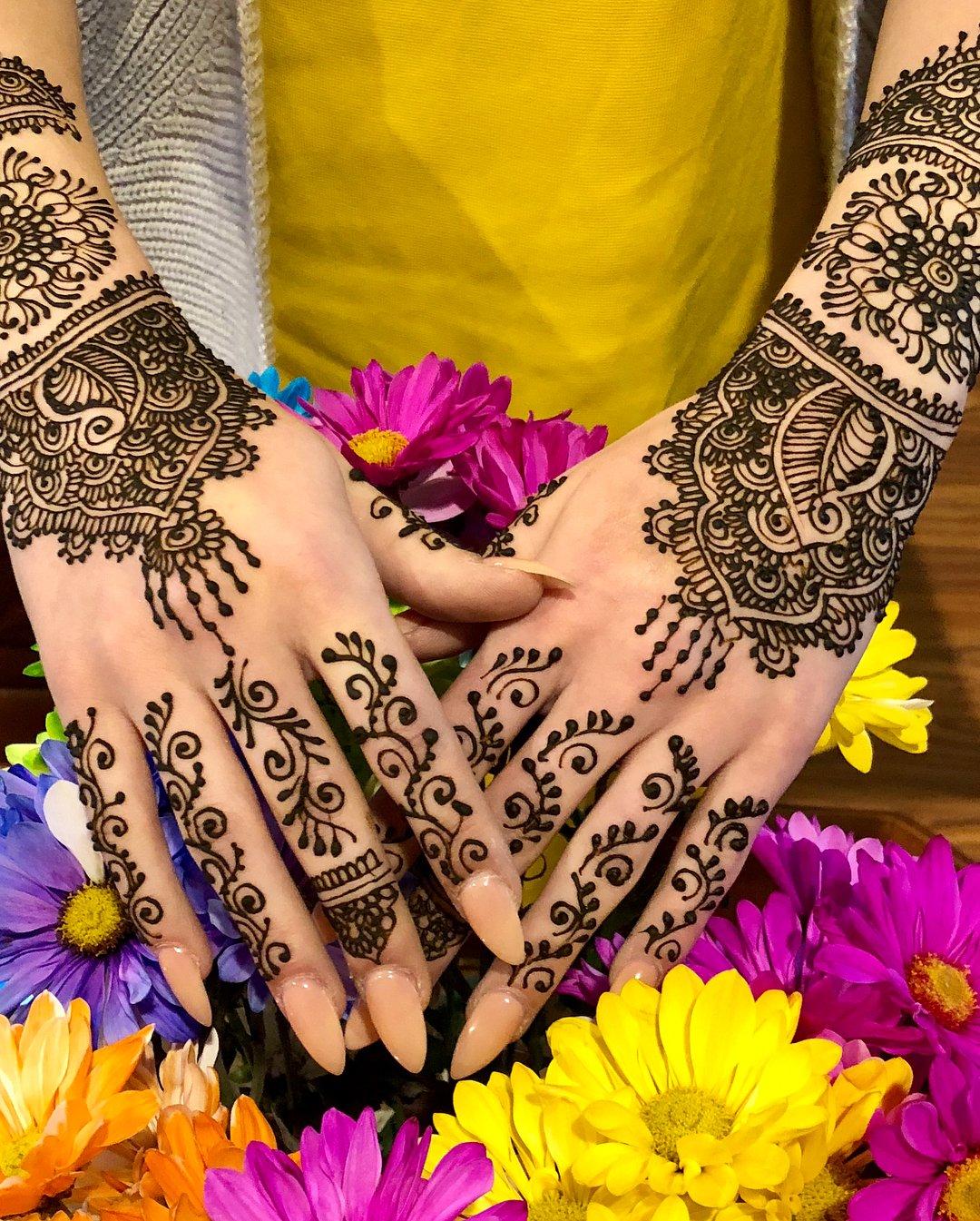 Image courtesy: Archana's Henna
Add a darker shade of henna patterns to your perfectly manicured hands with this freehand approach to minimal, mirror prints - up the fingers, on the back of the hand and up the wrists. The almond nails just add to their beauty.
7. The mehndi design of love – Rose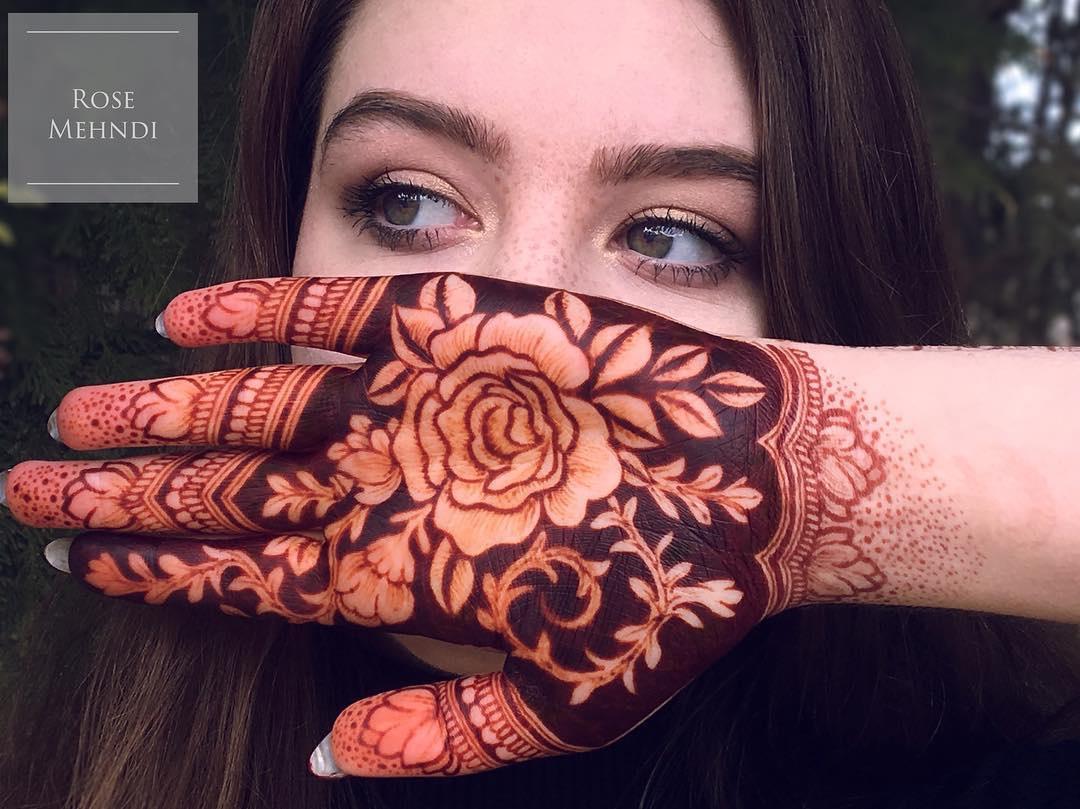 Image courtesy: Emma Rose from Rose Mehndi
What better way to symbolise love than roses? A rose mehndi design for a bride-to-be is ideal in multiple ways. It leaves a deep stain of love just like the flower does and adds freshness to the design of the mehndi. For the newly-weds too, the peak of starting to embrace a new sensation in their lives hold many reasons to adorn the mehndi rose design.
A. Oversized roses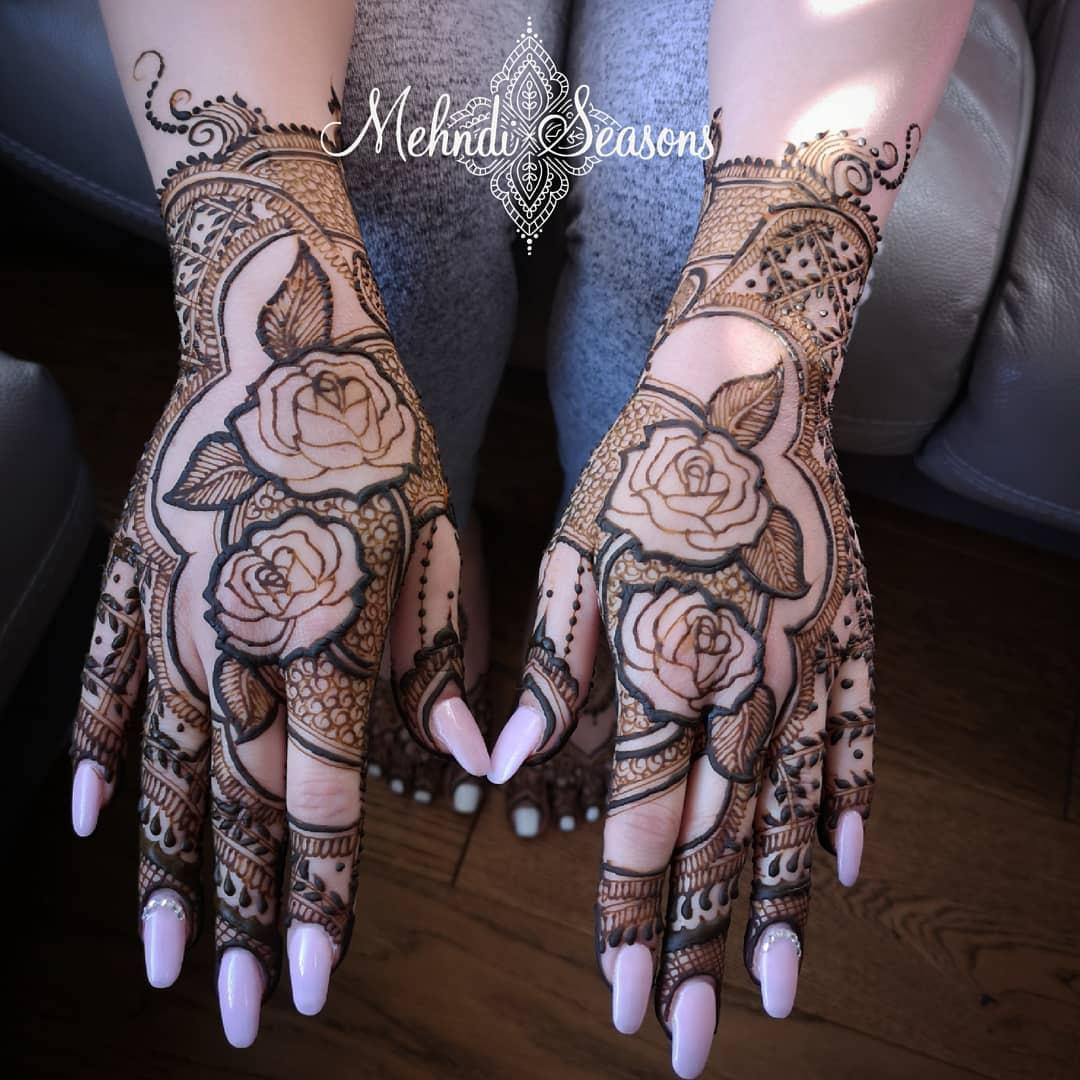 Image courtesy: Mehndi Seasons
Big is beautiful, especially when it comes to roses. And these set of exquisite mehndi designs for hands from across the ocean seal the statement with absolute style. The twin sets of roses hold centre stage with filled fingers and wrists anchoring them in place.
B. Flat circles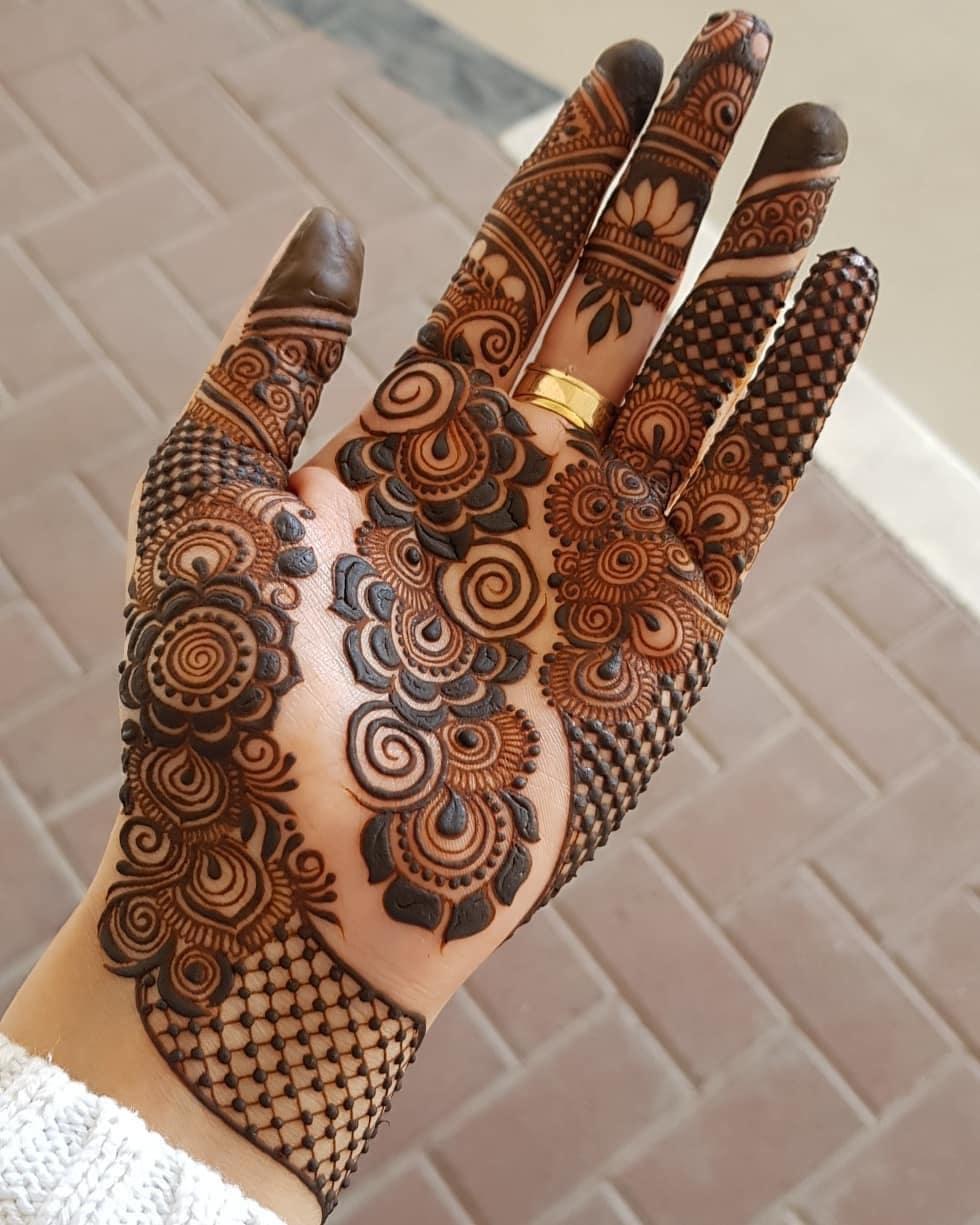 Image courtesy: Mehndi by Hayat
Rose mehndi can also be symbolic in nature. Consider these flattened, 2-dimensional blooms that occupy the centre of this woman's palms.
C. A rose in the middle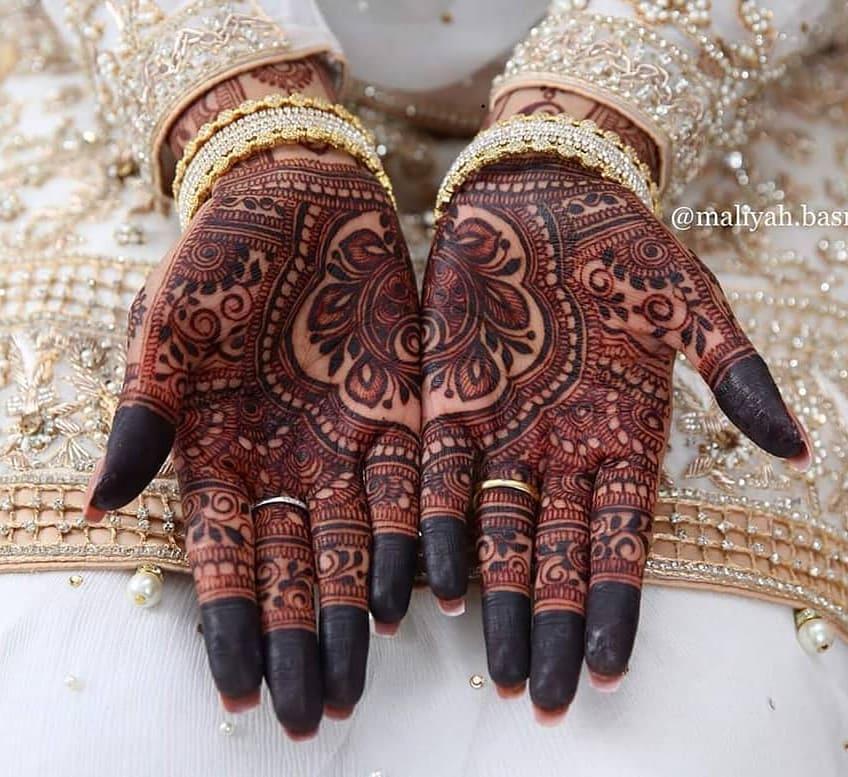 Image courtesy: Maliyah Rose
And then, there are times when a single rose in enough. Imagine this big bloom in the middle, with dark, black mehndi patterns locking it in. It's as good as the bride holding up a single bloom across her beautiful hands.
D. Rosy details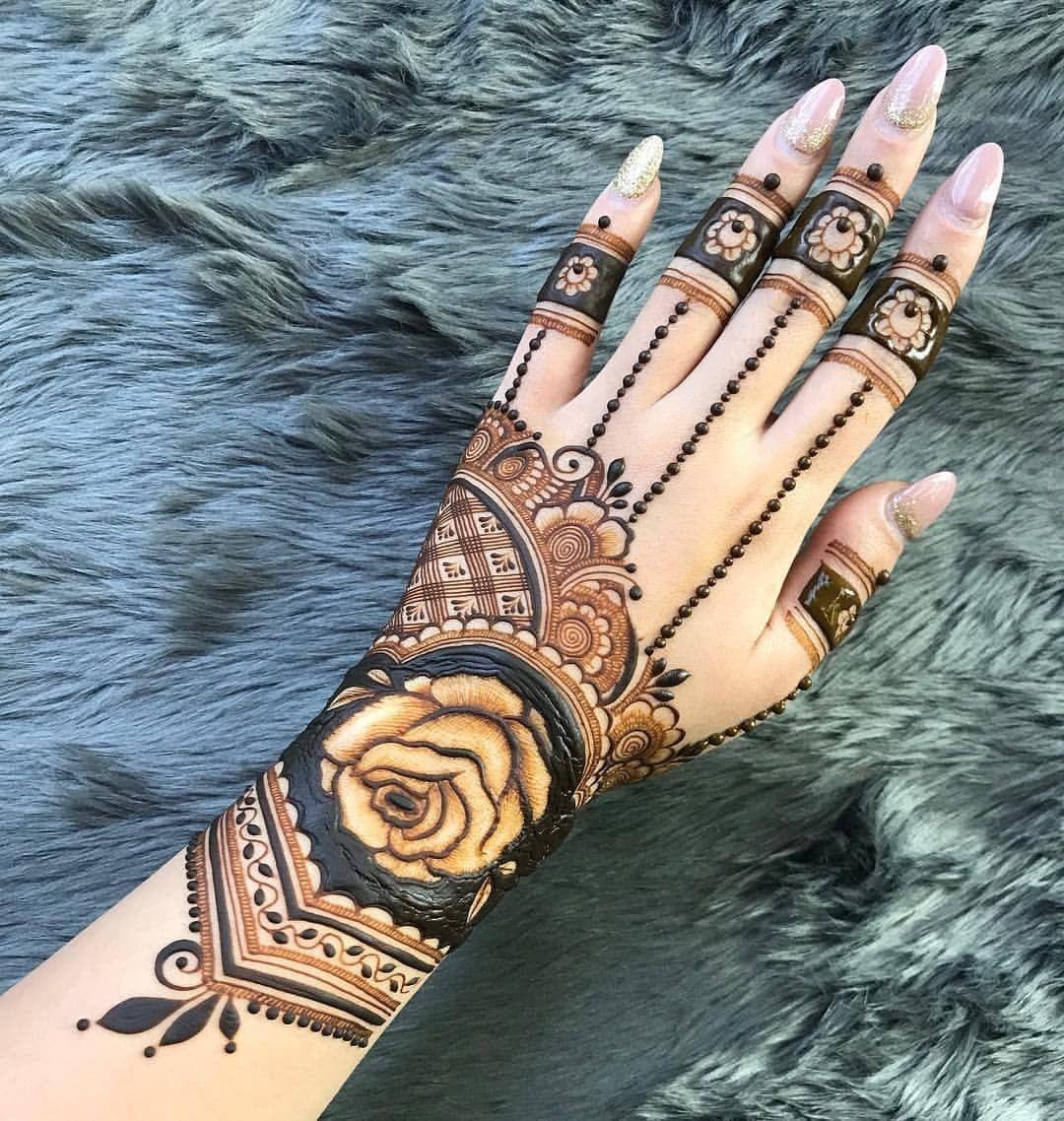 Image courtesy: All Things Henna
For a set of rose mehndi designs for hands, the bloom need not neccesarily rest at the centre of the palm - it can also work wonders as a bracelet. Consider this shaded version of a rose that rests on the wrist instead.
E. Reversed roses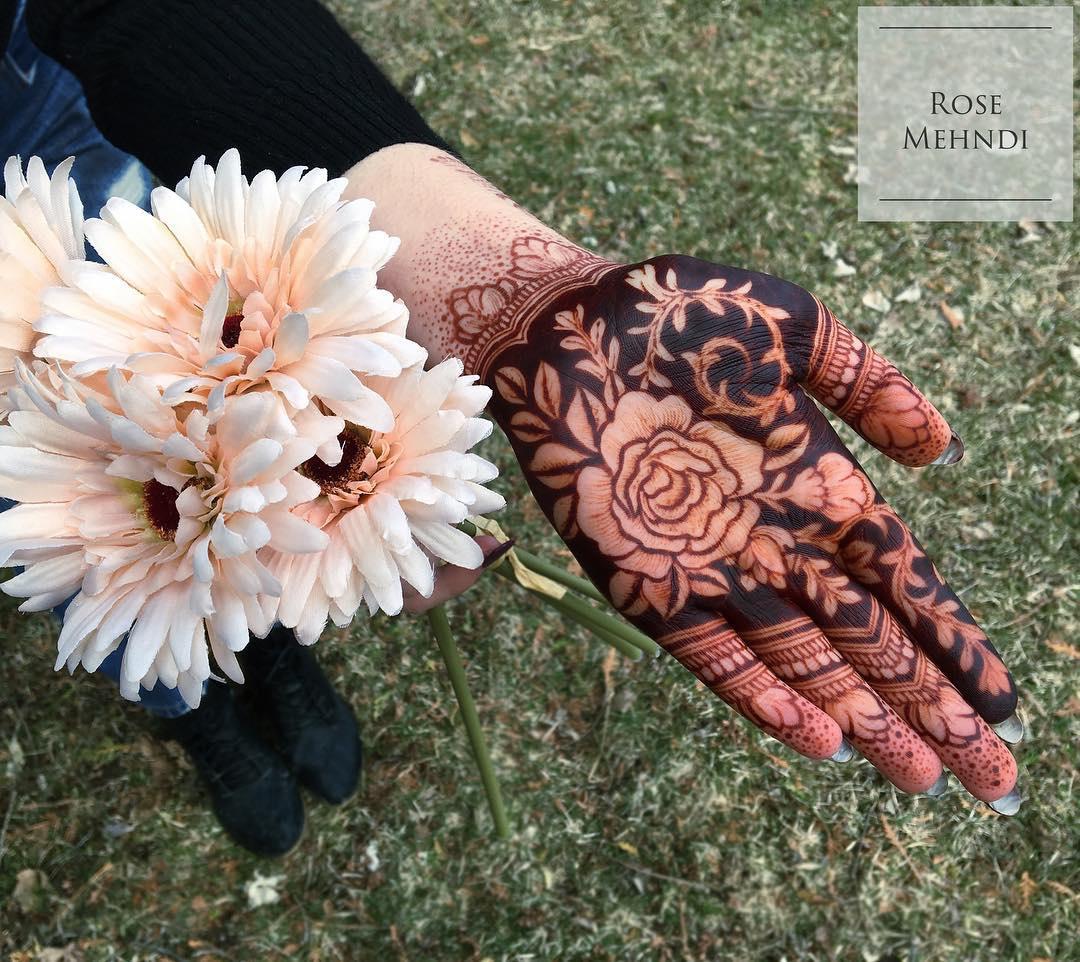 Image courtesy: Emma Rose from Rose Mehndi
While the titular rose does form a major inspiration for the international mehndi artist Emma Rose, we especially loved how she decided to reverse the pattern and yet show all delicate details for this crimson bloom.
8. Line it up - Jaal Mehndi and Vine designs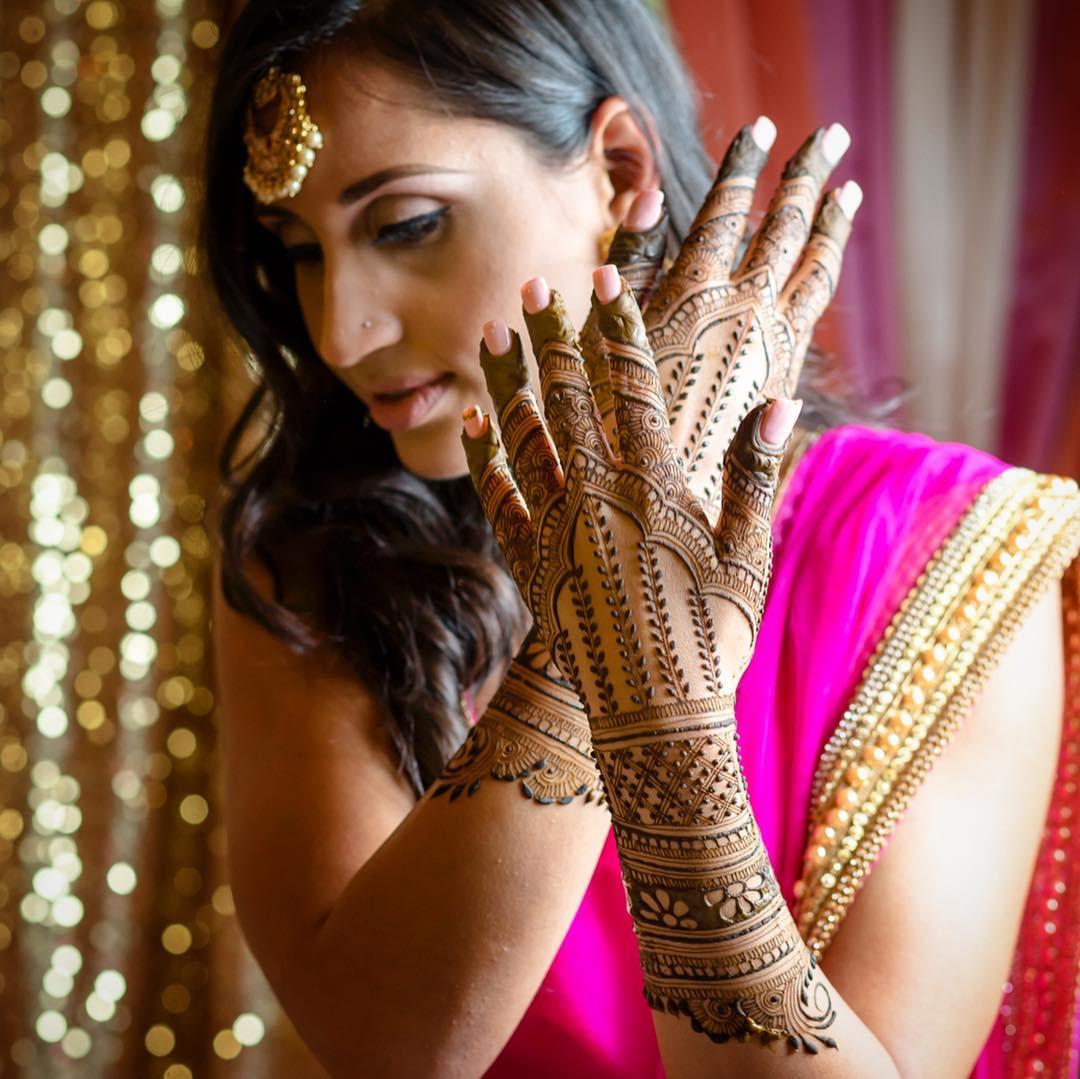 Image courtesy: JSK Photos
A Jaal or checkered print is a perennial favourite filler among mehndi designs for hands, though the motif has a more, modern approach to it now, with exact, clean lines. These patterns fill up a large area or act as a defining cuff, bangle or even ring in your henna story.
Here are a few inspirations -
A. Just the Jaal please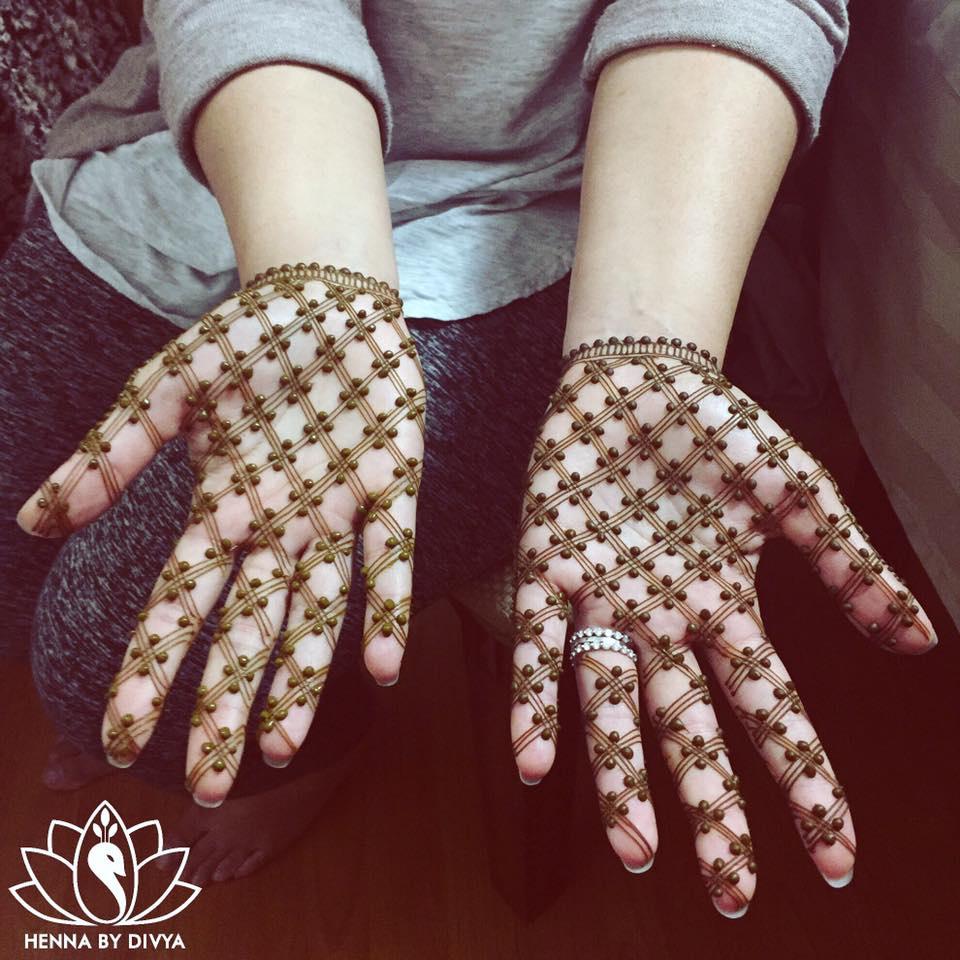 Image courtesy: Henna by Divya
Do you think it's stencilled into place too? These jaal mehndi designs for hands are a basic set of criss-crossing lines, held into place with a set of dots. Perfectly done!
B. Square it up

Spread the jaal of your desires with this set of spread out and crisscrossing leaves as part of your "Mehandi" or mehndi designs. The twig in the middle just makes it more natural and real.
C. Criss-crossed with flowers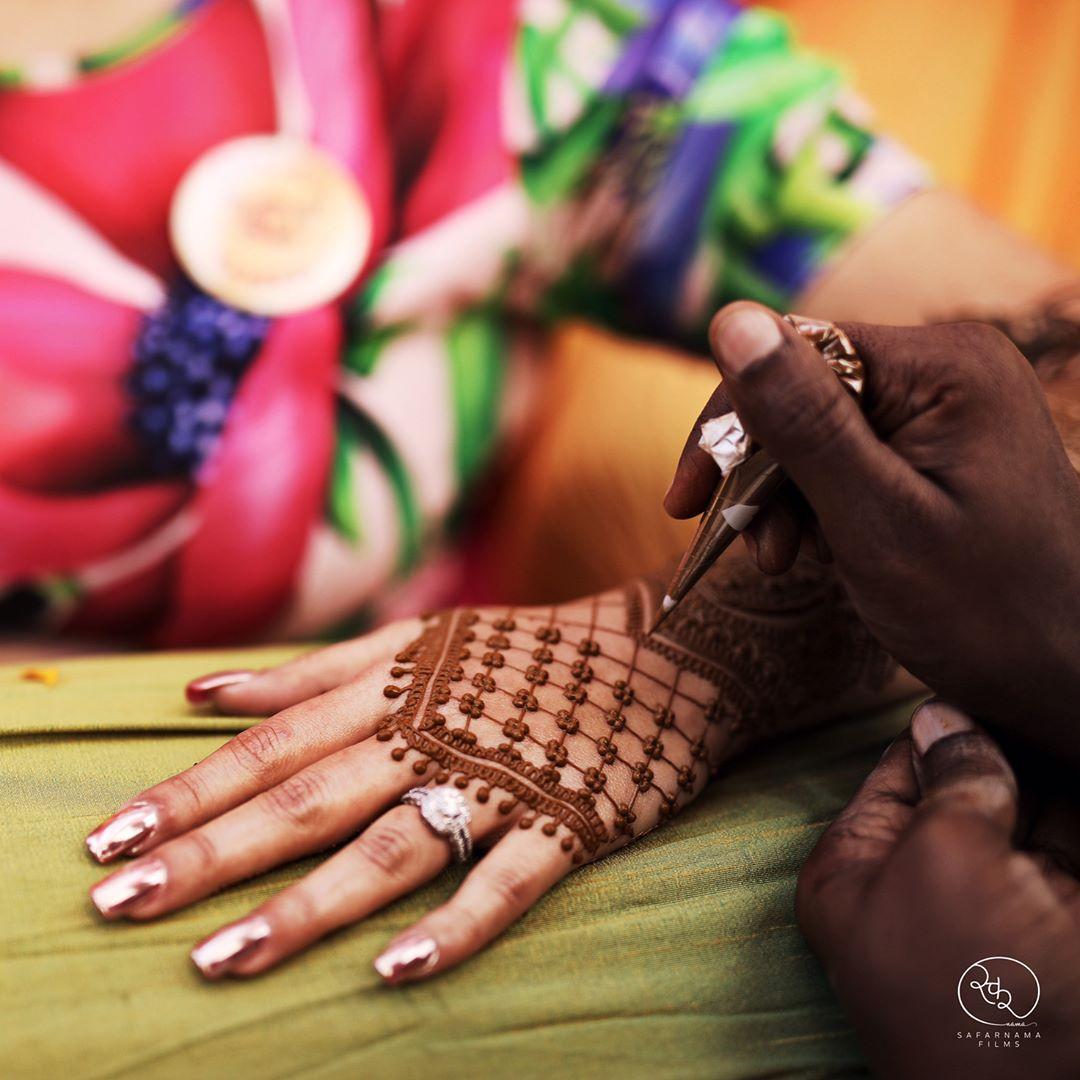 The Jaal chosen can be diagonal in nature, with floral dots (like here) or spread checkered, uniformly across. Both options make for a delightful set of mehndi designs for hands.
D. Strips of the Jaal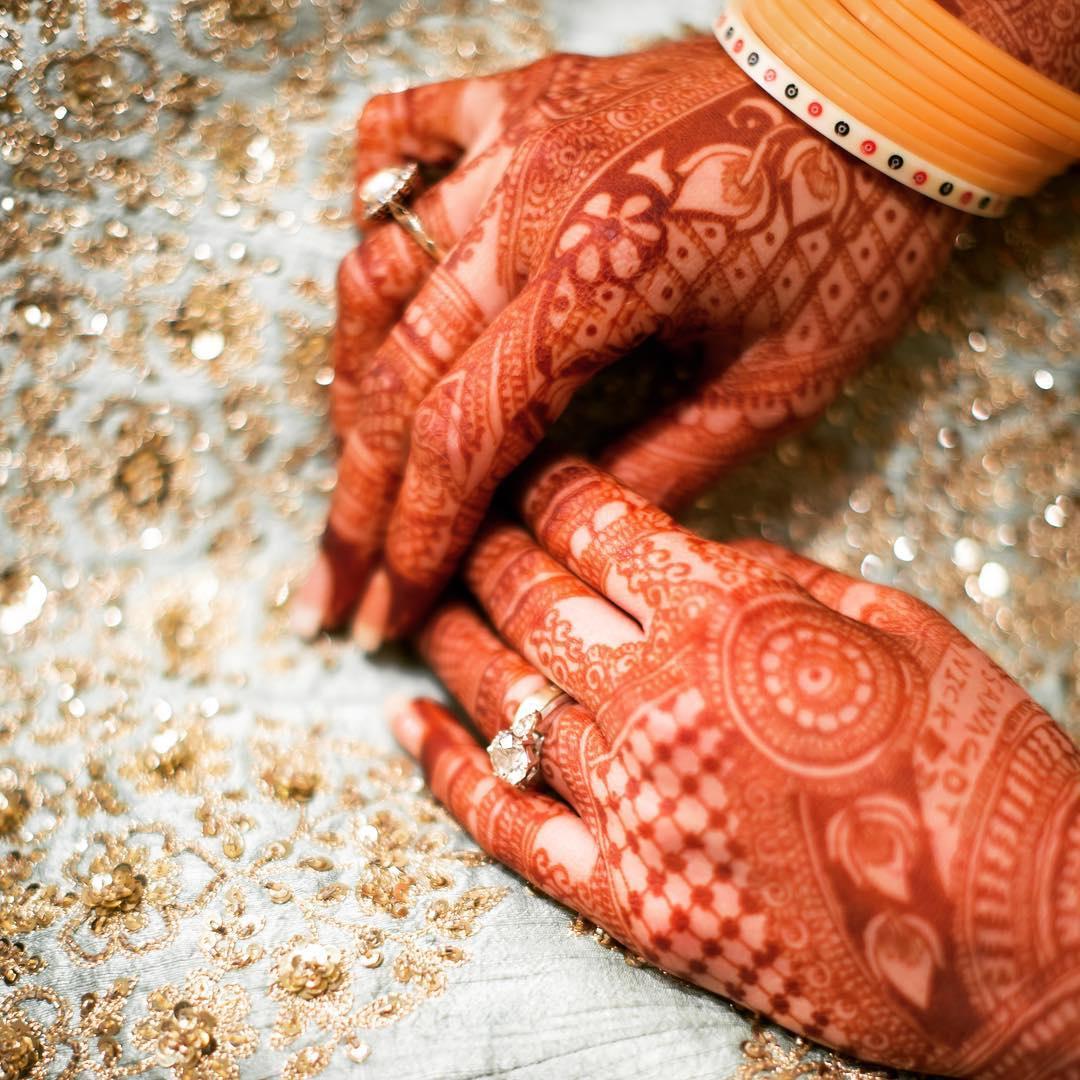 Here is an example of a fantastic set of mehndi designs for hands which incorporate this element. Let the Jaals ensnare the heart of your beloved as he tries to hunt for his name within them.
E. Pretty, perfect patterns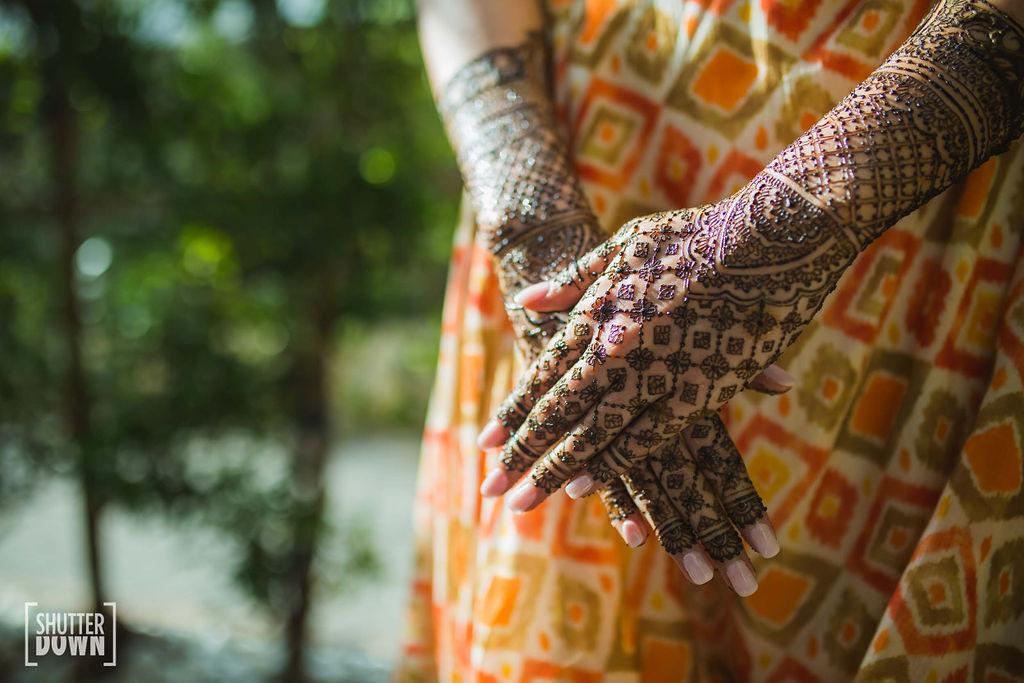 Have trouble breathing? Then let these absolute strands of perfection soothe your soul. The Jaal or Chaadar elements begin at the fingertips, till the wrist cuff, where another, more intricate pattern takes their place.
F. Back hand geometric patterns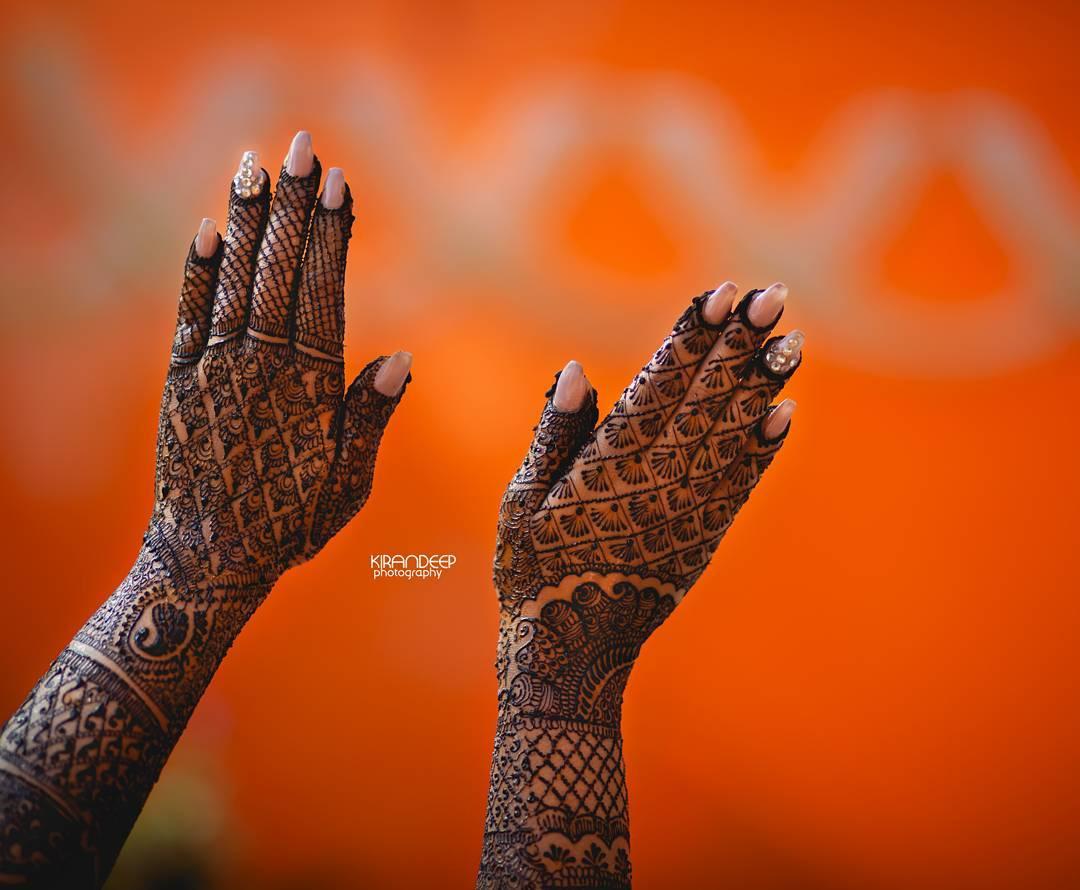 Divide your patterns into neat squares with this style of henna. Such "mehendi designs" cover a lot of space, remain intricate and delicate and automatically elevate a basic mehndi pattern into an ornate set of hands. Absolutely worth it.
9. Just the fingers please - finger mehndi designs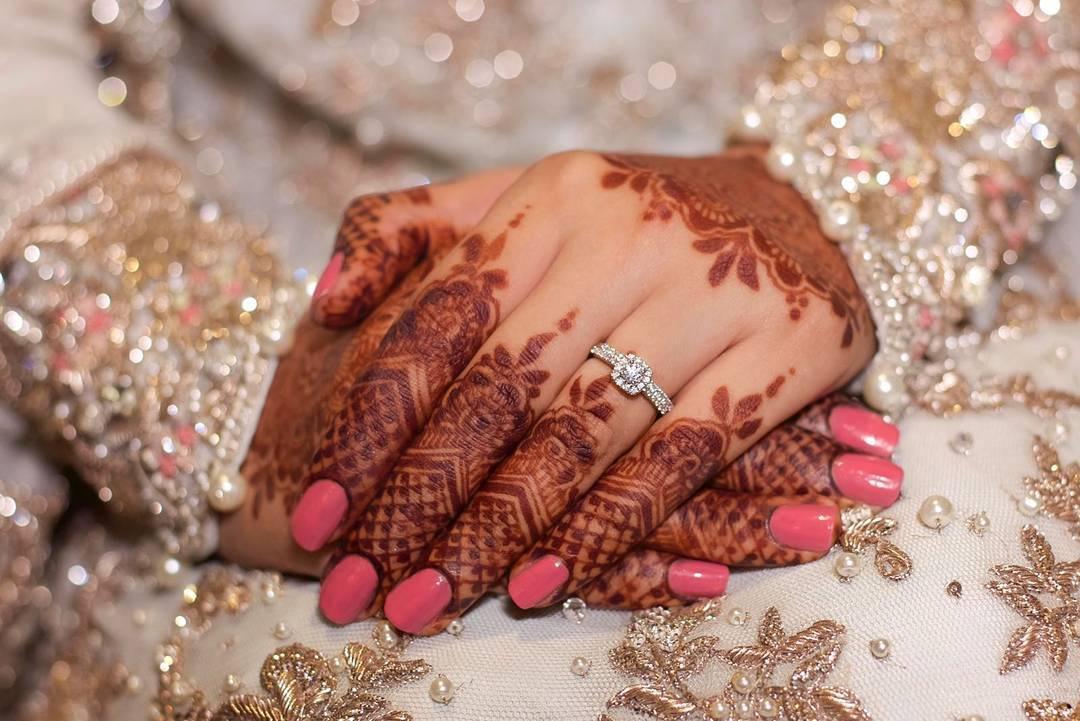 Image courtesy: Syeda's Henna as captured by Sarah Slimani Photography
For the brides who are not exactly henna people, those who wish for their manicured hands to be done in a jiffy and those who want to try something different and new - we hear you! Shatter the illusion of your mehndi designs for hands being an effort in patience, by choosing henna only for your fingers.
Indeed finger mehndi designs and finger henna inspirations work for most brides and bridesmaids. They also lead to a spectacular set of hands in your wedding pictures.
Don't believe us? Keep scrolling!
A. Drop the roses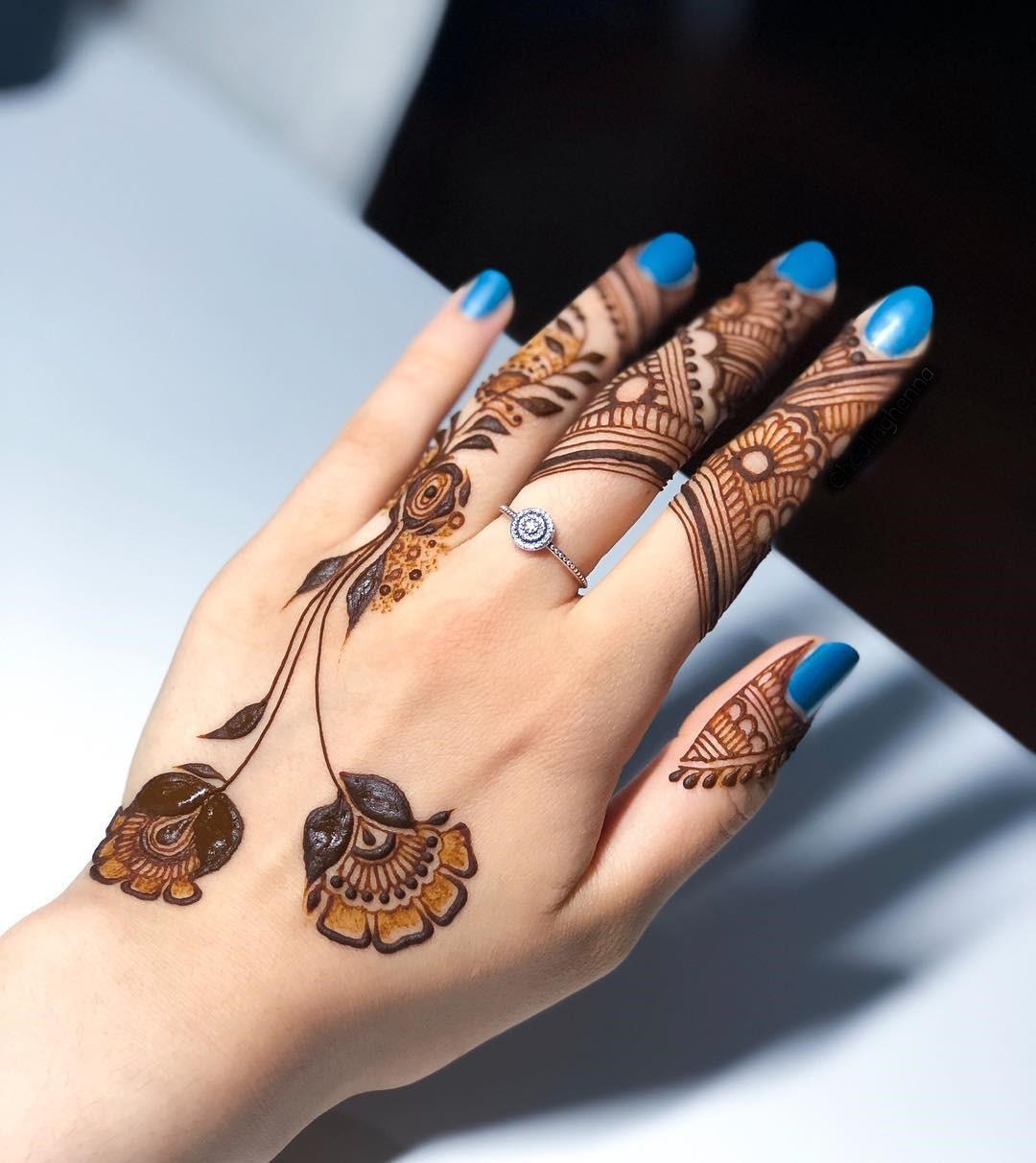 Image courtesy: Healing Henna
Keen on your henna for your hands but not the time that it involves. Allow the magic of finger mehndi designs to play over your appendages, in bold, diagonal texture swathes like these. And then set them apart with one statement print - like the two rose drops that this artist chose to draw.
B. Threaded vines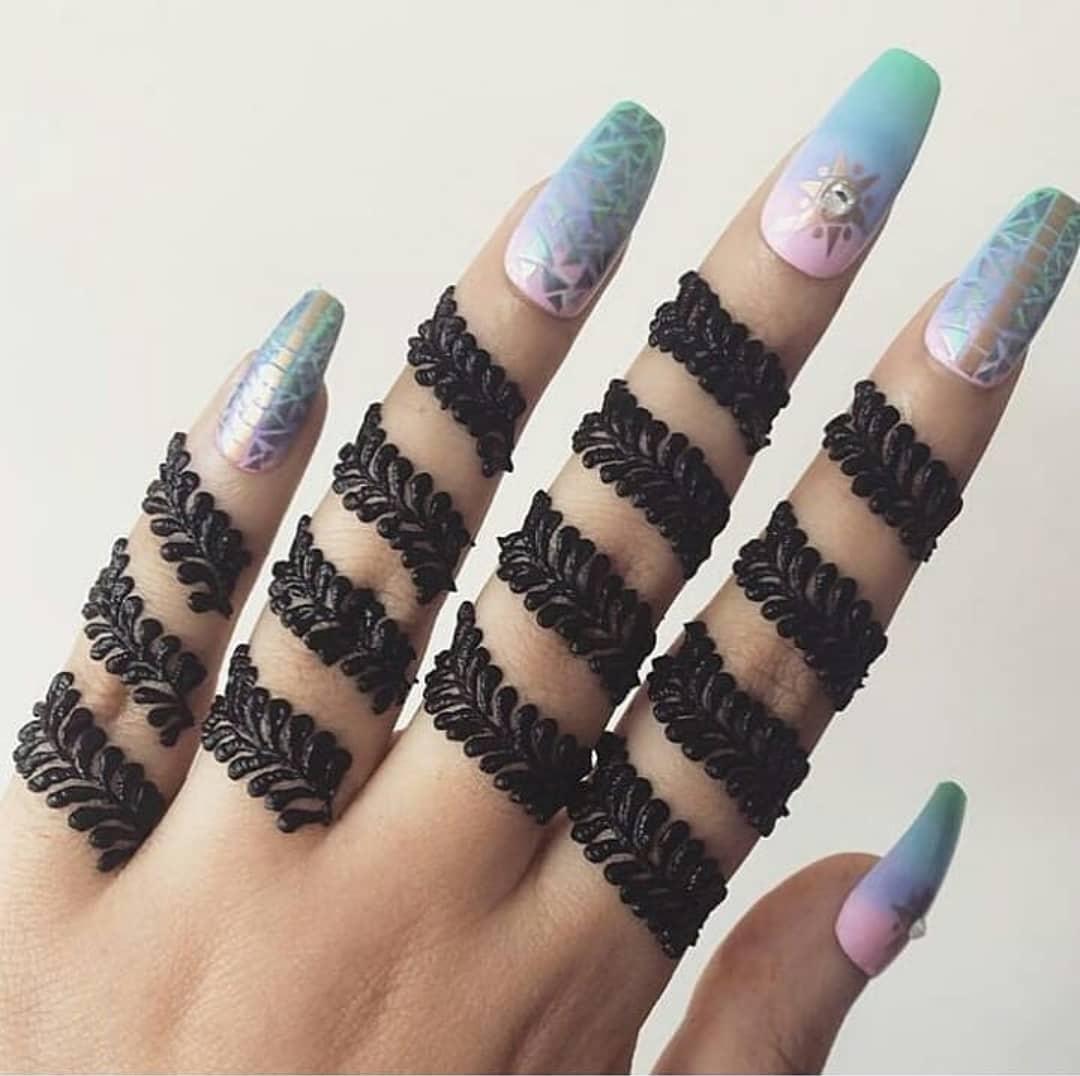 Image courtesy: A Beautiful View
Think Victorian vines act only as good Henna fillers. See how they took to the stage on their own, with this set of threaded fingers.
C. Capture the spring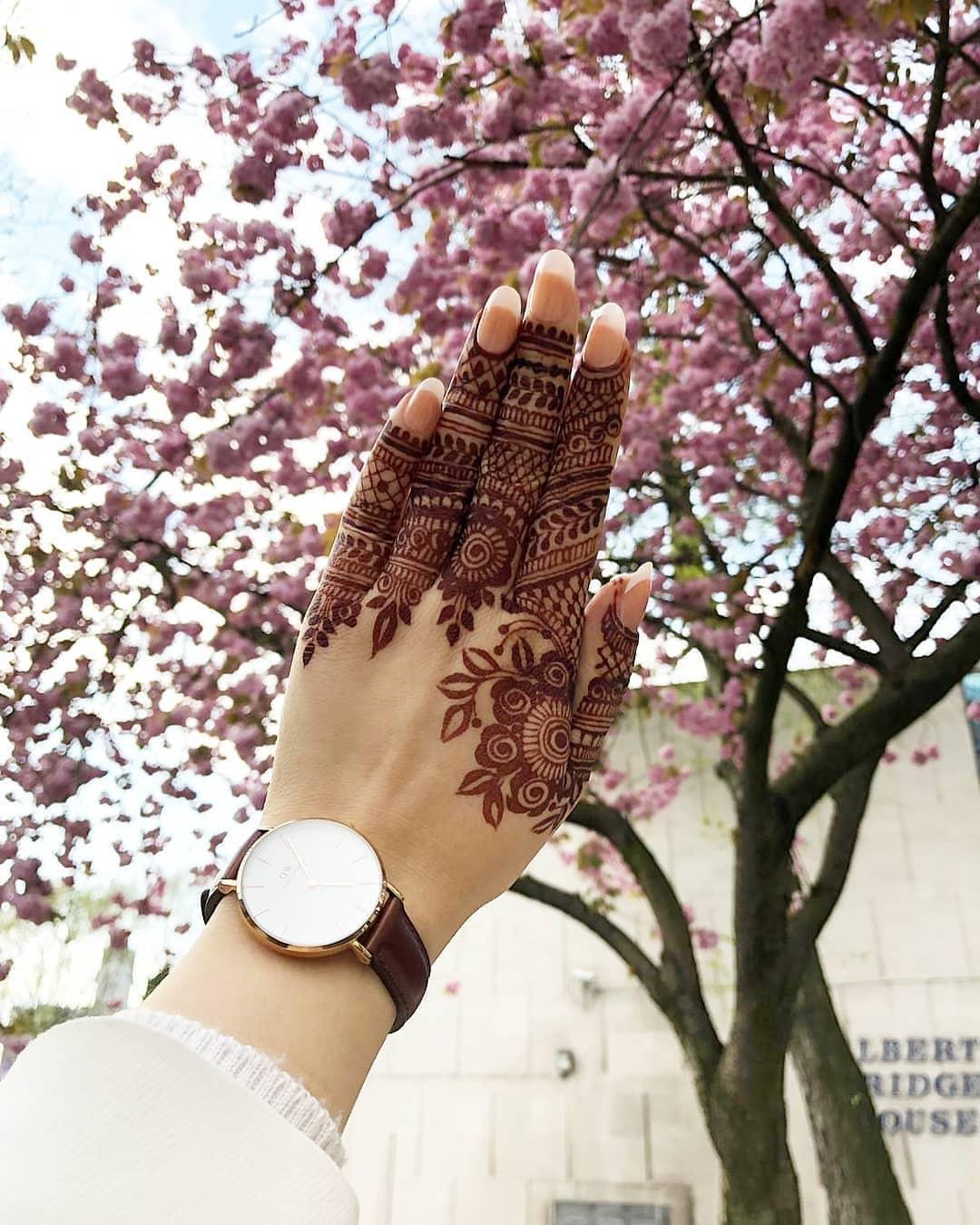 Image courtesy: Trendy Blogger 2
Like an intricate pattern and want something new? Then this set of mehndi designs for hands is magically perfect for you. The enmeshed print with Jaal, floral and vine details is a bit of everything and yet remains restricted to just your fingers.
D. Bejewelled hands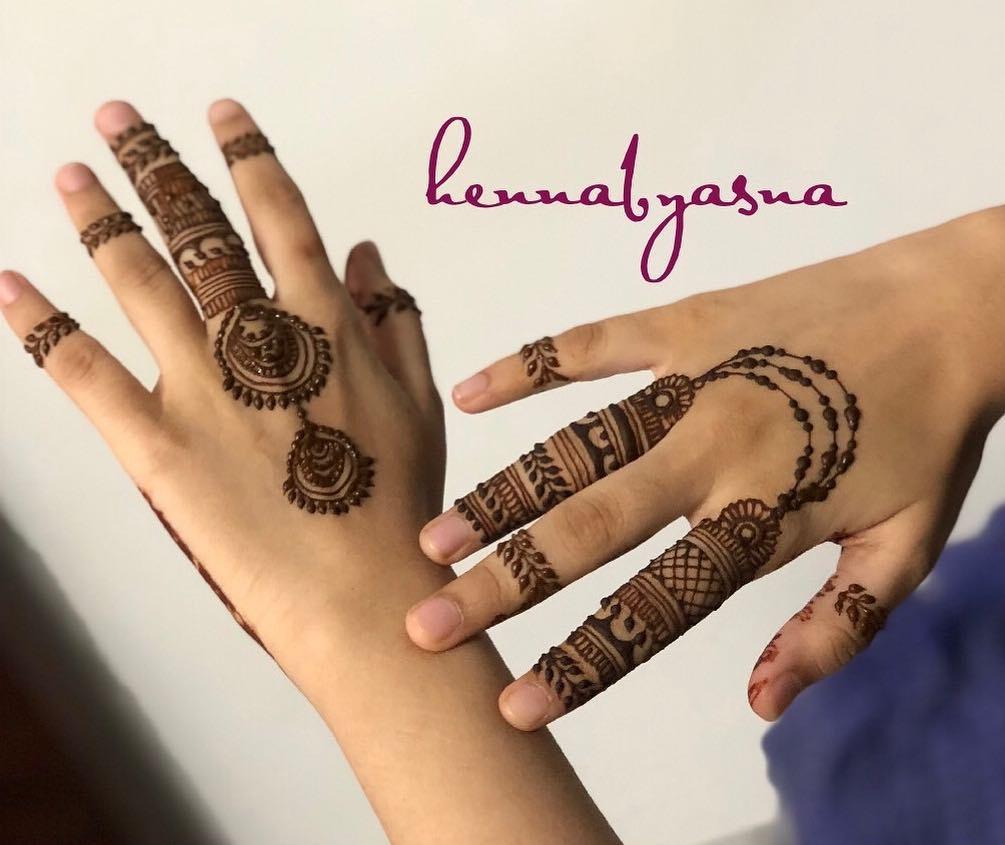 Image courtesy: Henna By Asna
Bring your bauble fantasies to the front by adding jewellery mehndi designs and motifs to your mehndi designs for hands. And there's no better way to do it than to place them dangling from your fingers in the second dimension.
E. Rosy vines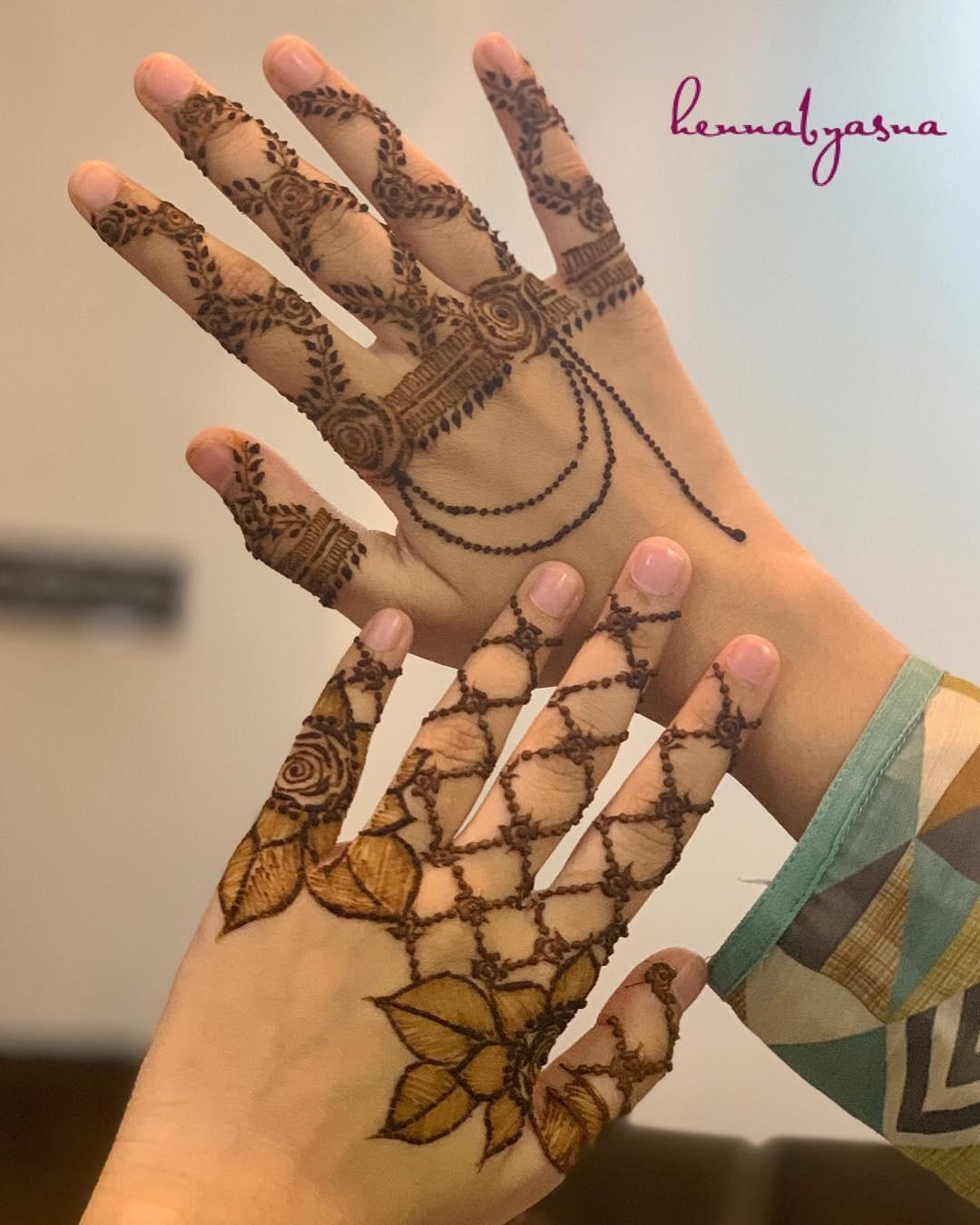 Image courtesy: Henna By Asna
Floral vines combined with rose mehndi motifs and patterns? Yes, true bliss exists in henna designs. Fulfill your fantasies with such combinations and have your loved ones fawn over these delicate, simple and yet exquisite patterns.
10. The vibrancy of colours in mehndi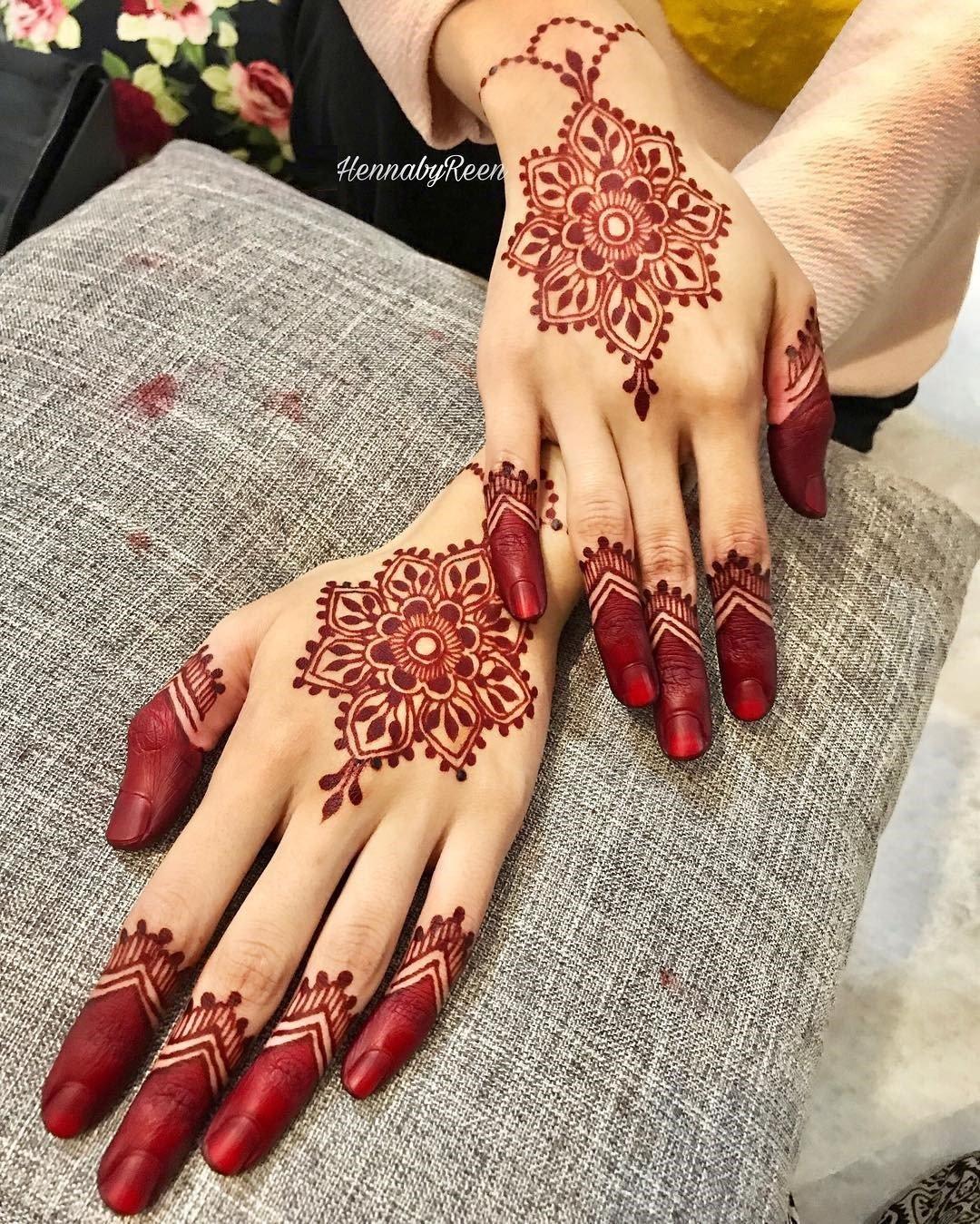 Image courtesy: Henna by Reen
Now we are ready to open your eyes to a host of colours when it comes to settling for the one set of mehndi designs for hands for your big day. Apart from the conventional orange and brown, brides are now choosing for a wide range of colours for their hennaed hands - from a crimson red to dark ebony, a white to gold. Even glittery mehndi designs are all fair game when it comes to choosing that perfect set of body art patterns for your hands.
With more and more brides choosing pastel shades as their wedding attire, a brightly-decorated mehndi will accentuate the overall look of the bride-to-be with ease. A colourful mehndi design for hands is ideal for the bride-to-be, however, if carried with the right amount of colour and bling, it can be pulled-off elegantly by the bridesmaids or the groom's sister too.
A. White Mehndi designs

Image courtesy: Bex Henna
These white mehndi designs work their magic in every way and across every skin tone. A new breakaway for the millennial bride, these prints would set quickly and be chosen according to your outfit in question.
B. Black mehndi designs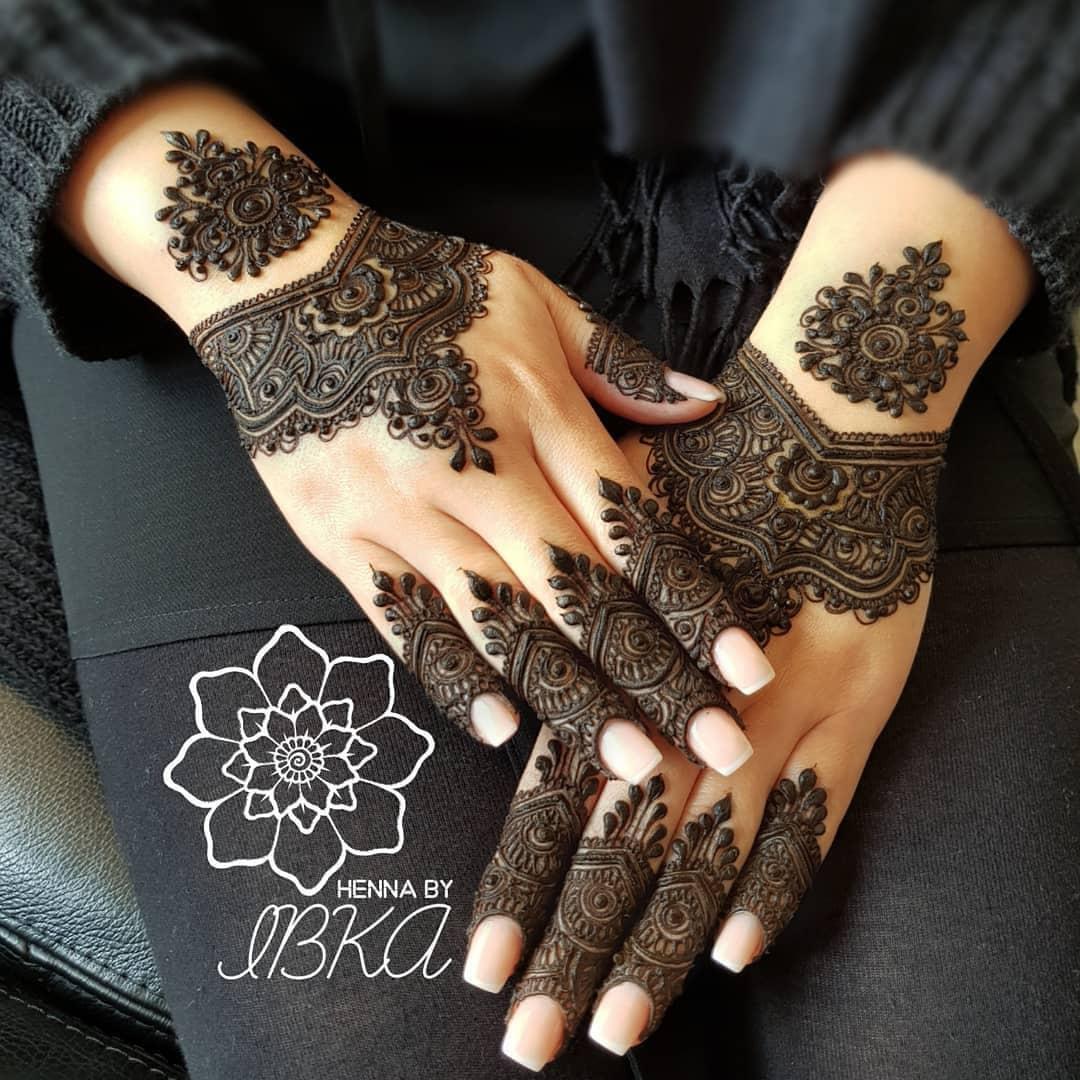 Image courtesy: Henna by IBKA
From white to black! Let your choice of mehndi colours be as dark as coals, offsetting them against a light or pastel outfit. The black is also a great way to ensure that your mehndi stands out - be it in rain or sun.
C. Gold Mehndi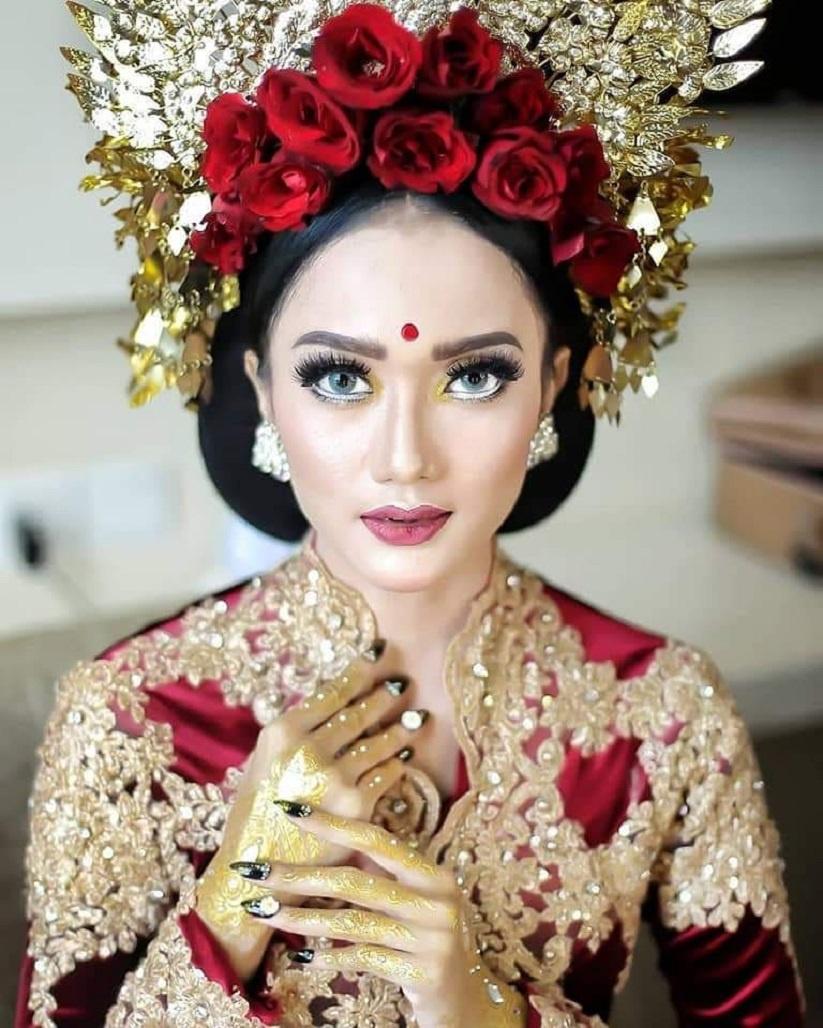 Image courtesy: Fauzi Photography, Indonesia
You may also think of going for a shade of blingy gold, especially if your wedding outfit is all too sober. Let your hands guide the day with such patterns and prints.
D. Crimson red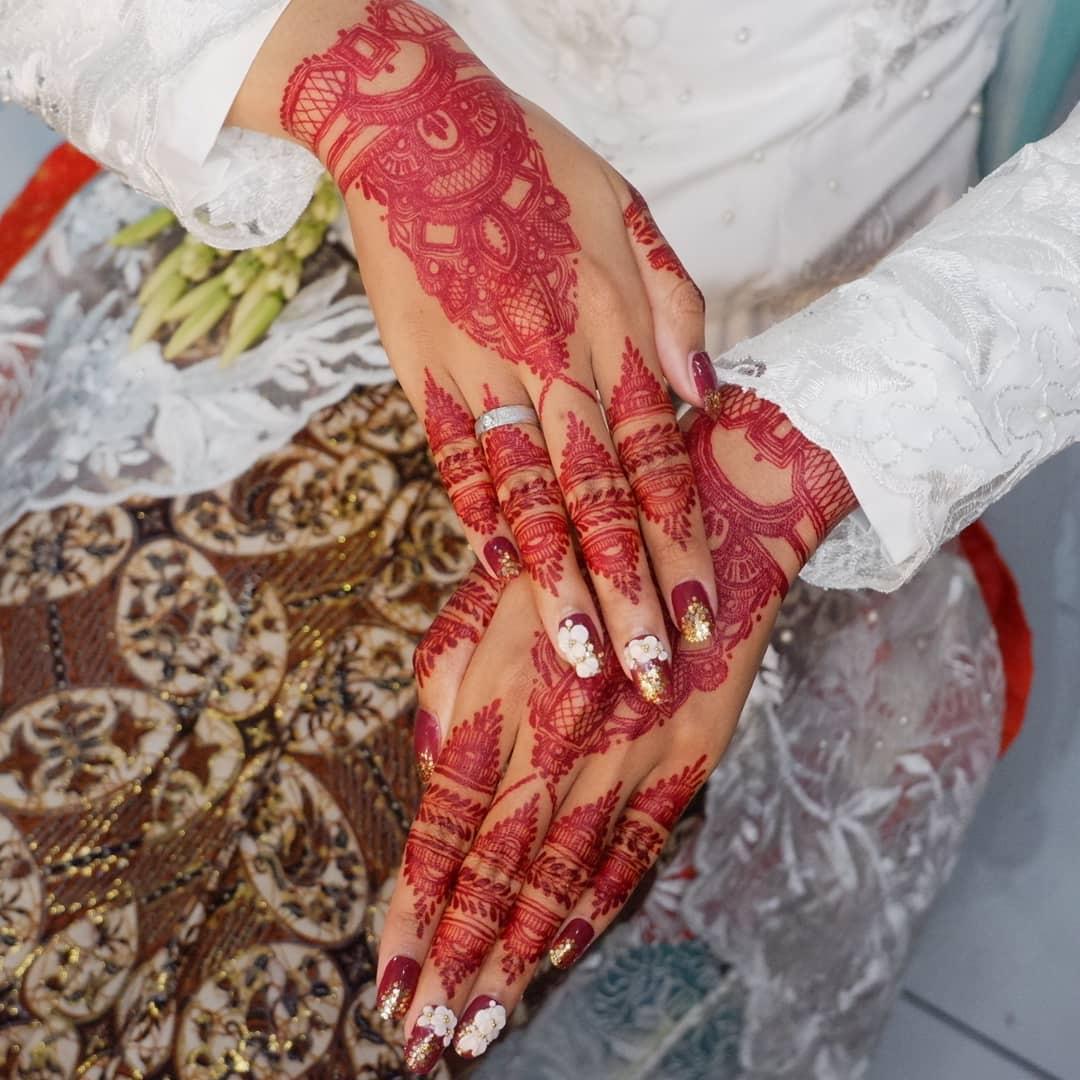 Image courtesy: Gabriel Henna
While oranges and browns form mainstream Mehndi colours, a striking shade of red is both unique and visually appealing. It works perfectly against a set of pastel lehengas or even dark, velvet lehengas. Have we got you thinking about these shades for your mehndi designs for hands?
E. Glitter mehndi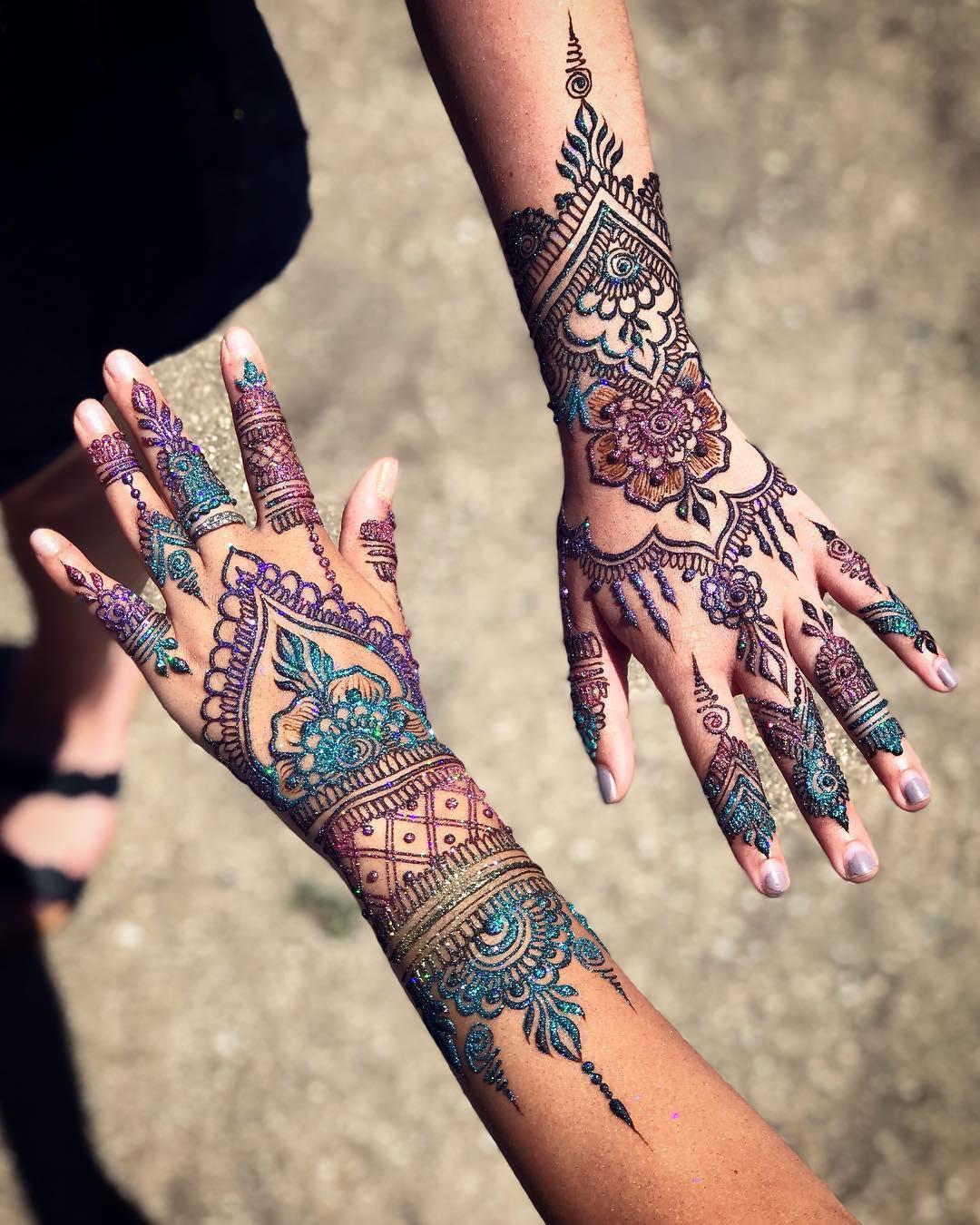 Image courtesy: Gopi Henna
This one is not for the faint at heart! Glitter mehndi is a trend that's so wildly out there that it has its own high. Get your desired henna print and ask the artist to sprinkle glitter all over it while wet. So, then this becomes a photo-op even as you wait for the henna to dry off.
For the next level, go for two to three sets of sparkles.
10. Traditional Rajasthani mehndi designs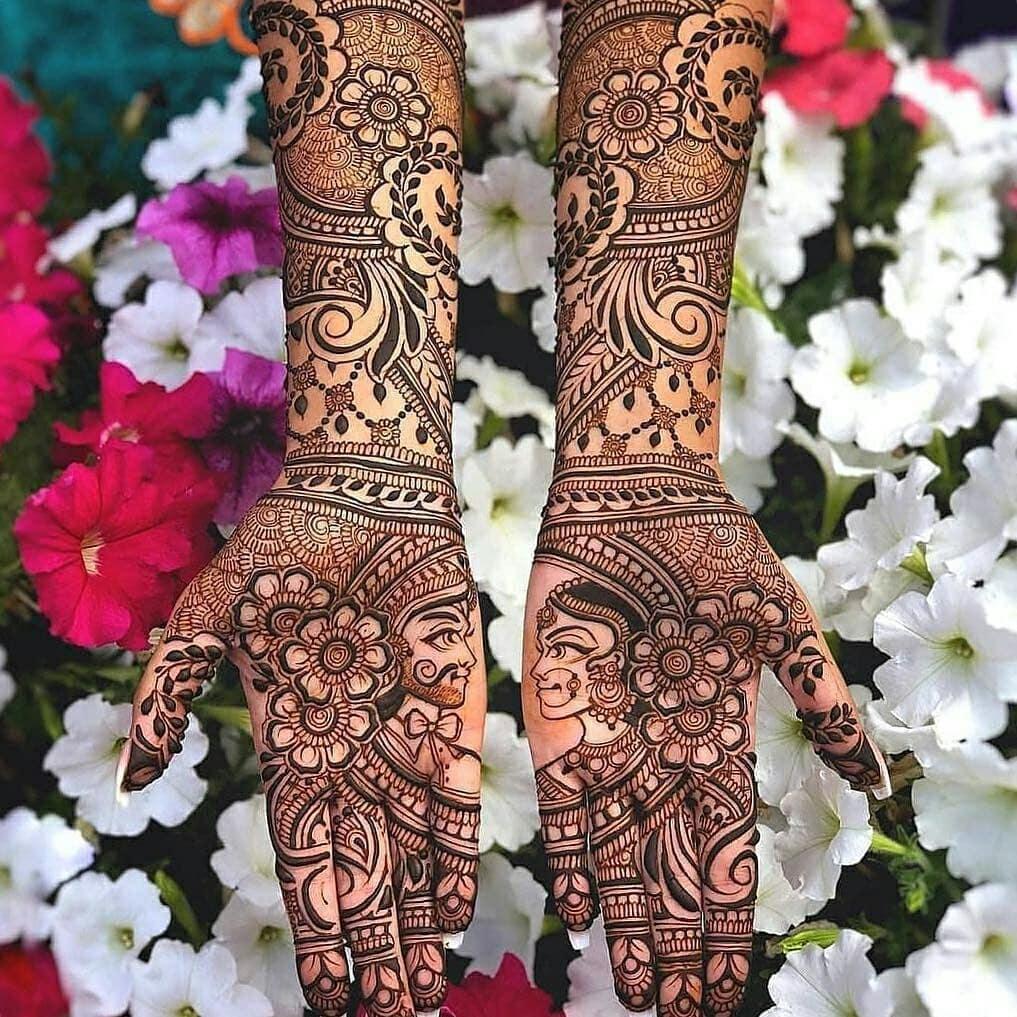 And then we come to the all-time favourite and timeless, traditional mehndi designs like the Marwari mehndi and Jain Mehndi. Think intricate designs, traditional mehndi or 'mehandi design' motifs and overtly filled hands and you know which set of mehndi designs for hands we're talking about!
In this great selection of mehndi designs, you can find a sea of options - the slightly distinct Marwari form, the checkered patterns from Jain mehndi or the more intricate Jaipuri mehndi.
Here are a few patterns among this set that really caught our heart:
A. Filled floral patterns and prints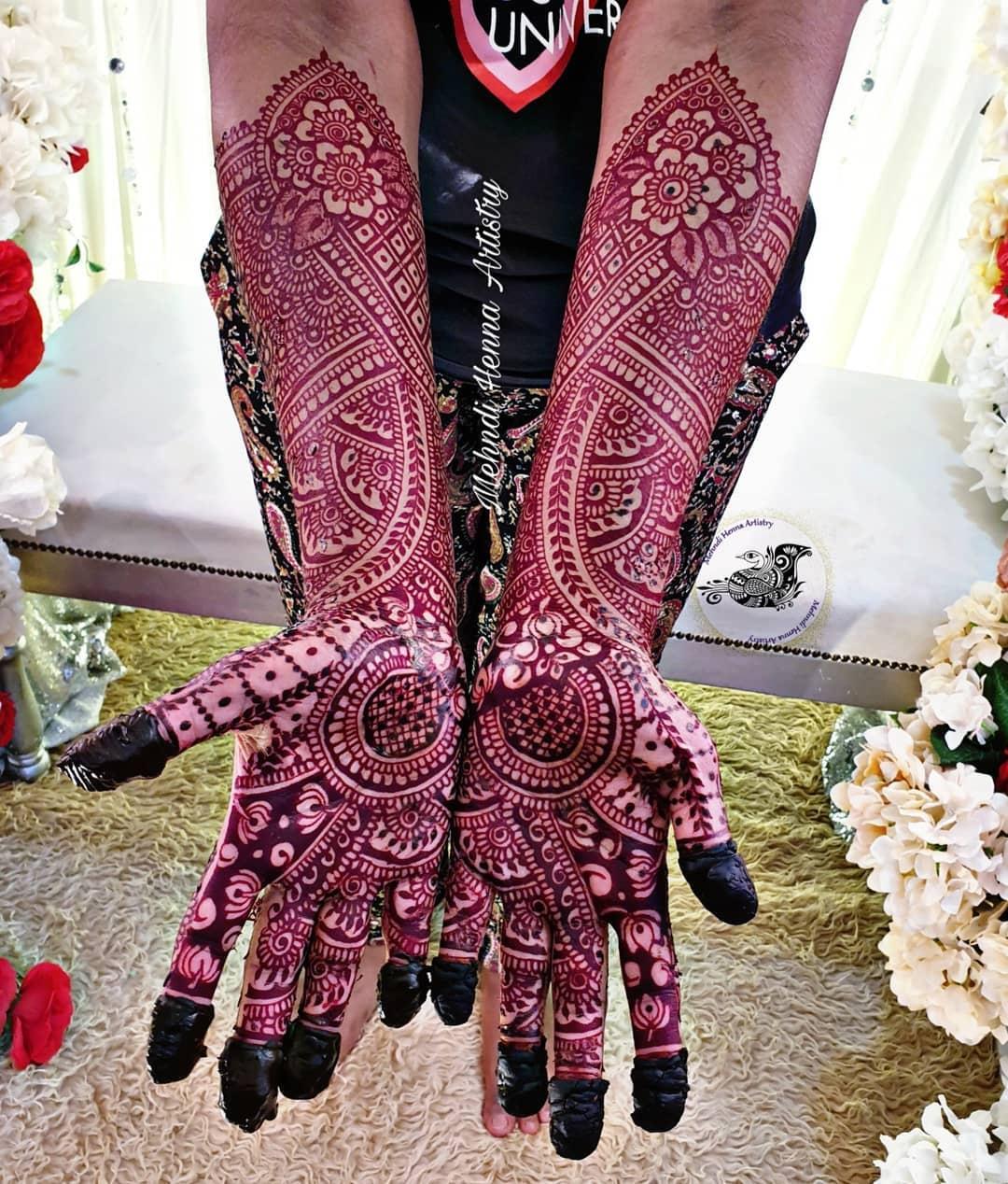 Image courtesy: Mehndi Henna Artistry
Wait, what are you saying? Is that what you're thinking as you recall seeing a set of floral mehndi designs up there and this filled out, nearly floral set of mehndi designs for hands here. Look closer my friend and let me tell you how this pattern is a little different.
A Rajasthani mehndi is distinctly identified with a set of filled up mehndi motifs, to ensure that what you see are not spaced out designs sitting pretty on a hand. Rather, it's a complete, cohesive glove that envelops the entire hand. Add that accent to these deeply traditional set of 'mehendi designs' for hands and you have a winner.
Need I say more? Then, observe, dear friend, the circular whirls which are spread across the fingers, the filled fingertips, the squared details which encircle the arms in one complete pattern, the checkered discs nestled in the palm and the betel-leaf shaped arches at the end.
B. Holding the Baraat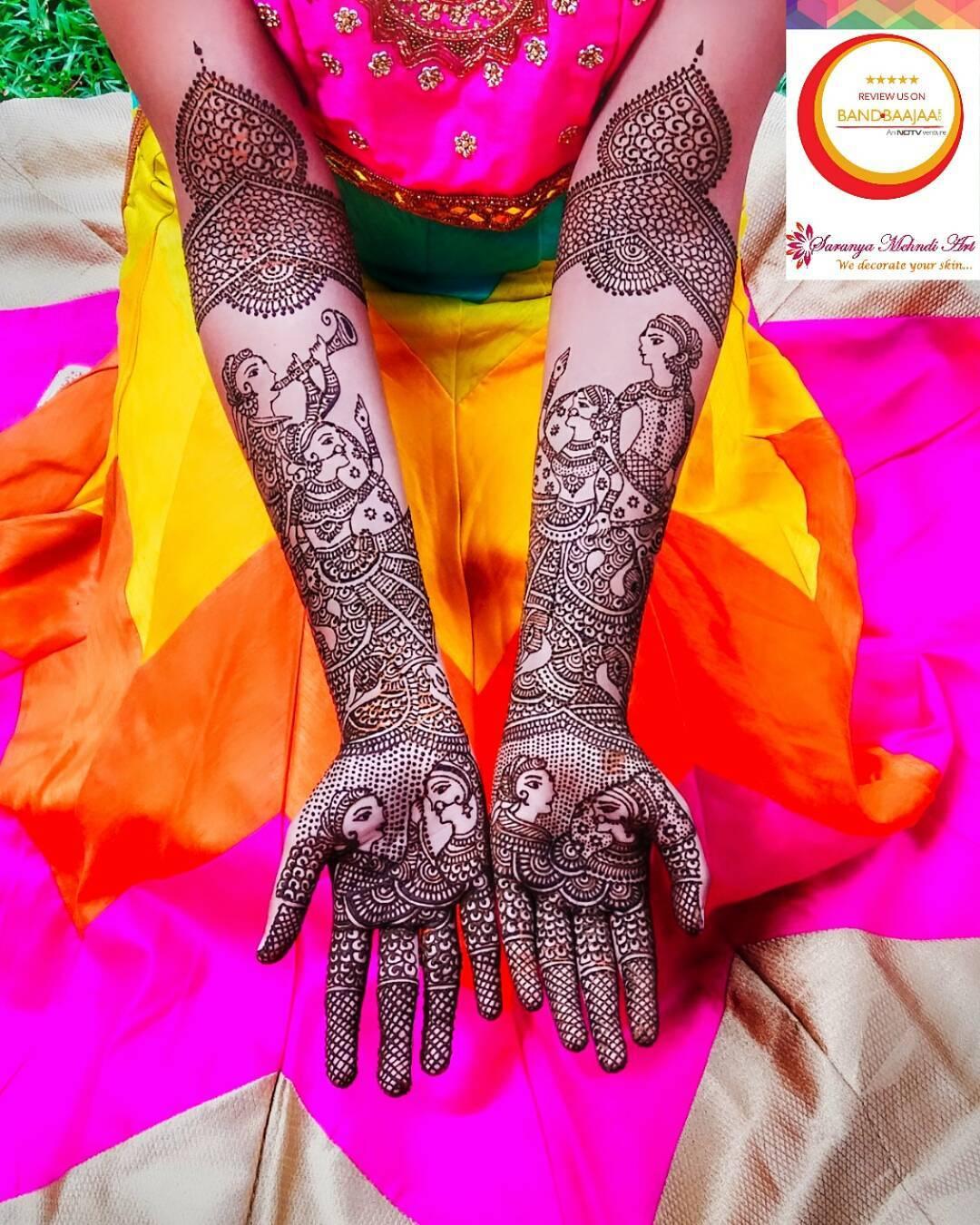 Image courtesy: Saranya Mehndi Arts
Meri banno ki aayegi baraat - Ke dhol bajao ji

This is for all of those girls who're deeply entranced by their own 'Shaadiwala feels'. You know those who say (like Geet from Jab We Met), that they always wanted to get married. Let the world know how much you're keen about your own walk down the aisle, by accommodating the Baraat as part of your mehndi designs for hands.
We loved how this bride did it by nestling the musicians and dancers on her forearms. And then decided on marking the Jaimala and Sindoor moments on her palms. What's better, if you're an unconventional bride, then use these very traditional patterns to offset against your own personalised lehenga (or any other bridal outfit you're choosing for your big day).
C. Neat, tidy perfection indeed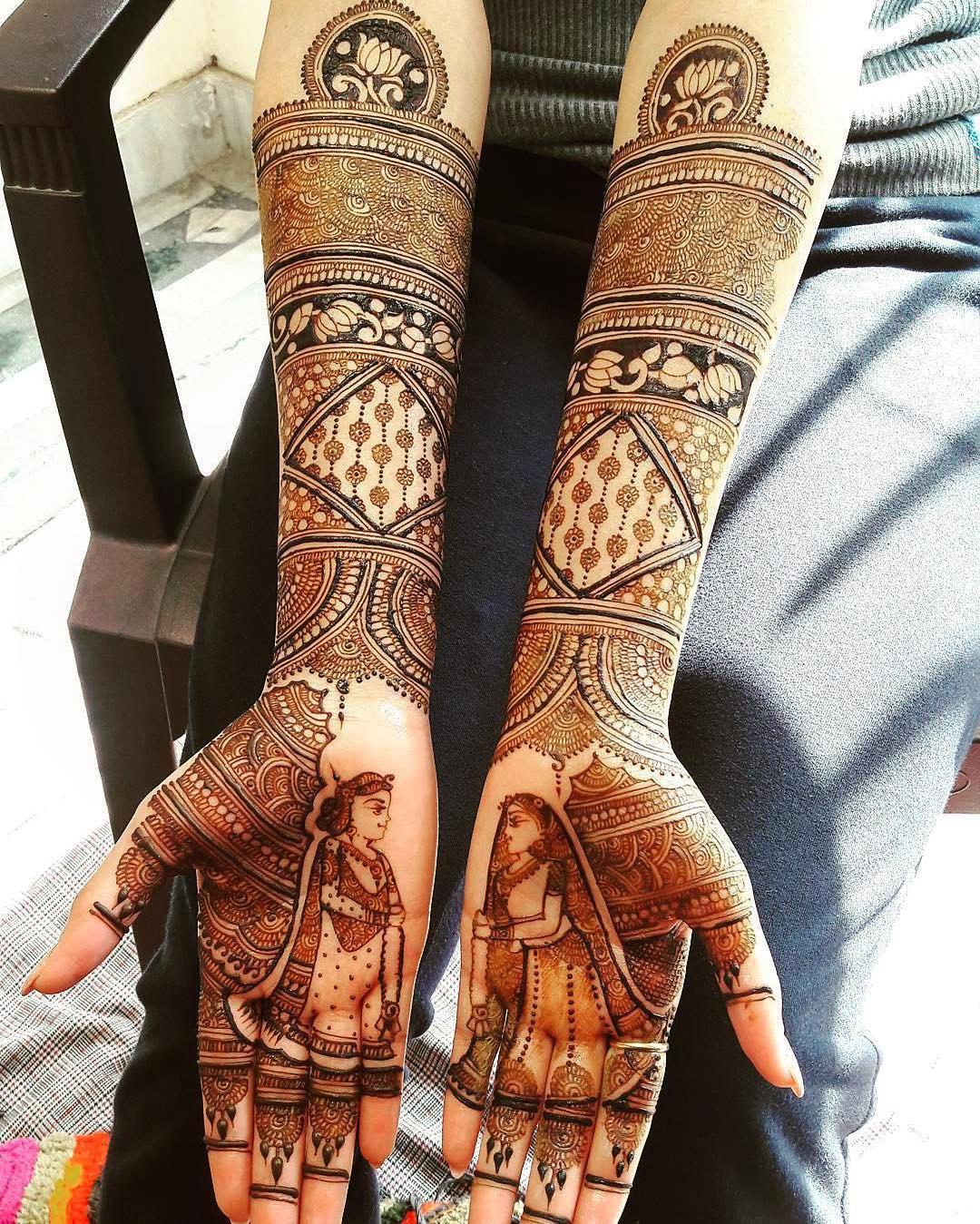 Image courtesy: Indiagram Weddings
No, this 'mehendi design artist' did not draw these with a pen, stencil them or stuck them over a set of willing hands. This perfection happened with a cone through a dedicated artist. What you see here, apart from the Jaimala and filler patterns, are three distinct set of chaadars and a reverse mehndi lotus motif to complete the picture.
If you stop here and decide that this is the set of mehndi designs for hands that you'd invest in, we can agree. We do, however, recommend planning it out to the T with your chosen artist. In fact, even asking them to practice the design a few times before they begin applying it, would not be a bad idea.
You should also be ready to sit down for a long, painstaking wait - this will take a few hours to create.
D. Fill up your back hands too!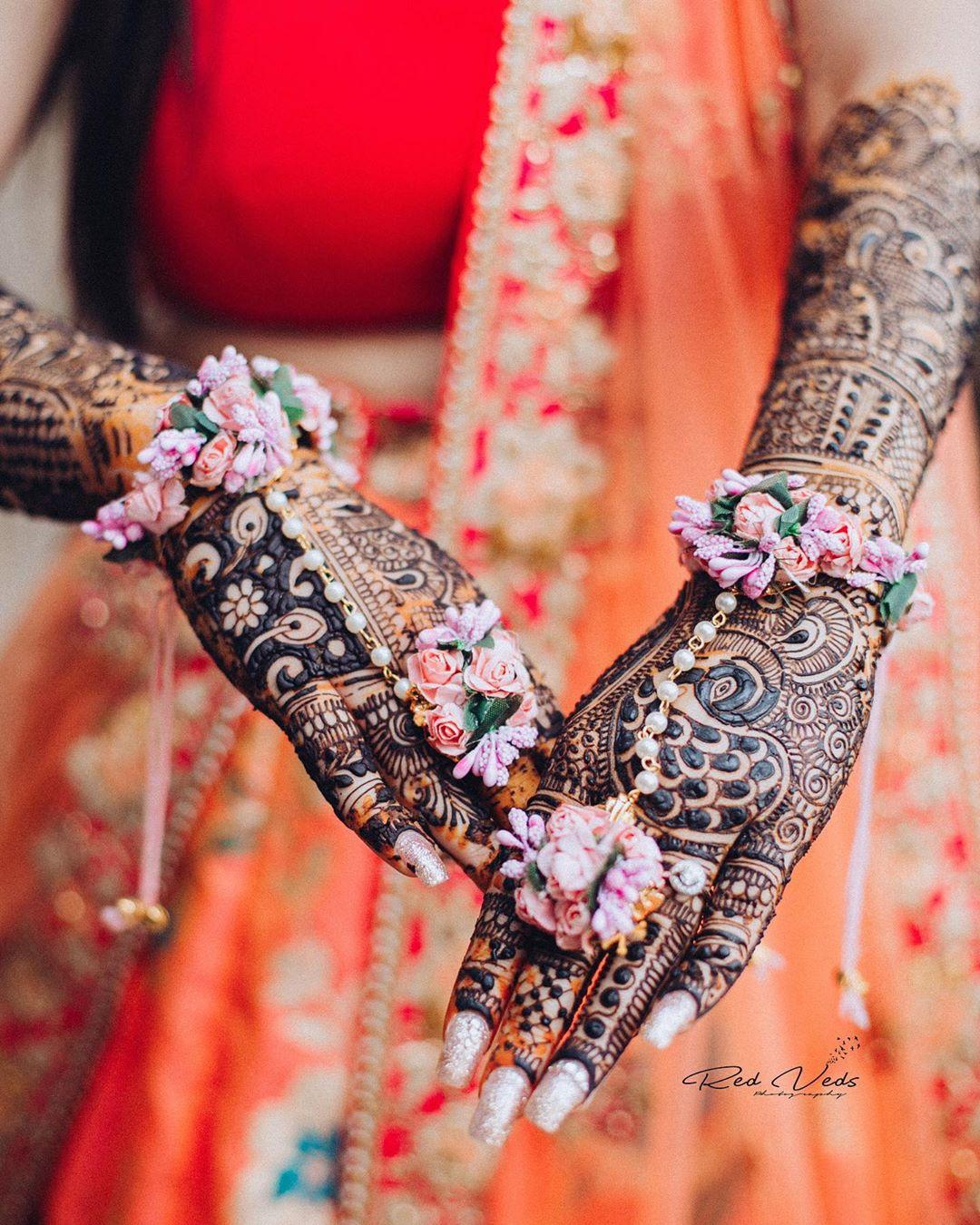 A set of Rajasthani mehndi designs for hands is not just about filled up palms, arms and even the odd Bajuband. It's a well-covered set of back hand mehndi designs as well.
Observe the same in this beautiful set of hands, filled to the brim with a peacock, fine lines, paisley and a reverse patch. The whorls fill up empty spaces quite nicely as this bride waits for the henna to dry off. You could do the same at your own Mehndi ceremony, by planning a set of mehndi song and dance routines for this period.
And last, do give a shout out to the floral Haath Phool which sits pretty above all of them.
E. A blend of traditions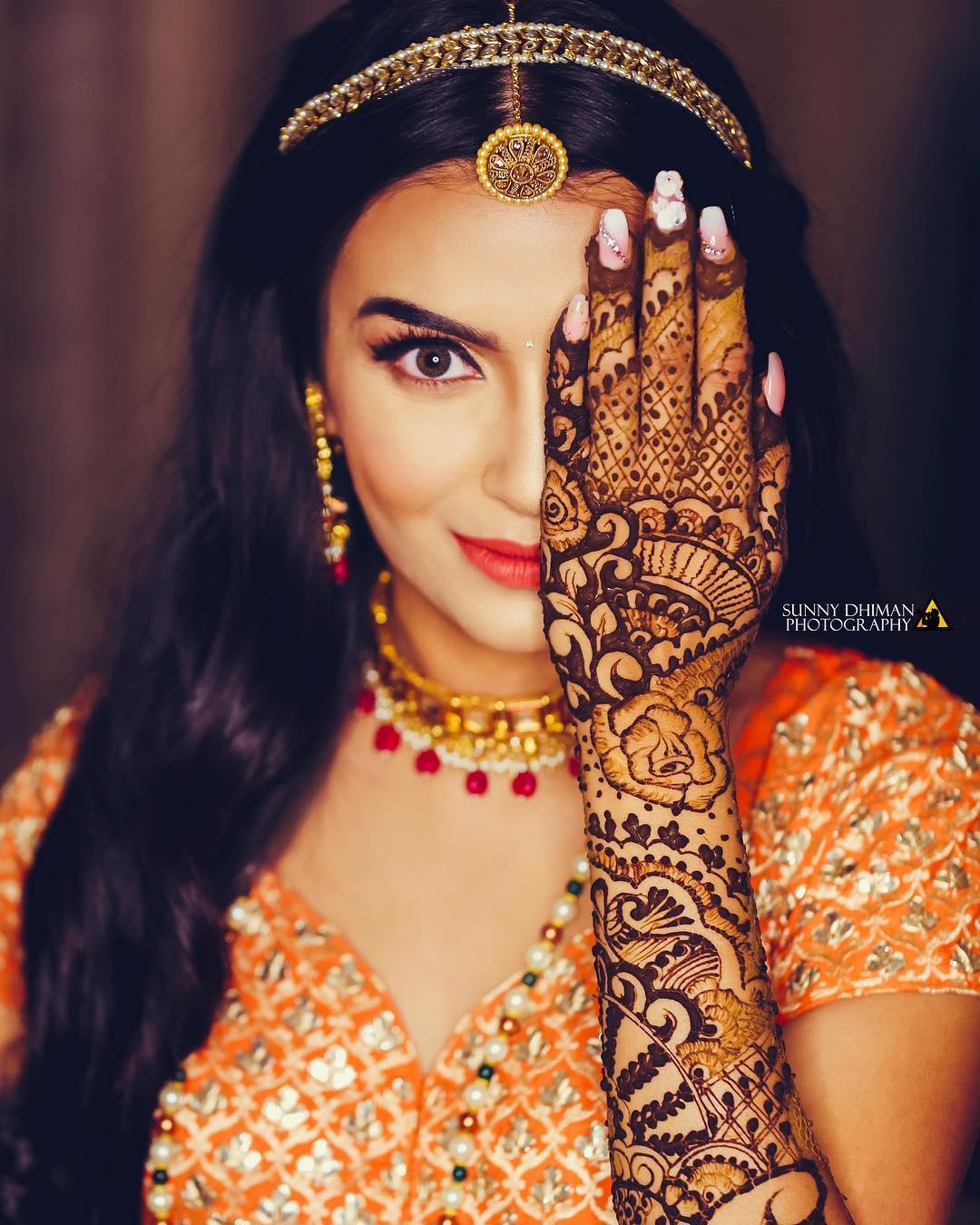 A set of bridal mehndi designs for hands for the mod, millennial 2019 bride isn't complete without a mix of everything she loves. And these set of hennaed hands are the perfect example for this exercise. Begin first, with a set of Rajasthani mehndi filled hands and add European roses to them. Then, add thick, reverse Arabic vines to your back hand sides.
Add traditional jaals to fill up the pattern and then bring out your attitude to complete the picture! Isn't that perfection indeed.
Although henna is widely popular for its elaborate and innovative mehndi designs for hands, the beliefs associated with it has deeply rooted importance for the newly-weds. For instance, the deeper the colour of the mehndi is, it signifies the deep and strong emotion binding the couple. In fact, the deeper the colour is, the stronger the bond is bound to be between the bride and her mother-in-law.
A darker mehndi is also believed to represent a bride's fertility. Thus, it can be said that mehndi represents the holy book of matrimony and everything associated with it.
Which design did you like best? Tell us through comments!