10 Recommended Mehndi Book Options to Help You Grab the Best
Are you looking for some fabulous bridal mehndi designs for your wedding? We listed some of the most sought-after Mehndi book suggestions for you to draw inspiration.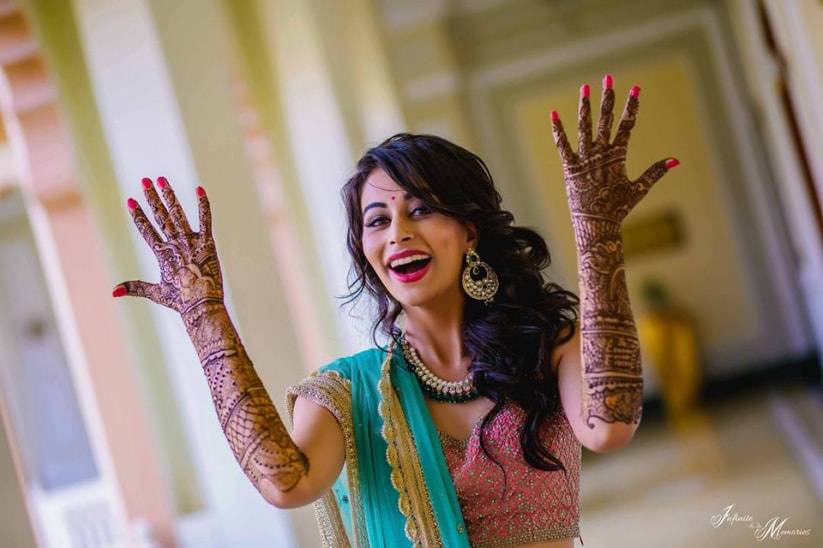 Mehndi art has been winning the heart of brides for centuries. Choosing a particular Mehndi design is as important for a bride as picking that perfect lehenga. But how to choose a design that is trendy and stands out evidently? We are here to help you find the answer to that exact question.
So before you start browsing for Henna artists, take a look at what's hot in the market. The designs that will be painted out on your palms and feet are not mere designs but a cherished memory of a lifetime. The fun at the ceremony is unbeatable and the Mehndi book will showcase a collection of intricate designs that will make you stand out as the lady of the hour.
The Mehndi book will make the horizon of your ideas expand so you can pick out the best and the ones in vogue.Read on to know about some popular Mehndi book recommendations we have for you and get inspired!
1. Traditional Henna Body Art by Marty Noble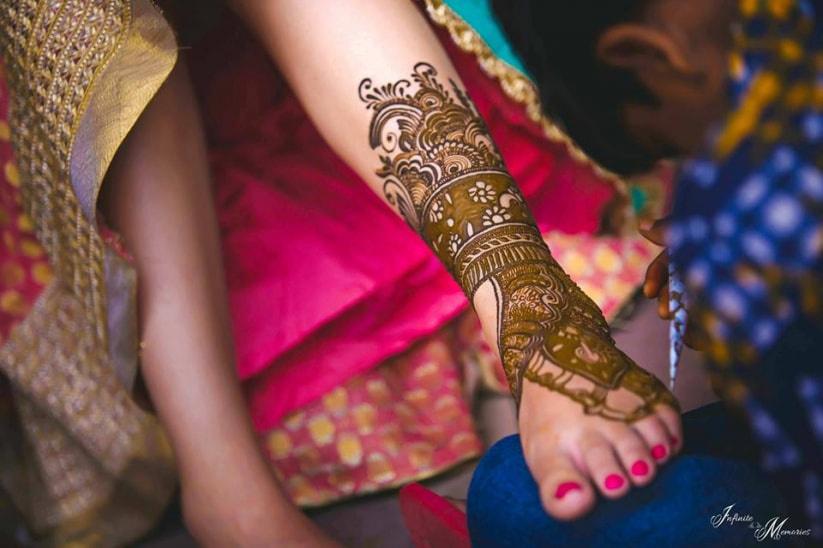 Consisting of over 160 gorgeous designs this masterpiece by Marty Noble has step by step exercises on the art of Mehndi. This is one Mehndi book that contains designs from India, Africa and the Middle Eastern countries. The author simplifies the art of original traditional Mehndi art.
Special feature: Flora and fauna motifs, guidelines to create patterns, floral borders and heart insets.
Availability: You can buy it online.
Approximate Price: ₹ 263/- (Paperback)
2. Muskaan's Mehndi Collection: Bridal Mehndi & Theme Henna Collection by Muskaan Naresh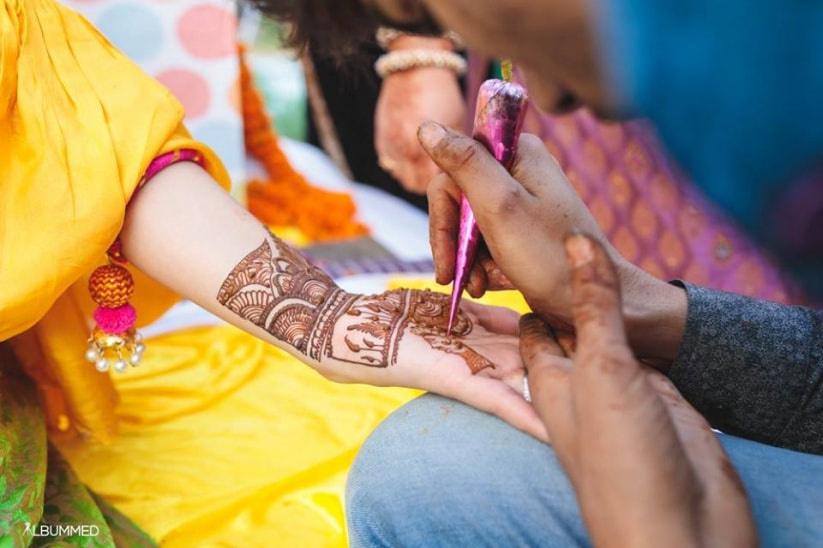 This particular Mehndi book is a compilation of 28 Mehndi designs, each created by a different artist. The designs in the book signify love, life, colour and nature. Comprising of Arabic and Rajasthani Mehndi designs, this book is quite a rage among modern brides.
Special feature: Detailed Mehndi designs perfect for wedding, proposals and engagement.
Availability: Online.
Approximate Price: ₹ 150/- (Paperback) ₹ 100/- (Kindle)
3. Timeless Art of Henna Painting Book by Loretta Roome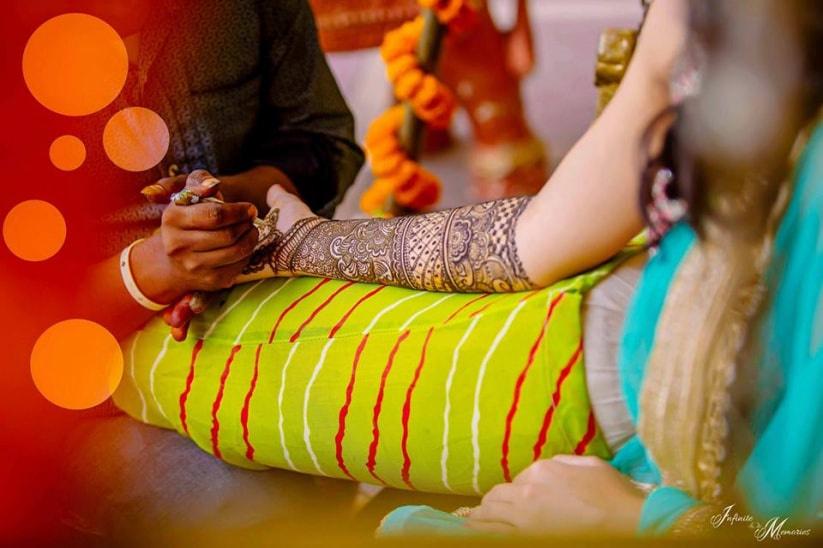 Loretta Roome reveals the secrets of designing traditional henna patterns with demonstrations on how to implement them on your skin. Her Mehndi book talks about the recipe of a traditional henna art form.
Special feature: Practical information on simple to complex Mehndi designs.
Availability: Online.
Approximate Price: ₹ 3400/- (Paperback) ₹ 309/- (Kindle)
4. The Art of Mehndi Designs Book by Sumitra Batra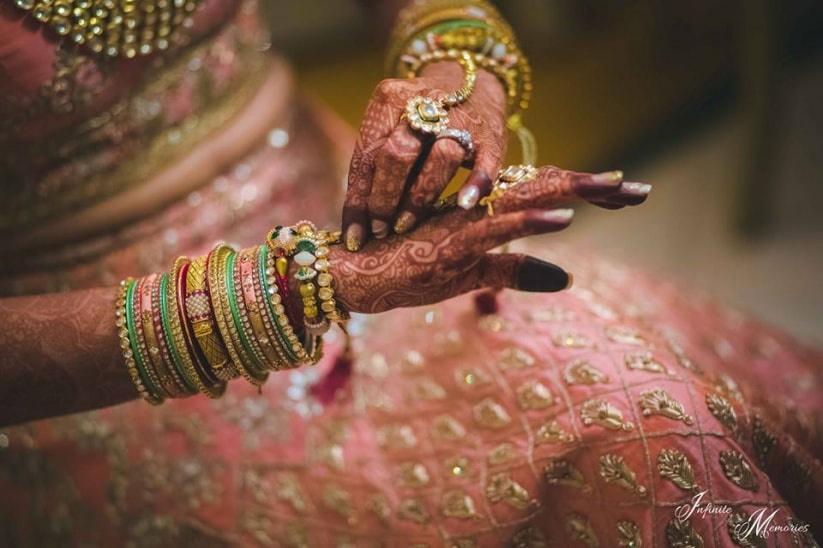 "When Sumitra hennas my hands and feet, I am transported to another time and place – a world of magic, passion and romance"...when Madonna says something like this, we hardly need to say anymore! Sumita Batra's Mehndi book comprises of over 30 original designs and drawings with symbolic annotations of spirituality as well as fashion.
Special feature: Original Mehndi designs, contemporary fashion and spiritualistic patterns, symbolism.
Availability: Online.
Approximate Price: ₹ 689/- (Paperback).
5. Beginner Henna Designs by Heather Caunt Nulton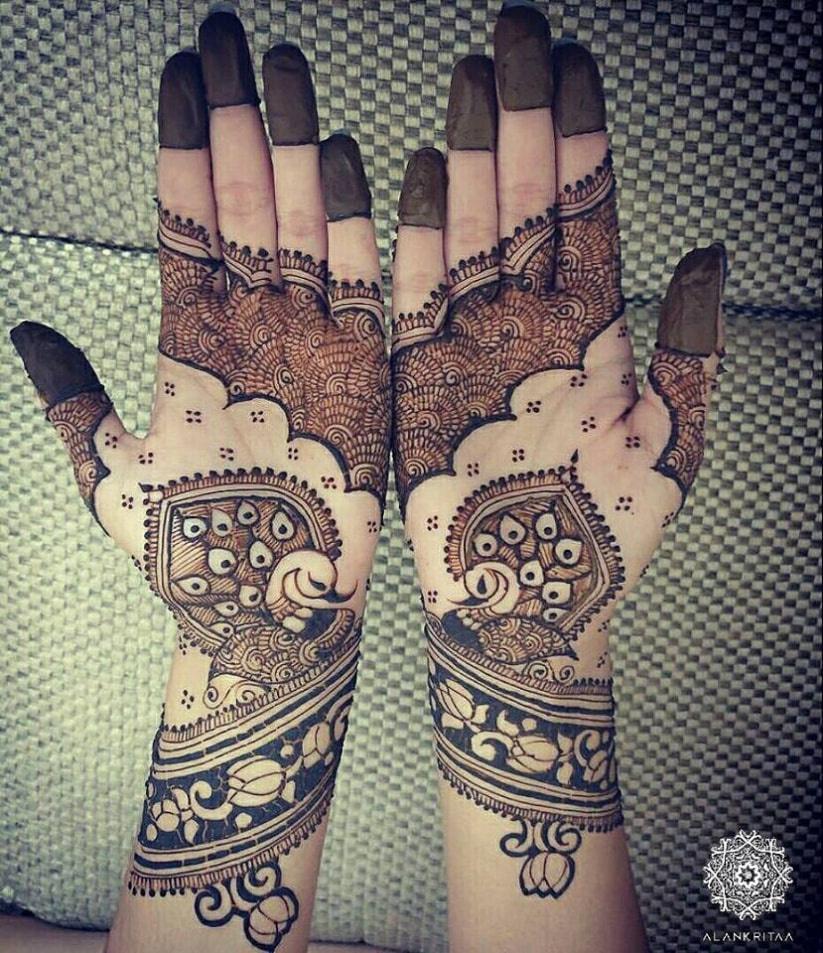 Simple, elegant and attractive designs- if that's what you're looking for, this is the perfect Mehndi book for you. Heather Caunt Nulton explains the techniques on how to recreate magnificent patterns in a very simplified manner. Traditional motifs like a peacock, vines, and flowers to modern geometric patterns- the author has got almost everything covered.
Special feature: Peacock, vines, evil eye, OM and Ankh motifs, Irish & Celtic henna designs.
Availability: Online.
Approximate Price: ₹ 449/- (Kindle).
6. Modern Mehndi – Collection of Henna Designs by Kelly Caroline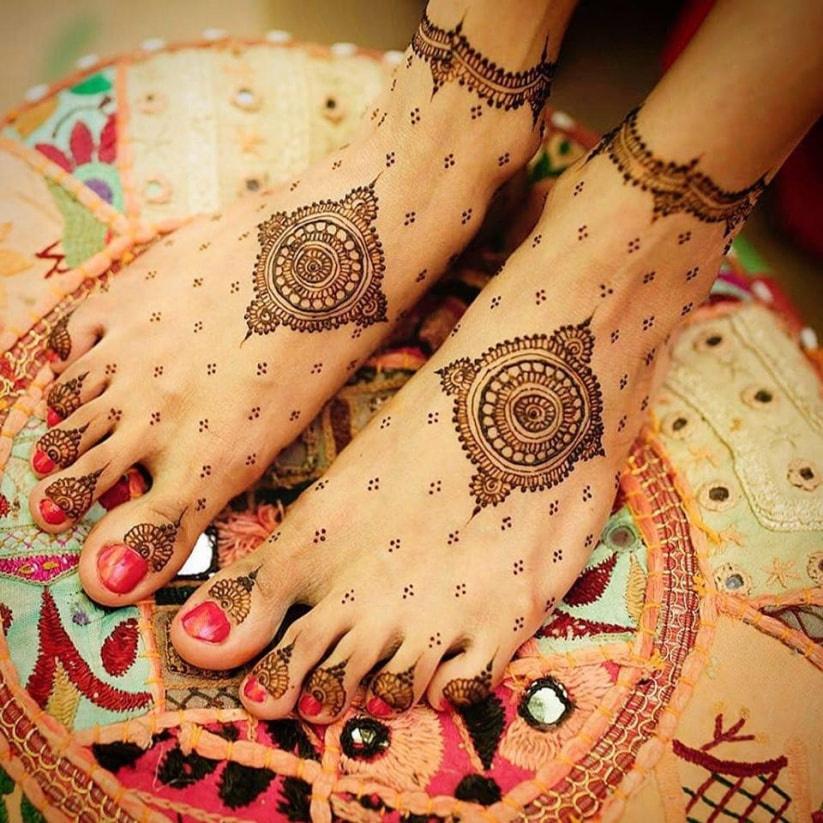 Now, this is a Mehndi book for brides who are not afraid to try something fresh and out-of-the-box. Not confining to traditional designs, Kelly Caroline showcases interesting and stylish Mehndi designs for brides and grooms alike. Pick your copy now and explore the world of Mehndi.
Special feature: Unique and contemporary designs.
Availability: Online.
Approximate Price: ₹ 449/- (Kindle).
7. Zahrah: Arabic Henna Design Collection by Devaky S. Dharan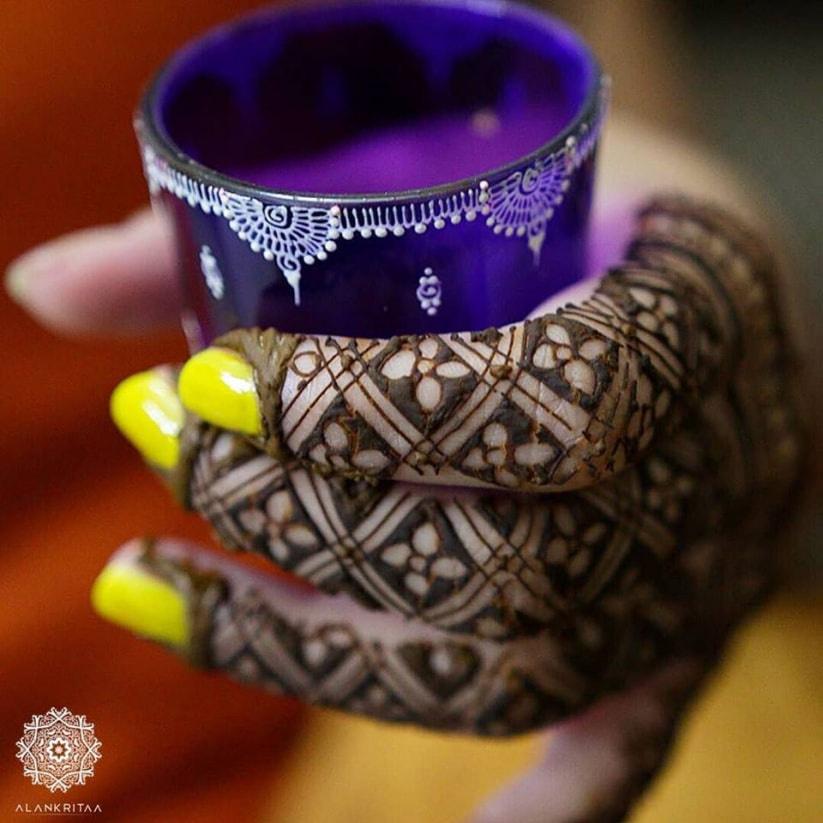 Get ready to witness some remarkable works of art in this Mehndi book by Devaky S. Dharan. Consisting of intricate henna patterns and designs, this book is an inspiration to many professional Mehndi artists.
Special feature: Arabic influenced Indian and Sudanese designs, bold and delicate patterns apt for hands and palms.
Availability: Online.
Approximate Price: ₹ 449/- (Kindle).
8. Art of Henna: The Ultimate Body Art by Pamela Nicholas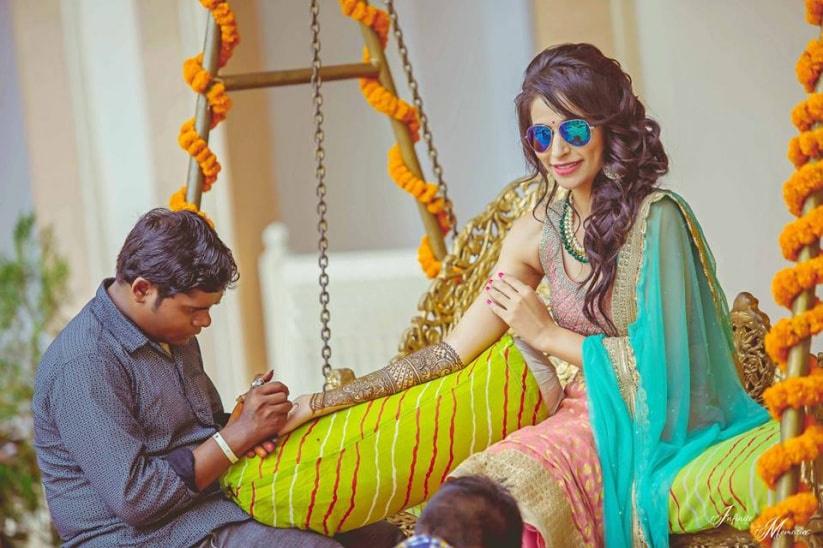 The author has featured photographs of over 220 designs in her Mehndi book. It's a beautiful collection of designs and patterns along with the tricks and techniques of acquiring gorgeous henna art.
Special feature: Step by step instructions for beginners to achieve commendable results.
Availability: Online.
Approximate Price: ₹ 2894/- (Paperback).
9. Mehndi: The Art of Henna Body Painting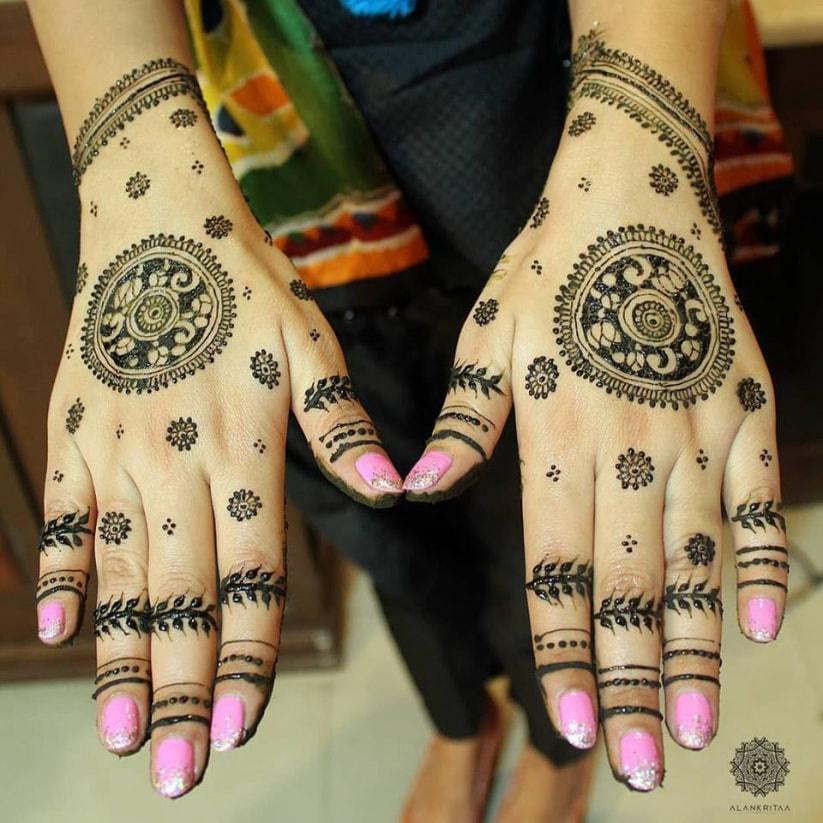 Carine Fabius in her exclusive Mehndi book puts together elaborate yet simple guidelines of applying Mehndi art. Starting from making of the henna paste to myriad designs, themes and patterns-this book can prove to be a precious possession for brides and artists alike. Apart from the designs, there are useful insights by experts and industry personalities talking about the right and wrong Mehndi practices.
Special feature: Elaborate tutorial on Mehndi application from scratch, attractive designs and pattern images.
Availability: Online.
Approximate Price: ₹ 599/- (Paperback).
10. Henna Sourcebook by Mary Packard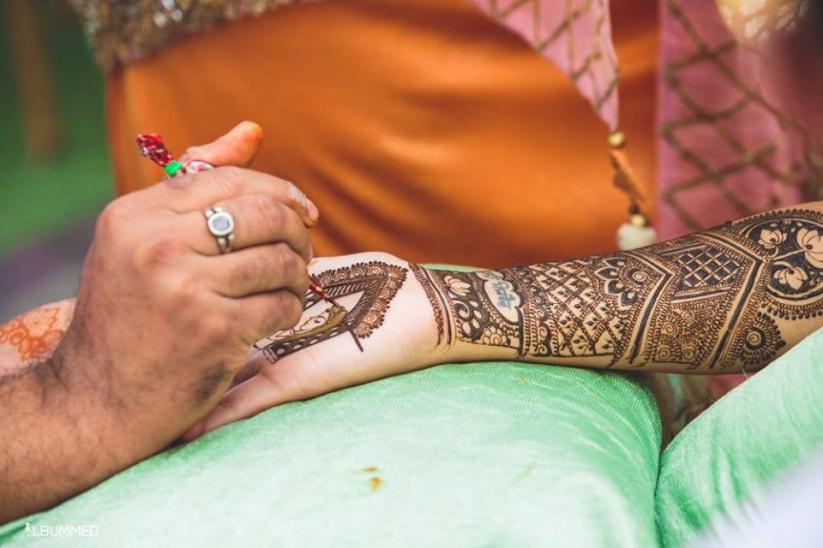 Just as the name suggests, this Mehndi book by Mary Packard is a henna source book consisting of 1000 spectacular Mehndi designs, both traditional and contemporary, to take inspiration from. Flaunt the intricate patterns or go chic and casual. It's all in there. All you have to do is, pick your design and point it out to your Mehndi artist.
Special feature: Fabulous images, short history and symbolism of henna designs.
Availability: Online.
Approximate Price: ₹ 1499/- (Paperback).
Get the Perfect Dark Colour for Your Henna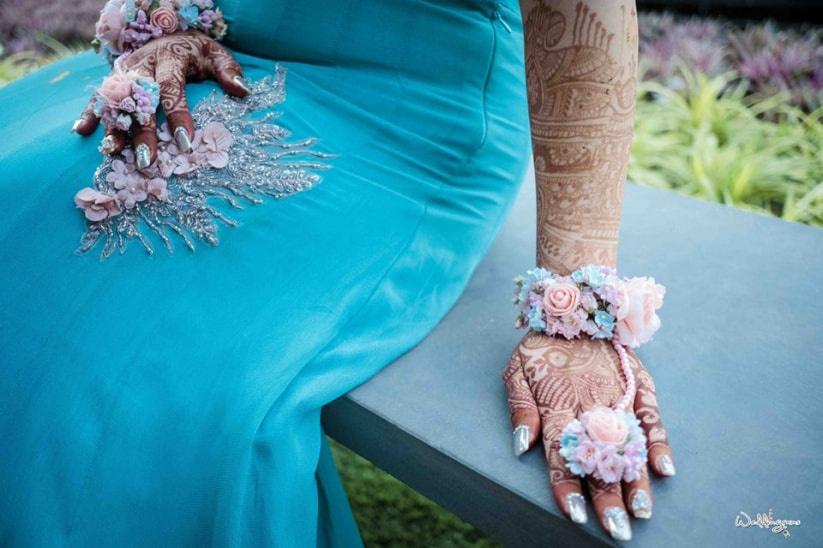 While the belief of the colour of your henna is intricately linked to the love and feelings of your partner, you can get that perfect deep colour by simple steps as well. We have enlisted some of the tried and trusted methods which would make your dark mehndi designs look perfect on your wedding day.
1. Wash the hands - Always wash your hands before sitting down for mehndi art rigorously. Do not apply any cream or moisturiser as it would prevent the colour of henna to sink in.
2. 'Mehndi ka tel'- After washing the hands, apply the oil provided by the mehndi artist or you can opt for few drops of Eucalyptus oil. Let the oil absorb in the skin as it would help in the darker colour of your henna.
3. Time is essential - Keep your mehndi designs on for a long time or as long as you can keep it. As you would be investing many hours for that perfect bridal designs, do not let it go to the waste by removing it in just an hour or two.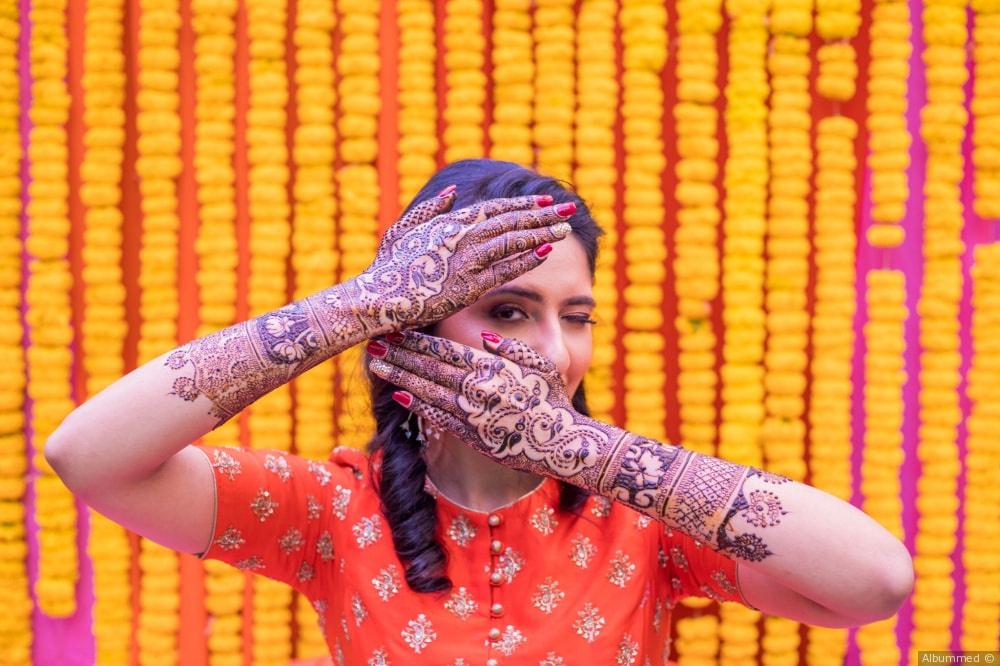 4. Aftercare - There are always few steps to be followed after the drying of your henna, like:
Lemon & Sugar - Apply a generous amount of lemon and sugar, which has been a step following through generations. Mix the two ingredients and apply with the help of a cotton ball and though it might be sticky, it would surely do the trick.
Clove smoke - For darker and better results, you can also soak your hands in the fumes of heated cloves. Put few cloves in a pan over the stove and keep your hands above its smoke and it would surely make the colour of your mehndi designs deeper.
Vicks - Another tried, tested and often followed idea for a deeper and darker coloured mehndi is applying Vicks after you scrape off the mehndi. The heat from this balm will enhance the colour of your henna designs.
5. Avoid washing hands - With all these desi nuskhas, another thing to keep in mind is to avoid washing your hands. Water prevents the colour of henna from skinking in your skin and you should keep away from it at least for a day for that perfect rich colour.
From these popular Mehndi books, now you can choose any design of your choice and ask your Mehndi artist to create that. There are many e-books on exquisite Mehndi designs which you can download for free. One very important thing to remember is, you must always ask for a trial design before you finalise your artist. Also, don't forget to do a test run of the Mehndi you intend to use to check for allergies or rashes. Paint your body with the colour of passion with the swankiest Mehndi designs.
Take a look at our list of Mehndi artists for some brilliant henna designs for your wedding.