This Couple Celebrated an Intimate 50 People Wedding in Delhi
Sanyukta & Nishant had it written in their stars. Their destiny led them to a lockdown wedding in Delhi with less than 50 people. Here are the deets from that day for inspo!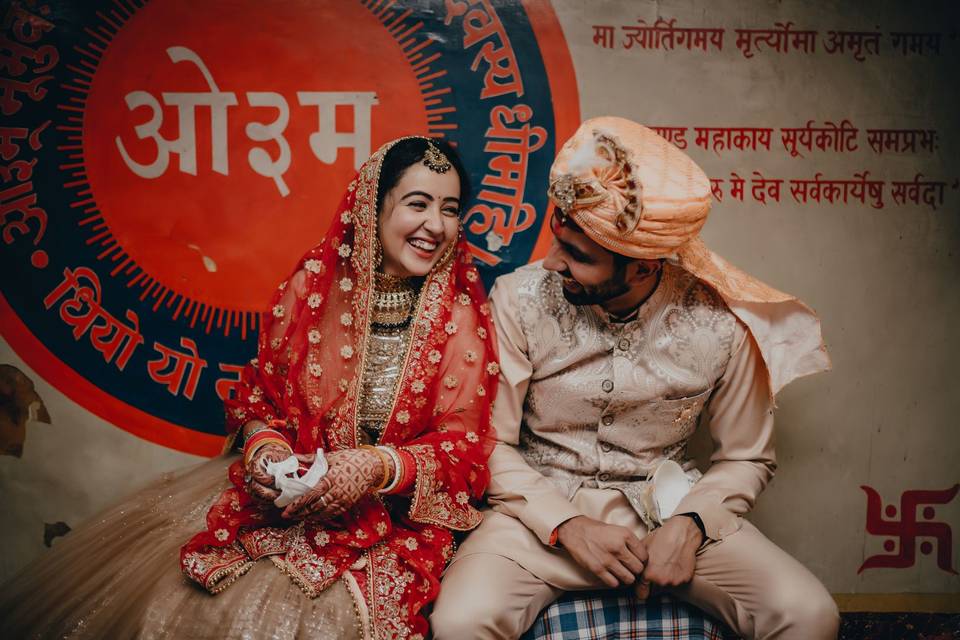 Amidst the lockdown when several plans are being postponed all around the world until further notice, this couple in Delhi gives the to-be-weds the much-needed ray of sunshine. While the world fights the uncertainty of 2020, Sanyukta and Nishant decided to take their leap of happiness. The year 2020 has been very hectic especially with the pandemic knocking at our doors and the Corona red flags pushing all the wedding plans to another timeline.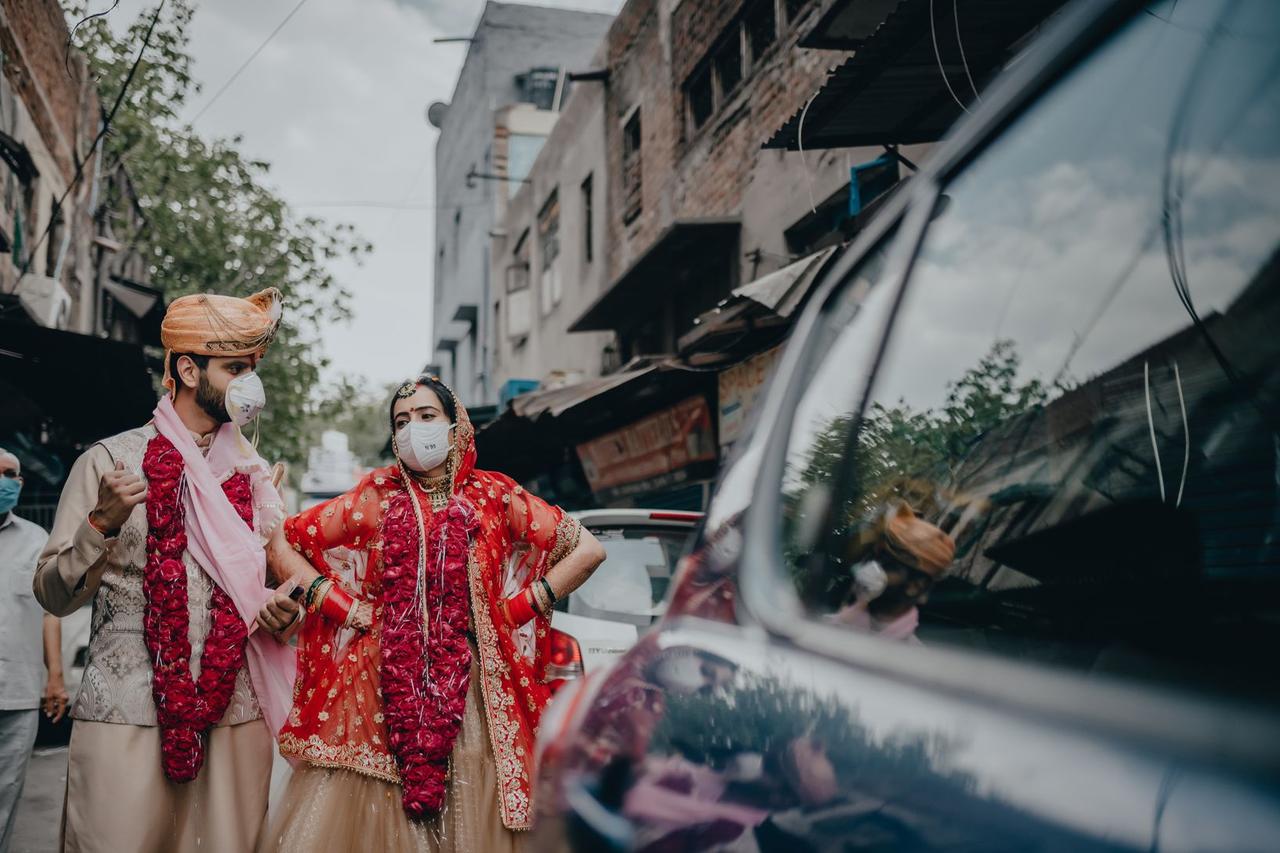 For all the couples who were waiting for the silver lining, here is the story of Sanyukta and Nishant who got married amidst the lockdown because plans may be postponed but it was their DESTINY and #LoveIsNotCancelled.
When Sanyukta Met Nishant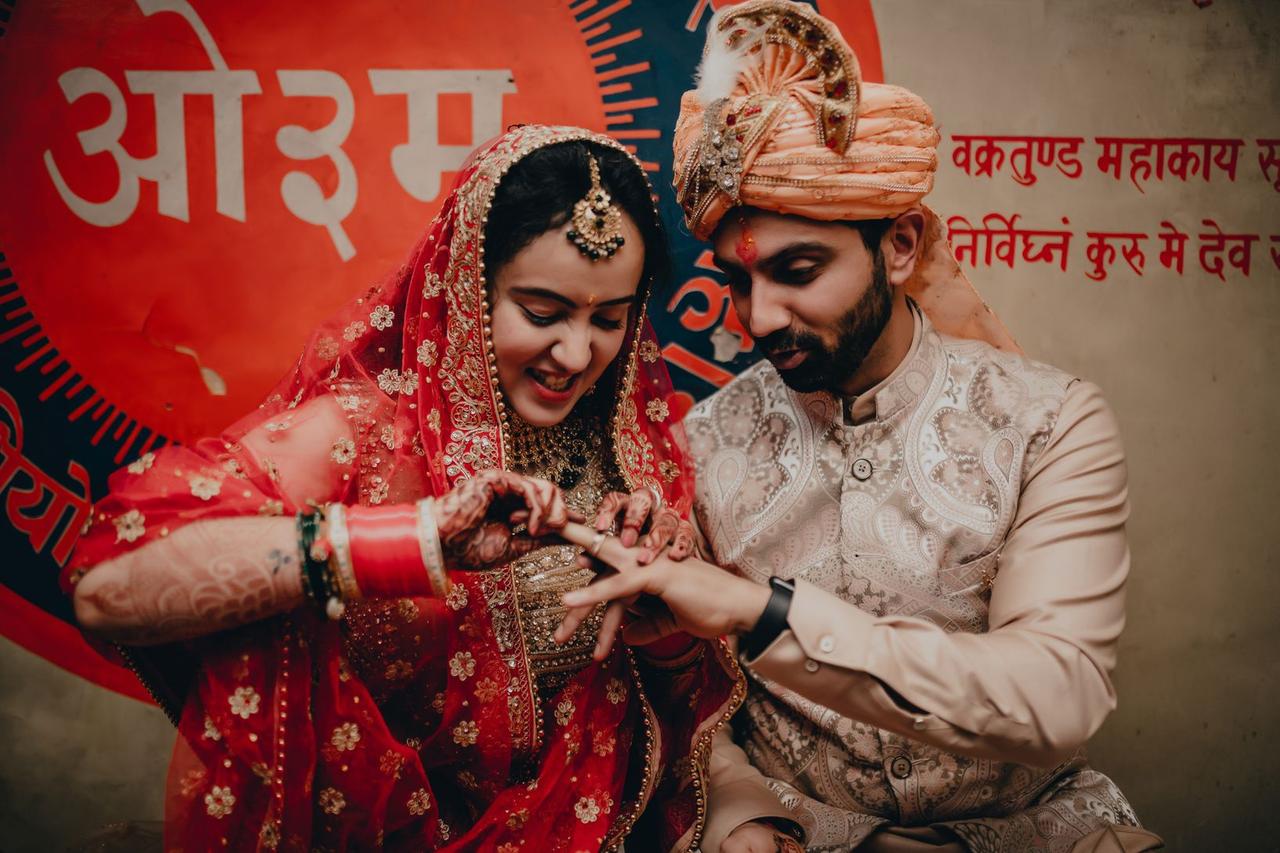 Sanyukta and Nishant had met 3 years ago at a party through a common friend and were nothing more than "just acquaintances". However, a year ago when Nishant sent a friend request to Sanyukta on Facebook, the sparks were real and their magical journey to a happily ever after started. Before they knew it, Nishant put a ring on it and they were engaged!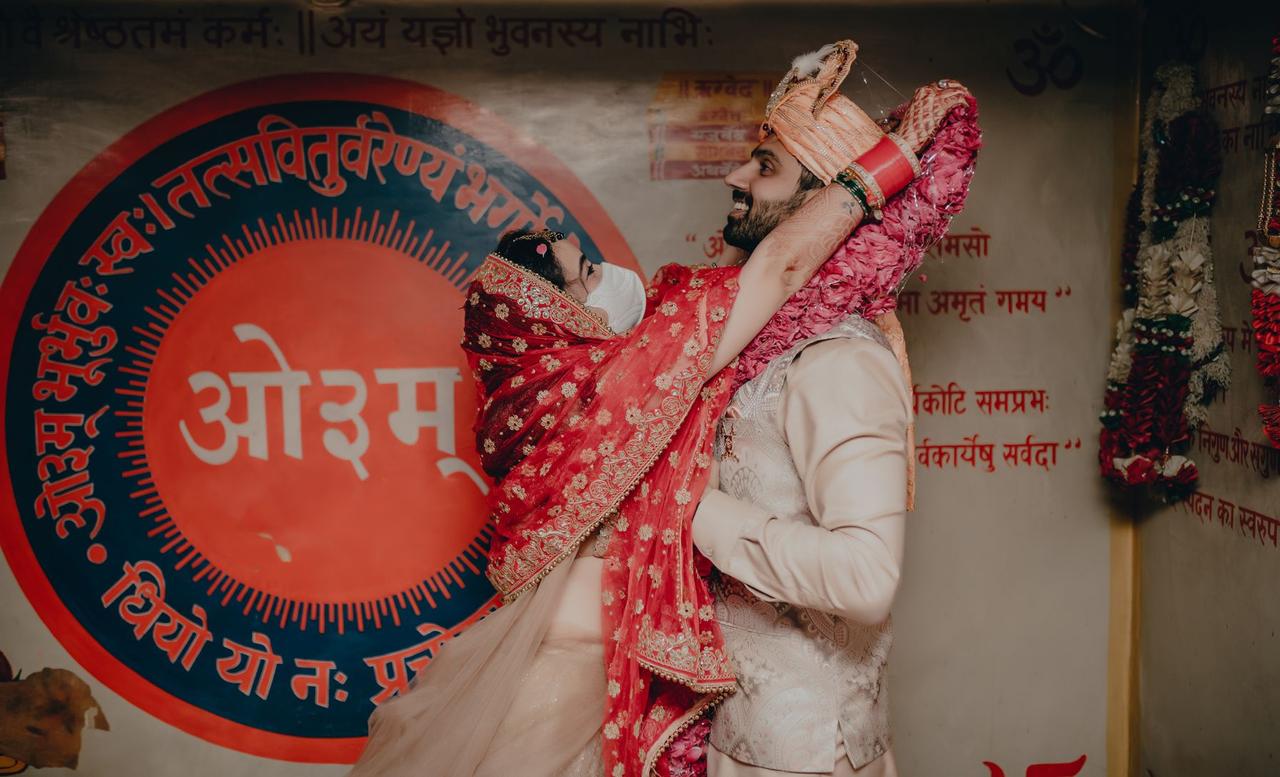 They are both based out of Delhi, but Nishant had to move to the UK in November 2019. In lieu of Sanyukta's father's ill health and the lockdown that would lead to travel restrictions, he flew back to Delhi in March.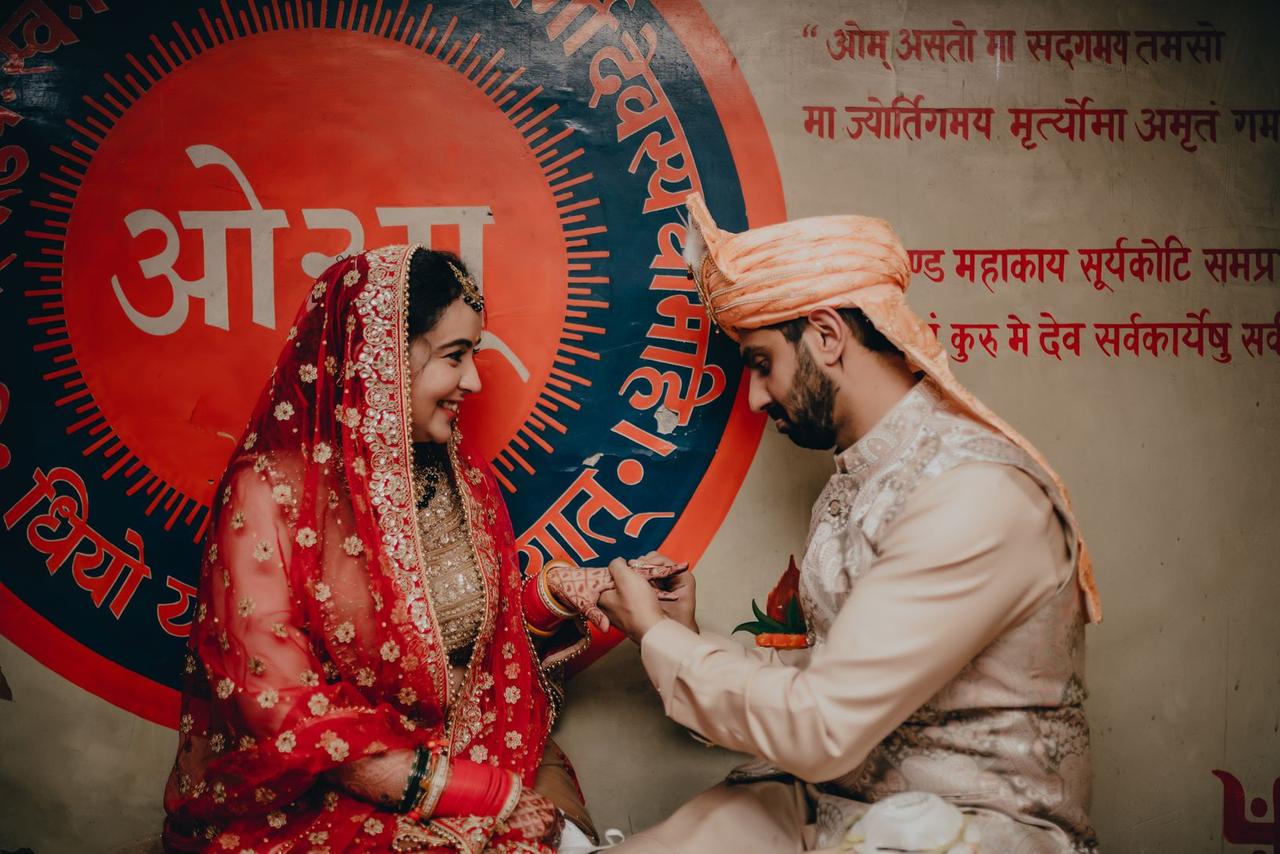 "It was just our destiny," Sanyukta tells WeddingWire, India.
Their Wedding in the Times of Lockdown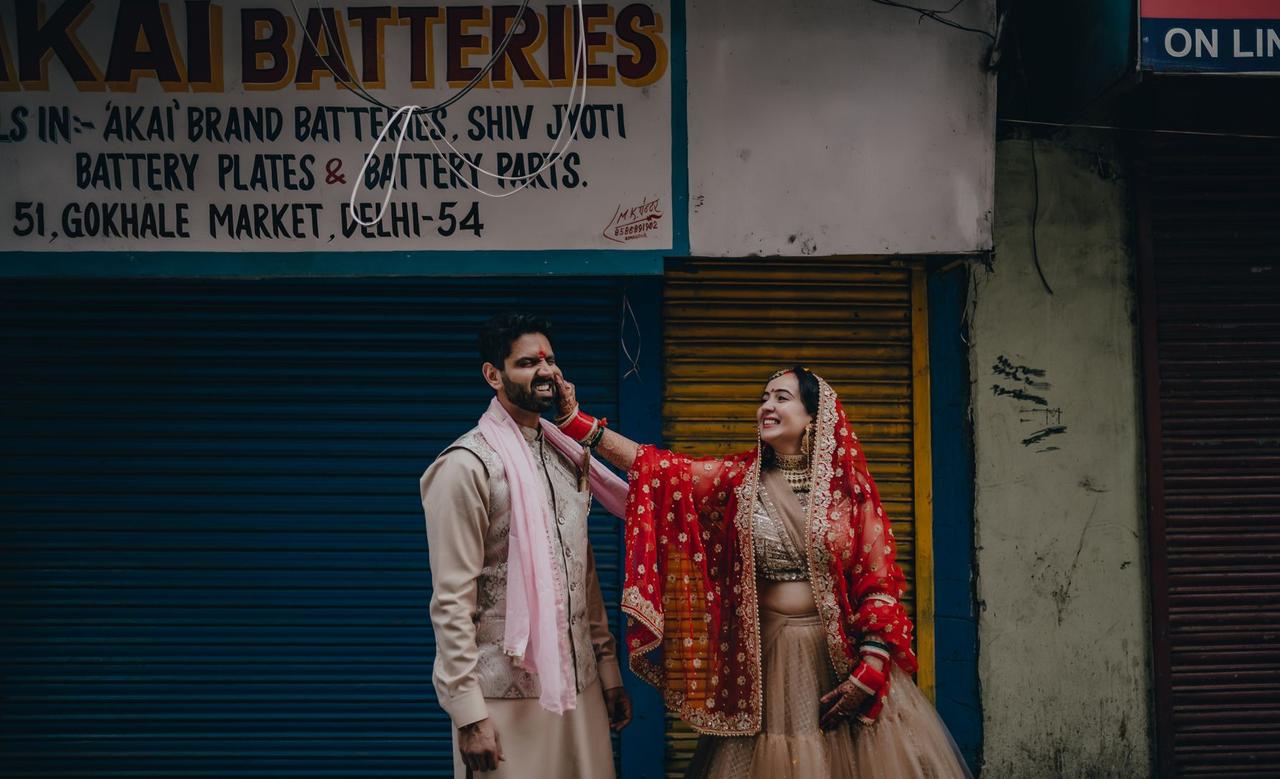 "Never in our wildest dreams did we think of covering a wedding with a handful of people wearing masks and maintaining social distancing. All thanks to Sanyukta and Nishant who planned their whole wedding amidst worldwide lockdown. We shot this wedding last week in a small Arya Samaj Mandir. Isn't that just beautiful?," says Divishth Kakkar of Delhivelvet.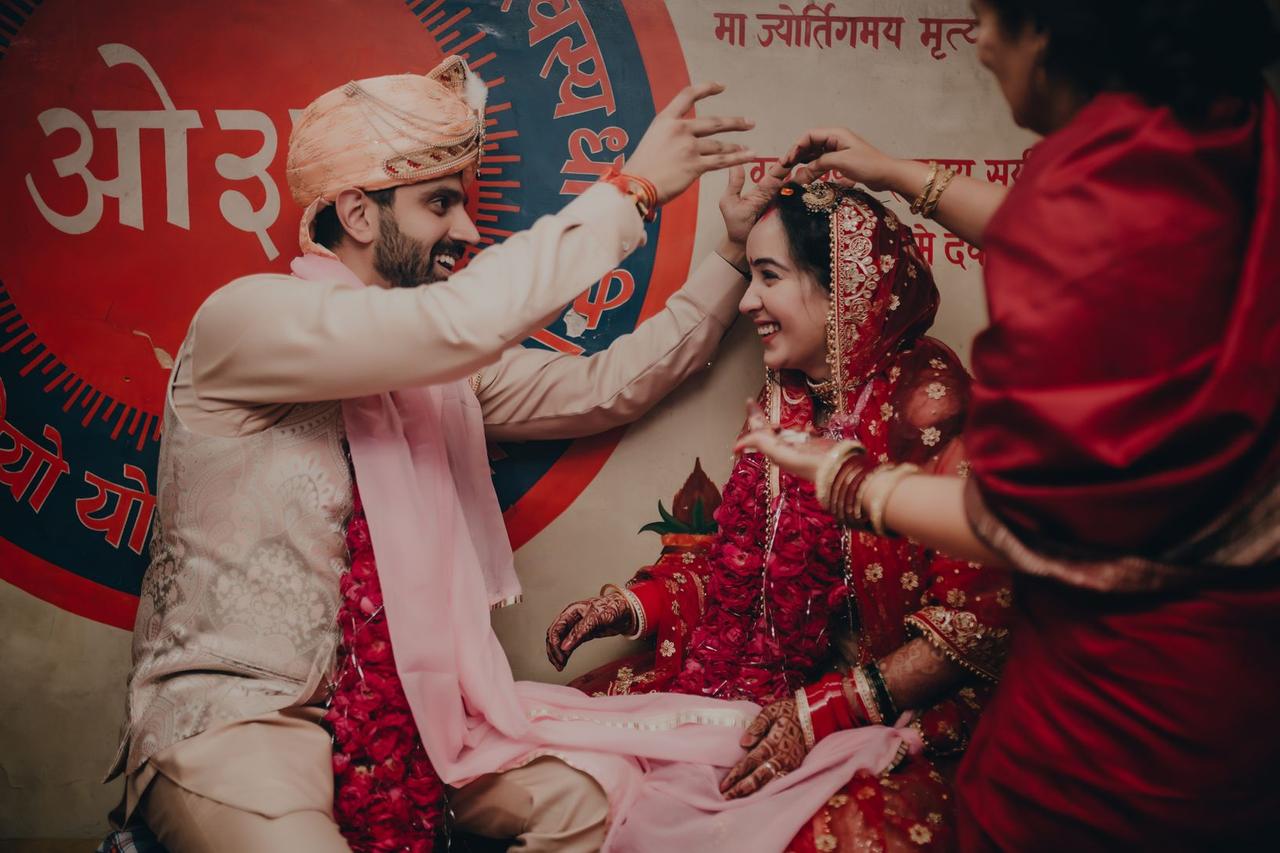 The couple originally had made big plans to host their wedding ceremony on the 27th of November 2020. But with the unfolding of the pandemic their 2020 wedding date started to look more and more uncertain. Sanyukta who tied the knot with Nishant on 17th of May tells us, "For us what mattered is that we get married and be together instead of prioritising a big wedding ceremony to go about it."
However, they plan to host a reception, when times allow, for their close friends and family to celebrate their big day with the people they love.
An Unexpected Wedding Venue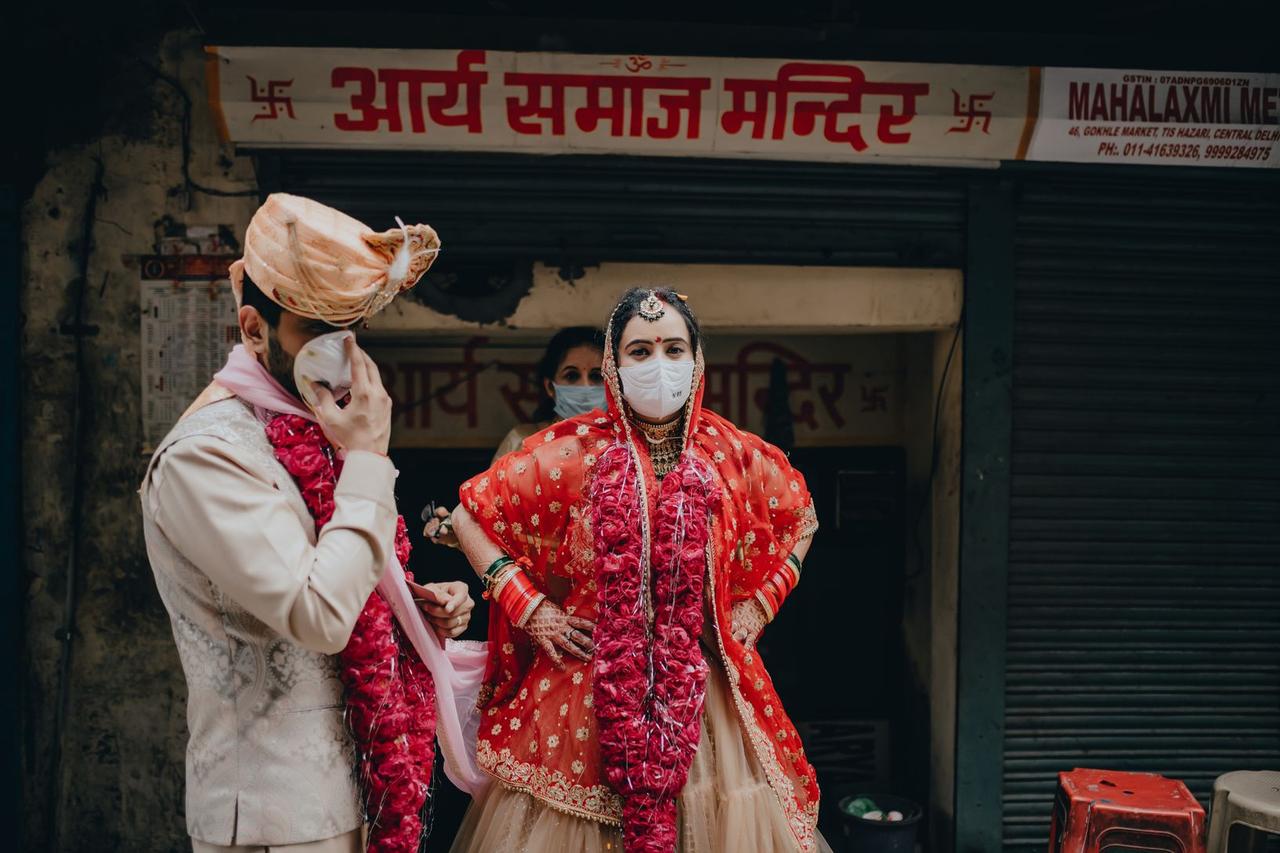 "To be honest, we expected the venue to be something different than what it was. It turned out to be a small shop kind of setup in Tees Hazari. It was one of those places that are registered to officially acknowledge an Arya Samaj wedding. It was a little disappointing at first, but the minute me and Nishant saw each other, there was a smile on both our faces. We realised that this is the day when we get married. It was 40 degrees but everything felt beautiful. We were no more concerned about where it was happening or who was with us to see us tie the knot", Sanyukta reminisces.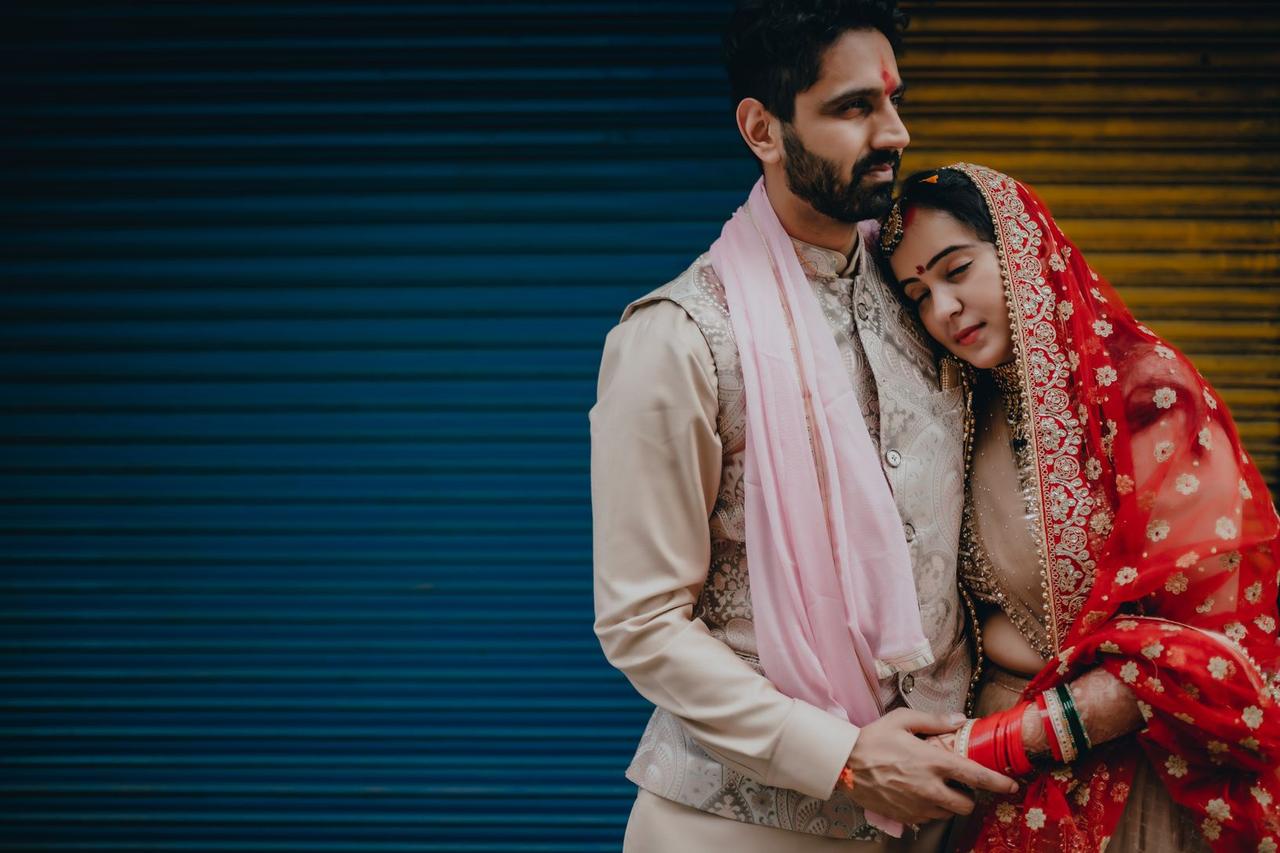 Their wedding was supposed to be held at Subroto Park auditorium, Delhi and the bride had even picked up different spaces for the dance or where the phere should take place and so on. "I was mesmerised by the aura of the venue (Subroto Park auditorium) when I first visited it with my mother-in-law. I walked around and had it all planned in my head. From that venue to this, it was a 180-degree flip. But you know it was destiny and I have a stunning story to tell my kids!" Sanyukta laughs and we completely agree. It is indeed a story of a lifetime and not only for her family but for all the to-be-weds to take inspiration from!
The Lockdown Wedding Photoshoot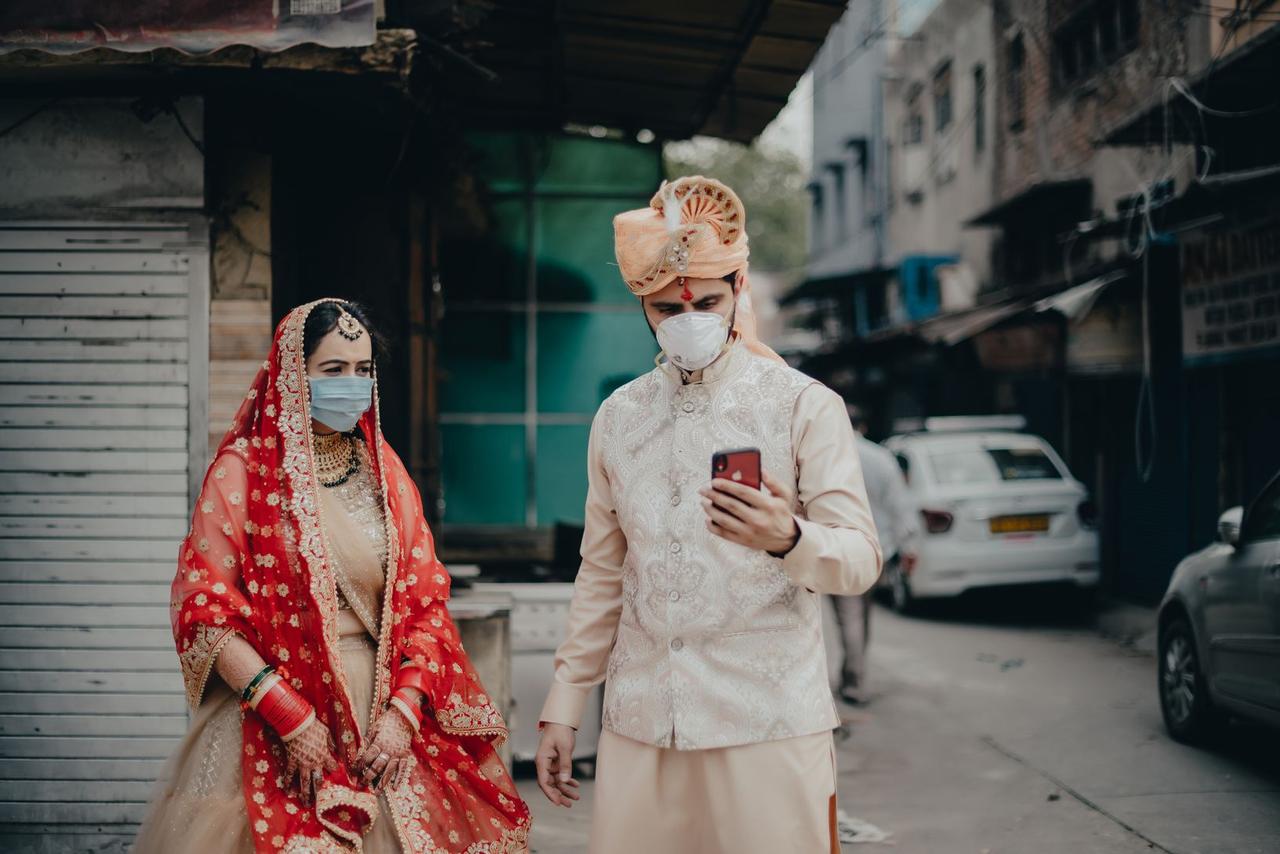 Sanyukta says, "The street where the mandir was located, was like a regular street like the ones in Old Delhi and nothing that was great and photogenic to be a wedding backdrop. But our photos turned out to be amazing! People would pass by looking at us all decked up in the middle of the street and smiling at us. We're different." Yes, Sanyukta and Nishant are an amazing couple who carved a way out of the box for all!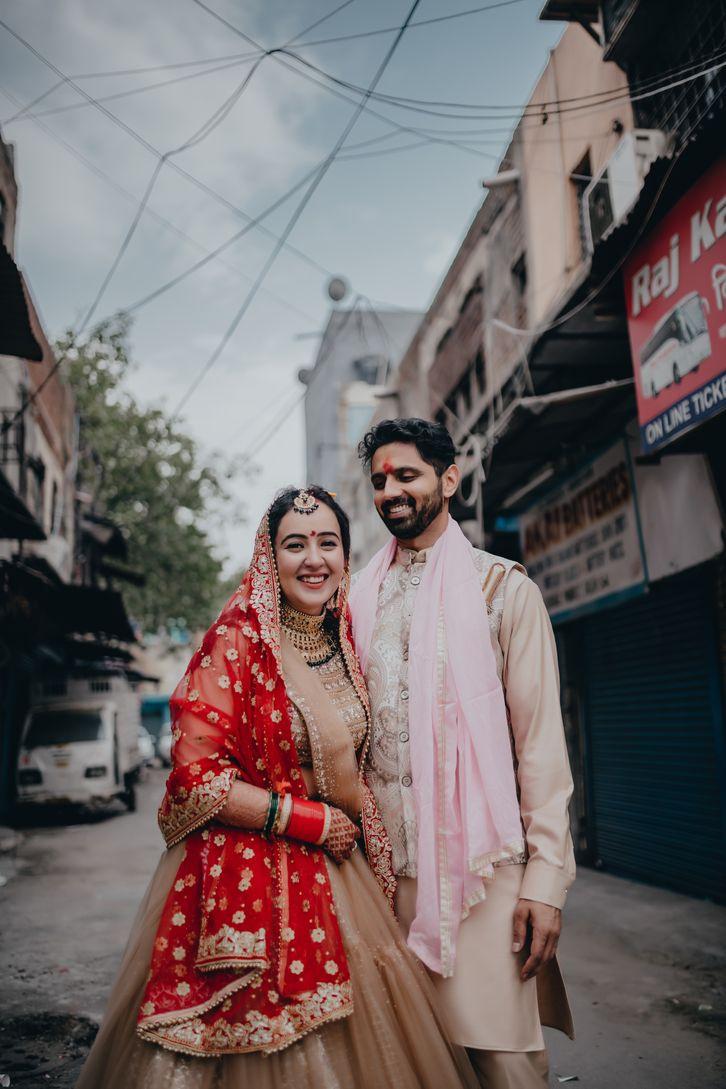 Delhivelvet's Divishth Kakkar adds, "Sanyukta was very emotional during her Mehendi and Haldi at home because she missed all the people who could not be part of her special day. She missed having a Bachelor's Party with all her cousins and the Ladies Sangeet with her Bhabhi and all the women close to her. But then Sanyukta's cousins lifted her spirits by throwing her a bachelor's party over Zoom call where they talked and even shared a drink or two." A virtual bachelorette party for the bride is a great gesture and much-needed for the bride too!
Their Guests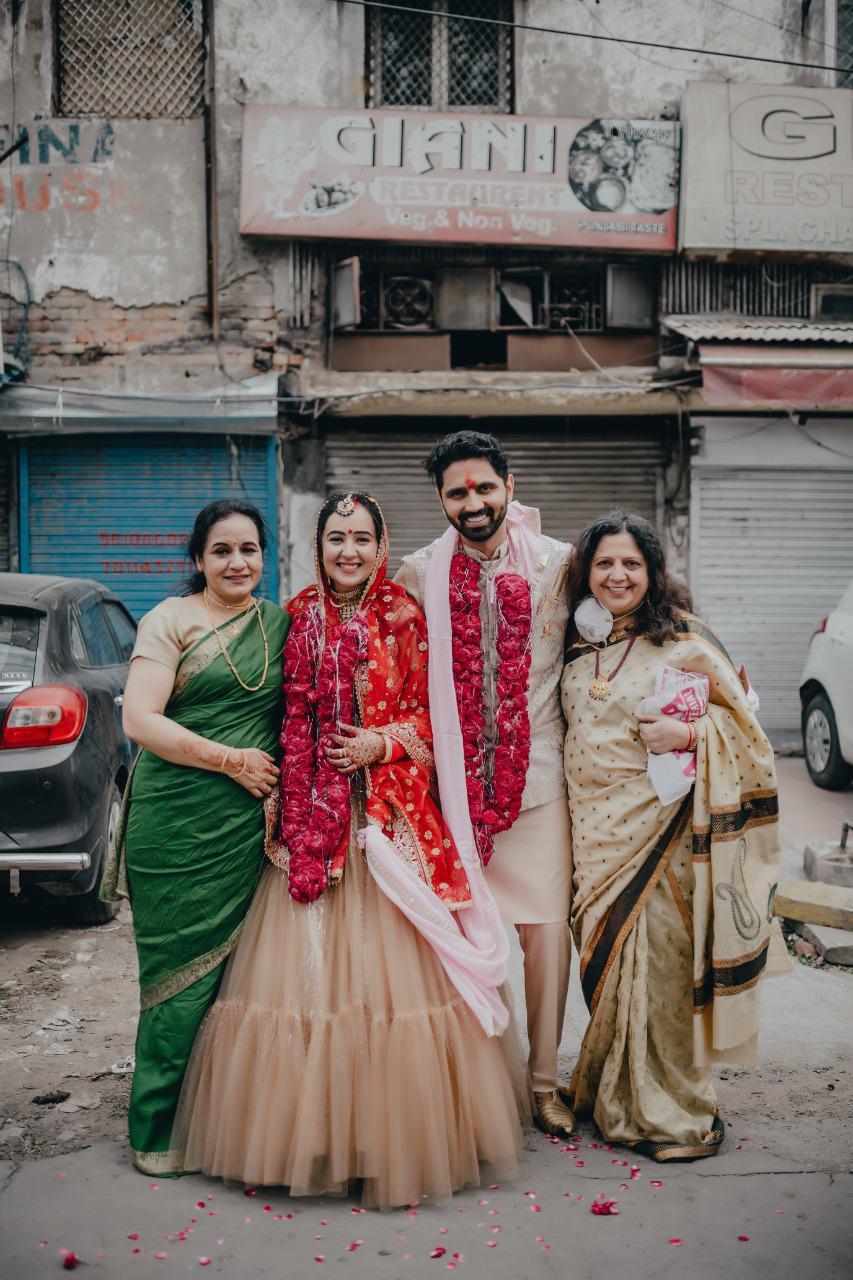 There were 8 people present with the Sanyukta and Nishant for the wedding. But Sanyukta confirms that more than 70 people were with them virtually through Zoom call on each of their phones and blessing their wedding through the screen.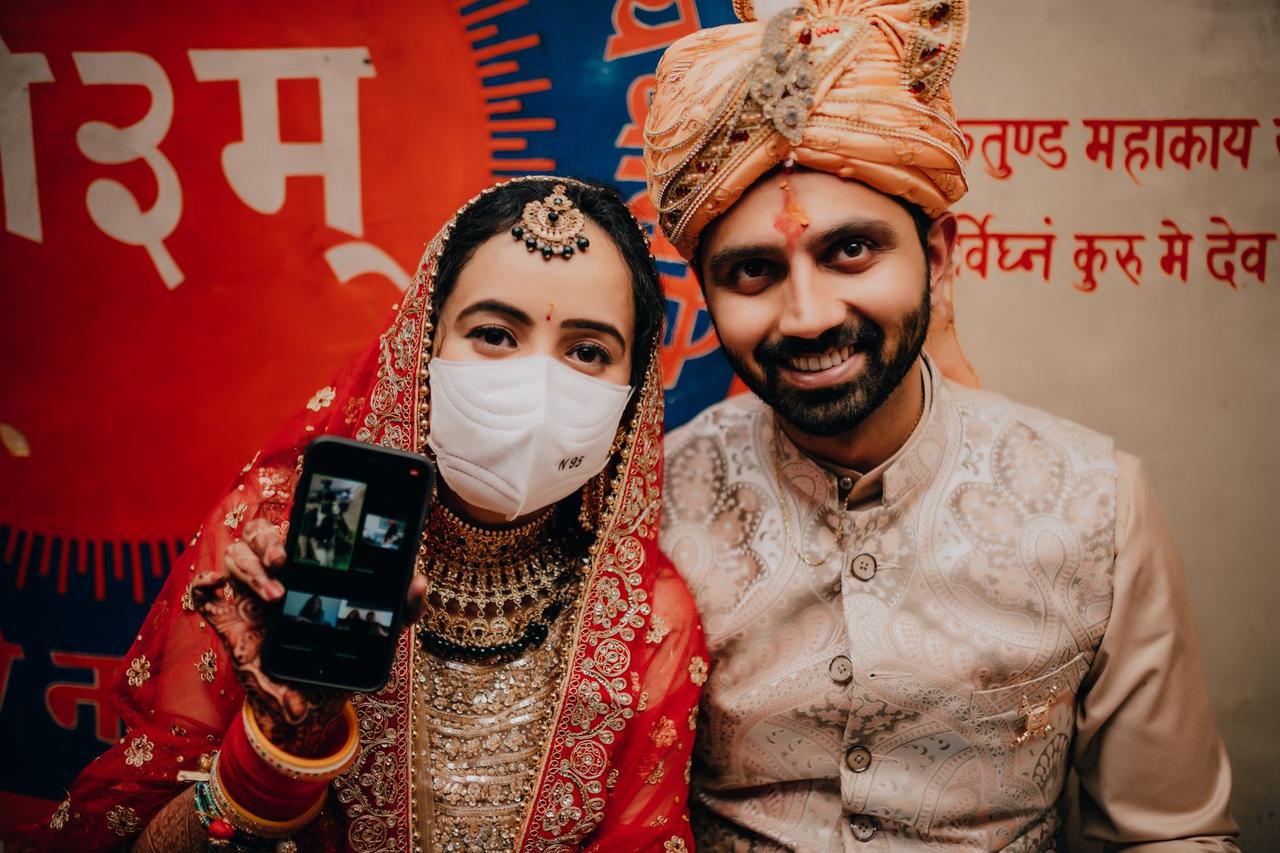 They all dressed their best in traditional attires in their homes and enjoyed the wedding over the Zoom call. There was roasted chicken and beer too!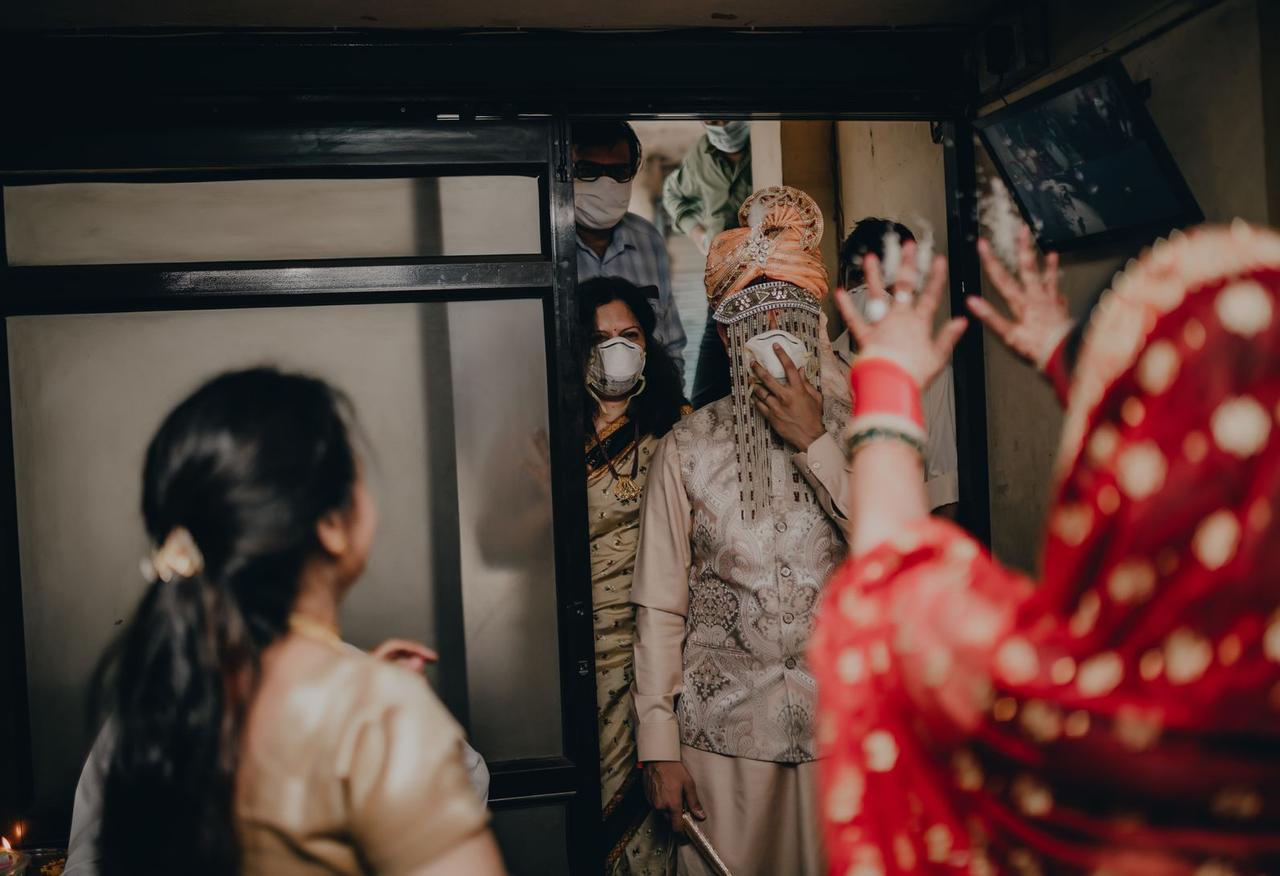 The government had by then allowed less than 50 people to gather for wedding ceremonies and hence that did not need any special allowance or permit. They travelled in their own cars following the protocols laid down by the authorities to the Mandir and they did not need any extra permit for their travel within the city. It was definitely emotional, but a smooth ride for the duo.
What They Picked to Wear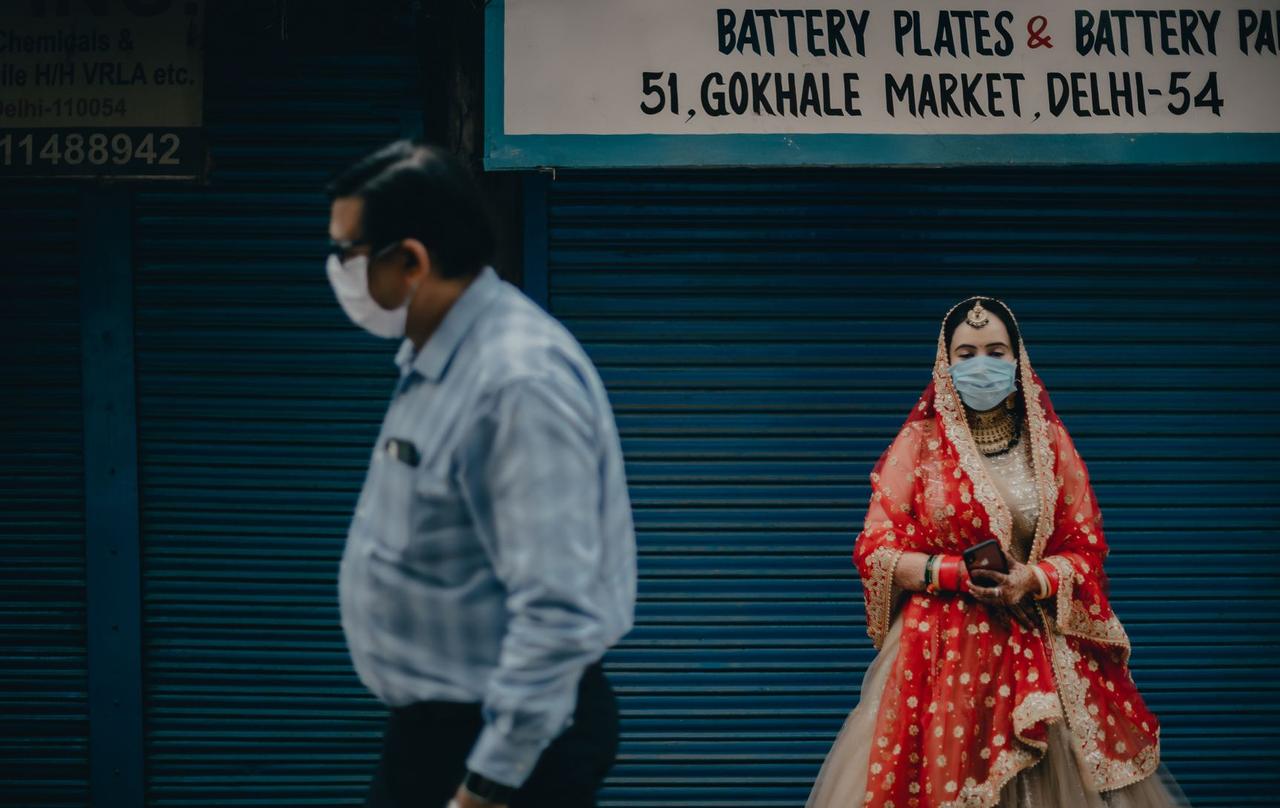 Sanyukta wore a gorgeous golden lehenga and we loved her look.
She says, "Initially, I asked my mother, mother-in-law and aunt if they had anything I could borrow as my wedding outfit. But I always wanted to wear something golden as a bride. I had this feeling that I am going to be the new bride just once in my life and I wanted to wear a new golden lehenga to celebrate me. My brother's friend owns a store called Bharat in Rohini and I asked him if he could help me pick an outfit for my big day. He was of great help! He opened the store and it took me less than 10 minutes to lay my eyes on the perfect golden lehenga that I picked. I also picked Nishant's outfit for the wedding from the same place."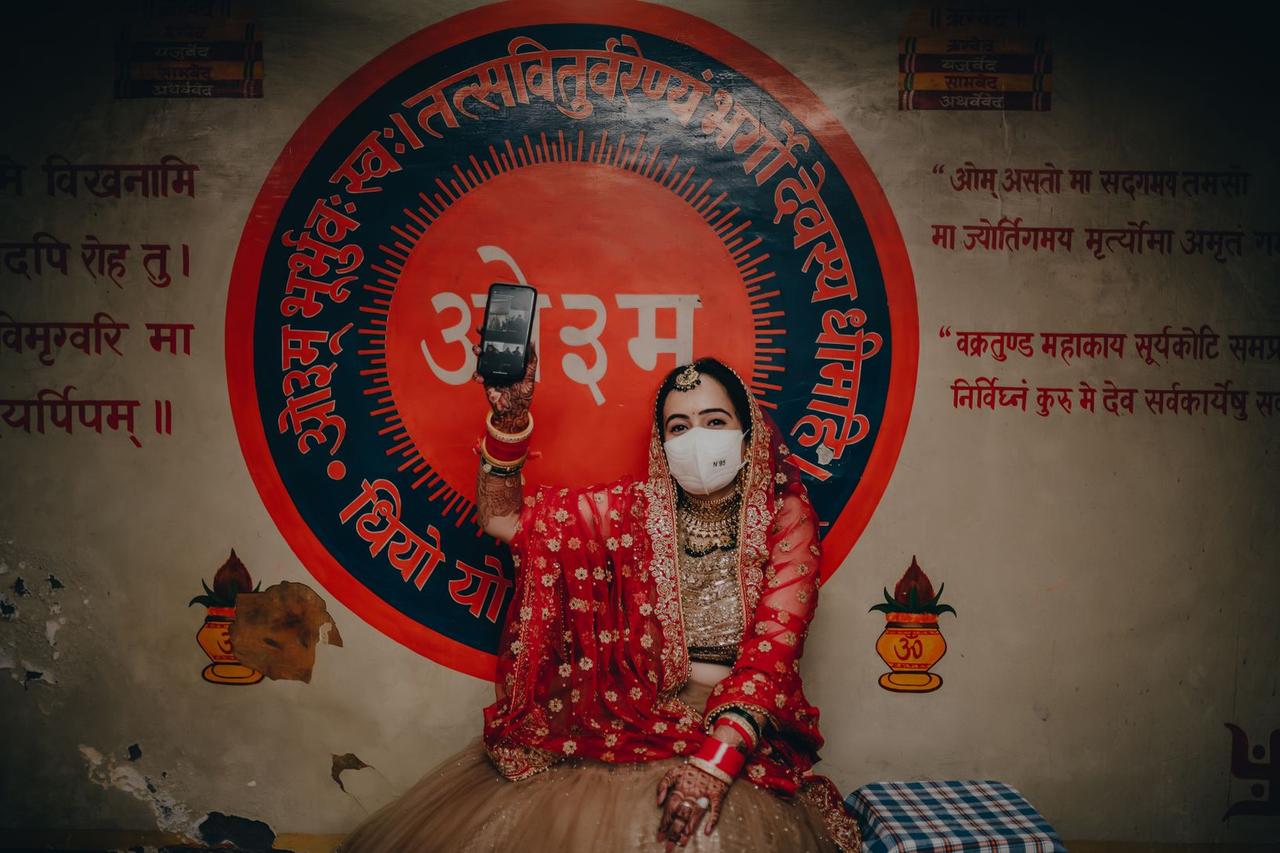 She flaunted a beautiful Kundan jewellery set with green stones. "My mother loves Kundan which is why I always wanted to wear a Kundan set for my wedding day. My mami had a Kundan set with green stones that I borrowed. It was simple yet elegant. My Mangalsutra was however newly made by our family jeweller. We had to pull a few strings here and there within the family to get it though!😉 "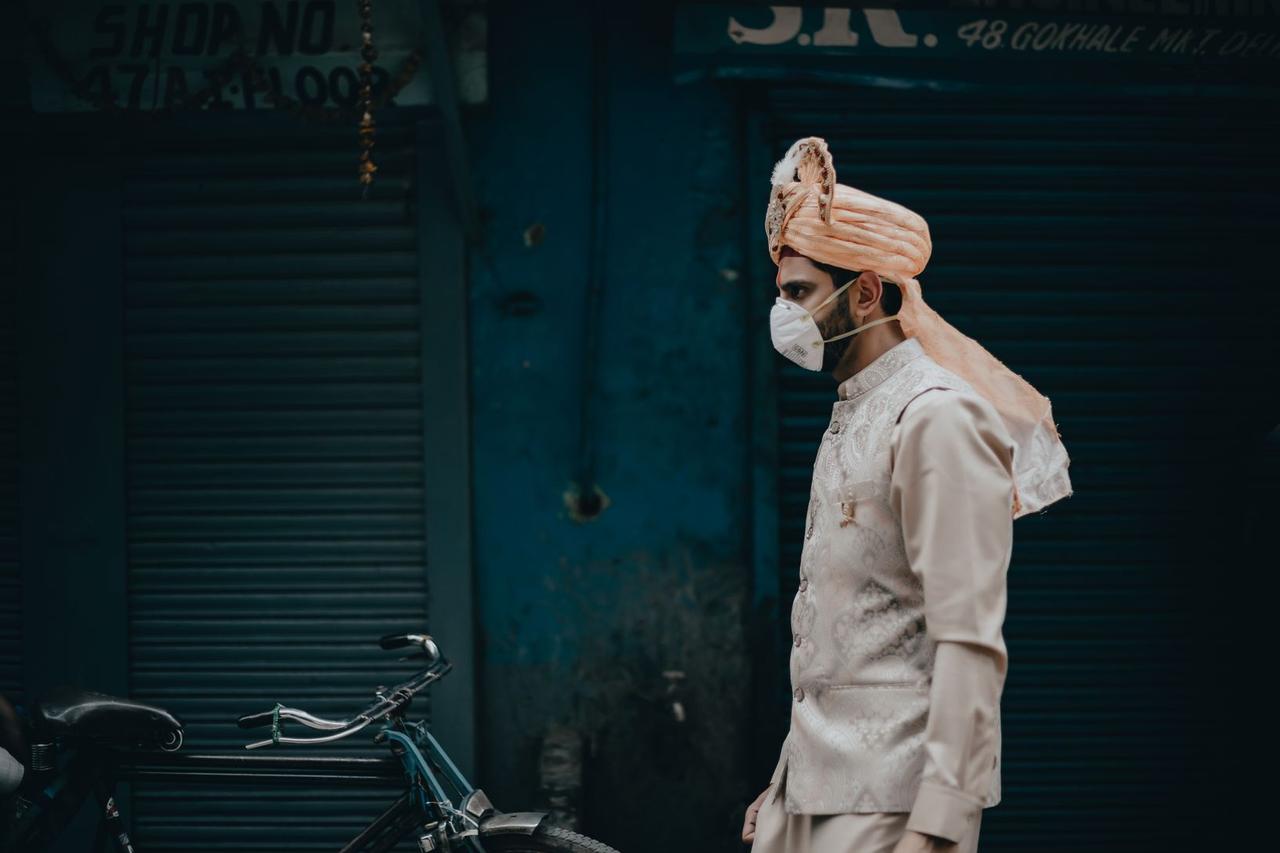 Nishant wore a beautiful cream coloured Nehru Jacket with a peach kurta pyjama.
And when the wedding day arrived, Sanyukta was happy and excited to get married to the person she loves and they can finally refer to each other as husband and wife.
Safety - Above All!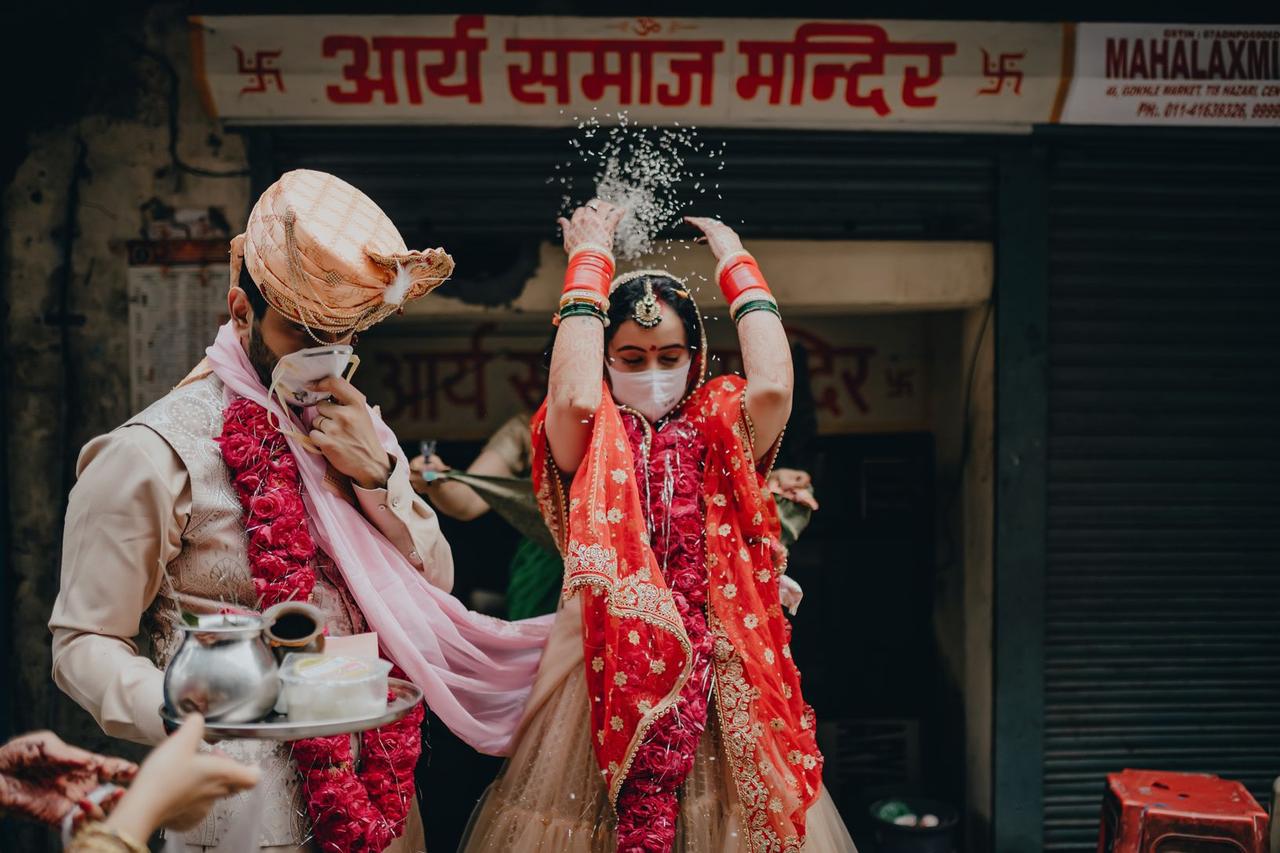 The couple, as well as the family members who were present with them during the wedding at the Arya Samaj Mandir, made sure to carry sanitisers and had even carried extra masks apart from the ones they wore. The bride and groom rocked their masks with their wedding outfits and they look dashing!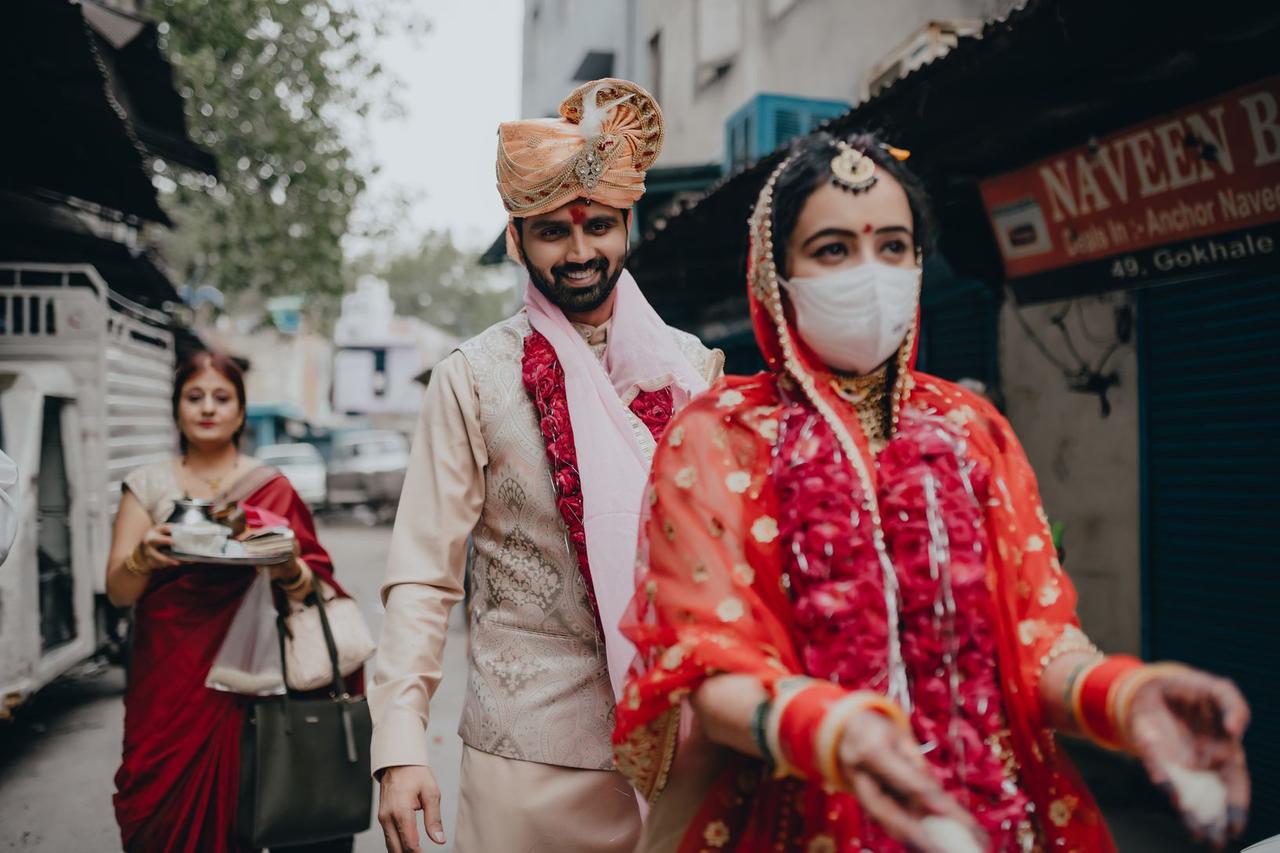 When two people are in love and want to call each other husband and wife for the rest of their life together, there is no perfect time or a grand ceremony to wait for anymore. The time is just perfect when you feel that way. To quote Sanyukta, "I always tell Nishant that more than a wedding, I want a Marriage," says the bride Sanyukta.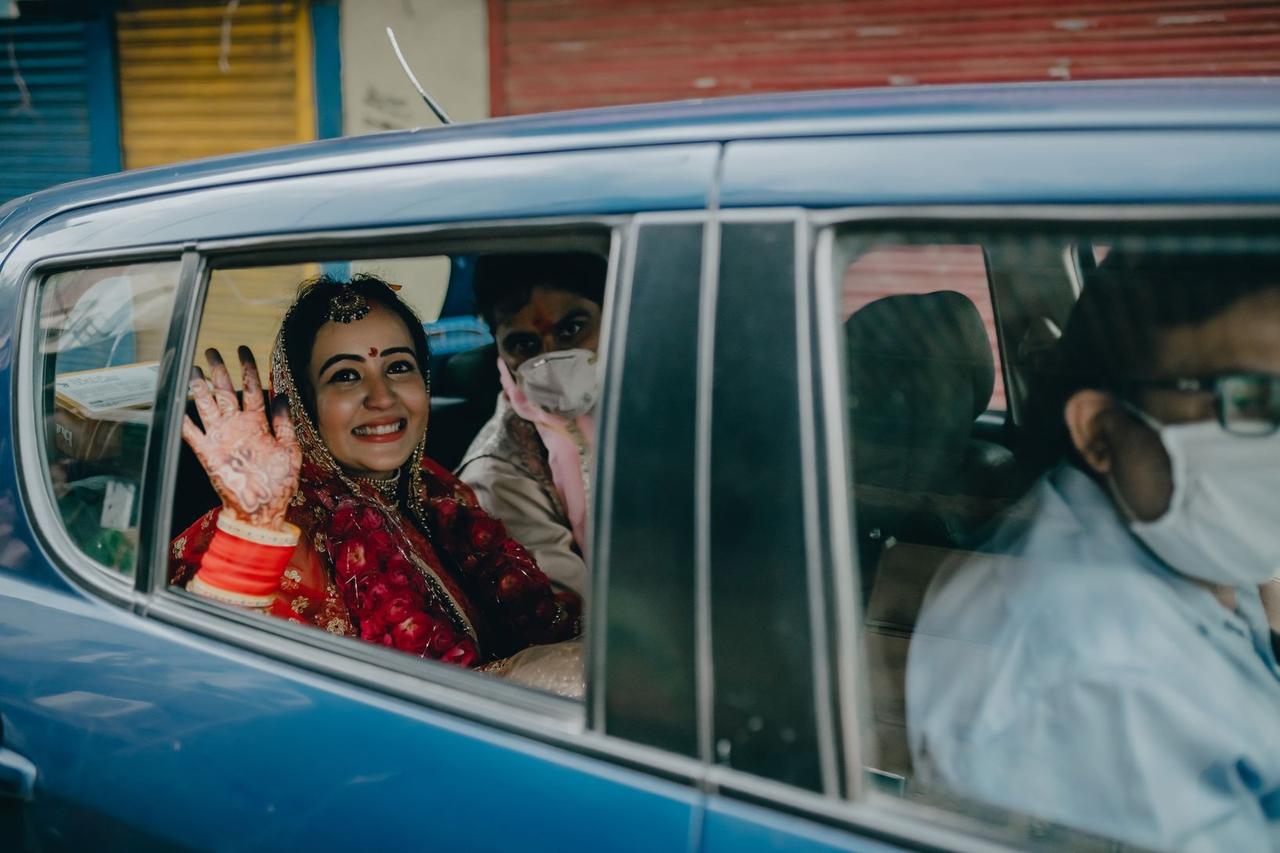 Since the protocols allowed them to be out only till 7 pm, they headed back home and they celebrated their traditional games of ring hunting in a bowl of milk and even had a beautiful griha pravesh ceremony arranged by Nishant's mother at his home.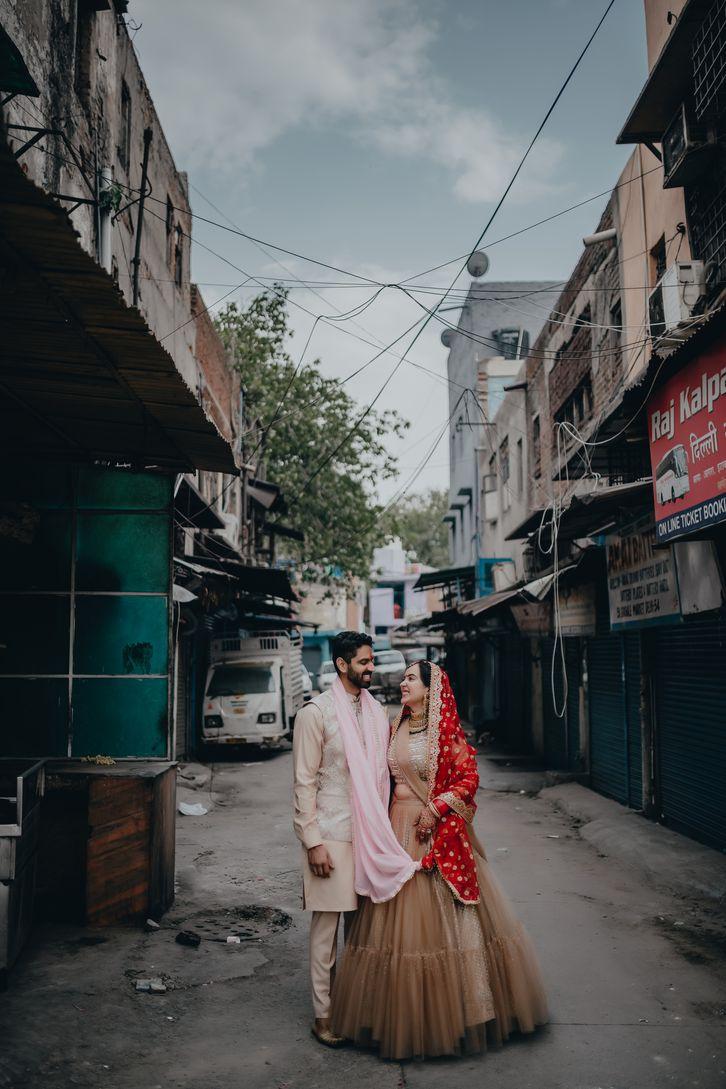 Sanyukta and Nishant's wedding was unique and it'll be embedded in their memories forever. In a world filled with uncertainty and chaos, their marriage brought a new positivity and happiness and it proved yet again that love overpowers everything. Fancy venues and designer lehenga can wait, but not the celebration of love. Indeed, Love is not Cancelled.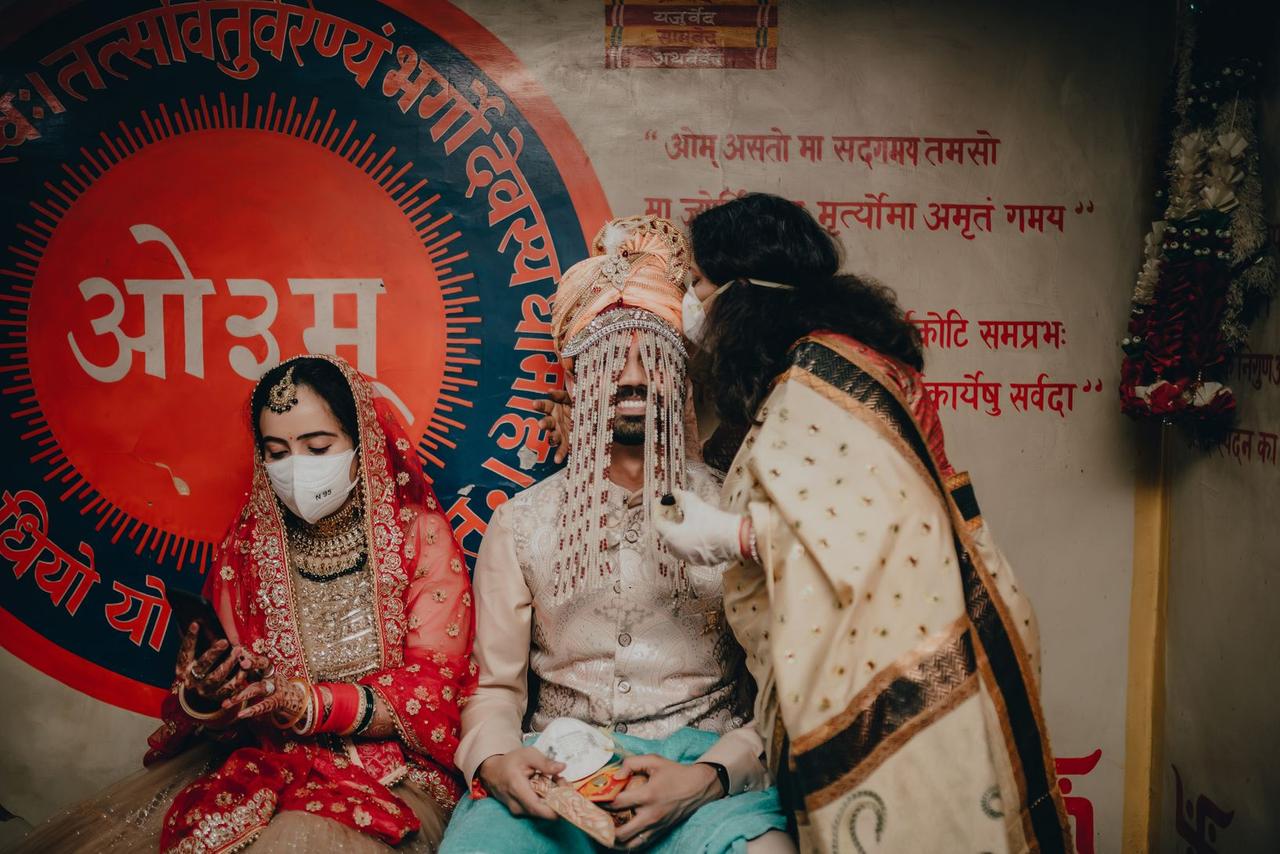 Note: All images have been provided by Delhivelvet by Divishth Kakkar.
If you are planning on an unforgettable wedding during the lockdown, get in touch with the wedding vendors and the venues who are resuming business to make your D-day a memorable one for all. Make sure the wedding photographer makes every frame worth a treasure.