Some Evergreen Wedding Scenes From Our Favourite Movies to Inspire
We are sure that once you go through the list, you would want to duplicate at least one wedding scene or song at your own wedding.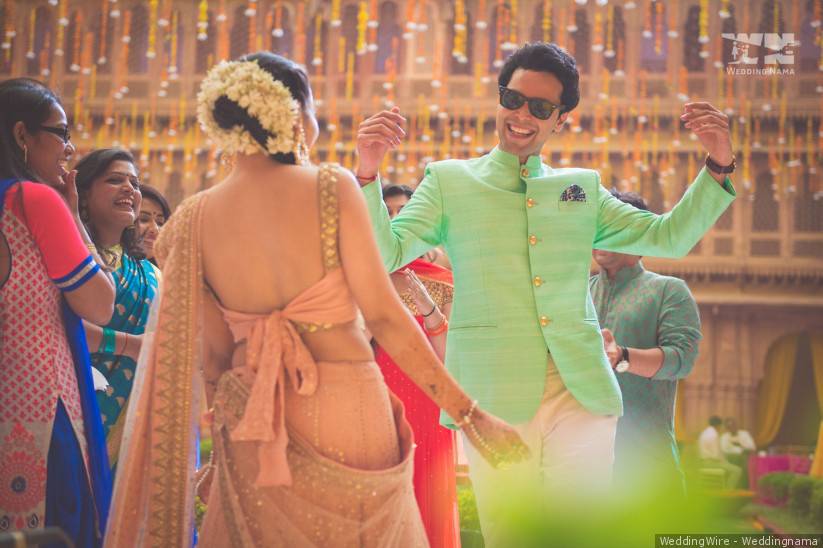 Weddings and movies are India's two big blockbusters. If these wedding scenes are combined, it is a win-win situation. Having grown up watching and admiring Bollywood and Hollywood weddings, we all hoped we would be able to replicate at least one scene or song at our own wedding. Here are some iconic wedding scenes that have found a spot in our Top 8 list. Movies since time immemorial have been a constant stroke of inspiration for couples for the wedding. From getting inspired by the kind of wedding decor to the dance choreographies and playlists - movies will forever be one of those few mood board inspirations that help every couple plan and design their own wedding. So, browse through our list of wedding scenes which inspired us to write this curated piece of inspiration for all the couples who are tying the knot any time soon.
1. Yeh Jawaani Hai Deewani
Just like any other Karan Johar flick, this is one of the wedding scenes that describes a modern-day destination wedding in full glory. From pre-wedding parties and the bride and groom's bachelorette, a choreographed Sangeet night with the friendly pressure of performing the best, emotional Haldi ceremony and a traditional wedding – the movie had everything, for us to fall in love with weddings.
Expert takeaway - The quaint Udaipur backdrop sure made us want to have a destination wedding ourselves. Time to take out your planner. Get set and go!
2. 2 States
We have seen a lot of wedding scenes on the big screen, but very few have managed to capture the essence of a wedding that is a blend of two cultures. The minimalism depicted through Alia and Arjun's wedding in 2 States made us believe in love and marriage, all over again! The film upholds the value of the parents and the significance of invoking blessings even in a modern day love story that ends up in a happily ever after with a wedding. The early morning wedding bells are a stark representation of the culture and the cinematography tells you about the aesthetics of white.
Expert takeaway: If minimalism is your style, then you must go explore all types of simple Indian wedding decoration ideas and take inspiration from these wedding scenes.
3. Raazi
Trust us, when we say we are loyal Alia Bhatt fans. She has chosen only one of its kind films that depict weddings in their own unique way. The song Dilbaro depicts the real relationship of a father and daughter, at the time of her Bidaai. Every father who has a daughter will experience this emotion once in his life. It is a beautiful journey to bring up the toddler and make her capable of living her life on her own and yet she is still his little girl. But when the day comes that she is about to step into a new life with her significant other and his family, it is indeed hard to accept the situation and let his little girl go and this is exactly what the song depitcs.
Expert takeaway: Even though this iconic scene of Alia Bhatt crossing the border after her wedding is etched in our hearts forever, we suggest you listen to this song with closed doors, as it will surely get your father all emotional.
4. Zindagi Na Milegi Dobara
How can one forget the ending of Zindagi Na Milegi Dobara? Needless to say, the wedding song featuring Hrithik and Katrina is going to give you wedding goals. Who wouldn't love to tie the knot, in an extremely fun and fuss-free way? We have already taken notes for the next wedding in the family. Garden theme, casual, vintage vibes and lots of flowers! The open space calls in for over-hyped celebrations by the friends and family and obviously now this song is on repeat.
Expert takeaway: In case you're looking for more white wedding decor ideas, check our blog on Church wedding decor ideas.
5. My Best Friend's Wedding
This movie was a cable staple while we were growing up, and it still makes sense, even in this day and age. Friends can get jealous when their best friends find the love of their life. The iconic scene involving Julia Roberts individually making amends with both Michael (Dermot Mulroney) and Kimmy (Cameron Diaz). She even delivers an emotional toast on the wedding night that was hard to forget.
Expert takeaway: After watching this movie, if you want to make a list of friends you want to avoid inviting for a disaster-free wedding, we can help!
6. Runaway Bride
There's nothing more archetypal than Julia Roberts and Richard Gere riding horses into the sunset after getting married in the movie Runaway Bride. Even though this scene is right after "you may now kiss the bride" moment, it is still one love oozing scene.
Expert takeaway: If you are a movie buff, you can throw a quintessential Bollywood-themed party before your wedding or bring in a horse to carry your bride away into the sunset where you can live happily ever after.
7. Father of the Bride
If you or your dad is a Steve Martin fan, then we suggest you watch this movie together. Along with a box of tissues. The wedding scenes are full of love and emotions. The iconic dialogue of Steve Martin, "I realized at that moment, that I was never going to come home again and see Annie at the top of the stairs, that I'd never see her again at our breakfast table in her nightgown and socks. I suddenly realized what was happening: Annie was all grown up and leaving us. Something inside began to hurt" makes the movie our all-time favourite!
Expert Takeaway: Seeing your sister get married is equally emotional. So why not dress your best and then shed a tear? We have a dress guide for the sister of the bride.
8. Meghan Markle saying "I do.."
One of the real-life wedding scenes amid a bevvy of film scenes? This wedding, one of the most broadcast weddings worldwide in 2018, actually makes the cut. A total royal feel and now we also have the Palatial wedding of Priyanka Chopra and Nick Jonas which is nothing short of a fairytale come to life. And, let us not forget the epic moment we all held our breath for - the Deep Veer wedding that was goals in every sense of the word. From outfits to decor to the showbiz - everything was spot on and totally one of a kind!
One of the most iconic wedding scenes in recent times, we all felt the same 'filmy' romance when Prince Harry wed his lady love, Meghan Markle earlier this year. The whole atmosphere at the recent Royal Wedding was full of love. The former Suits actress looked gorgeous in a custom Givenchy bridal gown. Even though we seemed nervous for her, she seemed completely calm and composed as she walked down the aisle with her future dad-in-law, Prince Charles.
Your wedding can have these moments from the wedding scenes recreated in your own ways and with improvisations, but your wedding in itself is also no less than a movie scene that needs to be captured in the cameras forever and cherished.
Now that you have gone through the entire list, let us know about your favourite wedding scene in the comments section below.