Udaipur Wedding - Learn All About the 'how to' and 'how Much'
Having an Udaipur wedding is every Indian bride's dream. From the costs of the stay to who to get catering from - we explore everything you need to know about this destination wedding.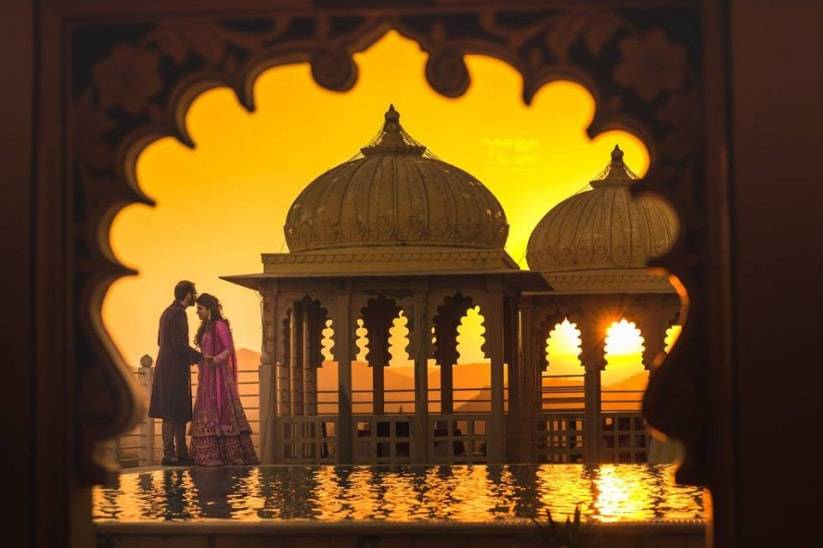 Always wanted to host your wedding amidst the royal walls of the city of Udaipur? well, guess what you are not alone! Countless couples every year from all around the world travel to this opulent city to tie the knot and thus this destination is known to be one of the most looked up to city when it comes down to destination weddings.
If you are planning a destination wedding in India, Udaipur has to be on top of your list. It's all things royal and has the perfect locations within the beautiful city of lakes to get married at. If you have themed your wedding around Indian royal heritage, then this is definitely the place to be. Today, we make the case for how to plan an ultimate Udaipur wedding.
But, the destination does not necessarily mean over the top expensive. If you happen to be smitten by this picaresque location, then let us convince you a little more by giving you a breakdown of the various costs involved in actually hosting your wedding in this royal city. Read on and find out everything you need to know.
Why Opt for a Udaipur Wedding?

Udaipur in Rajasthan is a heritage city, providing the perfect backdrop for an ornate and romantic wedding experience. Here's why you should choose it as the venue for your wedding destination.
1. Romantic setting:
A Udaipur wedding is a dream come true largely due to its location in the city of lakes. Amazing weather, sun-lit weddings and ornate, heritage sites as possible venues contribute to the romantic feel for your special day.
2. Tourist Spot:
Udaipur offers a lot of exploration for your wedding guests on the sidelines of your wedding. This would mean arranging for trips around the city which would keep them engaged, while your planners or venue staff organise the different events.
3. Approachability:
Udaipur provides easy access for everyone from all major metropolitan cities. People can fly from anywhere in India to attend your wedding.
4. Venues for all Budgets:
Udaipur offers a wide range of luxury hotels to choose from, including Oberoi, Taj and Leela. You can book one according to your need. If not a luxury hotel, there are other decent, budget hotels in the city you can choose from as well.
5. Perfect Weather
Udaipur mostly has good weather all throughout the year and it's extremely pleasant during winters, especially around the Shadi season - not too cold, not too hot.
6. Royal Palaces
Couples dream of having an Udaipur wedding because of the aesthetic beauty of this city and its royal palaces. These majestic locations give your wedding the exact regal feel you are looking for.
Exploring Location, Stay & Catering Costs In a Udaipur Wedding
1. The Oberoi Udaivilas

Yeh Jawani Hai Deewani was shot at the Oberoi Udaivilas and this is one of the top places to get married at in not just Udaipur, but across India. And, we are sure that you were just as smitten with our dearest Jodi as we were and this movie gave us wedding goals on so many levels.
Catering Costs: ₹2,200 per person for its buffet breakfast, ₹5,500 to ₹6,500 for a gala lunch, and ₹7,000 to ₹8,500 for a gala dinner.
Accommodation costs: Rooms starting at ₹61,000 for two people, per night, going up till ₹1,100,000.
Overall Event + Venue Costs: Starting from ₹50,00,000 going up till ₹1,00,00,000 or more.
2. Raas Devigarh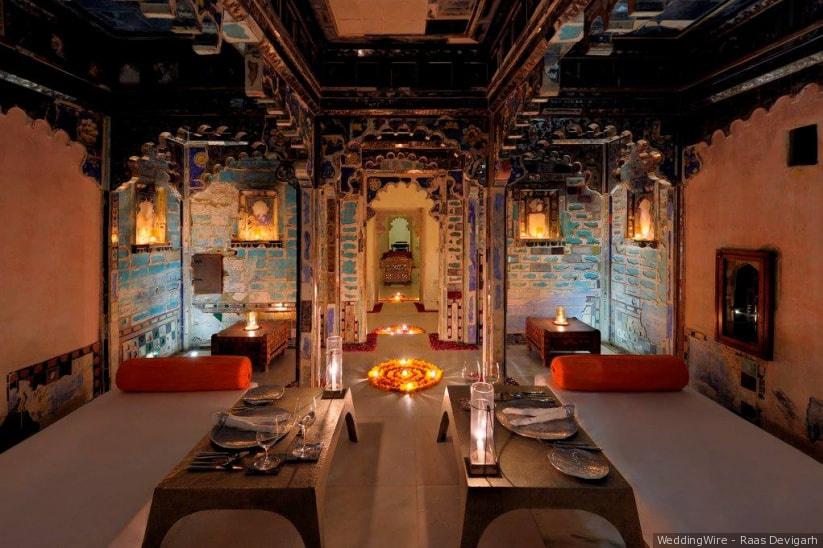 Raas Devigarh is perfect if you want a Rajputana wedding. Its majestic architecture adds to the decor of your Udaipur wedding and you will absolutely love it. So, if you want your wedding to have some of this mysticism then you know what to do next!
Catering Costs: Request for a quote from the management.
Accommodation costs: Rooms starting from ₹17,000.
Overall Event + Venue Costs: Starting from ₹40,00,000 going up to your specific requirements.
3. Fatehgarh Udaipur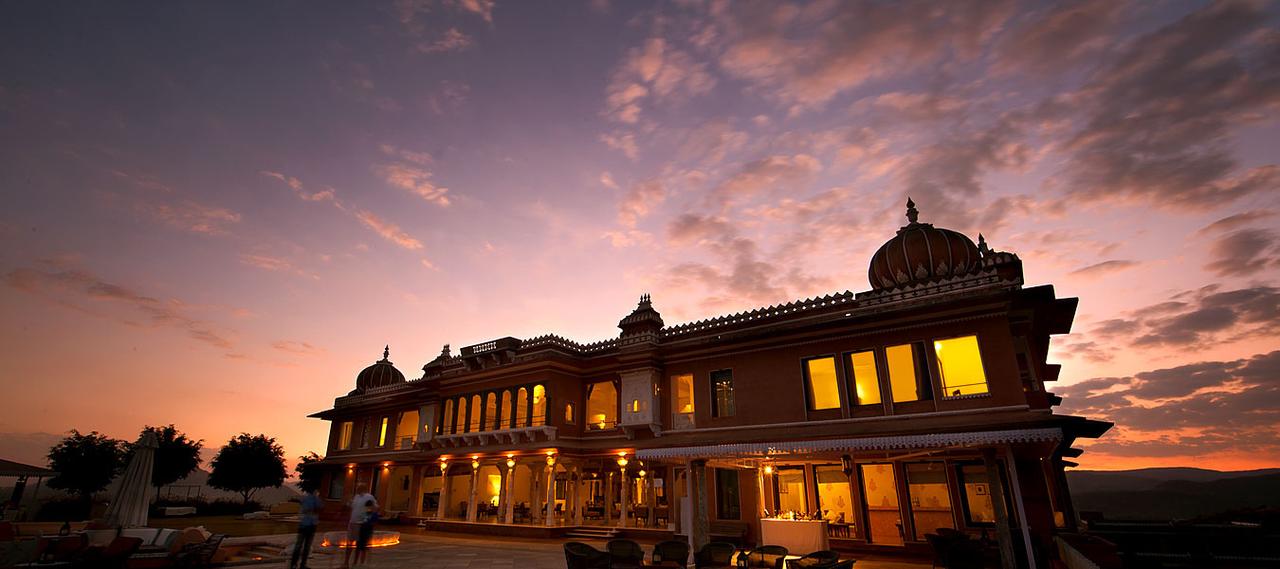 With a mindblowing backdrop of hills, Fatehgarh Hotel and the location it is in Udaipur will make you fall in love with it. It's super romantic too and one can have their dream Udaipur wedding here.
Catering Costs: Request for a quote from the management.
Accommodation costs: Starting from ₹7,800 per night, double occupancy goes up till ₹18,000.
Overall Events + Venue Costs: Starting from ₹30,00,000 going up to your specific requirements.
4. City Palace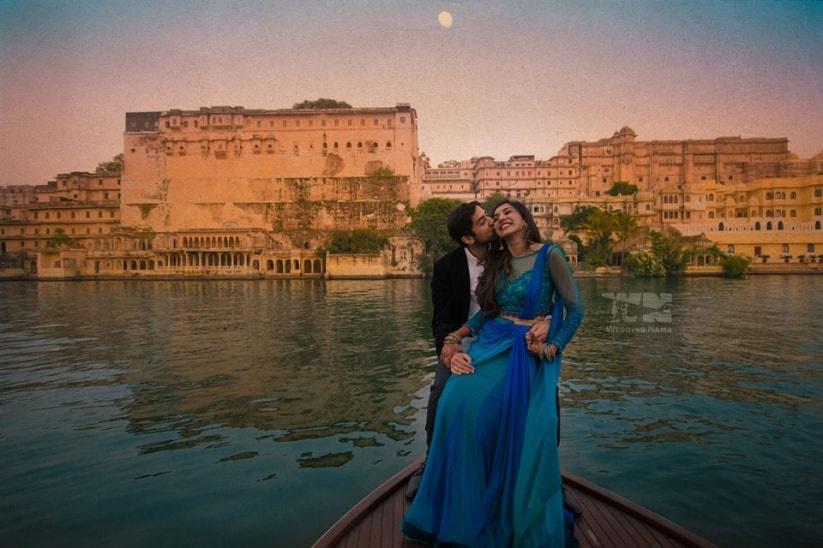 How can we miss putting the mesmerising City Palace on our list, right? There are several palaces within the City Palace that have been converted into heritage hotel venues.
Catering Costs: Starting from ₹8,000 per person, per meal.
Overall Events + Venue Costs: Starting from ₹20,00,000 going up to ₹1,00,00,000 or more, according to your requirement.
Other Costs For An Udaipur Wedding
A) Flowers & Decor
Budget hotels - Starting from ₹1,00,000
Luxury hotels - Starting from ₹6,00,000
B) Wedding Photography
Though you may hire photographers from your home city, if you want to get a local wedding photographer from Udaipur, the starting range is ₹40,000 per event, going up till ₹2,00,000.
C) Travel Within The City
The local travel in the city is pretty cheap but if you want your wedding guests to have a luxury experience, you can hire a bus or coach which will cost you around ₹7,000 to ₹9,000 per day. You can also rent private cars that'll cost you between ₹2,000 to ₹3,000 for 8-10 hours.
Learnings from A Wedding Experience
We spoke to Ekta Thirani, a bride who got married in April this year. While she lives in Delhi, she chose to opt for an Udaipur wedding for a royal-themed experience. "I'm a Marwari and my husband is from Jaipur, so we thought Udaipur would be the perfect location for us to get married. It was convenient for us because we wanted a Rajasthani royal look and feel for our wedding", she told us.
Ekta got married at the Royal Retreat Resort in Udaipur. Her three-day long wedding cost her an approx ₹1,00,00,000 approximately, including travel, stay, catering and other miscellaneous expenditures. "Royal Retreat owners are actually wedding planners and so everything was easy in terms of planning the wedding. My family and I had to visit Udaipur 3-4 times before the actual wedding to make the required arrangements," she said.
We hope you now have a clear idea on how much an Udaipur wedding will cost you overall. Udaipur is indeed the best location in India to get married in and by now, we are sure you've already taken note on how to plan it. So, now that you have a rundown of what t actually costs to have a destination wedding in this beautiful city, go ahead and get in touch with a Pandit Ji to finalise the dates and then some wedding planners too.
So don't wait and get your bookings done. Here is where you may find some wedding venues to your liking.