5 Stunning Church Wedding Decoration and Inspirations You Need to See for the Wedding of Your Dreams
Looking for a magical wedding set up to say "I do"? Read on to explore various Church Wedding Decoration ideas that are beautiful and serene.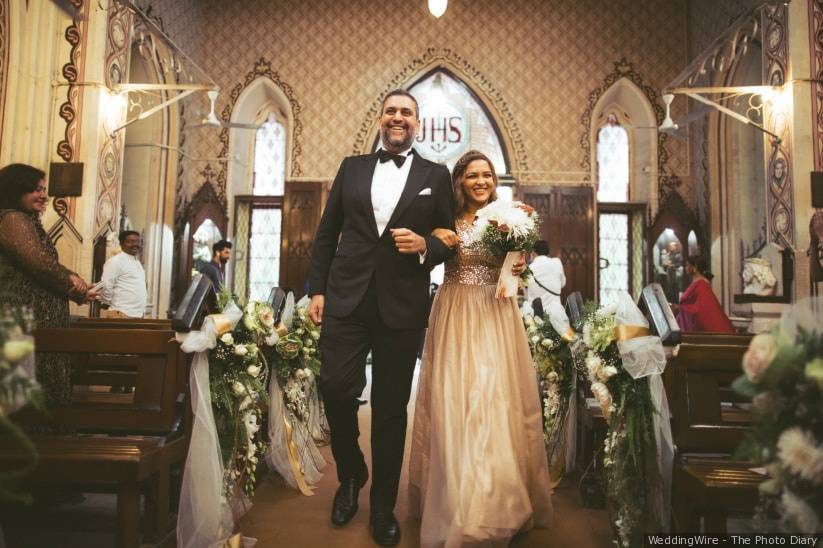 The decoration of the venue of your wedding plays an important role in your big event because it determines the kind of ambience you want for your wedding. When it comes to church weddings, there are so many ways you can put your creativity to work. Getting married in a church is extremely serene and therefore the decoration should be of a kind that lives up to that idea. We realise that it isn't easy to plan this entire thing out easily, and therefore are here for your rescue. We present to you church wedding decoration ideas based on various elements of the church and how you can customise them. From floral wreaths to draperies to enhance the backdrop of your wedding aisle - there are a plethora of options that you can take into consideration when shortlisting options and ideas for your church wedding decoration for wedding and wedding reception ceremony. Read on and get inspired to make your wedding look like an ethereal dream come to life!
1. Entrance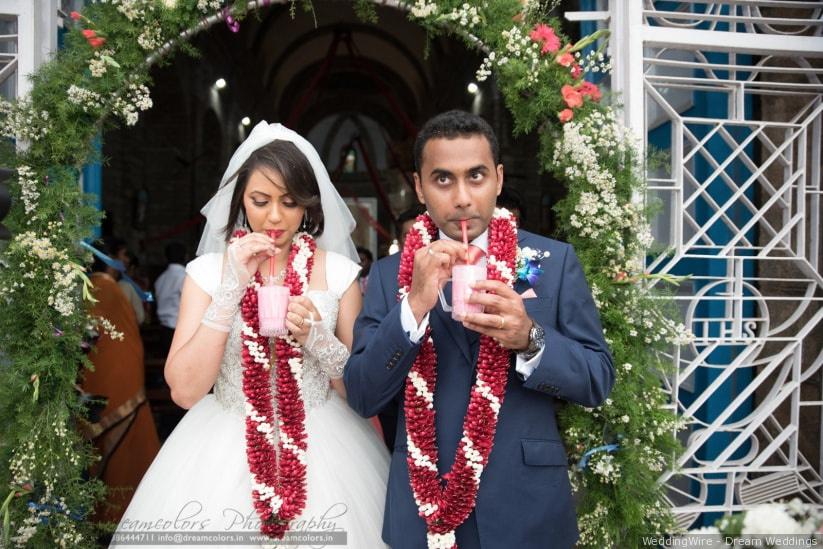 Church wedding decoration begins with the decoration of the entrance. The entrance of a church can be decorated in various ways, you can choose to keep it simple by adding just two flower or ribbon garlands next to the door handles or make it elaborate, loud but beautiful. If you're looking for something floral you don't have to think twice since entrance decorations like these are tried and tested. You can just ask your wedding florist and choose from various flowers ranging from lilies to tulips. You can decorate these flowers in an arc, thus, in turn, making your entry extremely grand and royal.
However, if you want to ditch the floral idea and take up something new, that isn't a bad idea too. You can use various ribbons or use curtains that complement the shade of the door. If the wedding is supposed to take place during the night, then using fairy lights and chandeliers is the best way to make the entrance extremely attractive and appealing.
2. Aisle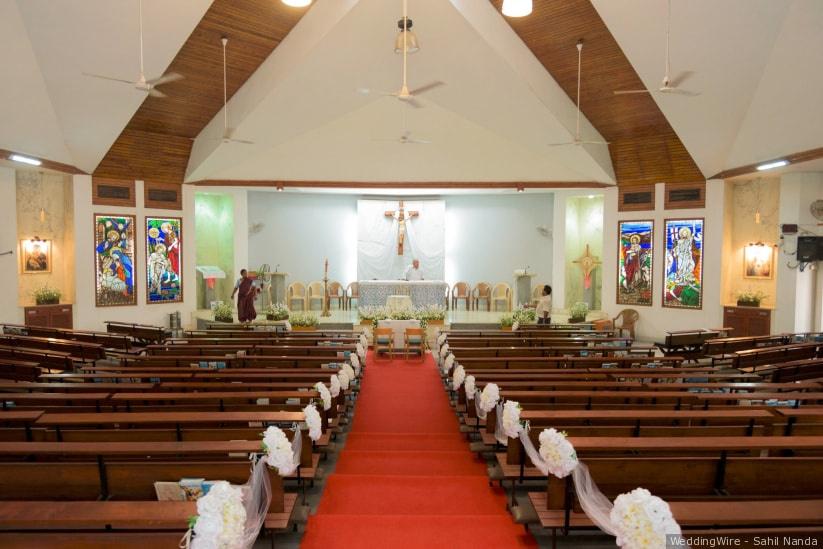 The walk down the aisle is one of the most important aspects of a Christian wedding. This is the time when the bride is seen for the first time in her beautiful wedding dress and the veil. Every bride would want this walk to be exceptionally grand and elegant. You can keep the aisle simple and have heavily decorated pews instead, or work your way through a tremendously beautiful aisle. You can lay down carpets that are of the shade of the flower bouquet the bride holds, or a contrast.
If you want to break away from the conventions then there are various other unique church wedding decoration ideas. To keep it simple, you can have white rose's petals (preferably) on the floor on the sides or little candles lined up to the entire length. To enhance this, you can also add small lamp posts standing at a regular distance to make the aisle look majestic.
3. Pews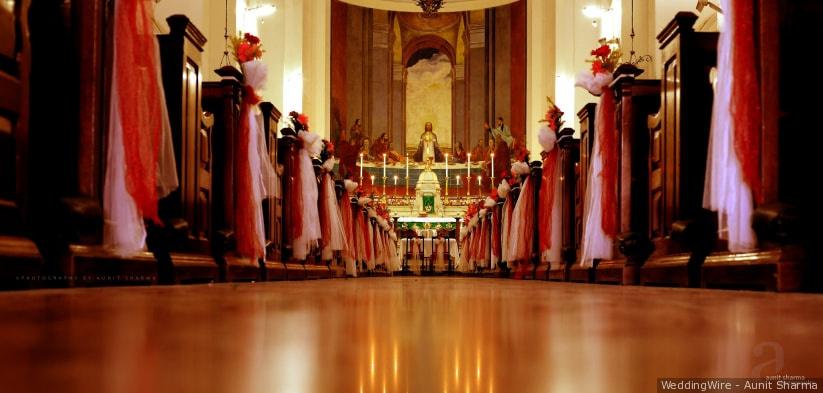 Image courtesy - Aunit Sharma
If we talk about Church wedding decorations, we can't imagine skipping the decoration of pews. In a way, it's the pew decoration that adds wholesomeness to the entire hall decoration. You can choose the traditional style of combining flowers with yards of fabric. You can also opt to keep the fabric away and keep it simple by only adding a bouquet of flowers like orchids or baby breath.
If you want to get a little creative and unique with this, you can hang small lanterns down the pew. Hanging down photo frames filled with moments the two of you have spent together. When you walk down the aisle, such elaborate decoration of the pew will add to your majestic entrance.
4. Altar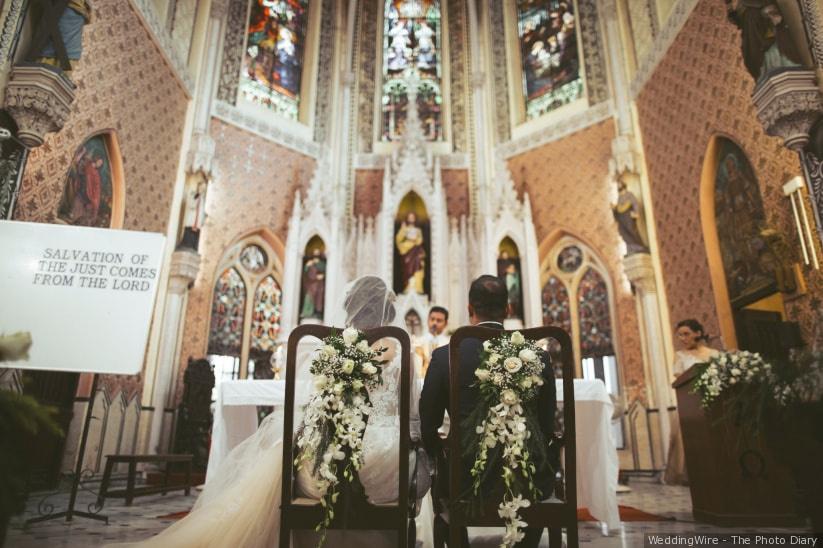 When you stand in front of your partner about to exchange wedding rings and accept each other as husband and wife for the rest of your life, you would definitely want that pedestal to be beautiful beyond words. Plus, most of the important pictures of your wedding would be of the two of you standing at the altar, therefore, a huge amount of input and creativity is required to decorate it. You can have it simple by hanging decent chandeliers and decorating the furniture with candles.
But if you're looking for something grand, then we're here to help too. You can have a giant frame that is a collage of pictures of the two of you and your acquaintance. You can have a rustic themed wedding with a vintage style table and chairs for the groom and the bride. Floral installations in various shapes will never go old and are always a 10/10 theme to go for when thinking of amping up your wedding venue decor.
5. Banquet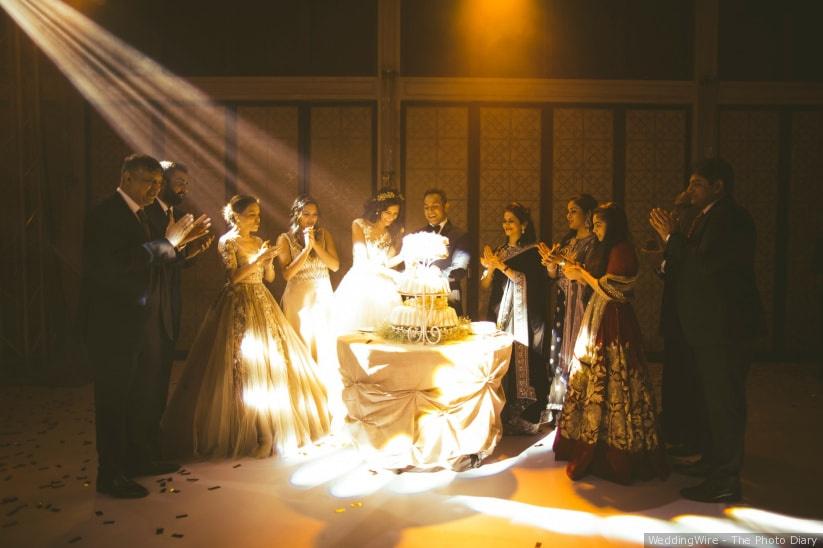 After the ceremony is over, it's time for the wedding cake! Most of the times, churches don't have enough space to have the cake cutting inside. For that, you can move to a banquet which can be either outside the church at a scenic place or a hall nearby. The proximity of the banquet from the church should be chosen wisely so that it doesn't get tiring for the guests to reach there after the ring ceremony.
Wrapped up ceilings are the go-to option for a banquet party. The centre of attraction usually is the cake and the table you rest it on. You can decorate that with pastel coloured flowers, and the same kind can be put as a centrepiece for all the other tables. You can also keep it simple and play around a little with lights. You can decorate your table with mellow colours and have lamps hanging from the ceiling at each table which enhance those ribbons.
Stunning Church Wedding Decoration Ideas That You Can Make a Part of Your Ceremonies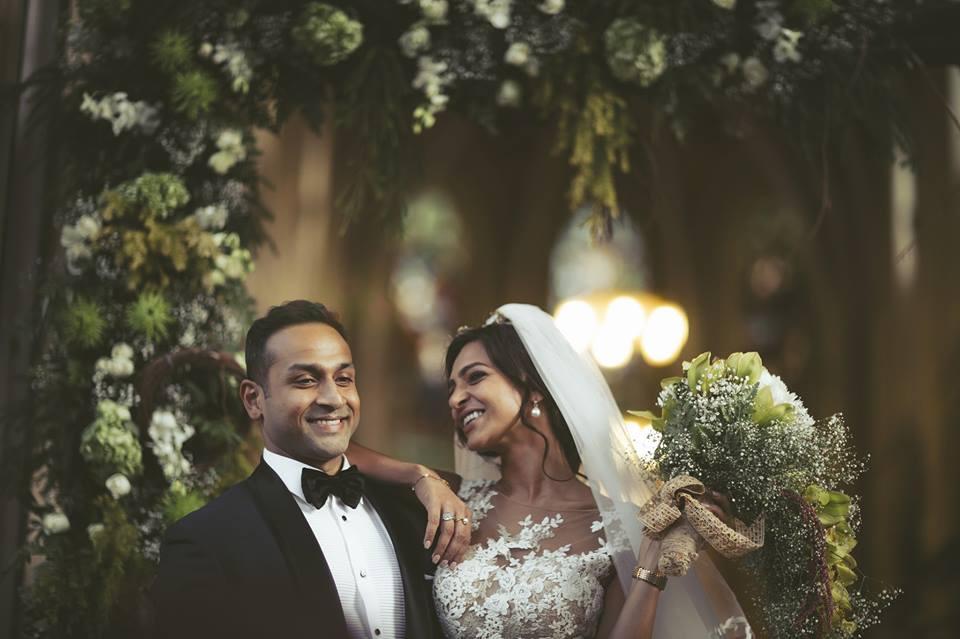 An amazing idea for your church wedding decoration can be to include the rustic feel to your theme. While it incorporates decorating a venue with minimalistic things like flowers, vines and nature-inspired elements. It is a tribute to planning a wedding in open spaces but for your church wedding decoration, you can bring all of these beautiful elements right at your wedding venue. Just like this beautiful floral decorated entrance, you can draw inspiration for one of a kind decor idea.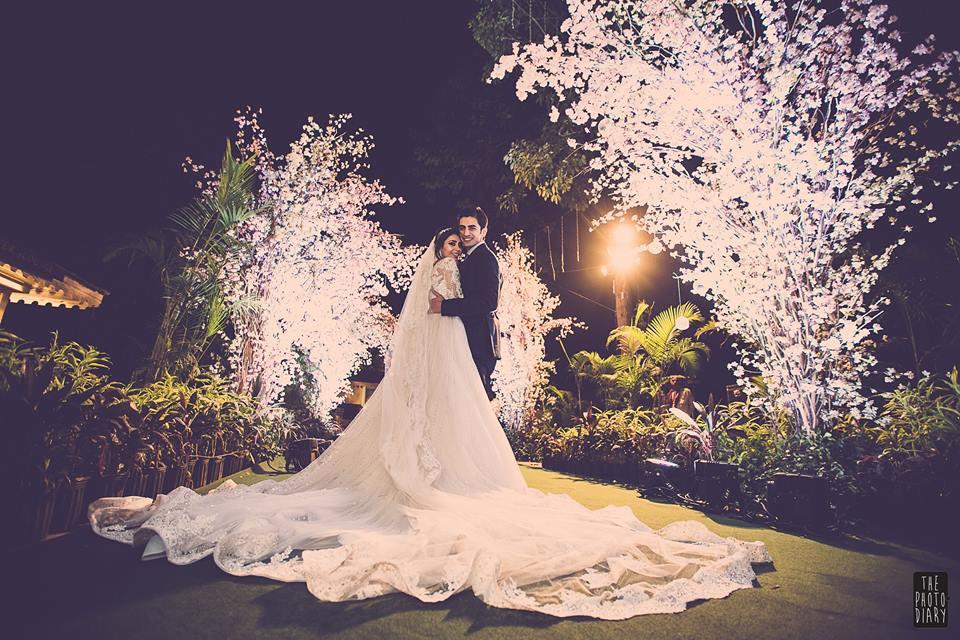 During any church wedding, it is a tradition that the wedding ceremony takes place within the church and right after it you can have a Reception or get-together with your friends and family, be it the church ground of any other venue you choose. For a perfect church wedding decoration, you can line the path from the church to the venue, if only it is in proximity, with flowers or decorates in a pretty manner just you like.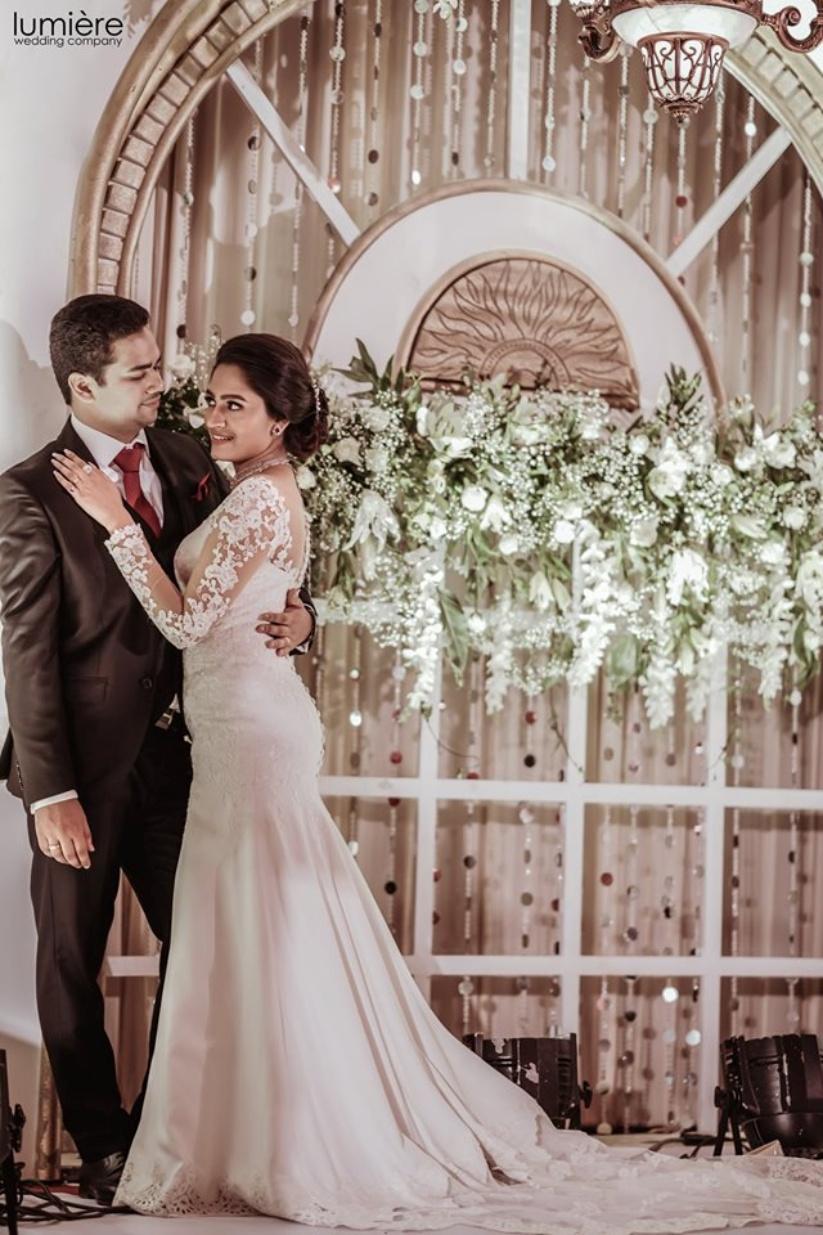 While wonderful church wedding decorations fill the spaces of your venue, you can get a beautiful wedding photo shoot done amidst it for lasting memories. You can create a photo wall within the church as well for all of your wedding guests to take pictures.
These are just a few ways of how you can go about church wedding decorations. When it comes to decorations, there are innumerable creative ideas and you can always mix and match the above-mentioned ideas for a memorable wedding. We hope now you have a broader understanding of the various church wedding decoration ideas that you can make use of when getting in touch with your wedding planner and wedding decorator!
Try these and we assure you, you wouldn't be disappointed. Let us know how these ideas helped you in the comments below.