The Complete Planning Guide with Ring Ceremony Ideas for the Millennial Couple
Take the first step to your own little paradise in style. Get inspiring ring ceremony ideas for an absolutely spectacular engagement function.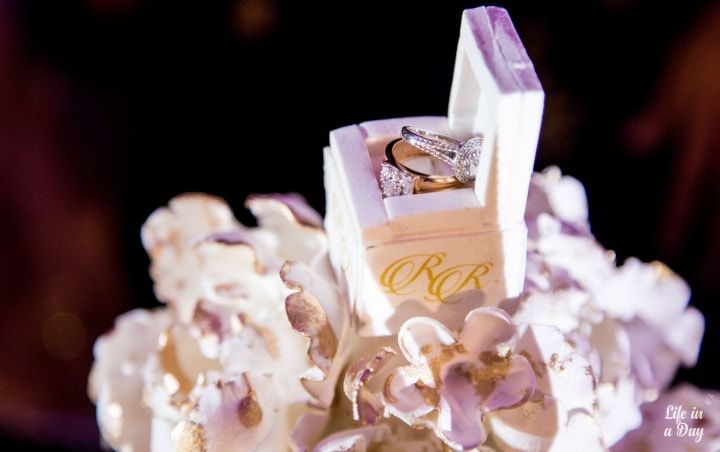 Whether it's your own Sagai or your best friend's, an engagement event has its own fair share of planning and execution. Since the Ring ceremony is the first official ceremony where you announce and celebrate your big decision, you need catchy and fun ideas to make the event memorable. Of course, you want your engagement to be unique, exclusive and out of the box, don't you? So, grab a pen right now and take down our cues on some stunning ring ceremony ideas and how to make them happen:
Location Matters
Is it going to be an intimate family event or a big fat engagement? Regardless of how you want your ceremony to look, the 'where' is very important. Choose a venue as per your theme, story, budget and personal preferences. Here are some of the ring ceremony ideas for a venue:
1. Cosy Courtyard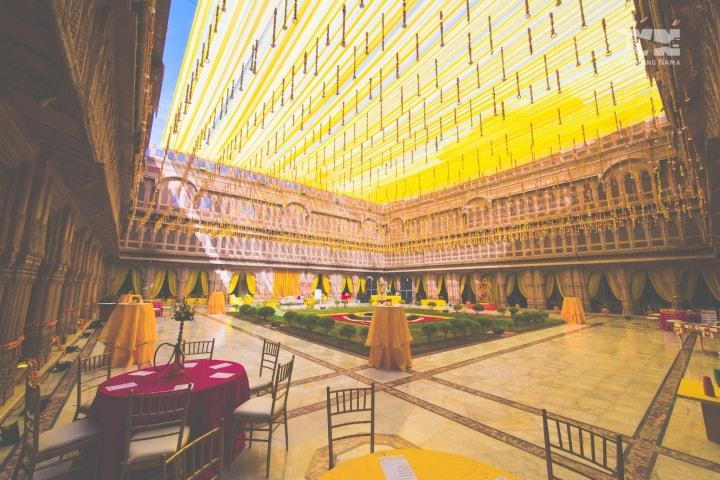 If you're having a small family event, how about organising your Ring ceremony in an open courtyard? Beautify the area using flowers, rangoli and drapes for an aesthetic touch. You can have colourful floor seating for an informal vibe.
2. Pool up!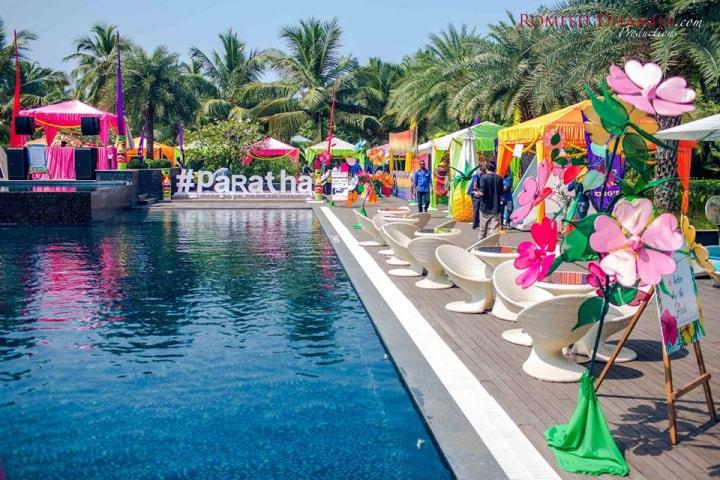 Life is always fun by the pool, isn't it? Organising your engagement by the pool is one of the coolest ring ceremony ideas that never fails. An intimate family event by a pool venue will give you some of the most spectacular wedding pictures. You can also go for some quirky signboards and decor complementing the ambience.
3. Love thy Nature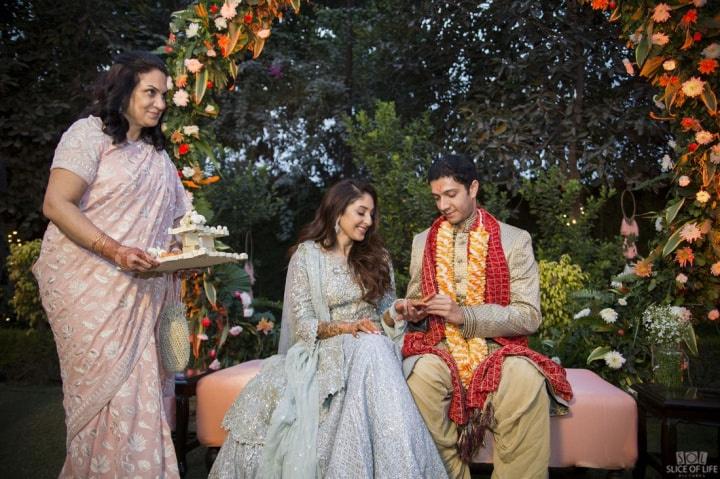 If you are a nature-loving couple, you can arrange an outdoor setting like a lawn, garden, lakeside, or a nature park. Make sure to get all the necessary permits. Fresh air, green surroundings, chirping birds and burbling streams...get engaged close to nature for a fresh beginning!
4. Out of town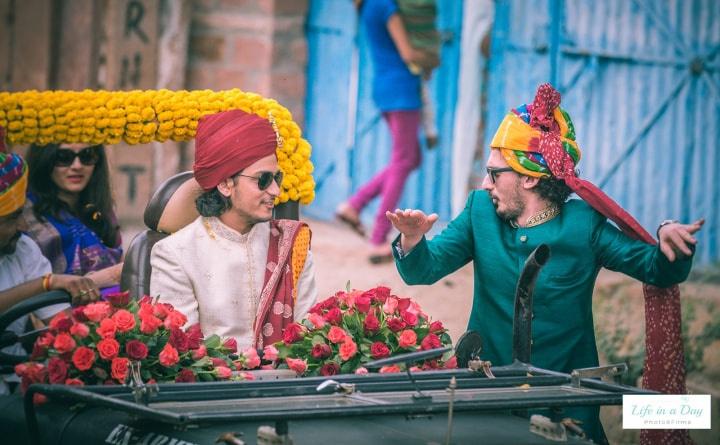 Having a weekend engagement trip to an out of town destination is one of the trendiest ring ceremony ideas these days. Depending on your choice of the engagement theme, you can book a beach resort, forest bungalow or a palace resort for the weekend. Get engaged in style, away from the city's madding crowd.
5. Get Nostalgic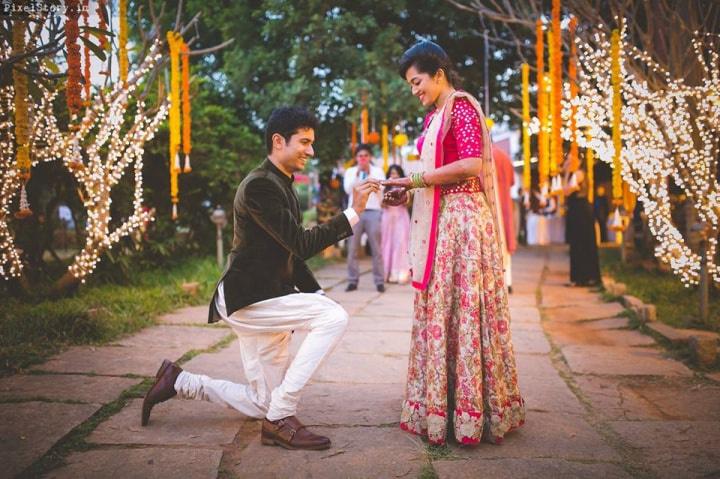 Relive your romantic moments by getting engaged in the same place you first met each other...or where you proposed. Share the nostalgia with your close ones by exchanging the engagement rings at that very place where all the magic began!
Pick a Theme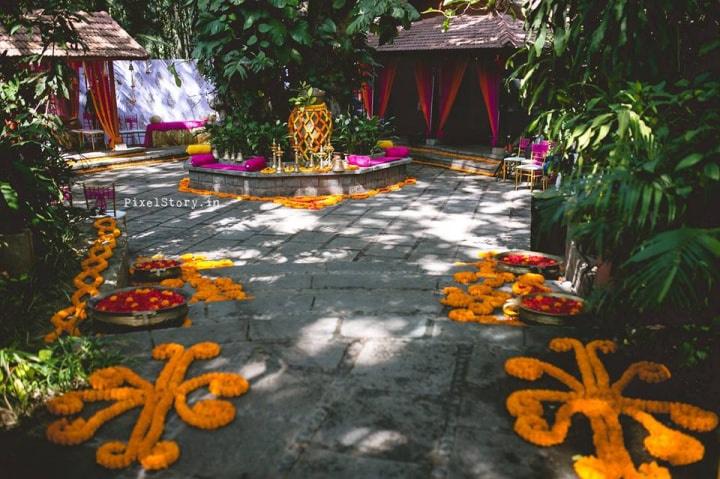 You don't necessarily need to go lavish to have a fun ring ceremony. Just choose a wedding theme and ask your wedding decorator for creative improvisations. Here are a few aspects where you can incorporate your engagement theme:
1. Colour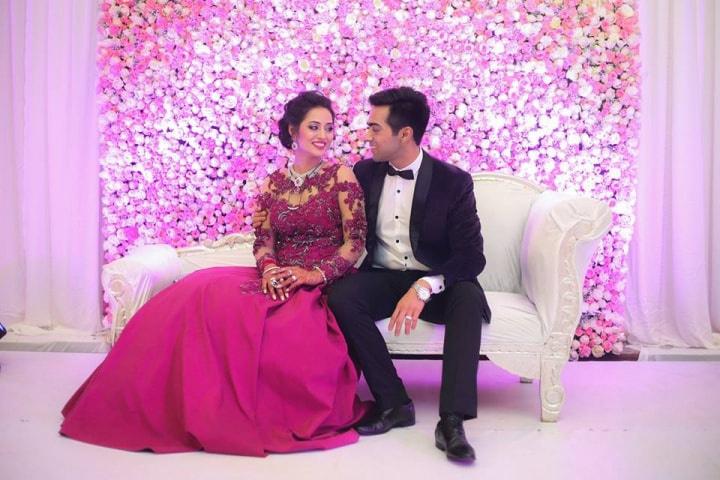 Choose a particular colour for your engagement and get as creative as you want to be. Take inspiration from this stunning couple who rocked it in lilac.
2. Food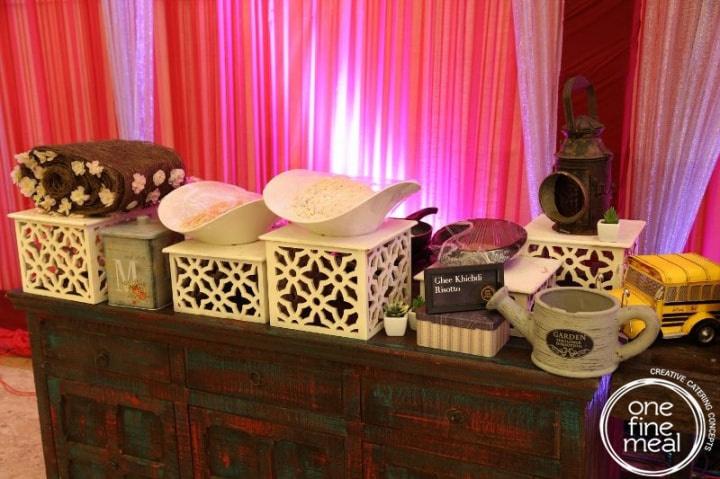 The food menu or serving style can be customised according to the theme. If you're going for a pool-themed ring ceremony, choose easy and quick bites. Keep mocktails, fresh juices and coolers ready for the guests. Whereas, if it's a royal-themed engagement, you can serve drinks in Shaahi 'Surai'. For more Ring ceremony ideas, you can take a look at Indian wedding themes :
3. Decor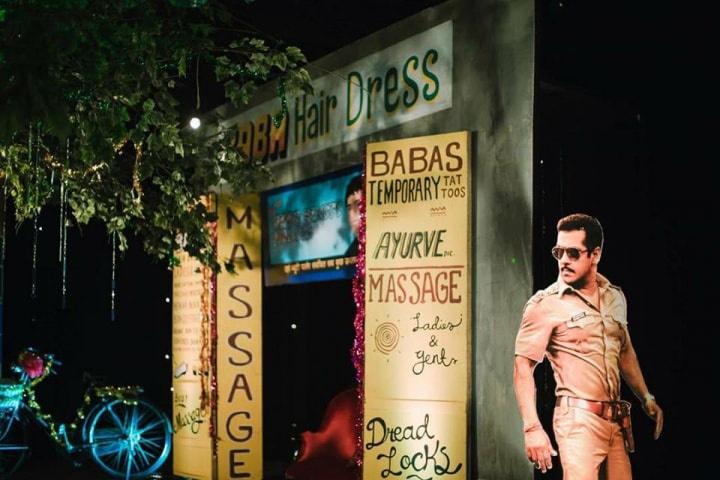 Consult your wedding decorator for a thematic decor for your engagement. For example, if it's a Bollywood theme party, use posters and cut-outs of actors.
4. Outfits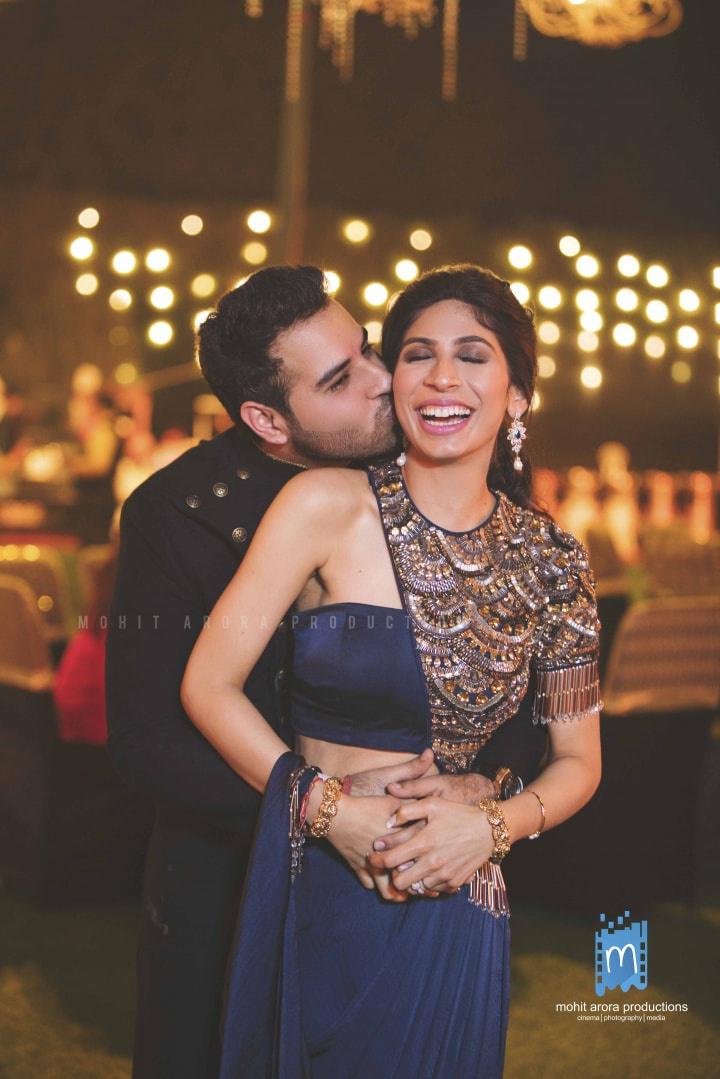 Whichever theme you pick, a forest theme or a beach theme, just go with the flow to make your engagement spicier. Dress up with botanical tiaras or sporting shades of olive or rock that luau and a bandana on the beach! Make a statement with your themed outfits and give other brides-to-be an inspiration for ring ceremony ideas.
The Rings and the Rituals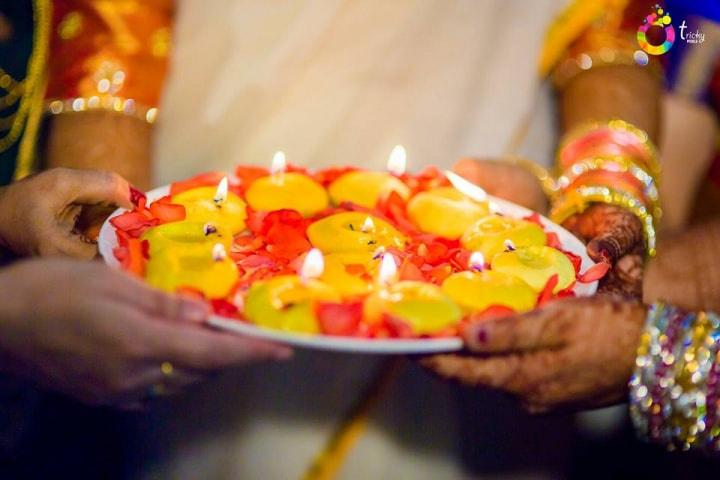 Now comes the most important part - the ring. There are a couple of elements you need to consider, like what are the types of engagement rings and how to choose the right kind, creative ways to present the ring, customs of a ring ceremony followed in your family. Let us help you with some quick inputs:
1. Shop together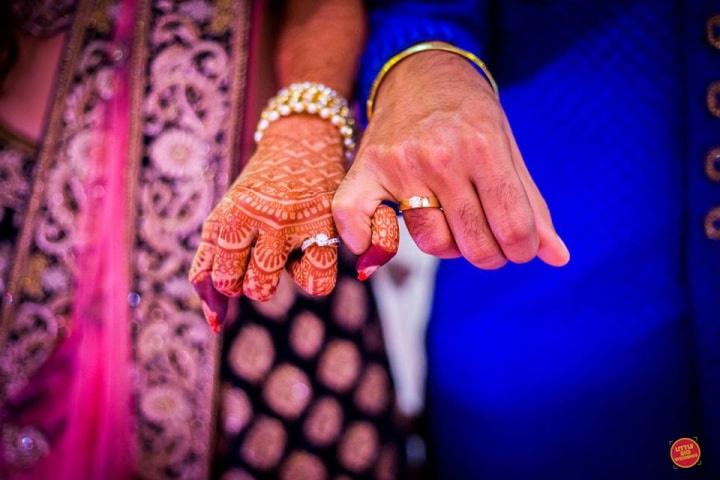 It's advisable to go for engagement ring shopping together. That way you save yourself from the stress of not knowing what to choose. For the grooms who still need help, you can refer to the expert tips on buying the perfect engagement rings for women.
2. The perfect Muhurtham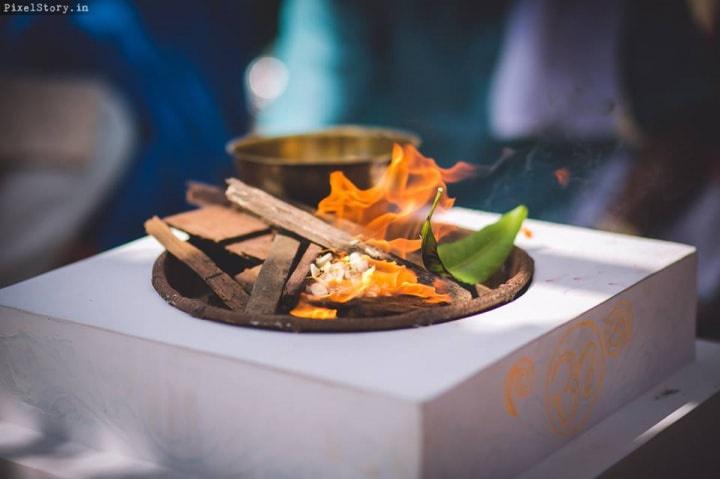 Talk to your Pandit or astrologer to decide the date and time of your ring ceremony. Once the auspicious time is decided, you can start preparing the wedding invitations.
3. Invite smart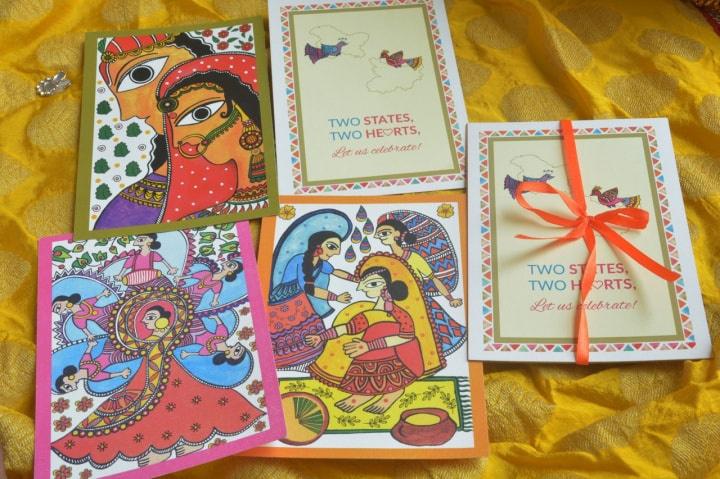 Use smart and creative ways of inviting your guests for engagement. Like you can make funny personalised video invites for your friends, whereas traditional and warm invitations for relatives.
4. Arrange the necessary items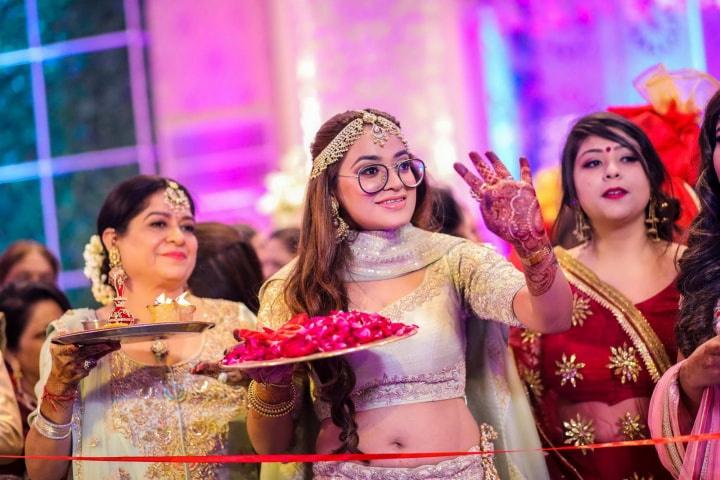 At some wedding traditions, the engagement ceremony is commenced by puja and Aarti. Make sure you have clarity on every necessary item available for the ceremony.
5. Finalise the vendors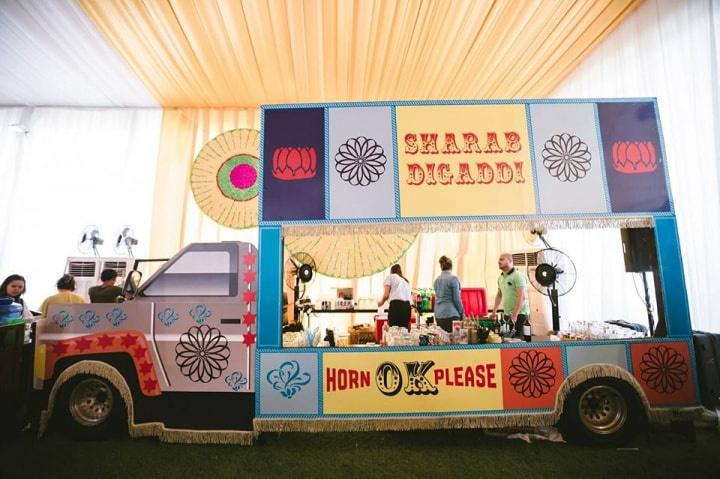 Caterer, decorator, stylist, photographer...you must book all your wedding vendors well in advance for a smooth sail. For more tips for ring ceremony ideas and how to organise it well, refer to the detailed guide on Indian wedding ceremonies.
6. Ring Presentation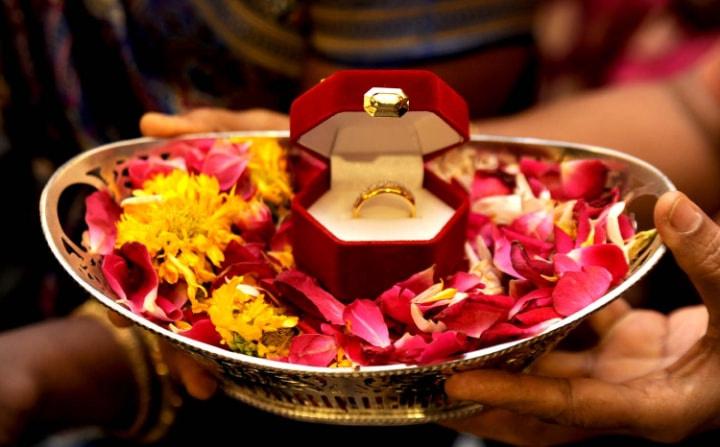 Go traditional, contemporary, creative, romantic or bizarre. You can choose your ring ceremony tray in sync with your theme, choice and personal style. Some options are:
Traditional silver trays with embellishments
Florally decorated trays
DIY trays
Ring trays with personal image collages
Getting kids (nephews or nieces) or pets to be ring bearers with a basket
Thematic trays (e.g. Bollywood, comics characters etc.)
Let there be fun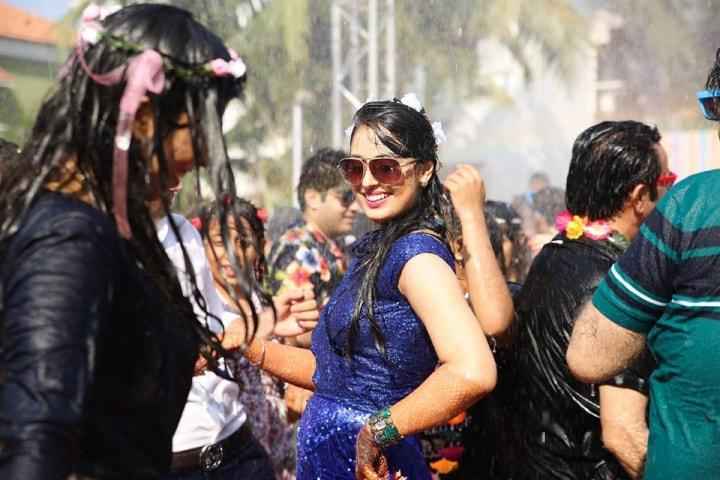 Make your engagement ceremony an event filled with laughter, music, fun and fond memories. Here are some Ring ceremony ideas for a super exciting night:
1. First Dance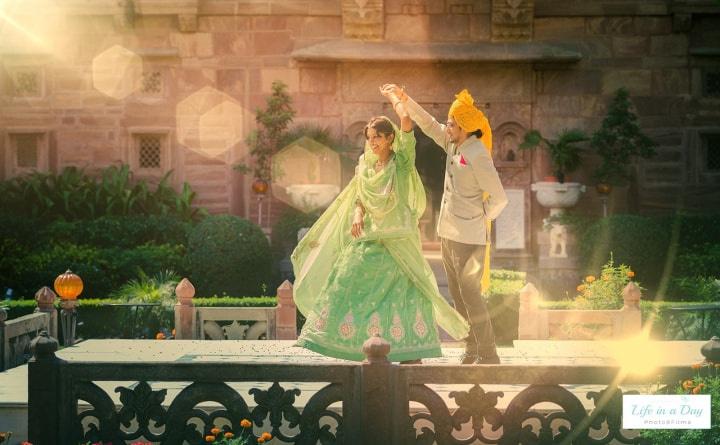 It's a must! Practise your first couple dance with your wedding choreographer for a smashing dance performance on your engagement night.
2. Right Songs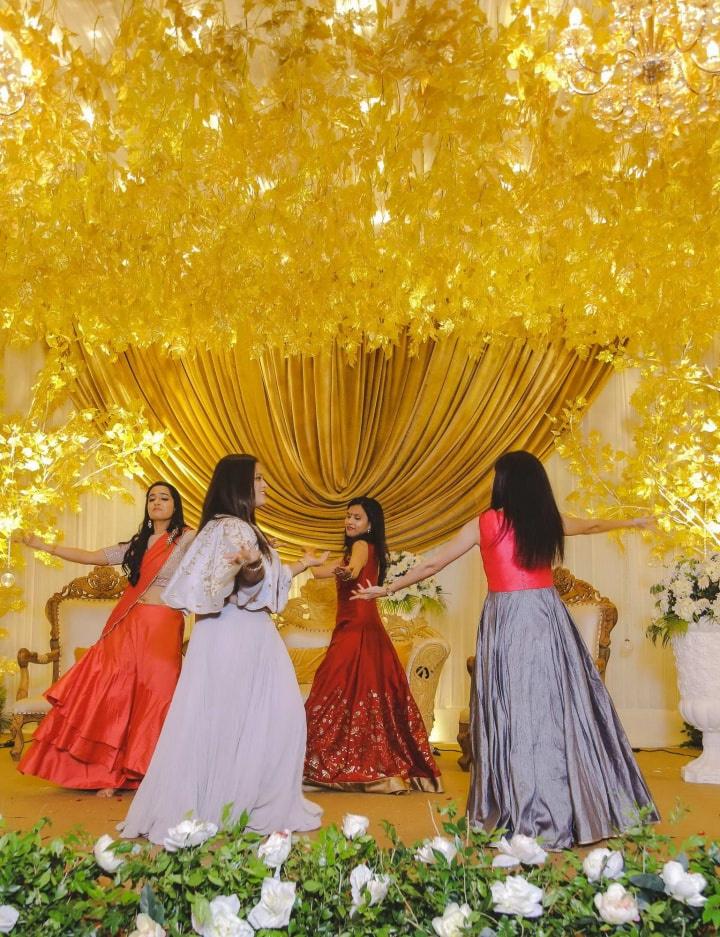 Prepare your playlist and consult with your DJ to set the mood right. Make sure your engagement songs playlist has all the latest tracks in it.
3. Click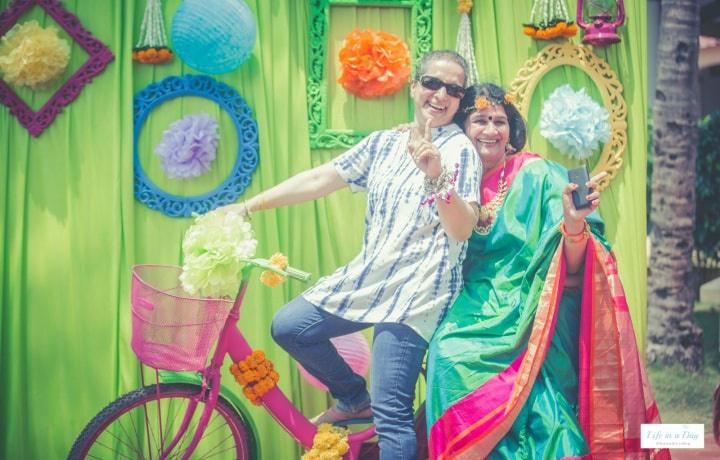 You can arrange a photobooth for your guests by the pool. Let everyone have some fun times and capture those in your album. Talk to your wedding photographer to arrest candid expressions.
4. Rain Dance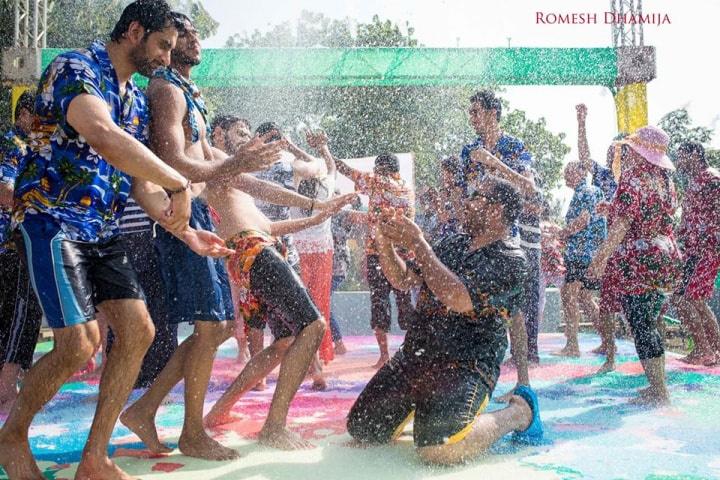 If you're having a pool party, you can even go for artificial rains to heighten the fun level.
Dazzle the floor with your fabulous couple dance, slay that ravishing Bridal Lehenga and have loads of childish fun on your engagement. It's the beginning of your new journey so you must start with a bang! Traditional or contemporary, your ring ceremony ideas must reflect your story as a couple. So, put all your best men at work, because the celebrations have just begun and there is still a long way to go...
Do you have any more exciting ring ceremony ideas? Get in touch with an expert wedding planner for an exclusive Sagai ceremony.