Real Bride Images That Are Trending on Instagram for the Right Reasons
Take inspiration from these trending brides of Instagram who made heads turn with their stunning sartorial choices!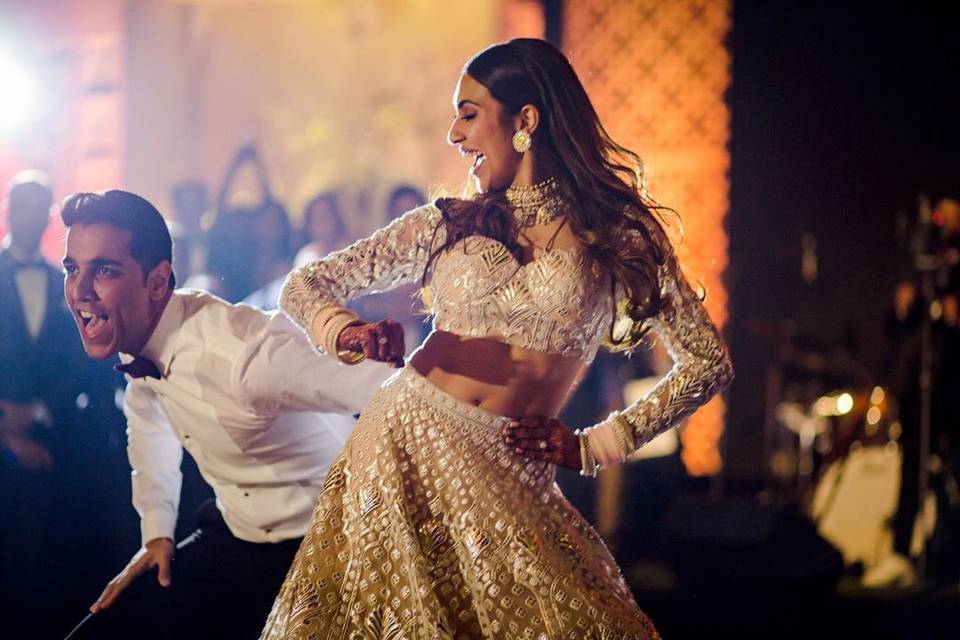 With the place social media holds in our lives, the flurry of likes that most influencers enjoy and the overflowing content that we can't get enough of, wedding looks have become one of the most popular searches for inspiration. Modern-day brides are making it count by putting their best foot forward and making the internet swoon!
From resplendent reds, off-beat blues to all-floral lehengas, real brides have taken Instagram by storm. Our favourite part about these brides is their confident smiles and eyes that dream of the fairy-tale ahead of them. While every bride is beautiful, some of them made it to the most trending brides of Instagram, for their poised choices and unconventional styling.
From jewellery to makeup, today we are talking about 12 such Indian brides who made the world take notice! We have enough looks for you to take inspiration from. Let's get started.
The Divine in White Bride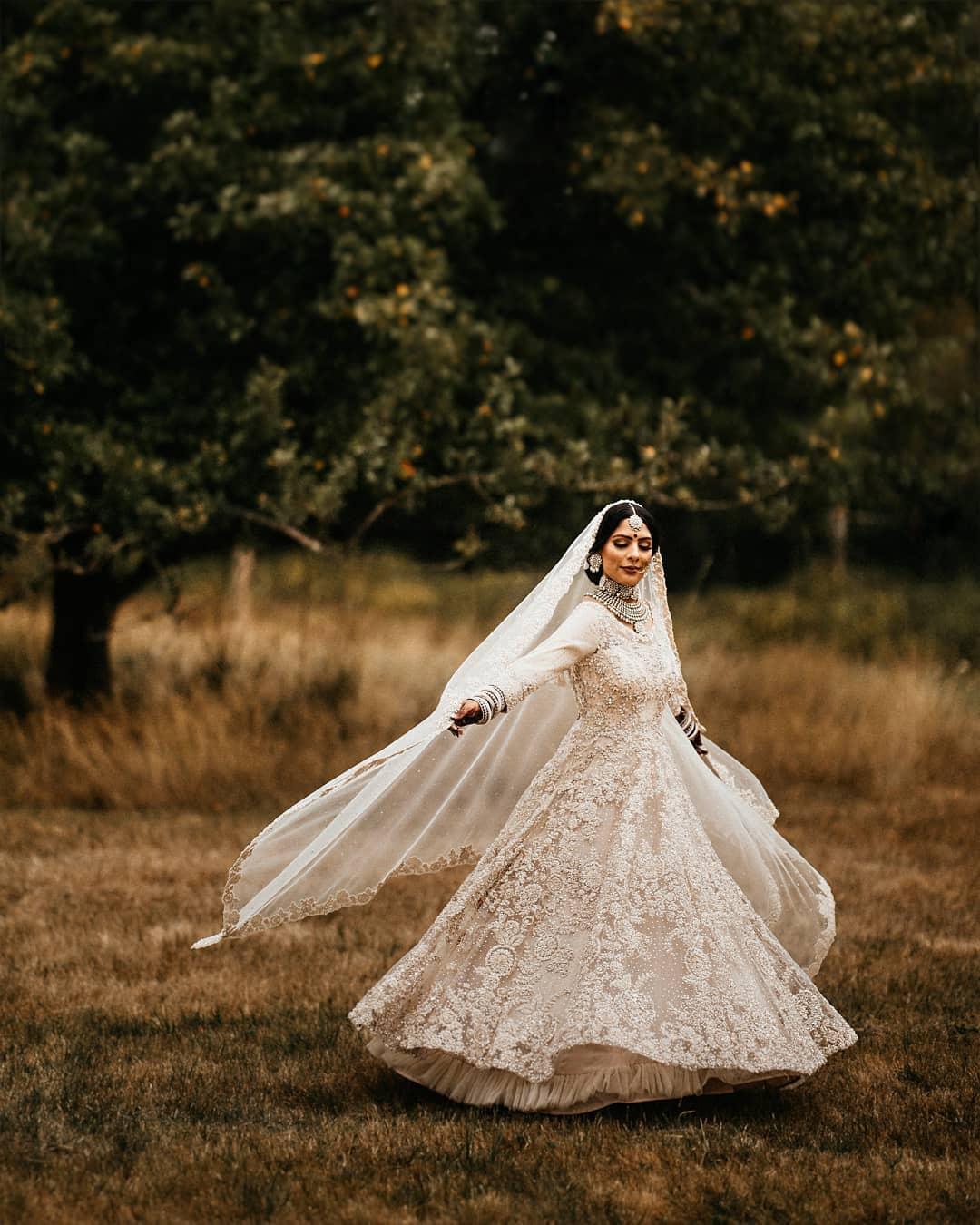 Image Credits: Amrit Photography
The intricate details on this Vancouver bride's Chikankari flared Anarkali style lehenga from Sunny's Bridal Gallery has our heart. The white and silver jewellery only adds to the look of Ms Sidhu. The choker paired with a longer necklace, the Nath, and those deep red lips and gorgeous makeup by Farah Hasan and an elegant bun hairstyle by Brandi Watkins are enough to make this bride's look trending!
The Bold and Beautiful Bride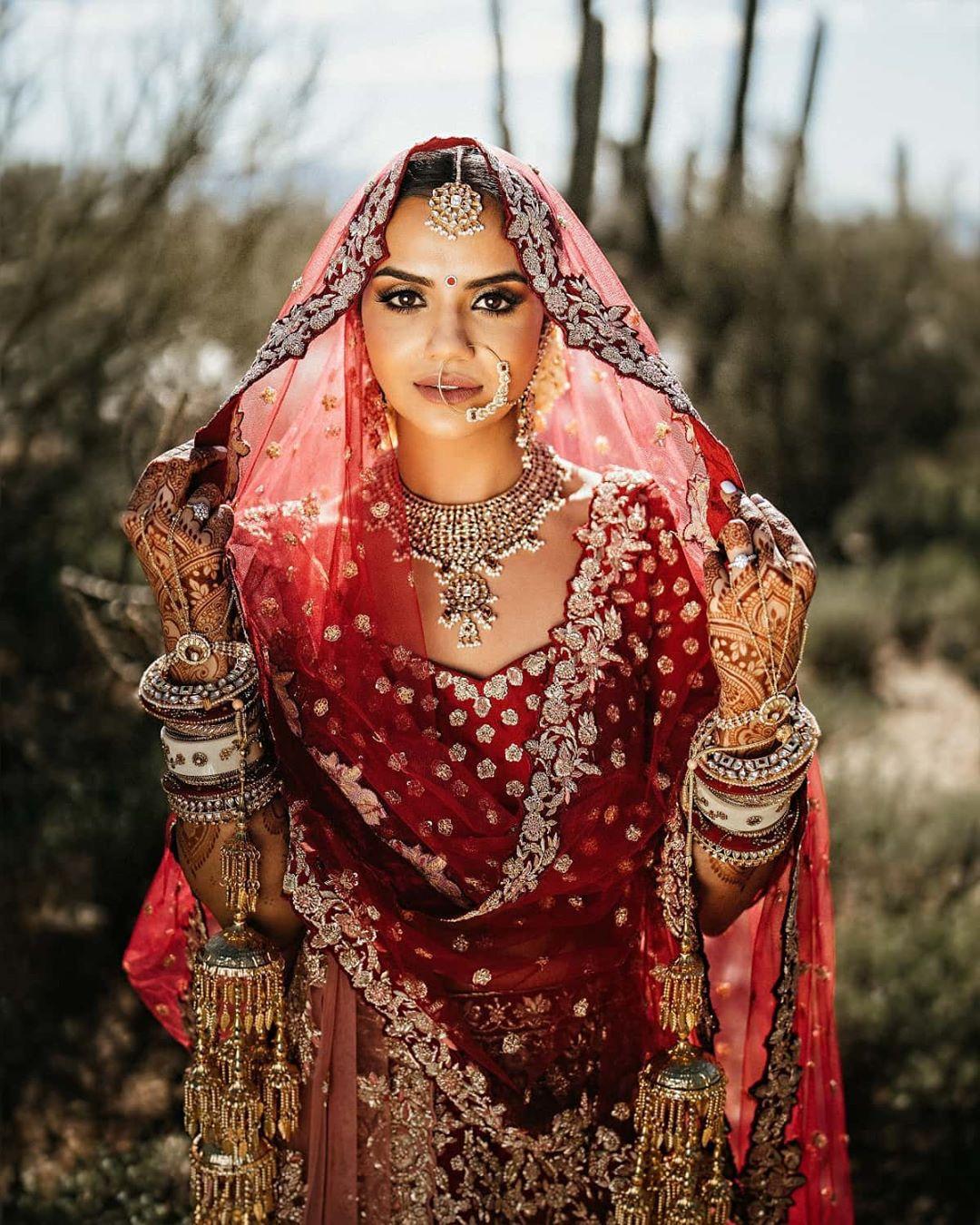 Image Credits: Amrit Photography
This beautiful bride, Mallika Sharma, chose a deep maroon traditional lehenga and made it a vibe! The white and silver accents on the lehenga, the white jewellery, her Mehendi laden hands, and those confident eyes drawn with precision by HVH Faces, are enough to make anyone stand and stare. So gorgeous, isn't it?
The Eclectic Bride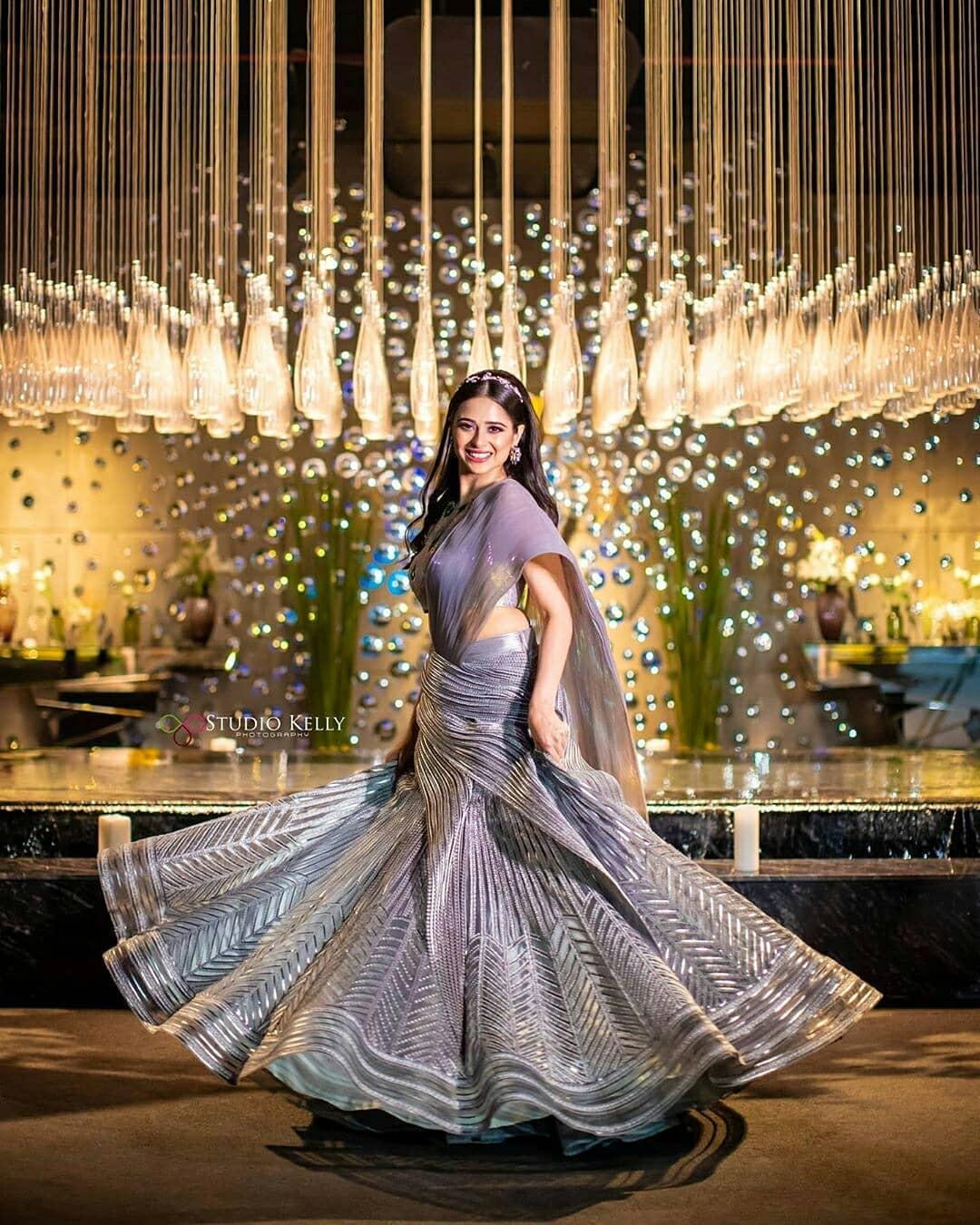 Image Credits: Studio Kelly Photography
Beautiful Avi Aneja chose a metallic structured drape for her reception. The minimal jewellery and subtle makeup by Ratika Vaish from Tantrums Makeup Studio along with her out-of-the-box Amit Aggarwal outfit have made her look like a million bucks! We love the matching headband too, don't you?
The Minimalist Bride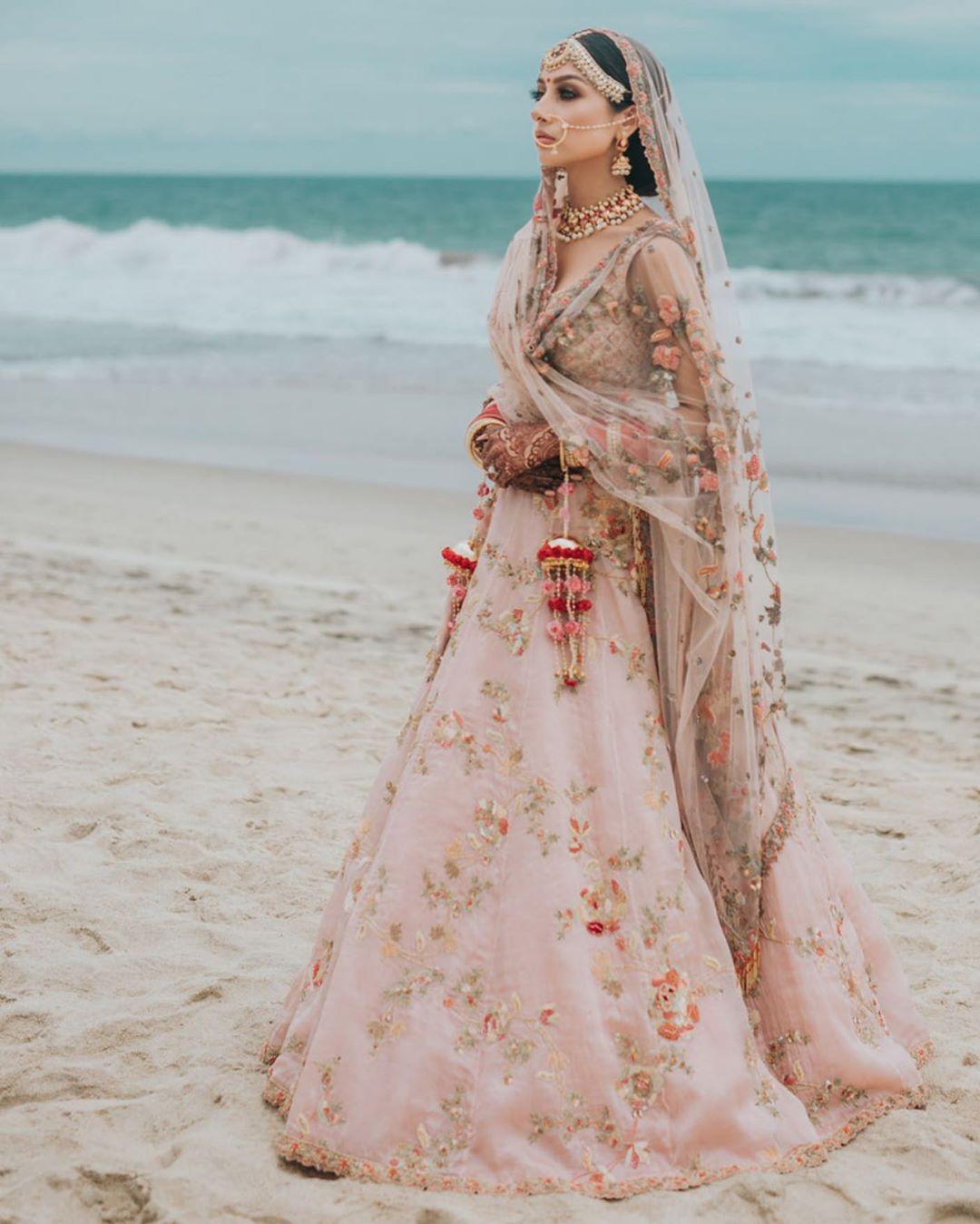 Image Credits: Photography by Cashmere
With a backdrop of low tide, a confident bride standing tall in her pastel lehenga from Asiana Couture Official and minimalist choice of jewellery has made the 'gram swoon over this bride's looks! The fresh makeup, the smokey eyes, and the Matha Patti by Hookam Design Studio makes for a classic case of sophisticated appeal.
The Bohemian Bride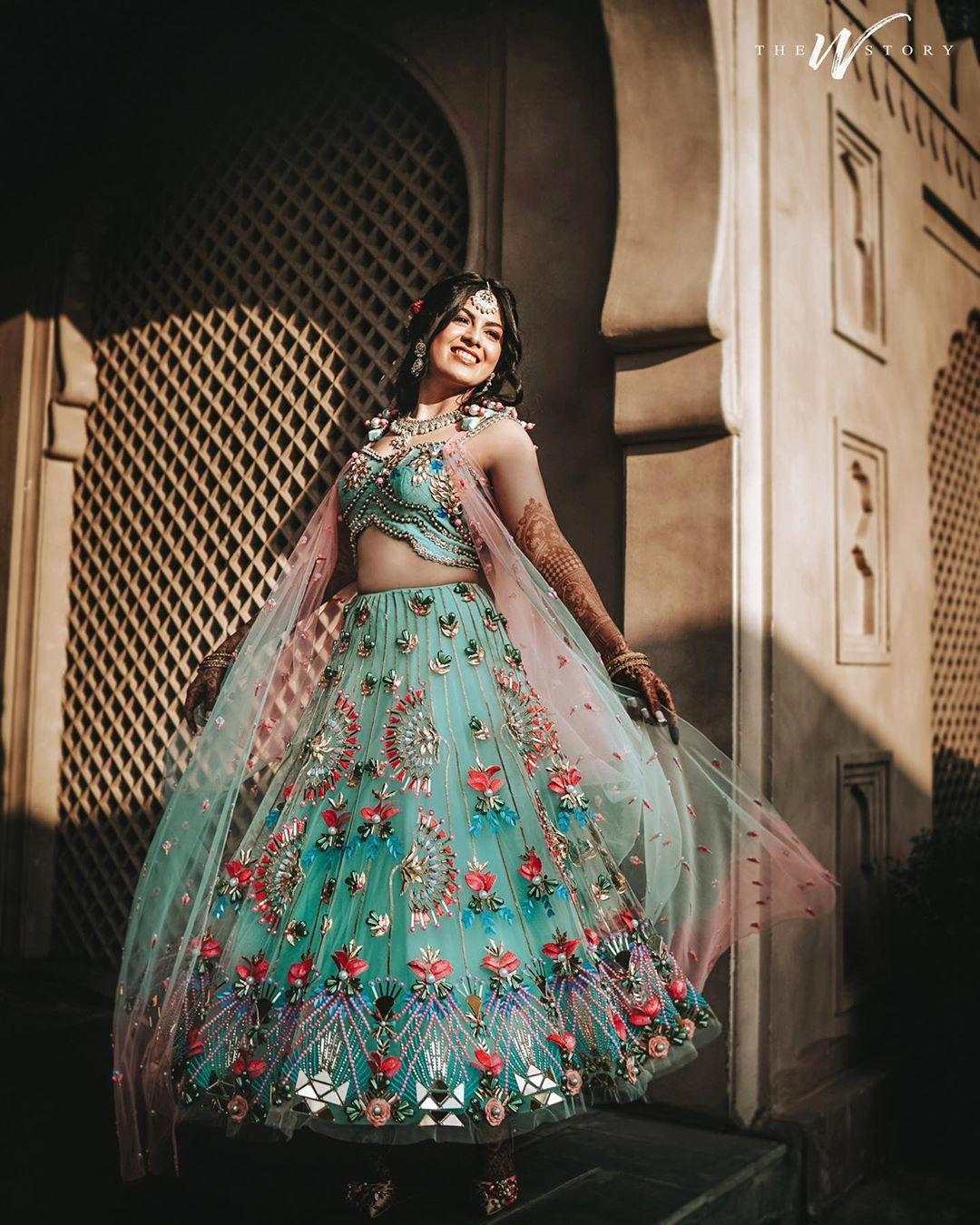 Image Credits: The Wedding Story Official
Look at this radiant, confident bride, Shriali, in her stunning net blue lehenga from Papa Dont Preach by Shubhika with coloured baubles and stones. Her wavy hairstyle with flowers pinned on the back and minimal makeup bring the look together exceptionally well. This stunning shot captured at the Fairmont Jaipur India has our heart.
The Princess Bride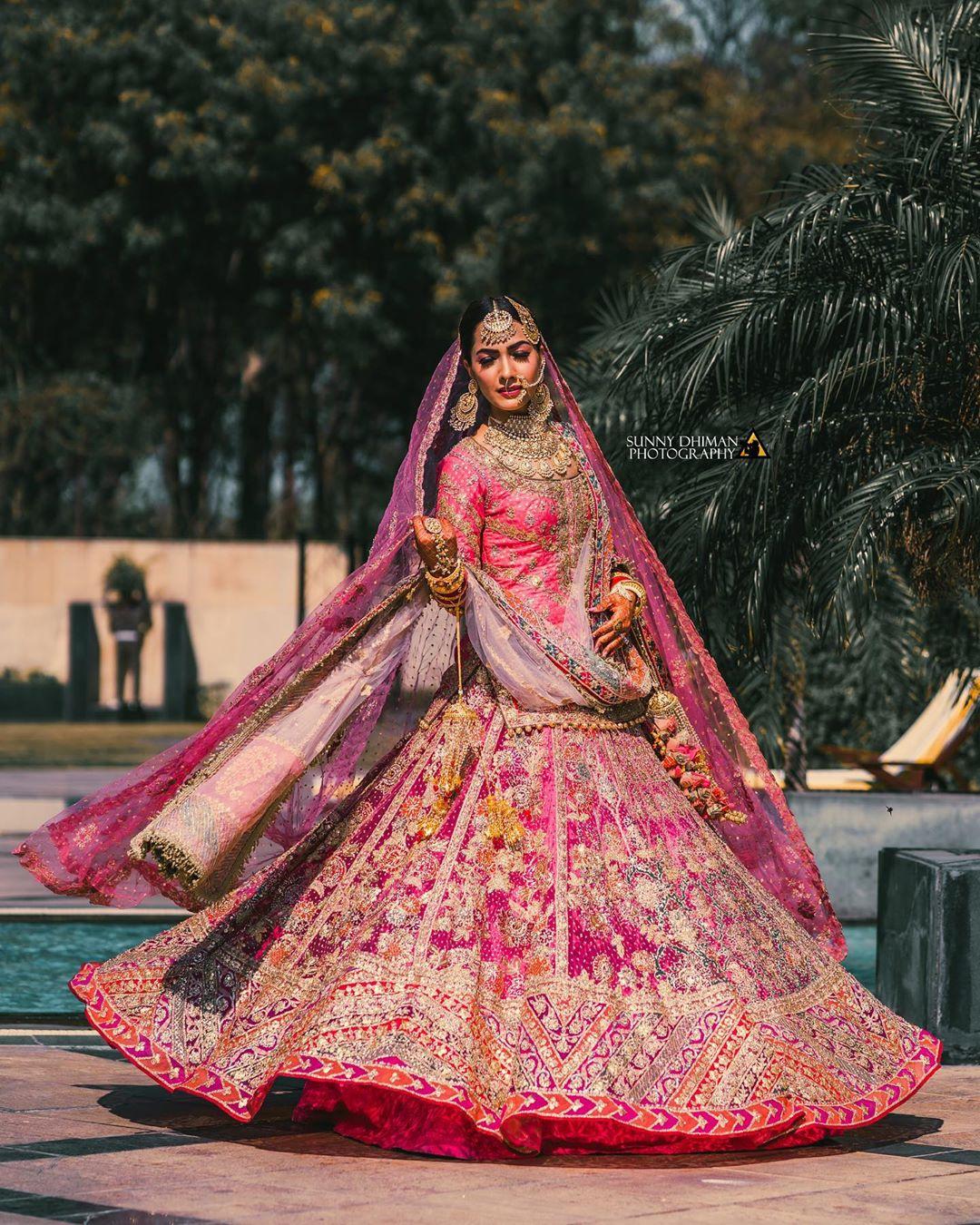 There is nothing like a confident bride like Davina Ruppal here, who chose to drench herself in Rimple and Harpreet Narula's ethereal collection. She chose to go OTT with her outfit and jewellery which looks royal in it's truest sense and she came out looking like a dream in Paveena Rathour's makeup look. Dressed from head to toe and pulling off the look effortlessly, this bride has our heart!
The Bride who redefined Red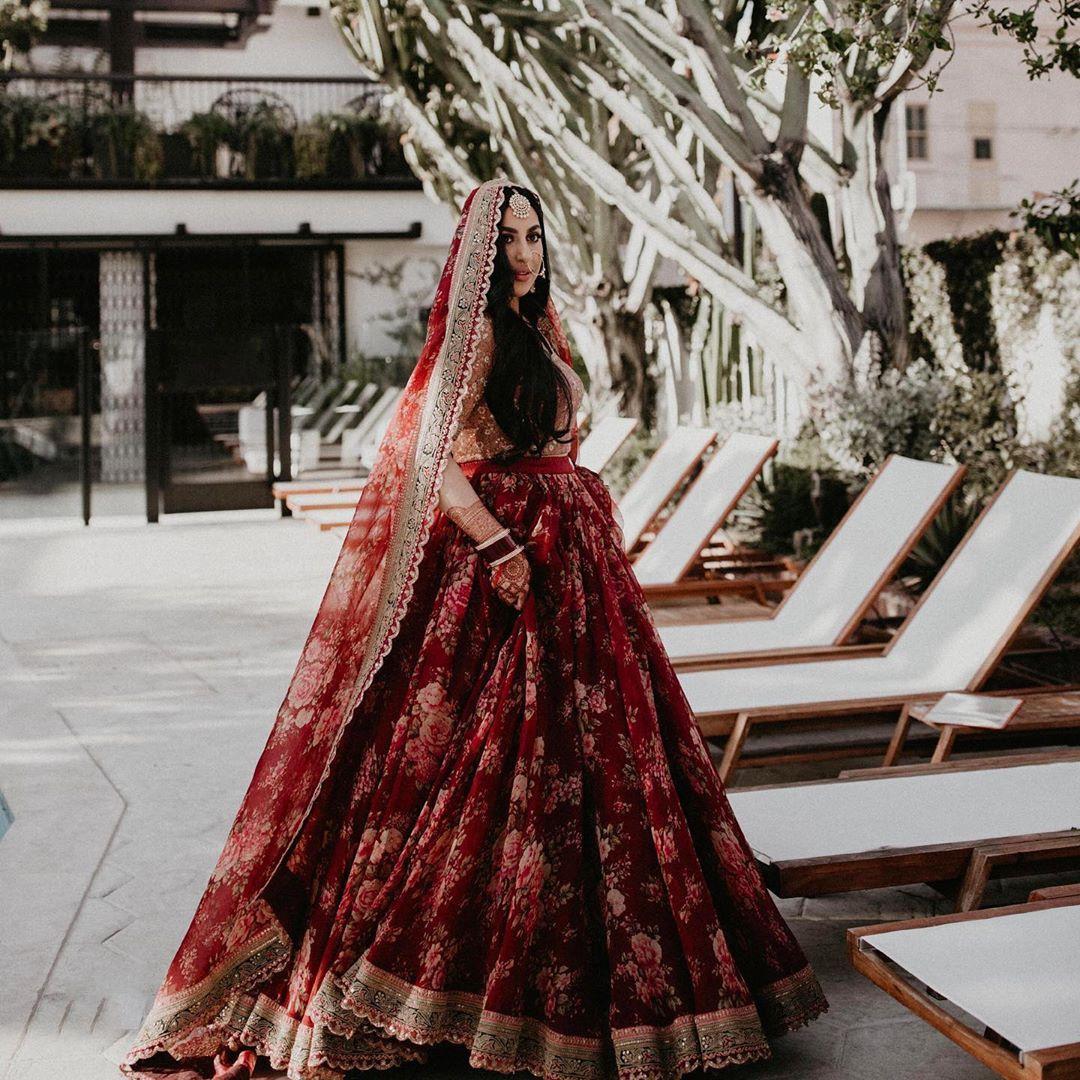 Image Credits: For love and light
This Sabyasachi bride, Kiran Bola, chose the signature Sabyasachi floral lehenga design for her destination wedding! Be it for her floor-length dupatta, the open tresses, or her eye-catching demeanour drawn to perfection by makeup artist Angie Martinez, this bride is proof as to how confident millennial brides are!
The Gorgeous in Pink Bride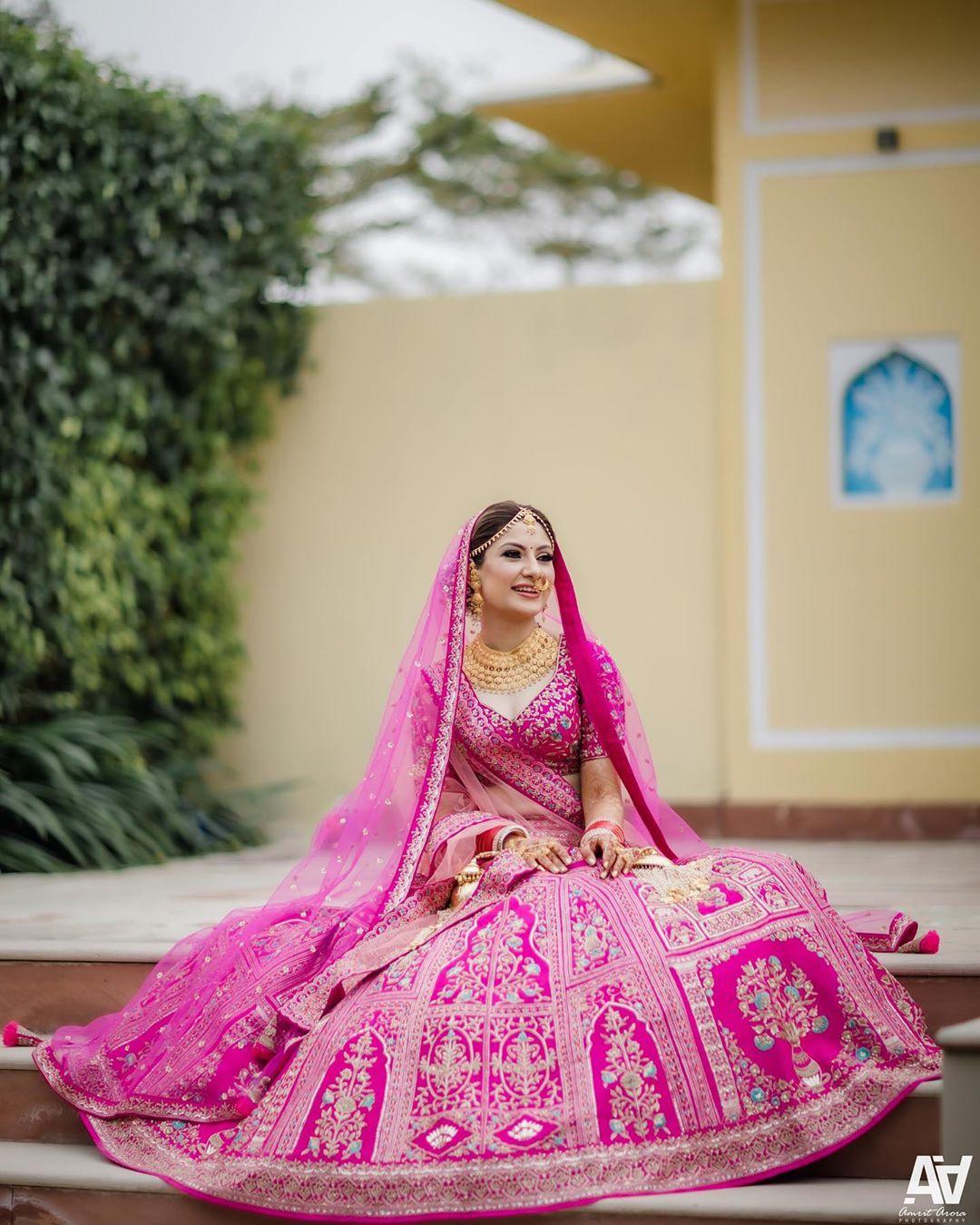 Image Credits: Amrit Arora Photography
Making for a captivating picture, this bride - Sonia Sapra's gold jewellery went exceptionally well with her fuchsia lehenga from Sudhir Bhaisareewala. Her beautiful lehenga and adorable smile is making the rounds in Instagram wedding pages.
The Radiant in Blue Bride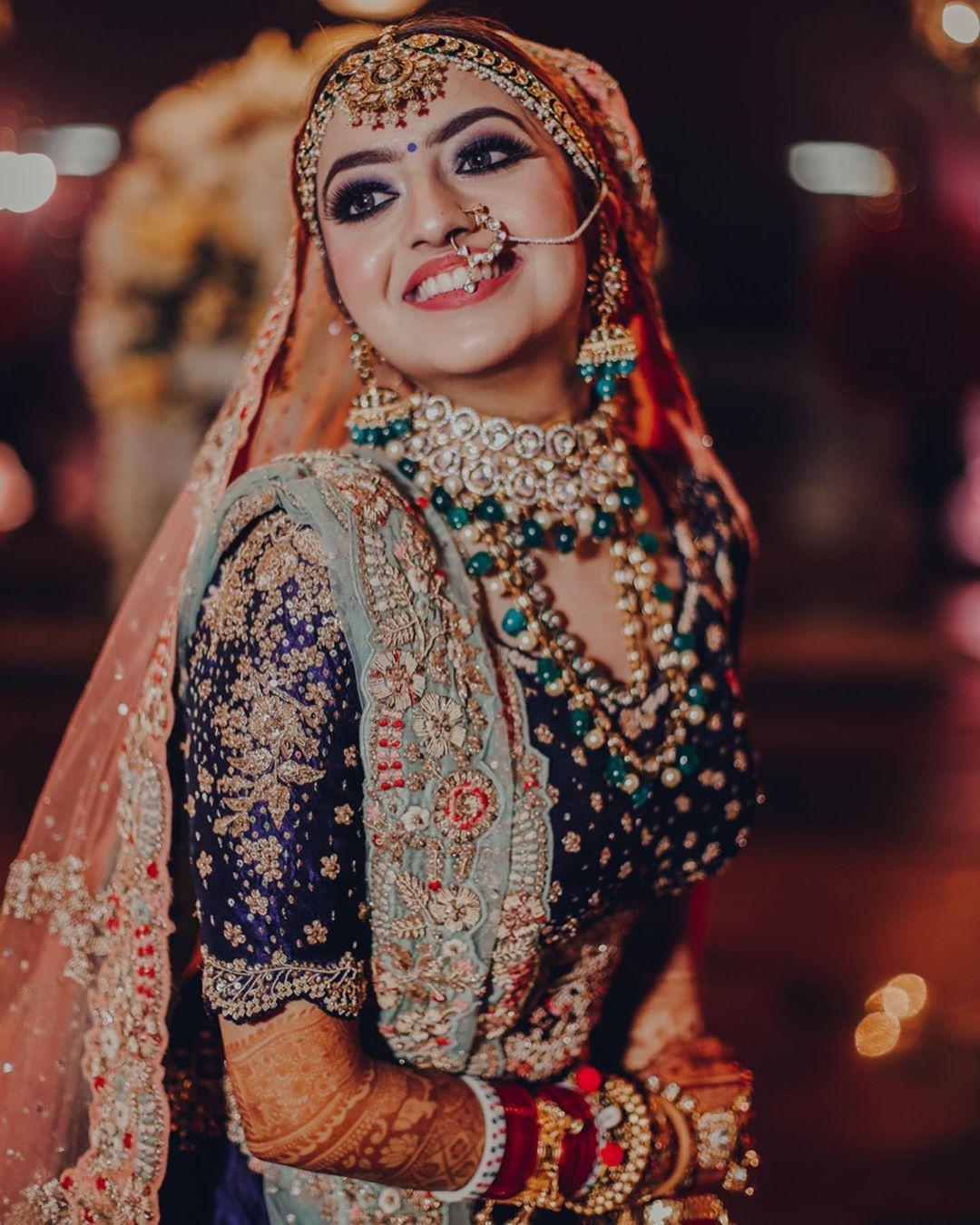 Image Credits: Deepika's Deep Click
Blogger Silvy Mehta chose everything blue for her bridal look. From her jewellery with blue and green accents, her blue bindi, the dupatta in a shade of blue with a second orange dupatta and a radiant smile, she is surely a deserving entrant in the 'most trending brides of Instagram' club. We know why, don't we?
The Sunshine Bride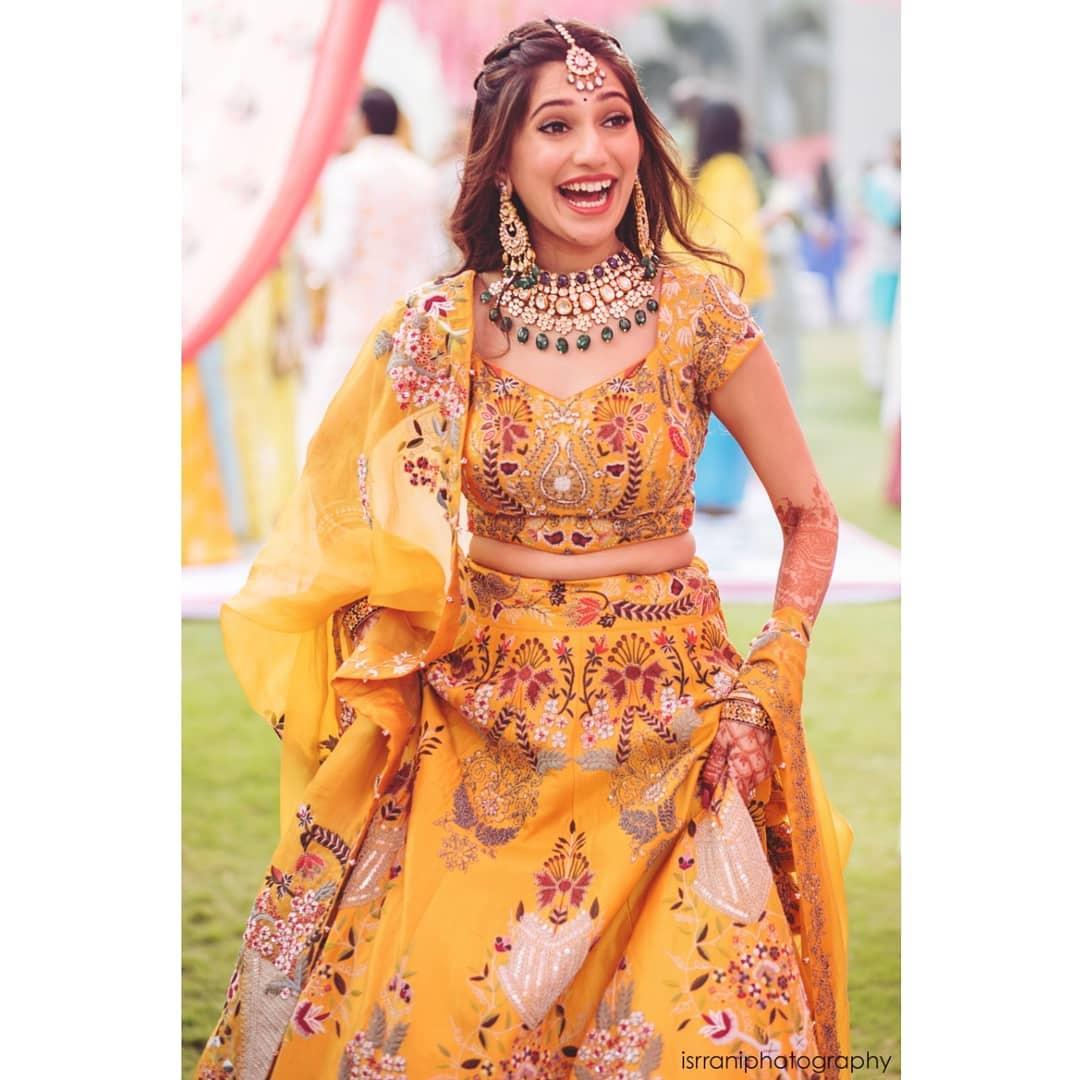 Image Credits: Isrrani Photography
There is something about this bride's look that made so many of us on Instagram go ga-ga! The very put-together look of Rashmi Marwah wearing a stunning yellow lehenga with neatly placed floral designs, all dolled up by makeup artist Shradha Luthra and a soft romantic hair-do by Ritika Kadam, has made not only her partner but all the real brides-to-be swoon all over her as well!
The Happiest Bride

Image Credits: The Wedding Conteurs
Nothing beats a happy brides look and that's how Trisha Arora made it to out trending brides on Instagram list! The Wedding Conteurs caught this bride looking her gorgeous self in a stunning white and beige lehenga with beautiful floral motifs all over. The gold jewellery with green accents, her subtle makeup by Vishal Kadam and her full-sleeve blouse design compliment her look so well.
The Unique in Blue Bride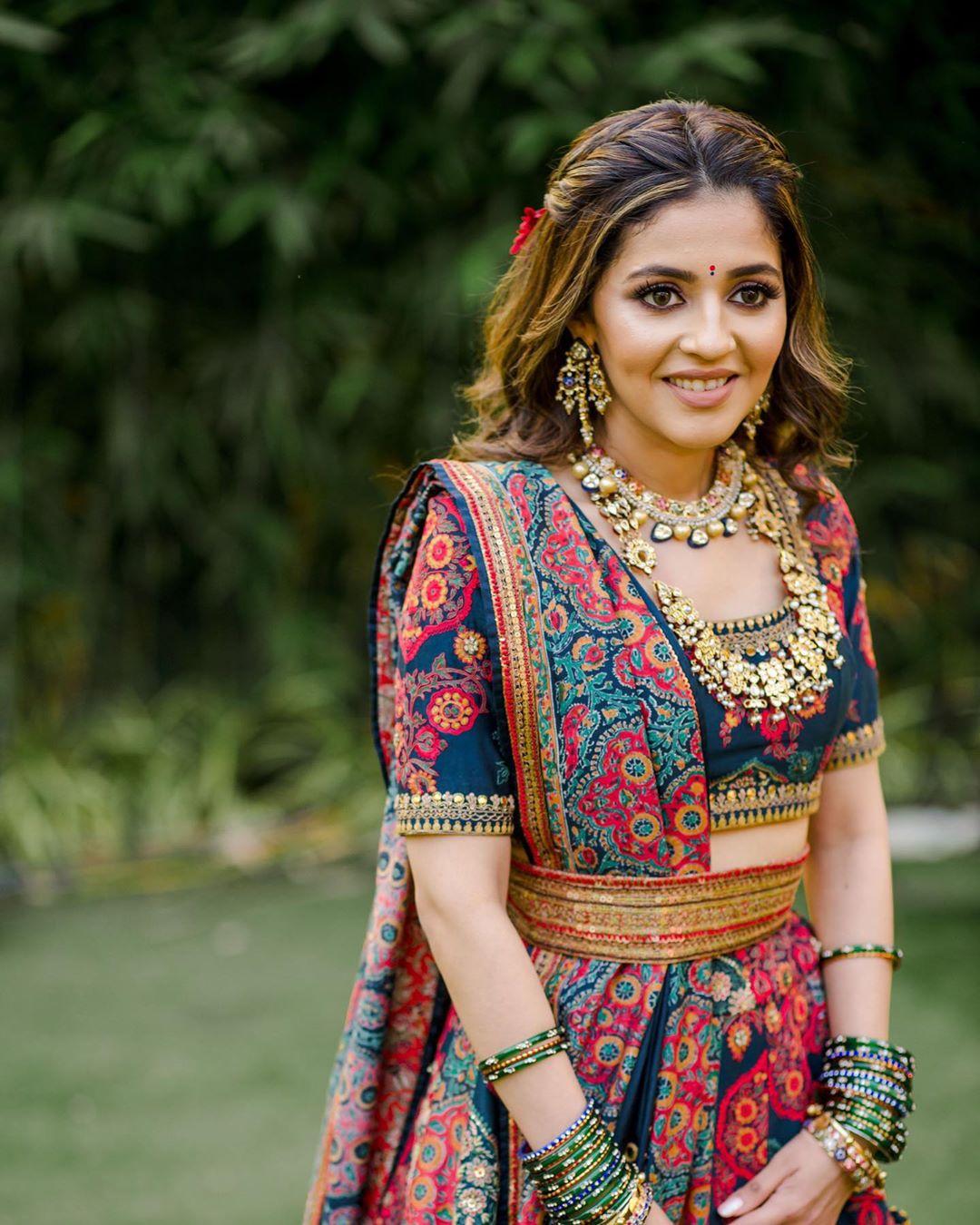 Would you wear a Prussian blue lehenga for your wedding ceremonies? Take cues from the adorable Isha Multani, who took her look to another level with her regal choice in jewellery, a matching gold and red belt and her dupatta draped like a saree.
No matter what colour you choose to go with, confidence will boost your ensemble and take your look up a notch! Whether you are a minimalist bride or someone who'd prefer to go OTT, we hope these trending brides of Instagram could serve you the inspiration you needed.
We absolutely loved reviewing their unconventional choices and confident smiles. Which bridal look is your favourite from our list?