Meghna & Charan Hosted an Intimate 50-people Wedding in Bangalore
Even when the times are difficult, Meghna & Charan's intimate wedding in Bangalore during the lockdown with less than 50 guests is an inspiration for couples. Read to know more.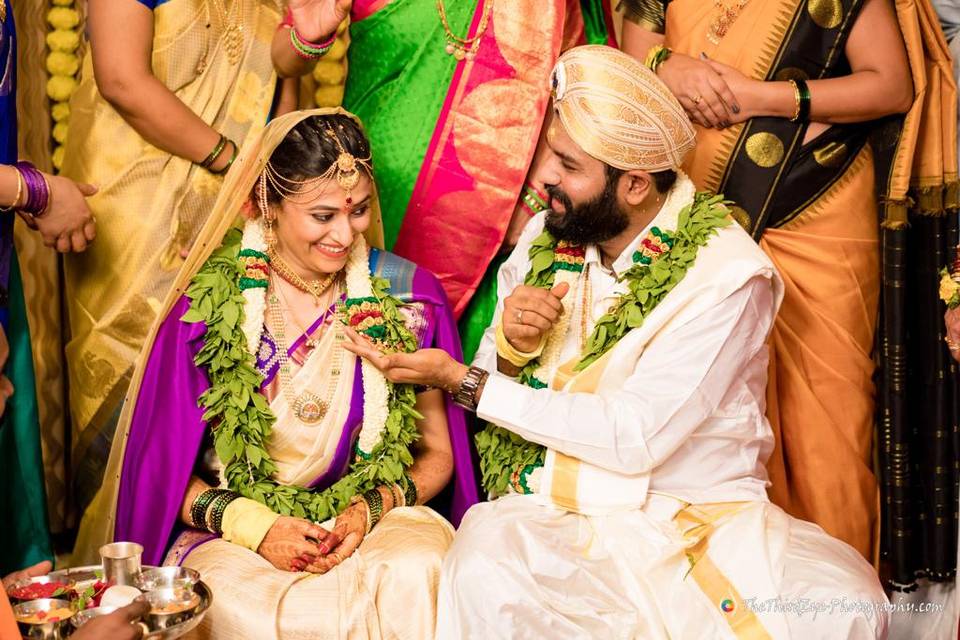 Due to the sudden unfolding of the Coronavirus pandemic in the world, many couples had to unwillingly press the pause button to their wedding celebrations. For weddings planned during the lockdown, postponing them was a heartbreaking but brave decision. However, as the pandemic extends the timeline and makes everything else all the more uncertain, there are couples who chose to tie the knot and take their sacred union forward even though the challenges of Corona hovered around.
Without letting the unforeseen circumstances bring them down, they have decided to make the most of the lockdown by getting hitched during a lockdown. Some chose online platforms like Zoom call to host their virtual wedding, while the rest opted for an intimate wedding ceremony abiding by the laws of the lockdown with only 50 guests in attendance. One such super couple who opted to host an intimate wedding in the city of Bangalore is Meghna and Charan.
Bringing in a whole lot of positivity wrapped in innovation and quirk, Meghna and Charan's intimate wedding is a definite inspiration and a much needed silver lining for the to-be-wed couples during these difficult times.
The story of their wedding is a beautiful one. To celebrate this gesture of #LoveInTheTimeOfCorona, here are the newlywed bride and groom at their candid best with some glimpses of their intimate wedding ceremony at home.
Meghna & Charan's Story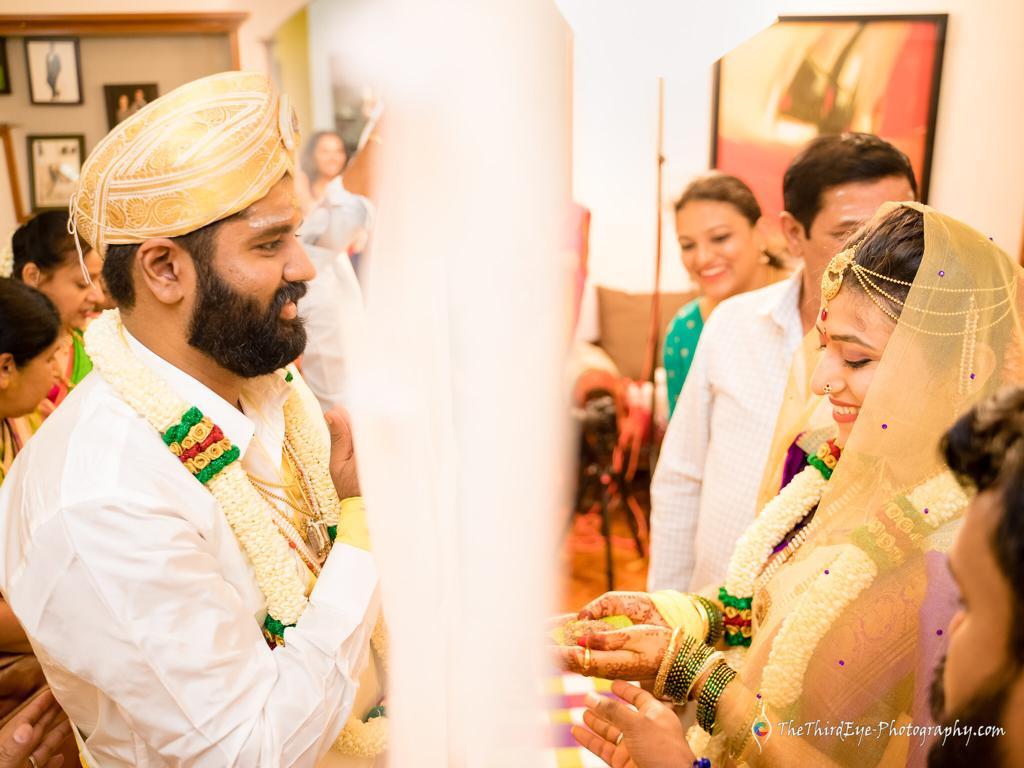 The gorgeous bride Meghna met her Mr Perfect through her best friend. Here's the twist to that story - Meghna's best friend was also Charan's sister who introduced them because she thought they would get along well. What a matchmaker!
The two started Dating on the 1st of June last year and the sweet times of courtship lasted for about 11 months before they decided to tie the knot.
The Lockdown Wedding of Meghna & Charan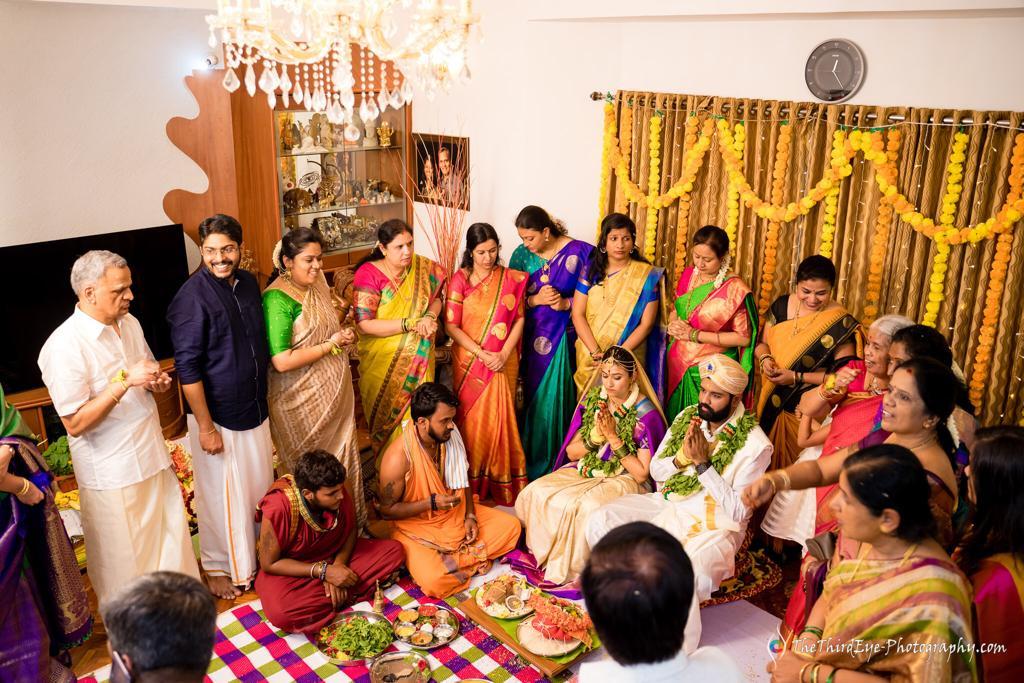 While many couples went ahead to postpone their wedding when they faced the red flags, they often celebrated the original date of the wedding in their own way. However, Meghna and Charan have hosted their ceremonies on the same date as planned before without postponing anything.
The beautiful bride Meghna says, "Yes, we got married on the original date that was decided - May 4th. Because if we did not pick the same date as planned, we would have to wait another year for an auspicious date, which was too far."
Weddings might have been postponed but #LoveIsNotCancelled and Meghna and Charan's lockdown wedding is the perfect story for that.
The Bangalore based newlyweds further tell us, "The original venue decided for the wedding was Nesara Centre for Culture, Bangalore", which was later shifted to her groom's living room. The lockdown regulations did not allow any sort of travel and had a lot of restrictions on gatherings that kept a lot of vendors immobile during the time. Couples are resorting to backyard or living room weddings during the time of Corona.
The bride Meghna is based out of Bangalore's RMV Layout and the groom from Banashankari in the same city. "We got a vehicle pass so that we could go from my house to his house for the ceremonies to take place. My immediate family was travelling with me. A total of 9 people attended the wedding from my house", says Meghna.
Meghna & Charan's Wedding Planning during Lockdown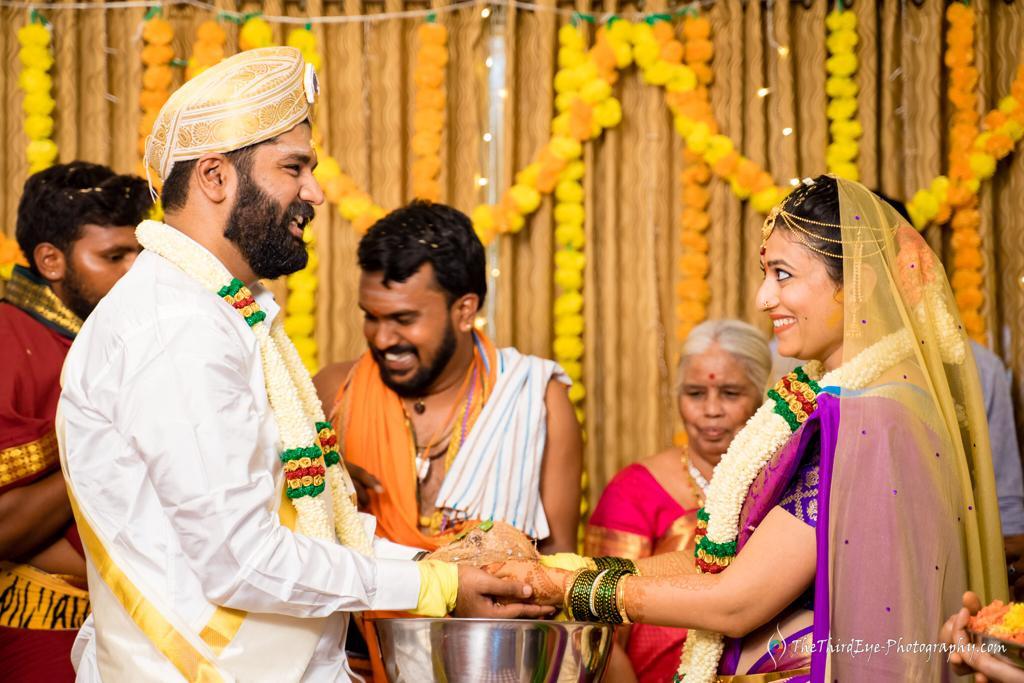 Even though the process of wedding planning is tedious and stressful in itself, we have seen that wedding planning has taken a toll on the couples, even more during the lockdown. There are to-be-weds who are looking for ways to involve their family members during the wedding planning and they are doing all the wedding planning on their own. However fancy the expectations are about planning your own wedding all by yourself, it is indeed a humongous task at hand and you will need to de-stress and involve all your family members to step in and help.
On being asked if they took help from any professional vendors for their wedding planning, decor and so on, Meghna says, "No, we did not involve any vendors. The wedding was planned and carried out by all the family members solely with whatever was available for us at that point. The decoration was done by Charan's family and both our families took care and contributed to the catering and food services."
The Lockdown Guestlist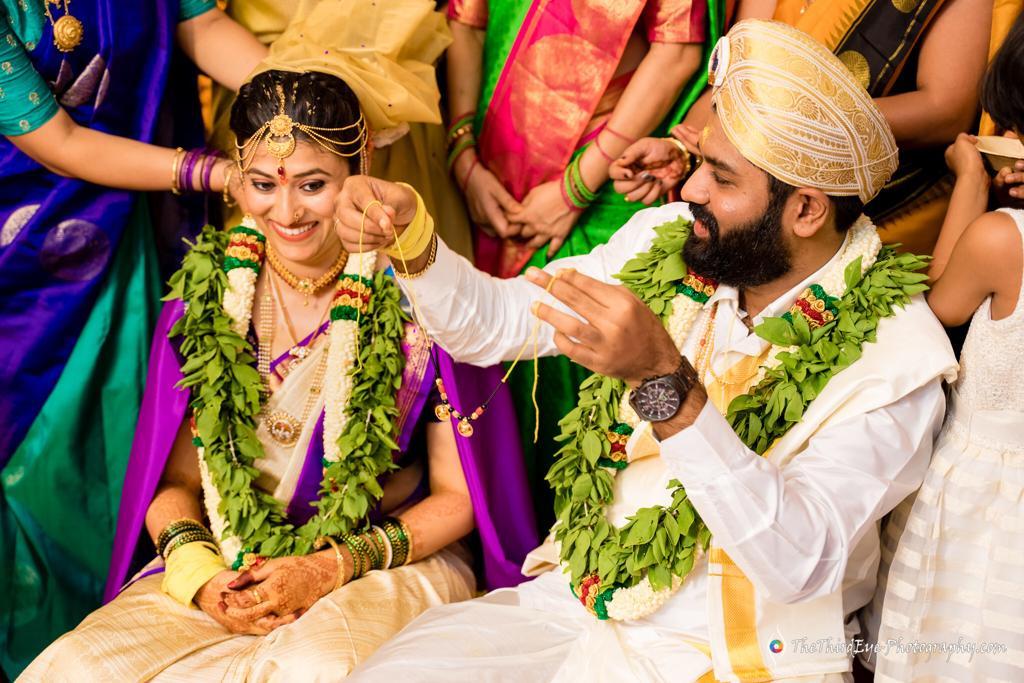 Keeping in mind that the protocols have only allowed the gathering of 50 people (maximum) for a social event like the wedding, cutting your 500+ member guest list short might be a nightmare sometimes. However, there are tricks and tips to reduce your guest list to 50 people without any lingering sadness that you must check out.
For Meghna and Charan's wedding in Bangalore, "There were 25 guests in total. 15 of them lived very close by to Charan's residence and my family used a pass to reach our wedding venue. Everybody at our wedding contributed to the planning and décor of the event", says Meghna. With all hands on board with the wedding decor, it must have been a moment to cherish forever.
They also celebrated their pre-wedding and post-wedding ceremonies in full swing, only with lesser number of people to attend them.
What They Wore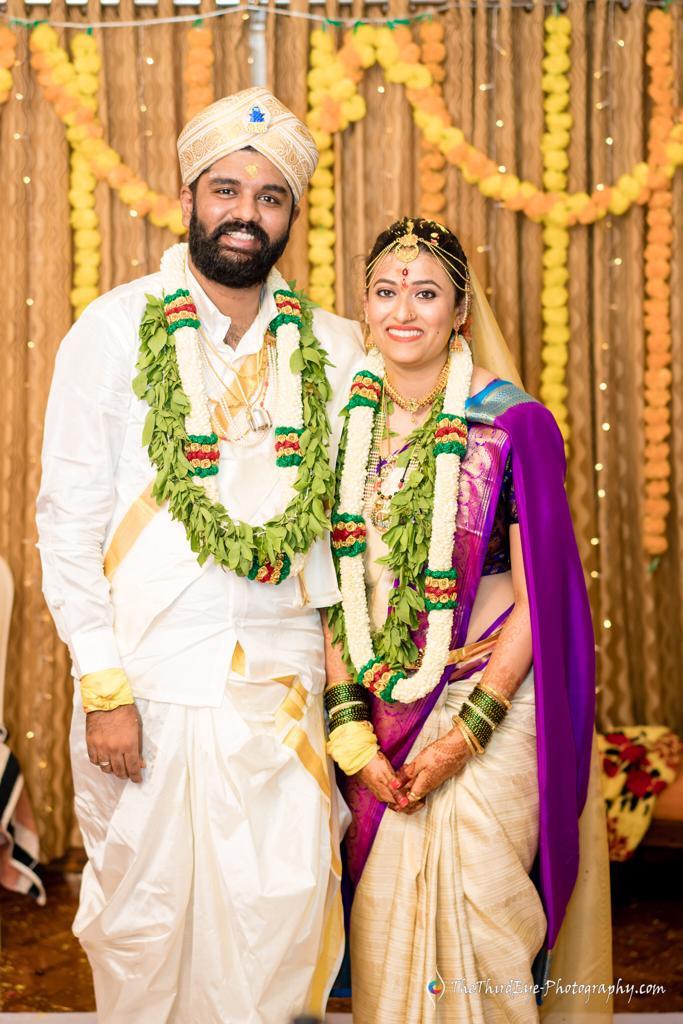 Wedding outfits during a lockdown wedding can be a hassle. All the Sabyasachi lehenga dreams have to be put aside given the designers are not catering to the brides during the lockdown. While many brides-to-be are concerned about "what to wear" on the wedding, Meghna and Charan have got it all sorted. When life throws lemons at you, you make lemonade!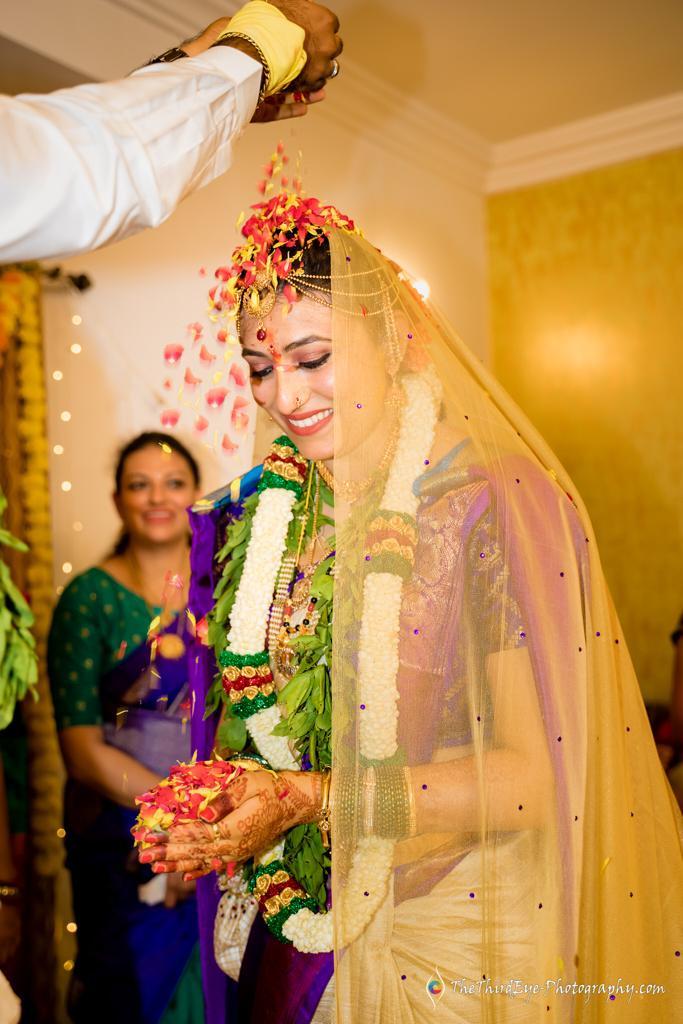 Meghna says, "I wore a cream and purple saree which I had bought just 2 weeks before the lockdown. I got the blouse stitched locally and not at the boutique I had initially planned to get it done, due to the lockdown. Charan managed to get a new silk shirt with great difficulty through some personal contacts as all the stores were shut."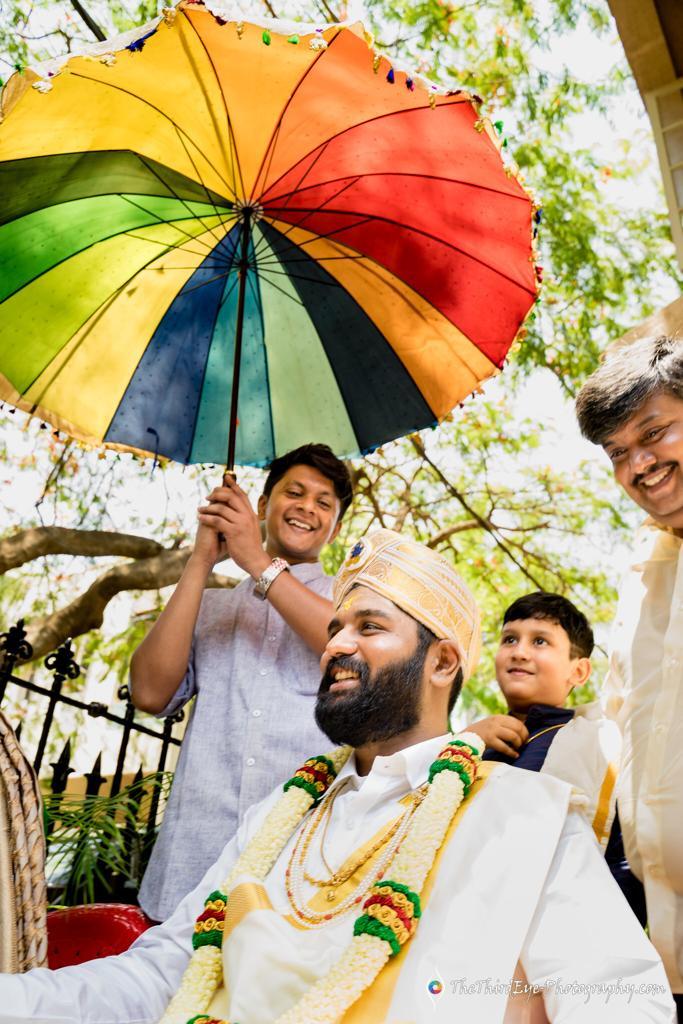 They made sure to look mesmerising on their wedding day with the beautiful South Indian bridal avatar of Meghna and the crisp-groom look of Charan. If some of you brides out there have not picked your bridal outfit from the store before the lockdown, your mother's wardrobe is always there to the rescue. Including the heirloom jewellery and attire just like the B-town celebs is a great way to go about your D-day look.
The Helping Hands for the Wedding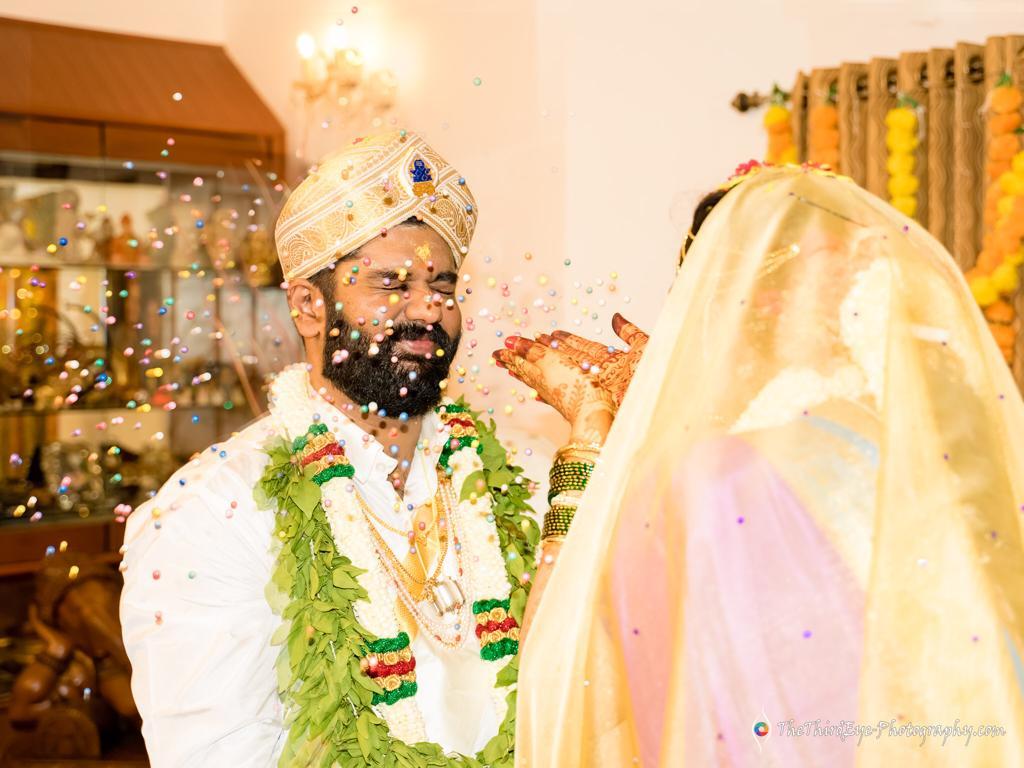 The wedding vendors were booked well in advance given that it was to be held on the 4th of May. However, they only had the photographer come in for the day and cancelled the rest for safety and situation improvisations.
Meghna says, "There was only one photographer at the event - The Third eye Photography.com. He was already booked for our wedding. We went ahead with him and he did a great job! My makeup artist was also booked, but I had to cancel at the last minute and therefore did my own makeup. Décor was obviously done by family members themselves."
Apart from the authorities like the Bangalore police and the state permissions as has been directed by the centre, they required no other permissions to host the wedding in their beautiful home. The wedding was an exceptional one and they have made impeccable memories for a lifetime.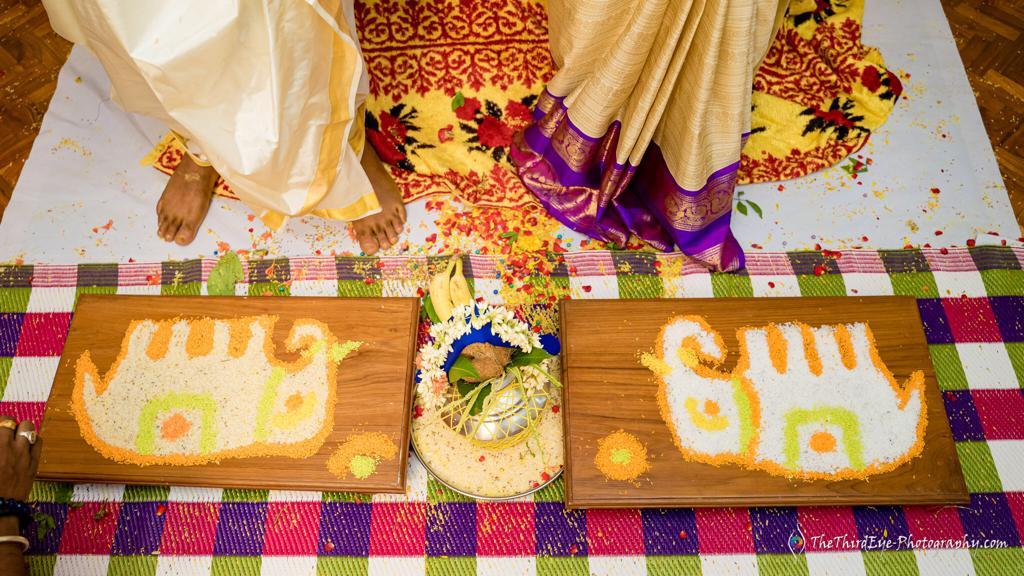 There is no right place and no right way to celebrate love. It was THEIR wedding and THEIR big celebration no matter how it was done. All the traditions were uncompromised and the photographs only give us a hint of what a wonderful day it must have been for the couple and their family.
The intimate living room wedding in the times of Corona celebrated by Meghna and Charan is an inspiration to all the to-be-weds. Love always finds a way!
And if your love has found the way, get in touch with Weddingwire, India so that we can help you plan your phenomenal and dreamy wedding. The vendors on board with us can assist you with your intimate wedding flawlessly.
All images were provided by Meghna & Charan.