9 Ways to Keep Your Family Involved in D-day Planning During Lockdown
While you continue to plan your wedding safely from your homes during the lockdown, here are some interesting ways to keep your family members involved in wedding planning.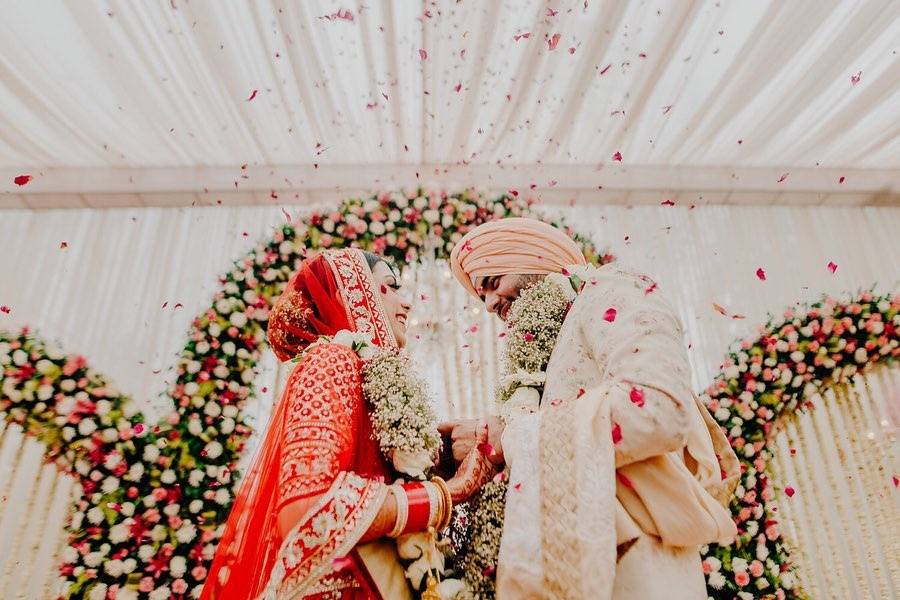 Planning a wedding has never been a cakewalk. Especially in these difficult times where the family members might be spread out in different parts of the world, getting everyone on board to plan the big day seems taxing. Ideally, the brides-to-be go out shopping for their bridal jewellery with their mother and aunts, the lockdown has however restricted the ideal happenings. All your plans to go lehenga shopping with your bridesmaids have to be put on hold for now, until better times.
Due to social distancing, many loved ones are unable to participate in your wedding planning unlike what you and your loved ones had pictured for your wedding day. But the good news is, it is still possible to involve your dear ones in your wedding planning process while you enjoy simple wedding planning tasks right from the comforts of your homes.
While preparing the Sangeet performances with trending Bollywood numbers is already allotted to the family members individually or in groups, here are some fun and efficient ways to include family members in your wedding planning even if they are far away during the lockdown.
Here are some fun and efficient ways to include family members in your wedding planning even if they are far away during the lockdown.
Weekly "Virtual" Meets
If your wedding is around the corner, the wedding talks in the house seem to multiply with every passing day. However, with the lockdown and the wedding planning stress that often takes a toll on your relationships, we suggest you plan weekly meetings. Pick a day when the whole family and your dear ones meet on a video call and update each other with the wedding planning proceedings. It is a great way to keep in touch about the wedding and be excited together. These calls can be great to make some important decisions with everyone on board.
Decision-Making Parts
Elders in general play a very important role in planning the wedding when it comes to decision-making. If they are not physically present alongside to help you while you pick the colour of the table cloths, the theme of the wedding or the catering services during the lockdown, you can take their opinions on call. Be it on a video call over WhatsApp or Facetime or a regular phone call, they are still one call away. Make sure to narrow down the choices to a handful so that it is easier for them to communicate their opinions without the conversation getting overwhelming.
Possession of Tasks
A wedding ceremony involves more than a hundred tasks at hand that need to be attended to all times. Even if you have hired a wedding planner who has an elaborate list of duties to perform, to supervise it all by yourself or just with your partner might become hectic. Make your family members take ownership of different tasks to make it easier. It is not only easy for you but also makes for a great initiative to keep your family involved if they are far away during the lockdown. While someone can pick the cake vendors for your wedding cake, the others can find a professional florist or a photographer. Divide the task list among your dear ones and make sure to catch up with them on regular intervals to be on top of things.
Picking Vendors
There are different types of vendors required to make your wedding a flawless celebration. Picking vendors for your big day during social distancing is not that difficult and our detailed guide will be of great help. While you take your virtual tours of the venues and interview the vendors you need for the wedding, you could ask your family and loved ones to pick some of the interviews and tours off your plate. You could even plan to do it together with them because every second and third opinion is sure to provide more clarity in making the right choices.
Sending out Invites
Sending out invites can be a fatiguing task. Be it the digital invitations or the detailed boxed invitations, sending them out and doing it right might get you worked up while having to take care of a lot of other things for the wedding planning. Ask your family members to step in and divide the work equally. It becomes less tiring and allows you to personally hand write each of the names and addresses without much hassle. They can even send these wedding invitations out on behalf of you.
Arrange Favours & Trousseau
Arranging wedding favours is a fun task especially when the entire family is in one place packing the favours and trousseau for the wedding. But with the lockdown, getting everyone together in one place does not seem like a plan that will bear fruitful results. You could instead send some portions of the favours and trousseaus to your family members' addresses and they can do it for you. You can take a break from the wedding planning stress and try the stress-busting tasks to do at home, without getting over-worked. Your family members can send their version of the packing on your family group and make it all the more fun with a little competition on who did it the best!
Short-listing Guest List
Curating a guest list of 500 people also seems a tad bit difficult when you realise you and your partner along with your families know a lot of people. There are hardly any reasons to exclude even a far off acquaintance or a family member who was MIA since forever. To make a great wedding guest list, or to cut down the wedding guest list you will need to involve your family members. Get on a Zoom call with everyone on board and start discussing your guest list. It is unfair to expect it to be done in a day and you might need consecutive meetings to decide the final guest list for your wedding that your loved ones agree to.
Wedding Registry
To all the brides and grooms-to-be in the house, it is not necessary for you to choose all your wedding registry by yourself. A second opinion and some guidance always help, especially if it is coming from the elders who are the unsung heroes of homemaking. From useful things that can be registered for gifts to what budget should fit fine, your family members can help you with the wedding registry and make it less stressful.
Budget Planning
When it comes to budget planning for your wedding, there is a lot that needs to be considered. The wedding budget breakdown can seem overwhelming at one go. But with your family on board to keep a tally on the different kinds of expenses and each one taking care of one task that they are responsible for, calculating a budget and sticking to your wedding budget becomes a lot easier. Moreover, if your parents and in-laws are contributing to the wedding budget, it is only fair to let them handle parts of it.
Whether you have just started planning your wedding or are halfway through, keeping family members involved even if they are far away and scattered around the globe is a great way forward. Keeping in mind that during these testing times family is what we turn to, we suggest you keep your family in the loop with your wedding planning through online platforms. It is also very important to keep your calm and be open to opinionated discussions because with a lot of opinions come a lot of friction and hot-headedness. Your parents might not even be aware that you are upset because of the dire distance, and communication becomes an integral part when you involve your family members in planning the wedding.
There are other notable things-to-do while keeping your family involved in the planning like preparing a video montage or the playlist that will be your wedding music or for your first dance followed by the different performances at an incredibly fun Sangeet ceremony.
Even with all hands on board, wedding planning can be an intense affair. The uncountable phone calls and emails with the itty bitty details are not all that easy to tally. We suggest you get in touch with a professional wedding planner to make it a smooth and memorable experience that results in an unforgettably dreamy wedding.
If you have any other interesting and fun ways on how to keep family members involved in your wedding planning even if they are far away during the lockdown, let us know in the comments below.