WeddingWire India Presents Sheroes 2022
This Women's Day, inspiring Women in Leadership in the Wedding industry share the stories of their 'Becoming' with WeddingWire India.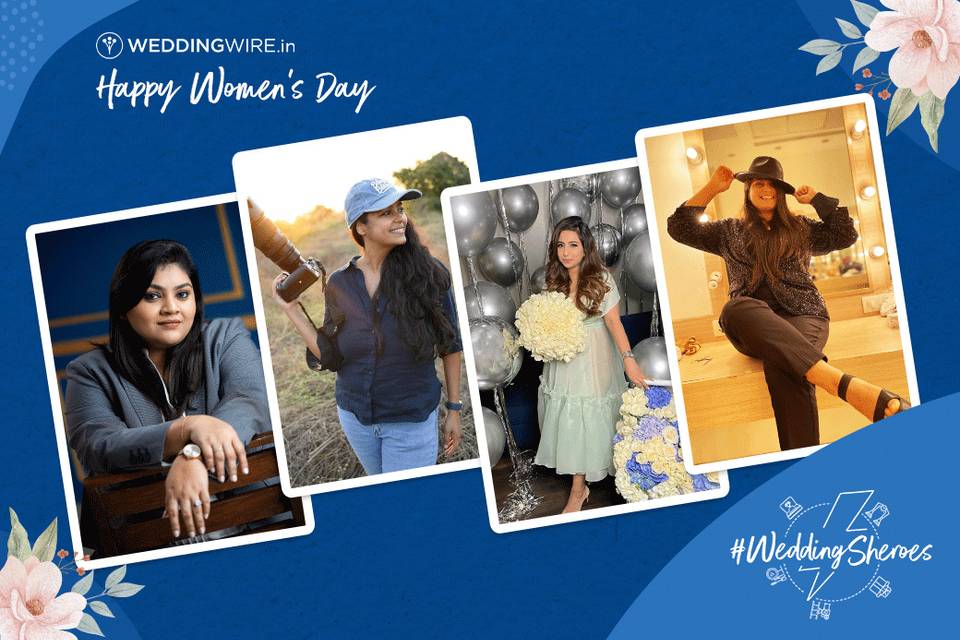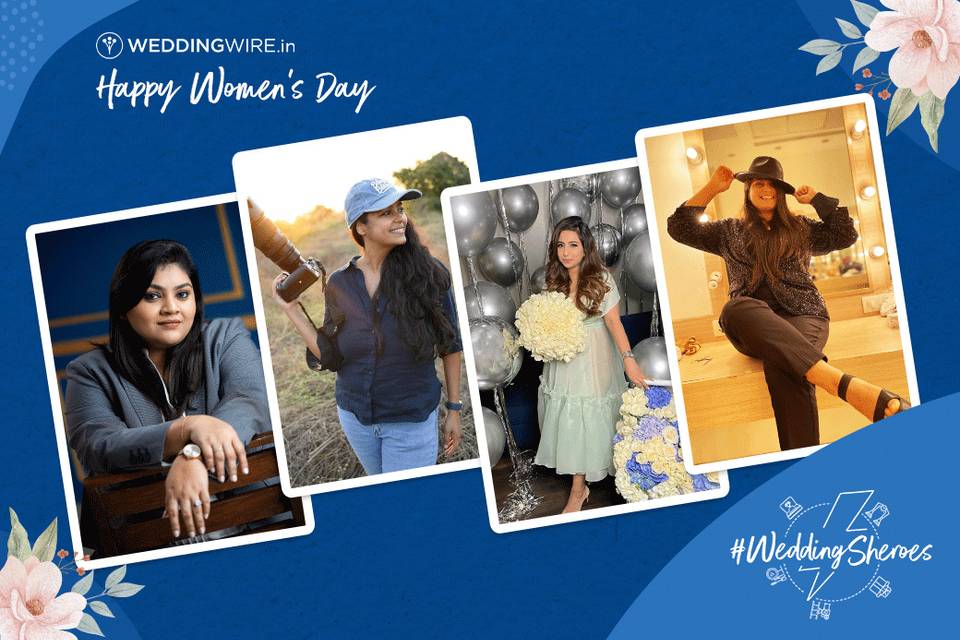 Taking the opportunity to celebrate the indomitable spirit of women, we spoke with some leading ladies in the Indian wedding industry. Through the #WeddingSheroes series by WeddingWire India, let's celebrate women who drive India's Dream Wedding Industry. These women have added wings to the wedding dreams of the couples with their exemplary skills, inner grit, and fresh perspectives! Scroll down to read some captivating insights shared by these celebrated names who are untainted by patriarchy and other conventional normals! These women have played an integral part in this beautiful wedding realm.

Flavian Quadros/Founder
In an exclusive interview with WeddingWire India, one of the most inspiring women in the Indian Wedding Catering industry, Flavian Quadros, Founder & Director at Banquet 18, shares the story of her 'Becoming'.
Read the whole interview here -
Q. How did the journey of your brand "Banquet 18" begin?
Seven years ago, I had no idea Banquet 18 would ever exist. Back then, I was a healthcare professional managing 27 hospitals nationwide. After the birth of my child, I finally decided I wanted to pursue my true calling, which was in the food industry. Over a year later, I found myself catering to over 100 meals. Preparing those meals, cooking those meals, and delivering those meals single-handedly with a 14-month old baby. This time we realized, we need to move ahead and then we started the first commercial catering unit space out of Mumbai. We were giving B to C meals to corporates - operating and catering to small functions.
Q. What were the key challenges in your industry?
The first 12 months were extremely tough as I was not from the hospitality industry. I was not aware of panning, costing, and hiring chefs. All I remember was that smile given by every client and a hug given by family members - this is what kept me going always.
Q. How has India catering evolved over the years?
Families would like to serve global cuisines now with their friends and family. Another big transformation is that many couples are from different cultures. We have a Bengali getting married to a Maharashtrian- a Malyali getting married to a Muslim. Thereby, they want the best of all the regional cuisine in one day and that is making the catering industry dynamic.
Q What is the mantra of success?
We believe that every client is different and which is why we sit with the client, understand their requirements, and then we design a customized menu specially created for a specific client. We have a culture as we know that for us it is just another wedding but for you - it is the biggest day of our life and that is what makes us special.
Q. Give some valuable advice for aspiring caterers?
Firstly, whenever in doubt, sit down and think about the time you started this journey. Ask yourself 'why did you start this? A reminder can always put you back on track. Secondly, put on horse blinkers and stay focused. It is going to be tough in the beginning but you should hang in there! And the third and the most important advice that I got from my dad - there should be no Plan B. Run every day of your business believing there is no other option other than succeeding in this.
Ankita Asthana/ Wedding Photographer & Filmmaker
In an exclusive interview with WeddingWire India, one of the most inspiring women in the Indian Wedding Photography industry, Ankita Asthana, Co-Founder of WeddingNama, shares the story of her 'Success'.
Read the whole interview here -
Q. How did the journey of your brand "Happy Dancing Feet" begin?
WeddingNama is my baby. It was born out of a love for weddings and photography. After getting my master's degree in photography, I worked in all genres but something about weddings excited me and I chose to specialize in that field. My partner Akash quit his job in the finance sector - when we were covering his CEO's daughter's wedding. Since then many famous WeddingNama couples have found us. It has been 8-9 years and we love every second of it. We have a full in-house house team of talented professionals.
Q What does it take to be a Woman in Leadership in the wedding industry?
Same things- as it takes a man to be in. For instance - dedication, hard work, passion, being true to your work, not being afraid to speak up, taking initiative, and making things happen.
Q What is the definition of success?
Success is when people know your work when brands become bigger than individuals when your team goes and handles shows without you. This all makes me proud.
Q What do you love about being a wedding photographer?
Every day is different for us as every wedding is unique. I love the energy and excitement. Even today during the assignment - I get butterflies in my stomach. You have to perform the best - every single time as someone has put trust in your work. It is a challenging profession and I love taking on challenges. The best part is that you became like a family member for someone for a few days. Eventually, you became their friend for life.
Q Your advice to aspiring women wedding choreographers out there?
Be true to your work and never think that women can't do things that a man can do. They can take it up the notch. Further, there is no substitute for hard work. When I started in this field then there were few women photographers and now I'm happy to see how young women are picking this up as a career and they are doing well. If you are considering this as a career, let me tell you that the wedding realm is a great place to be in. This field comes with many challenges but once you get the knack for it then you will have a good time. Enjoy yourself and have a good time.
Shradha Luthra/ Make-Up Artist & Founder
Famous Make-Up Artist & Founder of Doll Yo Up By S -Shradha Luthra talks about how she created a stir in the wedding industry as she considered it her true calling. With her belief, dedication, and experience - she has created ripples, amidst numerous brides, all over the world.
Read the whole interview here -
Q. How did your journey as a Make-up artist begin?
Makeup is something that came to me very organically and I'm a self-taught make-up artist. My career began with hair at the age of 15, but with make-up, I found that this is my true calling, and so I stuck with it.
Q. Who is the Role Model or biggest inspiration in your life?
These are the three most incredible women in my life. My mother, sister, and best friend. Back in the day, the populace used a repetitive name like glam by/make-up for their brand but my best friend and I kept a unique name. Looks are akin to demure and doll-like vibe and that's how "Doll You Up By S" came into being.
Q. What do you love the most about being a Bridal/Celebrity Make-up artist?
I won't be lying if I say- I love everything about my job. I love to meet some amazing girls and be part of their special day and journey. With this, you tend to build relationships for life.
Q. 3 things a woman should remember while pursuing her dreams?
1. Always believe that Universe is going to work out in your favor. If your belief- then it is going to work out.
2. It is important to work hard and be consistent.
3. Be active on social media and use that to your advantage.
Q. Your advice to aspiring young bridal makeup artists?
Communication is the key. Sit down with your bride before the wedding day or arrange a face time with her to know her preferences. Do ask your bride how she desires her bridal look. Try to bring that to life as much as possible. It is a big day to turn her vision into reality, so make her feel special.
Shrishti Arya/Wedding Choreographer
We bring forth one of the most inspiring women in the Indian Wedding industry who pursued her true calling. We celebrate the journey of Srishti Arya - Founder & Director of Happy Dancing Feet. In an exclusive interview, she shares the story of her 'Becoming'.
Read the whole interview here -
Q. How did the journey of your brand "Happy Dancing Feet" begin?
The journey of Happy Dancing feet was fun. Initially, I worked as a content manager in a digital marketing agency. Then, writing was my passion but sitting at the desk was not my passion. I have had a string attached to my feet and I used to keep running around the office all day. Then I realized that I'm meant to do something up and about and not sit in one place. I enjoyed choreography in college and which is why I thought - why not give a shot. Then I got a sangeet project from my best friend.
Q What do you love most about being a wedding Choreographer?
There are more perks than challenges in this realm. For instance - we love meeting new people, we love traveling places, we love making memories. It feels amazing to be a major part of someone's special day.
Q What does it take to be a Woman in Leadership in the wedding industry?
The times are changing and the wedding industry is far more receptive for women entrepreneurs. However, in a room full of men - If your work is great, then it makes every gender look up to you, recognize you, and respect you.
Q Do you think there is still any stereotype attached to being a woman entrepreneur?
I would be lying if I say that there are no stereotypes attached to being a women entrepreneur in any industry. However, we are luckier as we are more creative, and certainly more receptive. Sometimes it gets difficult to get heard when you are in a room full of mail clients, vendors, planners.
Q Your advice to aspiring women wedding choreographers out there?
It is not easy but it is worth it. Also, a woman who knows her worth is a dangerous one in a good way. When you know your worth then you don't settle for less.
Interviews are taken by - Rumela Sen, Gaurica Singh & Aashna Anand
We would love to hear stories of #Sheroes and WonderWomen who inspired your journey. Head to our community discussion - Who is the Wonder Woman of your life? and share your stories with us.
Find Top Blogs -
Mehndi Design | Proposal Lines | Simple Finger Mehndi Design | Arabic Mehndi Design | Propose Day Quotes for Boyfriend | Wedding Anniversary Wishes for Sister | Tamil Wedding Calendar | Simple Mehndi Design | Pre Wedding Quotes | Engagement Anniversary Wishes | Funny Wedding Wishes for Bestfriend | Blouse Design | Rangoli Design | First Night Tips for Bride | Wedding Anniversary Wishes