Scintillating Mangalsutra Designs For Every Bride
Getting married soon and looking for the perfect Mangalsutra to seal the deal? Here are 20+ latest Mangalsutra designs that you must totally check out!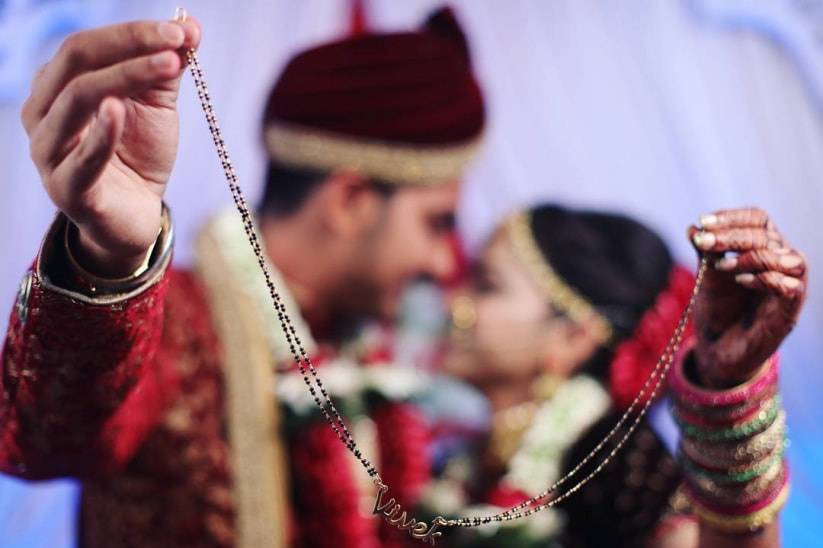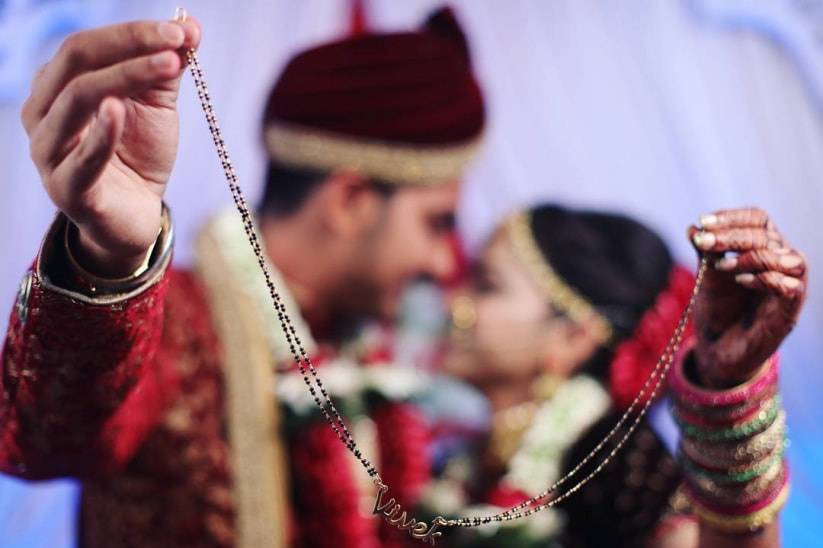 Image Courtesy: Sunny Patel
Ask any number of married women what their most prized possession is and chances are high that most of them will have the same answer - their Mangalsutra. A Mangalsutra is not just a sacred thread that is a sign of marriage. It is much more than that for a woman. It is a token of love and commitment, and thus every woman pays utmost attention to detail when picking a perfect Mangalsutra for herself.
The significance of Mangalsutras is such that even millennial brides happily and readily wear them. Of course, with times changing, Mangalsutra designs have changed a great deal too. They no longer consist of a gold pendant set between a string of black and gold beads. There are so many latest Mangalsutra designs in the market these days, and modern brides are spoilt for choice.
In this Article -
4. Mangalsutra Bracelets and Rings
If you are going to be married soon and want to pick a perfect Mangalsutra for yourself which resonates with your style and personality while embracing tradition in the best possible way, then you are at the right place. Check out these amazing and latest simple Mangalsutra designs and take your pick!
Modern Manglasutra Designs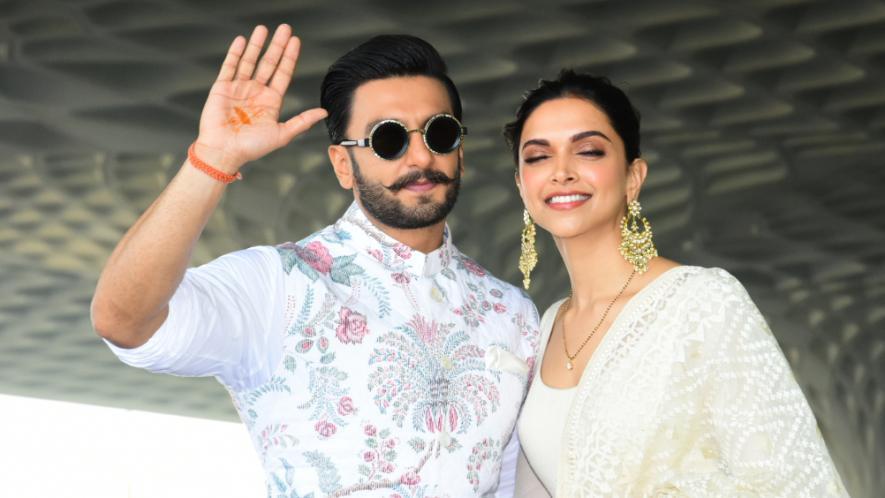 Image courtesy: Firstpost
Just like her personality, Deepika Padukone's Mangalsutra design was nothing but elegance personified. A very simple yet stunning design with a Solitaire resting between a tiny chain of black beads, Deepika's Mangalsutra was a treat to the eyes. If you are a bride who plans on wearing her Mangalsutra a lot, this is something to be inspired by.
Find Top Mangalsutra & Jewellery Stores Near You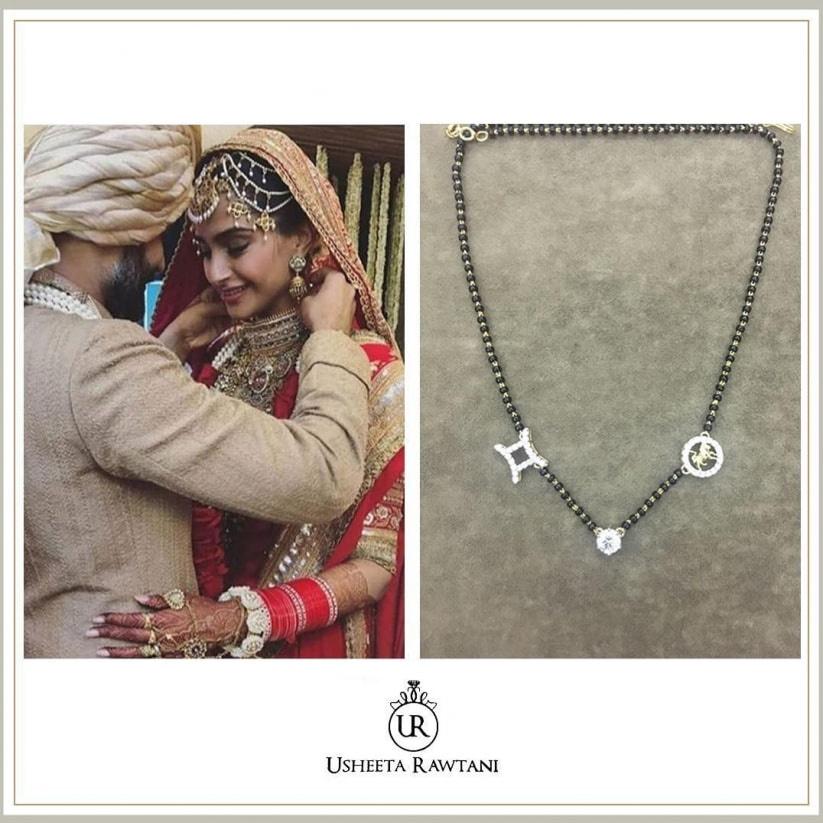 Image Courtesy: Usheeta Rawtani
Sonam Kapoor is the undisputed fashionista of Bollywood who is known for her offbeat and quirky style. The diva incorporated her quirk into her Mangalsutra too, when she got a customized Mangalsutra made with her and her husband Anand Ahuja's Zodiac symbols. If you want to do something special with your Mangalsutra design too, then personalization is the way to go.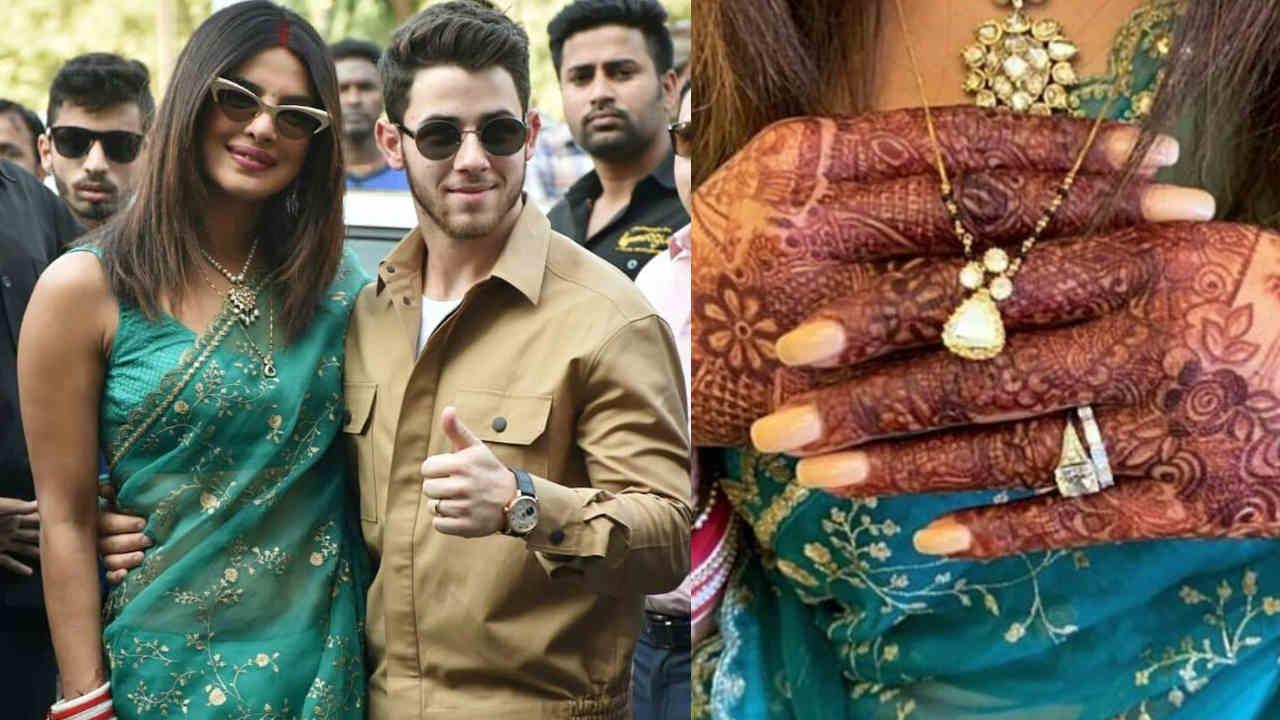 Image courtesy: Firstpost
Our very own Desi Girl got married to American singing sensation Nick Jonas and stunned everybody with oh-so-pretty wedding looks. But what was most special about her married look was her extraordinary Mangalsutra design. It was a beautiful blend of tradition with modernity, and we loved it to bits. Now that we have given you some much-needed celebrity inspiration, here are some of the other latest Mangalsutra designs that we think you will love.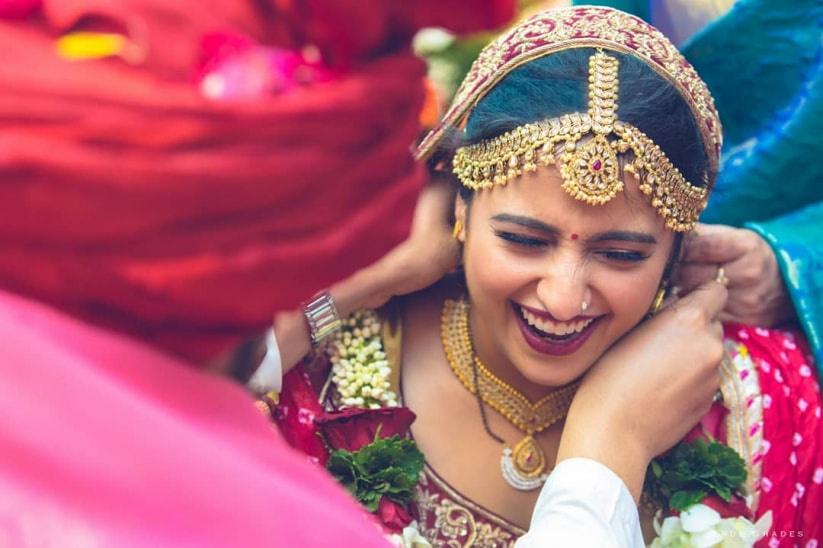 These latest Mangalsutra designs are just perfect for the brides who want to embrace their culture but with a little touch of modernity, just like Priyanka Chopra's gorgeous Kundan necklace. Check them out.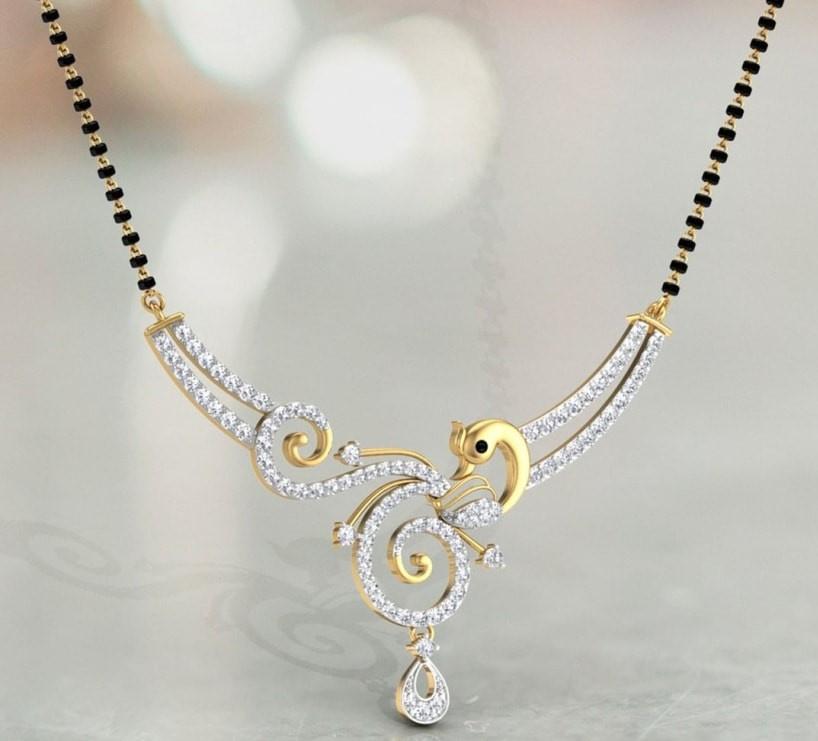 Image Courtesy: Zamoor Diamonds
There is something so beautiful and graceful about a peacock motif and this stunning diamond-studded Mangalsutra design is proof of that. It is the quintessential Indian design for the modern bride.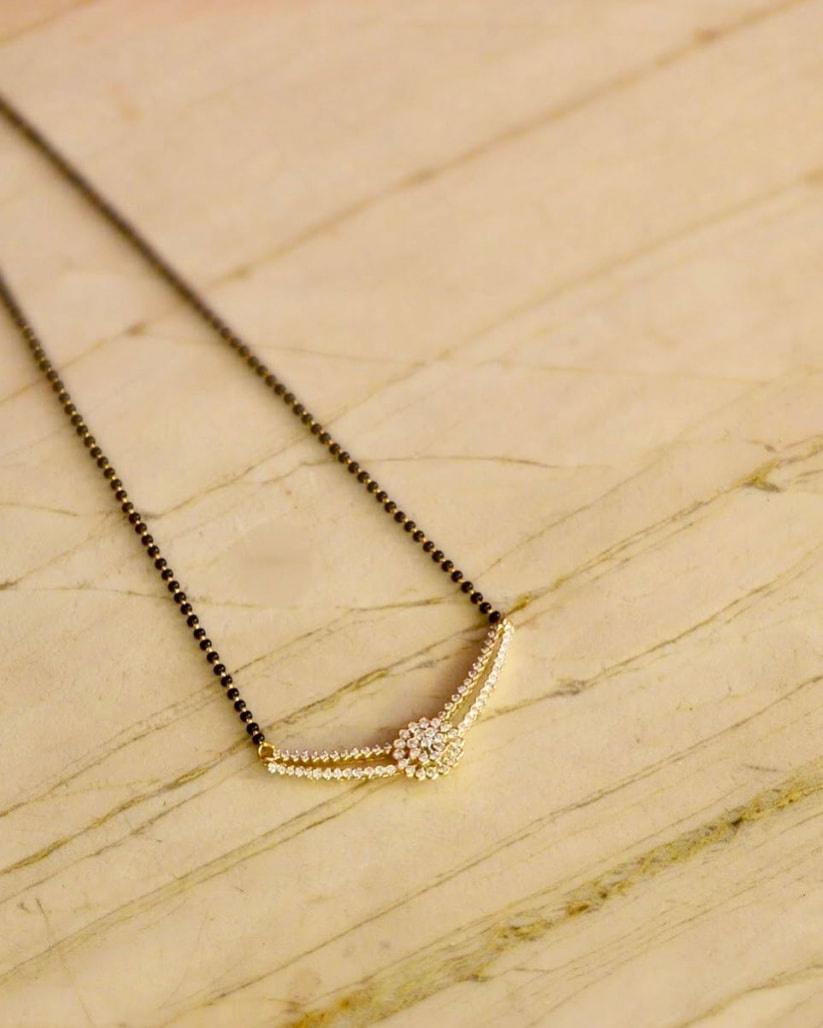 Image Courtesy: Mahashe Jewellers
We call this a no-fuss design. It has been around for a while and it is just soothing to the eyes. Opt for this Mangalsutra design if you want to wear it only on special occasions as it is a little heavy for daily wear.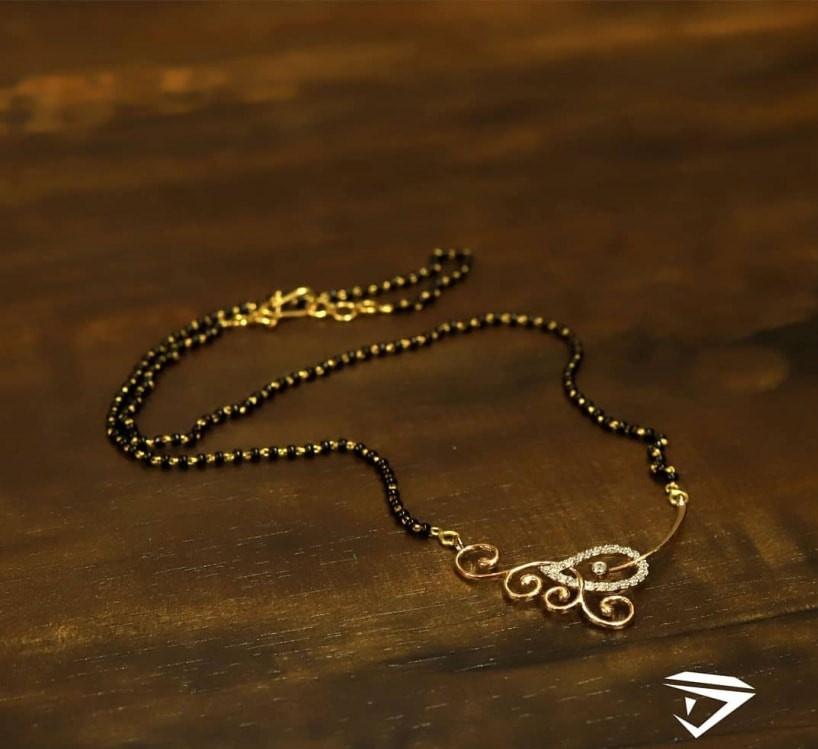 Image Courtesy: Diaonj
Not sure if you want a gold pendant in your Mangalsutra or a diamond one? Well, this beautiful mix-and-match Mangalsutra with a delicate design is a great option for you!
Latest Mangalsutra Designs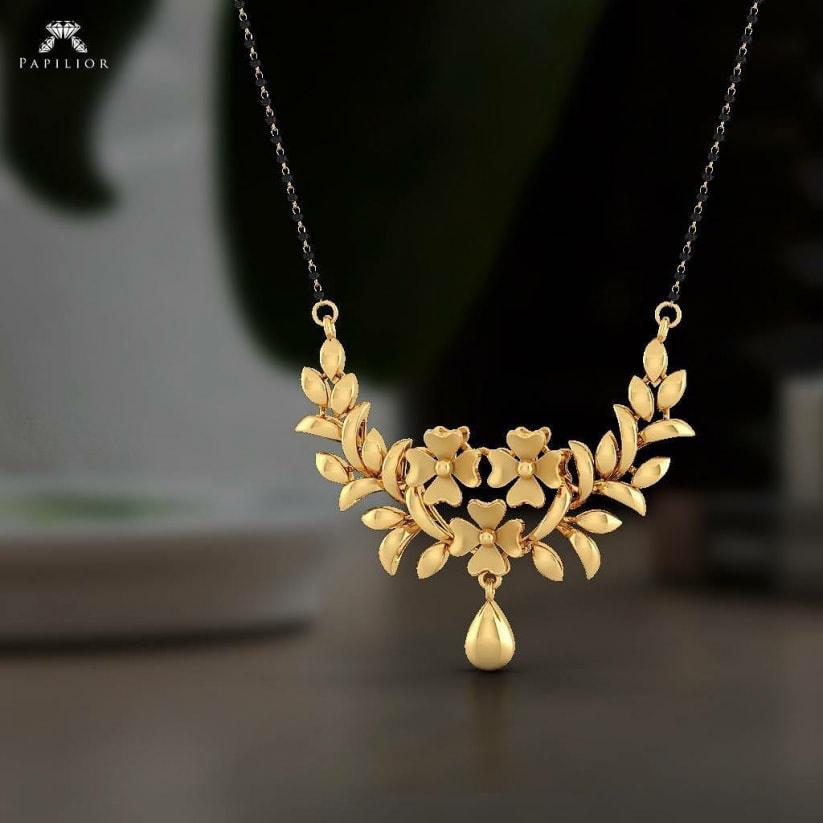 Image Courtesy: Papilior
There is nothing as impressive and regal as gold and this stunning floral Mangalsutra design has our heart. It is not your regular blingy gold which is too in the face. It is subtle and soothing to the eyes in a perfect way.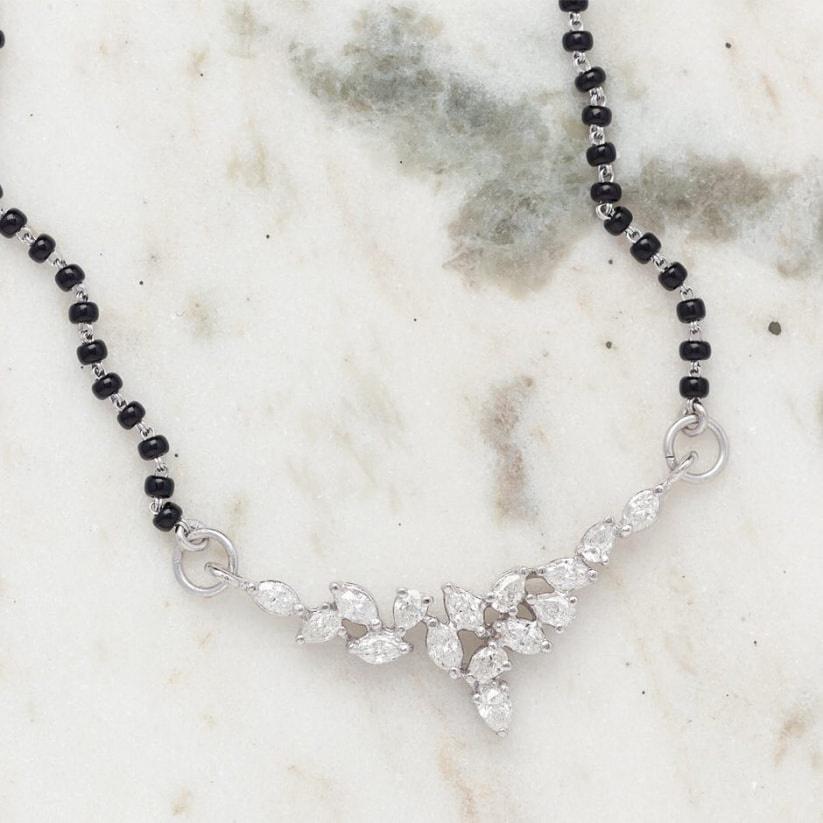 Diamonds sure are a girl's best friend and if you are a firm believer in this then this beautiful Mangalsutra design is calling out to you. The Marquise-cut diamonds placed in a cluster of sorts are simply breathtaking.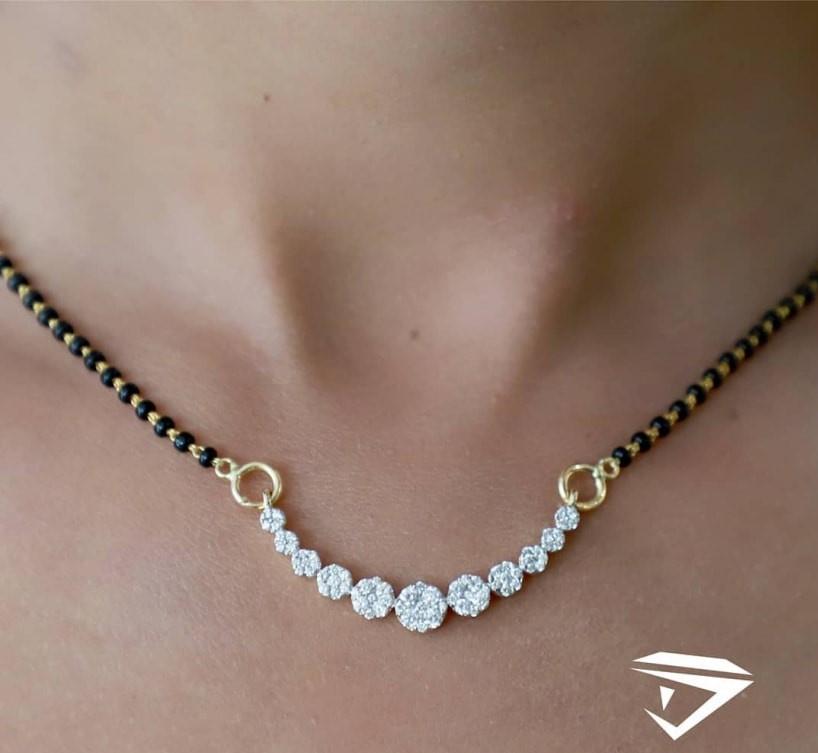 Image Courtesy: Diaonj
Nothing but diamonds and only diamonds for a Queen. This stunning Mangalsutra design consisting of 11 Solitaire diamonds in varying sizes will make you stand out from the crowd every time you step out wearing it.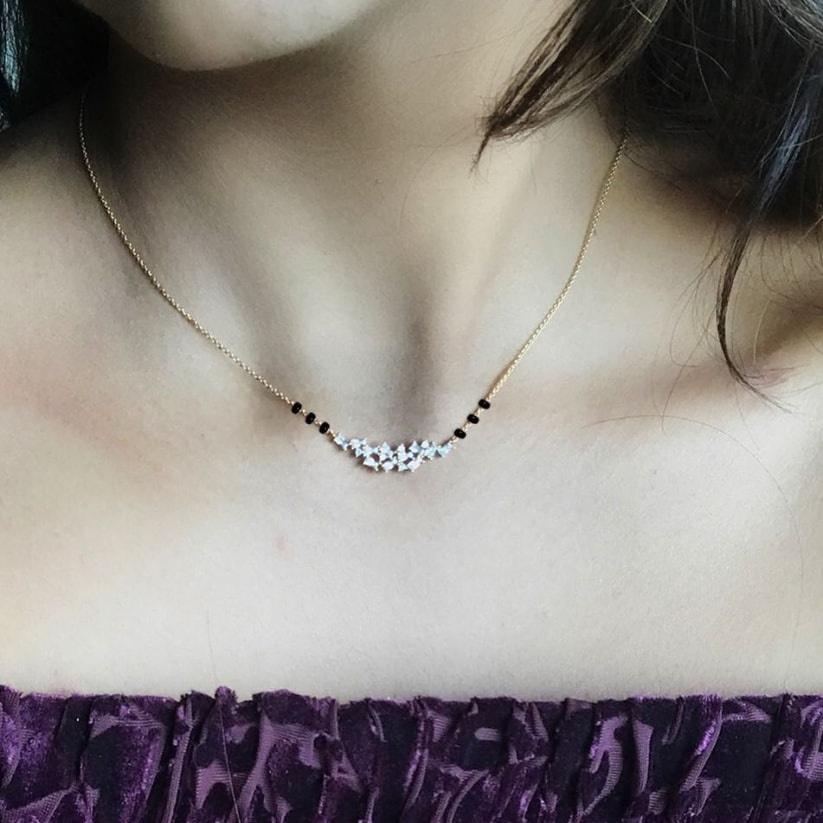 Are you someone who plans on wearing her Mangalsutra a lot, maybe even all the time? Well then, these trendy and latest Mangalsutra designs are your best bet. They are super gorgeous, delicate, and will look amazing with both Indian and Western dresses. What else could you ask for, right?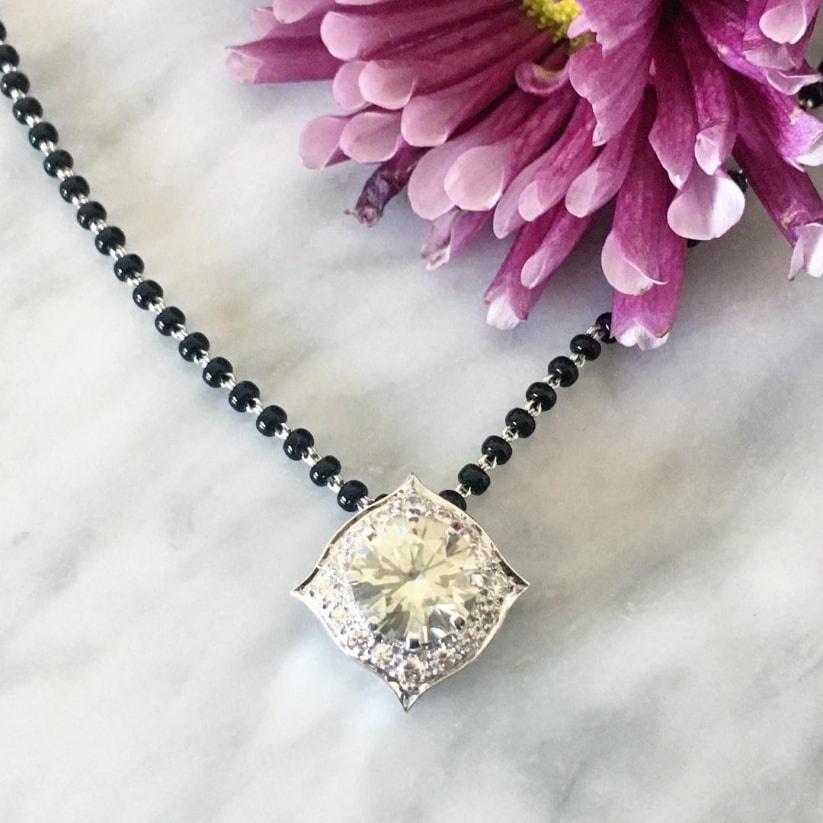 If you are a huge fan of Deepika Padukone's stunning and elegant Mangalsutra design then well, we found something similar for you that you might like. We know we do!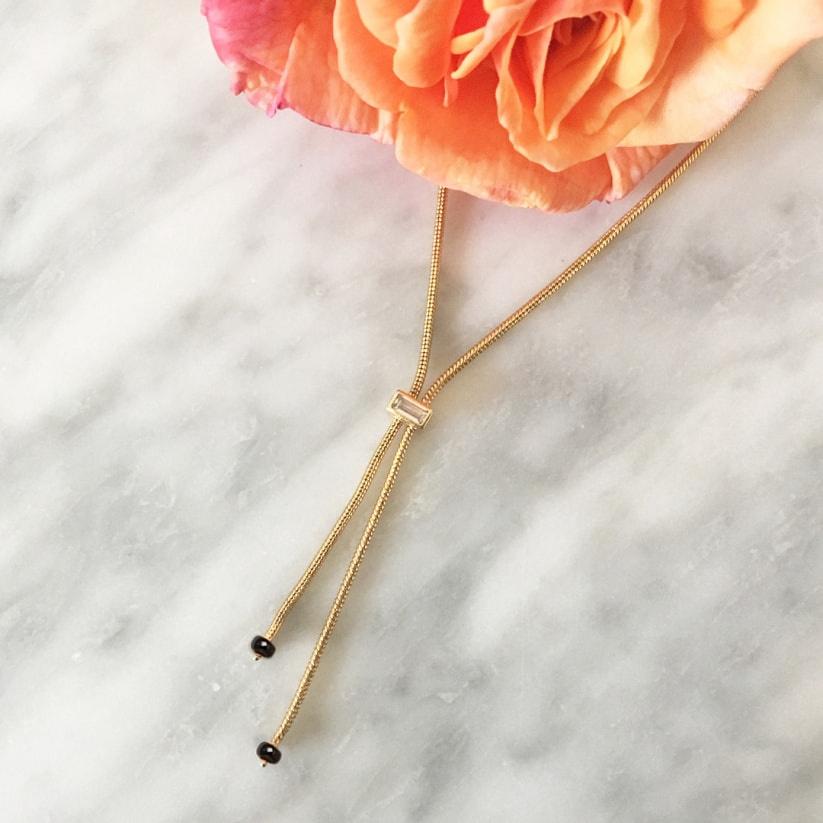 Oh yes, this is the chicest Mangalsutra design we have ever seen. The tiny diamond in the center with those two black beads makes it a unique design that people will not be able to take their eyes off of.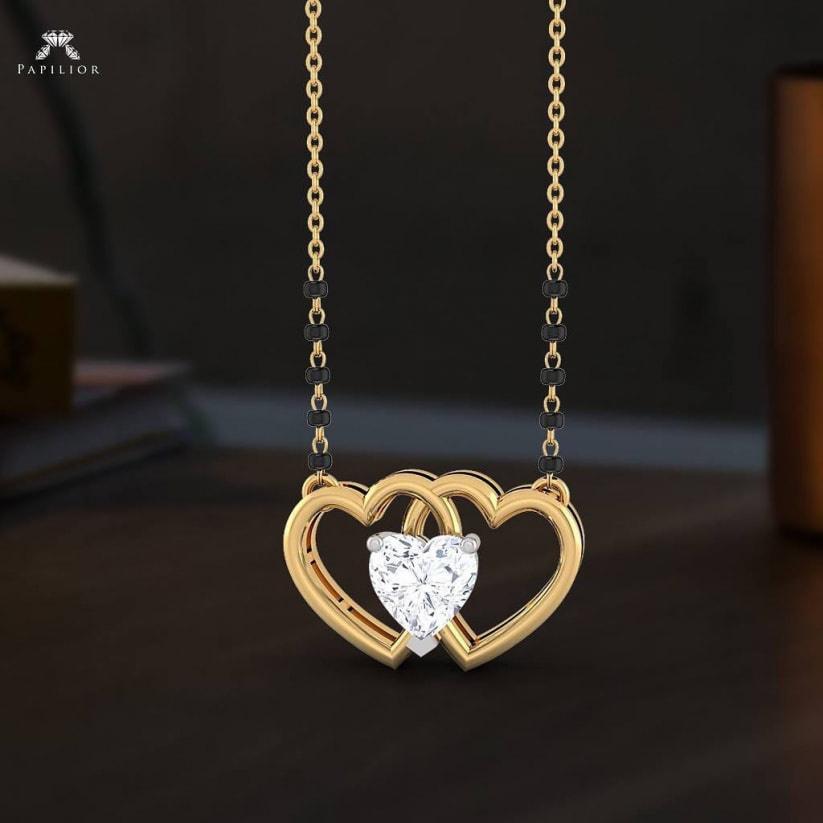 Image Courtesy: Papilior
This is one of our personal favorites from the list. Marriage is all about being each other's soulmates and that is exactly what this stunning Mangalsutra design depicts.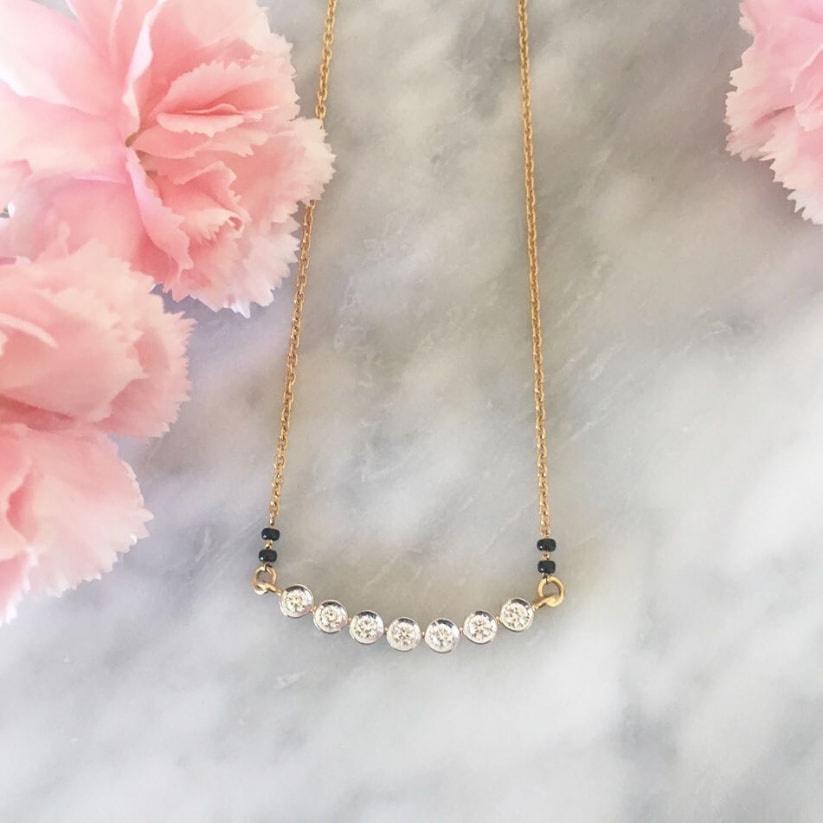 Seven rounds of the sacred fire, seven vows, and one gorgeous diamond for every vow are what make this beautiful and elegant Mangalsutra design even more special.
Simple Mangalsutra Designs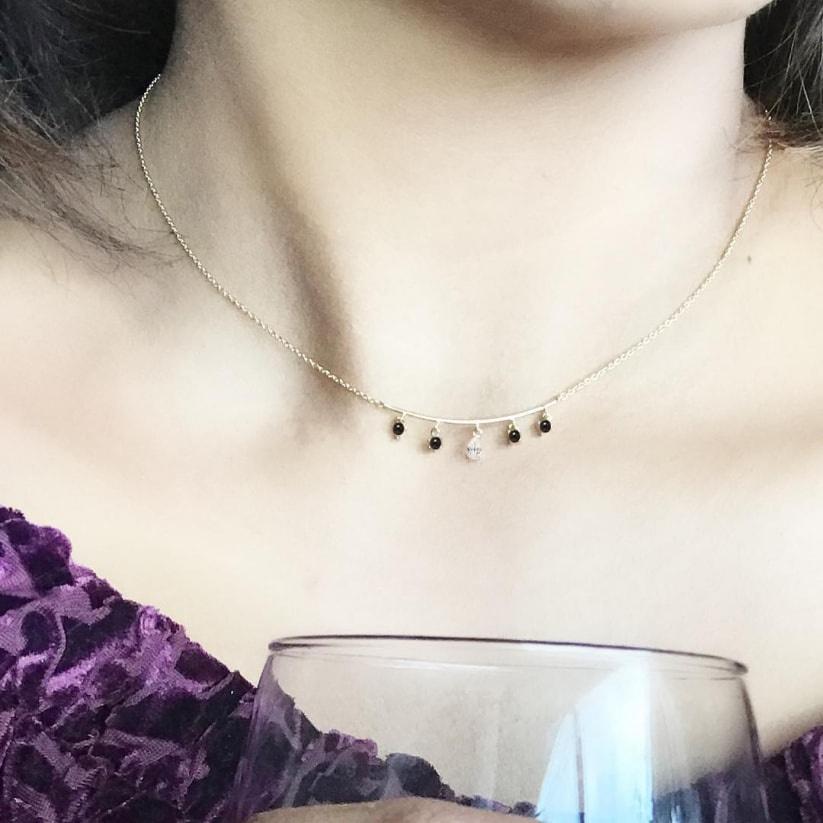 This pretty choker style Mangalsutra is so delicate and so cute, you can easily pull off any look with this one.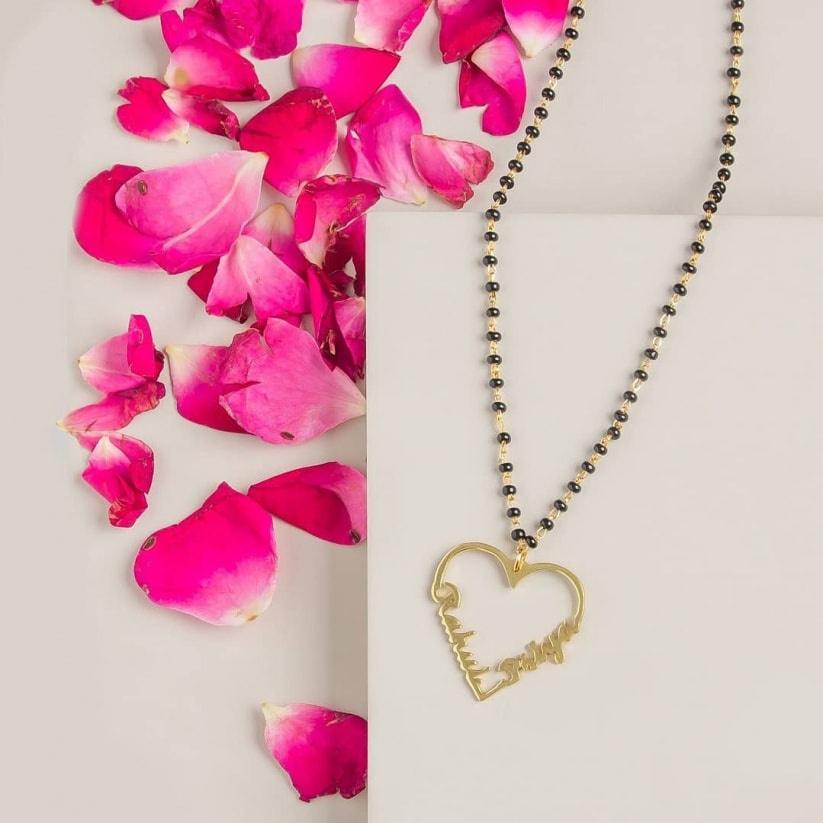 Image Courtesy: Pippabella
Make your Mangalsutra design a little special and personalize it according to you. You can one with your and your husband's initials, your husband's name, both your names, your wedding date, or anything that holds significance to you. Cool, right?
Mangalsutra Bracelets and Rings
Looking at the latest Mangalsutra designs without admiring the beauty of Mangalsutra bracelets is impossible. These are the newest rage among millennial brides and we can see what the hype is all about!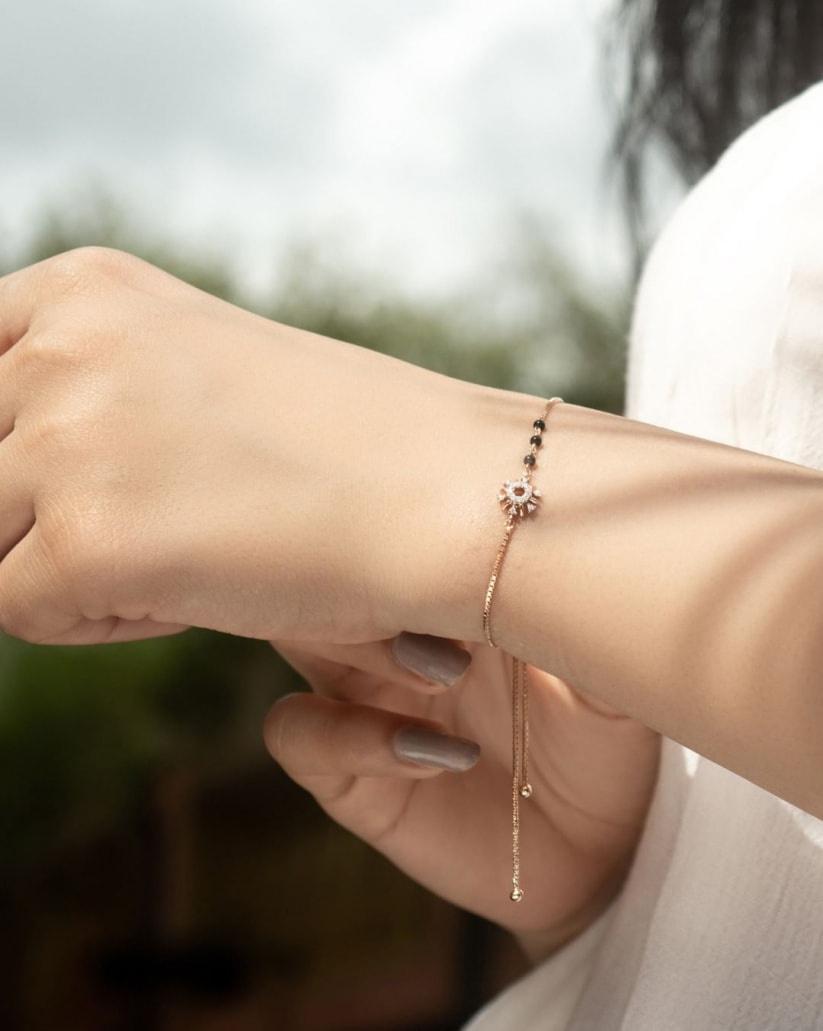 Don't think you can do wearing a Mangalsutra every day? Well, Mangalsutra bracelets have you covered. This is one of our favorites from the list simply because of how tasteful it looks.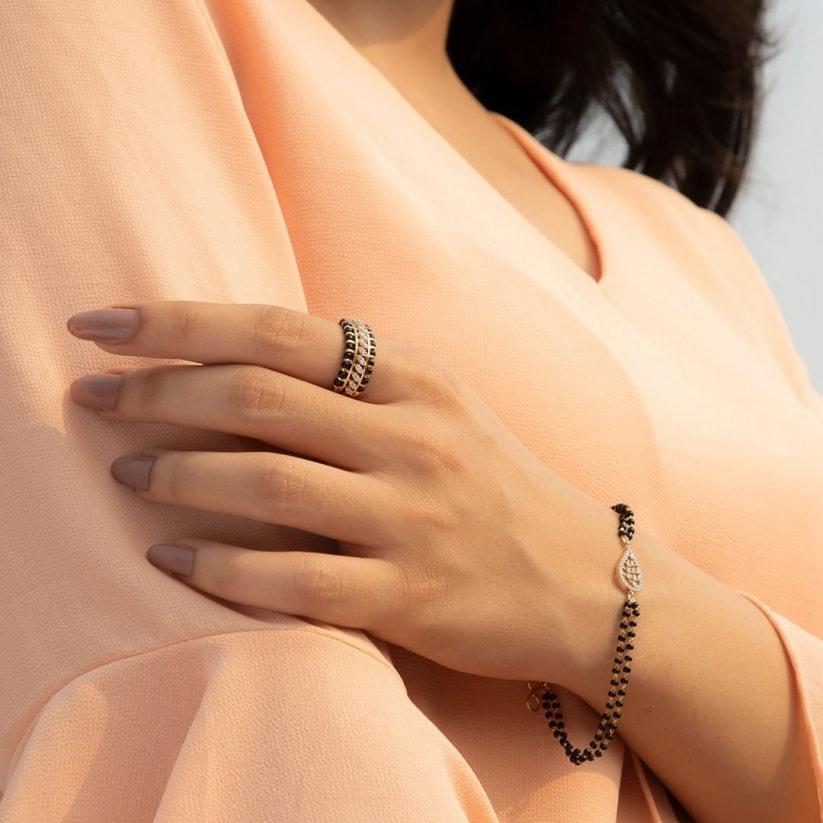 If you think that the black beads are the essence of a Mangalsutra design but cannot wear a Mangalsutra all day, every day, then this beautiful bracelet design can be a great substitute for you. Oh and do not miss the matching Mangalsutra-style ring in the picture. Breathtakingly beautiful, isn't it?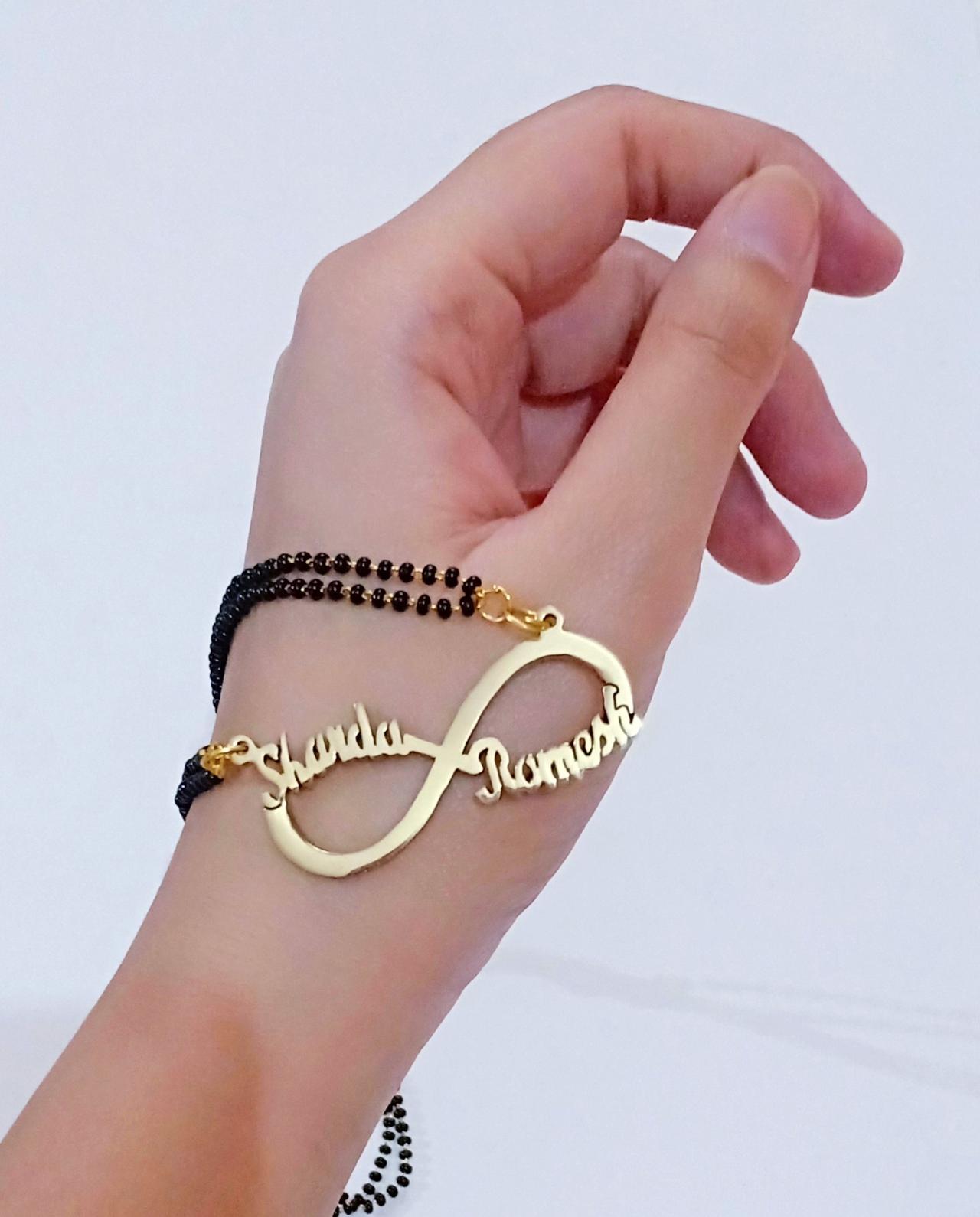 Image Courtesy: Customisation Store
A marriage is a sacred bond of love, a match that is made forever and ever and this Mangalsutra bracelet design is a perfect depiction of that.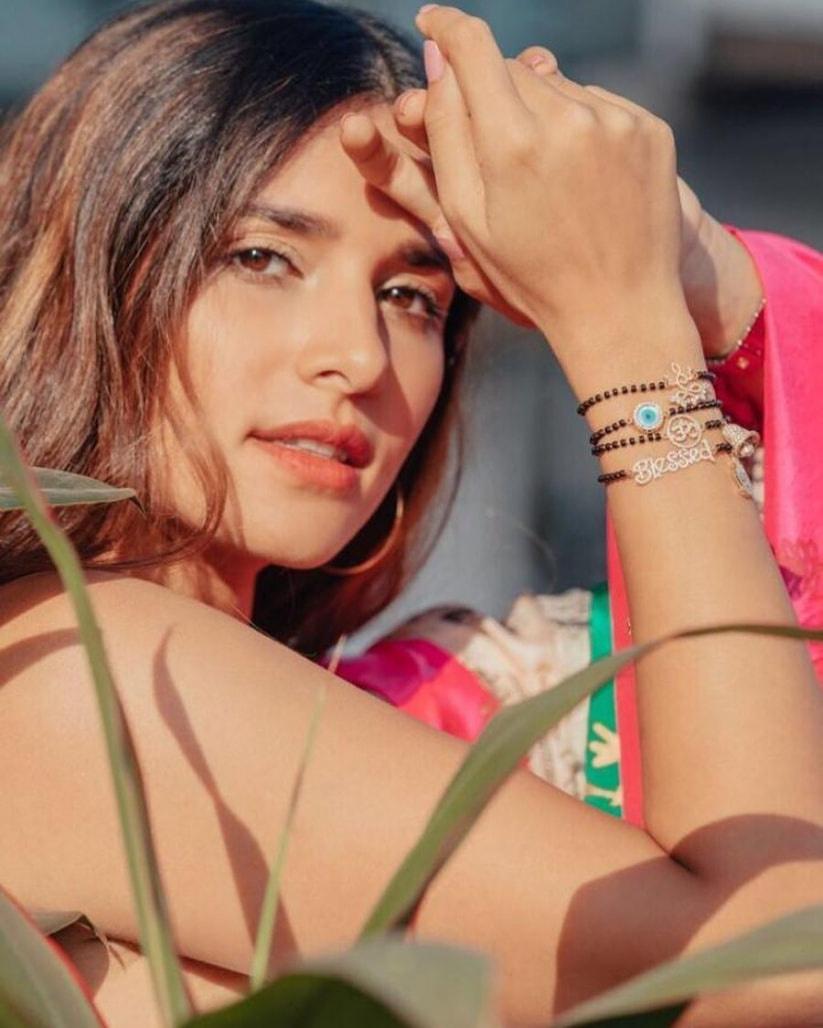 They say that keeping a spiritual or religious item close to your body gives out good vibes and peace of mind. Well, what can be better than incorporating your religious beliefs into your Mangalsutra design then? Nothing!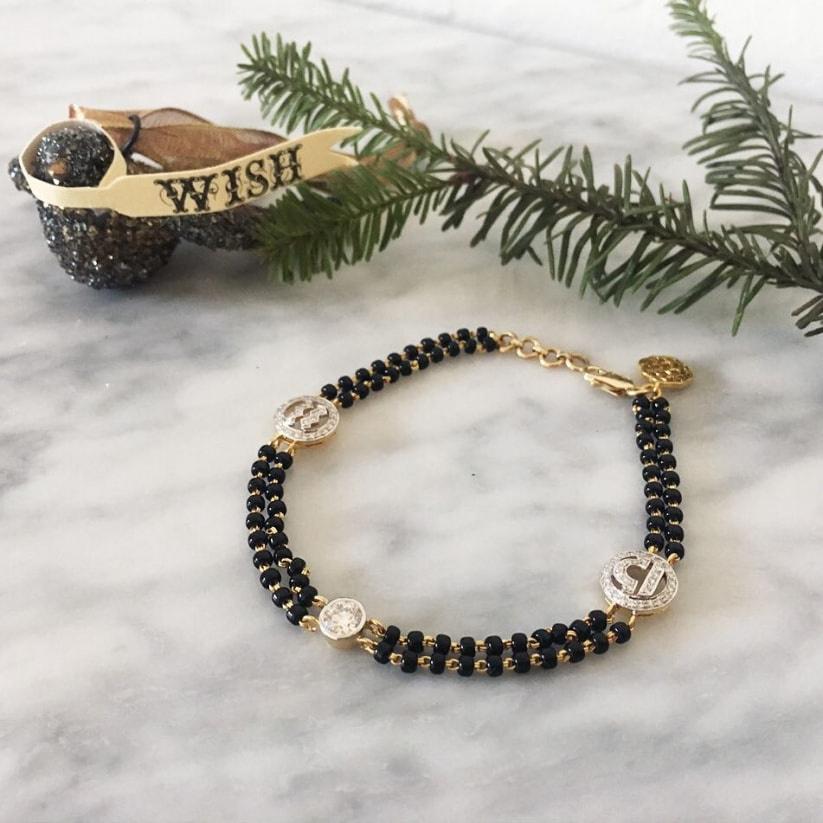 Sonam Kapoor got a personalized Mangalsutra made with her and Anand's Zodiac symbols adorning the design as charms. The concept looks great on a bracelet style Mangalsutra design too. What say?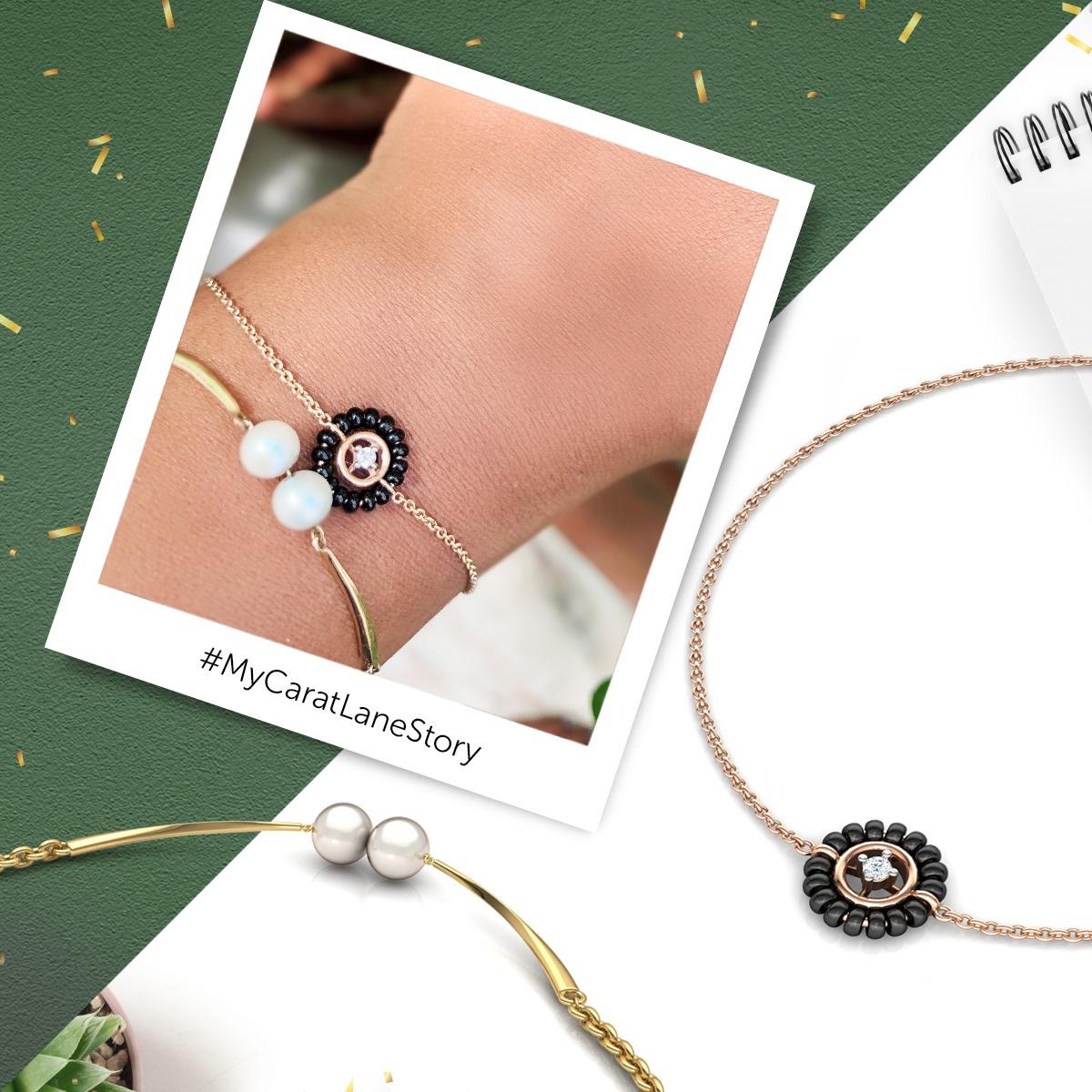 Choosing a set of ring Mangalsutra designs is the logical next step forward for a more millennial approach to the tradition, especially if you choose one to accentuate your workwear. Here are a few inspirations for a ring Mangalsutra and why you should opt for them.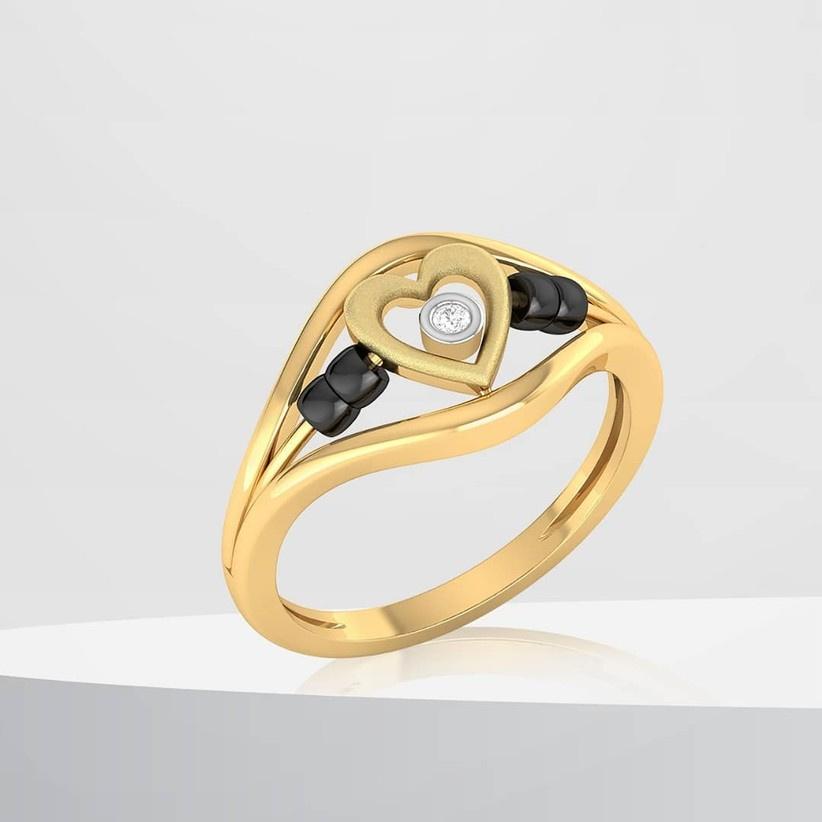 Image courtesy: PC Jewellers on Instagram
A heart-shaped ring with a diamond is a classic wedding ring design. Top it up with the traditional black beads and that's a keeper that most new brides-to-be would love to invest in. Such a design works well with office wear, fusion styles as well as and evening dresses, without missing a beat. Nab such a ring Mangalsutra straight from PC Jewellers.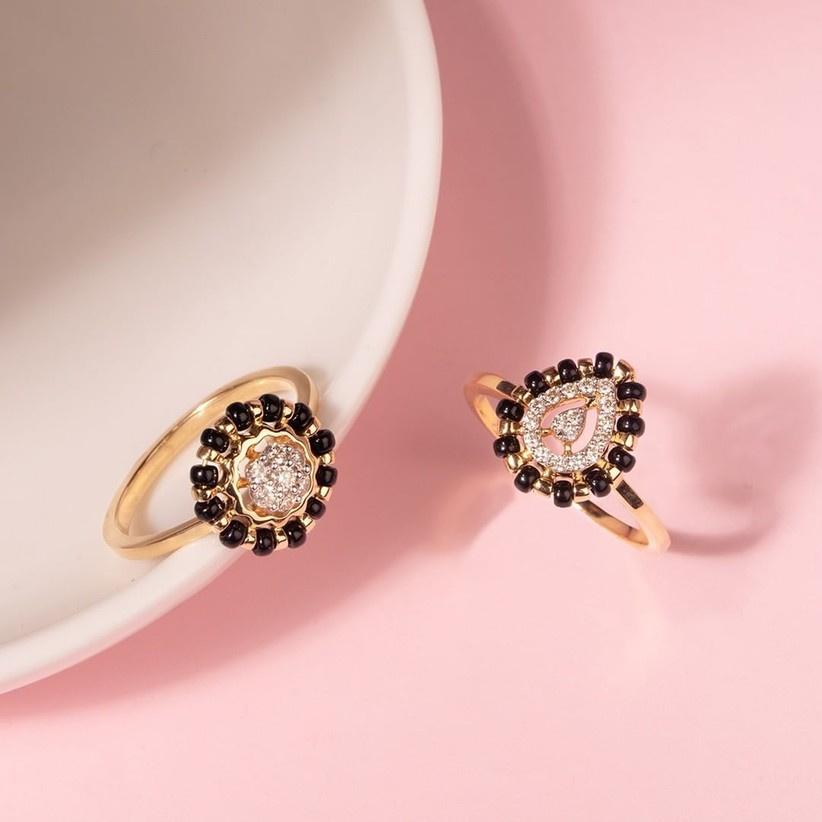 Using the Mangalsutra beads as outer accents for your wearing pleasure, these types of rings work as Mangalsutra designs, doubling up quirky statement rings and holding solid rocks. The floral diamond set on one and the pear-shaped stone on the other are classic designs when it comes to ring settings. The thin bands mean that you can use them as your wedding rings as well - capturing both Indian and western wedding traditions together in one swoop.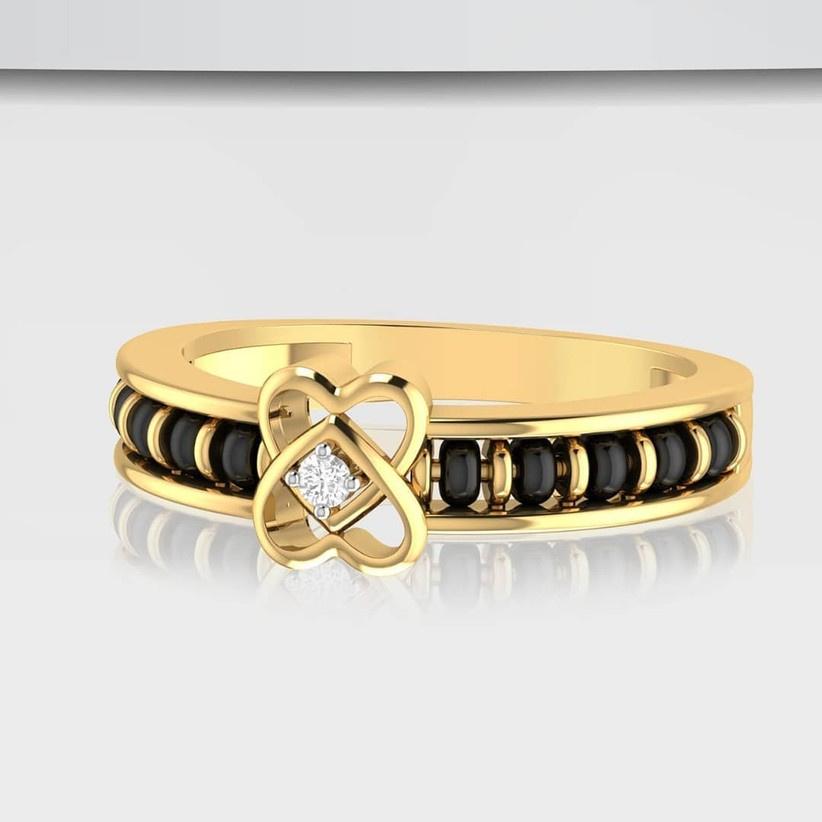 Image courtesy: PC Jewellers on Instagram
Simple minimalist designs on your mind? Then, this is the kind of ring Mangalsutra design that you need to consider. The single-stone setting is held in dramatic contrast by the gold and black beads on either side. The entwined hearts on both sides of the rock hold your sentiments firmly in place.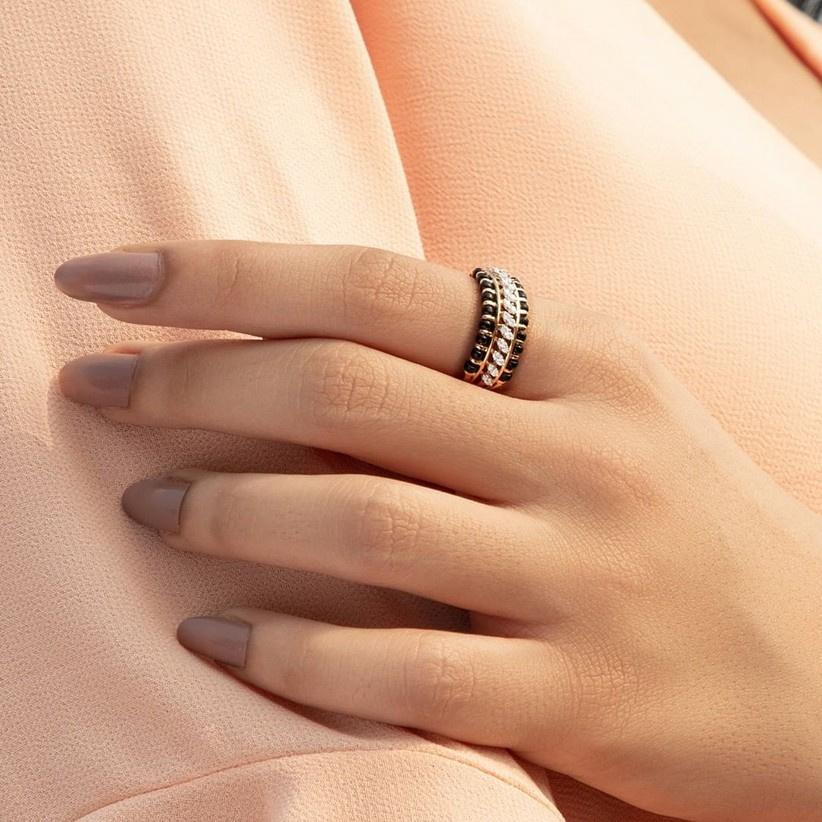 Get your attitude on-point with such a dramatic ring Mangalsutra and that too on an index finger. Be the boss woman with double beaded bands around a delicate set of diamond leaves at their center.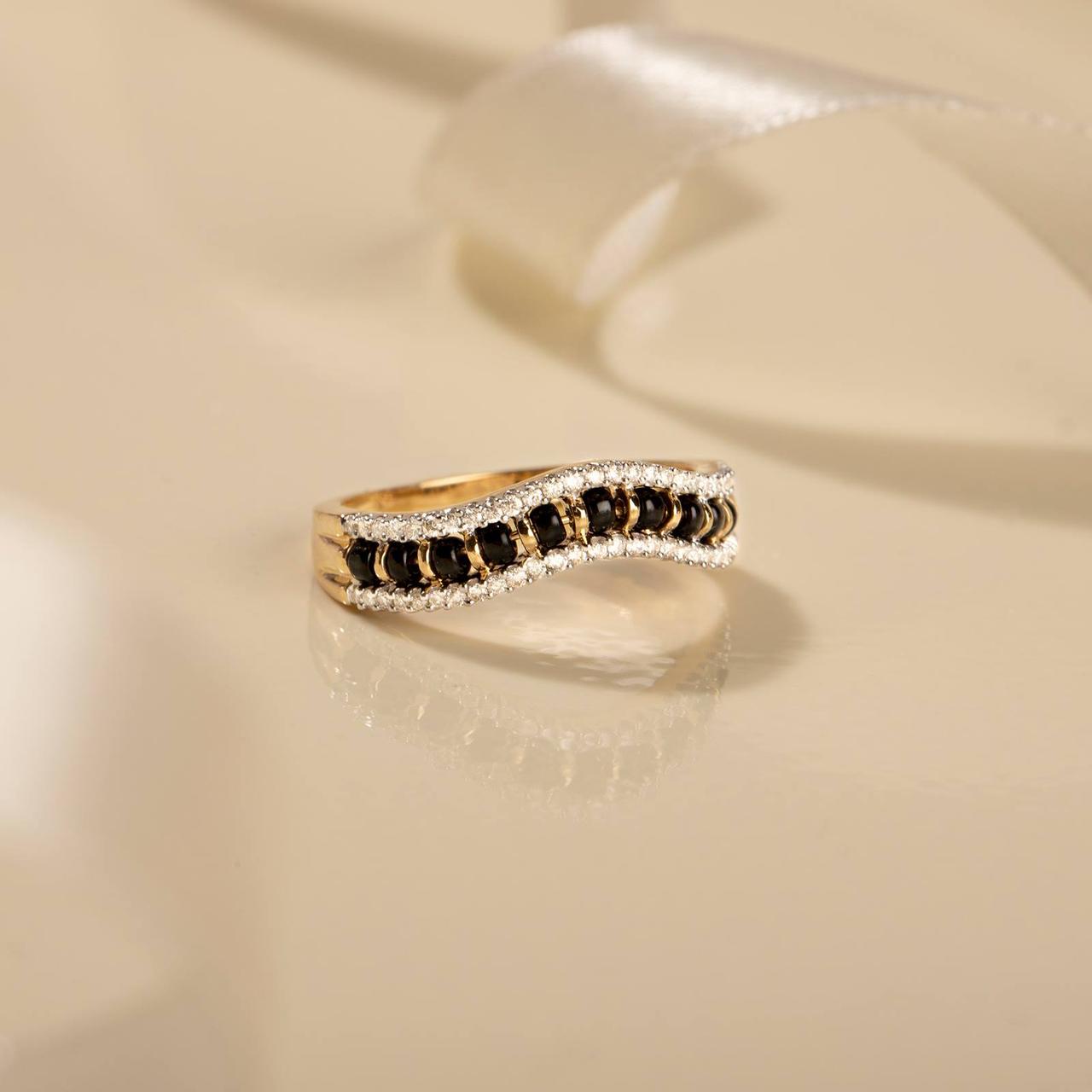 And then, there is one example that makes all the difference when it comes to Mangalsutra designs. The black beads hold the center stage with this ring, while minute diamonds frame them in absolute contrast. Ask for this as your wedding band or Mangalsutra - it works effortlessly as both.
All these designs are equally beautiful and we love them all. You can go ahead and pick the one that speaks to you!
Which one of these latest Mangalsutra designs is your favorite? Do let us know in the comments section below.
With words by Manvi Malhotra
Read More -
Mehndi Design | Proposal Lines | Simple Finger Mehndi Design | Arabic Mehndi Design | Propose Day Quotes for Boyfriend | Wedding Anniversary Wishes for Sister | Change Aadhar Card Name after Marriage | Tamil Wedding Calendar | Simple Mehndi Design | Pre Wedding Quotes | Engagement Anniversary Wishes | Funny Wedding Wishes for Bestfriend | Blouse Design | Rangoli Design | First Night Tips for Bride | Wedding Anniversary Wishes