Here's How the Indian Wedding Industry Will Navigate Post COVID-19
What's the way forward for the Indian wedding industry post-pandemic? In a rendezvous with WeddingWire India, the leading names of the industry shared priceless insights on how weddings post COVID-19 will be navigated.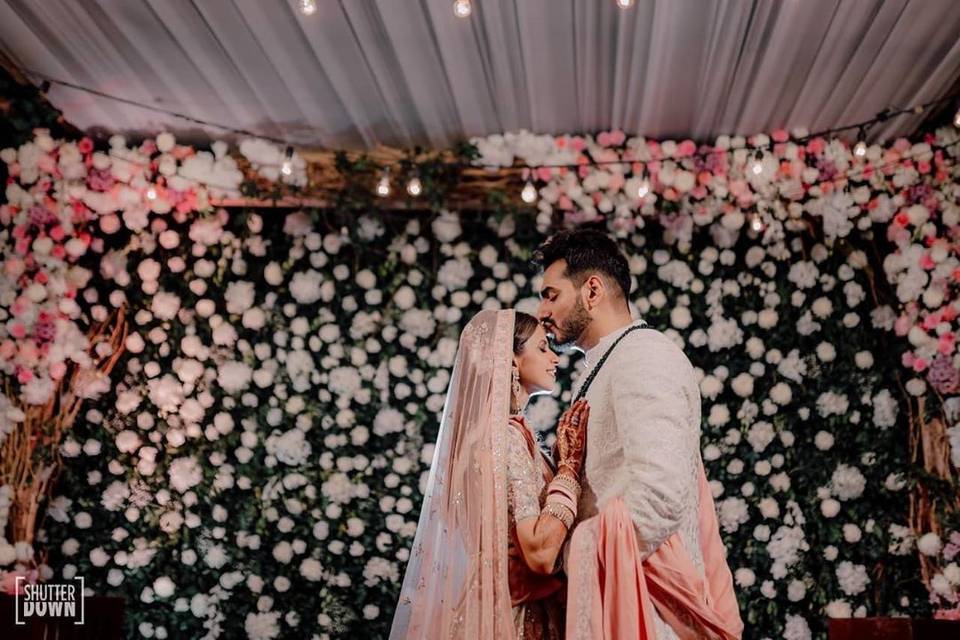 Amidst the COVID-19 uproar, there has been a lot of conjecture about wedding cancellations. In a latest survey conducted by WeddingWire India, we found out 80% of our Indian couples who were planning a Summer 2020 wedding chose to postpone their weddings to the later half of the year, over cancellations. There are limited Saaya (auspicious) dates for weddings in the months of October, November and December and a sudden and drastic shift in demand for weddings in these months has been observed. How are the Indian wedding industry leaders prepping their business? How do they plan on navigating through the post-pandemic times to successfully plan a huge no. of weddings? How are they going to prioritise hygiene and safety at large gatherings? To address these burning questions on COVID-19's impact on the industry, WeddingWire India recently conducted a webinar. Find the highlights of the discussion below.
1. Tell us about the current Indian Wedding scenario?
Ankur Sarawagi, Country Head, WeddingWire India:At The Knot Worldwide, we are a family of leading brands outstretched in 15 countries, all driven by the motive to inspire, inform and celebrate real couples as they breathe life to all their wedding dreams. As a part of the global initiative, we had recently conducted a survey for Indian couples who were planning to get married between April to August 2020 and these were the primary findings. Weddings are not getting cancelled, the wedding industry is only seeing a shift in demand right now. There are not too many bookings right now, mostly because the pre-booked vendors will be handling all necessities for the postponed celebrations. Couples who were planning 2021 weddings are using these uncertain times for wedding ideas and inspiration research. We have also seen wedding professionals upscaling themselves and embracing technology for the future. Some weddings have also taken place over zoom calls, thus broadening the horizons of possibilities for Indian couples.
2. How are couples planning their 2020 weddings?
Ankur Sarawagi, Country Head, WeddingWire India: 80% of the couples who were planning to get married during this window have postponed their weddings to the 2nd half of 2020. Only 3% of them are planning their weddings next year in 2021. The remaining couples are doing intimate weddings on the pre-planned date. They are opting for online weddings, visiting the temple or planning a court marriage. This is very different from the scenario of International weddings. Almost 50% of them are planning a 2021 wedding because summer is their peak wedding season. 2/3rd of Indian couples who had an early 2020 wedding are planning a big celebration event post lockdown but these celebrations won't be taking place on saaya dates. 90% of these couples and/or their families have confirmed that they will not reduce their pre-planned wedding budgets because of COVID-19. 75% of them will not reduce the no. of people in their guest list. Either people will be coming in shifts or attend specific ceremonies but the guest list won't be compromised.
3. October, November and December are prime seasons for weddings. Most couples are rescheduling their weddings from the first half of the year to these months, how will it be tackled?
Manvir Singh, Founder & Wedding Planner, Shanqh Events: Most of the weddings that were planned in April-May have been moved to the next saaya dates i.e, October, November and December in 2020. These dates were already previously occupied because they are busy dates of the year. The catch here is that some couples have made a smart decision to do an intimate wedding on the pre-planned date and throw a celebratory function or social marriage after the lockdown on a non-saaya date.
4. Will we see an impact on Destination Weddings due to complexity of logistics?
Manvir Singh, Founder & Wedding Planner, Shanqh Events: If the traffic for weddings in October, November and December is very high and there is no availability of venues, it might lead to more destination weddings and we might see a reduction in the guest lists. People might want to move to locations in and around Delhi for their ceremonies, if air travel is an option.
5. What is your opinion on Social Distancing in Social Gatherings?
Shivan Gupta, Founder, Amaara Farms: The awareness that has been created around COVID-19 around the world, has made each one of us pause and think about health and hygiene. Now it has become a priority and once this is addressed, social distancing and its adaptability, won't be a challenge. I think we have already started practising it.
6. What is the impact of Covid-19 on 5 star hotels and what do you foresee?
Varun Mehrotra, Director of Sales & Marketing,Fairmont Jaipur: If we talk about the hotel industry specifically keeping weddings in mind, 99% of the weddings that were supposed to be held in April, May have been postponed. People are still holding on to hope for the month of June and they think they might be able to travel, but looking at the current scenario and the extension of lockdown, many weddings might me moved to non saaya dates. There's a saying - when two hearts meet even God can't help. That might be the motto in the coming months and marriages might be planned on inauspicious dates. There is a gap in the demand and supply in terms of - the no. of weddings that are planned and the no. of venues available in India. I have a feeling that the weddings that were planned in International venues might be cancelled, because of the fear of traveling. This is good for India economically, but the sizes of these pre-planned destination weddings might decrease depending on the accommodations available.
7. How are hotels planning to sanitise rooms, guests and vendors during wedding events?
Varun Mehrotra, Director of Sales & Marketing, Fairmont Jaipur: Till the time we don't have a definite cure/vaccine for the virus, this fear will prevail. Wearing masks might also become a fashion. Coming to the point of sanitisation - if you remember, right after 9/11, new practices for baggage screening became the new normal. I am sure post-COVID, we might see new practices being implemented as the new normals. I will give you an example of our SOP, we have decided that after every check out, we will sanitise every room for 45 mins before we give it to the next guest. I have also heard that a lot of companies have started using thermal scanners for sanitisation.
8. Wearing masks is a mandate for now, how will that change the makeup process for brides?
Namrata Soni, Makeup & Hair Artist: The makeup and hair team will definitely be wearing masks the entire time. Since we will be geared up completely, this will make our brides more comfortable. As makeup artists, we already use alcohol 99 to sanitise all our products, it is very important because every day we are working on different people. I think another aspect that will be affected post COVID, is guest makeup. Instead of 40 artists coming together in one location to do the makeup and hair of the bride and family, guests might want to get ready by themselves. Having a core team of HMU artists who will be coming to the venue to ready the bride should be the first priority.
9. How will catering staff be groomed to handle COVID-19 norms while cooking and serving food post lockdown?
Sammir S Gogia, Director, Saltt Catering: We will have to ensure that we follow all the norms - from preparing food at the kitchen to serving the guests at the venue. While we get the raw materials for cooking inside the kitchen, we have to make sure that all the raw materials and the man power are properly sanitised. Chefs need to wear their masks and clean and sanitised clothes before entering the kitchen. Post COVID-19, our UT team (staff responsible for cleaning utensils) need to be well trained and in sync with the COVID-19 sanitisation instructions. We were one of the first catering companies who started using masks and gloves for the kitchen staff, now we will have to ensure that the same hygiene is followed in our services like truck delivery also. I can also forecast a lot of new catering trends like - sit down dinners instead of buffet, serving meals on large platters, and restrictions on guests from touching serving spoons at weddings. There might also be a scenario where people cancel the main course and the whole menu relies upon a variety of snacks platters.
10. Do you think there is a need to serve more hot cuisine than cold? Will people prefer buffet or sit down dinner?
Sammir S Gogia, Director, Saltt Catering: As far as this virus is concerned, it has nothing to do with the hot or cold climate. It is all about how we maintain hygiene to prepare the food. The process of 'How the food is sourced and travelled to the venue', how the raw materials are laid out in the kitchen and the staff responsible for preparing it - is all that matters.
10. How will COVID-19 impact pre-wedding shoots?
Lakshya Chawla, Founder, Shutterdown Photography: Pre-wedding as a concept is not a trend in India anymore. Most of the couples feel that it's too mushy and too cheesy. International pre-wedding is complete No-No right now. We might see a lot of intimate weddings which have always been every photographer's dream. The team strength of photographers might also see a dip at intimate weddings.
Do not let the turbulence of today ruin you wedding planning dreams. Things might not be easy right now, but they will be pretty soon and when it's finally time to celebrate your wedding, the wedding industry of India will be prepped and prepared with measures to exercise caution and plan a perfect wedding event for you at the same time.
Have more questions in mind? Read our COVID-19 Weddings Advice Guide or share your questions in the comments section below.