13 Drop-Dead Gorgeous Henna Designs for Hands That Stun
With so many options available for mehndi designs, not sure which one to pick for your big day? We share with you a list of henna designs for hands that have been hit this year!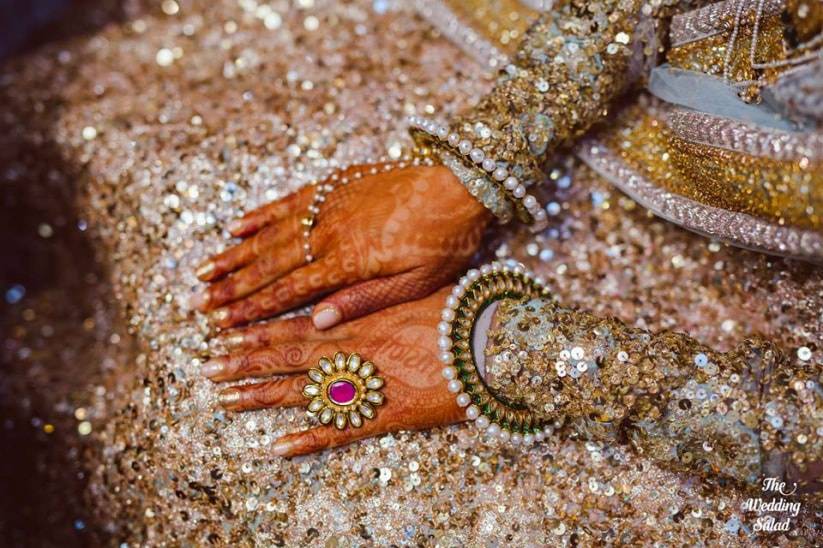 Women these days have a flair for designs that are classy and not complex. That's why mehndi artisans have come up with a lot of new trends. From bridal jewellery items and large motifs to embellishments on mehndi, the idea is to keep it very traditional yet elegant. To inspire you, we have rounded up some henna designs for hands that are just perfect for almost any occasion. Get inspired and take your pick.
1. Henna Designs for Hands Which Are Like Jewellery Items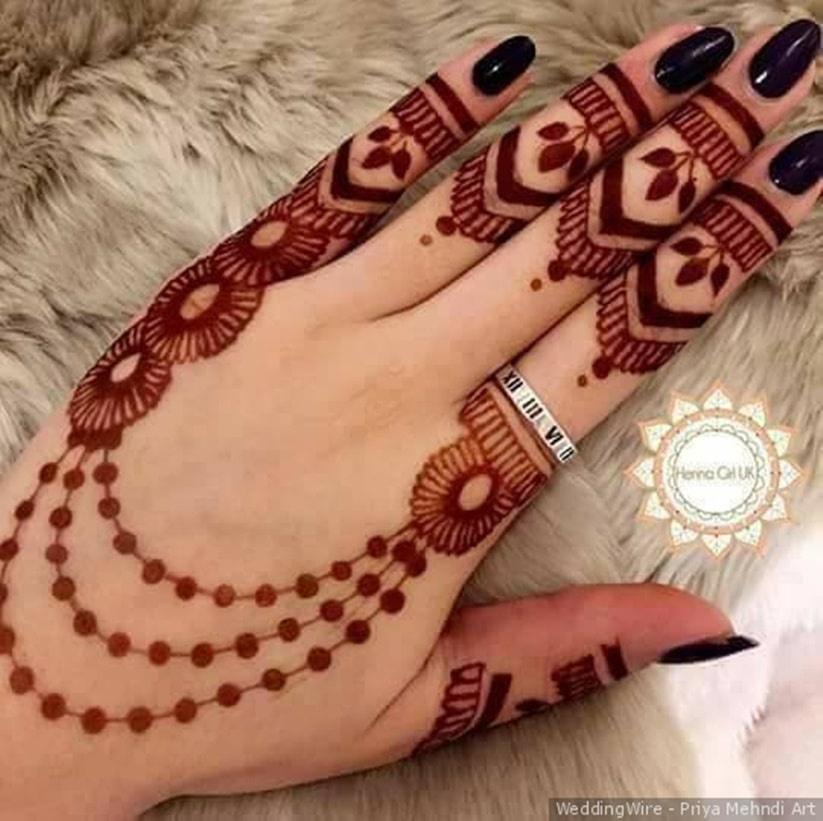 From Haath Phool to bracelets to neckpieces and rings, henna designs depicting jewellery items look neat and aesthetically appealing. The best thing about these designs is that you seek inspiration from real-life jewellery. Check out the latest jewellery trends or pick heritage pieces from your grandmother's trousseau. Go for something that complements your personality and your outfit of course!
2. Reverse Mehndi Designs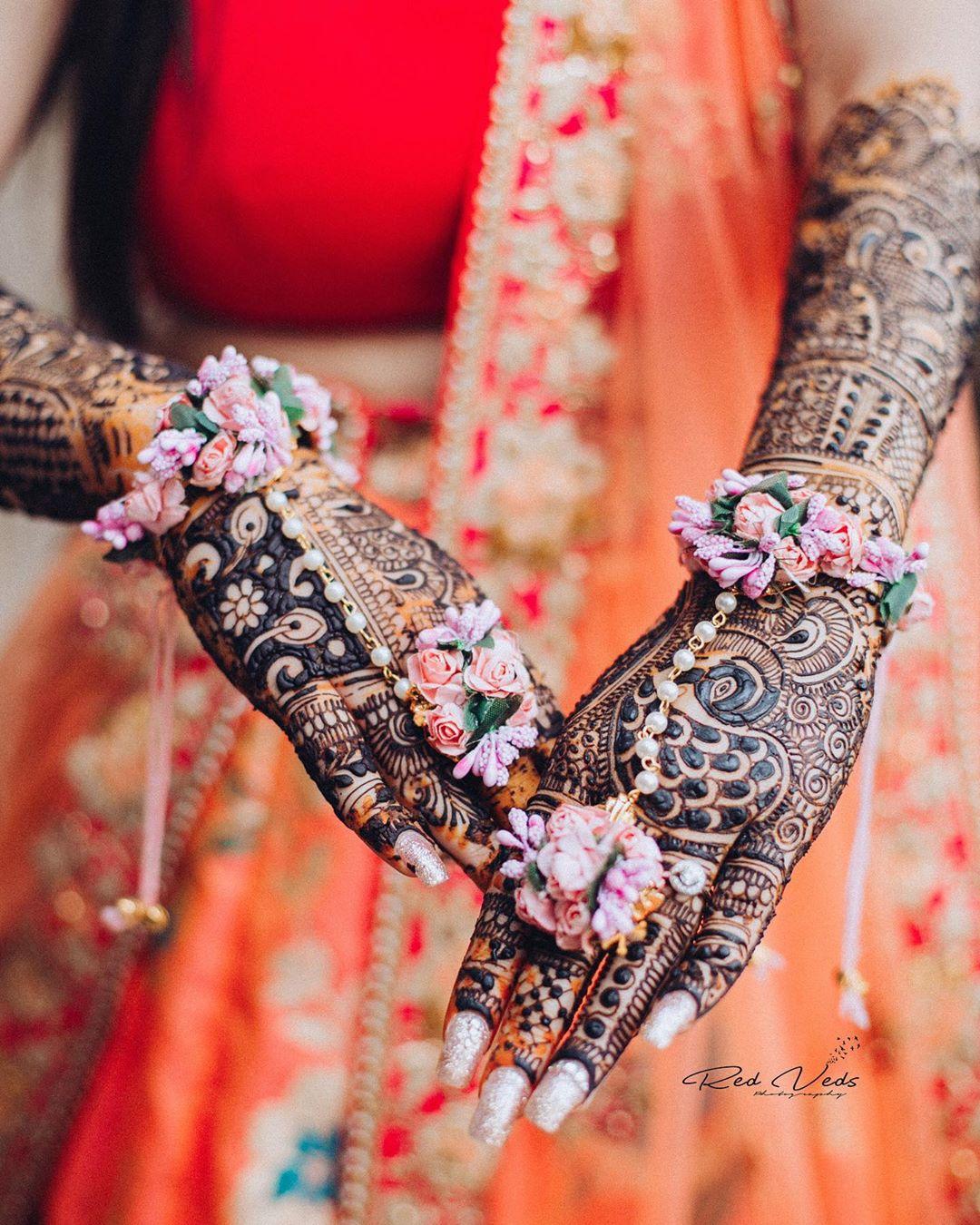 To give your mehndi a fresh twist, opt for reverse henna design. The artisan will create the outline of a particular design and will then highlight it by filling the usual empty spaces. It is perfect for those who love the dark bold colour of mehndi and want to flaunt it in their hands.
3. Finger Mehndi Designs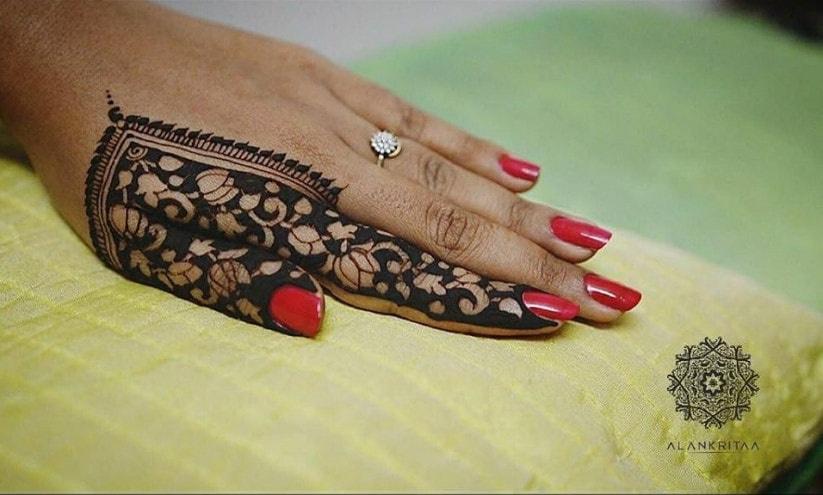 For those who live by the rule, less is more cannot go wrong with finger mehndi designs. The usual designs include leaves, checks, flowers, and spirals and are perfect for your friend's or cousin's wedding or engagement ceremony. As your hands are left with a lot of empty spaces, the design looks very modern. Even if you plan to wear something Indo-western, these henna designs for hands would be perfect.
4. Shaded Mehndi Designs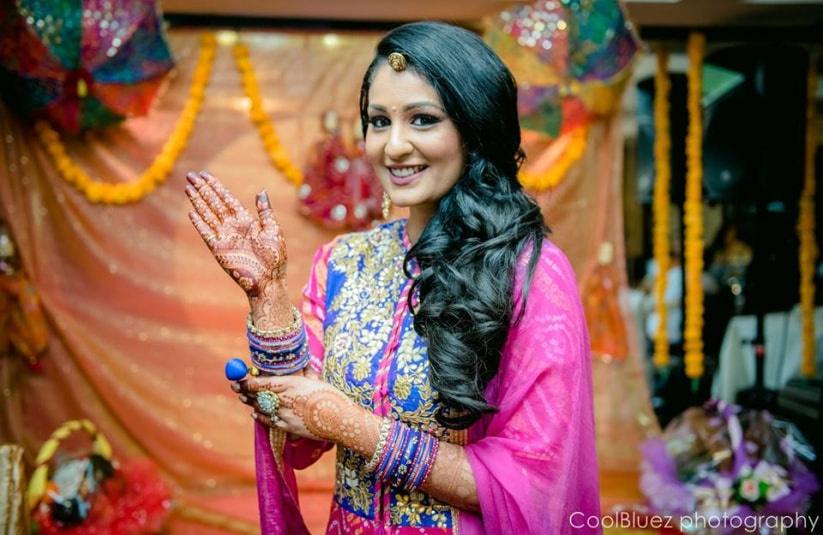 To make your mehndi design look more vibrant, elaborate, and creative options for a shaded mehndi design. The technique is quite a trend these days among mehndi artists who want to give their customer a royal feel. You can either go for a different colour for outlining and a different one for shading or opt for a shaded design in the same colour. The options are really endless!
5. Large Motifs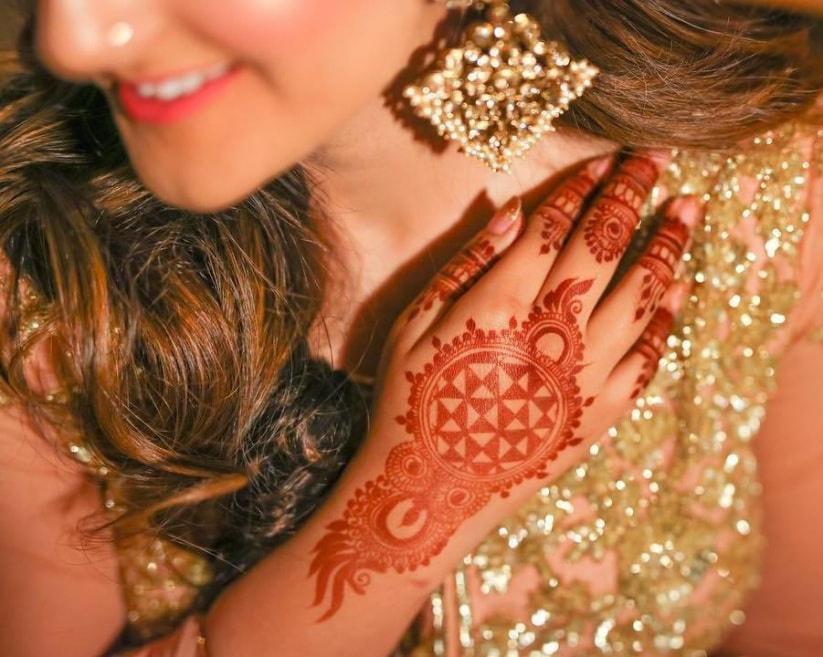 Large motifs look very attractive and instantly draw attention to the hands. Big floral motifs or paisley designs are always a hit as henna designs for hands. If you are the bride, you can also think an elephant or a peacock motif.
6. Palm-Only Designs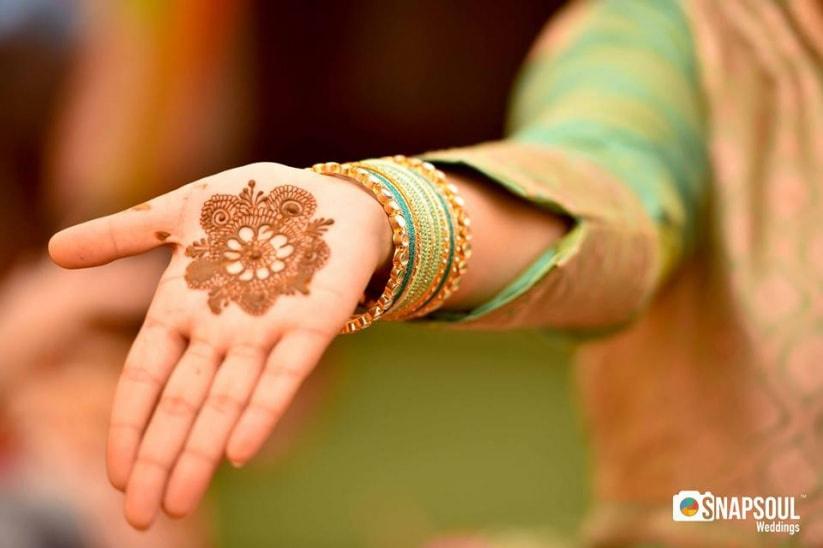 Who says that you have to fill the entire hand with henna every time for a special occasion? Just like finger-only designs you can opt for palm-only mehndi designs for a stylish look. You can either choose to stretch it to the wrist part or opt for a design that does not go beyond the palm.
7. Embellishments on Mehndi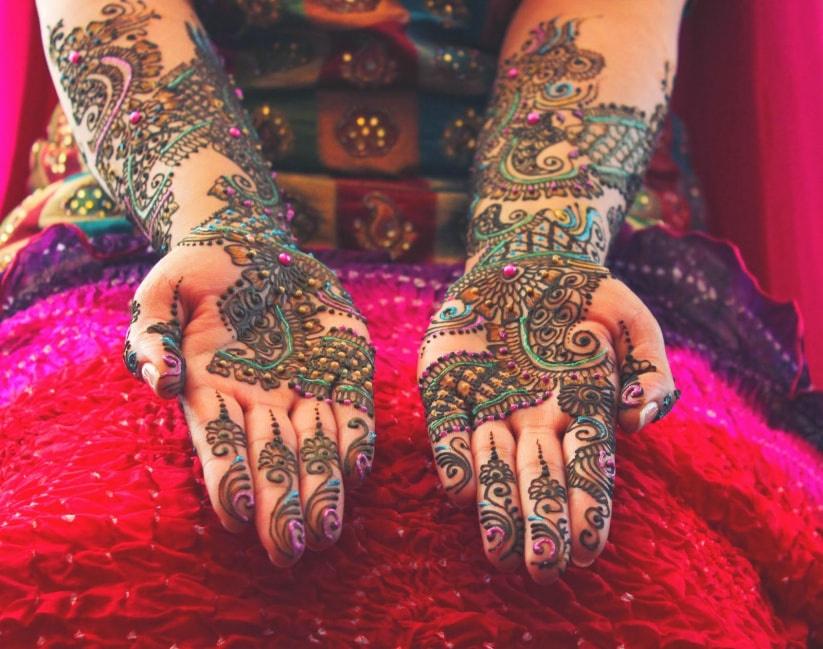 Image Courtesy: Pinterest
Embellishments like stones and studs on mehndi are perfect for wedding festivities. Depending on your attire, you can either choose to add neutral or colourful embellishments to enhance the beauty of your henna design. Just make sure to pair your finished set of henna designs for hands well with your outfit. Also, to ensure that it comes out well, figure out the design first and then look for the studs or stones.
8. Human Elements on Mehndi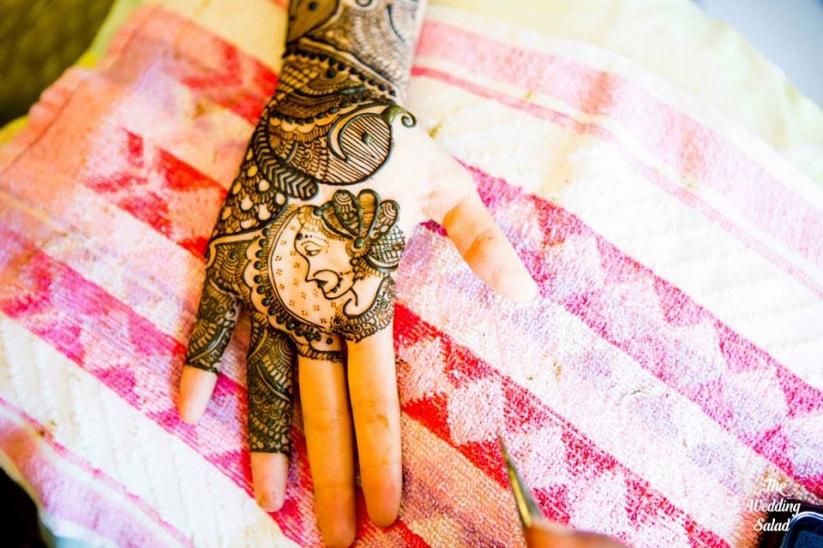 When it comes to henna designs for hands, we all want it to be auspicious and bring positive vibes to the occasion. What better way to get it done than by opting for Radha Krishna design? Not only does it symbolise auspiciousness but also depicts eternal love. For a more contemporary twist, you can get a couple of portraits made similar to how you would get it clicked by a wedding photographer.
9. Personalised Elements on Mehndi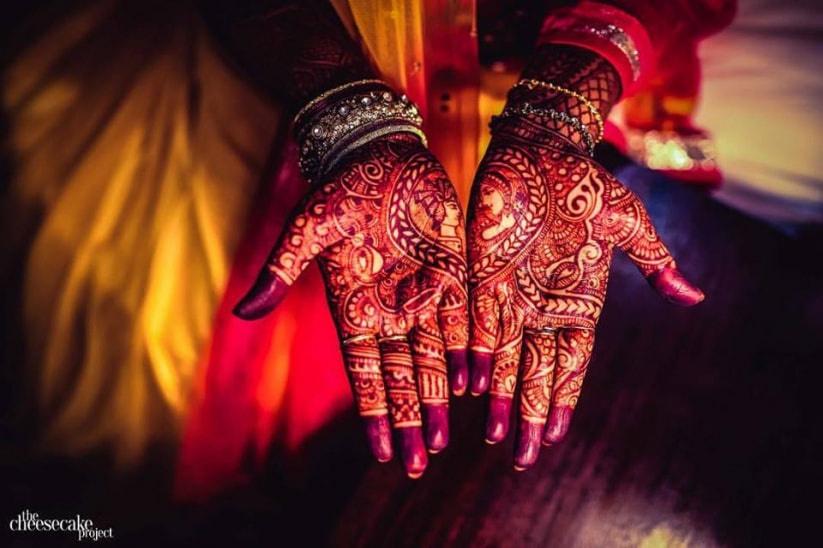 Instead of picking a design from a book, why not personalise your bridal mehndi by adding some personal touches? Think caricatures, hashtags, your favourite song, or your names. You can also add your love story in a variety of ways.
You can either include the details of your first date or city where he proposed. The idea is to get as creative and unique with your set of henna designs for hands as possible.
10. Mandala Design for Hands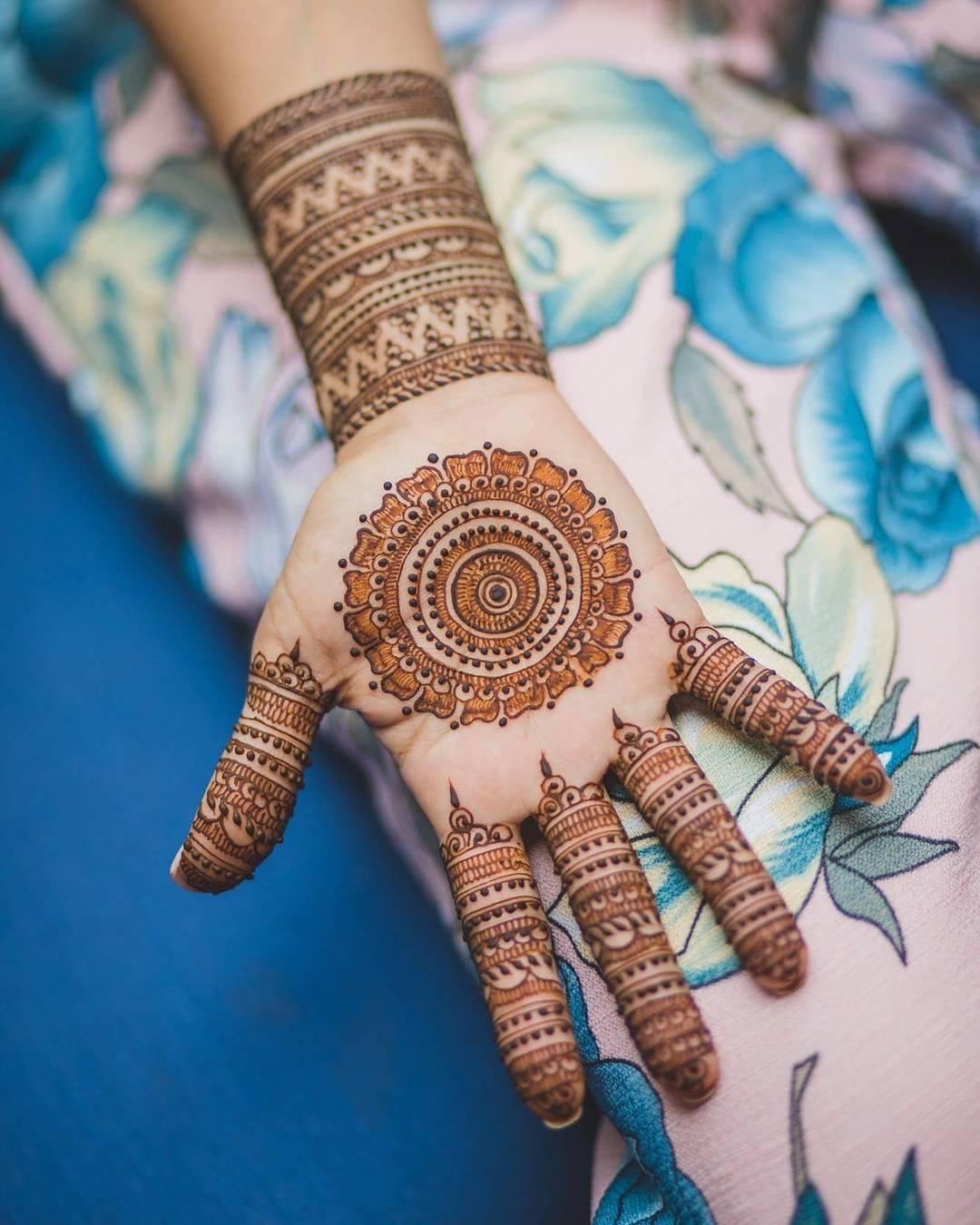 A mandala is one of the most common and stunning designs used for the bridal mehndi. It comprises of a large circle as a base ground which is filled with the minute and intricate patterns. The small motifs in these henna designs for hands are usually drawn to create a multi-dimensional look that looks gorgeous. You can pair up this beautiful designs with an equally chic haath phool design on the back of your hand and the kalire which will certainly elevate your look.
11. Perfectly mirrored set of hands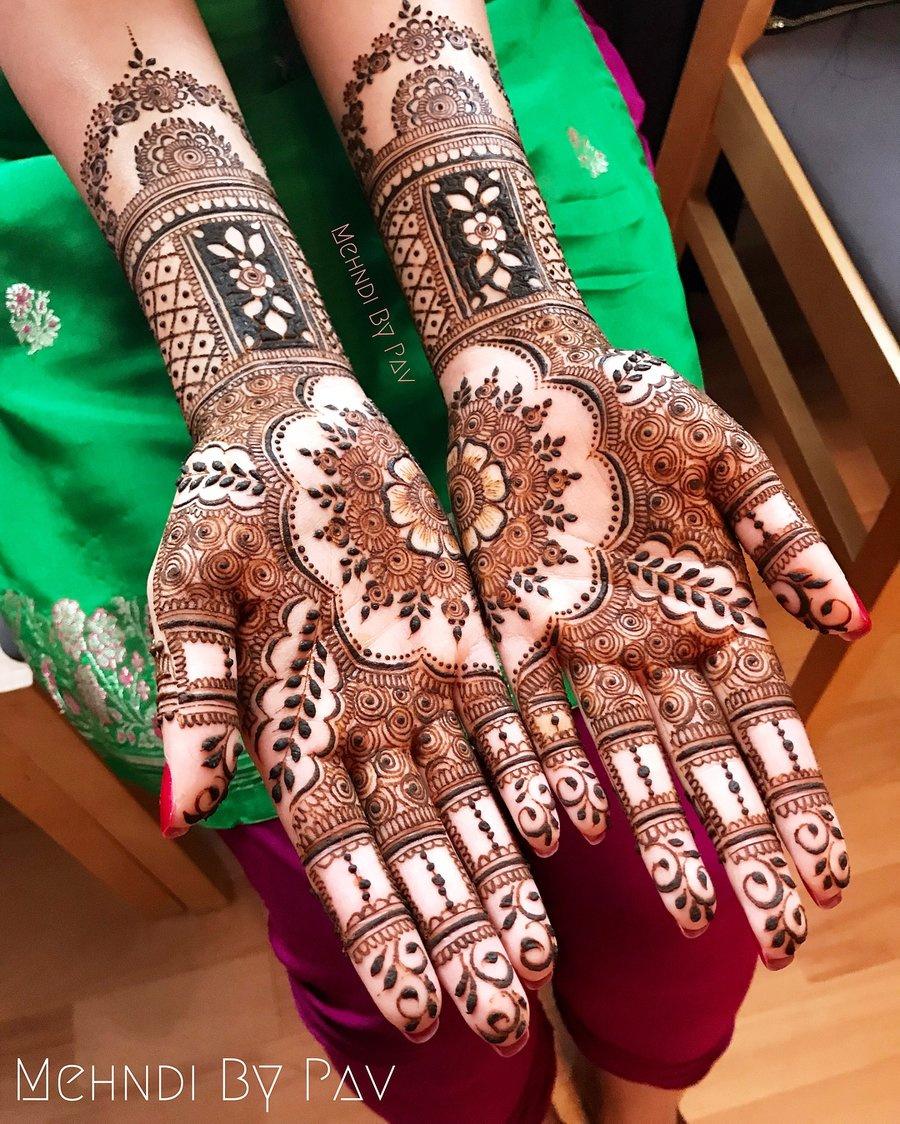 Image courtesy: Mehndi by Pav
Gain a perspective for perfection, simply by examining these stellar set of henna designs for hands. We're floored by the painstaking detail in the piece, from the vines on the tips, the thin dotted thread mid-finger, the swirls that lead to the centre of the palms, the two-part set of flowers broken neatly through the centre, the reverse rectangle and much, much more.
If you want such a style, find the right mehndi artist and get them to draw your design till you're happy enough with it.
12. Get a set of Chandbalis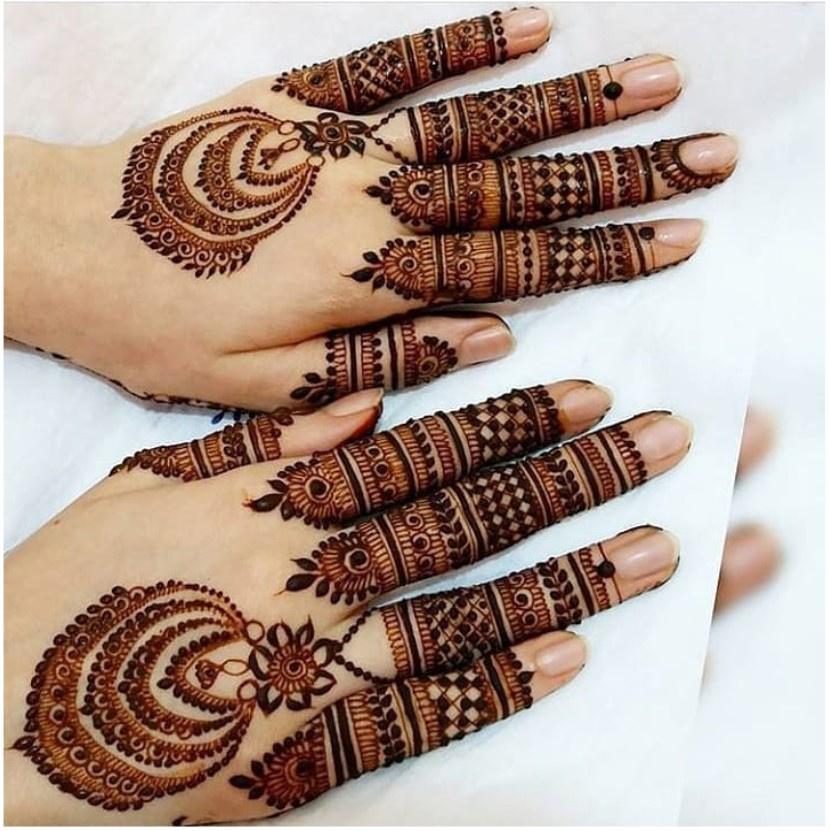 Image courtesy: Henna Lovers
Jewellery mehndi designs are right up your alley when you consider a unique approach to your chosen set of henna designs for hands. We love of this multi-layer set of Chaandbalis for the back of your hands with expert ease. This set goes expertly with the singular and detailed finger mehndi designs accompanying it.
These are some of the henna designs for hands that we love. No matter which you choose, just make sure to get it made from a professional mehndi artist for best results. With the most gorgeous designs displayed in our list, we hoped you must have found a few that you wish to get drawn on your hand and save the others for some special occasions. There has been a shift in the way henna designs are made nowadays where they were more traditional back then, they are equally modern, minimalistic and chic now that helps in highlighting other features of the bridal look.
Mehndi is an integral and important part of Indian wedding traditions that are deeply rooted in its culture. It signified the deep love and bond that the bride and groom share and which they promise to uphold through all their lives. We hope that the designs that we offered look stunning on your hands for your big day.
Not sure where to find the best mehndi artists in town? We share with you the list of the best mehndi artists in town.