The Wedding Invite Do's & Don't Guide You Must Bookmark Now
Your wedding invitation serves an important role—communicating all of the details of your big day to your loved ones. Here's a useful guide to help you make sure your wedding invites are absolutely perfect.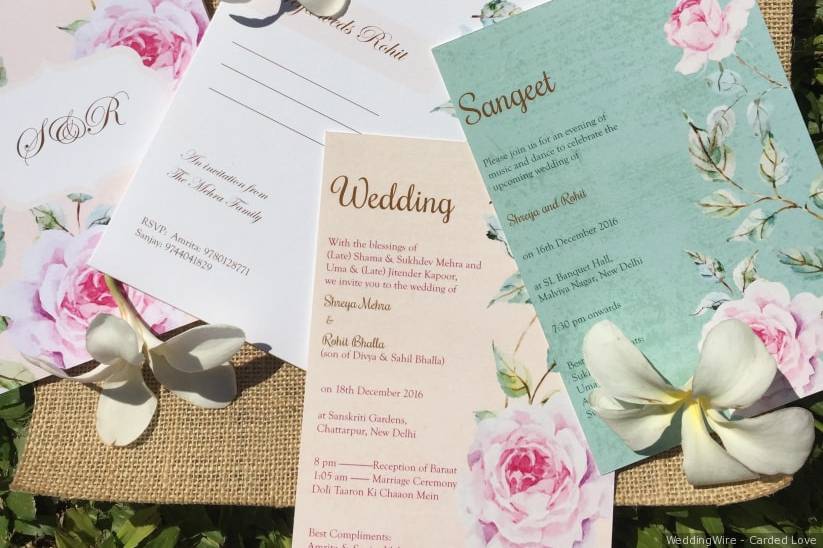 Beyond flashy video announcements and save-the-date images, the one thing that all of your loved ones wait for is your wedding invitation. It's the physical (and we're not being literal here) proof for your forthcoming ceremony, with all of the details that they would want to know. To make your life simpler and sorter on this tricky piece of happy communication, we've put together a list of Do's and Don'ts at every stage of making this document.
1. Planning the Wedding Invite: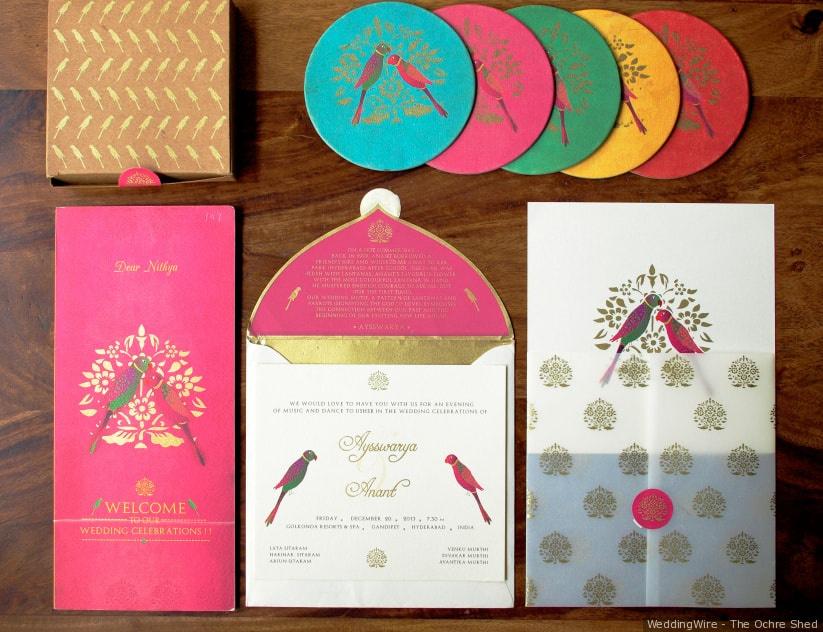 So, we begin with the first step - bringing all of your confidants together to create this document, do your market research, finding the right vendors and finalising on a draft. Let's put all of that in perspective.
A. Do: Communicate with your loved ones
Include your parents and fiancé(e) in the discussion about who you want to invite and the total number of people on the guest list. It's important to have an honest discussion at this stage, in order to avoid issues later. An easy to way to do it is to break it down into guest numbers and invites needed (the second would be lesser than the first, as you would be extending it to couples and families too):
Bride's friends - No. of wedding invites
Groom's friends - No. of wedding invites
Bride's family - No. of wedding invites
Groom's family - No. of wedding invites
Work colleagues and extended circle - No. of wedding invites
Issuing the wedding invite together is cute and great teamwork. This will also help prevent complications such as someone not being invited.
B. Do: Have the budget discussion
Make sure you take finances into consideration as you work on your wedding invite. This comes from the first step, as to how many people you're calling over and how many wedding invites would you need for them. Apart from the numbers, it's also about the kind of invites which fit your bill. Here is a ready reckoner:
More invites - Digital invitations, Text invitations or even Whatsapp wedding invitations
Fewer invites - Boxed invitations, hampers, Laser-cut invitations, printed invitations
C. Don't: Skip research
You must look at different kinds of invites up online, ask people for recommendations and seek inspirations wherever possible. You can also rope in a few friends for their suggestions and feedback instead of shouldering all the responsibilities on your own.
See whether anything particular stands out or appeals to your personal tastes.
Then, check for wedding vendors who can offer you the best deals.
2. Finalising on the wedding invite: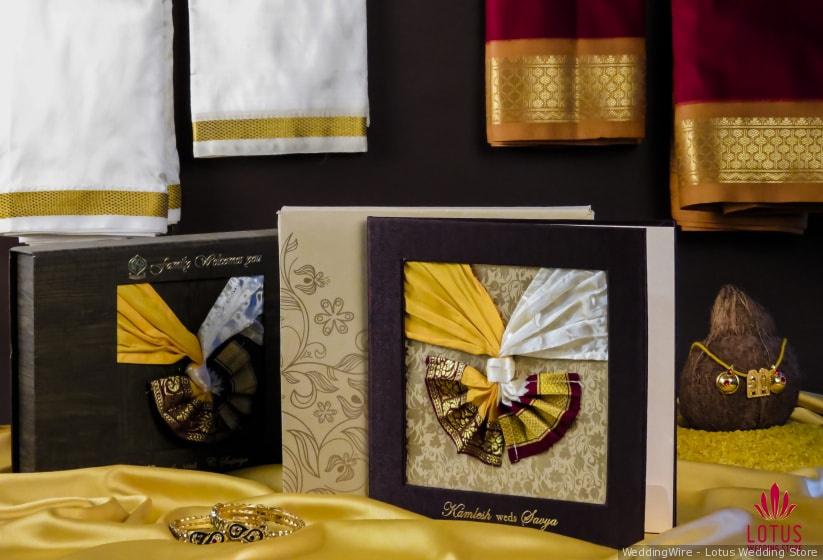 Now, you come to the fun part - actually designing your wedding invite. Here are the do's and don'ts involved in the process.
A. Do: Make it unique
You don't need to follow a set protocol if you wish to make it about yourselves. The design, the colours, and the text – you can control everything. Add a great anecdote, talk about lyrics from a love song, and include a priceless photo. Make your wedding invite different and let it be a reflection of your personalities. Get innovative and have a little fun!
B. Do: Have a little fun
If you love fancy packaging, don't hold back—ribbons, flowers, colours, confetti, and glossy paper. If you want to include a tiny hamper with chocolate and cookies, go right ahead if it fits into your budget plans. Don't forget that this is all about your special day. Discussing this will also help alleviate stress and lighten things up a bit.
C. Don't: Settle for the first draft
You've got the first draft and want to close the wedding invitation debate. However, think before you do it. Get your partner and your close ones to weigh in on how the invitation looks in terms of colours, design, wedding invitation wording and placement of names. Show it a close friend for an outsider perspective and if you feel that there are changes required, don't hesitate to let them now.
D. Don't: Forget proof-reading
At times, you may overlook a typo or a spelling error in your eagerness to get everything done on time. Be very careful about this when it comes to your invitations. Make sure you proofread all the content on your invite and do it more than once. You also want to make it more personal and appealing as opposed to generic and boring. Spend some time on this!
3. Sending your wedding invite: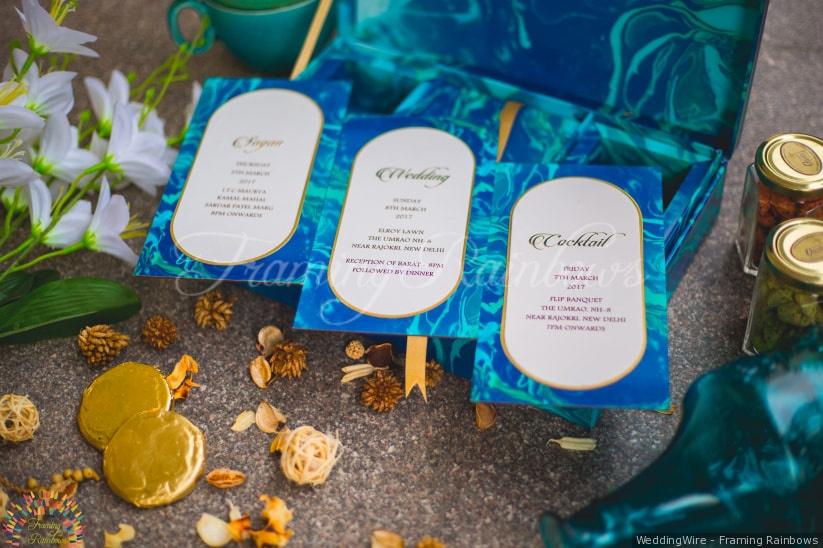 You're done with the last part of the exercise - actually sending the wedding invite to all that matter. In the case of printed invitations, boxed invitations and hampers, this begins with first dividing the total set as per the break-up you've already agreed upon and then dispersing them. For a digital invitation or an e-invitation, it's a little simpler - just hit send.
A. Do: Maintain a tally
Maintain a track of all the wedding invitations that you're dispatching and the lots that you've taken. You don't want to send two to the same person (obviously), miss anyone or end up falling short of the number you had chosen. This also helps you track the RSVPs you would need to plan your wedding venue and catering commitments.
B. Do: Send segmented invites and reminders
Think, before sending. How many people do you want at all of your wedding functions? And who are these people? If you want everyone at the wedding and not the reception, ensure that that's the communication you send out to them.
A reminder, in terms of an e-invitation or a Whatsapp wedding invitation, also works wonders.
C. Don't: Forget to seek confirmations
RSVPs are very important as they help you with a tally of the total number of wedding guests you can expect at all of your functions. Make sure that your invitations have the right numbers to contact, alternates and even an email ID. Also, get a responsible friend, sibling or family member to physically confirm all those who haven't done so far.
We hope that this list of wedding invite do's and don'ts help you have a seamless experience. Do share your thoughts in the comments below.