Congratulations on your wedding! We know you're excited and have shared the news all over social media. You're probably busy planning your save-the-date video, envisioning your look on the bridal lehenga, thinking about finding a wedding planner, wedding photographer and the ideal wedding venue for your perfect wedding! But have you spared a thought for the wedding invitations that will carry the merry news to your loved ones? Remember, even in 2018, guests appreciate a heartfelt note on a creative wedding invitation! In this blog, we help you with a complete guide for your invitation:
Why Wedding Invitations?
This may seem like a no-brainer to some, but there are people who are wondering whether such invites are still relevant or not. So, we're addressing the question.
A wedding invitation began as a thoughtful note, a privilege and honour for your intended guests and the duty of a host. It asks the recipient to afford their time and availability for a momentous occasion in the person's life - their wedding. It shares the agenda of the day (often as an event schedule or list of events that the person is invited for). It allows the recipient to plan their day accordingly - or send a declination if that's not possible.
Here's why you should still do it:
1. Mark of honour and respect for your guests
2. Advanced notice for availability for the day
3. Helps you plan efficient logistics for the day, in terms of guests
4. Outlines all details (Who, When, Where, RSVP)
5. Acknowledges your loved ones (who are often deeply engaged in the Wedding Planning process)
5. Reflect your personality, as a couple
Wedding Invitations - What Kind Should You Pick Up?
Next on the agenda? Deciding what kind of wedding invitations would work the best for you, in terms of time, budget, your own style choices, number of guests and the like. Here are your options:
1. E-Invites: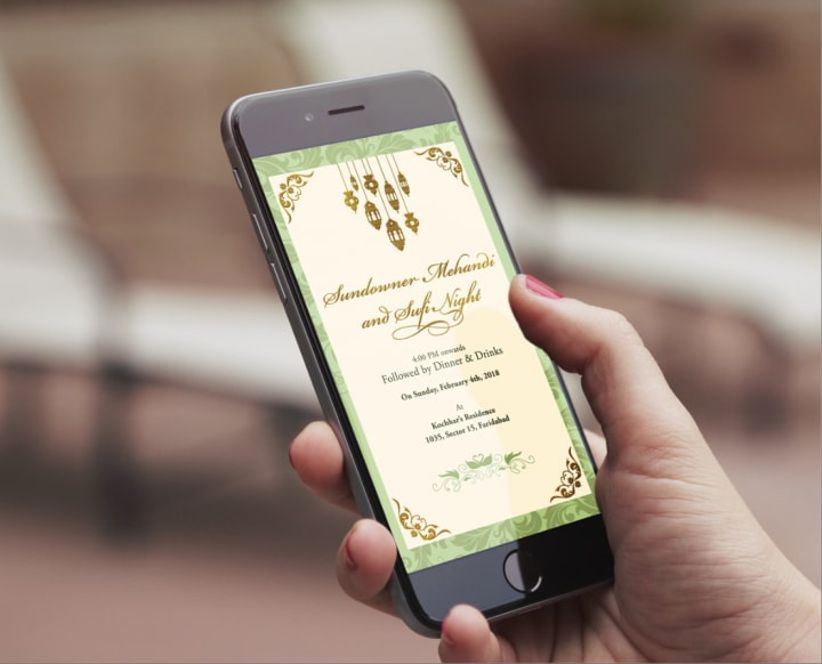 In 2018, Wedding Websites are becoming an essential affair. And so are e-invites. A lot of people will appreciate the handiness of having the invitation on their phones which can help them sync the event with their calendar, on the maps and always be easily accessible. You can also monitor the RSVP count, using the QR code, in a non-haphazard manner without worrying about the cards getting lost in the mail. A win-win for both, your guests and you.
2. Printed invitation cards
Sure, the digital invites will be handy for a lot of your guests but give due consideration to the ones who might feel handicapped on receiving a digital version, especially the elderly. So, to stay safe, it's best to send out printed invites with all the details, including a map with directions to the venue.
3. Invitations with Giveaways/ Wedding Favours:
The traditional sense, especially in India has included a sweet treat with the invitation to sweeten the news for the guest and ensure a pleasant experience. Over time, the sweets have been replaced with modern gifts or wedding favours. Here are two ways in which you could do that.
Boxed Invite
A lot of couples are choosing to send boxed invites with the invitation and wedding favours packaged as one. This sends out a warm message of how cherished their presence will be at your wedding. You can offer desi edibles like dry fruits and chocolates or opt for the unconventional green teas, exotic coffee beans, scented candles, care packages and more.
Bespoke Invitations
As you set out to look for wedding invitations, the hundreds and thousands of designs really make you wonder how you will make yours stand out from the rest of the crowd. If your idea of wedding invitation cards is to introduce your story to the guests and none of those templates brings your story alive, why not opt for customised creative invitations. There are vendors who can actually design quirky or traditional wedding invitations tailor-made to your expectations without costing you a bomb. And for inspiration, you can always look at the creations of the legendary Entertainment Design Company that they craft especially for the elites like Virushka's wedding, Abhishek Bachchan-Aishwarya Rai's wedding, King of Bhutan's wedding to name a few.
How To Choose Your Wedding Invitations:
1. Discuss What Kind of Invitations You Wish To Opt For
2. Opt For Rough Figures For Your Wedding Guest List
3. Research and Finalise on Inspirations
4. Discuss Budget Options With Wedding Invitation Vendors based on the above three steps
5. Close on Your Wedding Invitations
Expert Tips to Keep In Mind:
Discuss with your partner the styles you prefer
Research and find inspiration
Go through the selected pieces in person
Finalise upon the texture, size, colour etc.
Decide the typography and wordings
At the end, remember that your wedding invitations are a core reflection of your own sense of style, design and the import you place on your guests. Get your cards printed accordingly.