8 Eco-Friendly Stage Decoration Ideas That Will Help You Save The World With Your Nuptials
Looking for ways to decorate your wedding stage in an eco-friendly way? We have got you covered with these stunning stage decoration ideas that are not only green but also awe-inspiring.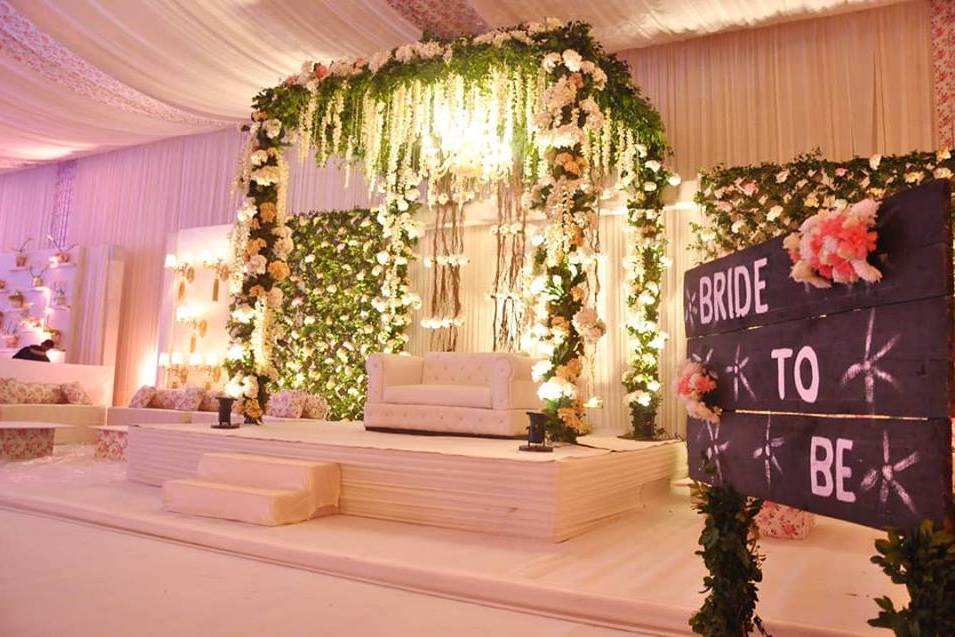 Are you a couple that wants to tie the knot in the most eco-friendly way? If yes, then why not begin by planning for your wedding stage that can incorporate the green concept in many creative ways.
The stage decoration ideas that are given below will make your jaws drop as these make use of materials and fabrics that are totally green and do not hurt Mother Nature in any way. These look suave and lend a feeling of elegance to your wedding stage decor. Browse to get inspired!
1. Stage decoration ideas with paper lanterns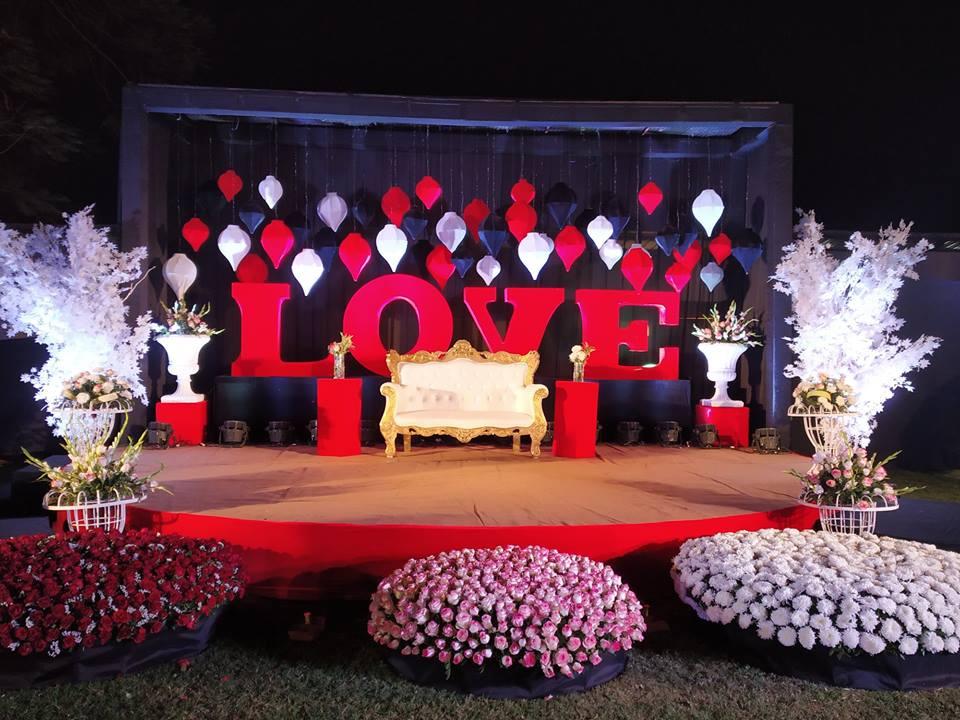 Yes, paper is one of the trendiest things to have caught the fancy of wedding planners these days. When your wedding stage is concerned, paper can be put to use in different ways, such as paper lanterns.
Paper lanterns are biodegradable and can be recycled as well. If your stage needs a gorgeous backdrop decoration and a scintillating rooftop decor, try hanging paper lanterns in various hues. The soft light emanating from these lanterns will captivate everyone's senses. You can also use any shape like cylindrical or oval to add more style to your stage decor.
2. Decorate with Seasonal Blooms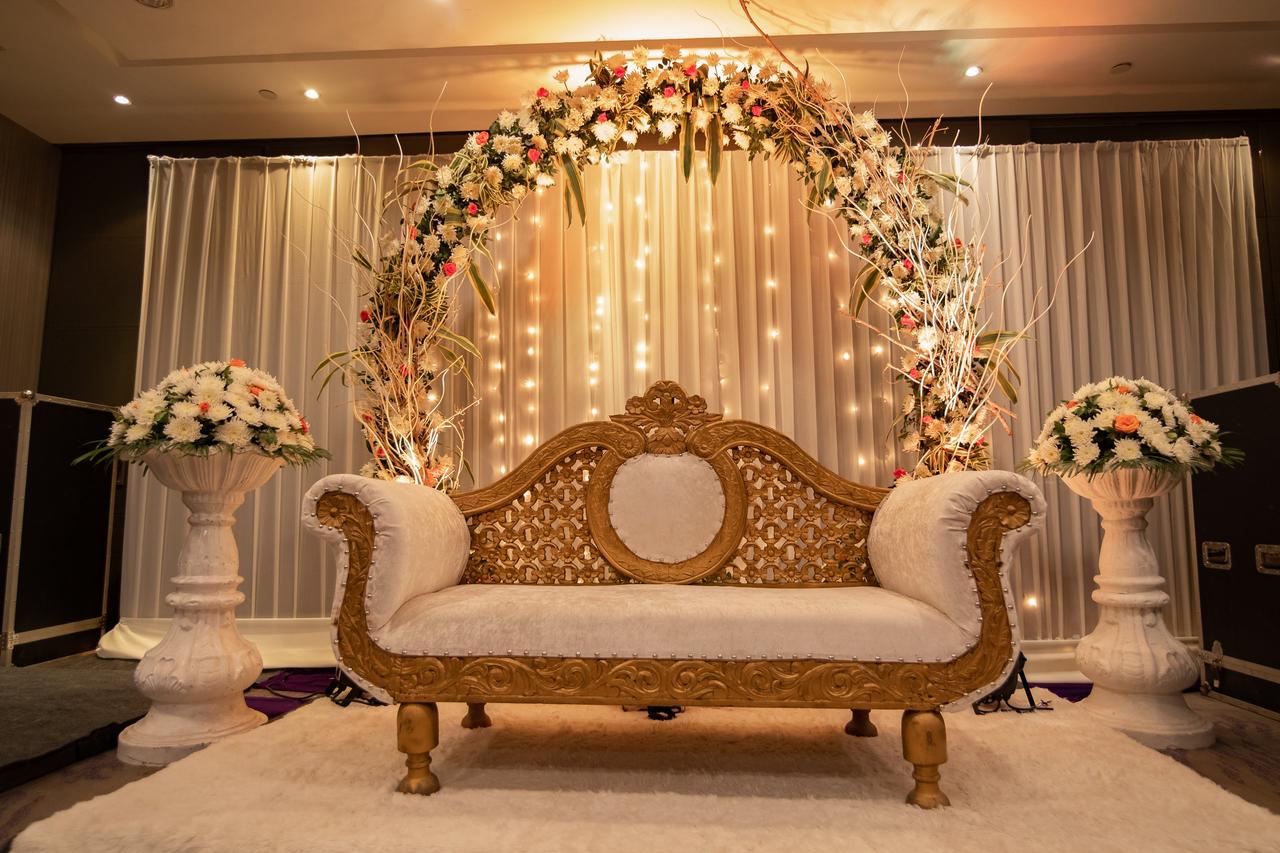 Using Indian and International flowers, especially exotic blooms imported from foreign lands often leads to unnecessary wastage of money as well as most of these are grown and preserved using toxic chemicals. Better is to use locally grown flowers or those that are in season.
Not only will you help your local florist earn some money, but you will also get chemical free blooms that do not harm the environment. Try hanging big bouquets of seasonal blooms on the backdrop frame. Or else, hang floral chandeliers from the roof.
3. Stage decoration ideas with low energy LED fairy lights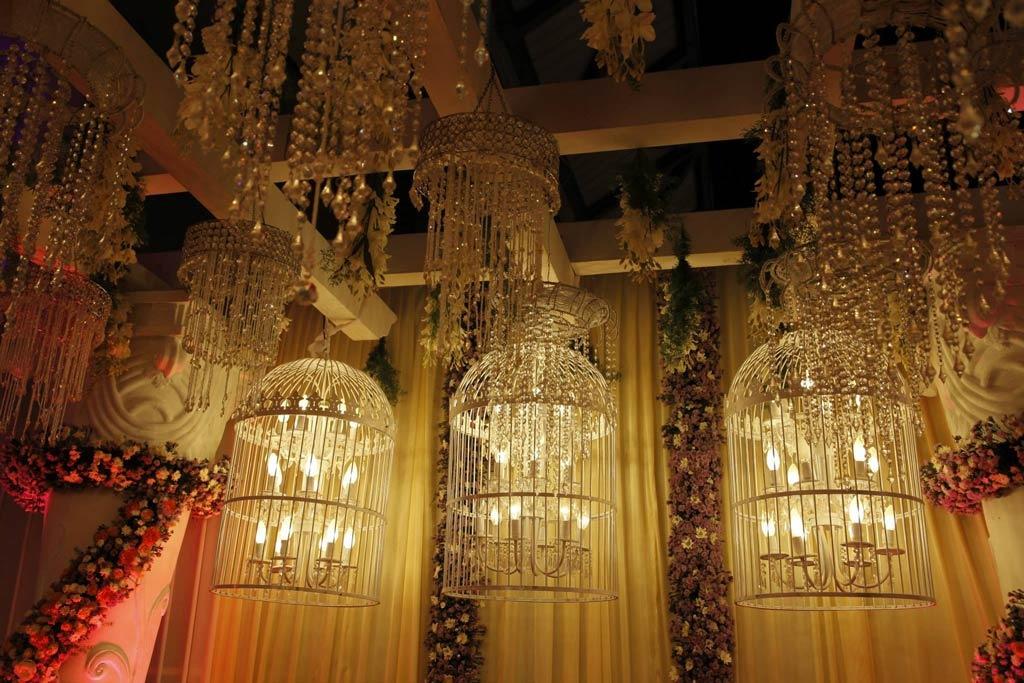 A wedding stage can look dazzling with LED fairy lights. These lights consume very less energy and add sparkles to any decor. Even solar powered LED fairy lighting is very much in vogue these days. The only requirement is that you charge these up when the sun is at its best form.
LED triangles can be installed on the stage's backdrop and complemented with fairy lights. The twinkling effect will make your guests swoon with joy.
4. Use of Recyclable Fabrics or Burlap as drapes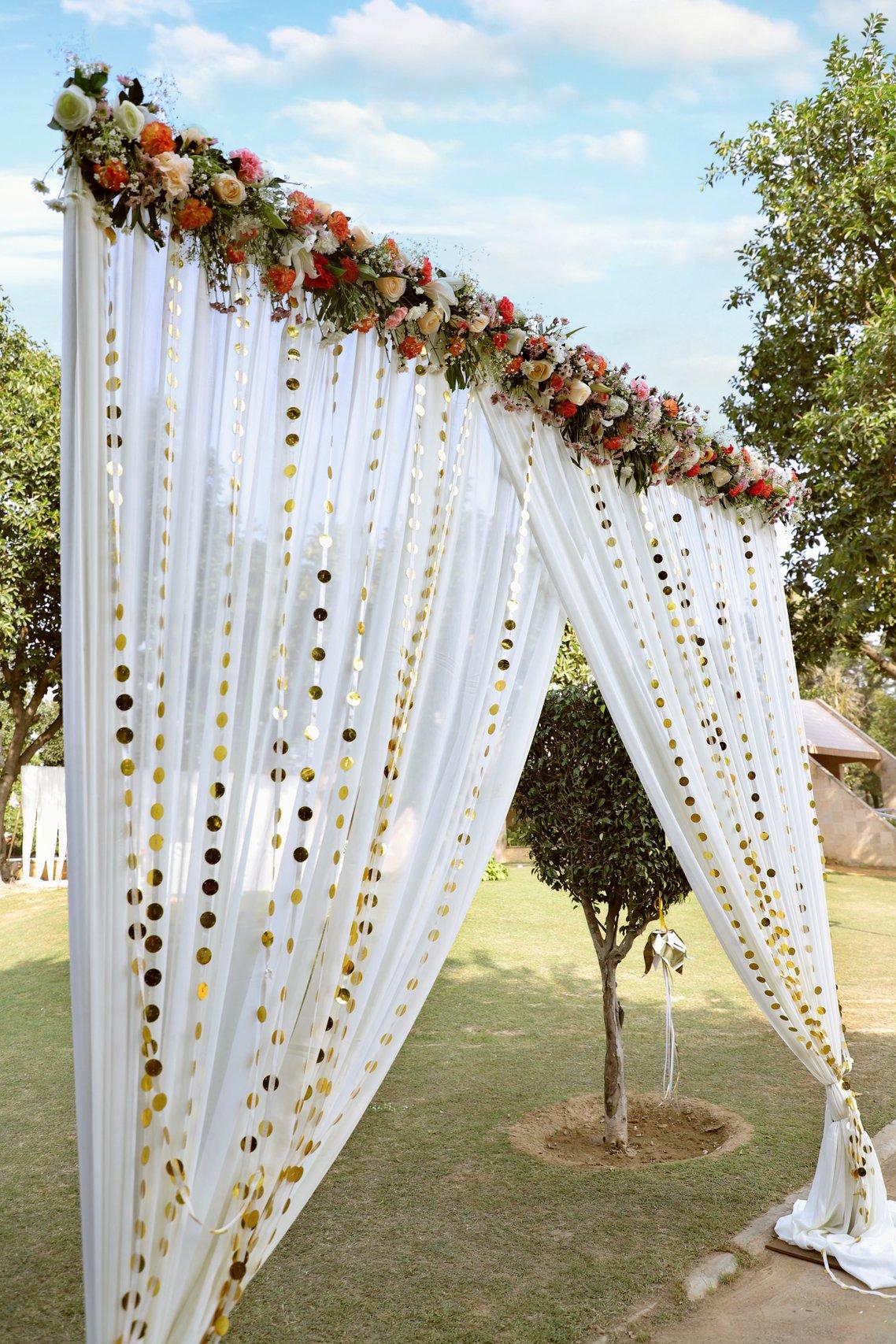 Hessian cloth or burlap is one of the most nature-friendly fabrics that can be used for wedding decor. It's made out of cotton fibre and jute and is widely used for adorning stages and backdrops. Burlap is durable and is cheaply available.
You can have a rustic stage decor for a rustic wedding theme by using burlap curtains instead of satins and silks. If you think draping the burlap curtains will look too bland, stitch paper or lace flowers on them.
Other fabrics that are harmless and can be used to grace wedding stages are cotton and jeans. One can create many designs like flowers using these materials.
5. Stage decoration ideas with green elements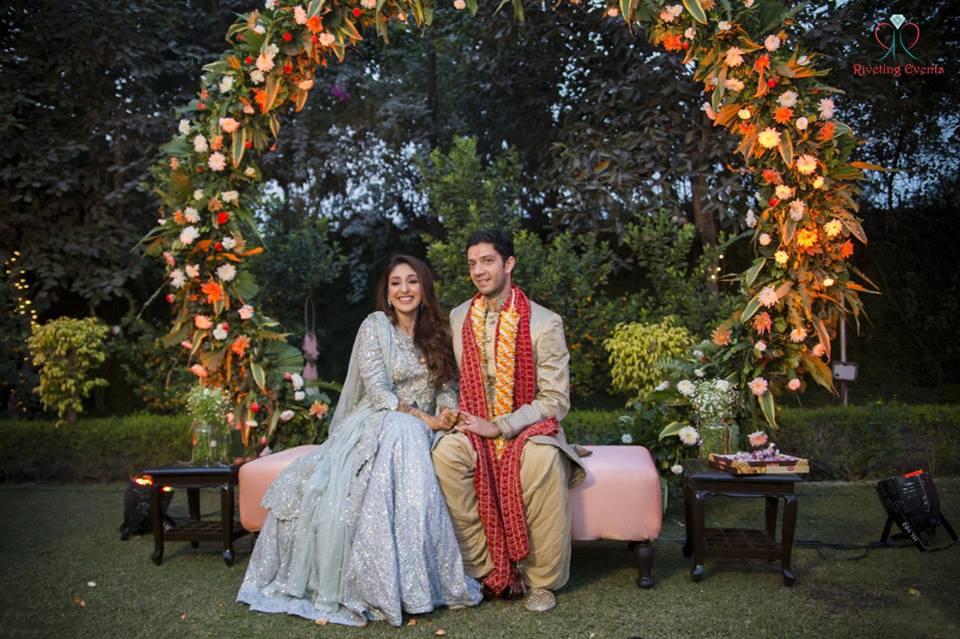 Don't you think coconuts look amazing when used for decking up wedding stages? Coconuts are an excellent way to adorn eco-friendly stages. Make a mandap on the stage with green coconuts and leaves. These can also be used to create decorative festoons for the stage. Here, you can use dry coconut and leaves.
Banana leaves are another great option if you are sentimental about nature. Instead of wasting flowers, decorate the stage with banana leaves and see how traditional your stage will look.
6. Stage decoration ideas with paper flowers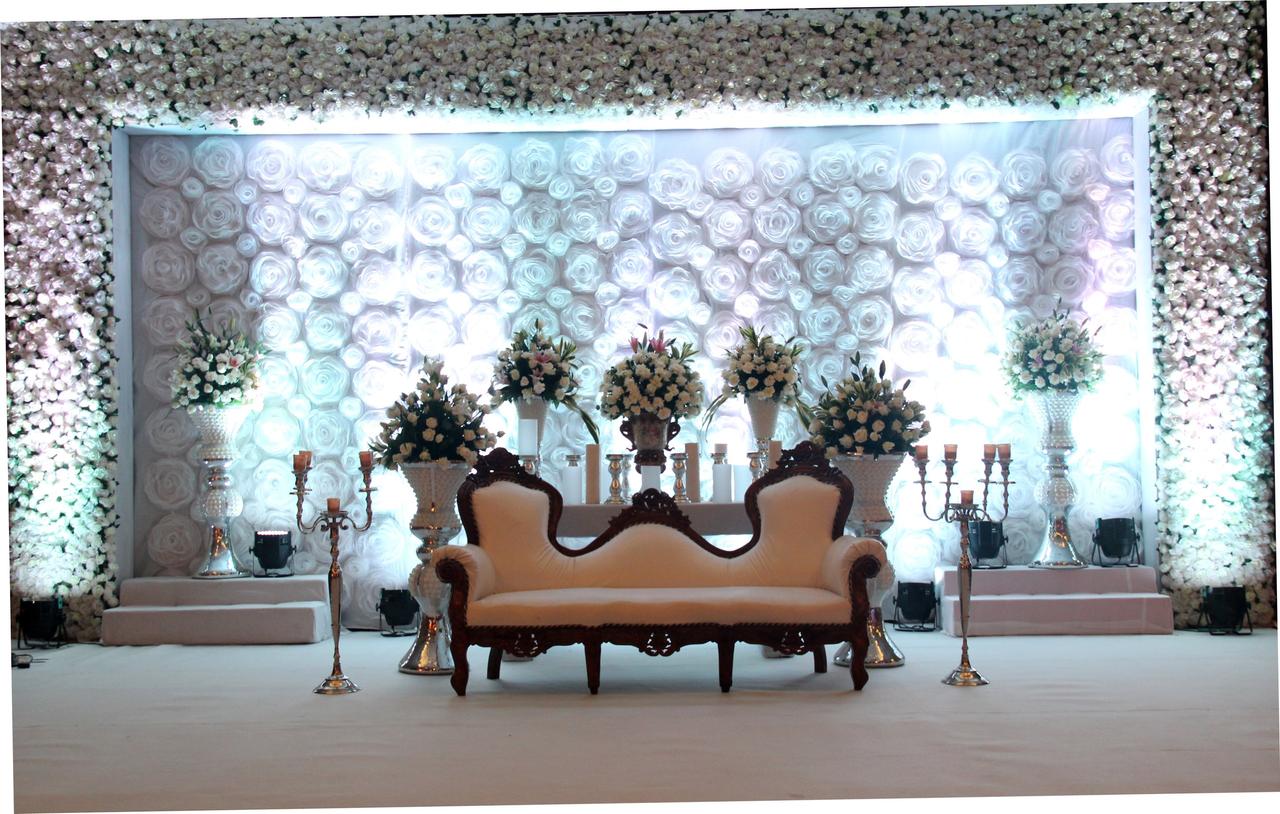 The use of paper flowers is very rampant nowadays. Most couples are chucking using real blooms and creating wonderfully decked stages with artificial flowers. Paper blooms are much less expensive, and also add more style to the decor.
7. Stage decoration ideas with beeswax or soy wax candles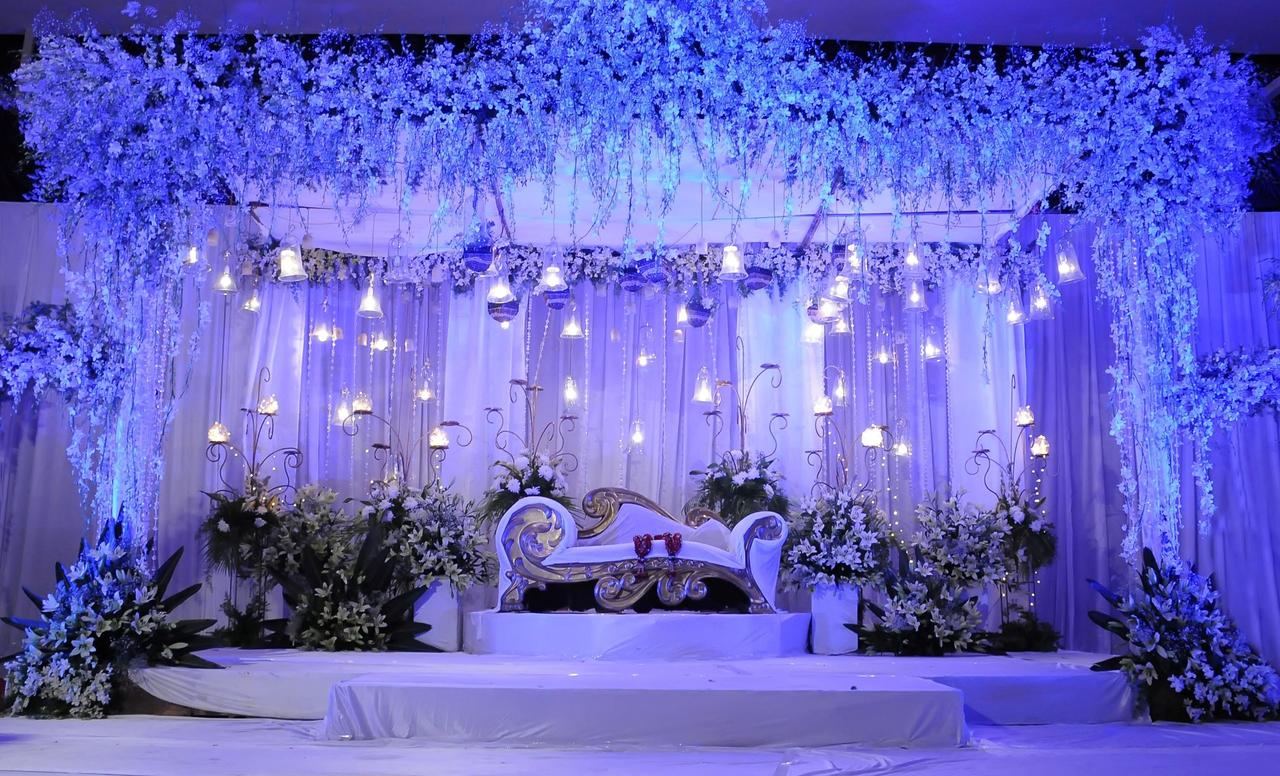 Who doesn't love the soft romantic glow that radiates from a candle? If you want to give your guests a lasting memory of your wedding, make use of candles for dressing up the wedding stage.
However, if you want to contribute to the environment, then use beeswax or soy wax candles. These candles have no chemicals and are hundred per cent safe. Also, you can get these in varied designs.
8. Decor using wooden frames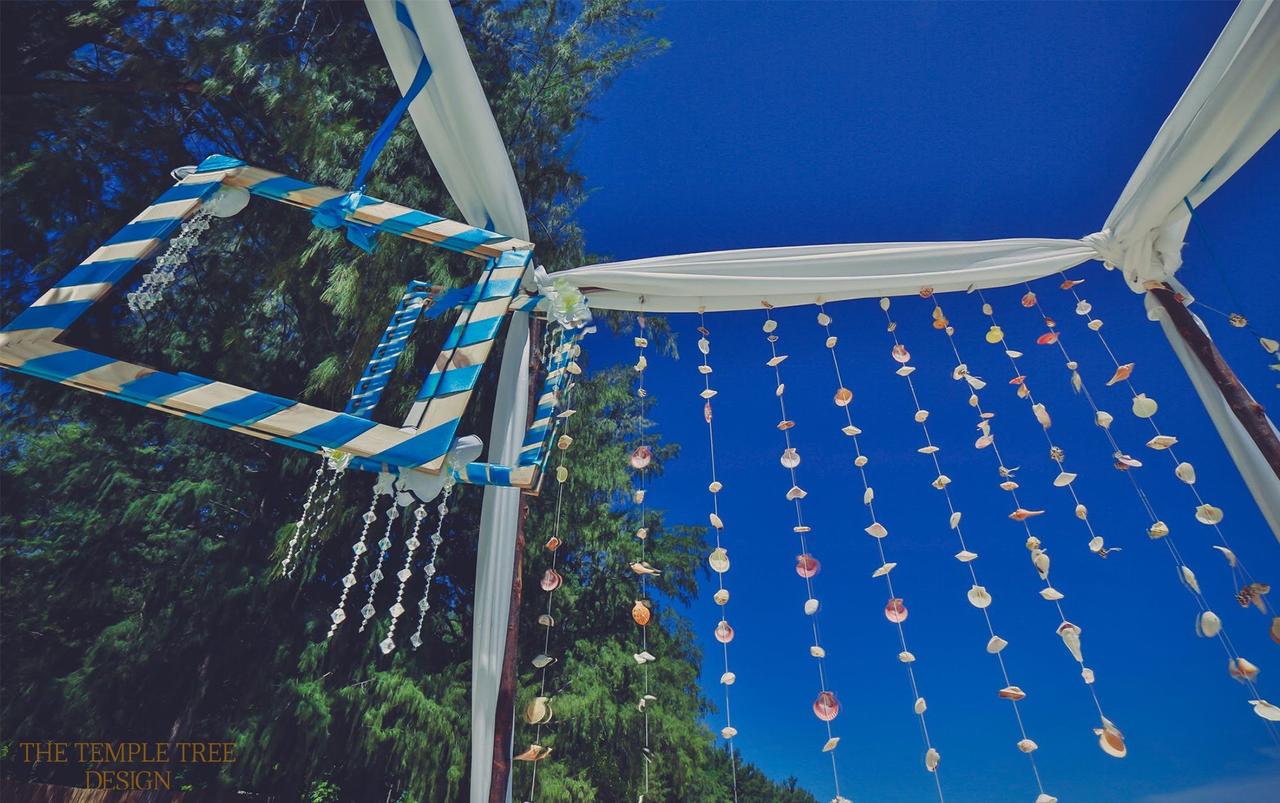 For a stage decor to look chic, use recycled wooden frames. You can create any shape or design with a wooden frame and change these to suit your style. Have small frames fixed on the backdrop of the stage and hang paper flowers from them.
Nature-friendly stage decor looks ravishing and can give other themes a run for their money. All these stage decoration ideas, as part of your wedding decoration, will save you from spending huge bucks and at the same time add dazzles to your wedding!
Have more stage decoration ideas to share that are eco-friendly? Let us know through comments.