A Guide on Sharara Dresses With Price of Designers Vs. The Boutiques
Ever since the Shararas & Ghararas are back in fashion, we just seem to not get enough of it. So here's our list of sharara dress with price that every millennial bride must check out.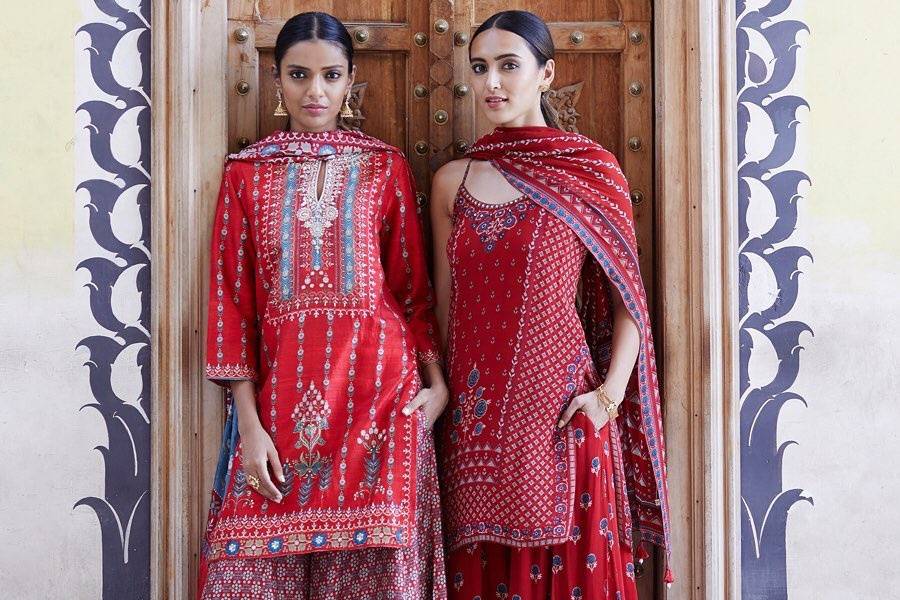 There are sarees and bridal lehengas, and then there are Shararas and Ghararas that are right after that. They might not be the first choice of most women amongst Indian outfits, but we see that changing rapidly now.
Shararas and Ghararas are the perfect blends of flare and style that cannot be replicated by any other Indian outfit as effortless as this one. From bride's choosing Shararas as their wedding day outfit, to them keeping it as their ace choice while trousseau shopping, they are truly getting everywhere and slowly replacing the usual kurta pants or Anarkali suit concepts.
Their designs are unique but you can always take a cue from it to get something stitched from your boutique along the same line. So let's look at designs in Sharara dress with price that you can crack the concept in.
Intricately Embroidered Sharara Dress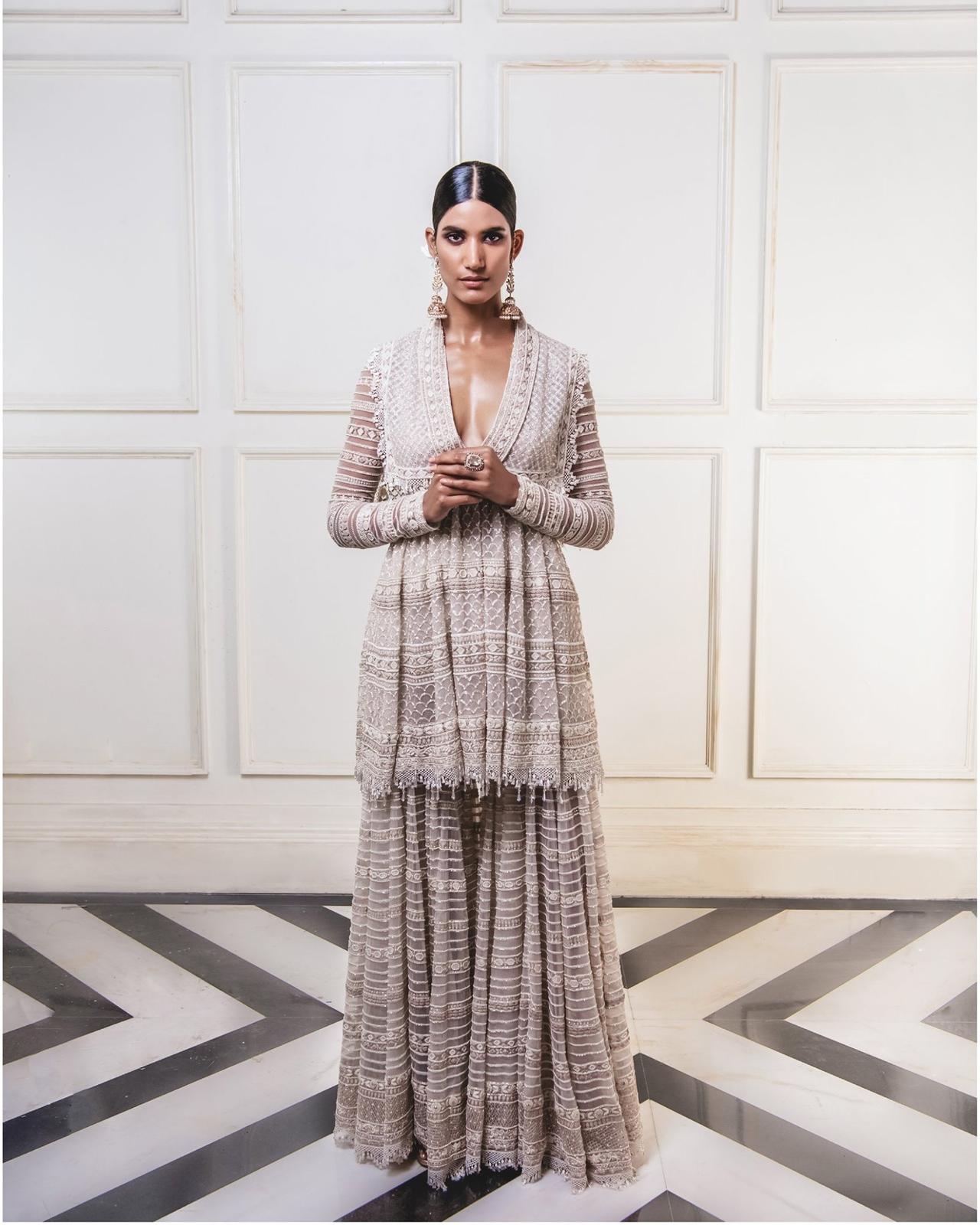 Let's start with a bang this time. Here's one of the most stunning Sharara sets that we come across lately. Apart from following the western principle of fit and construct this beautiful set without a dupatta has intricate embroidery with crystal and fringe detailing with fine embellishments all over.
The exquisite lightness of this design despite all the work is what makes this the modern woman's ace choice. From wearing it to dinners after your wedding to even carrying it on your best friend's wedding, this Sharara kurta combination fits every possible occasion that you're looking for.
Price Range- While at a designer store this might be priced at ₹1,50,000 you can always go for a similar cut and work in Sharara dress with price ₹25,000 at your boutique.
The Bridal Joda Sharara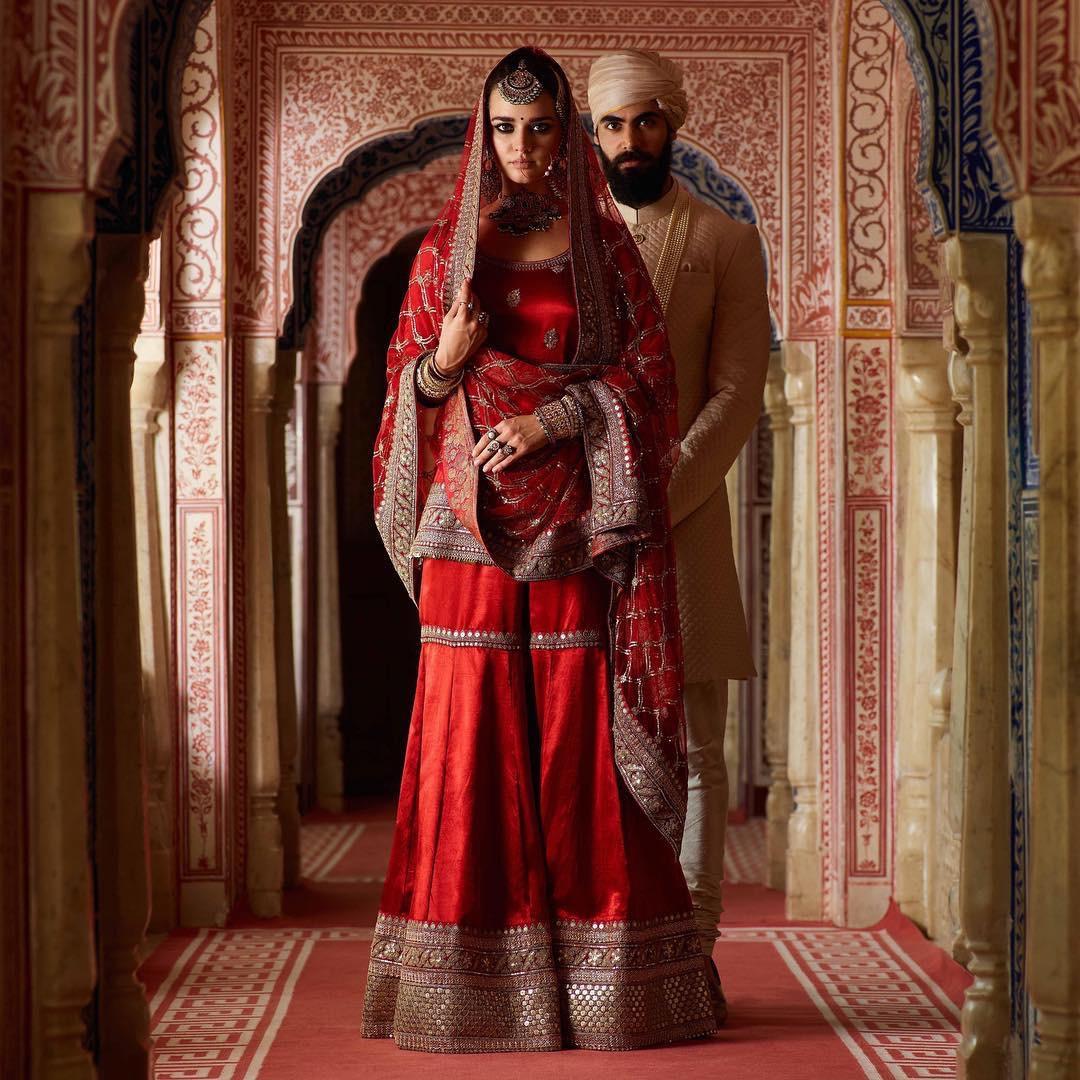 Image Courtesy: Sabyasachi's Instagram
If you are a bride that wants to go for a Sharara dress on her wedding day, we have something that you will surely love. As red is the colour of the bride, this beautiful red Sharara kurta set with intricate heavy work borders on the kurta and Sharara paired with a fully embellished heavy red dupatta is a sure shot head turner for your big day. By keeping the jewellery as heavy as this beautiful outfit, you can achieve the perfect balance of effortless and ethereal in your bridal Joda.
Price Range- Every bride's favourite designer Sabyasachi will have priced this beauty at ₹3,00,000 plus, but believe us or not, you can get a similar Sharara dress with price ₹30,000 designed at a good boutique near you.
All that glitters is the Golden Sequinned Sharara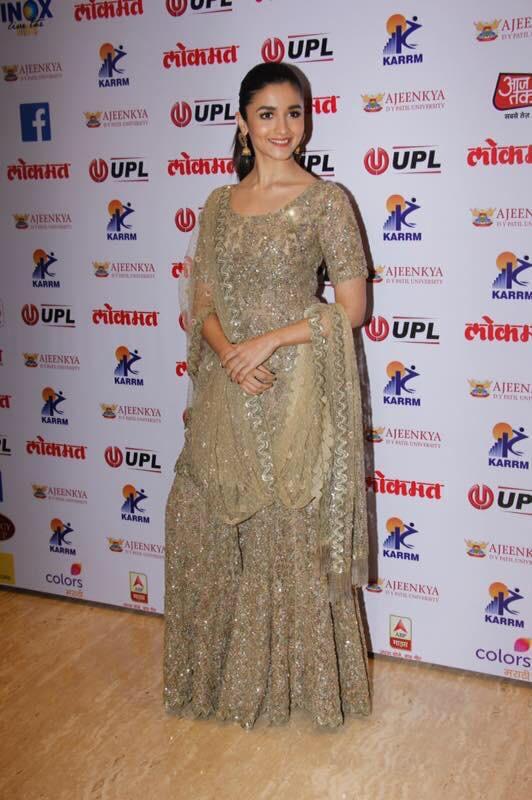 Image Courtesy: Sabyasachi's Instagram
Don't you just love an all-gold outfit? Well, we surely do and therefore we think there is nothing chicer than this golden sequinned Sharara dress with price that could be within our budget. With almost minimal designing, this beautiful set plays on cuts to make you look flattering. Being a fully sequinned set makes this heavy enough to be worn at one of your wedding functions, or even after your wedding.
Price Range- This ethereally beautiful Sharara dress with price within ₹20,000 can be designed by any tailor or boutique that has stitched Shararas before, all you have to do is go find the perfect fabric and you'll be sorted.
Go Green! Cotton Sharara Set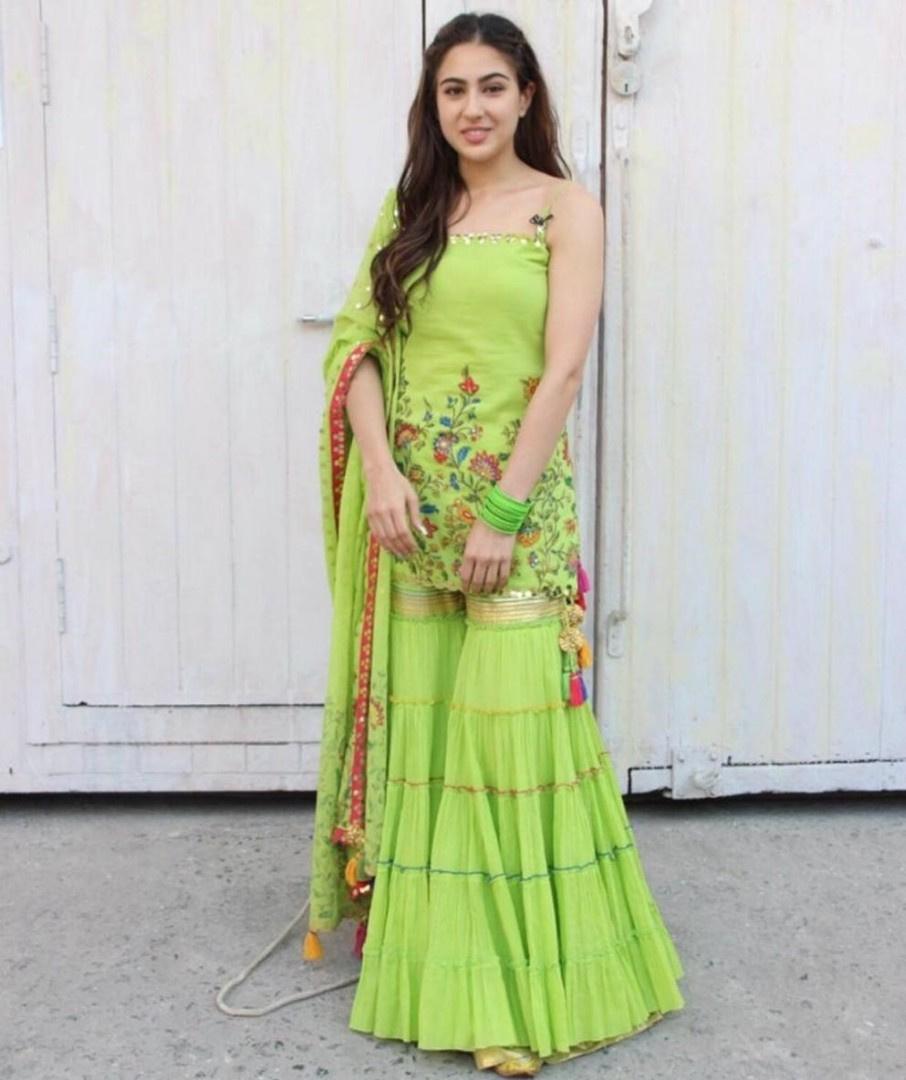 Image Courtesy: Sukriti and Aakriti
This cotton Sharara kurta set is the perfect addition to a millennial bridal trousseau as it is young, fun, and yet very formal to be carried to a function or any important occasion. The bright green spaghetti sleeve kurta with colourful embroidery and the Sharara with colourful lines makes for the perfect newlywed outfit to a close group function.
Price Range- By a designer, this might be priced at ₹44,000, but you can find the right tailor and get something similar to this Sharara dress with price less than half of this one.
The Black and Gold Glamorous Sharara Set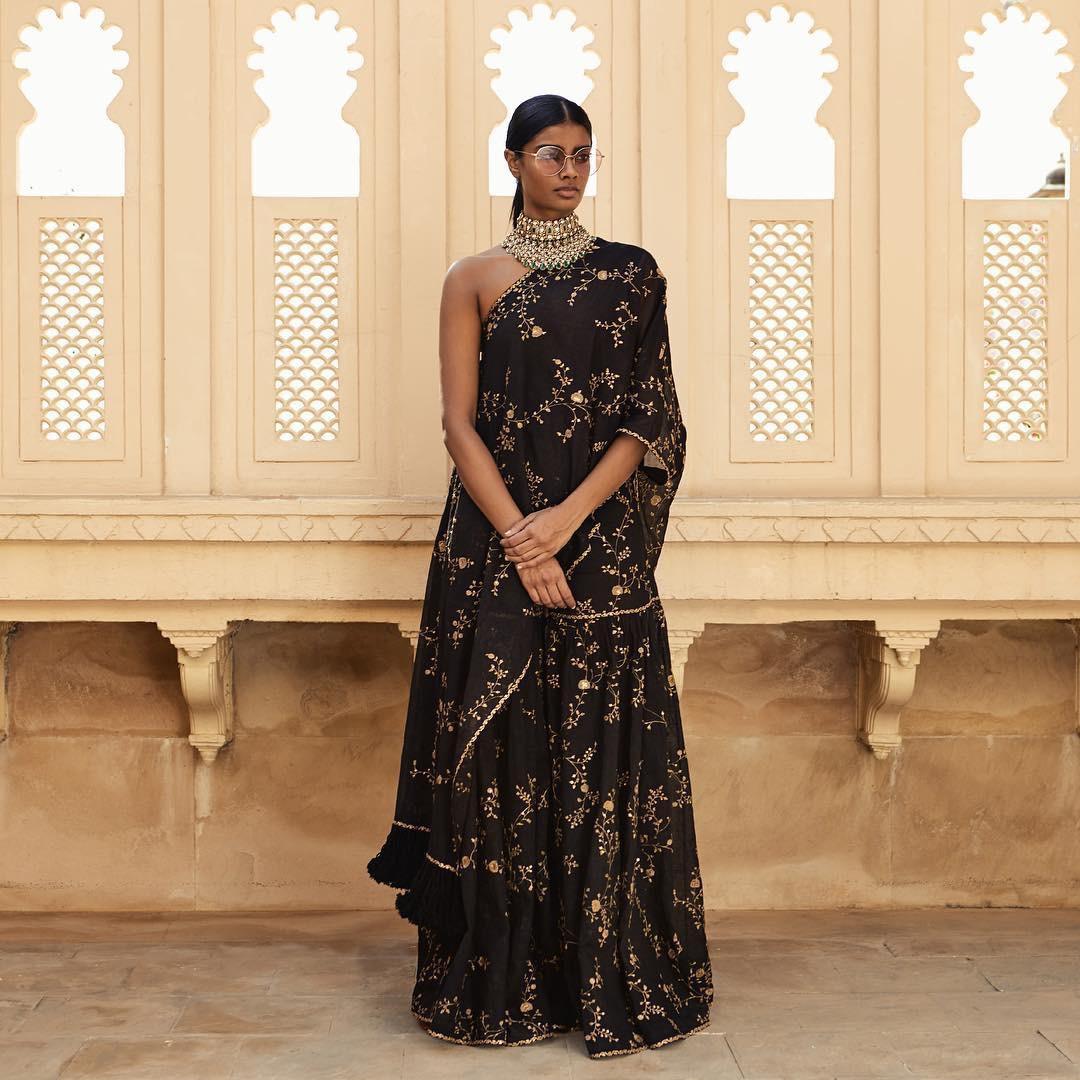 Image Courtesy: Sabyasachi's Instagram
If black is your all-time favourite colour, then this Sharara set is just what you're looking for. A one-shoulder black kurta with black Sharara and a black dupatta is what sounds like a treat to the eyes, but when you add golden embroidery all over it, this Sharara set just becomes irresistible for your trousseau.
Price Range- The Sharara dress with price of approximately ₹1,00,000 can also be designed by someone who is extremely intricate with their embroidery in less than 1/3 of that price.
Sharara Set in Hues of Blush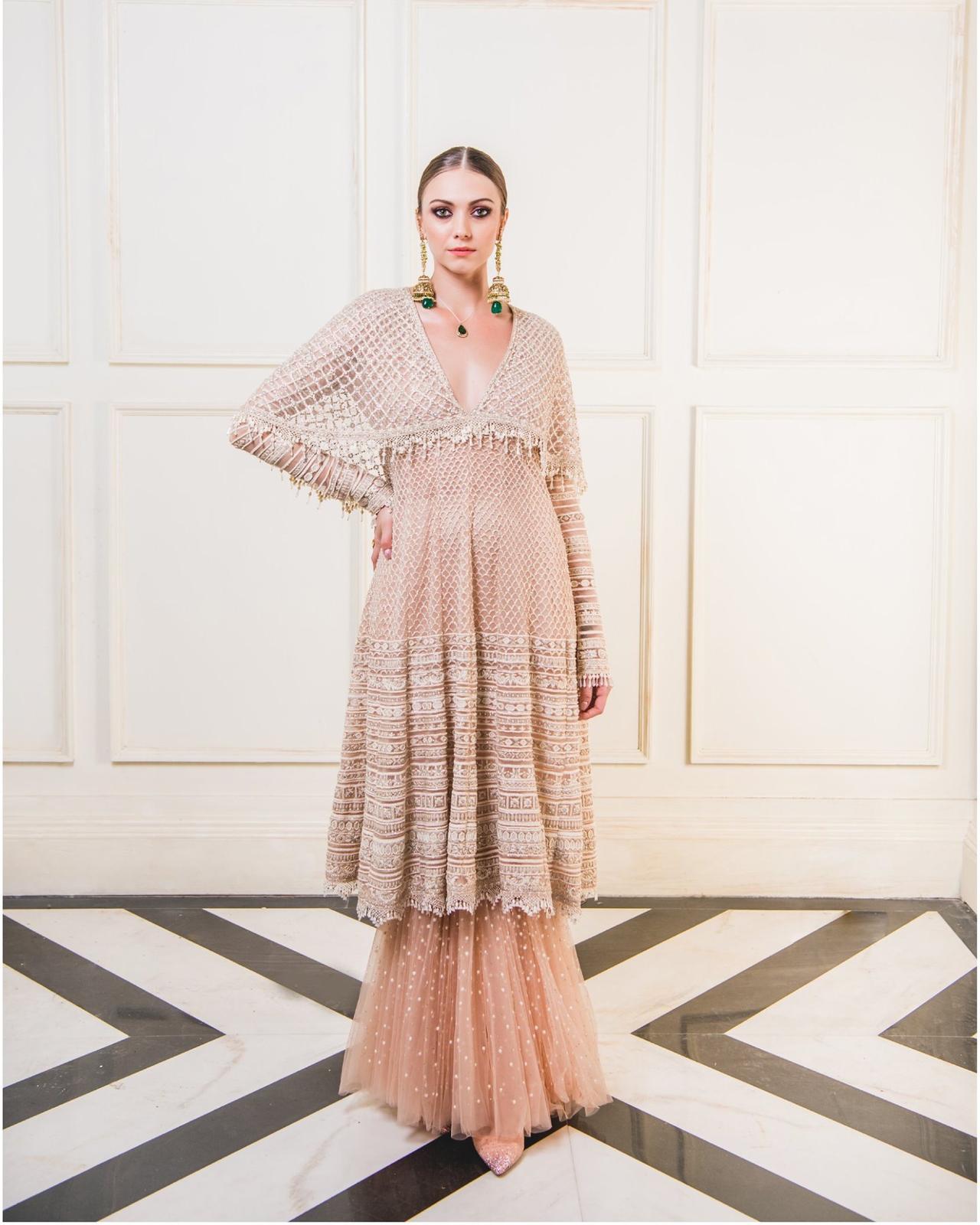 If the colour of this Sharara set isn't enough to sell you on the idea, then wait till you figure more about this beautiful design. This glamorous evening wear in hues of blush is ethereal and light with a sparkle of Swarovski crystals all over. The tulle Sharara doesn't just allow ease of movement but also makes this design chic and graceful at the same time.
Price Range- While we truly believe all styles can be replicated, but there are exceptions like these that are difficult to even get close to. This Sharara dress with price around ₹2,50,000 is one of the masterpieces by designer Tarun Tahiliani and is an ideal splurge for your trousseau.
The Purple Gota Sharara Set
Image Courtesy: Sukriti and Aakriti
Another beautiful cotton Sharara set that any millennial bride is most likely to pick in a jiffy because of its colour solely. This beautiful set with dupatta has Gota work all over that makes it more glamorous and formal to be carried at functions and parties. The flare of the Sharara makes it almost irresistible to not have in your wardrobe. This is the kind of Sharara set that will look good for a daytime function like Mehndi or Haldi.
Price Range- One of the classic styles of designer Sukriti and Aakriti, this Sharara dress with price over ₹40,000 can be taken a cue from as you can get something similar of your own designed by a boutique in around ₹15,000.
The Sexy Back Red Sharara Set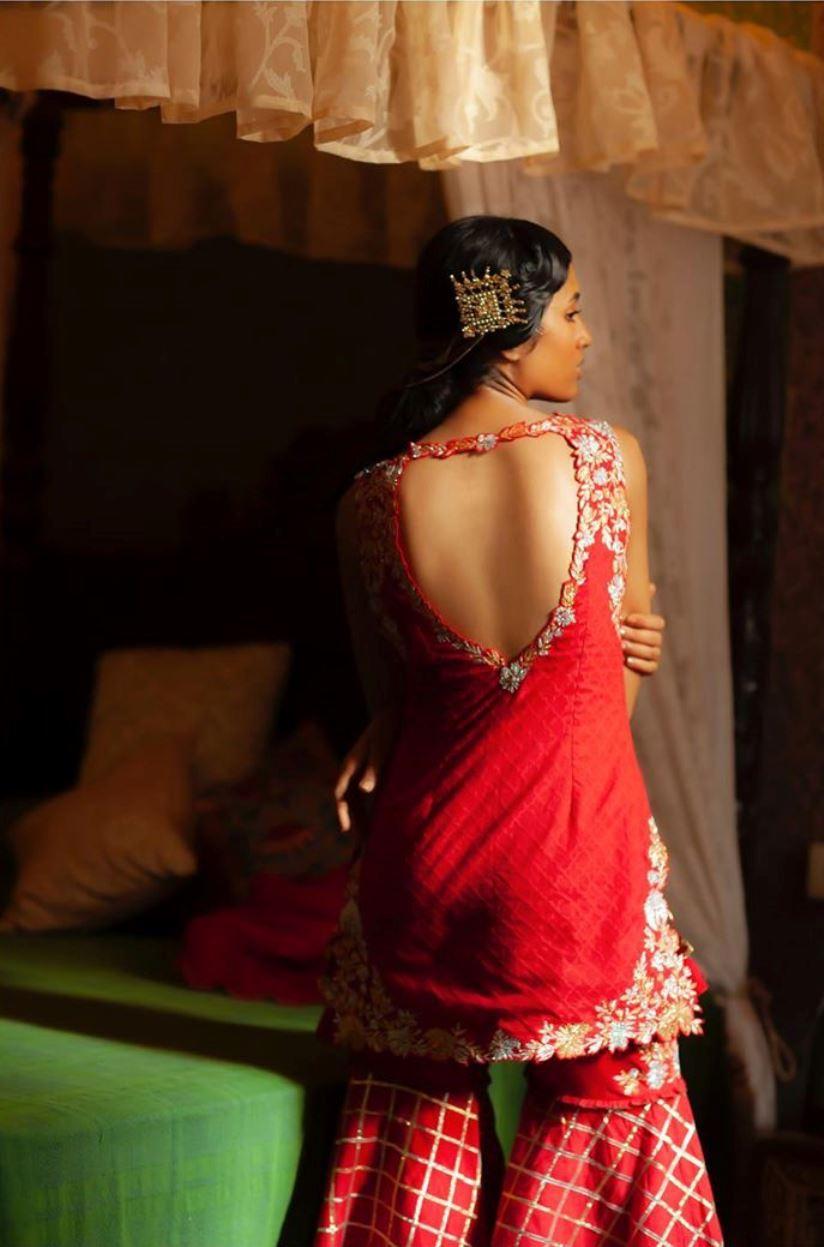 Image Courtesy: Sukriti and Aakriti
Just like most Sharara dress with price that touches sky roof, this one is also a graceful designer piece that you are sure to fall in love with immediately. With a unique design at the back of the kurta and cutwork all around it, this red Sharara set is sexier than all the others in the list. The red Sharara with Gotta criss-cross compliments the eccentric kurta completely.
While red is the colour of the newlyweds, this Sharara set is one that can be called as the perfect trousseau choice. From wedding to parties, and festivals to puja, you can carry this Sharara dress at all places effortlessly.
Price Range- The beauty of this outfit lies in its design and cuts, so look for a tailor that masters in cuts and patterns to get this Sharara dress with price around ₹25,000.
Which of the above designs are you most likely to buy or get made? Tell us in comments if you think this list has Sharara dress with price that fits into your budget.