Latest Mekhela Chadar Designs for the Brides & Her Bridesmaids
Mekhela Chadars are indeed a prized possession and a beautiful style statement. Check out these latest Mekhela Chadar designs for the brides and her bridesmaids here!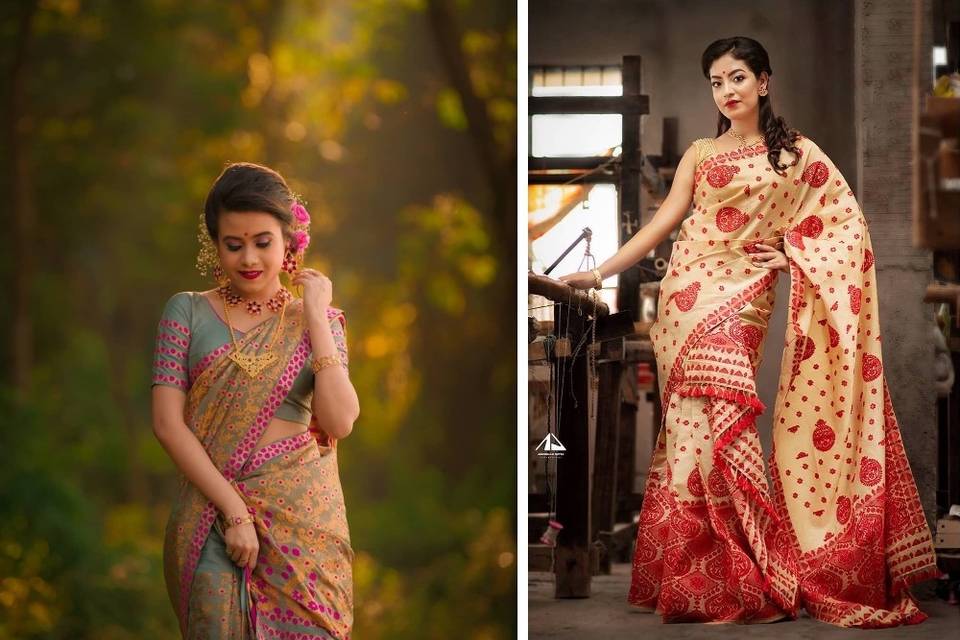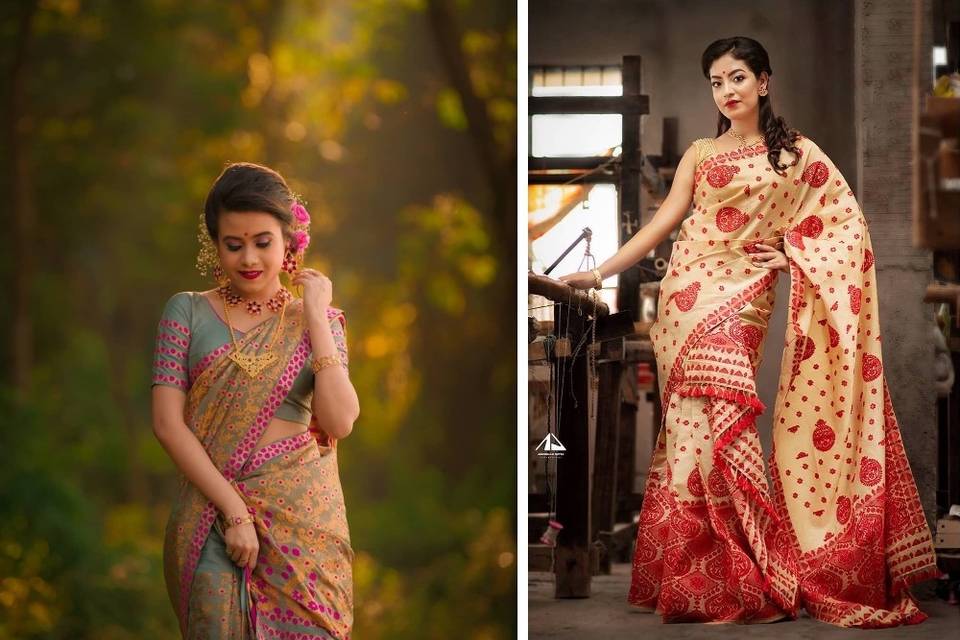 Image Courtesy: Ribhi Silkhouse (L), Uruli by Sleh Raas (R)
The beauty of North East India is unfathomable. Be it the scenic lush green valleys of Shillong or the mesmerising traditions of Assamese weddings - the indigenous beauty of the North-East part of India is indeed impeccable. From the Potloi (Manipuri dress) that is flaunted by the brides at Manipuri weddings to the stunning Mekhela chadar designs of Assam, their style has always been inspirational and not mainstream. And talking about Mekhela Chadar designs, most of us must not be fully aware of what a Mekhela is, apart from being an enchanting attire.
For the ones not well versed with what a Mekhela chadar is, Mekhela is a traditional outfit of Assam that is draped in a certain way only typical of Assamese women and is mostly worn at Assamese weddings, Bihu festival and other cultural celebrations. This traditional handloom dress is handwoven by the indigenous weavers of Assam and the uniqueness of this dress is in the two parts that it includes - the Mekhela (skirt) and the chadar (shawl/stole).
The bottom skirt is draped and pleated to fit across the waist and the chadar falls in a silhouette almost similar to a Pallu. The chador or sador as the Assamese would say, is a long piece of fabric that has one end tucked into the Mekhela near the waist and the rest is pleated in a triangular form and rested on the shoulder. Unlike the popular style of draping a saree, the pleats here go on the right side.
The ornamental designs of a Mekhela chadar are mostly embroidered and never printed. The Mekhela chador is made out of cotton, Muga, pat silk or Eri silk traditionally, however millennial Mekhela chador designs also come in synthetic fabric. Read on to know more about the world-famous Mekhela Chadar designs and bookmark your favourite now!
Simple White Mekhela Chadar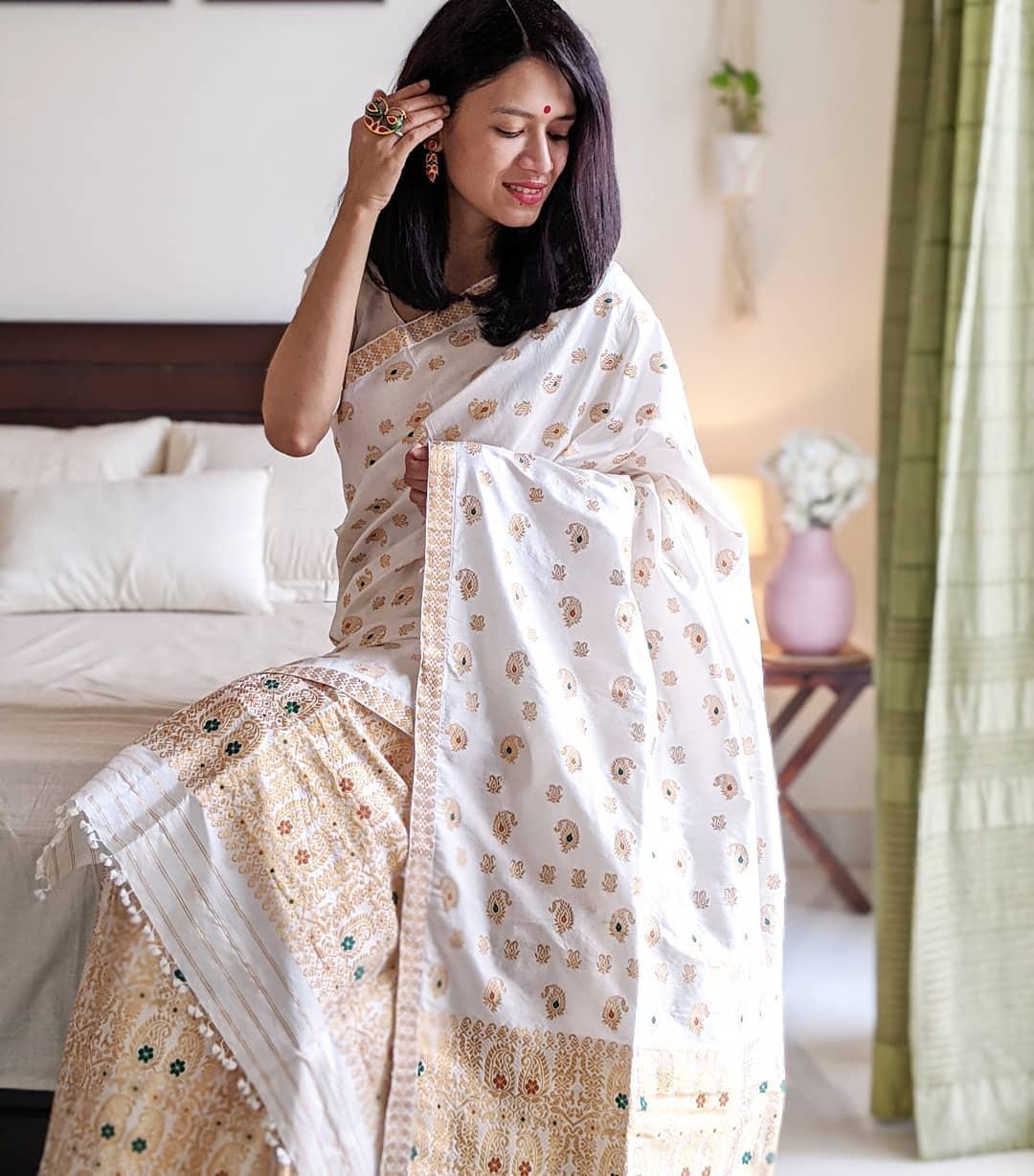 Image Courtesy: Kaxhori by Jita Konwar
This simple white Mekhela chador designed by Kaxhori by Jita Konwar is crafted delicately on Assam Silk and Muga from the weavers of "Sualkuchi". The paisley motifs in delicate golden threadwork with the Meenakari detailing on the hem of the Mekhla as well as the chadar make this a beautiful pick. The white and gold combination is the traditional colour for the brides in an Assamese wedding ceremony and this will be just the right wardrobe pick intimate wedding.
Green Mekhela Chadar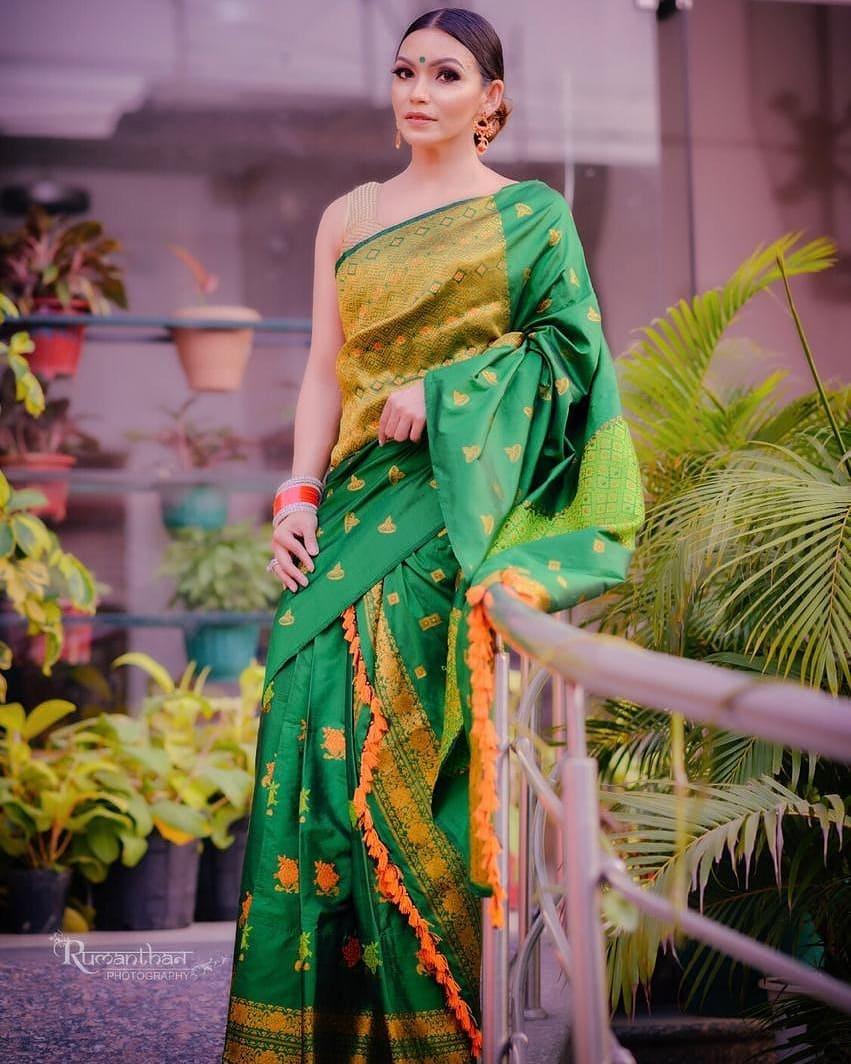 Image Courtesy: Uruli by Sleh Raas
Green is a gorgeous colour and it also symbolises consistency, growth and freshness. Green has been used in weddings throughout India because of its good vibes and blissful freshness. This green Mekhela sador is an absolute beaut. The Chadar has bright tangerine tassels with the embroidery that has the illusion of a foil print will look perfect for a pre-wedding ceremony.
Red Mekhela Chadar Design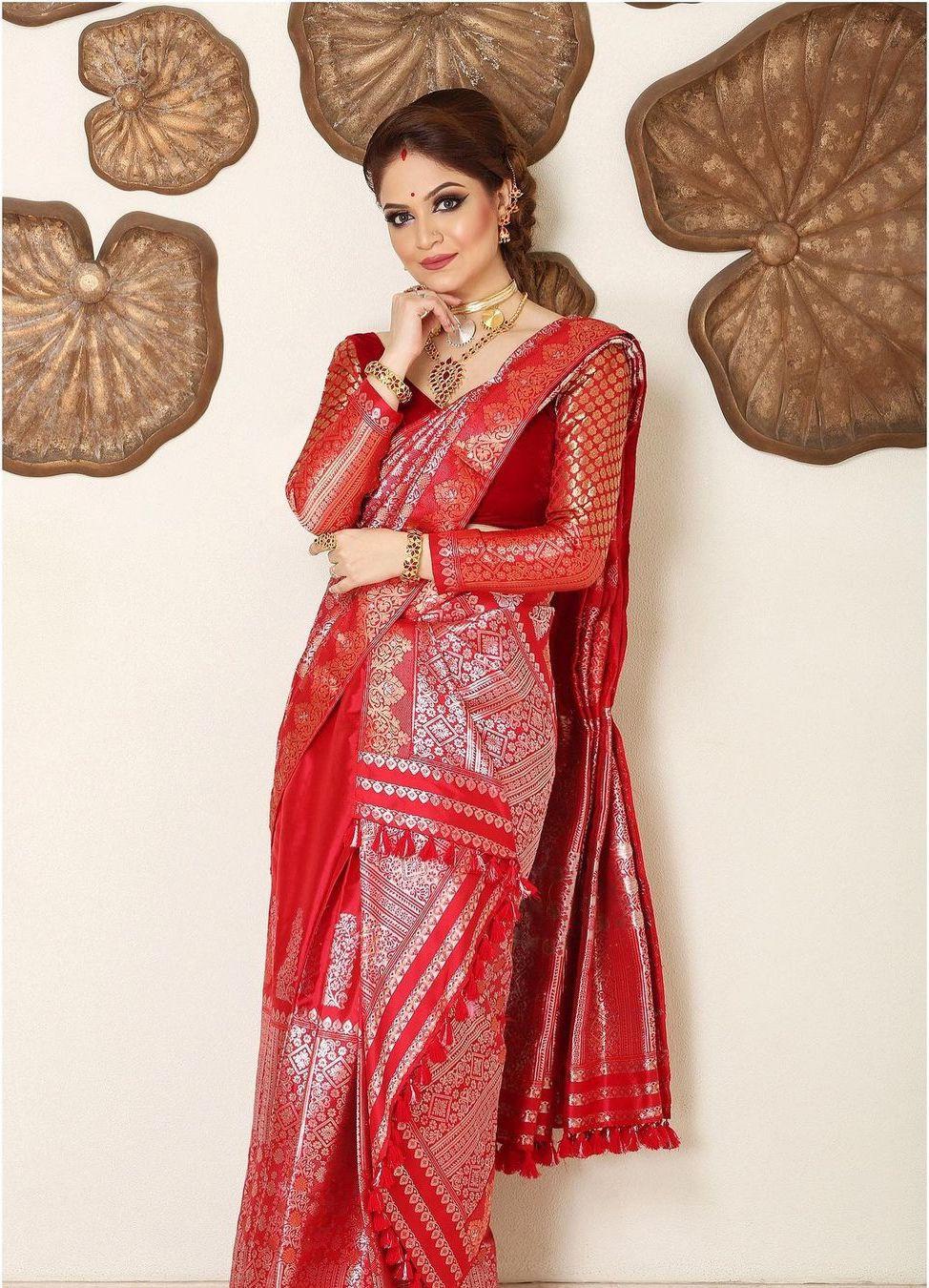 Image Courtesy: Bidyut & Rakesh
This rosy red coloured Mekhela chadar with silver Zari work on Assam silk by the amazing label Bidyut & Rakesh. The beautiful bright colour of this drape and the sheen of the fabric makes it a gorgeous pick for any night time occasion. Not only will a diamond jewellery set paired with this look stunning, but you can also even opt for statement jewellery or silver baubles.
Pink Mekhela Chadar Design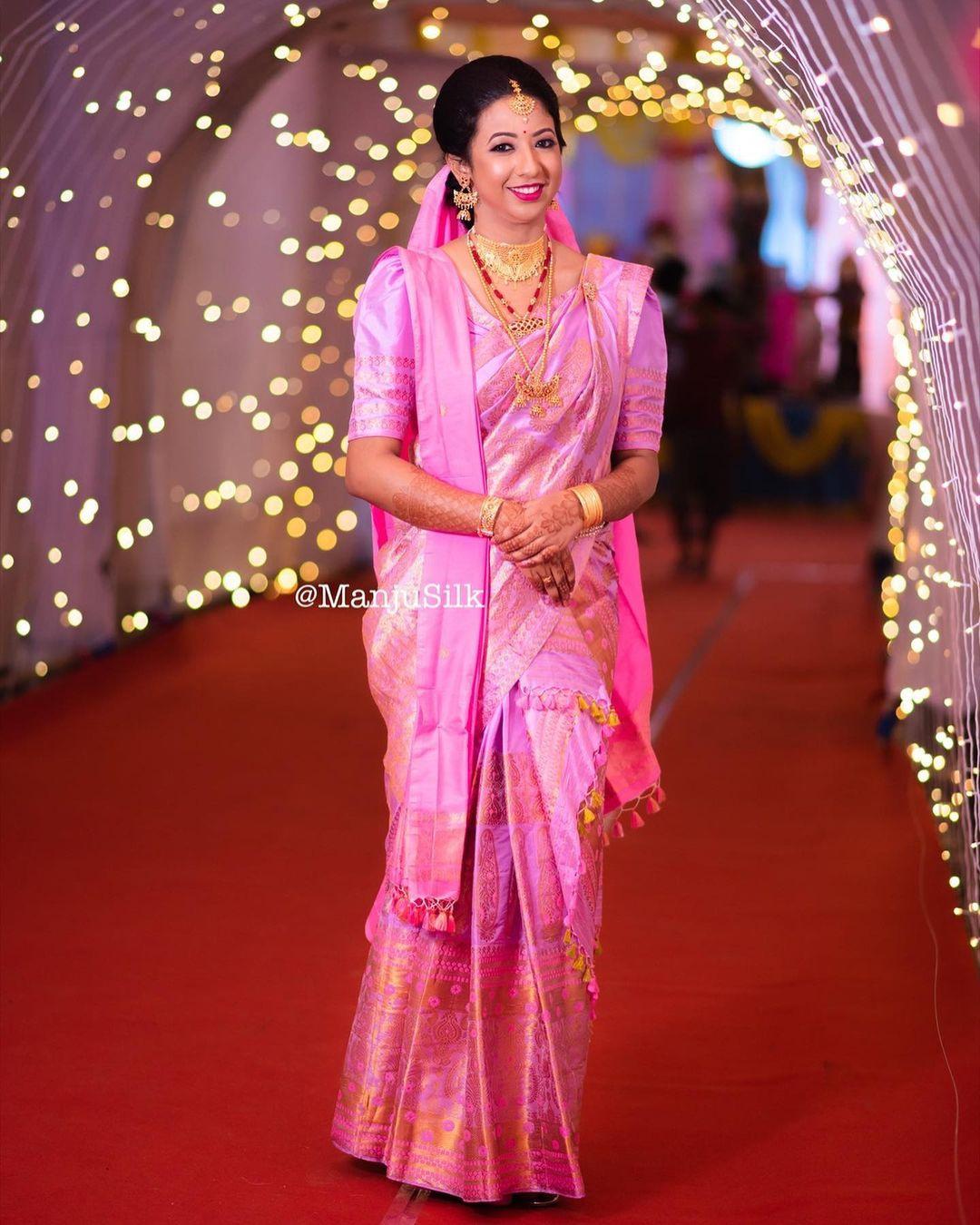 Pink Mekhela chadars are a popular trend among the brides of today and how! The colour not only becomes the blush of the bride-to-be but also be perfect for the trendy bridesmaids of today. This pure mulberry silk Mekhela Sador with intricate meenakari will shine even brighter if you pair it with gold bangles and golden Rani Haar.
Purple & Cream Mekhela Chadar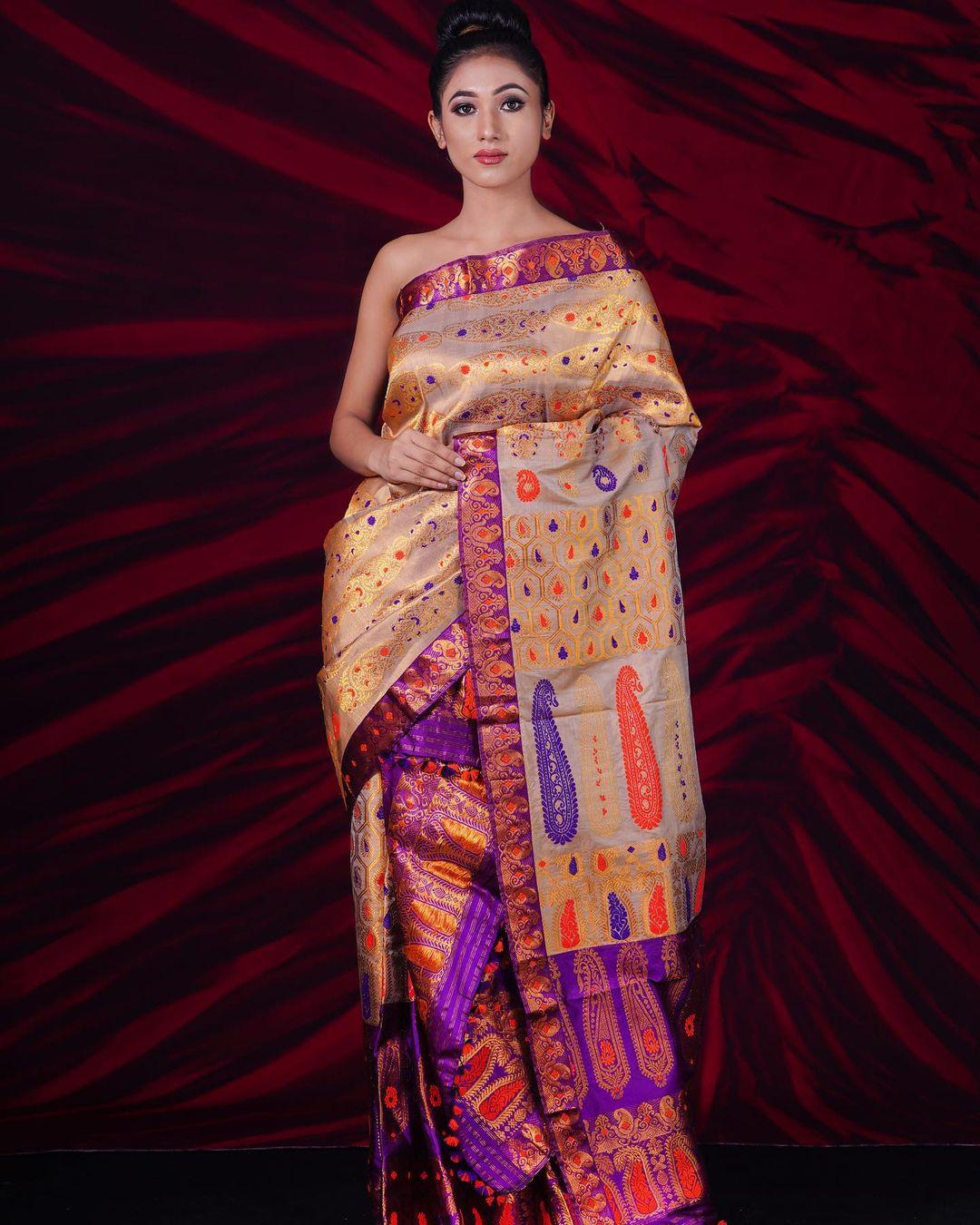 Nothing can beat the beauty and elegance that a silk saree brings to your whole look for any occasion. The cream colour and purple combination on the silk is a hoot! The intricate paisley patterns in alternative colours on the delicate fabric makes this Mekhela chadar design a catch. Pair it with a choker necklace and heavy earrings to bring out the best of this outfit.
Magenta Handwoven Mekhela Chadar Design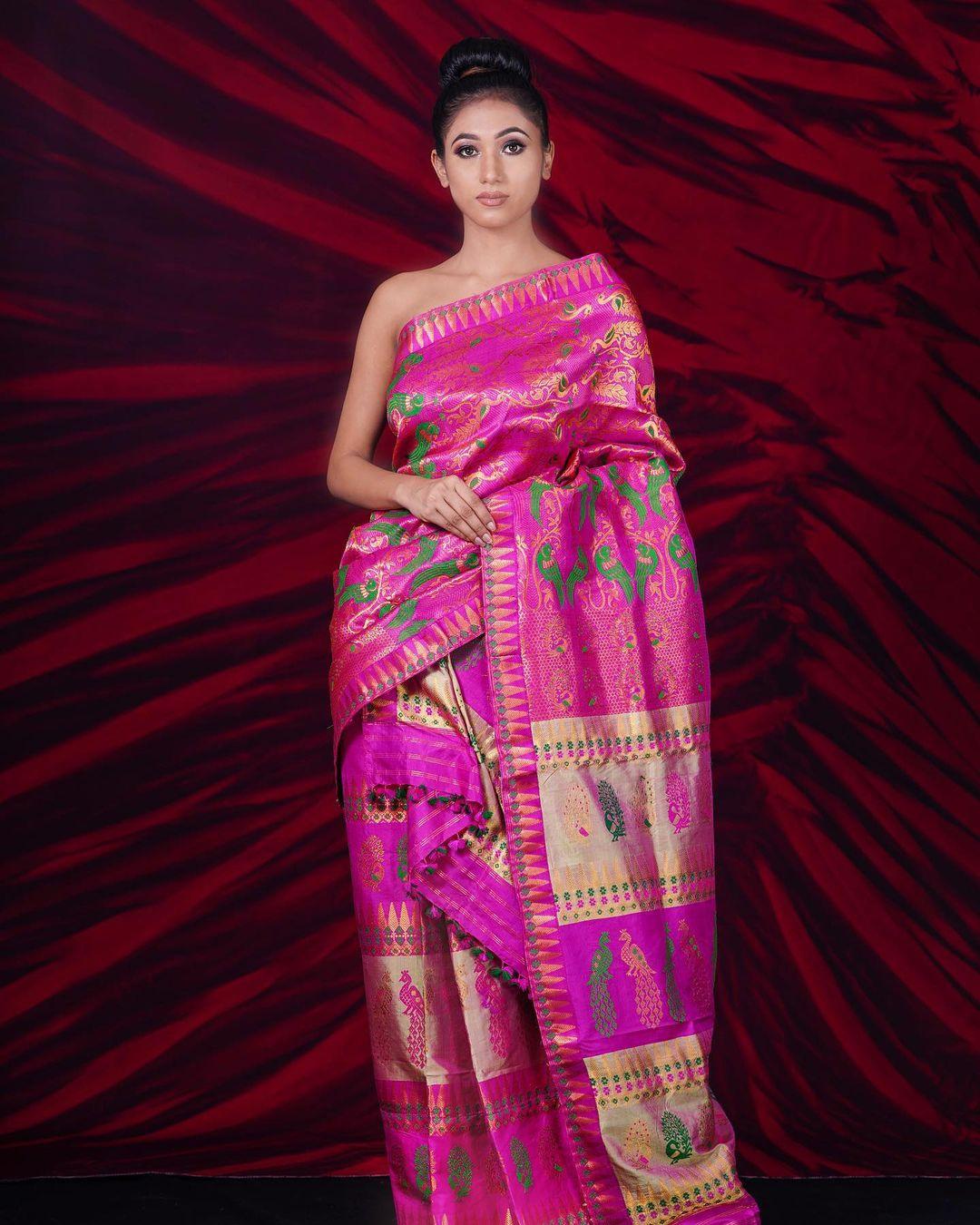 A royal handcrafted parable of the traditions, this gorgeous Mekhela chadar design fuses eclectic motifs on the authentic Assamese silk to give an unmatchable statement look. If you are the Assamese bride, flaunt it as your Reception outfit or maybe wear it for your first Bihu celebrations.
Crimson Mekhela Chadar Design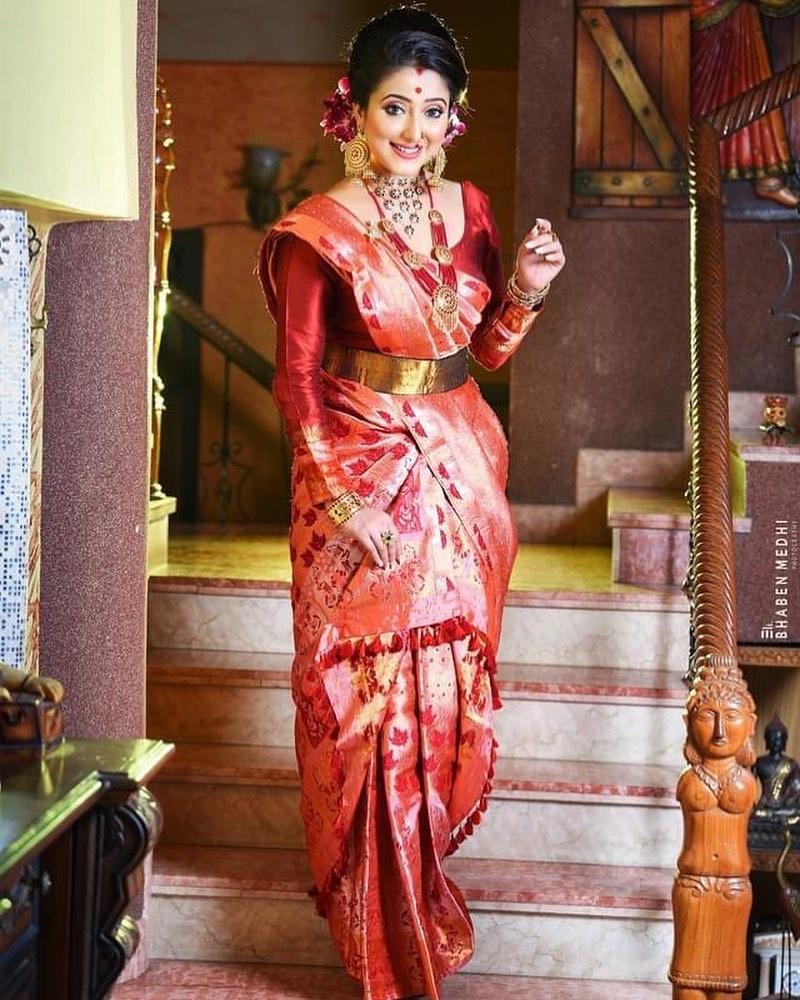 Red is a gorgeous bridal colour. This red Mekhela Chadar has been designed by none other than ace designer Sanjukta Dutta. Balancing the amalgamation of traditions and prints of different origins into one unique customised piece of garment, in the Assamese silk Mekhla Chador. Pair it with traditional gold jewellery set and maybe even a beautiful Kamarbandh with your hair in a bun to ace the look like a pro.
Muga & Blue Mekhela Chadar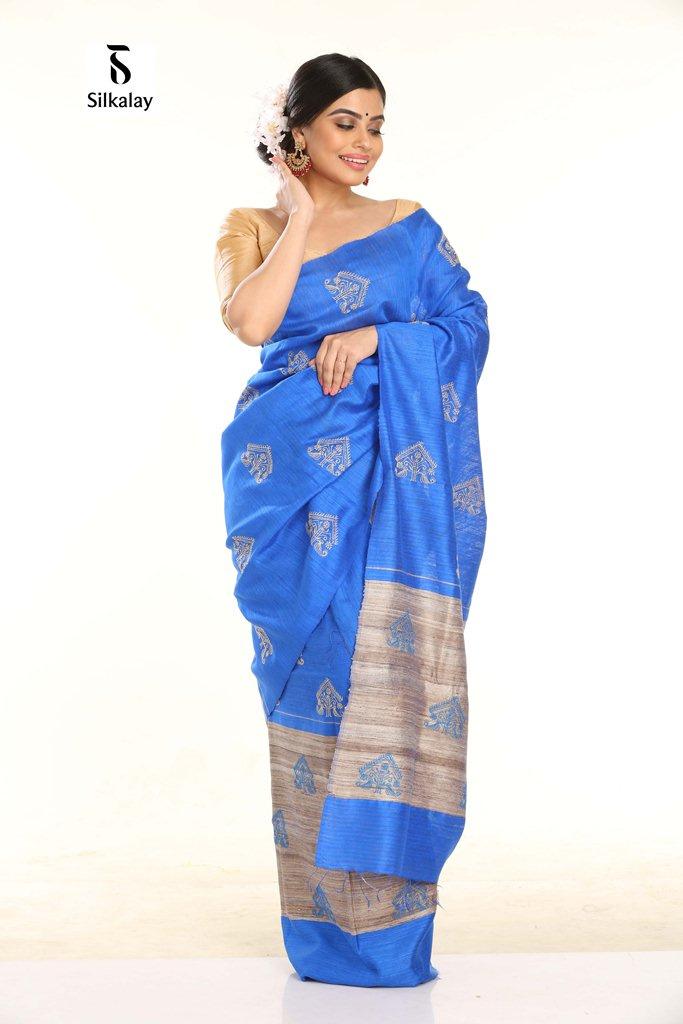 Image Courtesy: Silkalay
Made out of Ghicha silk, this blue Mekhela chaddar from Silkalay flaunts a tranquil embroidery throughout using blue suta or Resham flower and traditional motifs. A floral Gajra in your bun hairstyle and some beautiful jhumkas will complete the look to the T.
Mekhela Chadars are a prized possession for almost every Assamese woman. The grace and charm of a Mekhela and chador are sure to add to your beauty. You can get your hands on an ideal Mekhela chador online or get in touch with ace designers who can help you get one.
Did you pick your favourite one yet? Let us know your favourite Mekhela chadar design here on the comments below.