6 Beautiful Manipuri Dress Ideas That Showcase the Magnificence of a Manipuri Bride
Each region has its own charm and fascinating dresses for its wedding. The unique and beautiful kinds of Manipuri dress that you can choose from just proves the point further.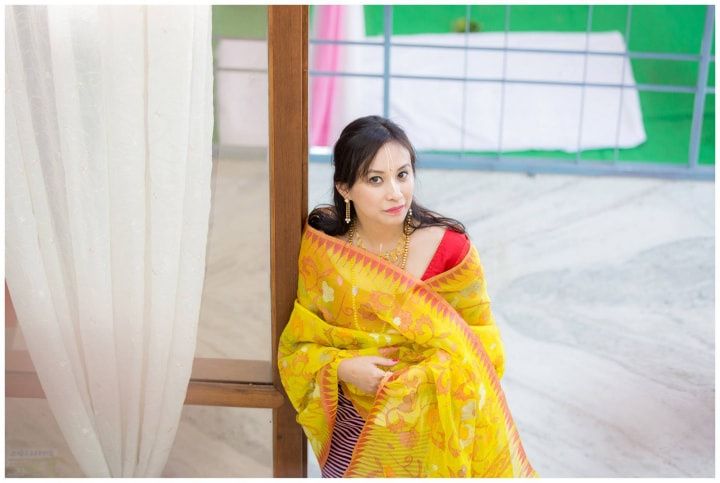 Every place you go to and the visit has its own culture and speciality that will stand out. Each place has its individual charm and traditions that are ingrained in the culture, and these differences are what makes these cultures all the more beautiful. Similarly, each region has its own unique attire, which people don during their marriage functions. Manipuri dress for their wedding functions is no different. You can choose from some distinct dresses that you might wear for your wedding. Each Manipuri dress is unlike the other in the sense of looks, accessories, or even based on a different religion. So look carefully at what all you can wear for a Manipuri wedding.
1. Potloi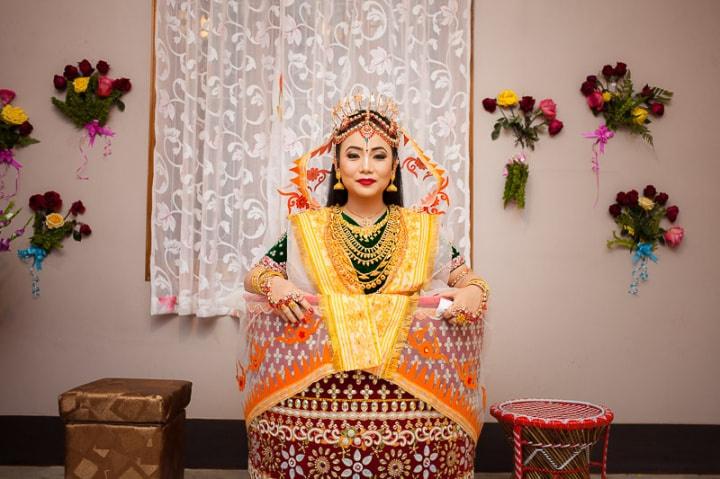 If you want to get up in a fully traditional outfit as a Hindu bride, then Potloi should be your first choice. As traditional Manipuri dress goes, there is nothing more festive and striking than a Potloi. This cylindrical skirt can be seen in colours green, pink, but mostly red. It also has bold traditional motifs and is decorated with geometrical figures done in sequins, studs and decorative stones. The Potloi skirt is matched with blouse made in rich fabrics and Innaphi. The whole combination of a Potloi is a unique look and makes the bride look incomparable to the others.
2. Innaphi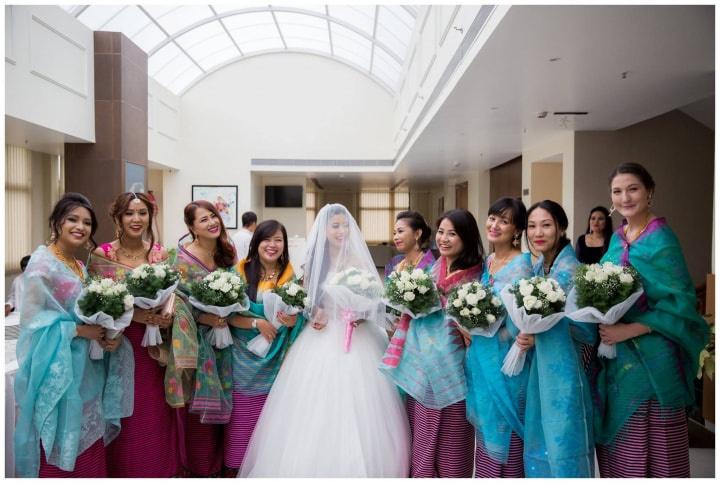 Not a complete Manipuri dress, but an Innaphi is so particularly Manipuri that it had to be added. This cloth is used to wrap your upper body. It could be called a Manipuri shawl. Unlike most traditional clothes, this shawl is done in soft pastel colours rather than bold colours and is semi-transparent. This makes the shawl look even more elegant and gives the wearer a poised look. Though nowadays the people have started to get Innaphi done in the colours they want, it still holds to be an important garment in your wedding trousseau. It is also often paired with Potloi, so it can be also a part of your wedding dress.
3. Phanek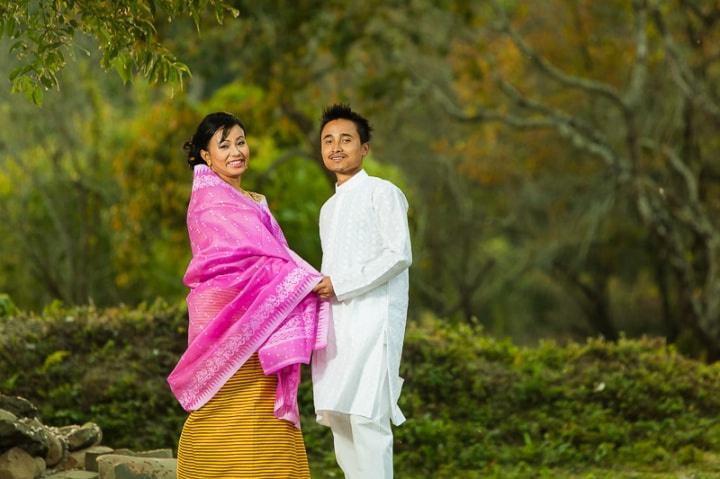 Phanek is a Sarong like a wrap-around skirt that is worn by women, though it is not like the regular Sarongs. It is hand woven using cotton silk and other fabrics. You would find them block printed in either flat colours or with stripes. It is worn with a blouse and an upper cloth and could be known as an equivalent to a northern saree. Since Phaneks are used like skirts they are not semi-transparent. These come in various colours, making them as diversified as sarees. These can be worn at other smaller function of the Manipuri wedding, or even a pre-wedding photoshoot, if you want to go for something traditional.
4. Mayek Naibi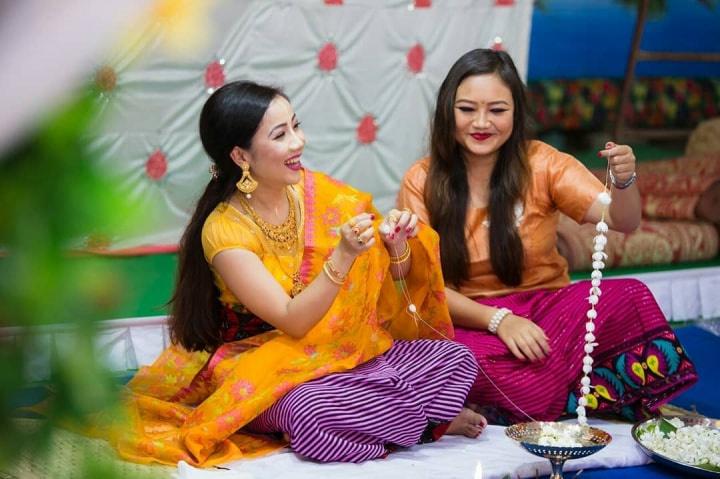 Want to wear something a little fancier than your average Phanek? Then you should go for Mayek Naibi. These are a variant of Phanek, but are supposed to worn on special days or for traditional functions. Though very similar to Phanek this Manipuri dress actually is a bit more lavish in the sense that the bottom portion of Mayek Naibi is either heavily embroidered or embellished with studs. These give a more rich and ethnic look, as they come in mostly traditional colours, unlike your usual Phanek. These can be worn as a wedding dress also or could be just carried out for the small functions.
5. Lai Phi And Chin Phi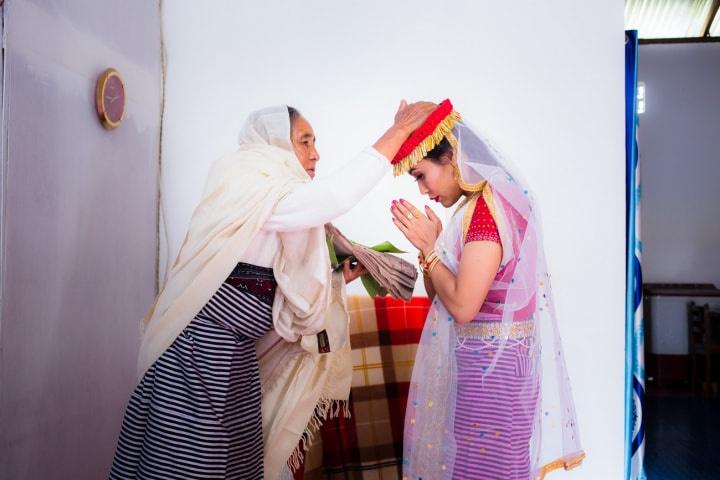 These are another variant of Phanek in Manipuri dress. Lai phi is a striking white cloth bordered with yellow and chin phi is a blouse paired with a delicately embroidered Phanek. These can also be worn on the wedding days or could be also worn for other functions, like Leilenga.
6. Gown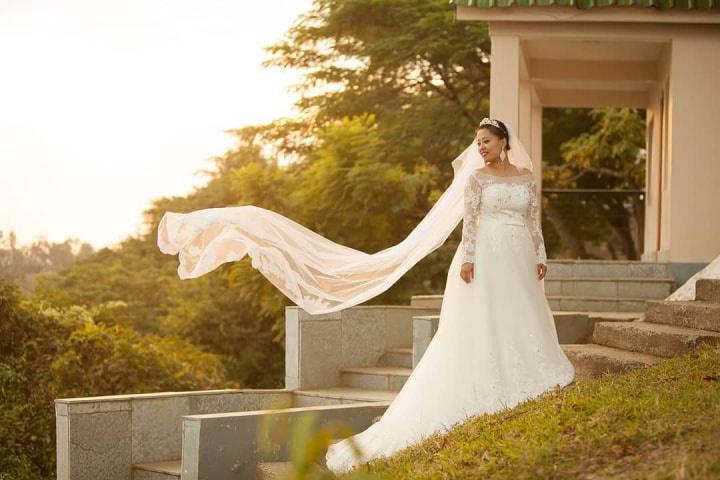 Now if you are a Christian getting married, then the Manipuri dress that you would, of course, want to wear is a gown. The amazing thing about a gown is that it can be any cut you want. If you want something sober or if you want something risqué, it can be anything you want it to be. Though people nowadays do opt for other colours, like ivory or off-white, the pristine white colour is still the hot favourite of them all. For Christian brides, gown might be the only choice, but the amount of different designs one can get never makes it feel repeated.
There are a number of choices that Manipuri brides have for their wedding. Not just for the main function but even for the smaller functions after and before the main wedding function. As traditional dresses go, Manipuri dresses have a charm of their own which cannot be denied by anyone.
Go pick your wedding dress without any delay and let us know which one you finally zeroed down on.