This Couple Planned Their Wedding in the Groom's Holiday-home in 10 Days
Shreya & Dhrumill decided to tie the knot in an intimate ceremony in Dhrumill's holiday home with 20 people. Read to know more about their beautiful wedding story.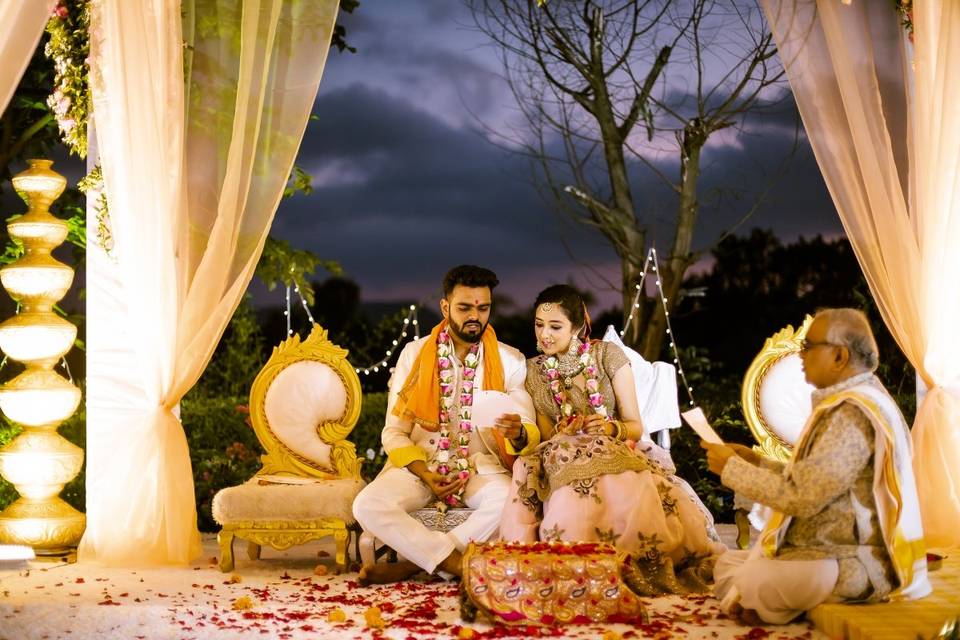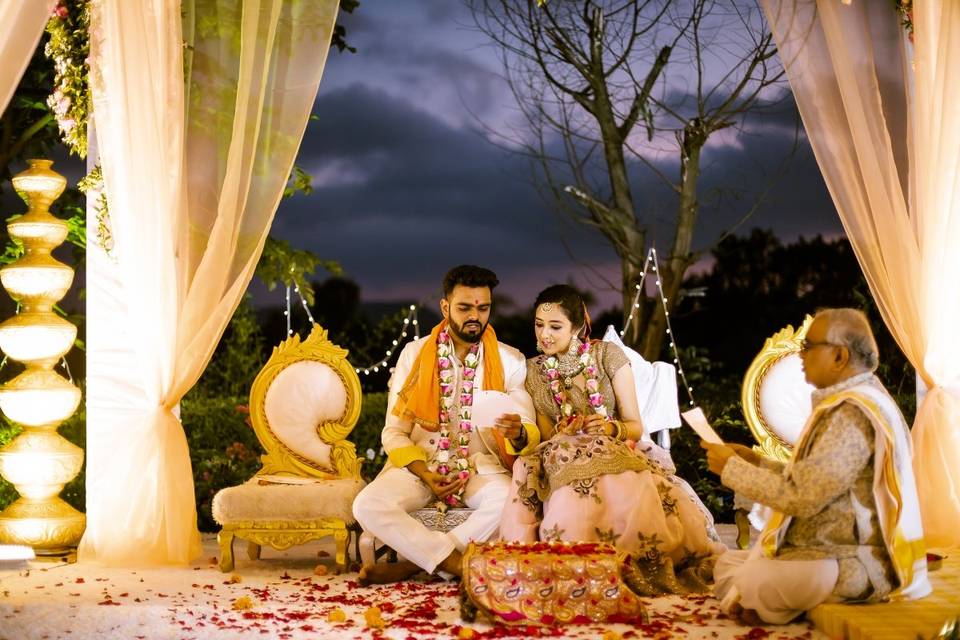 Many to-be-wed couples have been caught in the dilemma of picking a date. For most couples who had their wedding planned in the early months of 2020, the plans stand postponed. From Save the Dates to Change the Dates, from a big fat Indian wedding to downsizing the guestlist to less than 50 - it has been quite the journey that these couples have made along with their families. The idea was to wait for a better time which was anticipated to come soon. However, with the unfurling of rather uncertain circumstances, couples have decided to take the plunge amidst the lockdown.
Weddings in the Times of Corona has become more popular amidst the pandemic with more and more couples tying the knot in an intimate wedding ceremony. From beautiful DIY decor using dupattas and bangles, floral decorations for intimate weddings to flaunting an heirloom piece - intimate weddings have been all the more mesmerising.
We bring to you the story of one such real couple - Shreya and Dhrumill, who tied the knot in the times of Corona in a breathtaking intimate ceremony. If you are looking for a silver lining for some inspiration, this is a must-read.
When Shreya Met Dhrumil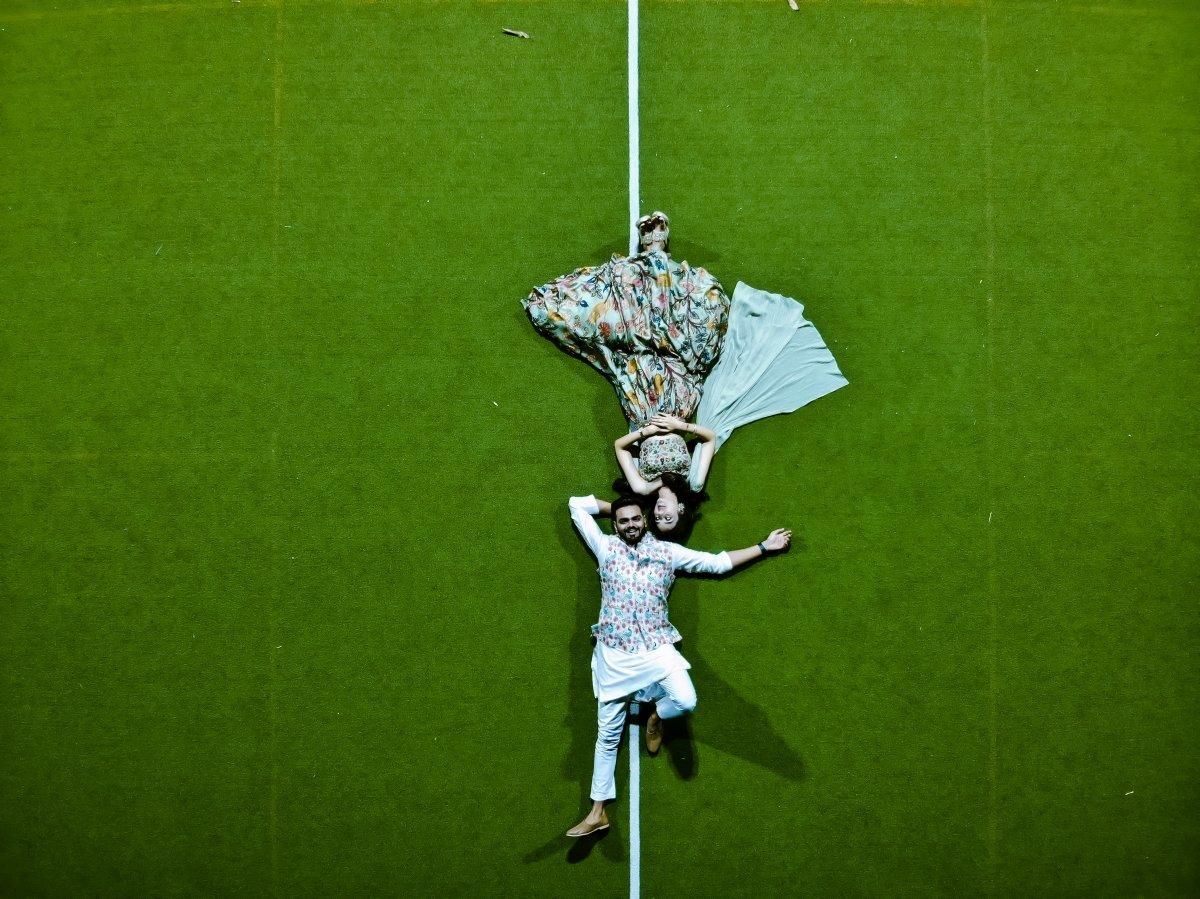 The story of Jab Shreya Met Dhrumill will make you believe in destiny. Shreya tells us, "Originally we met in an arranged marriage set up by our parents in 2016. Even though we went our separate ways after that, we bumped into each other at a common friend's wedding and destiny reignited the sparks and then a fairy tale romance followed. So technically, it was a four-year journey with ups and downs and us parting ways and destiny getting us together. We finally got engaged on the 2nd of January 2020."
Their U-Turn to an Intimate Wedding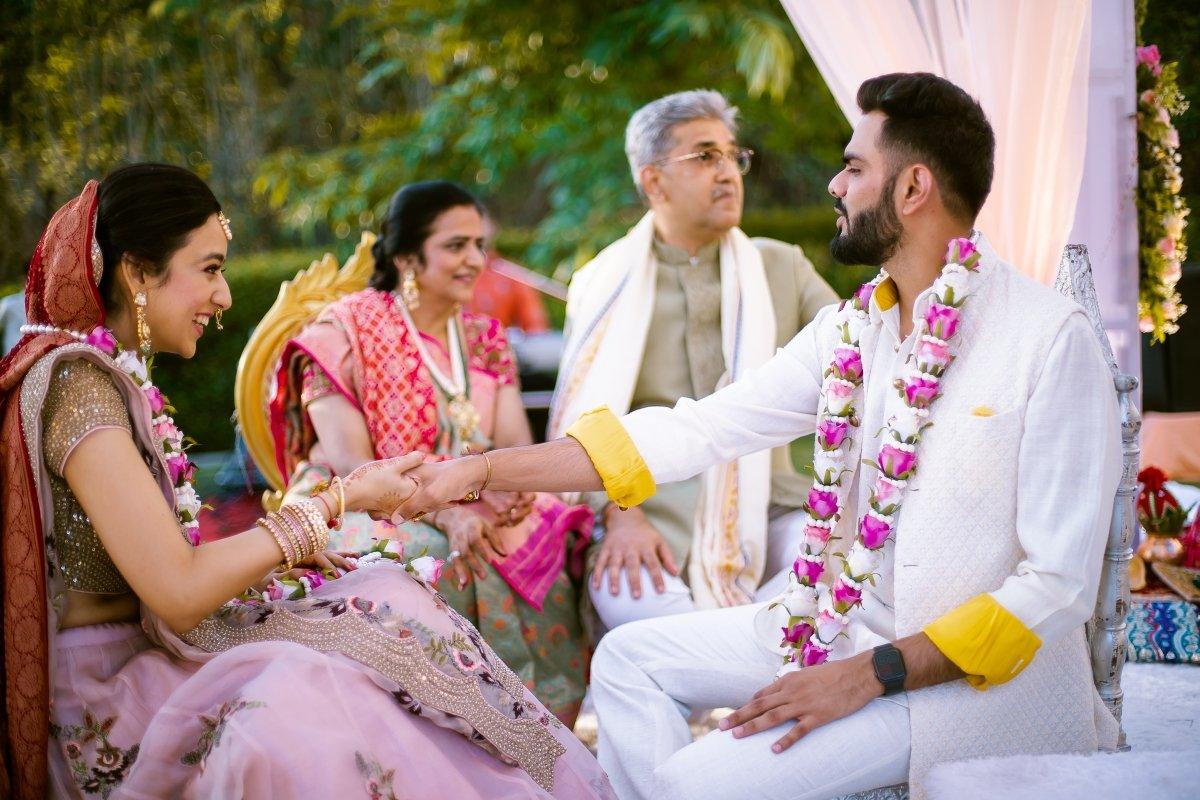 The original date decided for their wedding was the 10th of May, 2020. Shreya gives us more insight, "With the onset of the pandemic, keeping everyone's safety in mind, we sent out the Unsave the Dates and planned to postpone our wedding celebrations to the latter part of the year. However, by the mid of May, we realised that the situation is not going to change much and we didn't want to wait till December/January. We wanted to start the new chapter of our lives together ASAP and only in May because it was in May 2016 that we met for the first time."
She continues, "We planned this wedding in less than 10 days. We took the plunge to get married on the 28th May as it was an auspicious day. I think it is times of crisis that make us cling to the people we love."
The Venue & Guest List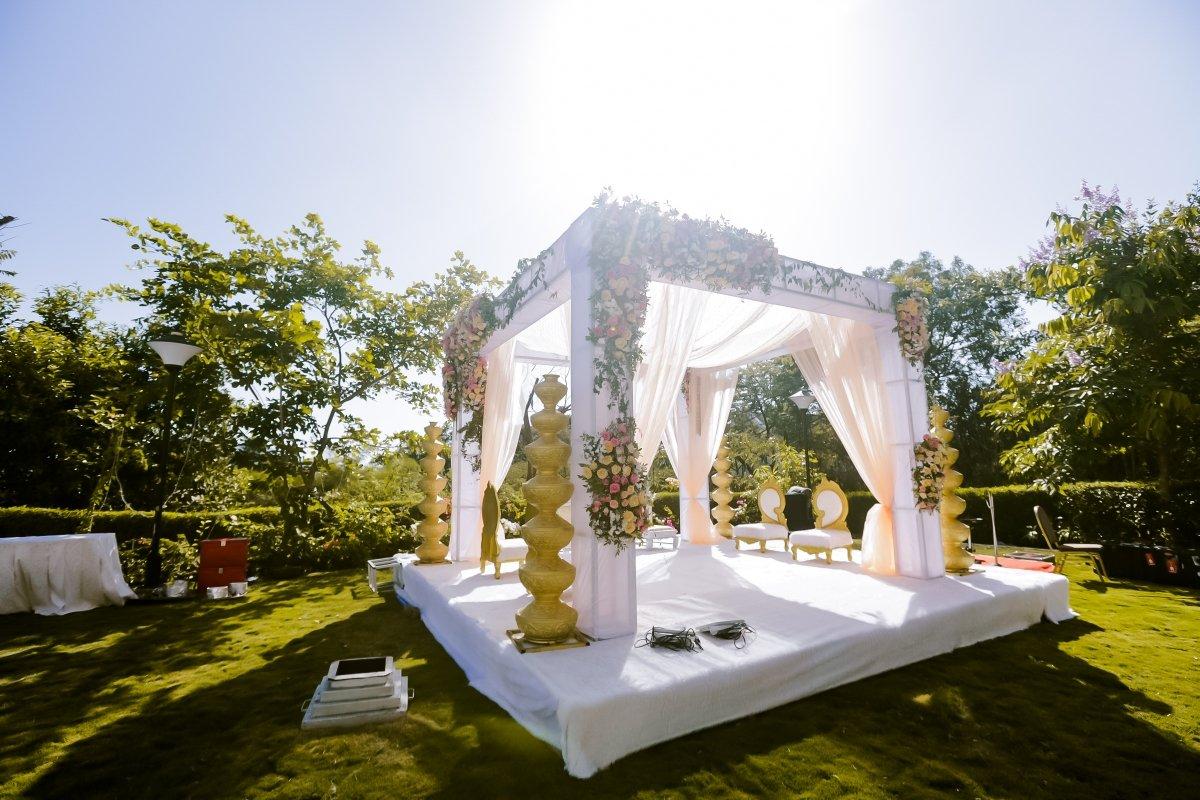 Shreya tells us more about the entire shift in her wedding plans, "The original venue picked for our wedding was The Hyatt Regency. Since that took a backseat, we had to plan it a little differently. Dhrumill and his family had shifted to their holiday home in the outskirts since the 1st lockdown. So we decided to get married at his holiday home with only 6 of my family members travelling along with me to attend the wedding. I along with my family took government permissions for the wedding and travel. In fact, we also took the photographer, makeup artist, wedding pundit and the singer from Mumbai along with us."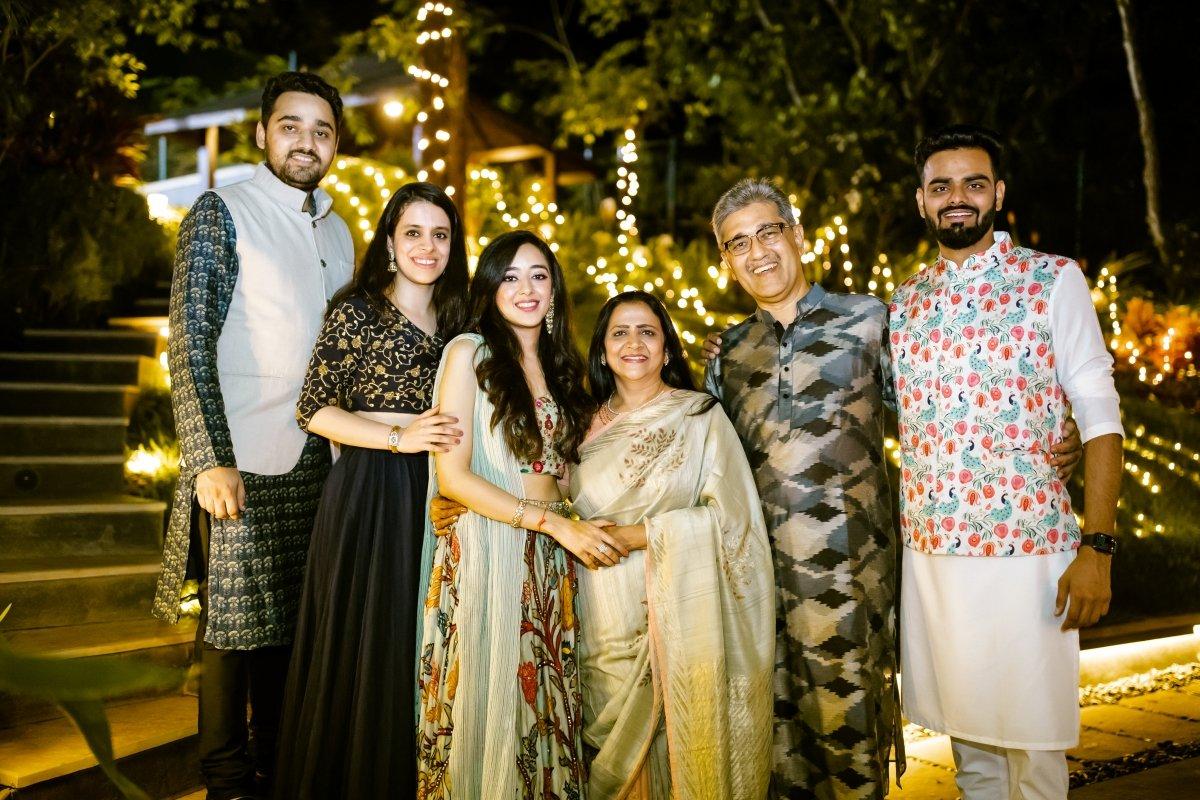 Downsizing the wedding guest list to 20 people one must have been a little heartbreaking. But Shreya says, "Given the times, hosting a virtual wedding with only our immediate family present with us, was the most practical approach. We had over 100 people joining our celebrations. The camera was set up in an angle where all our relatives, friends and well-wishers could take part in our happiness through their screens. Considering they weren't present in person, it was overwhelming and super emotional with me crying a bit here and there.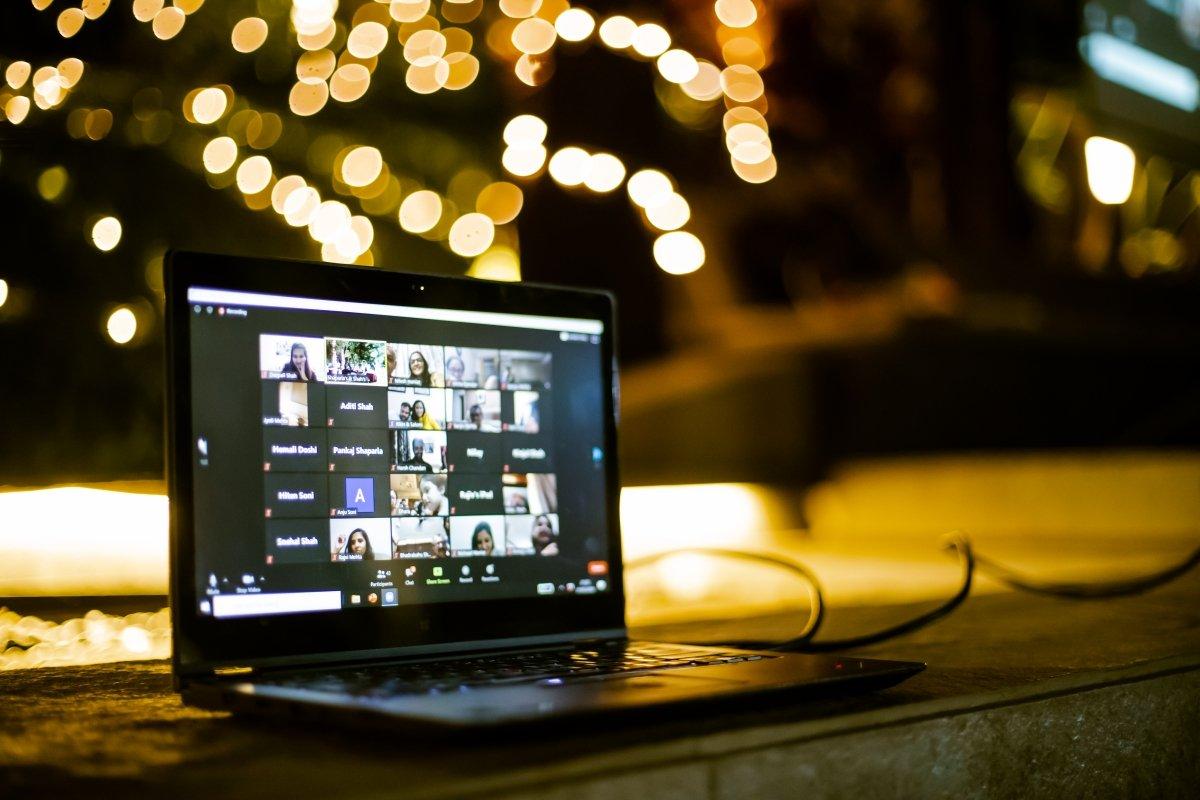 "Our friends and family were all dressed up on the calls. Some of them even sent us photos standing next to the screen for our wedding reception album and some were seen dancing on the screen on our sangeet night. Zoom definitely set a new standard for how elaborate and amazing a virtual wedding can be", Shreya adds.
The Team Who Made Her Perfect Wedding A Reality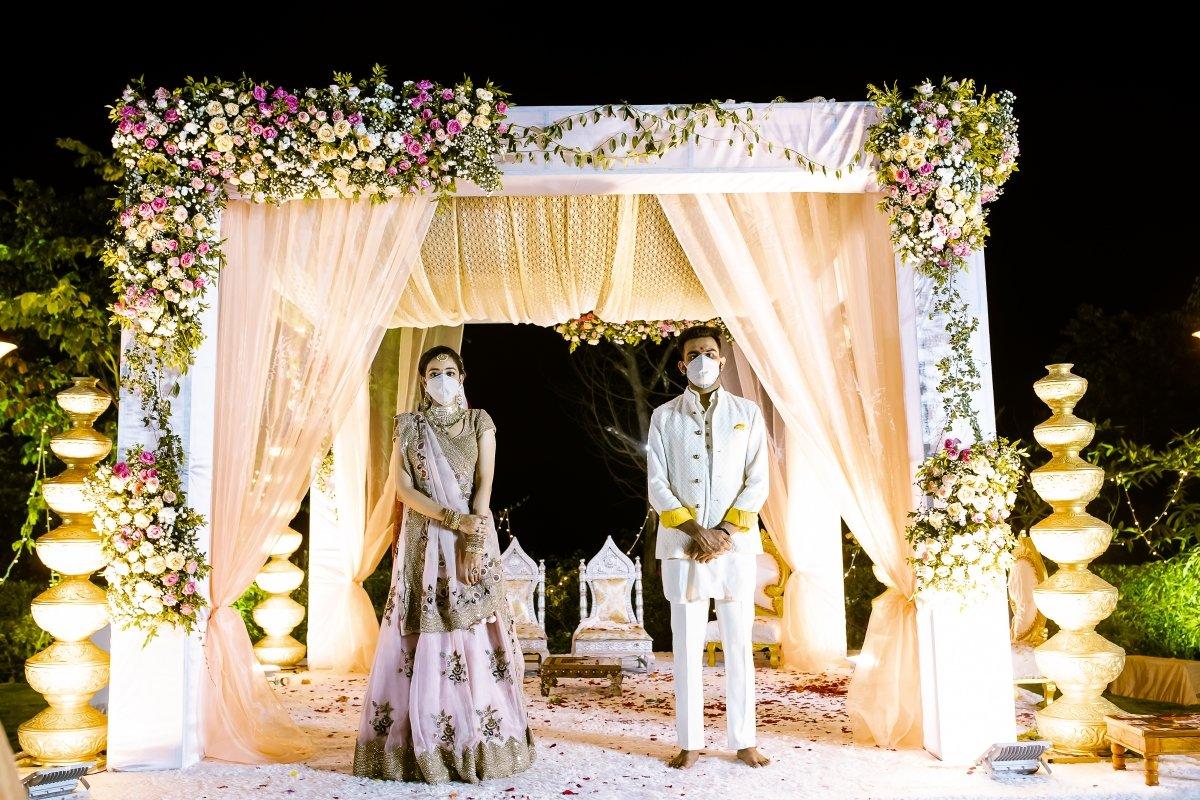 To make the next to impossible dreams come true, you will definitely need a team of superheroes. Shreya tells us about her team of superheroes, "So we finally ended up getting married at Dhrumill's holiday home. We had hired The Crimson Circle to plan our wedding and in less than 10 days, they helped me put together my dream wedding. We planned the wedding in less than 10 days with the help of The Crimson Circle - my wedding planners. All the preparations and decisions were made on WhatsApp and over phone calls since meeting physically seemed risky! The biggest challenge that we faced was the logistics of the decor team and other artists involved. Getting them to enter the society where we held the ceremony was a hassle. Another challenge was the terrible network issue at the venue which was concerning since we wanted to live stream the entire wedding and celebrate with our families back at home, which eventually worked out perfect."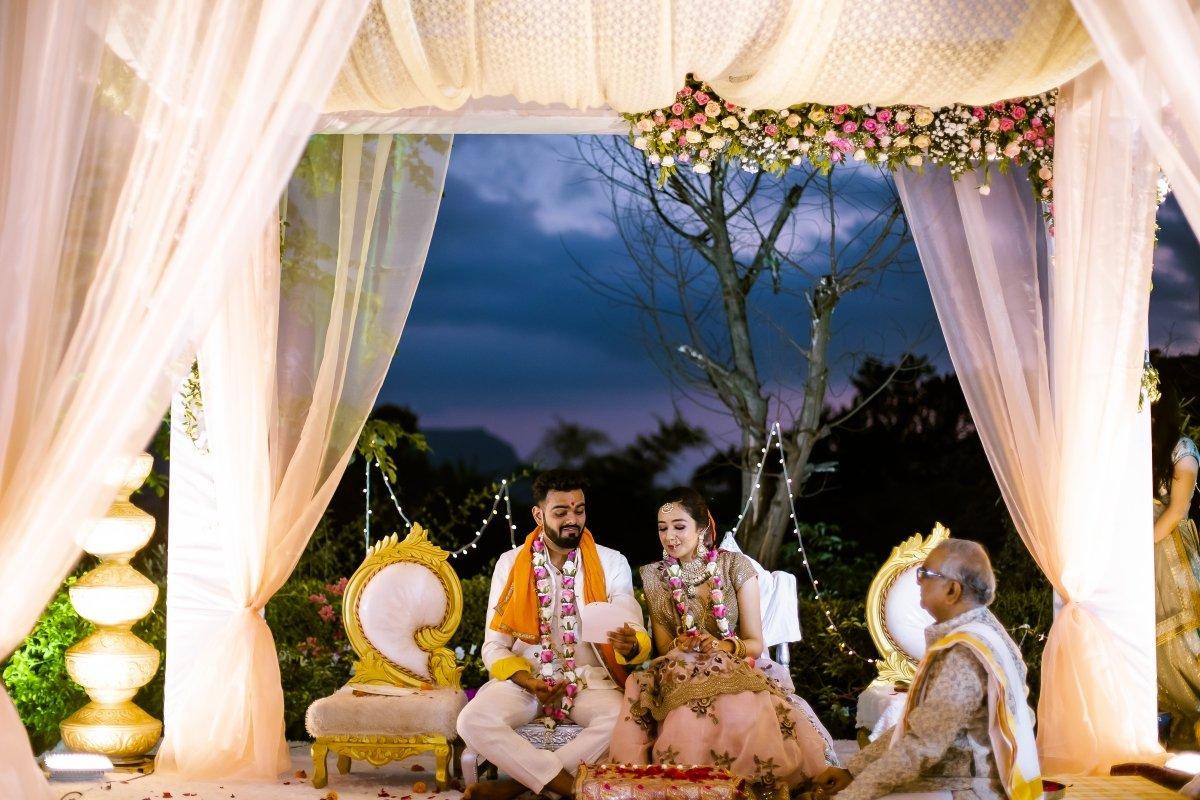 She further adds, "For decor, we always believed in less is more and simplicity as beautiful a concept. Even though we were in a lockdown with limited resources, our blush and pastel-toned wedding mandap turned out to be extremely beautiful and elegant. The cherry on the cake was the sunset and sky changing colours from light blue to purple to dark blue-black. Couldn't have asked for a better backdrop!"
Outfits Straight Out of The Closet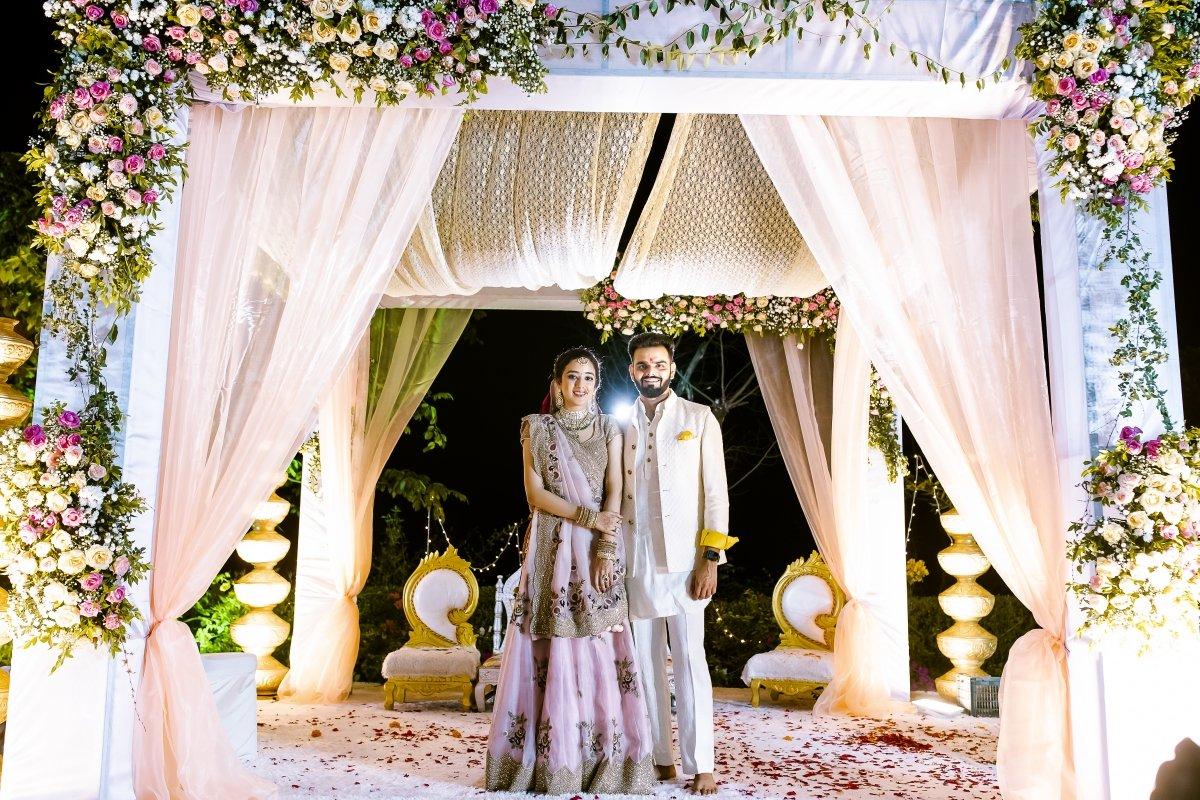 Shreya tells WeddingWire India, "The original wedding outfits that Dhrumill and I picked, were yet to come. So we ended up wearing what we had at home. All the outfits that I wore were from my trousseau shopping. Done earlier this year. My outfit was by Bharti's."
The Celebrations in Lockdown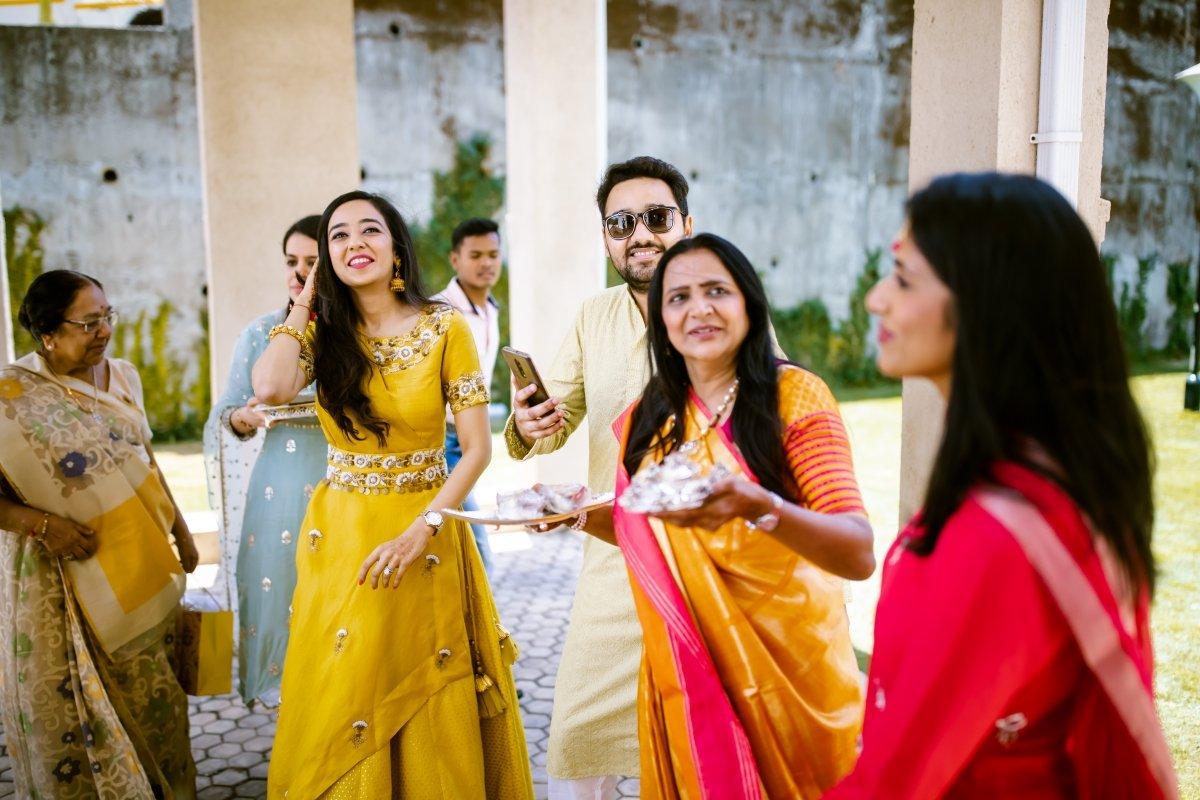 Shreya tells us how the length of the guest list did not determine the fun and frolic of the celebrations. She says, "Just because our people were on the screen and not right next to us, it doesn't mean you cut out the drink, dance and drama. This lockdown wedding got nothing on us in terms of celebrations and ceremonies. Even with just 16 people, we didn't compromise on our functions. We had a Lagan Lakhwanu function, Sangeet, Haldi, Mandap Mahurat and everything that makes a wedding a royal affair."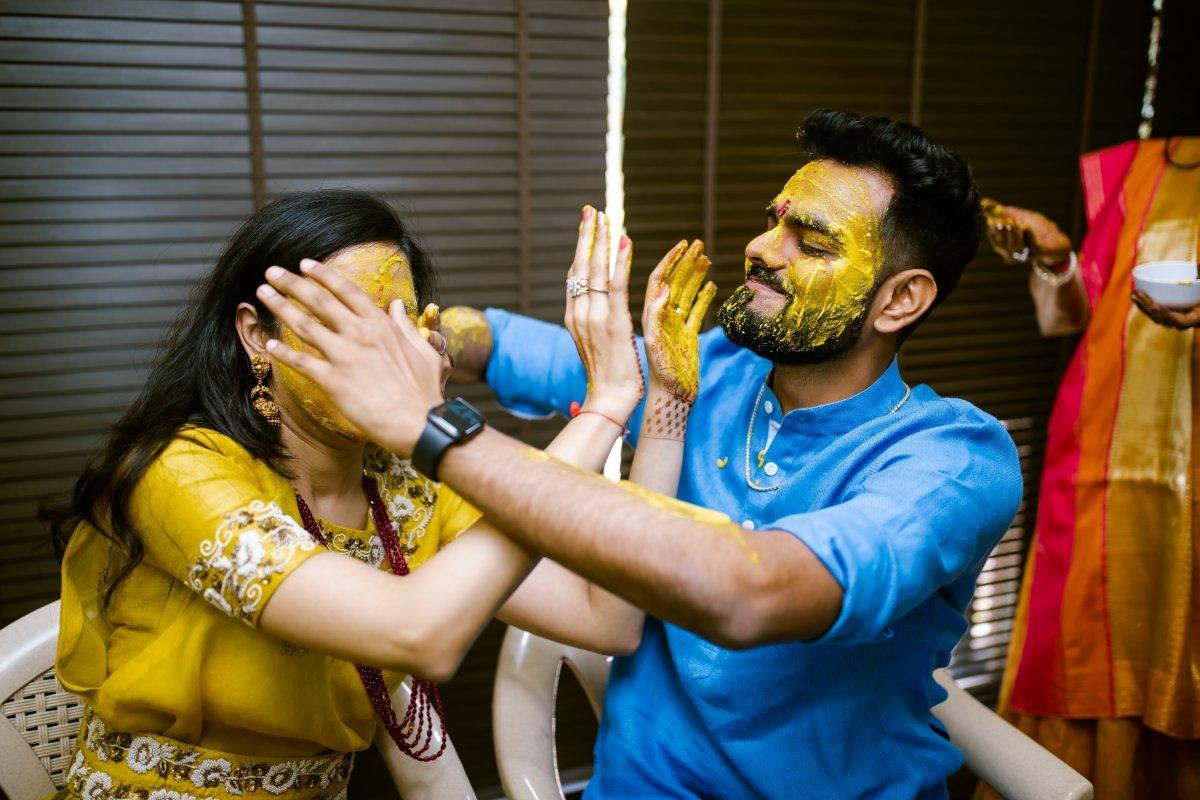 For the Haldi ceremony, Shreya tells us, "My friends from all parts of the world, including Dubai and the US, shot a video of applying Haldi virtually. The last friend pretended to pass on the bowl to my bhabhi, who was present for my wedding and she applied the haldi to me in person."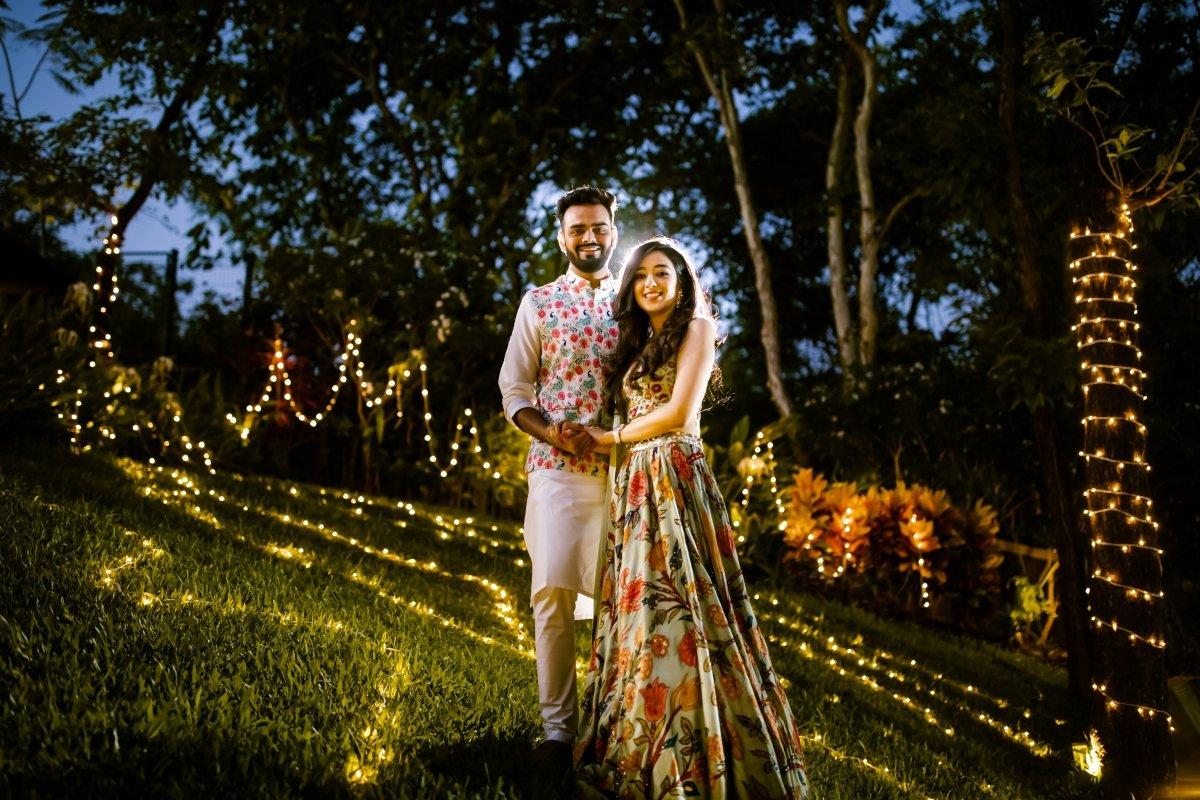 The Sangeet night was equally fun. Shreya adds, "On the sangeet night, we had a live singer and my cousins did a fun performance on Zoom as a surprise."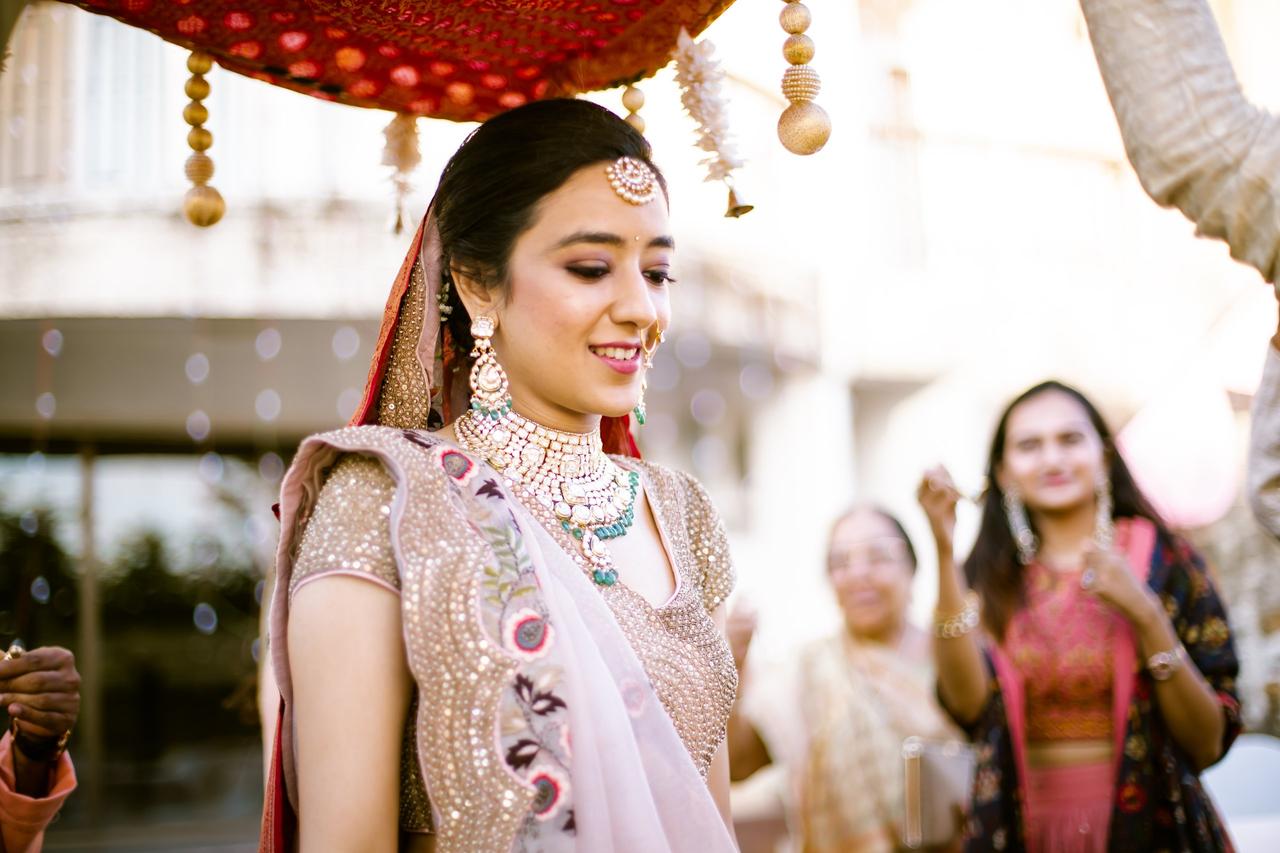 For the wedding, she tells, "We sent out Mithai hampers along with a tiny brass bell to all the near and dear ones along with an invitation to the Virtual Wedding to make them feel like they are actually present there with us! The dupatta, which was held above my head at the venue, also had the same bells. So, it all felt so synchronised as if we were even closer then. It felt like everyone was right there. At the venue and on Zoom my guests were ringing the bells instead of showering flowers every time we took a phera. This made me and my guests feel a part of the wedding. I had relatives and friends properly dressed in traditional outfits all through."
On being asked if they have any plans to host bigger celebrations later, she tells us, "Yes definitely, we will be hosting a cocktail and reception once times get better. Meanwhile, we sent across around 300-350 hampers to all the wedding invitees. We are super grateful to Dimensions Gifting Solutions for curating the perfect hamper."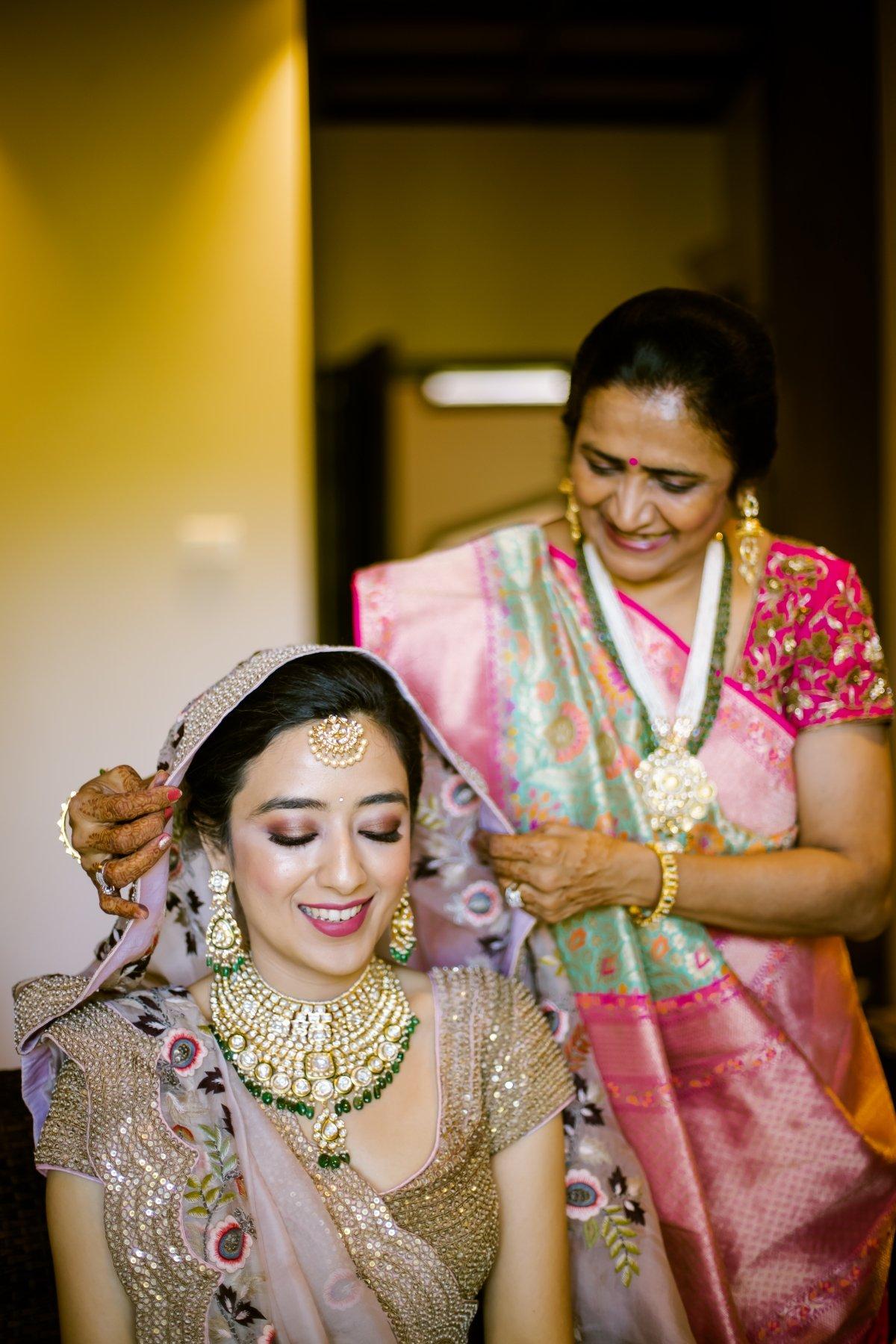 In the end, she tells us how she felt when her big fat Indian wedding plans turned into a 16-people intimate wedding. She says, "We had to make a few tough decisions and make a few sacrifices to get where we are today. From the venue to the caterer to the lehenga/sherwani a lot of unusual decisions were taken, but the hardest was to get married without our family and friends being present. But then the feeling of an intimate wedding is unreal, there are no segregations like the bride's side or groom's side - it's all one small family making the most of all the ceremonies and rituals. Maybe that's why this wedding will always live in our hearts and minds and a story to tell."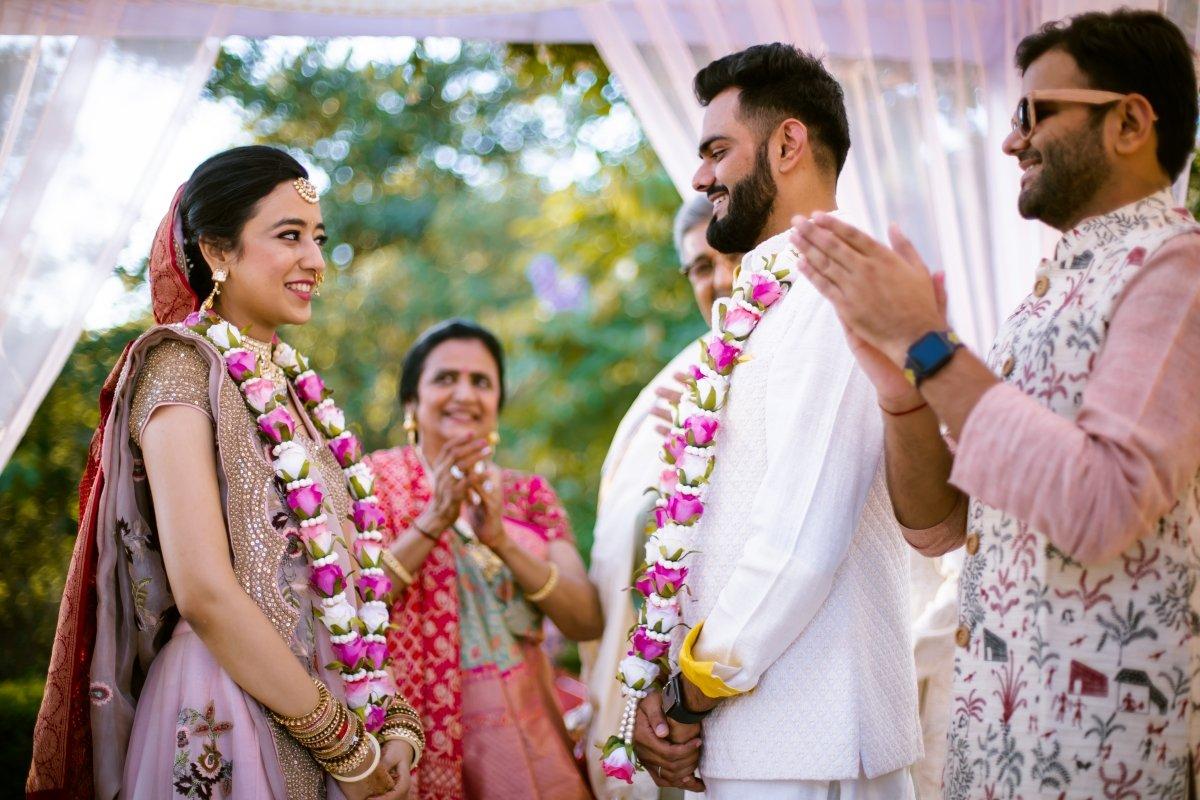 She further tells us about her take on intimate weddings. "From having a big fat wedding and being completely against a small wedding to getting married with only 16 people around, Dhrumill and I personally feel it couldn't have gotten better. It's amazing how I enjoyed every function with people who mattered the most. Everyone had a different kind of involvement, which made the ceremonies even more intimate and warm. I wasn't worried or conscious because it was such a small setting. I don't think I would have enjoyed it as much, had I thrown a big wedding", Shreya tells us.
Many millennial brides have chosen to host an intimate wedding ceremony even before the pandemic started making an intimate wedding look trendy. The warmth of your loved ones has a different feel in an intimate wedding. The formalities are left outside the door and the candidness of the emotions that flow in is just priceless.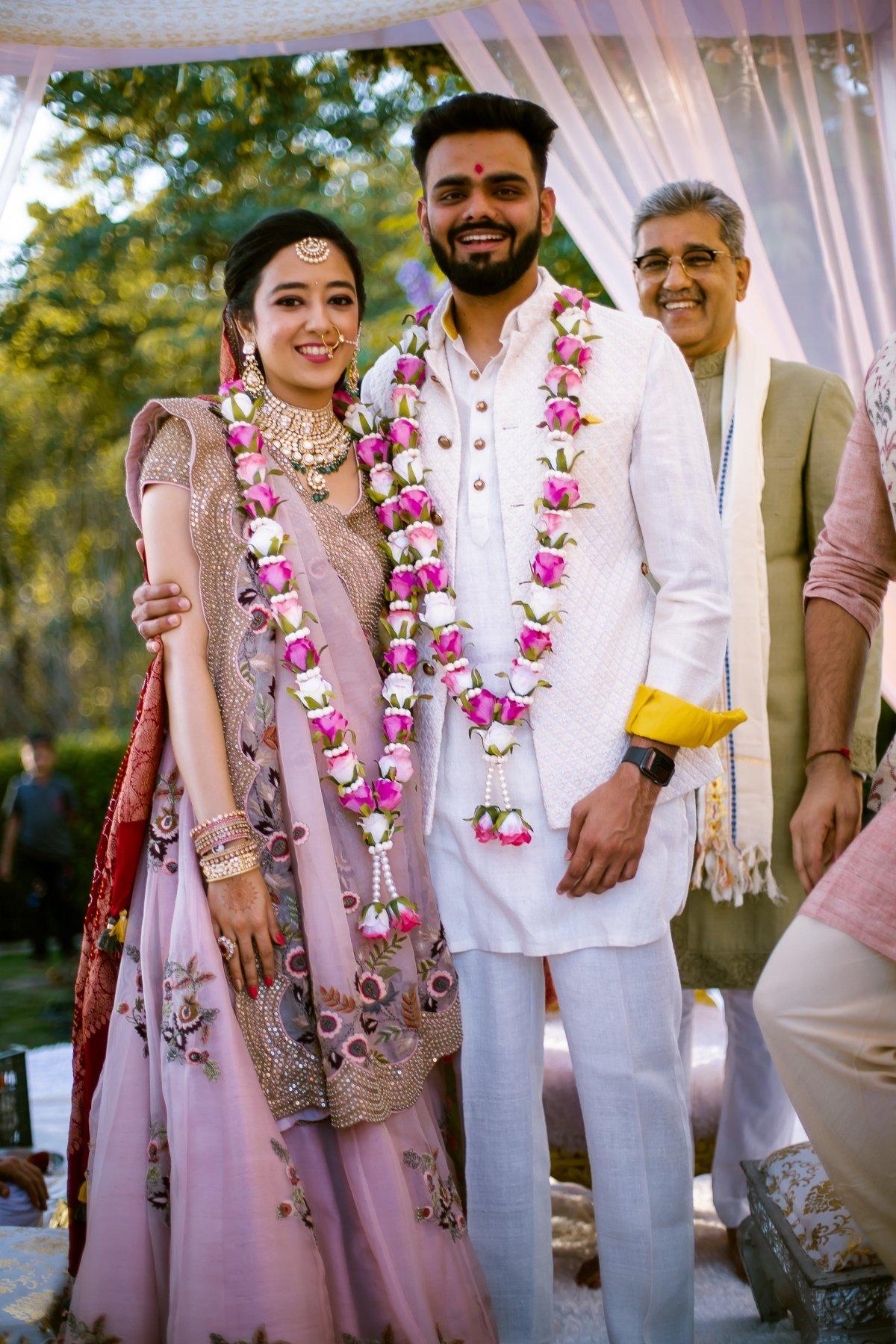 We have seen many couples fall in love with an intimate wedding ceremony after they took a 180-degree flip from their big fat weddings. The photographers are planning their lockdown wedding shoots in accordance with the need of the hour. The experts are also here to help you plan an intimate wedding flawlessly. You can also check out some wardrobe inspirations for intimate weddings to look stunning!
Note: All images have been provided by The Photo Diary.
If you are caught between postponing your wedding or hosting it now, take a look at how the experts are navigating post-COVID19 weddings to make an informed decision.