A Detailed Report on the Impact of COVID-19 on Relationships
The recent survey by The Knot Worldwide X Lasting reveals the impact of COVID-19 and the sudden lockdown on couples and their relationships.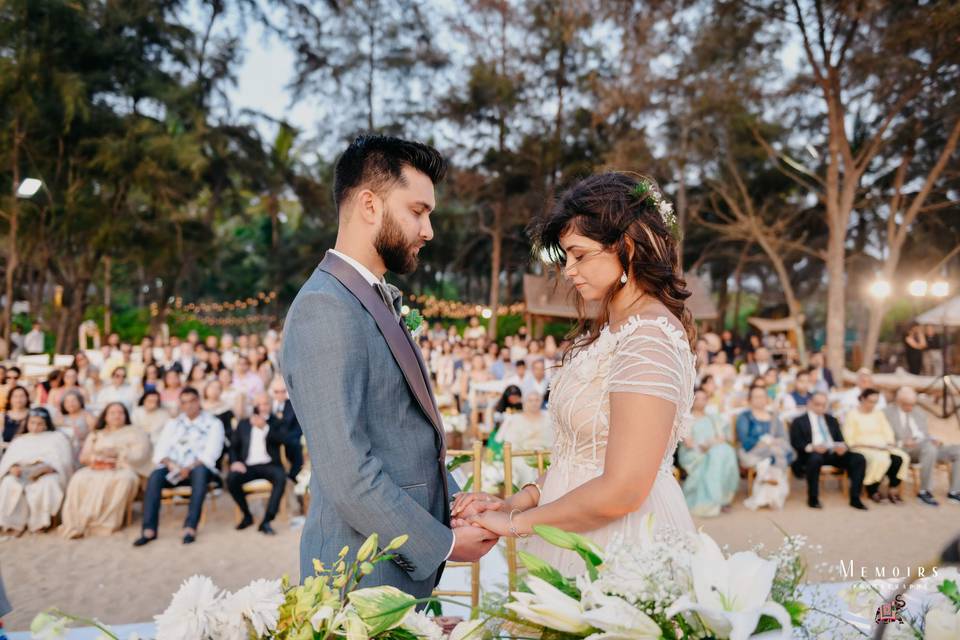 When the wave of coronavirus drowned most parts of the world in ambiguity, we shut the doors of our homes, leaving the uncertain virus lurking outside. Couples were held up at their homes together, or far apart without the possibility of seeing each other for months. In these challenging times, The Knot Worldwide X Lasting carried out a survey and put together a State of Relationships Report to zero in on the challenges that couples are going through and help them with best possible solutions.
While the downsides of this lockdown are known to all, there were little things that we identified as silver linings. The bedrooms that were left empty for 9-10 hours a day, were suddenly abuzz with giggles, long conversations, the cacophony of phones' ringing, Netflix movies, zoom call meetings and friendly banters and so much more. Did the sudden change in the system enable couples to invest more time on each other and their relationship? Scroll down to find out.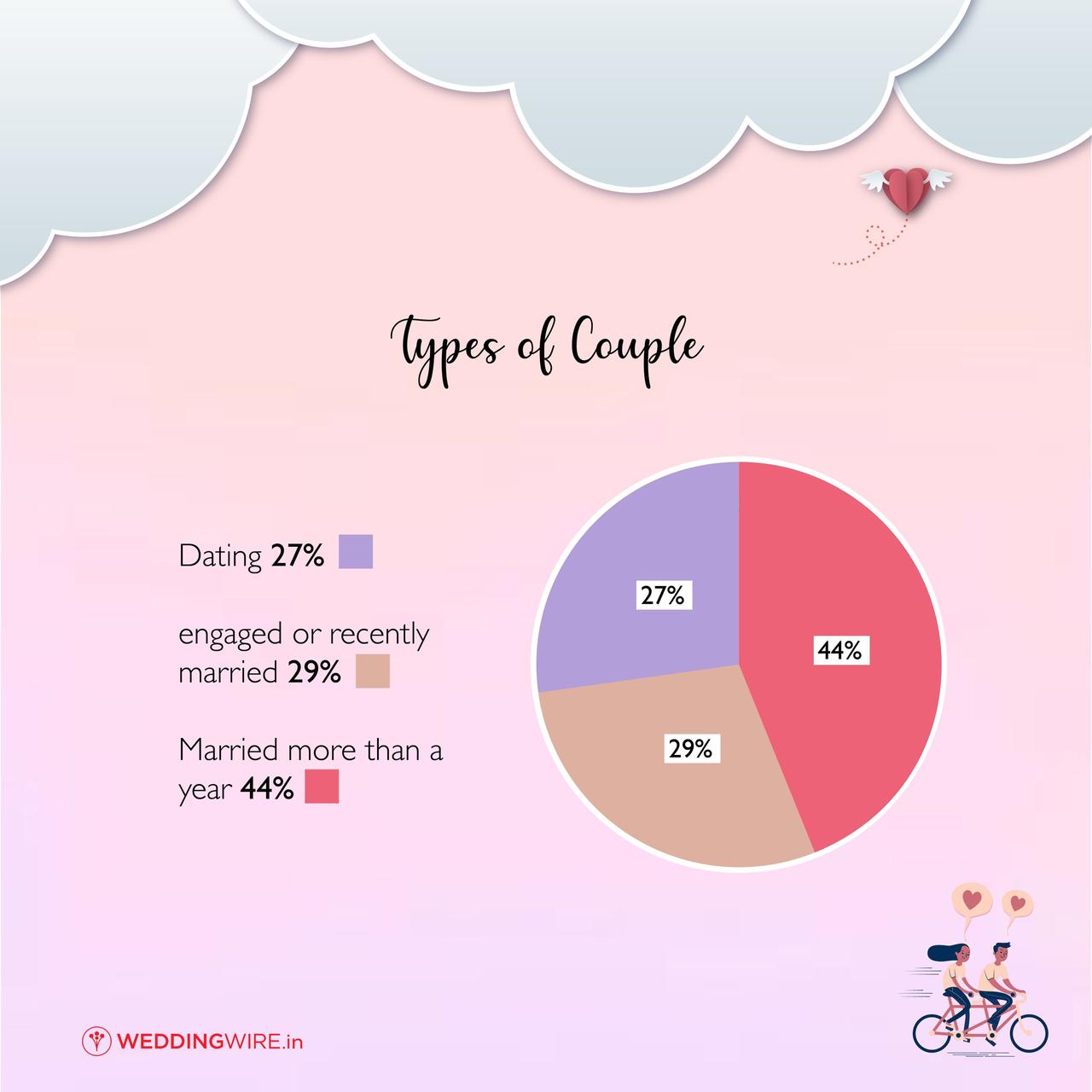 More than 400 couples responded to our survey, 27% of them are currently dating, 29% tied the knot recently, and 44% have been married for more than a year.
Are Couples Living Together During COVID?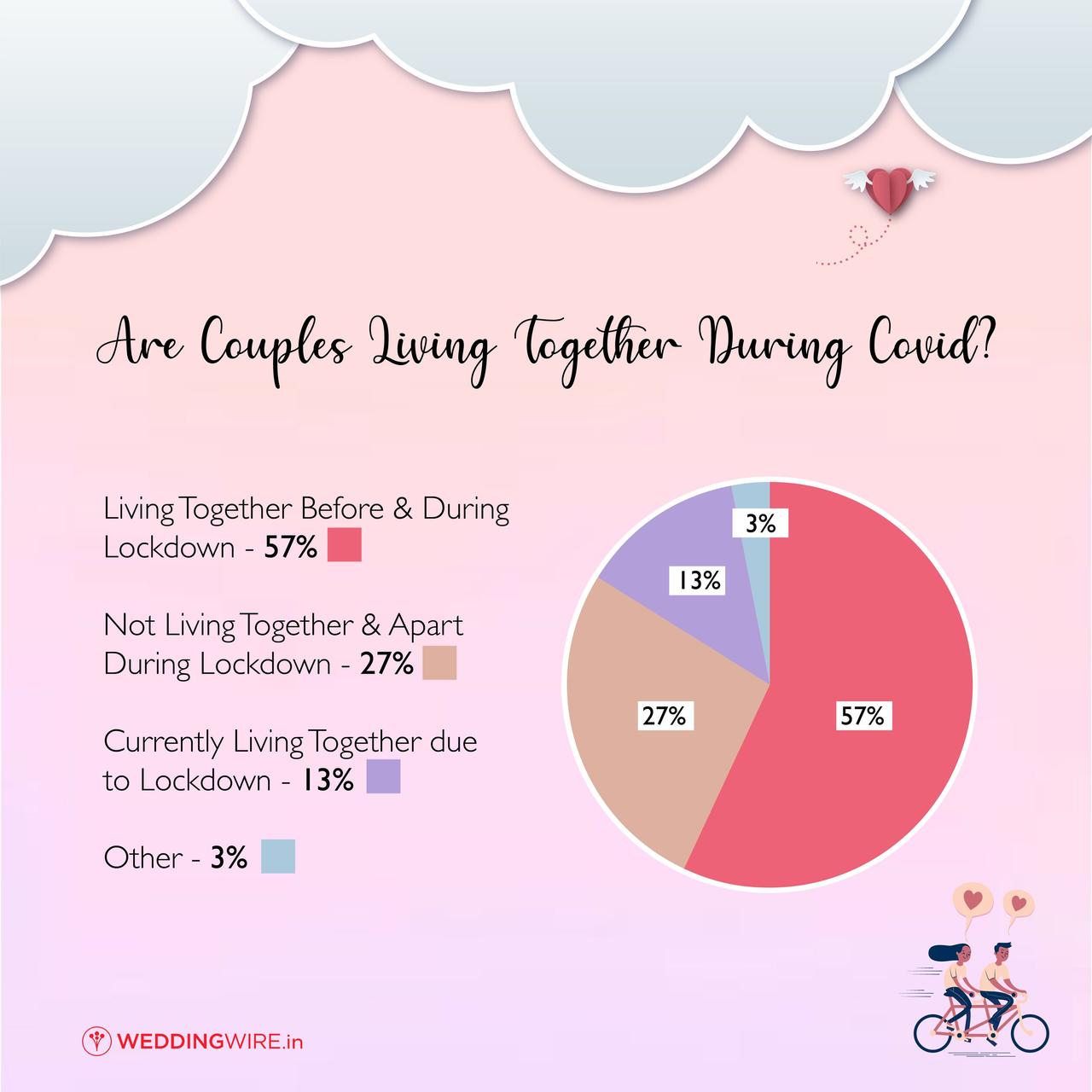 While 57% of these couples were already living together before Corona dawned on us, 13% chose to move to a partner's house during the lockdown to stay close through the pandemic. They say you reach out to your closest confidante at your toughest phase. There is no doubt that this pandemic has dragged us to an uncertain ground and apart from the huge impact it has had on the economy, many lives are swinging on the edge. Partners who chose to move in together to survive this phase chose each other to walk the rope of these unprecedented times and definitely made their relationship a "24 hours together" thing.
Are Most Couples Working from Home?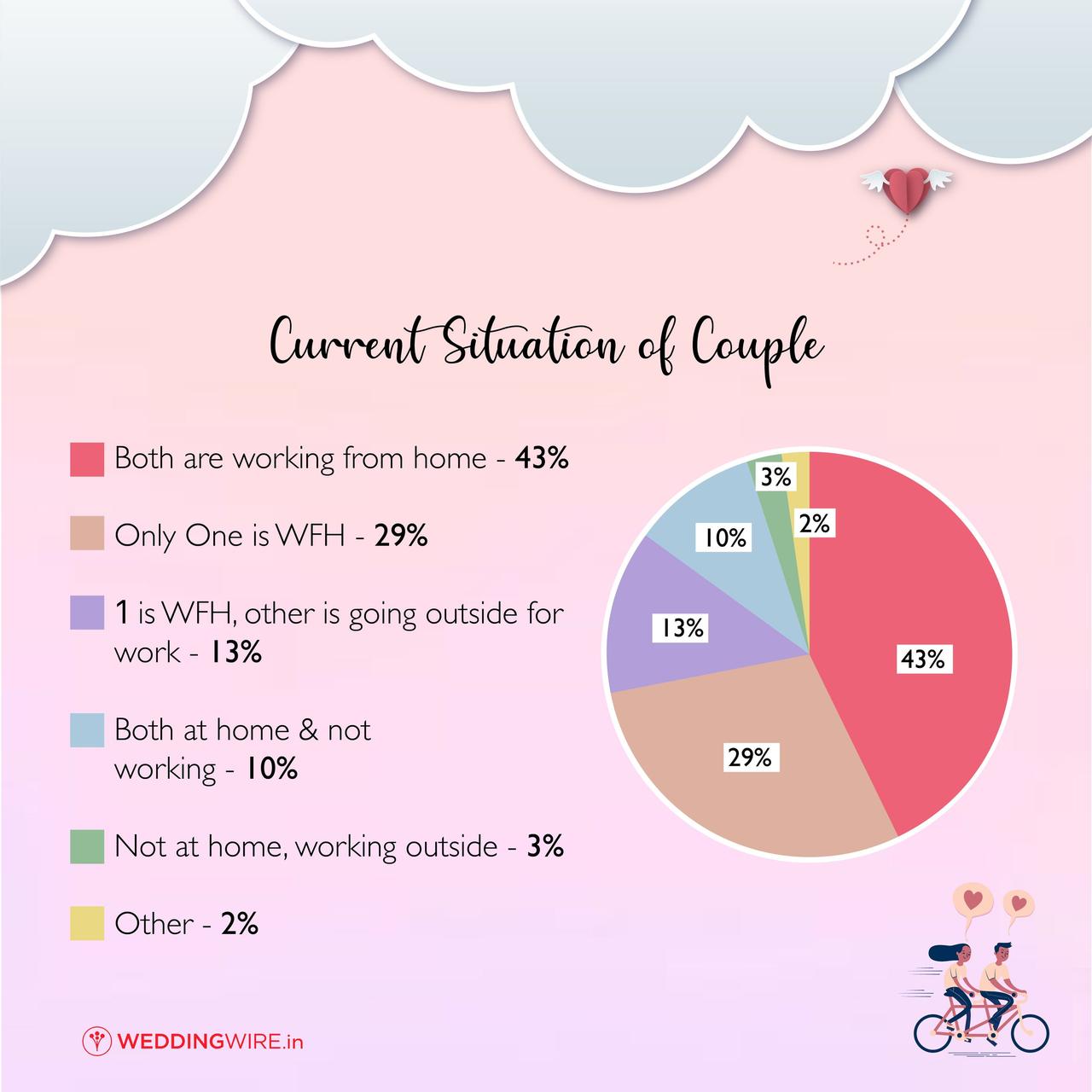 43% of the couples who have participated in The Knot X Lasting's survey are both working from home during the lockdown. 10% of them are currently not working from home and have ample time to know each other better and boost their relationship. In an exclusive interview, Television Actors Ishita Dutta and Vatsal Sheth recently shared that they are investing their energies on their passions during the lockdown phase. Cooking together, watching the blockbuster hits on Netflix, planning simple dates at home, are all fun activities that can bring couples closer to each other.
Are Couples Spending More Time Together Now?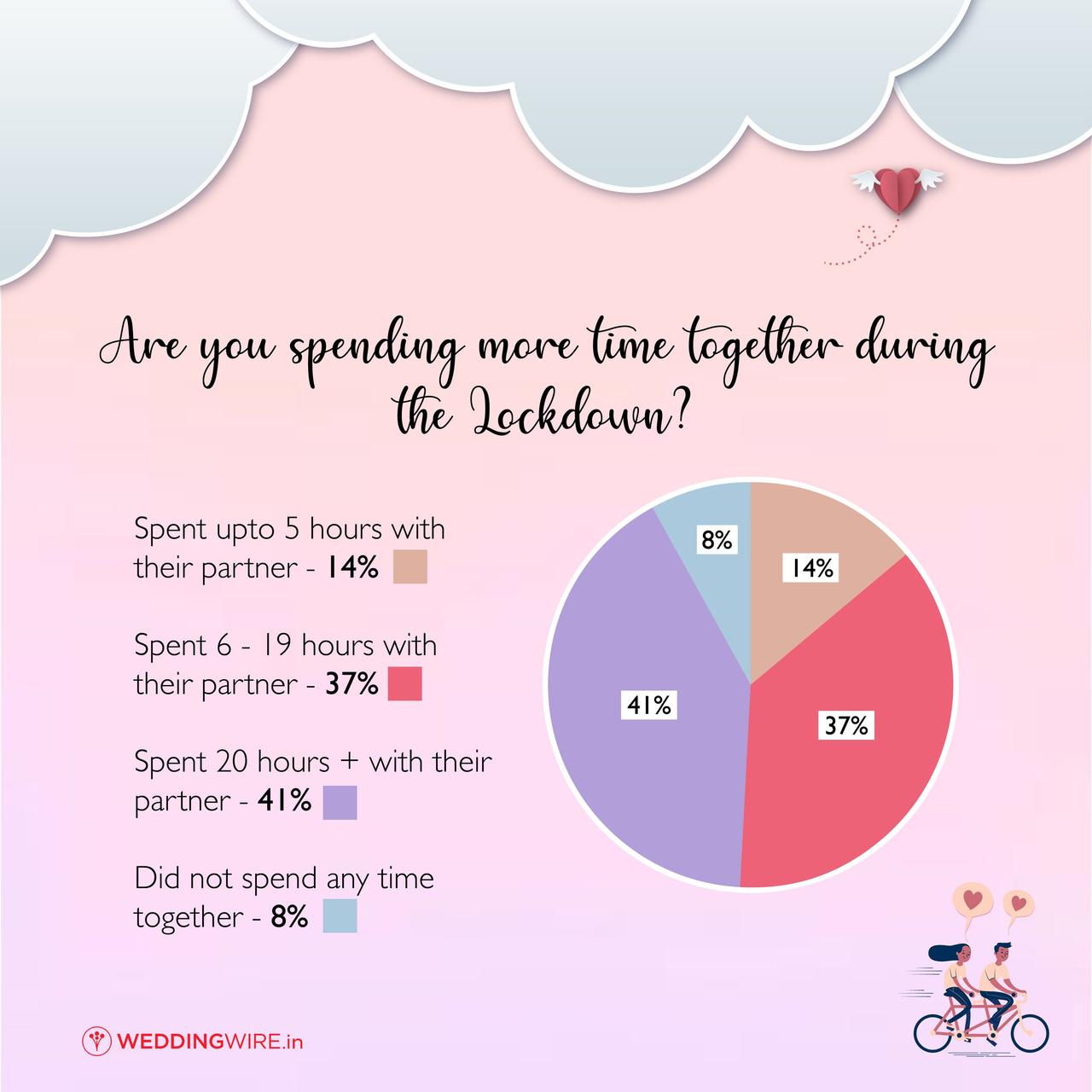 41% said they are spending more than 20 hours a day, with their partner now. From working approximately 45 hours a week to working at home probably right beside each other and doing the house chores together, this lockdown has definitely given some couples the opportunity to live, laugh and eat together and also try fun TikTok dance challenges every day. 37% said they spend between 6-19 hours with their partners. Every extra hour counts! Especially because once this is all over, we will go back to living our daily routines and we will have to wait for the Friday evenings and weekends to spend quality time with our partners.
Have Relationships' strengthened during the Lockdown?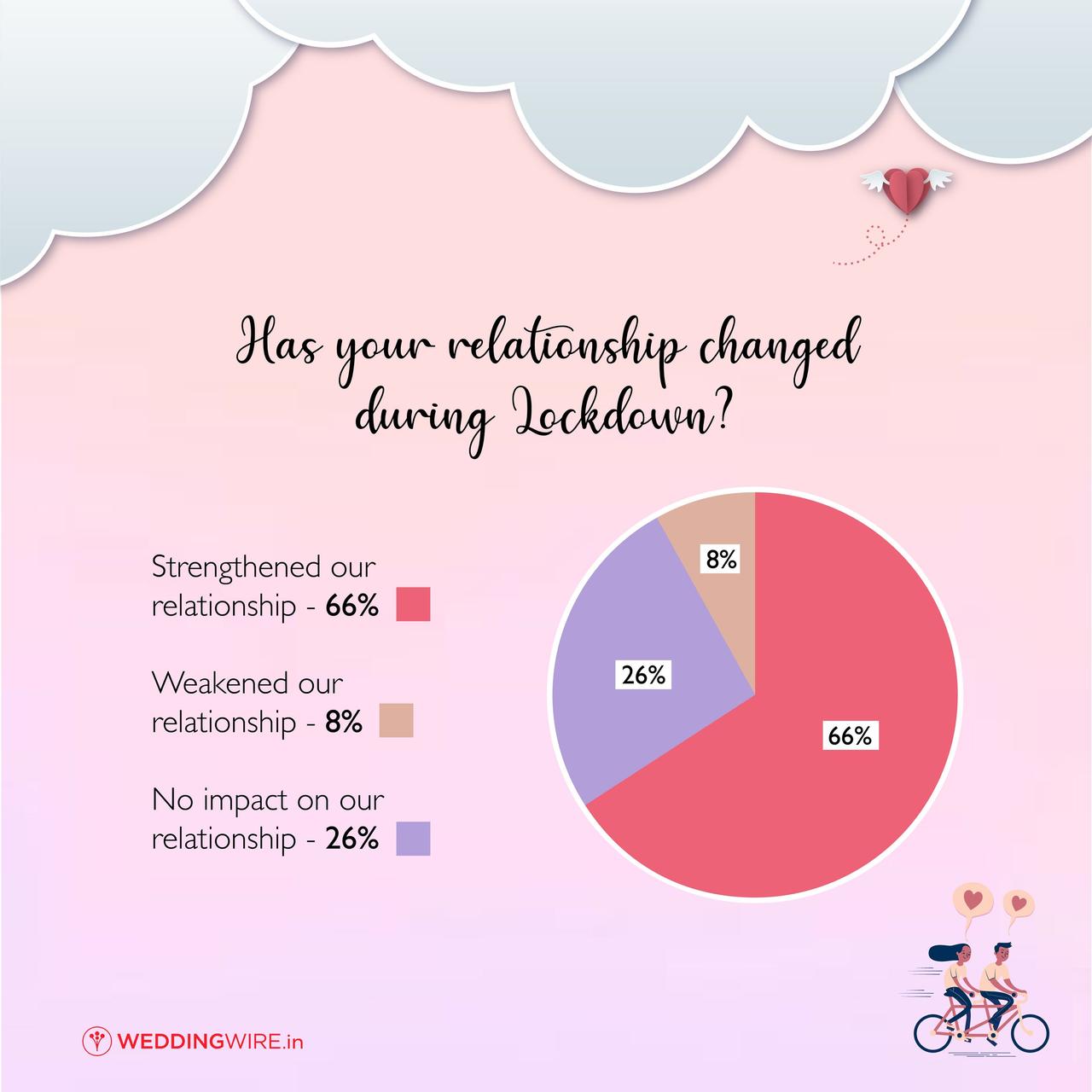 The after effect of spending more time together and knowing each other better is the strengthening of bonds. 66% confirms that their bonds have strengthened while navigating the lockdown period together. Staying cooped up at your own house, without access to the outside world, cancelled travel plans and this long and monotonous distance from friends and colleagues is not easy to handle. But the couples who took our survey, confirmed that having their partner by their side helped them to bond and grow. However, the impact of Coronavirus on to-be-weds and a few other couples who are living apart is not the same. 8% says that their relationship has weakened due to COVID. Others opened up about things that have changed about their relationships. 48% says, they are talking about topics they have never explored before. 43% says, staying together have reminded them of all the reasons why they love their partner, 30% says that the lockdown has forced them to communicate about challenging topics and 24% share that they had more time to be sexually intimate. A few more positives from the survey that caught our attention:
Finding New Ways to spend time together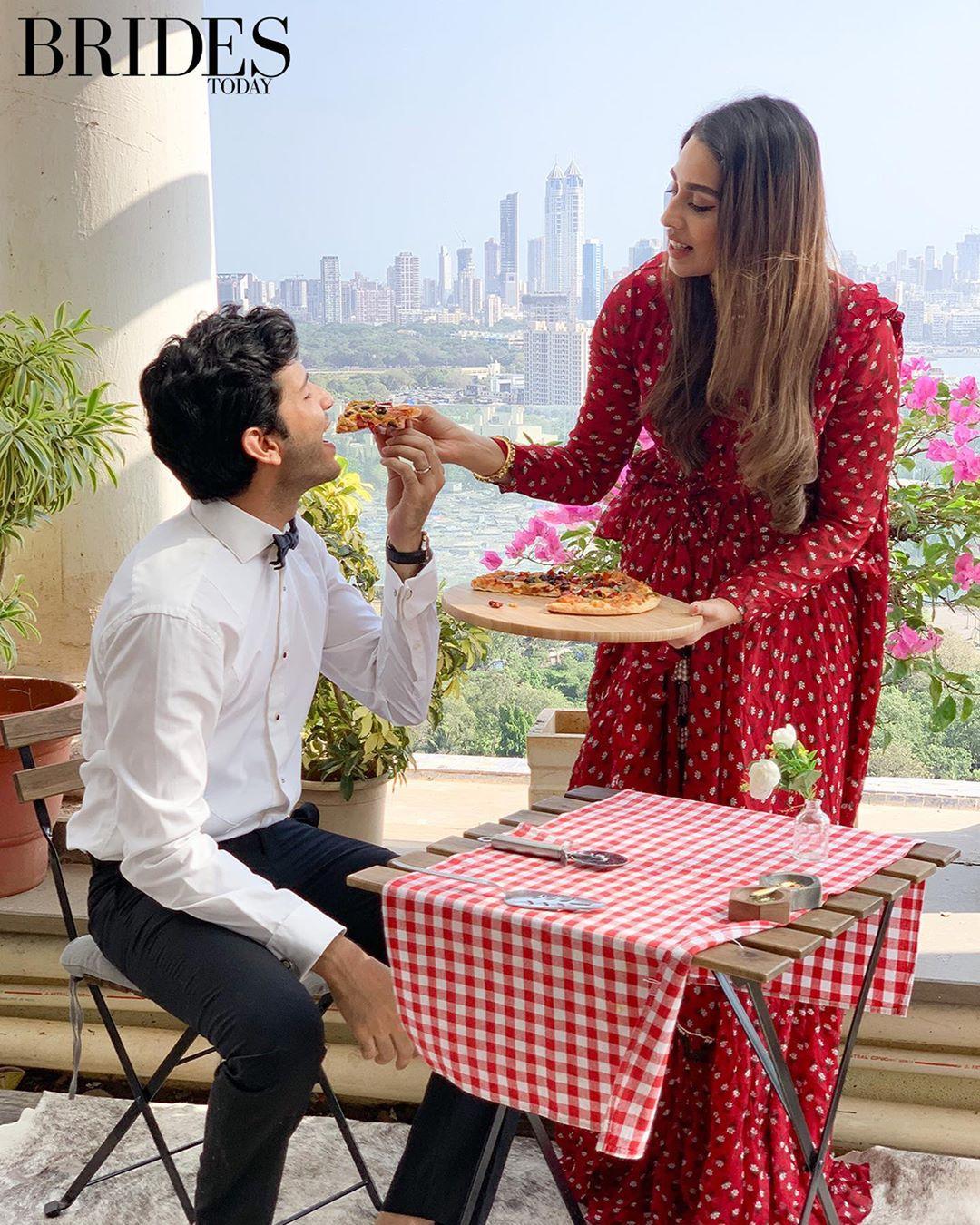 Image Credits: HouseofMisu
52% says that the lockdown has made them come up with new ways to spend time together. From enjoying new cocktail recipes and donning the chef's hat, to Netflix marathons with popcorn and ice cream buckets. There is an unlimited no. of things that couples can do together and with enough time at hand, they are exploring something new every day.
Developing Healthy Habits Together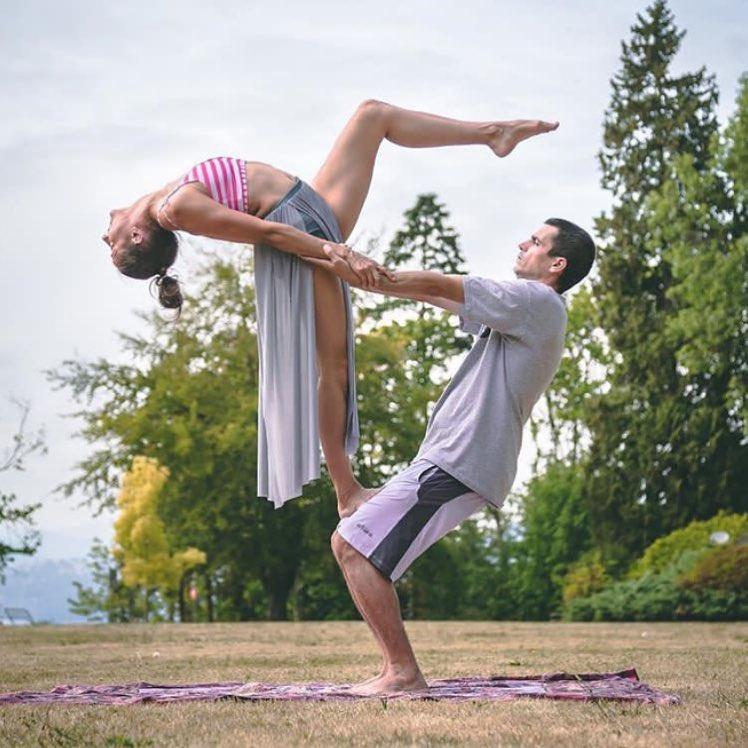 Image Credits: smilewitch on Instagram
According to 49% of the couples living together, they have developed healthy habits and focused on fitness during this lockdown. From enlisting superfoods to build immunity, to following Bollywood influencers who set fitness goals every day and following fitness bloggers on social media to take notes on at-home exercises with equipment, these couples have adapted the best lifestyle habits to come out of their homes thinner and healthier after the COVID wave.
Learned a New Hobby/Skill Together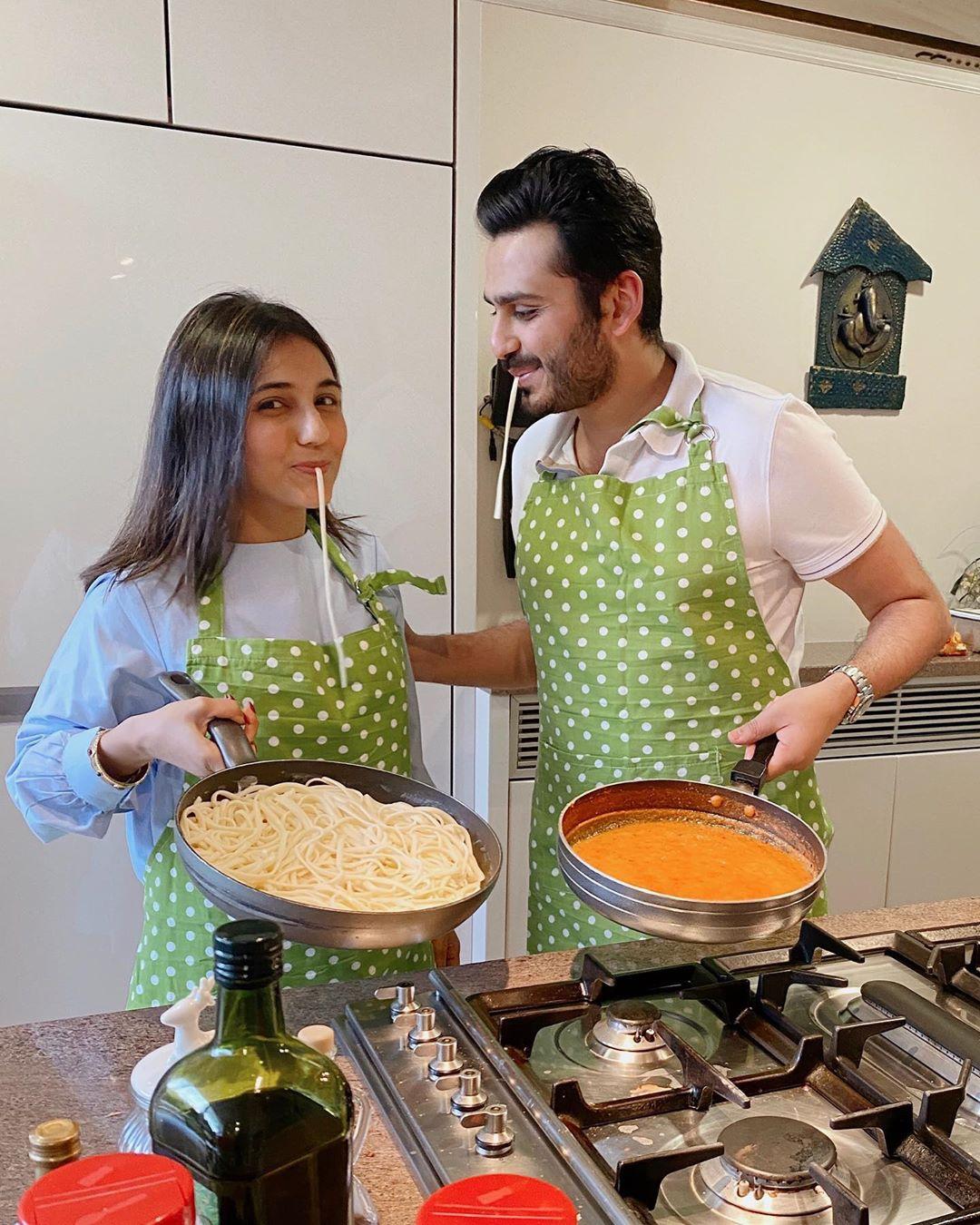 Image Credits: Masoom Minawala Mehta
DIY is the new way! Indulging in DIY activities, painting, recording dance videos for your Youtube or Instagram feed, are only a few of the many skills and activities that people are learning right now. 46% confirms that learning hobbies and new skills together have helped them sail through quarantine. Throwing a DIY mother's day party, learning garden decor hacks to add to beautify their home gardens, learning manicure tricks at home, baking a delicious cake, painting, reading new books are just a few examples of hobbies that couples have been counting on.
Are Partners learning new things about each other?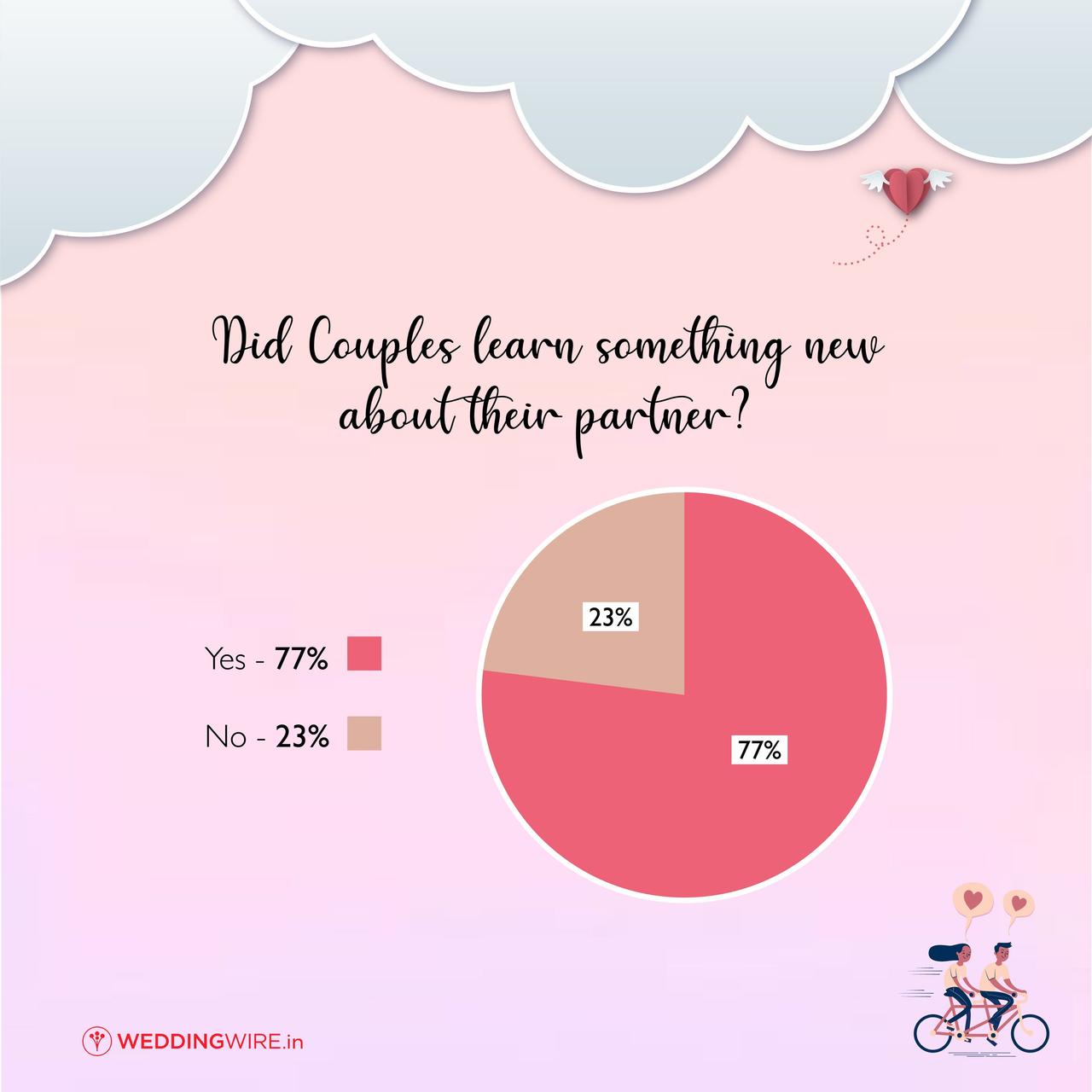 We have a clear winner! 77% of the couples said Yes, giving us enough reasons to believe that the time spent together is helping couples to know each other better and accept one another, with flaws and all. The more you know your partner, the more it strengthens your relationship. Psychologists also suggest that couples can understand each other better and identify their behavioural patterns that are often influenced by their experiences as children. Many couples are now investing in the online relationship courses provided by certified brands like Udemy and making the best use of this quarantine time.
Are Couple's giving space to each other during the Lockdown?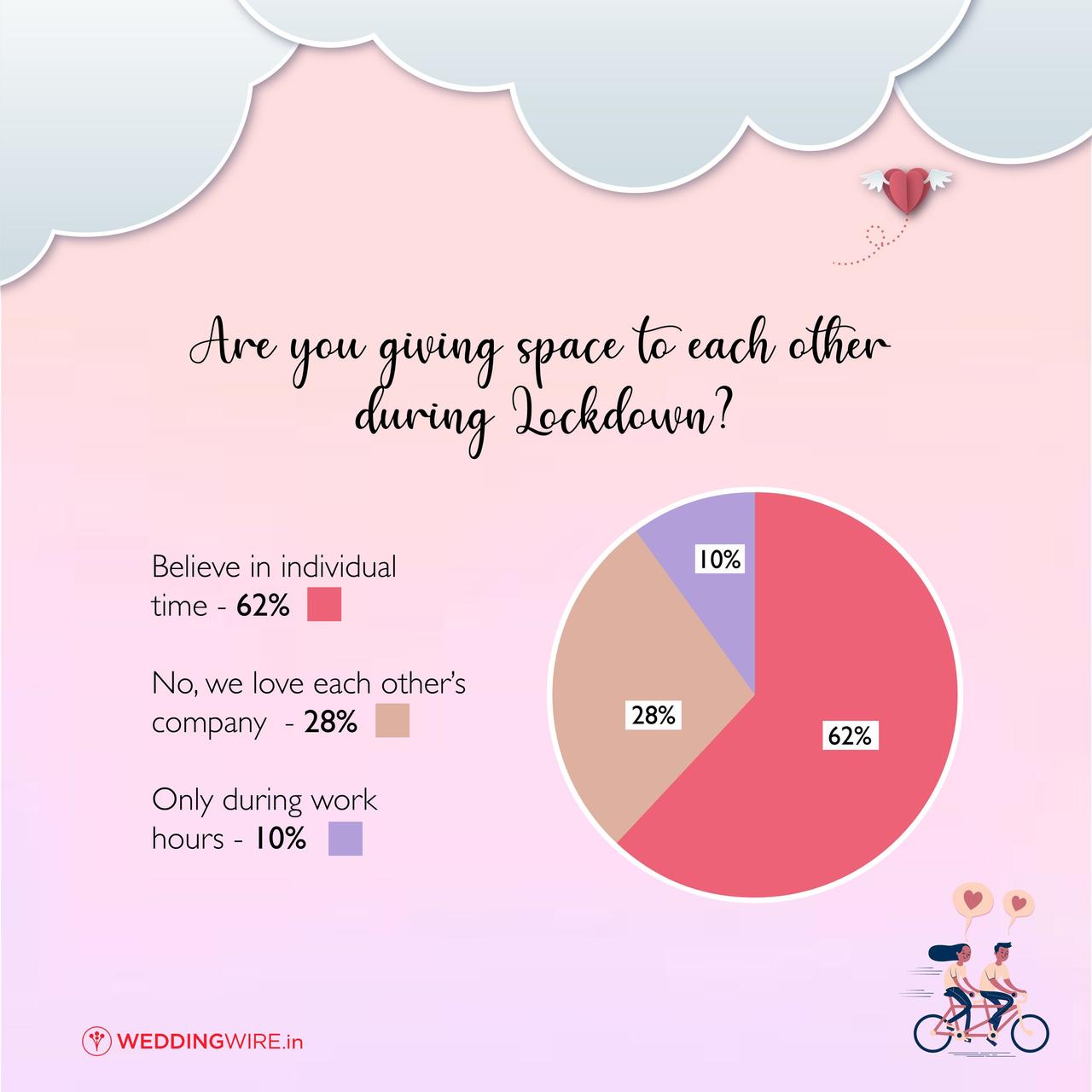 One might say self-love quotes and sayings are over-exaggerated but are they? You need to love yourself enough to be able to reflect that upon others without the usual feelings of insecurities. Being in a devoted relationship does not take the need for self-love out of an individual's life. And the couples' we ran this survey through, happen to agree. 62% confirmed they believe in individual time and give each other the space to explore and practice their 'me' time in peace. 28% said they love each other's company and would not have it any other way - we have a soft spot for these couples - may the CUPID be with you!
Who would have thought that a pandemic could bring all our lives to a standstill? While our hearts go out to the families that have been deeply affected by the virus, we are also full of gratitude to see this survey report that denotes positivity and togetherness in couples living across our country.
Download the Lasting app if you are looking for expert help to sail through this quarantine period with your partner.