10 Wedding Makeup Looks of Real Brides You Must Bookmark & Look at Before Tying the Knot
From natural vibes to over-the-top Bollywood glamour, there's no one correct way to do your wedding makeup. Have a look at these wedding makeup looks and get inspired to get yours done! Brides and bridesmaids get ready to put your glam on!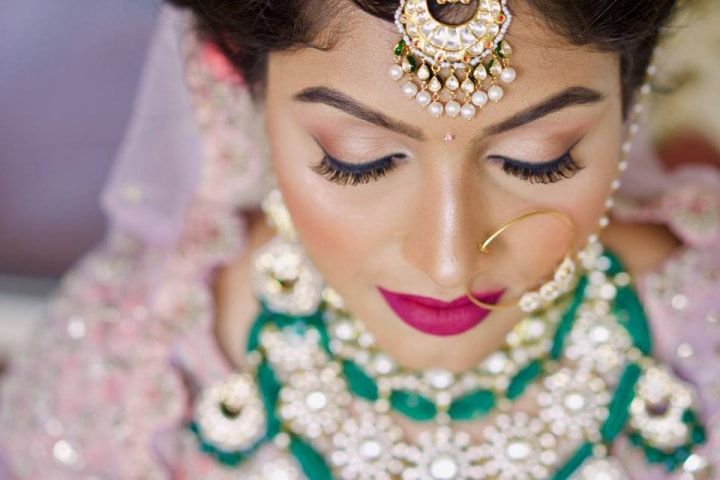 There's no better feeling than seeing your wedding makeup look coming together and making you look like a dream come true as you walk down the aisle to tie the knot with the man you always had your heart on. But, it is easier said than done! To curate a wedding makeup look or a few wedding makeup looks for all your pre-wedding functions, every bride needs to keep tabs on a few things before she can get her makeup artist to weave her magic on their face.
Once you have your eyes laid on your bridal outfit or the string of outfits that you will serenade wearing from your Haldi ceremony to your Sangeet dance performance, all of that counts before you lock some of the wedding makeup looks for your wedding festivities.
Take Inspiration from These 10 Wedding Makeup Looks to Curate Your Own!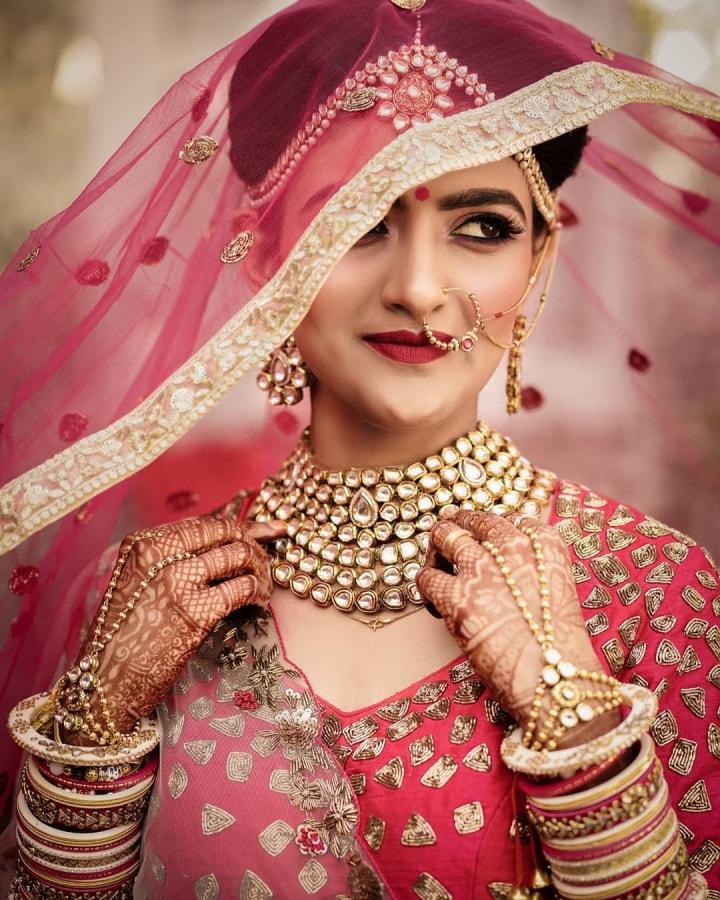 Image Courtesy: Aanal Savaliya
From natural, summer vibes to over-the-top Bollywood glamour, there's no one correct way to do your makeup for the special day. Have a look at these wedding makeup looks and get inspired to get yours done!
1. The Nawabi Wedding Makeup Looks That Reminds You of Umrao Jaan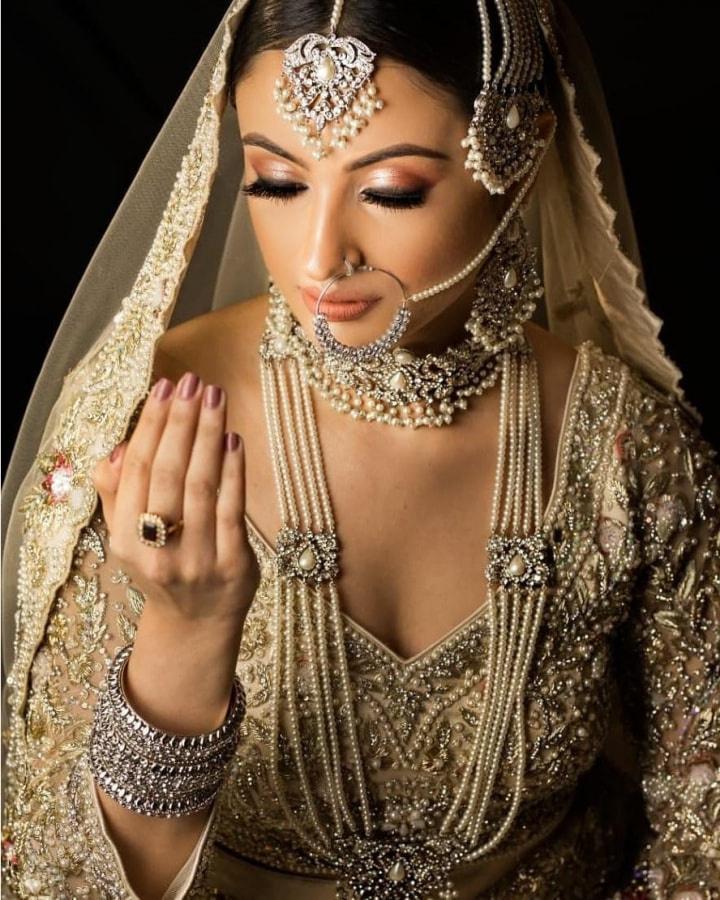 Image Courtesy: Alfaaz Photography
Rmemeber Umrao Jaan? If that is the look you want for your own wedding then be it. All you need to do is remember this bride and take inspiration from her sparkling eyes and muted tones. This beautiful bride opted for a muted makeup and a nude lip colour for her wedding makeup look.
2. Its All About the Cat Eyes!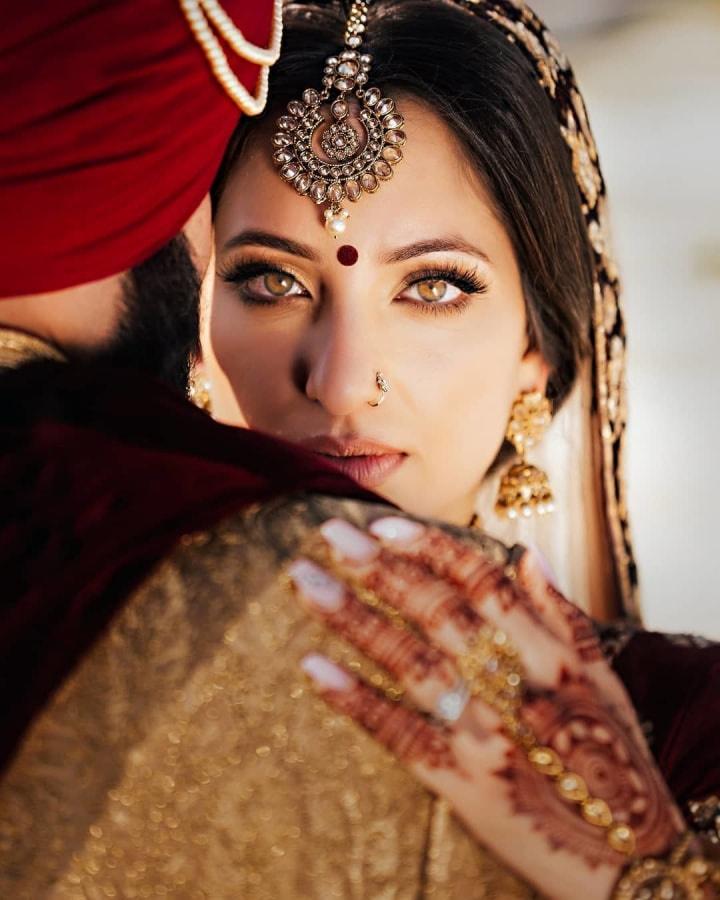 This bridal shot is simple but for some reason so enticing that you won't be able to take your eyes off of her. The glowing highlighter for a dewy feel with enormous lashes and a fine-lined eyeliner is all it takes to create the magic. A bindi on your forehead with muted lips and your eyes will be the only feature your husband will look at all evening! Make sure your wedding photographer captured a shot such as this so that your wedding makeup look gets captured in the manner it truly deserves.
3. In Ankhon Ki Masti - Some Royal Wedding Makeup Looks for the Bride to Be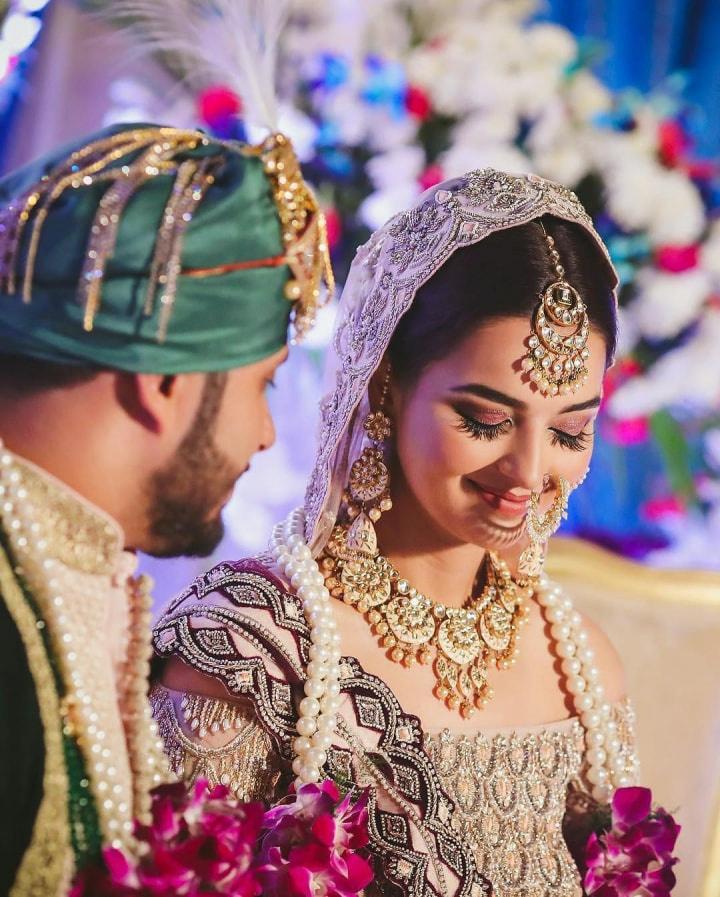 This gorgeous bride really wowed on her wedding day and we cannot disagree. This bride matched her outfit's colour palette with that of =her wedding makeup and went for a similar but in shimmer based eye shadow with voluminous lashes for that extra pop. If you want one of your wedding makeup looks to be the same then all you need to do is get in touch with your makeup artist right away!
4. The Real Magic Is in Her Smile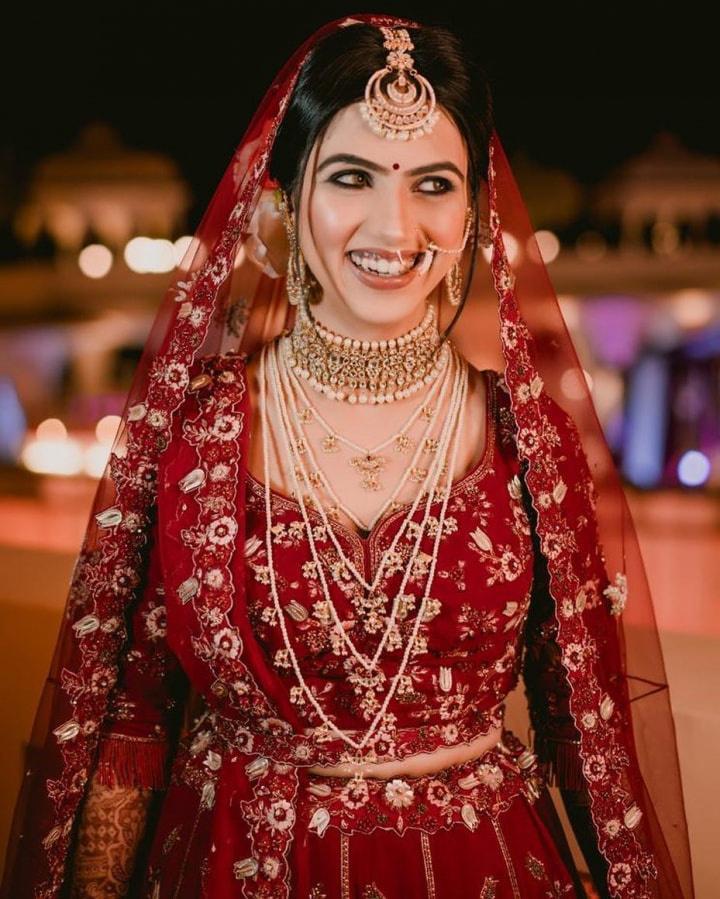 Image Courtesy: House Of Beautyy
Once you've found the look you want, remember to smile. Happiest girls are the prettiest and this real bride proves it.
5. The Glow of the Highlighter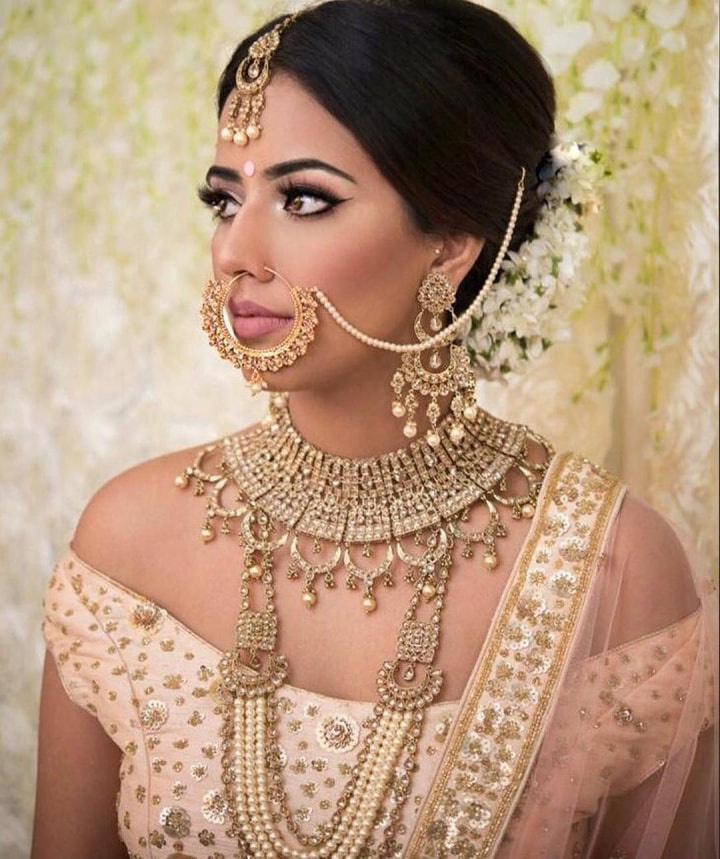 Image Courtesy: Lash Out Studio
This bombshell bride channelled her inner diva and wedding day glamour by opting for pastels and popping her eye makeup by using a dash on highlighter in the corner of her eye to look spectacular! If you want to make your wedding makeup look the star of the night with minimalistic products, then this mighty highlighter is your friend!
6. The Red Goddes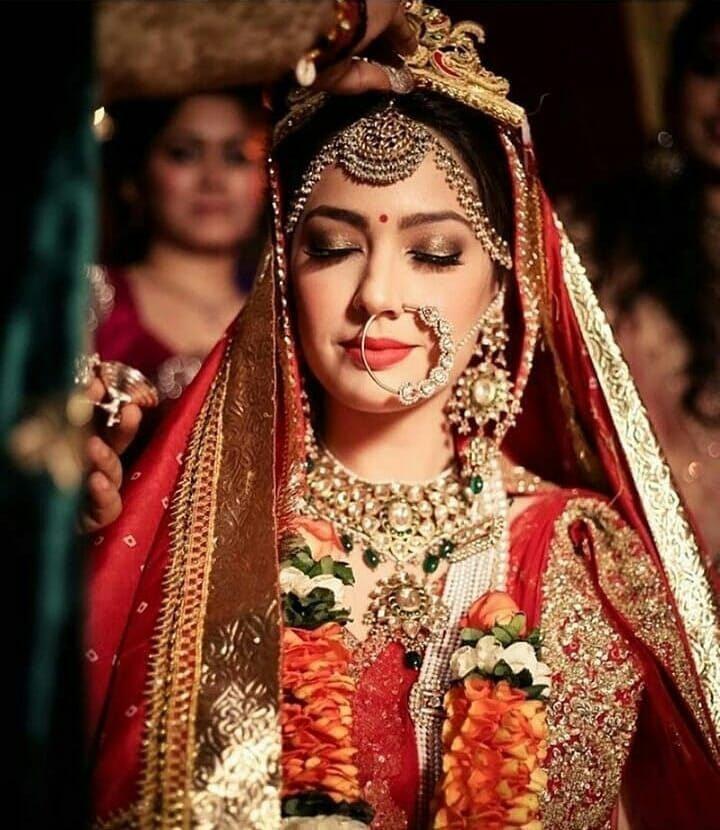 Image Courtesy: Morvi Images
A natural eye with a dash of glitz and glamour and flawless skin were the perfect mix for this gorgeous traditional bride who opted for a deep red lehenga with traditional jewellery and makeup. The quintessential Indian beauty at its finest hour!
7. Classic Beauty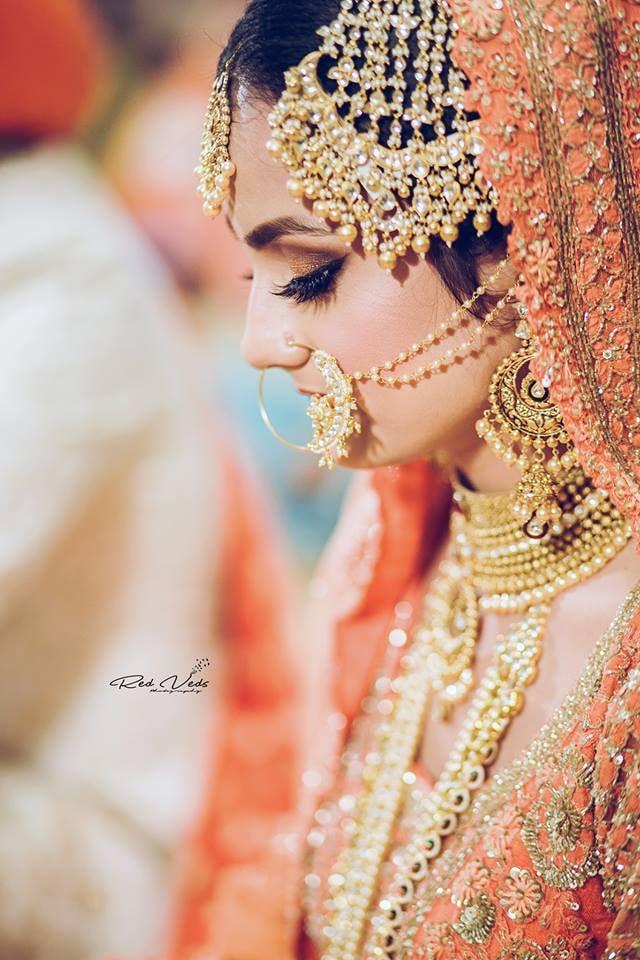 This real bride looked like a blushing bride at her wedding with pink blusher, natural lips and just a light sweep of mascara with heavy lashes to add the right amount of drama. Take inspiration and curate yours now!
8. If Looks Could Kill!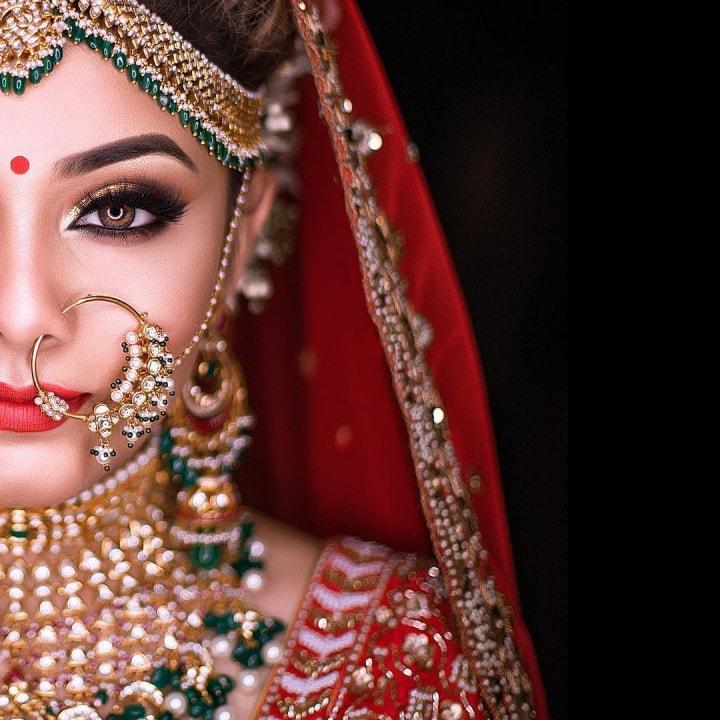 Image Courtesy: The Wed Capture
This real bride kept things romantic with a makeup look that is on the traditional side with her eyes being the focal element of her wedding makeup look. Her arched eyebrows are the right amount of pop that her wedding makeup needed!
9. The One Who Stole Her Husband's Heart and Ours Too!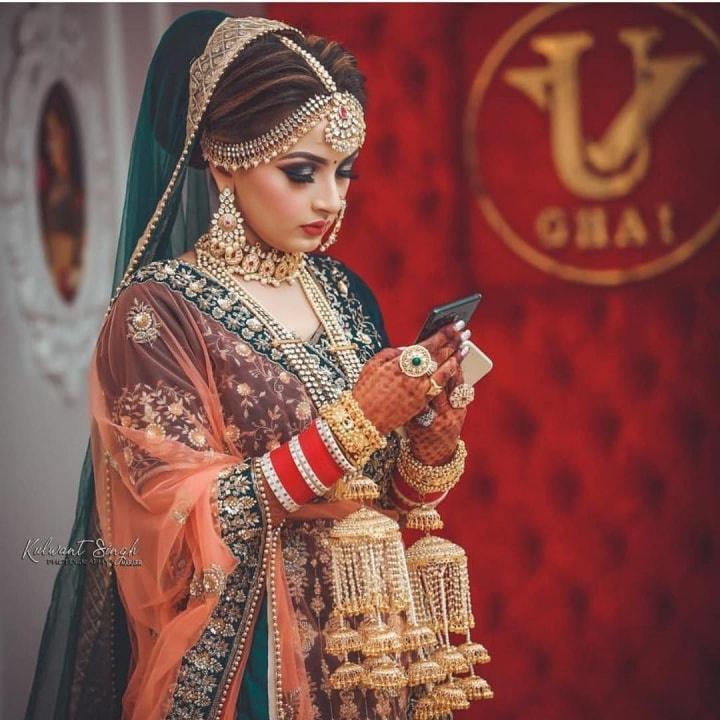 Image Courtesy: Kulwant Singh Photography
If this doesn't make you gasp hen we don't know what will. The real bride's wedding makeup look is spot on. She incorporated her bridal outfits colour parallel to match that of her eye shadow which truly binds her overall look together. With a lipstick that matched the tone of her blush, she is a marvel to look at!
10. The Regal Affair!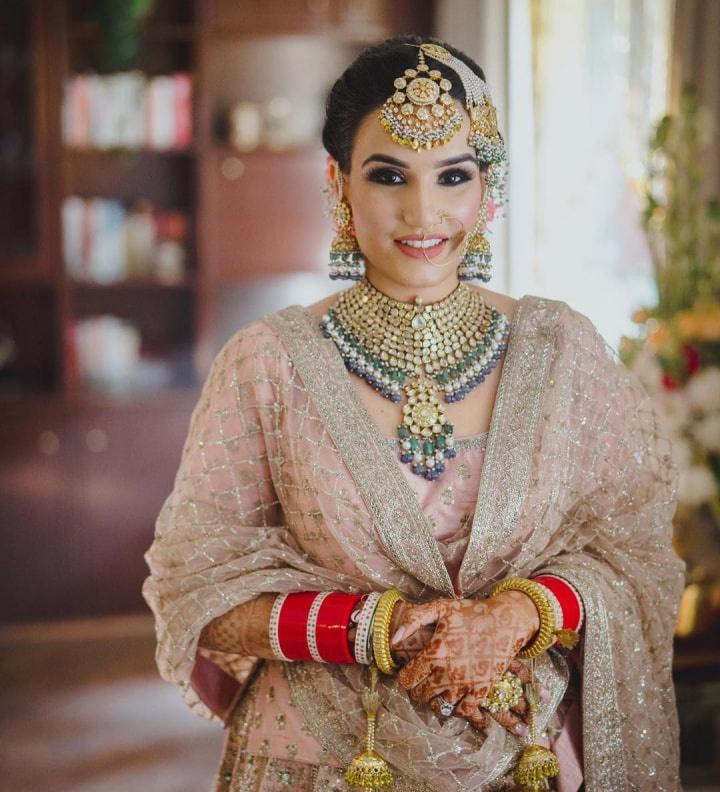 This stunning bride matched her outfit's colour tone with her makeup and went for an all natural look which we completely dig! If you do too, then you should walk down the mineral wedding makeup lane as well!
These gorgeous brides really wowed on their wedding days and we couldn't help ourselves from dedicating this wedding makeup looks galore to them as they totally slew and owned the day! If you still haven't found the right amount of inspiration for your wedding makeup then this cue is for you!
Which bride's makeup did you love most? Tell us through the comments!