The Best Silk Saree Images Perfect For Every Occasion
On the lookout for your bridal trousseau collection? Have a look at these silk sarees images to add the timeless classic to your wishlist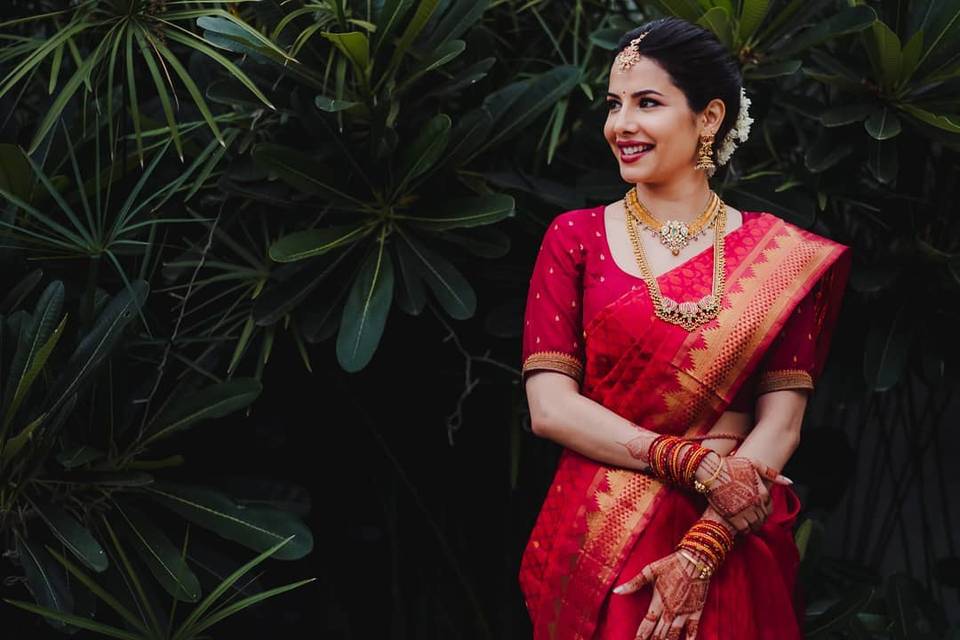 If there is one garment out there that never disappoints, it is a saree. These gorgeous nine-yard wonders never fail to impress. They flatter every body-type and also brings out the beauty of an Indian woman. And talking about sarees, there is a certain fabric that has been stealing hearts for centuries now - silk. A staple in every woman's wardrobe, a silk saree is like an heirloom which is passed on generation by generation. That is what makes it so special.
Chances are very bright that if you are an Indian girl, you must have seen at least a few silk sarees in your mother's closet which are her most prized possessions. It is true, silk sarees are special. And since we know this, we compiled a gallery of silk sarees images that we found on the internet.
These silk sarees images have something for every occasion - be it your wedding, reception, a friend's wedding or just a family gathering. So, without any further delay, check out these silk sarees images for that much-needed inspiration. No matter what type of silk saree you choose, you will always look classy. Here goes:
1. Liquid gold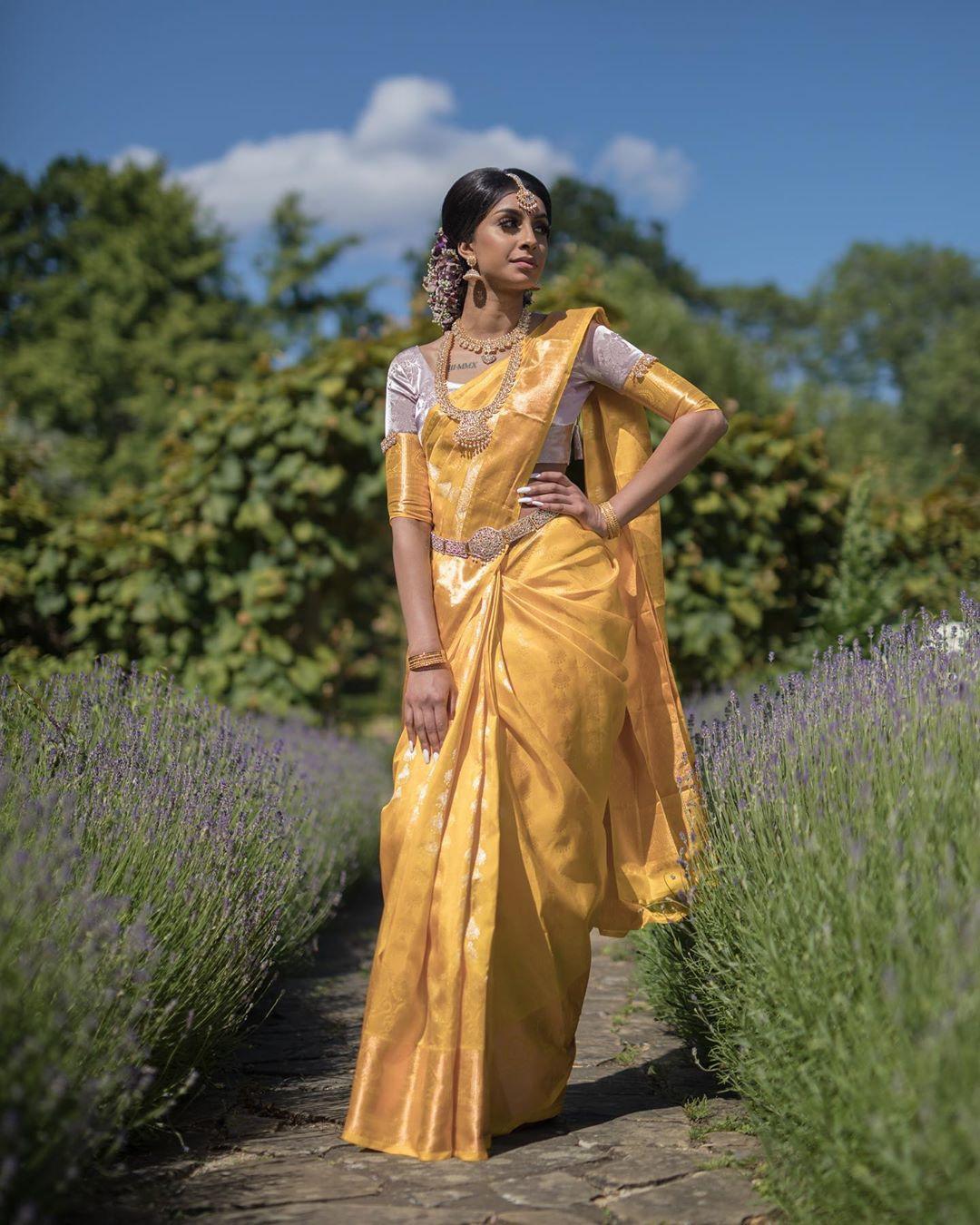 Image Courtesy: Rajham Designer Silks
One look at this saree was enough to give us the inspiration to come up with a full gallery of silk sarees images so that everyone could admire the beauty that silk sarees are. This gorgeous yellow-gold saree is perfect for a new bride as well as a wedding guest.
The bright colour will make you stand out from the rest. Some light makeup, a bun hairdo, some flowers in your hair and minimal jewellery are all you need to make heads turn in this saree.
2. Unique and oh-so-pretty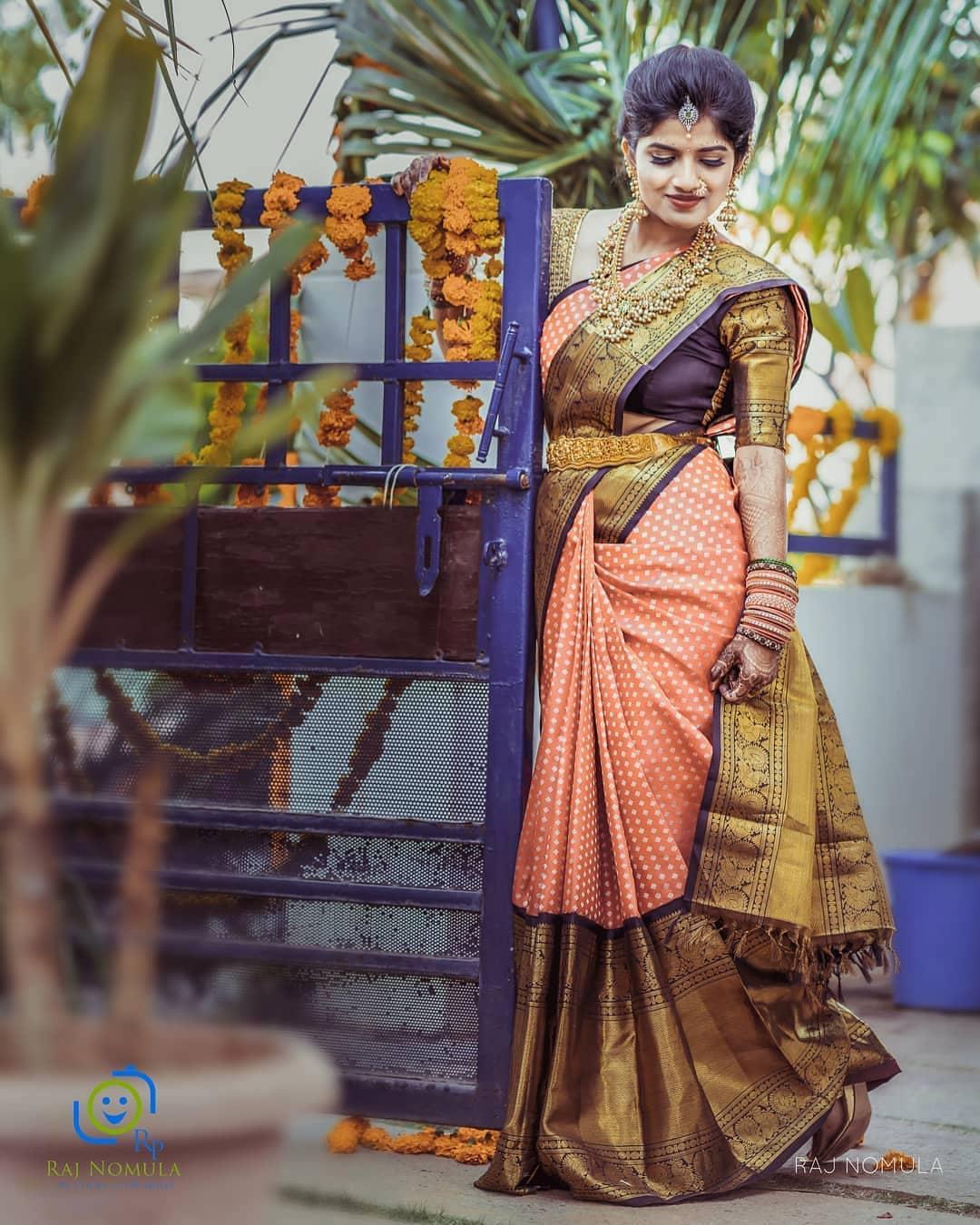 Silk sarees are the traditional dress for South Indian brides. But while most South Indian brides wear red or pink on their wedding day, this stunner decided to wear a unique peach and bronze coloured saree instead.
And we have to say that she looks gorgeous. The heavy silk saree paired with equally heavy temple jewellery, makeup and her bridal glow was enough of a reason for us to add this look to our silk sarees images gallery.
3. All that glitters is silk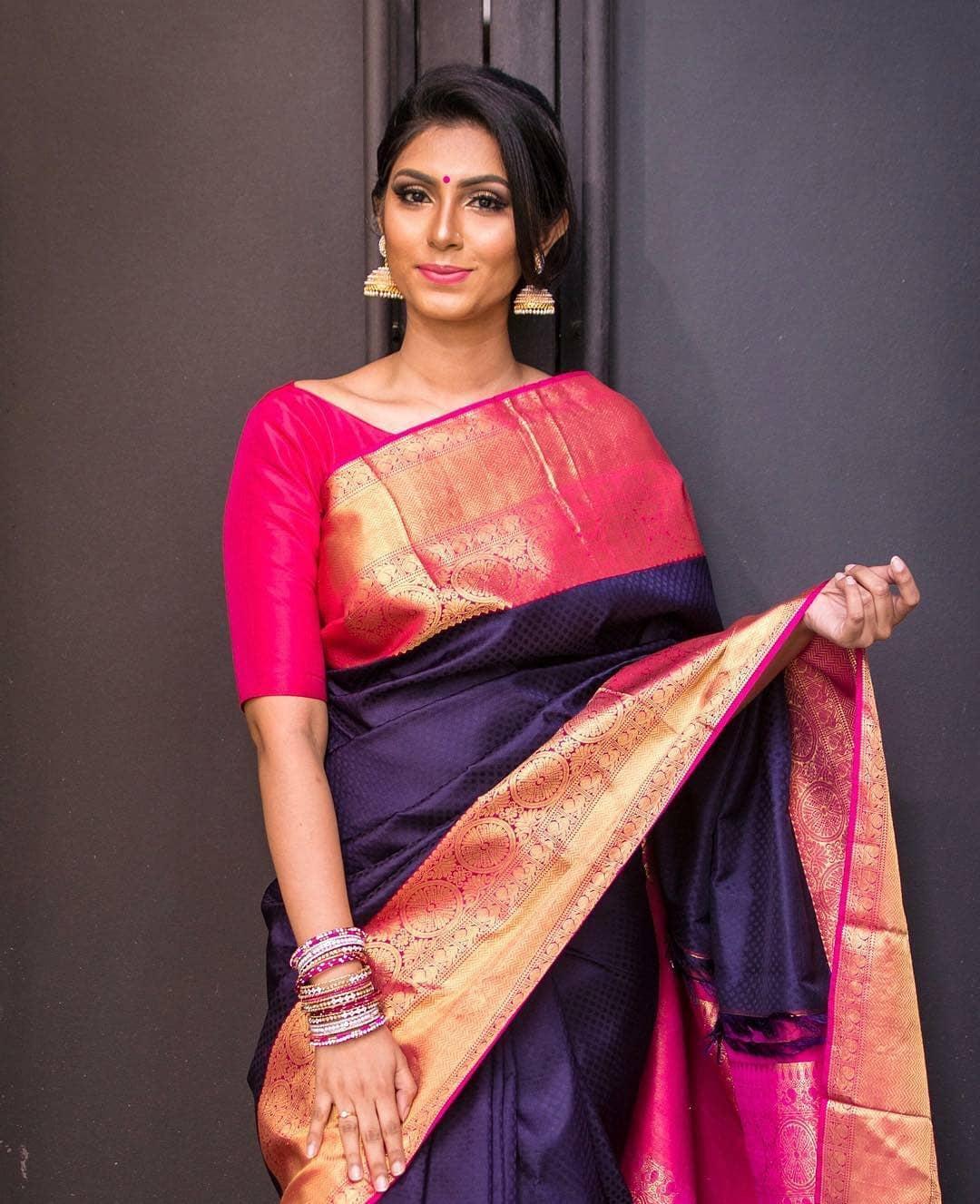 Image Courtesy: Peacock Company's Instagram
Another gorgeous silk saree that is perfect for the wedding guest, this navy blue and magenta Kanjivaram saree took our breath away, quite literally. The stunning lady paired her saree with very simple makeup and a pair of Jhumka earrings and we fell in love with it. Another star addition to the silk sarees images list, eh?
4. Beauty at its best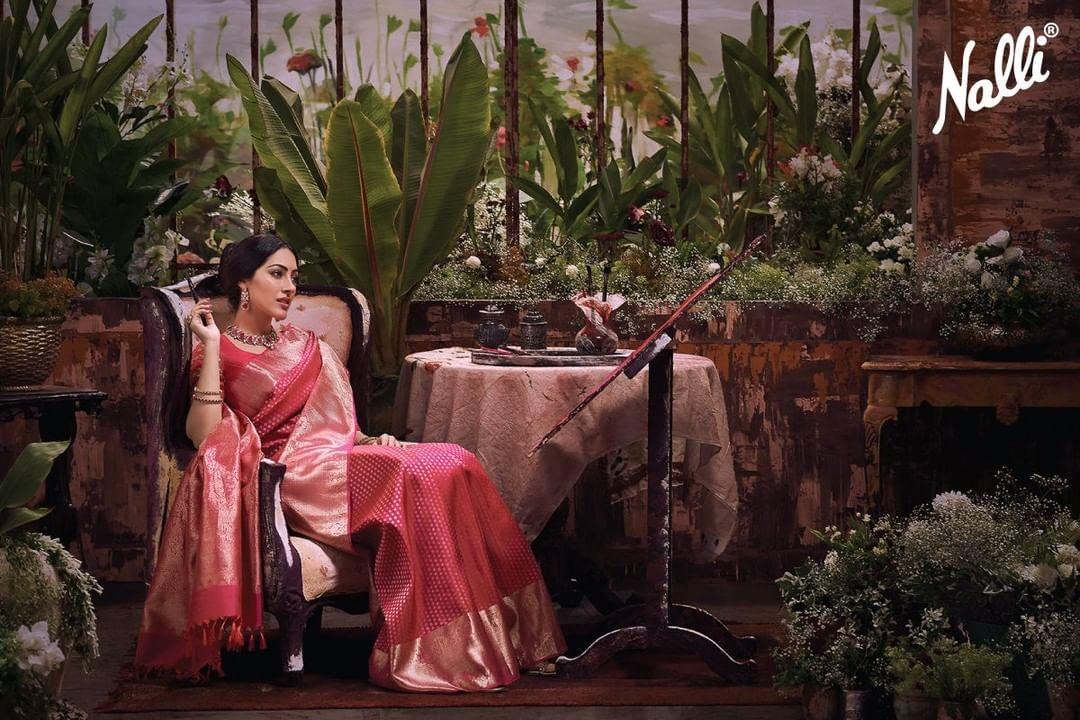 Image Courtesy: Nalli Silks
Magenta colour seems to be a favourite when picking a silk saree. It not only looks royal but has the ability to make any woman who wears it look radiant and prettier than she already is. This is one of those sarees that mothers pass on to their daughters, and mothers-in-law happily gift to their daughters-in-law.
It is also a perfect outfit for a new bride to wear on one of her post-wedding functions or at a family dinner. Once you wear this, you can rest assured that all eyes will be on you.
5. Modern yet traditional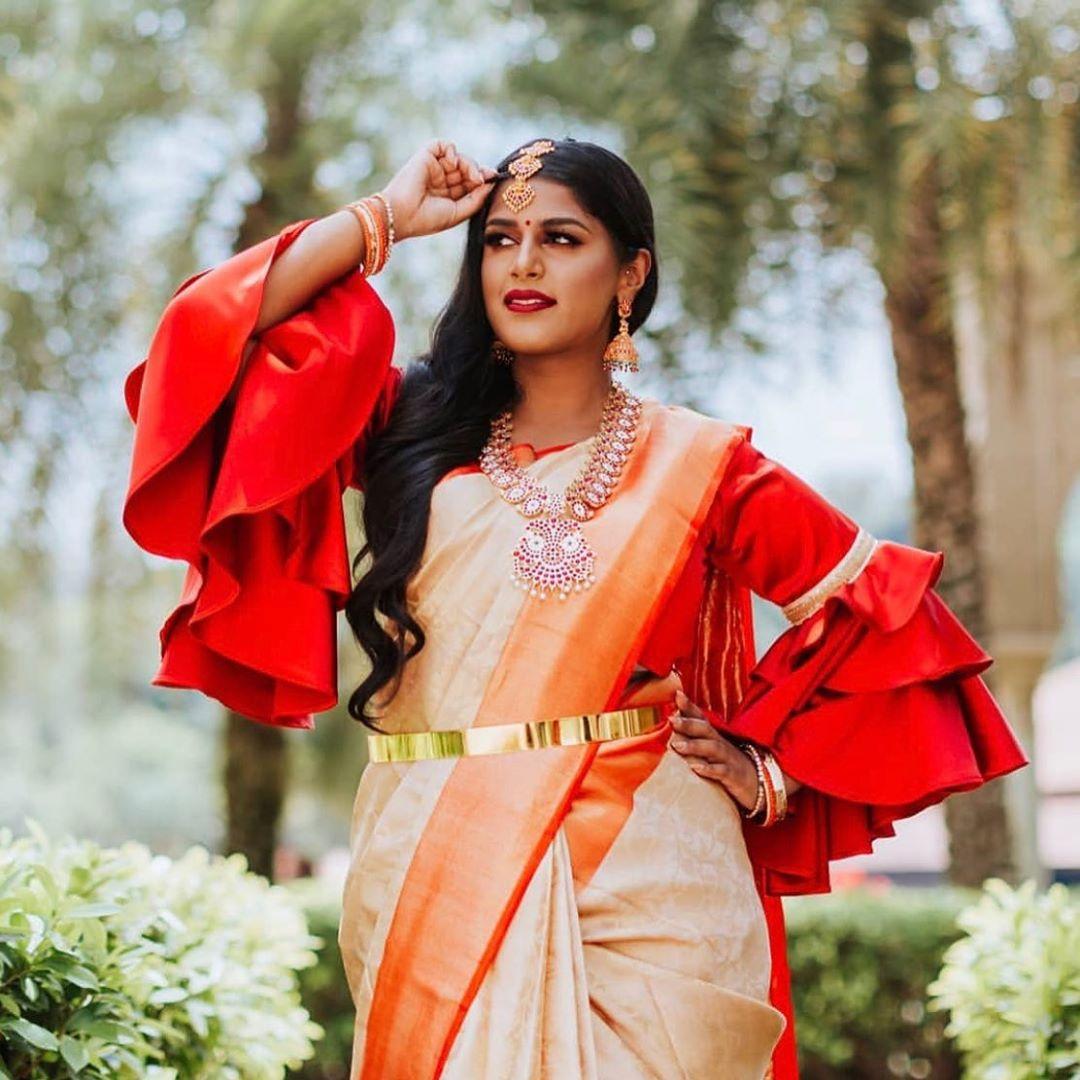 Image Courtesy: Jodi Bridal Show's Instagram
Now, this is what we call the perfect balance of modern with traditional, in the truest sense of the word. Gorgeous pieces like these were the main reason why we decided to make a list of silk sarees images.
A white and red traditional silk saree paired with a blouse with ruffled sleeves and temple jewellery - who could have thought it would be such a killer combination!
6. Subtle looks best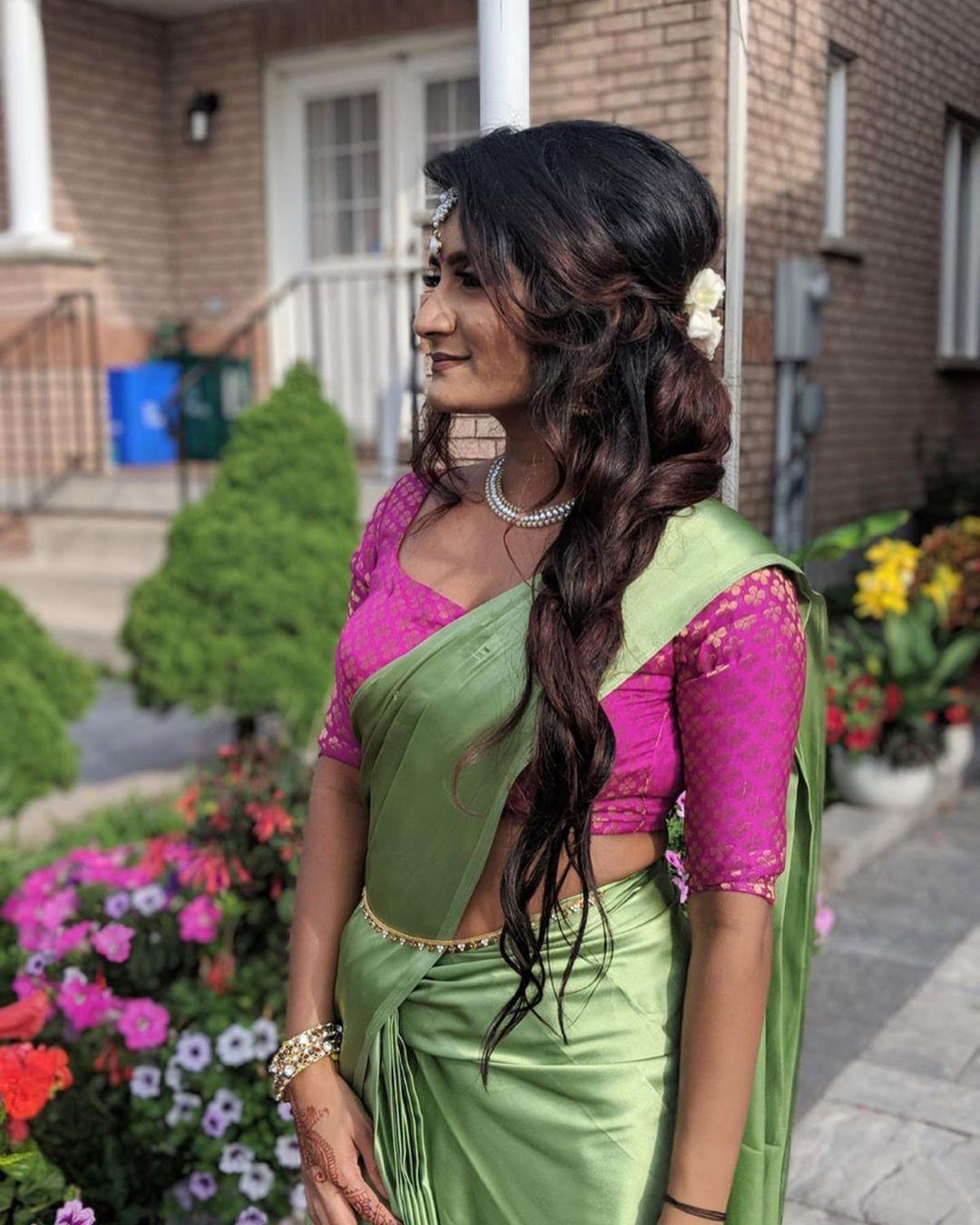 Image Courtesy: Bliss Beauty MUA
Pairing a plain and simple monotone saree with a contrasting Banarasi silk blouse - this is what we call rocking it like a boss babe. This is one of those silk sarees images which prove that it's not necessary to wear a heavy outfit with loads of makeup to look stunning.
All you need to know is how to style yourself and how to carry that look. And this pretty lady seems to have nailed this well.
7. Linen blended Kanjeevaram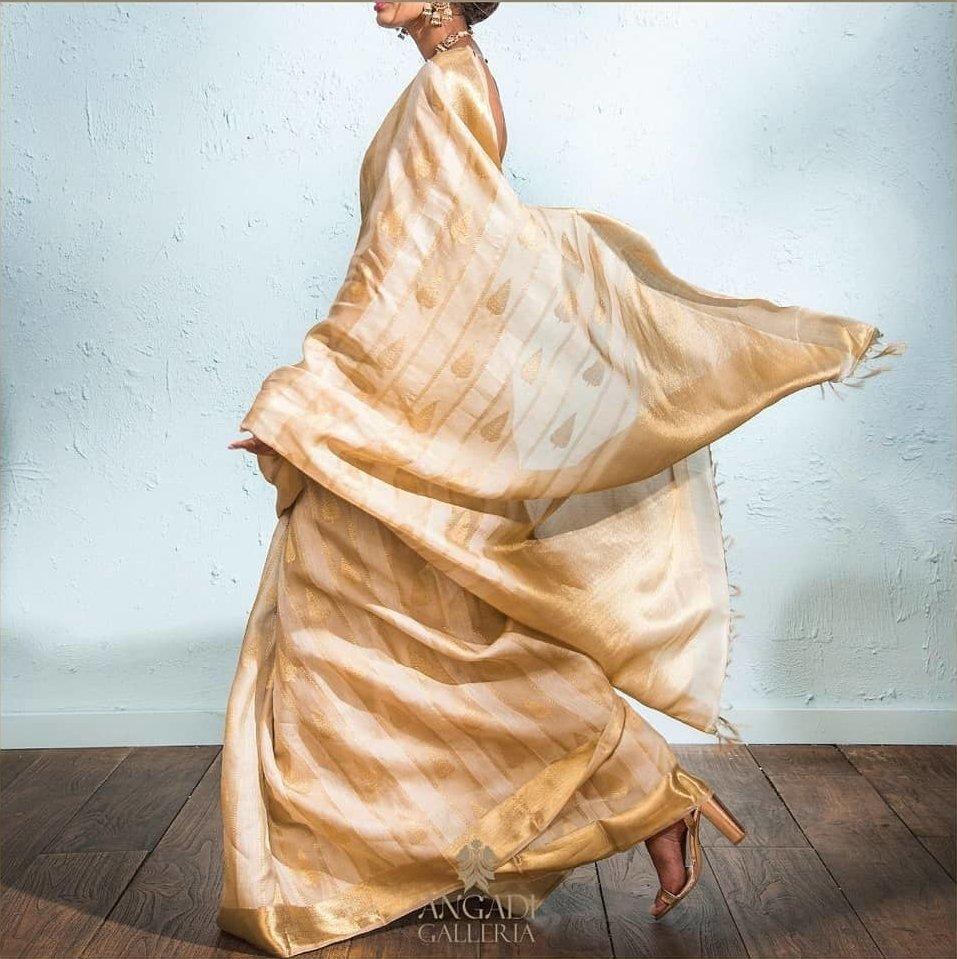 Image Courtesy: Angadi Galleria
A unique invention in the world of silk sarees, this is a step forward in the direction of making sarees an everyday outfit option for the modern millennial woman. This saree is a blend of Kanjeevaram with linen, which makes it light, flowy and very easy to handle.
It is a great option for those business meetings and conventions where you want to get the boss lady style going but also want to wear something Indian. A great addition to the silk sarees images list, right?
8. Banarasi swag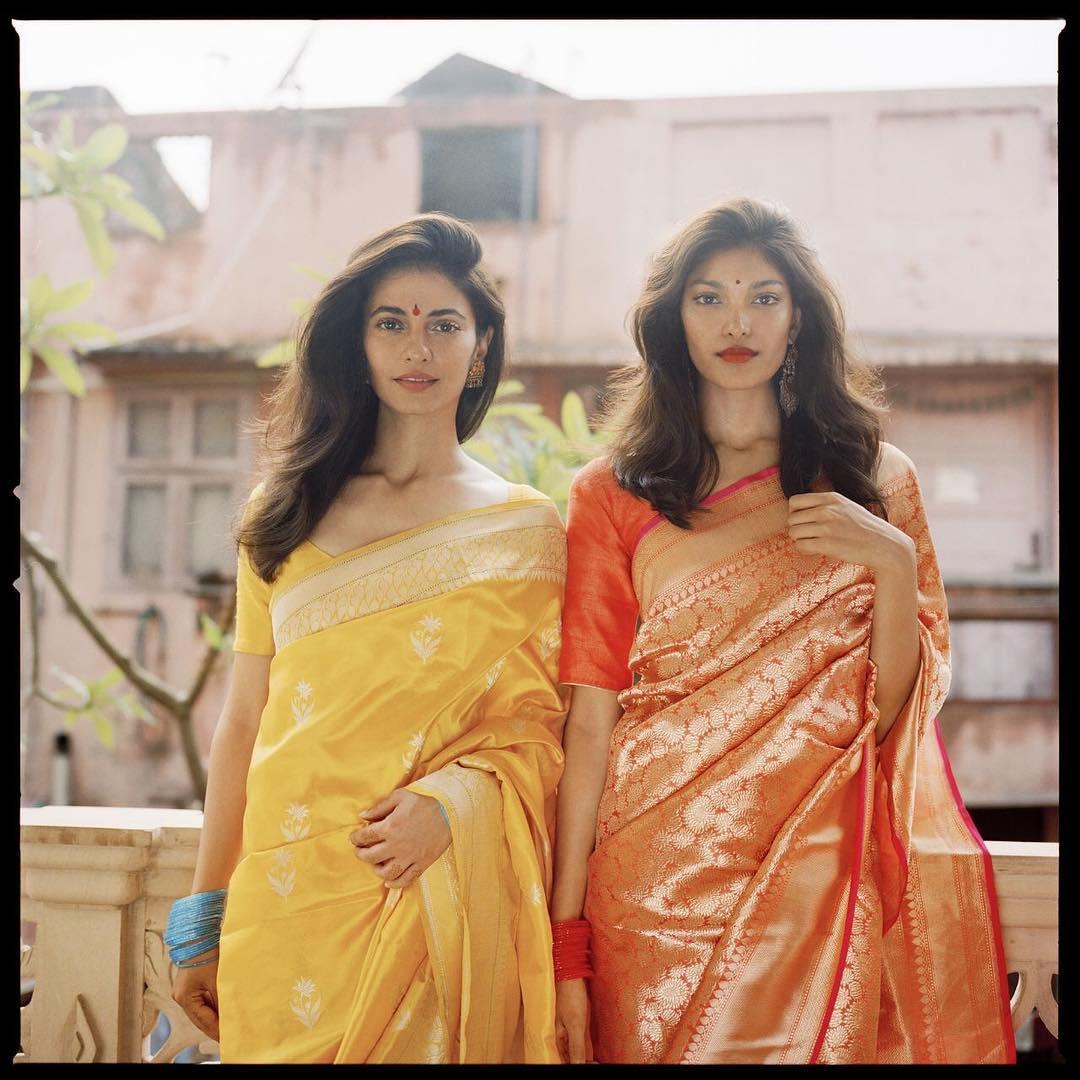 And last but not the least, one of our favourite silk sarees images is this one with two very gorgeous ladies in even prettier Banarasi silk sarees. Banarasi silk has a charm of its own which is unparalleled and difficult to achieve with any other outfit. It is light, breezy and always looks stunning, just like the ones in this picture.
We are in love with all of these silk sarees images and we hope we can safely assume that you are too! Now that you have all the silk saree inspiration you needed, go find that prized outfit and wear it the next time you get a chance.
Which of these silk sarees images is your favourite? Do let us know in the comments section below!