What Happens in a Marathi Wedding? Through the Eyes of a Maharashtrian Bride
With so much diversity in Indian wedding traditions across regions, we take first-hand insights from a new Maharashtrian bride on her experience being wedded, the traditional way.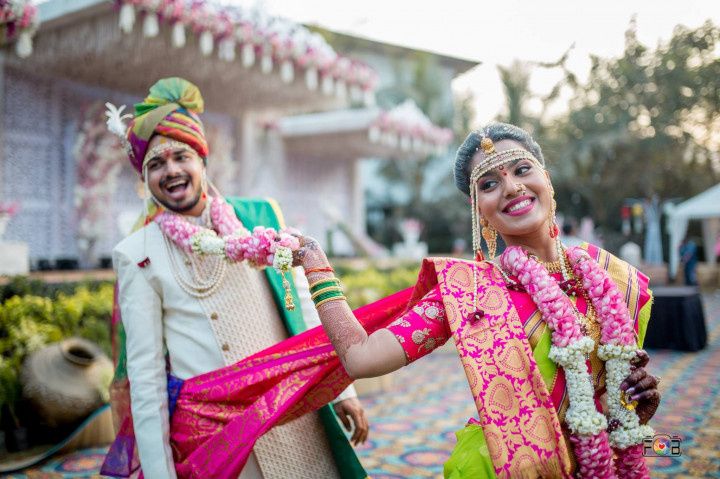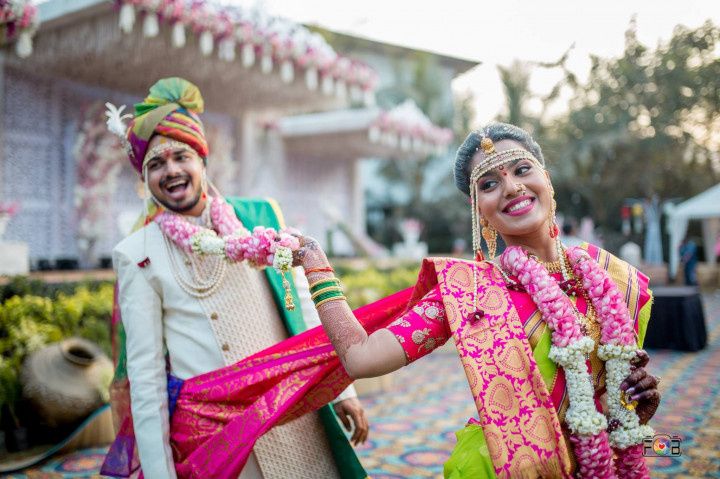 Image Courtesy: Flash n Buzz
We can proudly say that India is that one country where diversity ranges through dialects, traditions, costumes and weddings. Every region of our country has a different aspect towards wedding ceremonies, although one way or the other they are all co-related in their meanings. Taking into account the recent wedding celebrations of Ashwat Gupta and Leena Sawant Gupta, we present to you a virtual walkthrough of all Marathi wedding ceremonies, through the eyes of the bride. Get to know what all ceremonies take place in a Marathi wedding, How was Leena's experience performing all the rituals and what went through her mind when the moments of emotional bonding resurfaced throughout the wedding saga. Read on, in Leena's own words!
1. Love Marriage In A Maharashtrian Family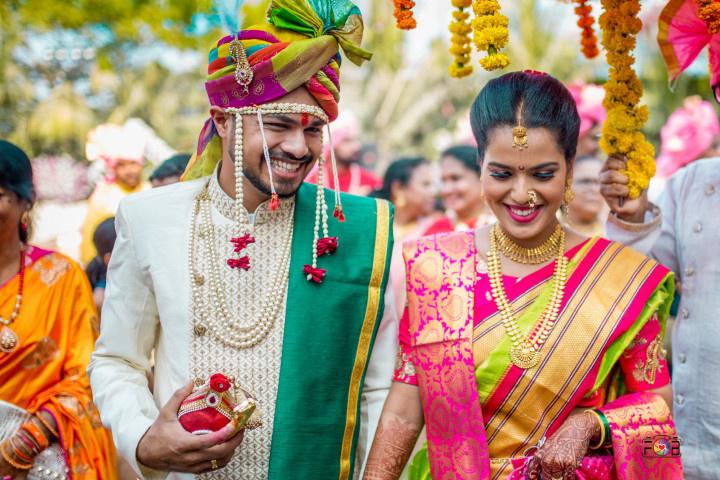 Image Courtesy: Flash n Buzz
I and my now husband were in a relationship for 6 years, so declaring it to my parents wasn't a challenge. The icing on the cake was that my parents accepting our alliance with warmth. This was going to be the first love marriage in our family, hence the excitement was elated from Day 1. To respect the traditions of both sides of the family, me and my husband decided to hold both Maharashtrian and North Indian wedding rituals for our family and friends.
2. The day of Sakhar Puda Ritual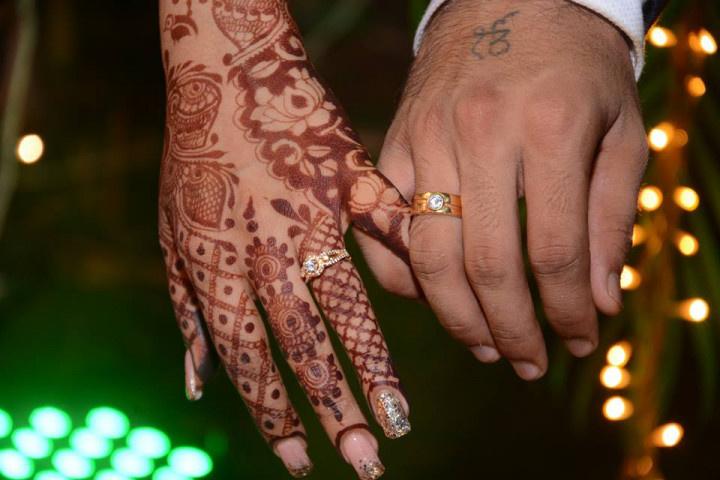 Image Courtesy: Ashwat Leena
Sakhar Puda is considered as the first step towards traditionally commencing the wedding rituals between two people and two families. In true value, it is believed to be the first half of a Marathi wedding. Whether it's a Maharashtrian bride or the bride-to-be of any other region, every woman looks forward to wearing that sparkly wedding band on her ring finger. So on the day of the Sakhar Puda, also known as the ring ceremony, I sat eagerly waiting to see Ashwat for the first time in front of my entire family. More than that, I was happy and emotional to see how welcoming both sides of the families were with our love marriage.
3. Being Emotional During Halad Chadavane Ceremony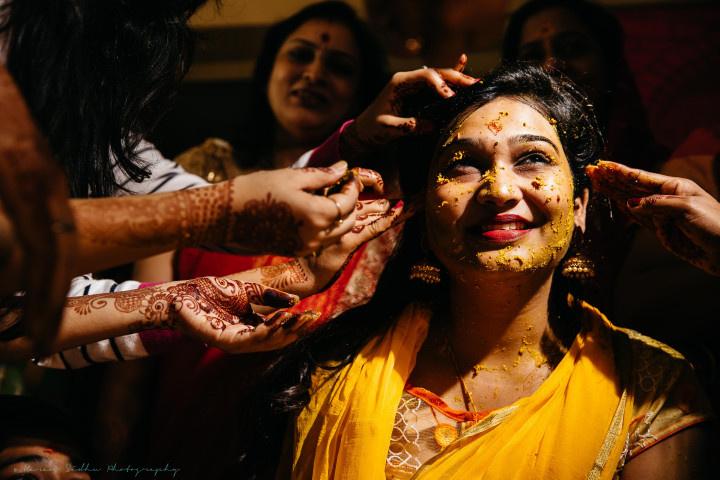 Halad Chadavane, also known as the Haldi ceremony, is what takes place on the morning of the wedding. It is when the family of the bride and that of the groom gather in their respective homes to apply ceremonious turmeric paste on the face, hands and feet of both the partners. Haldi Chadavan is believed to be a very spiritual occasion in a Maharashtrian wedding. The Maharashtrian bride wears a yellow saree with floral jewellery and a Ganesh Pujan is held as a part of the ceremony. I, being a pampered child, always felt every bit of emotions during this ceremony. It was the final day of me being my parent's doting daughter and tomorrow, I was going to become someone's lawfully wedded wife. Leaving my life, my parent's home, my lifestyle and customs behind and welcoming a new perspective towards a lifestyle full of adjustments and acceptance was a bit overwhelming. But amidst this burst of emotions, I was also happy to see my friends and family eagerly participating in the Haldi Chadavan ceremony, blessing me with gifts.
4. Trousseau Of A Maharashtrian Bride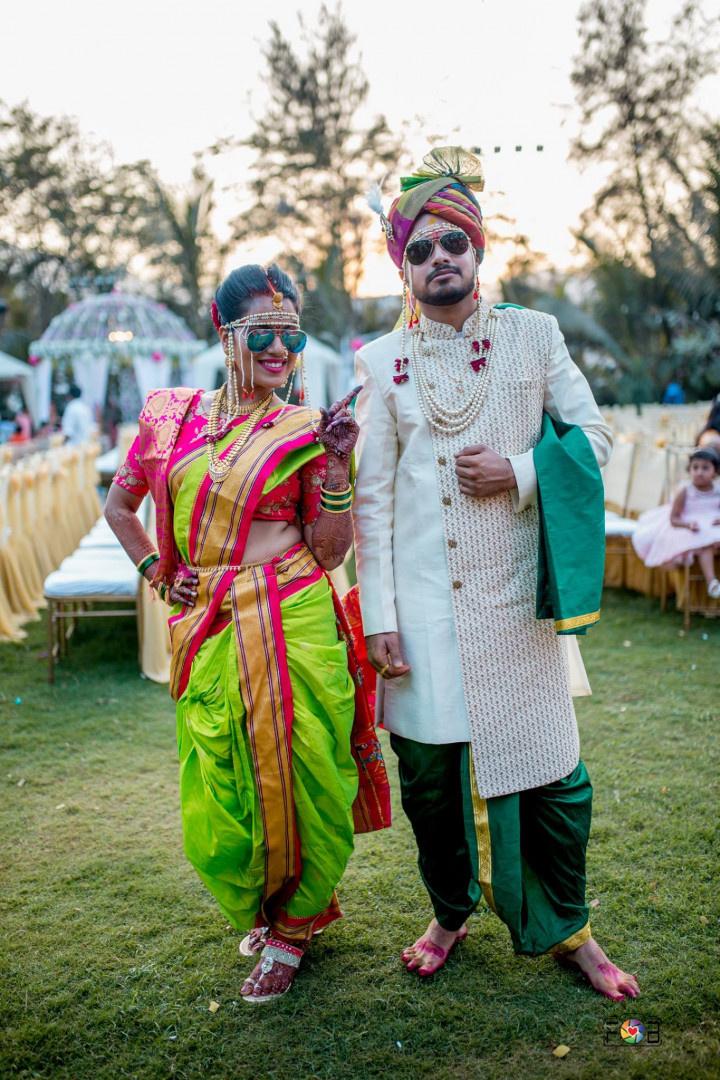 Image Courtesy: Flash n Buzz
Belonging to a Marathi family, I had one thing decided since childhood for my wedding, that I will be adorning a traditional Nauvari saree style for my wedding ceremony. Although it wasn't a tough call deciding on the colour scheme and other details of my Nauvari saree trousseau, I still wanted to make sure that it went well with the floral theme of my wedding's decor. My decision to purchase a fuchsia pink and lemon green Nauvari saree turned out to be the talk among friends and family members. Everyone absolutely loved the simple and elegant Nauvari saree and appreciated my smartness to get it stitched for a carefree adornment throughout the wedding ceremonies. My saree was purchased from the famous Bharatshetra Shop at Dadar, Mumbai.
5. Wedding Jewellery Of A Maharashtrian Bride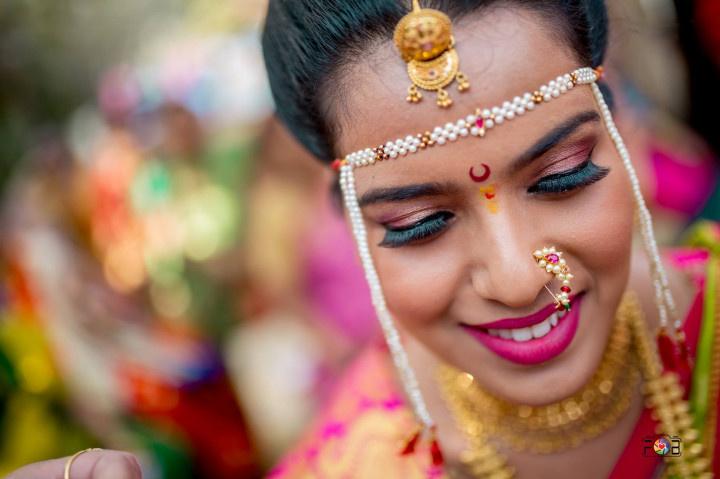 Image Courtesy: Flash n Buzz
Matching my traditional Nauvari saree with equally traditional jewellery, I decided to wear every piece of the jewel in gold. I wore a gold Bajuband on my arms, the waist belt known as Kamarpatta, the traditional and very famous Marathi Nath, set of green bangles also known as Hirva Chuda and Paisan. To complete the look, I got my hair packed into a bun adorned with floral hair bouquet known as Veni in Marathi and the crescent Chandragol Bindi in red colour. Honestly, I felt like a Marathi Maharani, ready to rule the world with a huge smile.
6. The Grand Wedding Entry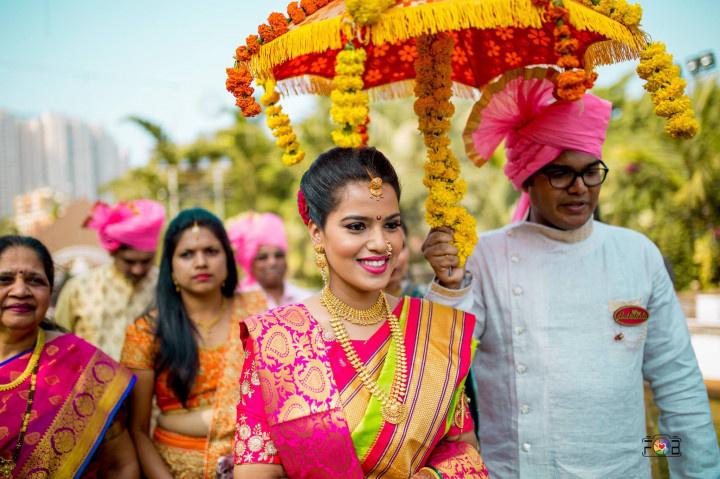 Image Courtesy: Flash n Buzz
As my husband and his Baraat reached the entrance of the wedding venue, my parents and family welcomed all the guests by greeting men with pearl-necklaces and the women with a rose. I waited patiently, all decked up in my wedding trousseau and excited to step out and flaunt my look to the entire world. When the time came, my brother held my hand and escorted me towards the centre stage. My brother, holding a flower decorated umbrella walked all the way up to the stage, making me feel like a true princess, all smiles and proud. A very emotional Marathi song playing in the background intensified the moment and I could see happy tears in the eyes of my mother who always dreamt of seeing me as a true Maharashtrian bride someday. Today, was that day!
7. The Antarprat Ritual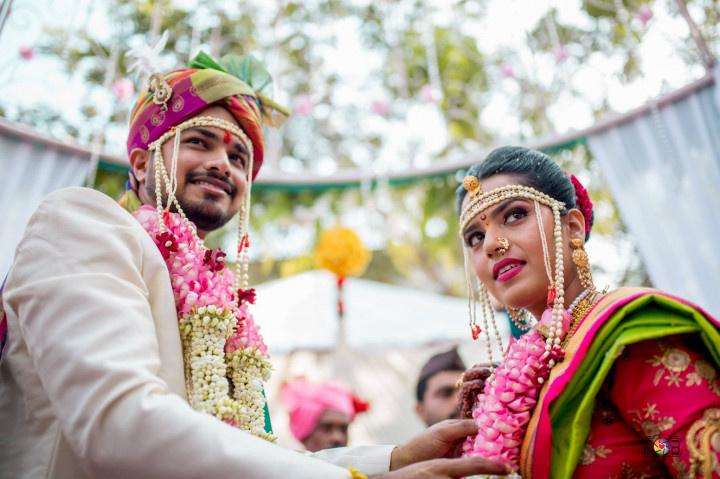 Image Courtesy: Flash n Buzz
This has to be my favourite part of the wedding ceremonies. The eagerness to see each other, but a white linen cloth as barrier in-between the bride and the groom, I waited patiently coaxing myself to not do the mischief of looking through peepholes to get a glimpse of my husband. Nonetheless, with the growing anticipation and the long wait, my husband ended up peeking through every way possible to look at me. But when the linen cloth was dropped to the ground, all eyes were on us but our gazes were fixed on each other. And with a smile and contentment in our hearts, we proceeded with the Jai-Mala ceremony to get the couple wedding rituals started.
8. The Kanyadan Ceremony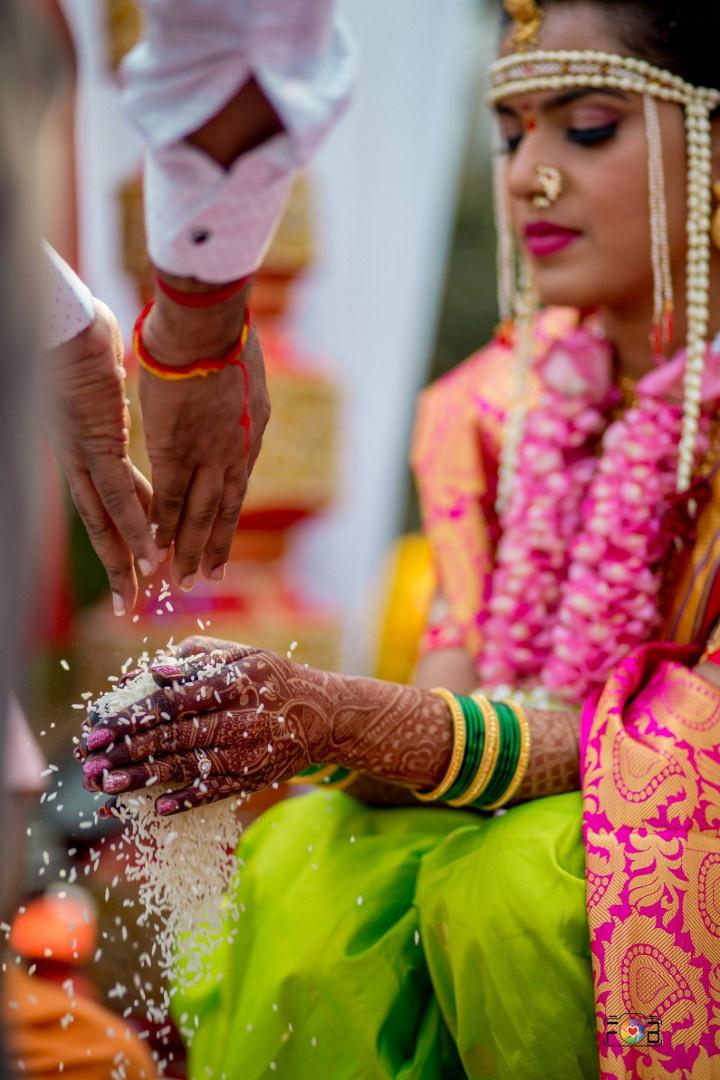 Image Courtesy: Flash n Buzz
Considered to be a very emotional ceremony for the bride and her parents, I knew that I was not going to hold back my tears. As my father performed the giving-away-of-the-daughter ceremony, known as Kanayan ceremony, he became teary-eyed. It was that moment when I could feel his fatherly affection towards me, which left me speechless. Even today, when I share my wedding experience with you, I have tears in my eyes as this emotion and that moment is something which cannot be expressed just in words. It is this moment when parents of every bride are happy for their daughter's wedding but equally sad as from that day onward, their daughter will belong to her husband.
9. The Satapadi Rituals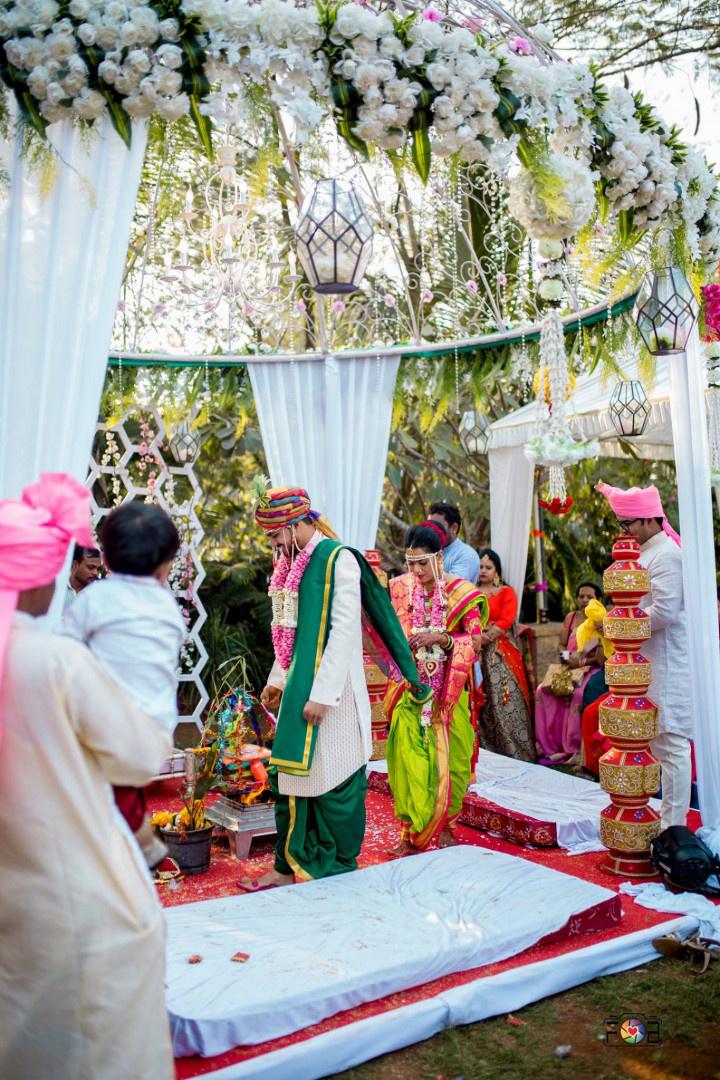 Image Courtesy: Flash n Buzz
Satapadi rituals, popularly known as Saath Pheras rituals, was done the Northern Indian style. I had a lot of fun performing these wedding vows as the variation was new to me. I felt equal pride and a sense of respect towards the cultural rituals of my husband's side, expressing my love for him and his family alike. It is these cultural ceremonies that bring two different cultures together in complete harmony.
10. The Vidai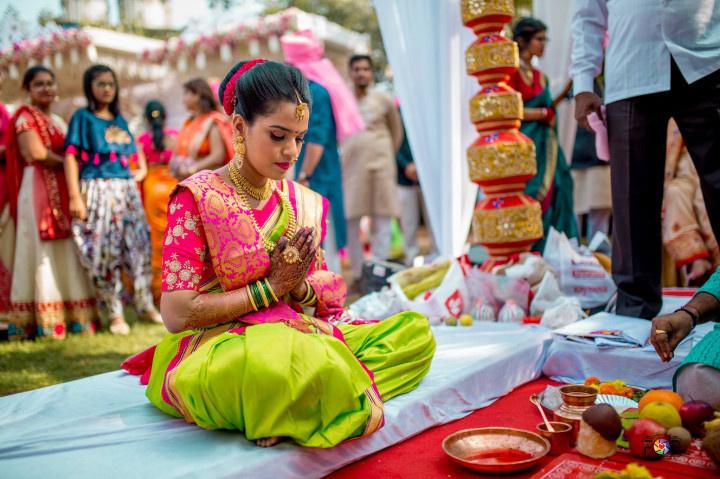 Image Courtesy: Flash n Buzz
One of the toughest parts of any wedding is the Vidai part. The time that I wished to push ahead as much as possible and something I was just not ready to face, was the Vidai ceremony. It was time to finally leave my Parent and the place I had called home for 26 years behind, moving forward towards new beginnings. As I cried along with my parents and brother, my family members gave me the advice to be strong and to not worry about anything. But above everything, the feeling of Daddy's little girl leaving him behind was too consuming to think beyond. Alas, the Vidai ceremony took place and I bid farewell to my parent's home, with tears in my eyes, but happy to be moving on with my husband for a beautiful tomorrow.
11. The Grihapravesh Ceremony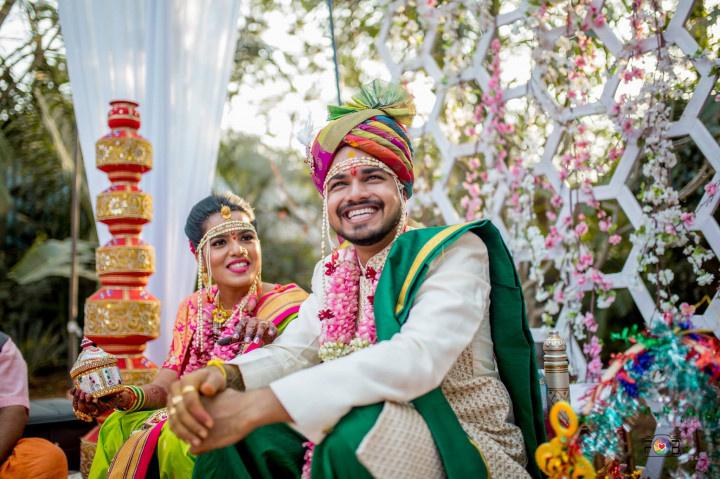 Image Courtesy: Flash n Buzz
I will be honest to say that as we travelled towards my husband's home, I was very nervous about the new beginnings. Adjusting with a new family, lifestyle and traditions, I was anxious as to what this experience will bring with it. But my husband held my hand and with the support of my husband's parents and the love they welcomed me with, that anxiousness subsided instantly. The Grihapravesh ceremony was so much fun as I was getting all the attention from the family members. Amidst pampering me and teasing me with my husband, I found myself feeling happy and at home in no time. Every Maharashtrian bride at the time of her wedding is adviced by her parents to take up her married responsibilities seriously, respectfully and lovingly. I too settled into my new home with these values and can say that I feel blessed adapting to this beautiful married life now.
The wedding of every bride brings with it a sea of emotions, a flashback of her childhood memories and a trail of future dreams that she looks at achieving being a married woman from then on. Leena chatted her way excitedly as she shared fresh memories of her recently held Marathi wedding, feeling every bit proud of having respected the traditions and being a doting Maharashtrian bride that her family dreamt of seeing her as one day.
Did this first-hand experience of a Maharashtrian bride bring tears in your eyes too? Comment below if you would like to express something for Leena and her beautiful wedding story.