Latest Kanjivaram Saree Images for Your Perfect Bridal Wardrobe
Looking for the perfect bridal saree? These real bride's Kanjivaram saree images are the perfect inspirations you need to nail the traditional and regal look!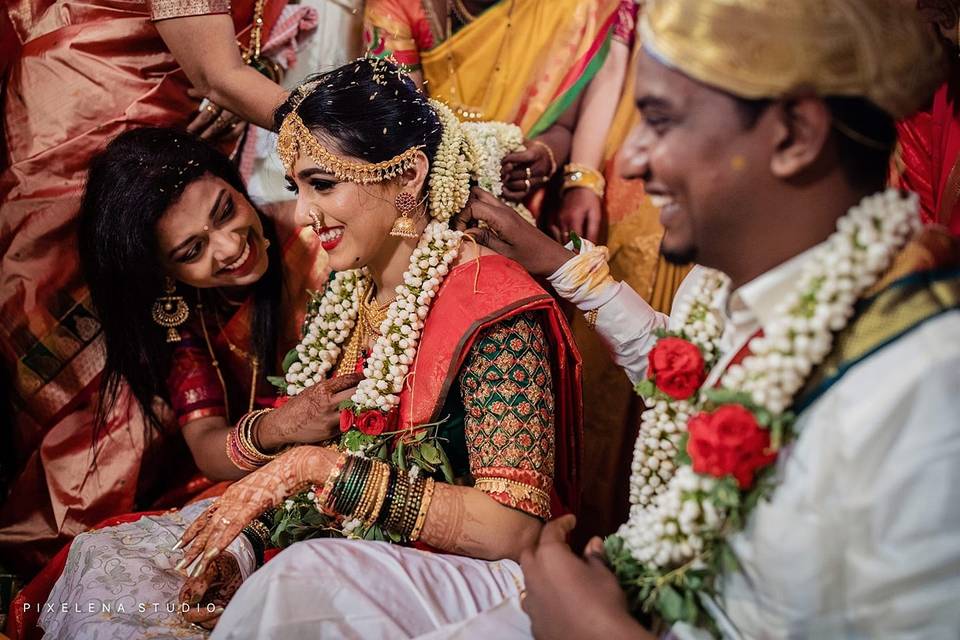 The moment one says traditional Indian bride the first image that pops into our mind is that of a gorgeous bride clad in a lush golden Kanjivaram saree with layers of ornaments. Through the ages and years of transformative fashion, sarees have remained quite a statement and traditional choice for brides across the country.
In South India, this traditional outfit has remained an all-time favourite and one browse through these real brides all decked up in these Kanjivaram saree images and we too were sold on the idea! Sarees always seem to stand tall against the ever-changing fashion and always remain in vogue.
Your mother's sarees from her younger days will still be trendy and fashionable now and that is what we love about these Kanjivaram saree images. These classic outfits will always remain in vogue! These Kanjivaram sarees give us a great insight into how to pair it correctly with different makeup looks, hairstyles and even accessories.
There is something hidden away for every bride on this list. So, don't forget to bookmark this page of Kanjivaram saree images for any future reference.
The Classic Look!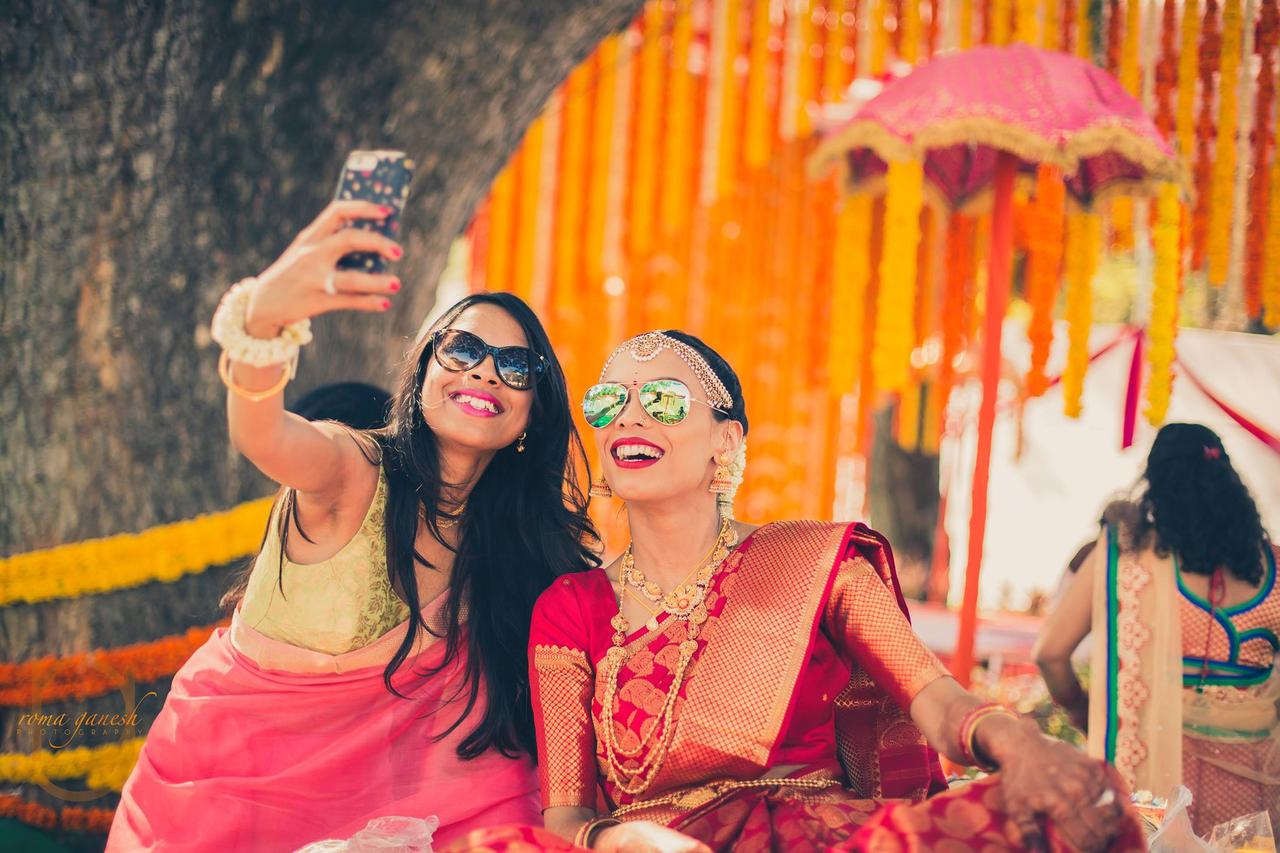 If there is one true colour for Indian brides, it is through and through RED – all shades of it. And this bride's Kanjivaram sarees pictures just reminds us all the reasons why the colour has remained a coveted favourite across the country be it for lehengas or even sarees.
These Kanjivaram sarees pictures just show us how to ace the traditional bride look with much swag! The reflective shades, delicate layers of lustring gold and plaited hairstyle with mogra are all working so seamlessly well, we absolutely love it!
You could also accessorise monochrome Kanjivaram sarees with jewellery featuring some contrast to give it the much-needed relief and fun!
A Riot of Colours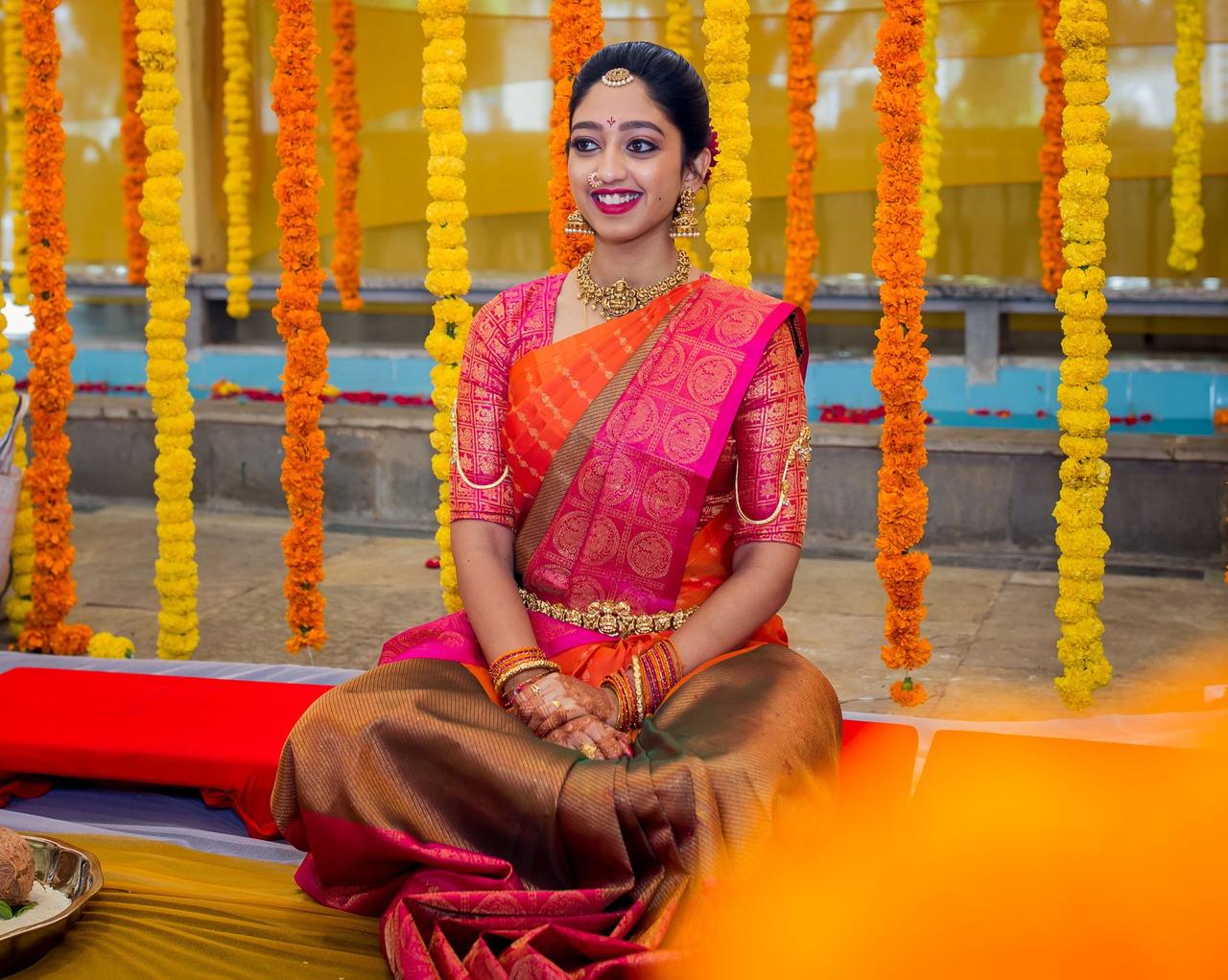 The modern aspect of these rather traditional Kanjivaram saree images come right from the bright and maybe even unusual colour schemes which otherwise would not work so beautifully. Just look at this bride's, Kanjivaram saree for a start.
The different rage of colours right from orange, pink, beige to gold all blend in seamlessly to create this gorgeous bridal saree which is bound to be remembered for the years to come. We especially love how the bride paired it with a matte finish rustic jewellery set which compliments the look even more.
Also, can we take a moment to appreciate the 3/4th sleeves blouse which has the same pattern from the border of the saree…it is giving us some major Masaba vibes!
Pop of Brightness!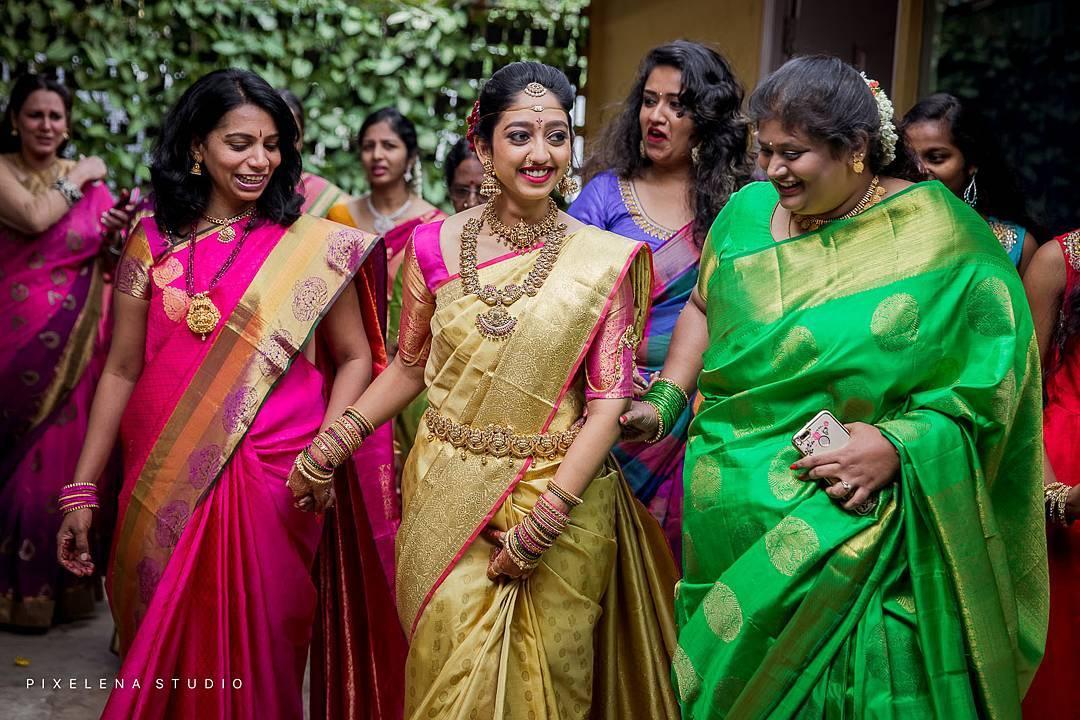 Yellow and bright pink is a match made in heaven when it comes to colour combinations. And this Kanjivaram saree images goes to show how you can ditch the usual colour palate for bridal sarees and embrace something as bright and fun as this for morning wedding functions.
The bright pink shining through the border and blouse along the yellow saree is such a breath of fresh air we cannot help but adore. The bride's bright pink lip and layers of Temple jewellery is just the right accessories for it.
You can always choose to wear a Kanjivaram saree for your big day and embrace modernity in terms of new and experimental colour schemes.
The Regal Look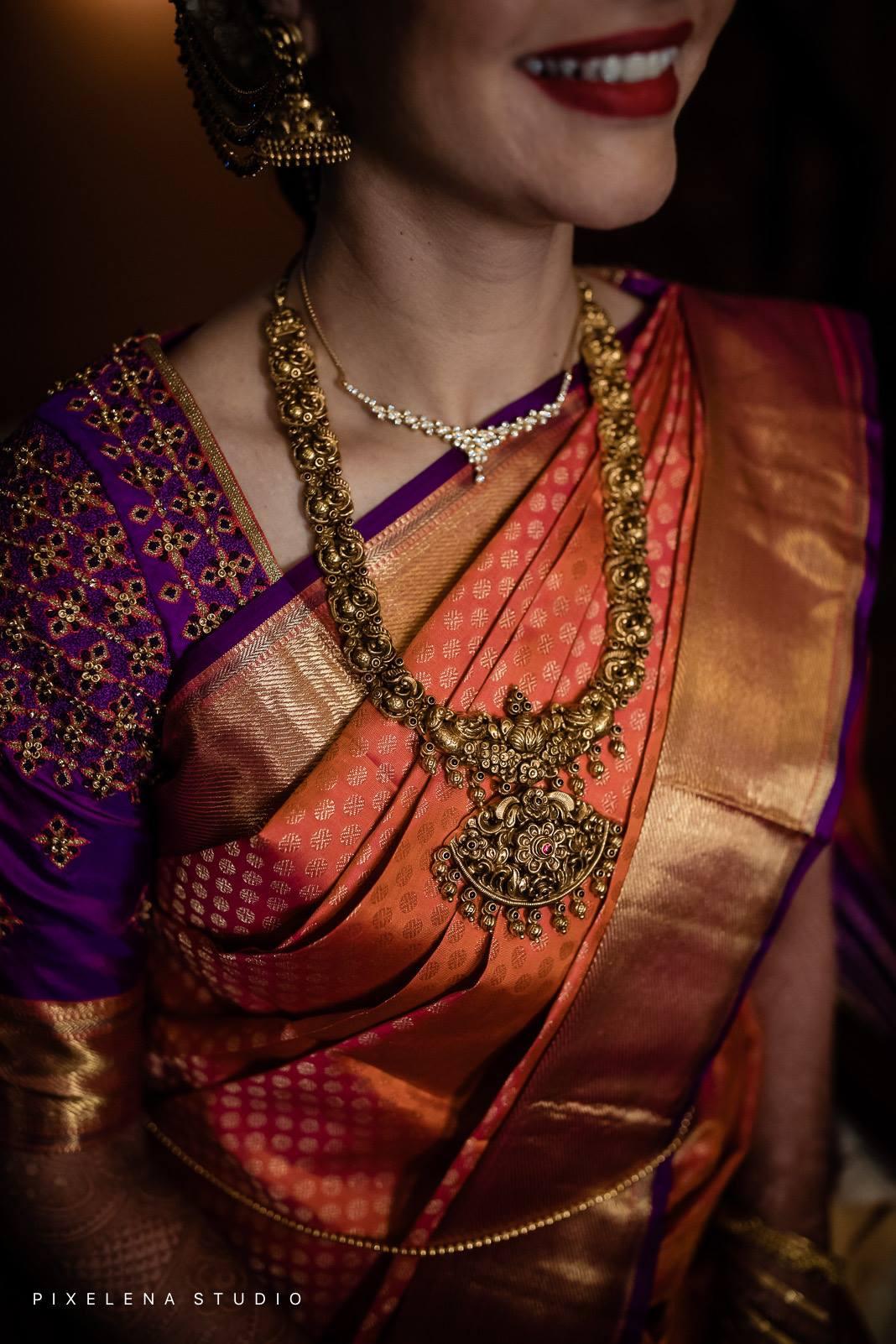 Another one of the great Kanjivaram saree images giving us major goals is this bride's close-up shot. The purple and orange saree is a common colour combination down south in India but always looks different each time we see it. The colour scheme is daring yet with the traditional saree design is seems beyond perfect.
We especially love this bride's embroidered blouse along with the lustring saree, it gives it quite the required different textures to bring out the most for the bridal look! Also, can we just say we adore the dainty diamond set between the other bold gold designs as it works so well together.
Sarees have always managed to make a special place in our heart with their decadent drapes, intricate work and an inherent ode to decades of traditions. Remember how actor Deepika Padukone championed the style in her Kanjivaram saree images for different ceremonies right from her wedding down to the reception. Each way she styled the classic saree, it looked so different and was beyond perfect for brides to take inspiration from!
All of these different brides featured in Kanjivaram saree images look so regal and elegant it is hard not to consider wearing a saree over the trendy lehenga sets which are ever influenced by fashion and trends.
You are not only bound to stand apart in these classic styles, but it also gives you the chance to include heirloom pieces from your family.
Which of these Kanjivaram saree images did you like the most for your bridal look? Do let us know in the comments below.