The Breathtaking Inter-cultural Intimate Wedding in Mangalore
Aakanksha & Mikhail brought their intimate inter-cultural wedding from Phuket to Mangalore. Here are the deets of the magical wedding for inspiration.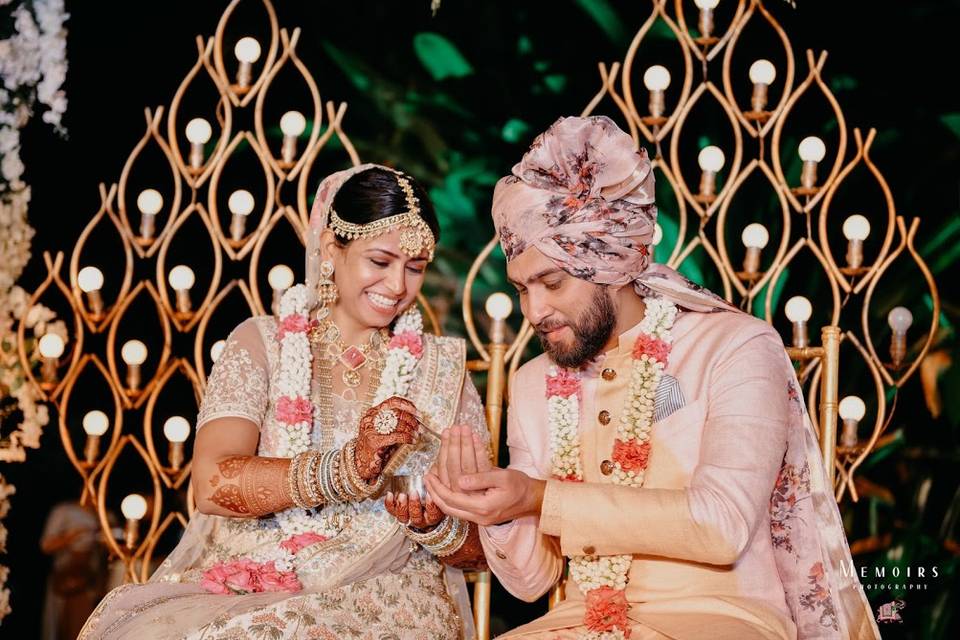 The pandemic has been instrumental in changing the "normal" course of events. What used to be a big fat desi wedding has become a small wedding. While destination weddings were a huge rage among the millennial couples, the post-COVID19 world is celebrating love through micro-weddings in places where one can host an intimate wedding.
Not only has the pandemic been the catalyst in the shift of the types of weddings the couples pick but also altered the trends like - catering trends, jewellery shopping ways, makeup shopping and so on. Couples have even started hiring service partners and professionals while social distancing. While the world is still to work its way through virtual weddings or virtual ceremonies, the ways of the "new normal" are without a doubt starkly different from what it used to be.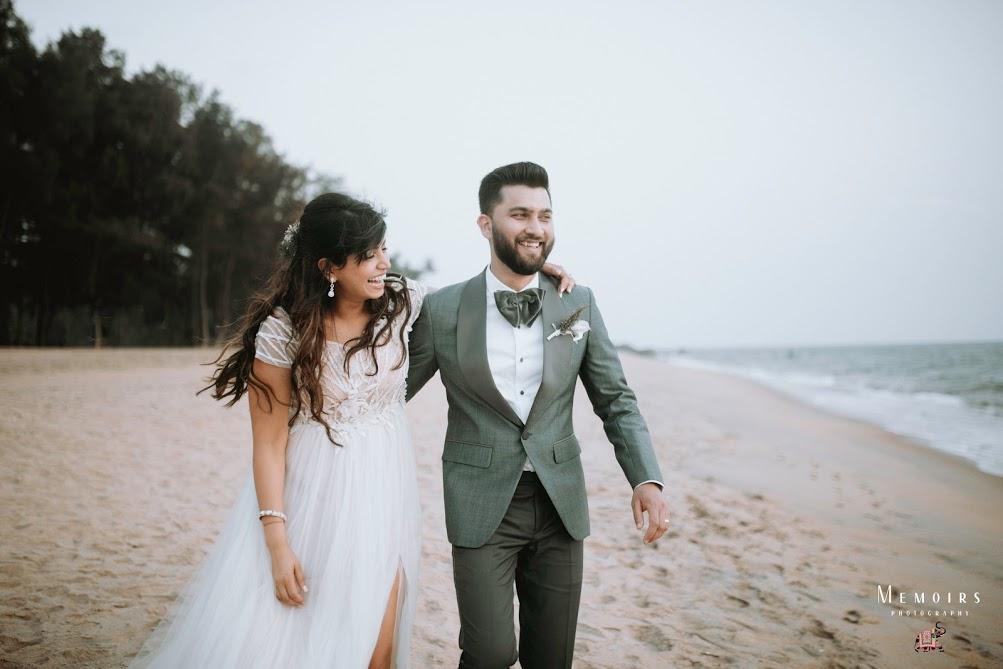 One such story of a wedding celebrated in the new normal is of Aakanksha Patel and Mikhail J Verma. Their story is not only an engaging tale of Weddings in the Times of Corona but also a breathtaking intercultural wedding that merges the goodness of both Gujarati wedding and a Christian wedding to weave a breathtaking fairytale spun beautifully.
Read on to know all the itty bitty details of this dreamy affair.
They Met Through Work & It Bloomed into A Love Story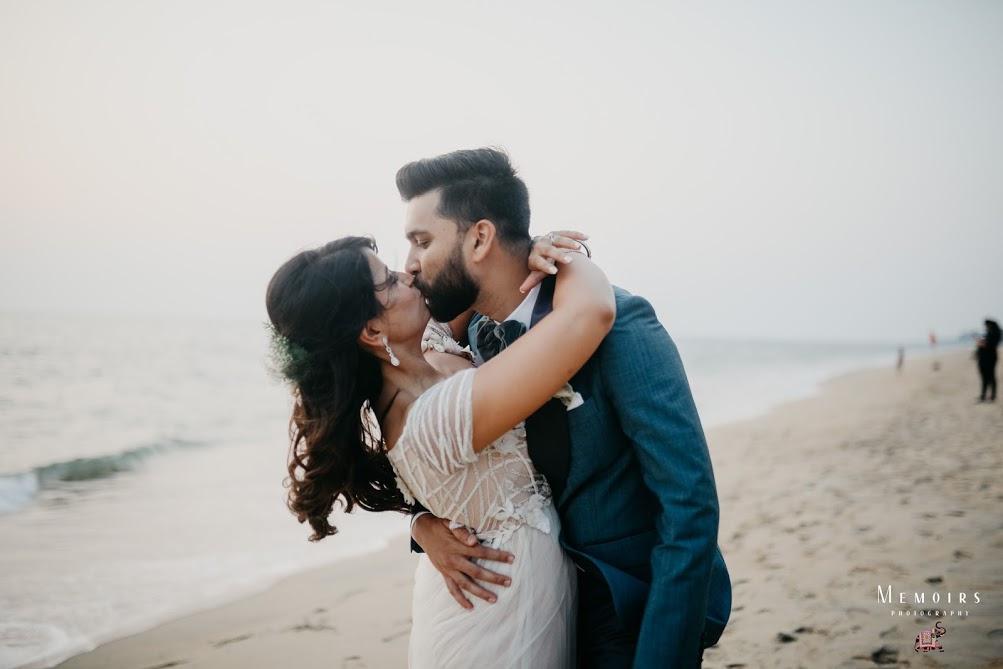 Aakanksha and Mikhail crossed paths nine years ago at work. The fact that they often got a chance to work together, turned them into close friends over time. Their enduring friendship bloomed into a magical love story and they eventually started dating. They had been dating for 5 years already when Mikhail planned a surprise proposal during a family trip to Mangalore for his cousin's birthday. Aakanksha shares, "Both of us love beaches, and I was thrilled beyond measure when he popped the question on the beach. I was completely thrown off guard, and couldn't have hoped for a better proposal."
The Onset of COVID-19 & The Change Of Plans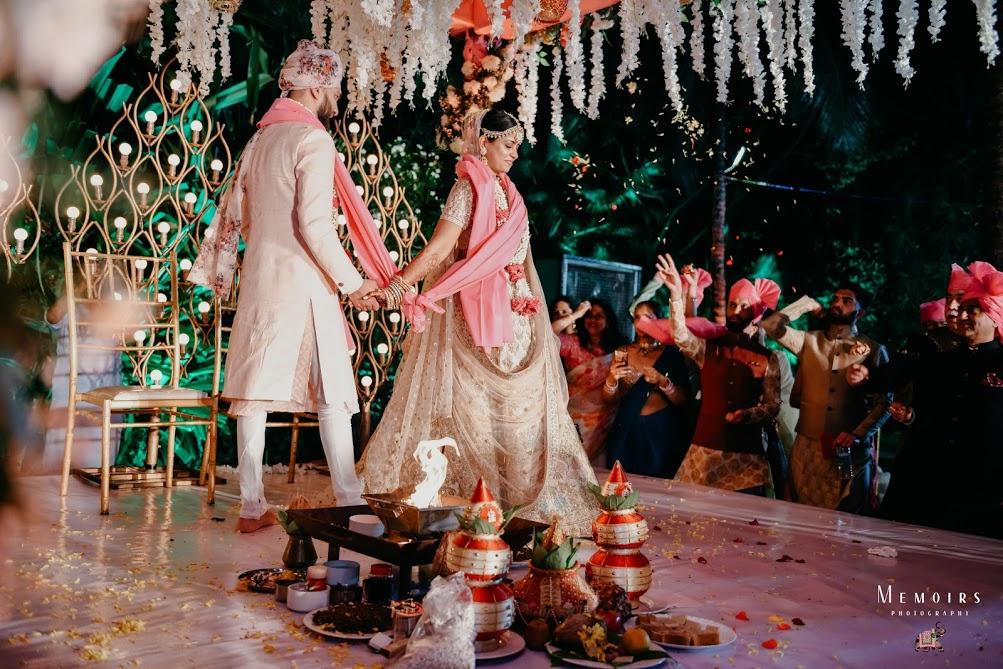 Their wedding story has got to be one of those epic Bollywood scripts. If you are wondering why then here are the details of the filmy wedding planning encounters. Aakanksha says, "Looking back, it feels like we were a part of a very dramatic Bollywood movie. Initially, we planned our wedding in Thailand as we both were in love with Thai food, culture and the beach. In fact, I had started putting things together from the day he proposed (if I'm honest, I probably started much before then). Finally, after 7 months of planning, we had everything in place; Phuket, Marriott, March 2020. Multiple recces ensured everyone was on the same page and then suddenly all the RSVPs came in as NO."
She continues, "Confusion hit & how! Yes, we were all aware of Corona but at this point, the virus hadn't even opened all its cards and here we were with 7 days to go and guests were cancelling by the hour!"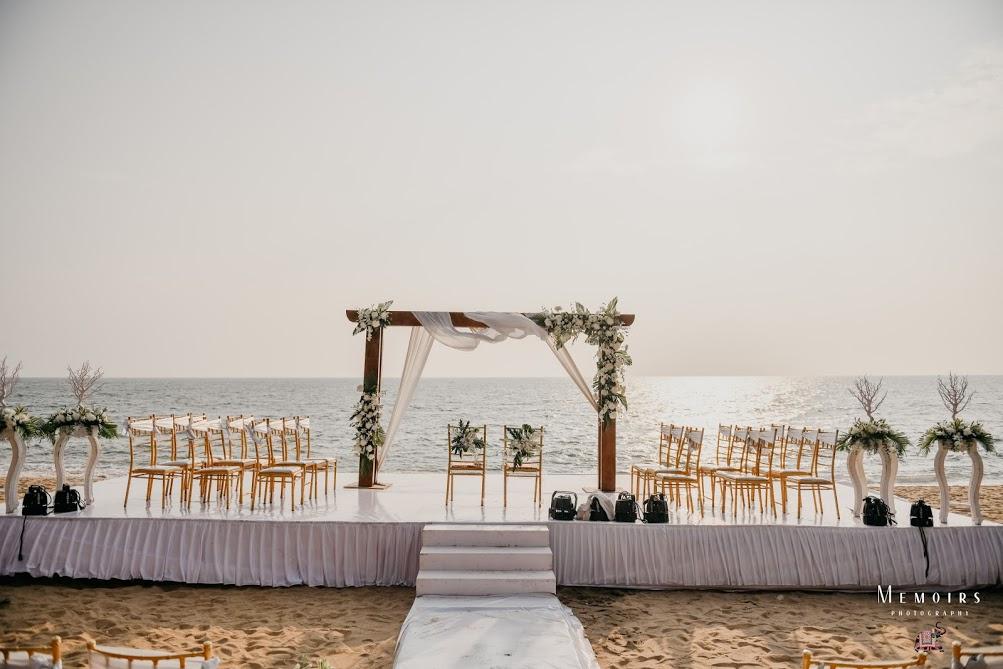 The next few days the team at Castles & Coasters, along with Aakanksha and Mikhail, were dedicated to researching more and more. They all had their own share of anxiety, fear as they were unfamiliar with what lies ahead. Planners sure know how to handle last-minute cancellations or missing elements at the wedding but tackling a wedding that was being held amidst an epidemic (then) with the guests cancelling so fast was not something anyone was prepped for. After receiving a lot of mixed opinions and suggestions and making several pro-con lists that managed emotions, finances, guests, dreams and eventually, they finally called off the wedding in Phuket.
Aakanksha says, "So, planning the wedding in Thailand for almost a year to then have the onset of the global pandemic disrupt our entire plan was quite traumatizing not only for us both but for our families too. I remember clearly that it was on Valentine's day that we had to take a decision to cancel Thailand, with our wedding date scheduled exactly 14 days later (1st – 3rd March)."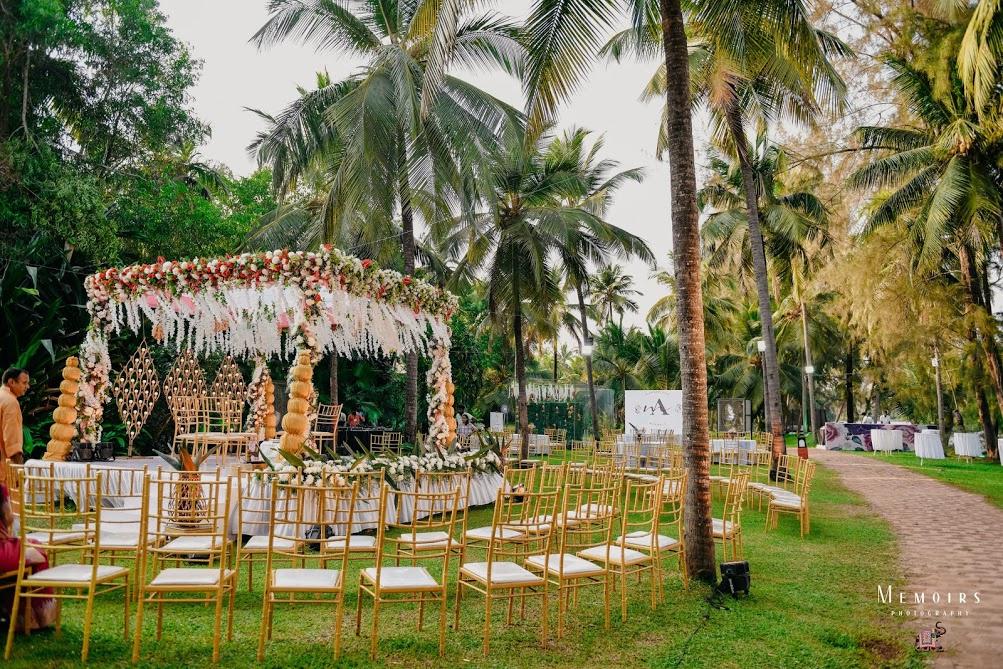 Many couples have been caught in the dilemma of whether or not to postpone the wedding and when to postpone it. The pandemic has rendered a lot of chaos in the process of picking the wedding dates and plan accordingly. For all the couples who have had to postpone their wedding dates, it wasn't an easy thing to handle the wedding postponement blues.
However, Aakanksha and Mikhail celebrated their original wedding day in the most romantic way ever to relive the love they share. Aakanksha says, "The first thing we both did was grieve our wedding as we realised it wouldn't be everything we were planning for a year. Mikhail came home with flowers and took me out for dinner and we forgot anything else in the world existed. That to me was one of the most important nights because we got to relive what our relationship really was about and how the wedding was a reflection and celebration of that rather than some big fancy event."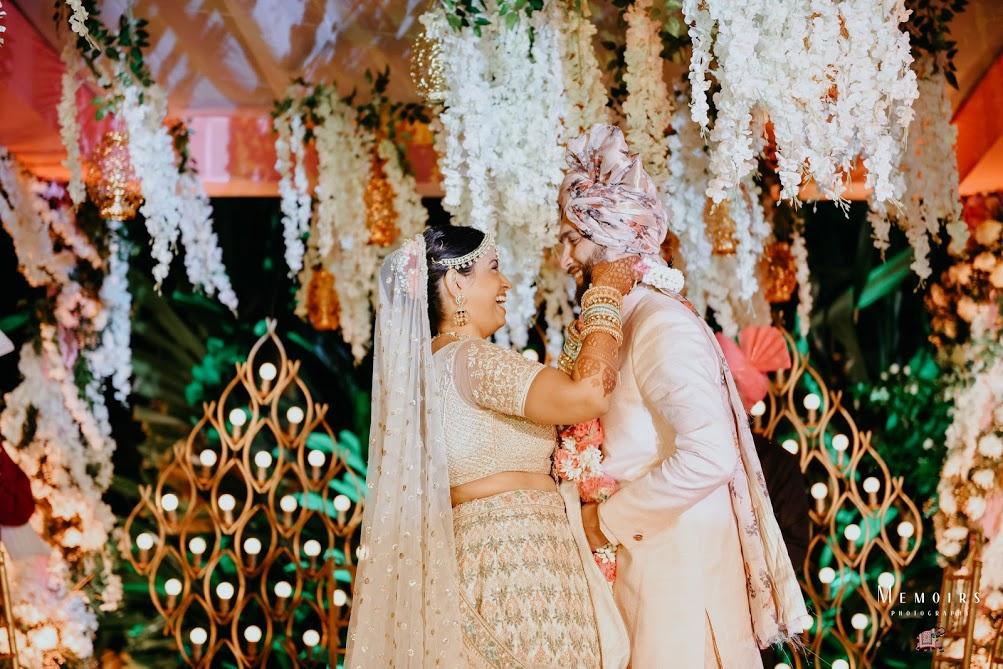 But there was one thing that they were sure of without any second thoughts - the show must go on. With clear instructions from the couple, their team started working on a new schedule.
The next couple of days (quite exact), the team of planners engaged themselves in countless messages to guests, coordination of new venues, quotes, budgets and tweaking designs. They also had one team in place that was coordinating and managing cancellations for all the Phuket partners. They finally had a new venue - Taj Bekal and new dates that were 2nd to 5th March. They also had new vendors in place. The only things that remained same were their family and friends to celebrate with.
Aakanksha tells us, "So, a few days later we did a family meeting and decided to move the wedding to Bekal in Kerala, a city close to Mangalore which is where Mikhail's grandmother came from and is very rich in his family history. Additionally, Kerala was a place loved by my father too (we used to travel there every year as children) and had a gorgeous beach with was true to our 'beach bum' nature. That turned out to be one of our best decisions yet!"
From Phuket to Mangalore - The Shift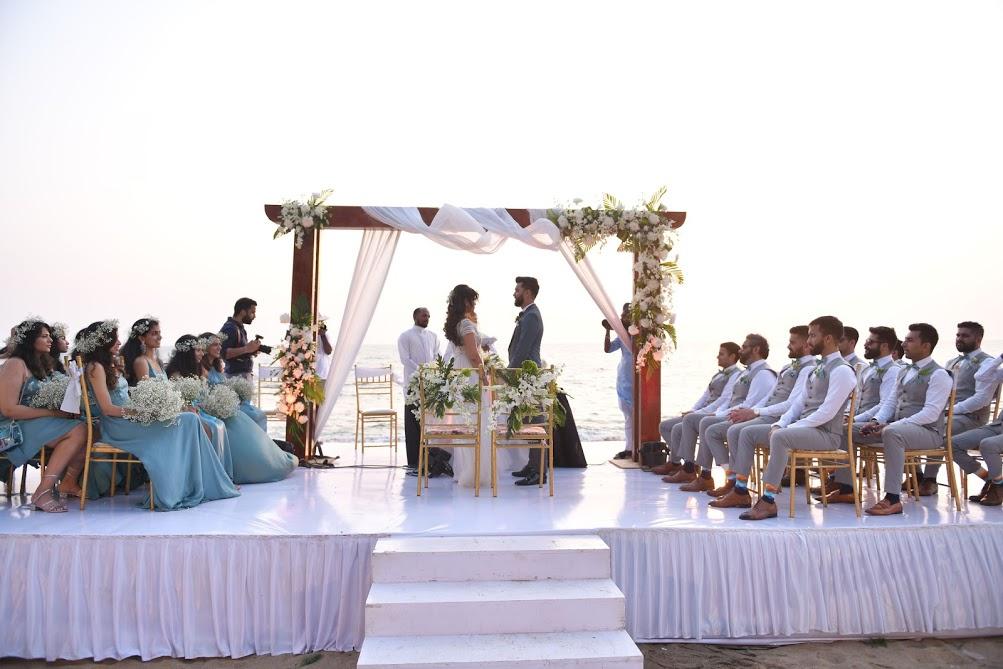 With just 14 days to go for them to walk down the aisle and all the wedding preps right in place, the sudden change of plans was something that nobody could have anticipated in their wildest dreams. The adjustments were many and the emotions must have been haywire to process the situation because the pandemic had not really become a pandemic then. Once the plans changed so drastically they took 7 days to put everything in place again while shifting the whole wedding to India.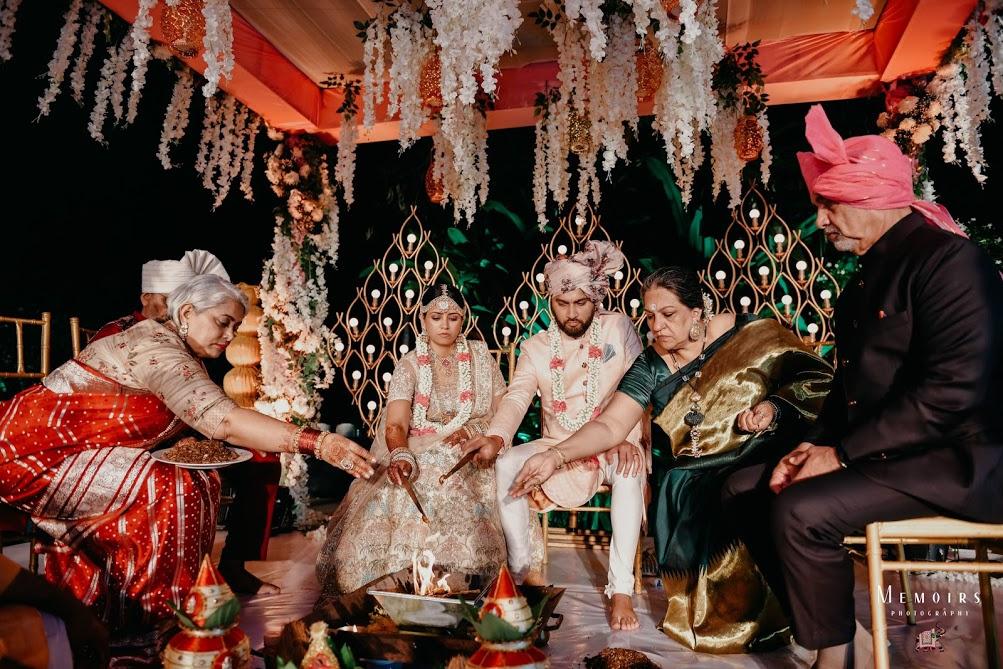 Aakanksha says, "The day we decided to move the wedding to Bekal, Mikhail me and our respective mothers took the next flight out to finalise the venue arrangements and meet all the vendors. We divided and conquered duties, sacrificing on our ask where possible to make the event a success. Moving the wedding to a venue that we had never seen before was one of the riskiest decisions but I have to admit, one of the best decisions because the venue was one of the most beautiful locations I have ever seen before. I have to say that the entire family rallied to make this wedding a success. Mikhail's Uncle, Vivian Peres was instrumental in locking down the venue because of his expertise in the travel and tourism industry. Mikhail's Family in Mangalore, Peter and Paul Mascarenhas and other family members pulled all their contacts from Mangalore together to help with décor, lighting, sound and logistics. The venue itself, TAJ Bekal completely empathised with our situation and came together to do everything they could to support us. Our friend Arjun Shah from Shark & Inc who supported with talent and entertainment and last but most importantly, our mothers who collectively held up a brave face and really pulled the whole event together. Our wedding would not have been possible in the 7 days were it not for our family and friends really stepping in to do everything they could to support, we are eternally grateful for them."
The Inter-Cultural Wedding In Bekal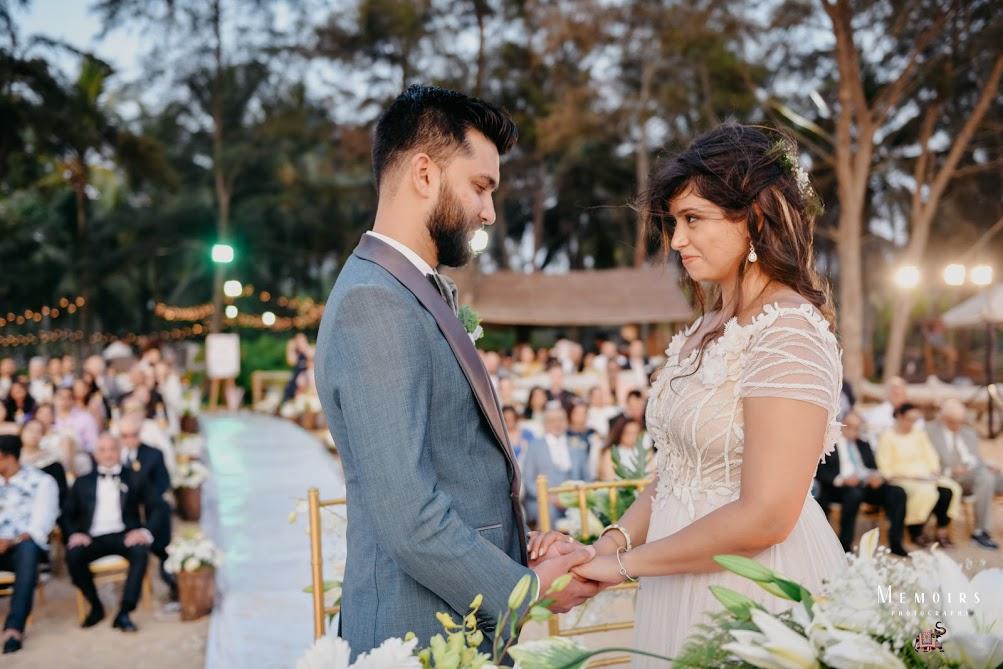 Coming from different cultures, it is often not a cakewalk to become a part of each other's families. All those Bollywood movies like Two States and Vicky Donor have established fun but stark differences between the families when it comes to an inter-cultural wedding. We must have laughed it off when Ayushmann Khurrana made it look hilarious on-screen, but the reality of such situations might be very different. To meet halfway and break the awkward ice is a herculean task, to say the least.
However, that is definitely not the case with Aakanksha. Both of their families have been more than just support and welcome them into their lives. Aakanksha says, "To be honest, Mikhail made me a part of his family from even before we started dating. We were friends for 3 years before anything really sparked between us. So as we grew closer as friends, he would invite me for family gatherings and his family has always been very open-minded and welcoming. I felt like a part of the family from the very beginning and vice versa. Mikhail met my folks just as we started dating. He too was welcomed with open arms from the very beginning because my family was also unbiased and welcoming. They were very excited about us getting together as they were very fond of Mikhail as my friend. The only challenge we had when breaking the ice was the veg to non-veg ratio being served at parties which was also not much of a challenge since Mikhail's mum is one of the most talented cooks in the world!"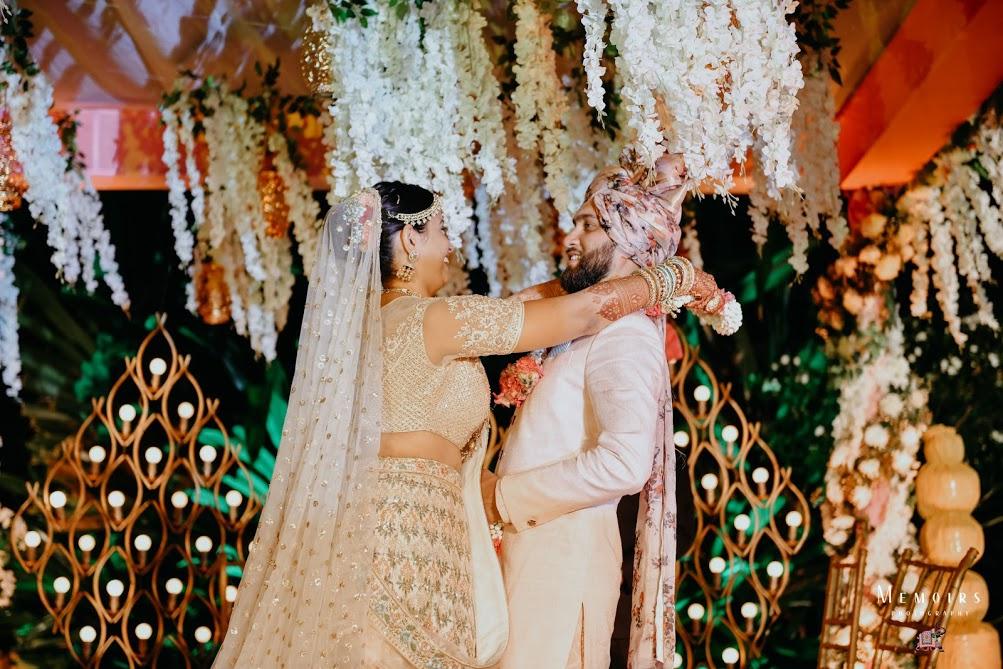 Aakanksha and Mikhail had planned a Christian wedding as well as a Hindu phera ceremony. Honestly, we are in love with how the two met each other halfway and made this union beautiful. The concoction of the two cultures in a perfectly balanced set up is heart-melting and adds to the beauty of this amazing wedding. Aakanksha tells us, "As a little girl I always dreamt of a white wedding to a man with light eyes. Turns out I was actually only predicting my future! We were both thrilled to have ceremonies from both religions – in fact, I think we had so many ceremonies by the end of it all that our friends joke that we got married 5 times. The specifics are that we did a Roce and Nuptials ceremony from Mikhail's side along with a Sangeet, Mehendi, Haldi and Pheras from my side."
The Hep & Happening Wedding Celebrations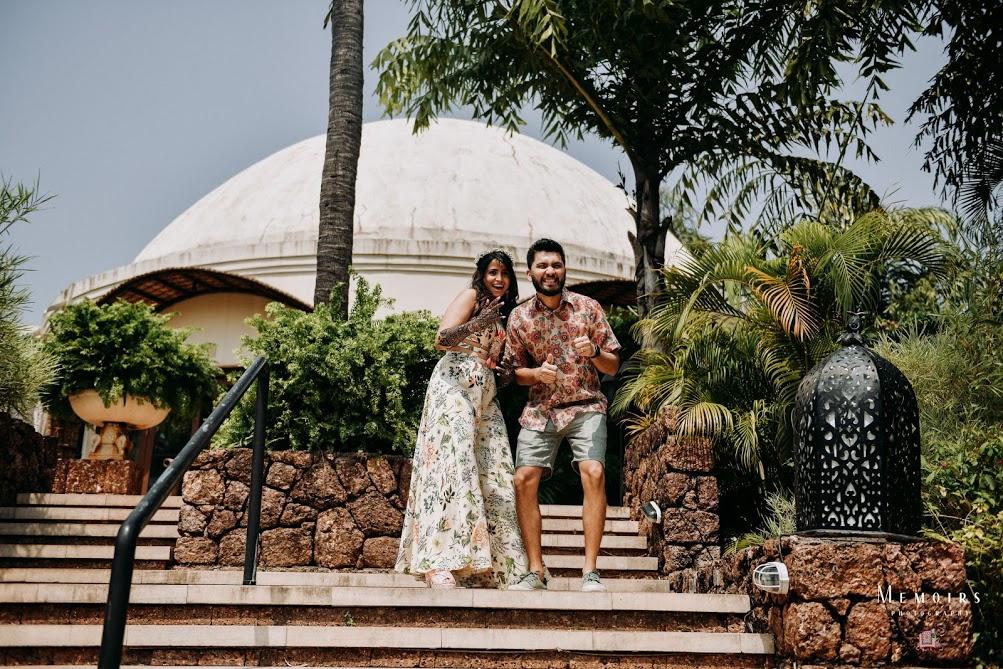 The ultimate goal for Aakanksha and Mikhail was to keep the plan steady and yet pull it off with the shift involved in between. Aakanksha says, "I think the biggest trick in my book was to stop expecting every little detail to be like what I had originally planned. It went from planning every single detail to just going with the flow with whatever was possible. Décor for example, we didn't custom make anything – just used all the décor that already existed with the local vendors. A lot of sacrificing expectations but just enjoying the output."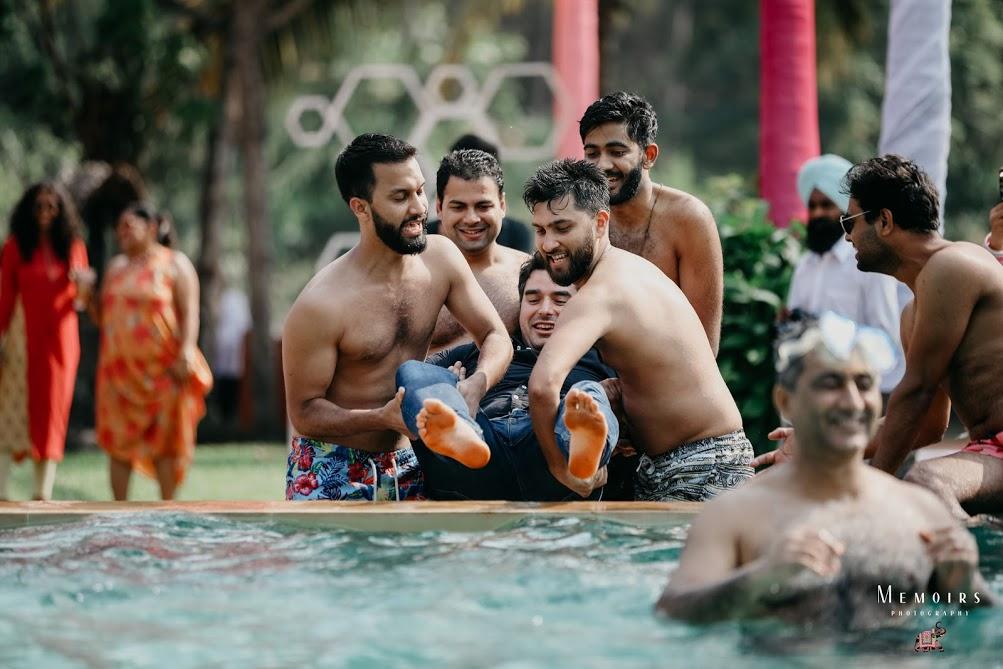 She continues to say, "Eventually we both decided to just make sure we each had an absolute blast at the wedding instead of 'being the bride and groom'. I wanted to be a part of his baraat so I just crashed it without giving it a second thought. He wanted to party till the sun came out and that's exactly what we did. We became guests at our own wedding which is what made the entire event such fun."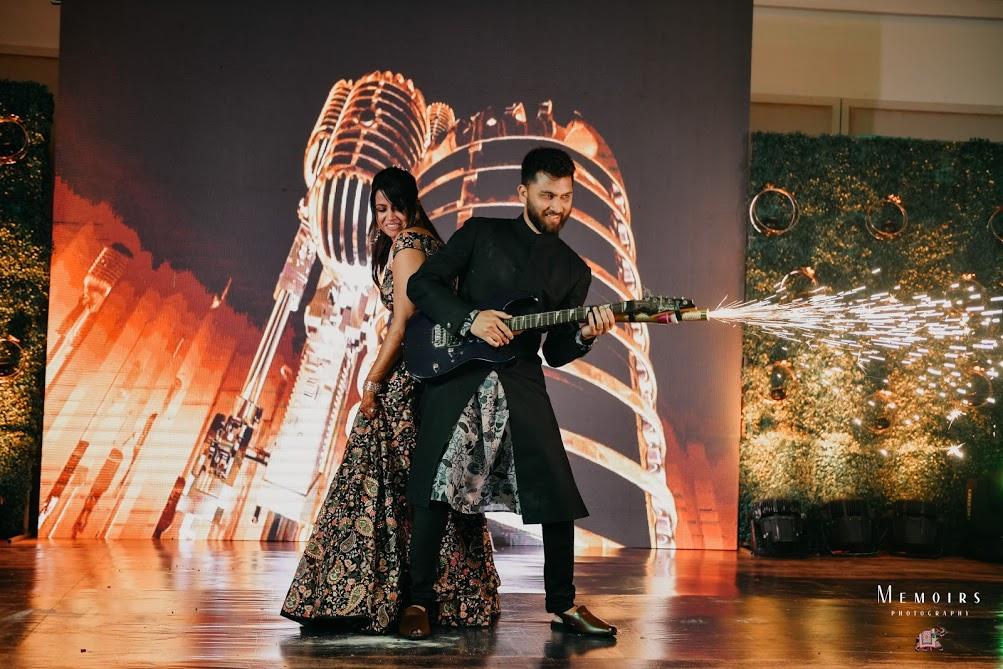 Aakanksha adds, "The mini-wedding ceremonies were already planned before the big shift of venue. Before the wedding we had our church wedding where we registered our marriage and signed the certificate at Holy Name Cathedral in Colaba, followed by a small Puja and Roce before flying out. I remember that the Roce took place on 18th February, a mere 4 days after we cancelled our Thailand location and during the event, we had no idea where we would be doing our wedding. There was a moment when I thought 'this is it, this is my big celebration' but fortunately that wasn't the case. After the wedding, we had planned a big bang reception at Amadeus but that is was just when the cases in India were picking up so that too ended up being an intimate but fun event. I remember that we had the temperature guns for this event and deep down I knew that we were getting away with the wedding just in time."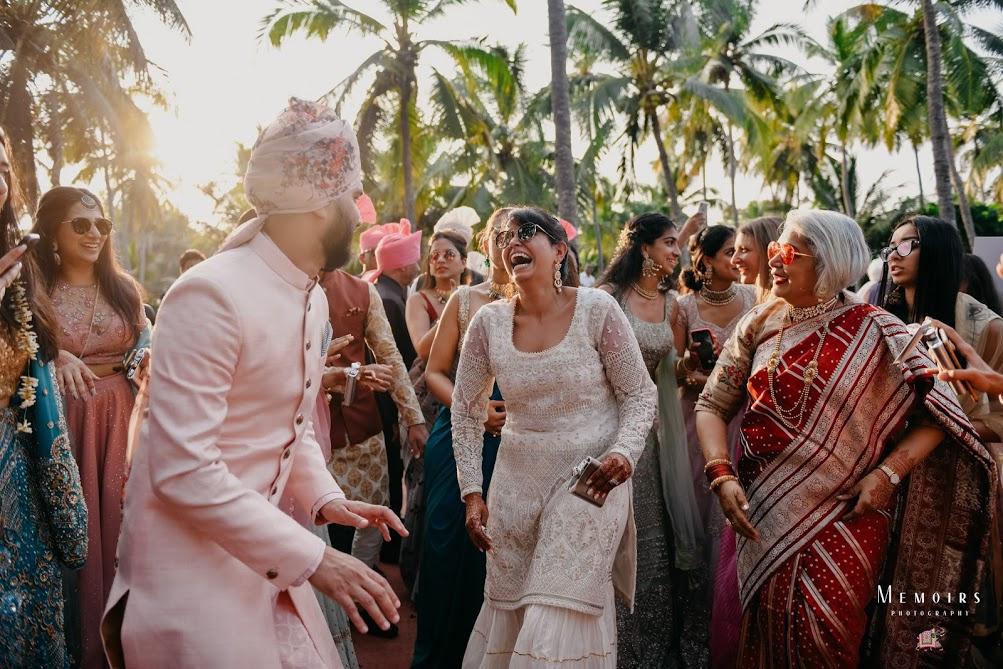 Though the pandemic was not in a full flare in India and there were no restriction yet or a lockdown for that matter, their guest list had to be altered because of the travel restrictions in many parts of the world. On that note, Aakanksha says, "Our wedding was a very intimate affair. We had only 163 family and very close friends attending (which is small for an Indian wedding). This made it easier for us to maintain a safe environment for the celebration. Also, the Pandemic hadn't really hit India at the time of the wedding so we didn't have to take extreme safety protocols. We did, however, advise anyone travelling by air to wear masks and sanitise."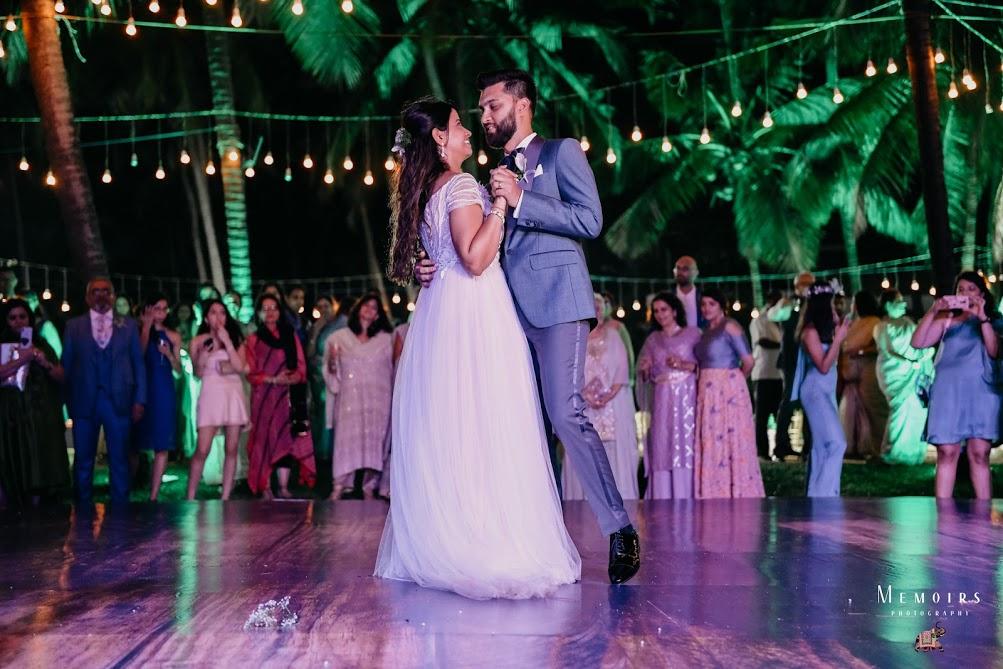 While talking about the travels and movements she also says, "Most of our guests from out of the country flew in well before the wedding when COVID was just being declared as a pandemic. They didn't face too much trouble but were asked to self-quarantine once they returned to their respective homes."
What The Couple Wore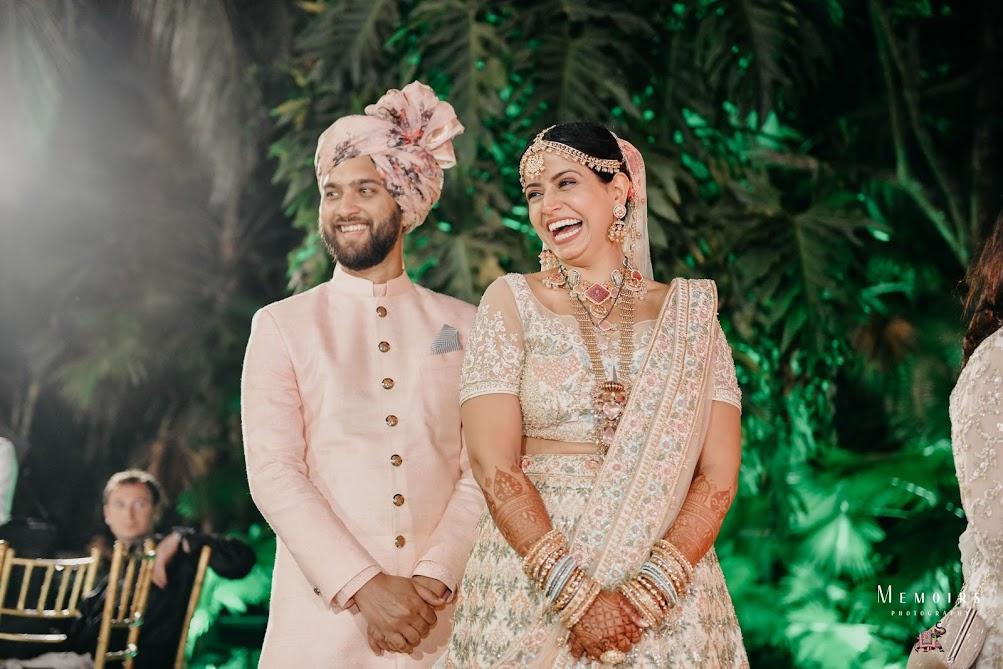 Mikhail wore custom made outfits by Govinda Mehta for the ceremonies. Aakanksha tells us, "I wasn't a big fan of these ridiculously expensive clothes, I wanted to save money on outfits and spend it on events. So I had my friend, Aruna Shah from Tassel Tails custom make outfits that we co-designed. However, there was one particular Seema Gujral outfit that I did splurge on which was worn for the reception. My jewellery was by Prerto."
The Stupendous Team @ Work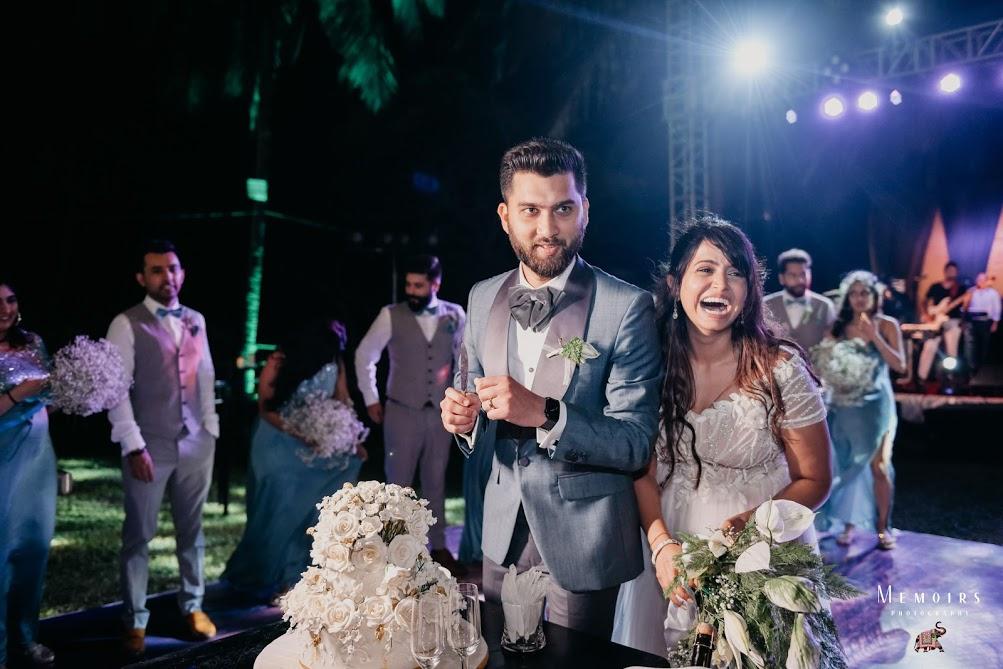 To shift a fully functional wedding plan that was just a week away from the super happening execution and replace it with another foolproof plan that not only involved changing destinations but also shifting guests, service partners, food menu and so on is an unbelievable task. To top it all, doing that within 7 days? Unimaginable!
But the mesmerising wedding of Aakanksha and Mikhail is a living proof that the professional service partners do wear invisible superhero capes and can make anything possible. Aakanksha says, "Many of the vendors were onboarded through our friends and family as mentioned above. The few vendors that we were bringing from outside of Bekal were our original vendors for Thailand that we were flying out from India. They were ALL very accommodating and sympathetic to our situation. Specifically, Memoirs Photography, Shark & Inc, our artists for hair and make-up - Kinnari Vora and Shreya Shrivastava were a gem throughout. "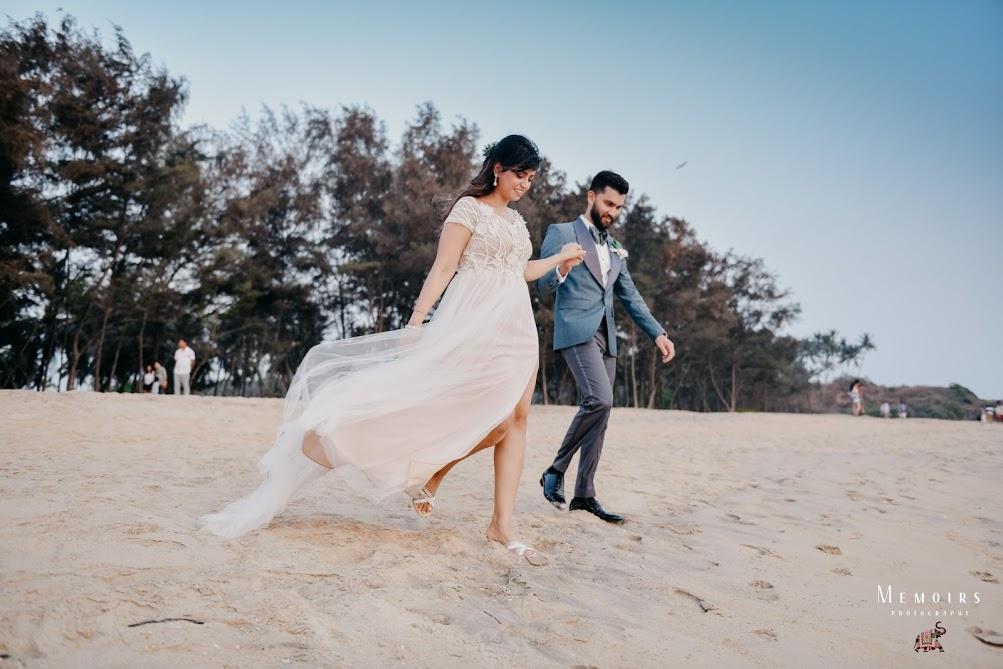 No matter how fabulous the wedding turned out to be, there are always some things that you settle for in the new plan and make-do with not having it as you wanted it originally before the pandemic hit. For some couples, it might have been the venue, the guest list or so many other things. On being asked on the same lines, after a long hard thought, Aakanksha says, "Possibly the décor we had originally planned but that's only if I'm nitpicking. The wedding actually turned out to be wonderful."
In fact, they are of the thought that intimate weddings are nothing less than a big fat desi gala and that micro or intimate weddings can be planned beautifully with attention to details. The guest list does not determine the wedding experience. Aakanksha says, "I completely agree. My guests, however, made the wedding this epic 3-day party it was, because they all came to have a good time. If we had a lot of guests fussing about the shift of venue and trouble caused to them I think it would have been a more tiresome experience."
Aakanksha concludes the interview with a few words for the couples who are planning a wedding. She says, "Whether it's cultural differences or pandemics, I think 2 key tips. First, minimise your expectations, remember that this day is just as important for the families as it is for you so sacrifice if needed because they are doing a lot for you to make it a success. And second, remember why you're marrying the person you chose. The wedding will come and go with the blink of an eye but it's the person you have chosen to spend your life with that matters most."
When it comes to finding ways to celebrate your love, the sky is the limit. Aakanksha and Mikhail's wedding is the perfect silver lining that couples need to look at right now. Even if you had to postpone your wedding or host an intimate wedding, the fun and warmth remain just the same. All you need to do is focus on the smaller details and the bigger picture. You also need a team of talented service partners to make it happen flawlessly.
Note: All images have been clicked by Memoirs Photography. The images have been provided to us by Castles & Coasters.
If your wedding is on the books, make sure to get in touch with the best wedding planners in town to make the entire process a cakewalk.