Twist & Tie: 5 Indian Braids Worth Their Magic As Bridal Hair
Stylish hairstyles with braids in them have become a favourite amongst the brides. Here are 5 unique Indian braids and the different occasions you can wear them to!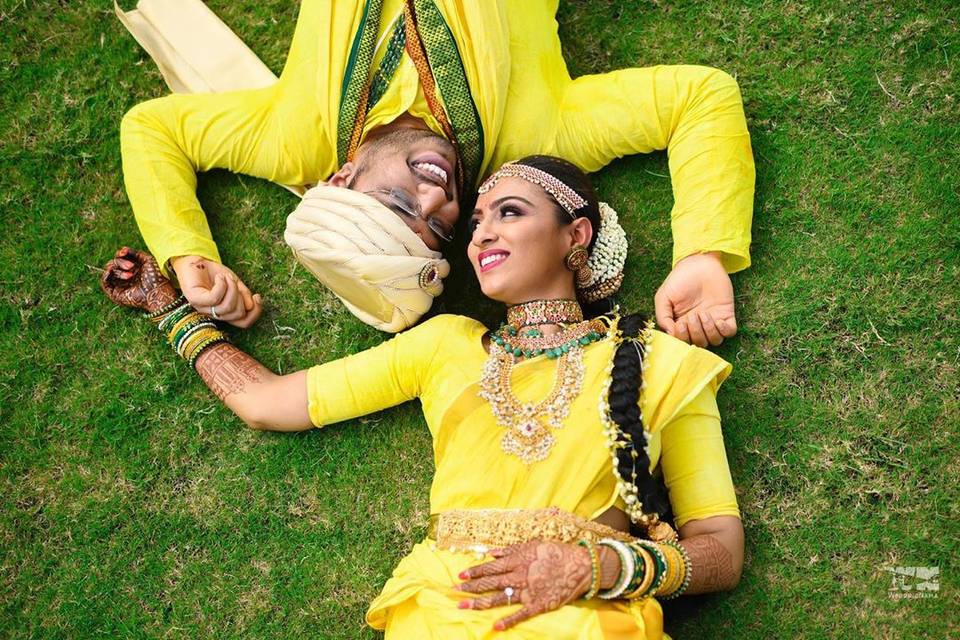 Braids have always been a popular type of Indian hairstyles. Predominantly, women have worn them because of their practicality. They help to keep their hair neat and wear the same hairstyle for hours. They also look very elegant and stylish. Until a few years ago, Indian braids were a simple and casual hairstyle that could be made very quickly. However, that has changed in the past 4-5 years.
Indian braids have now become beautiful hairstyle options that brides are choosing for their wedding and pre-wedding ceremonies. You can choose from many different options like a fishtail, French braid, crown braid and fairy braid. You can make simple to highly intricate hairstyles using different types of braids.
We all know that a big fat Indian wedding has so many big and small events for which a bride has to get ready in different outfits, jewellery and hairstyles. We have you covered when it comes to making hairstyles with Indian braids that are very quick and efficient.
You can literally make some of them in 5 minutes flat and be ready to rock any event. Not only that, some of these Indian hairstyles are so beautiful that we have added them to our personal lists for hairstyles too – now if only we could wake up in time to make them before work!
To know more about different hairstyles and ceremonies perfect for them, read on!
1. A classic Indian braid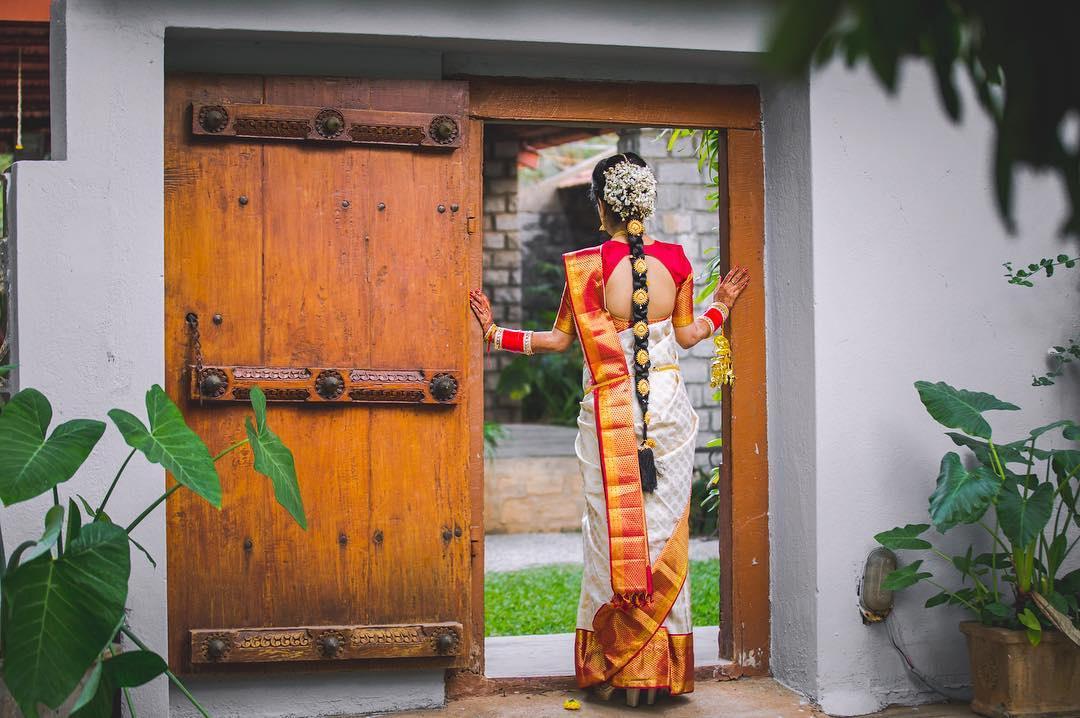 We all know simplicity never goes out of style. Indian braids like these are simple and sophisticated, perfect for a bride getting married in a traditional wedding, especially a southern wedding. In fact, this South Indian wedding hairstyle is a staple in the south Indian wedding scene because of the bride's whole look.
Their extravagant silk sarees and hair accessories make it necessary for them to choose a simple hairstyle like this classic braid. It is the easiest to make and will look beautiful no matter what. The Gajra, Poola Jada and Billai set completes the simple hairstyle and makes it a worthy option for your wedding. It is also very easy to carry.
2. French braid with a knot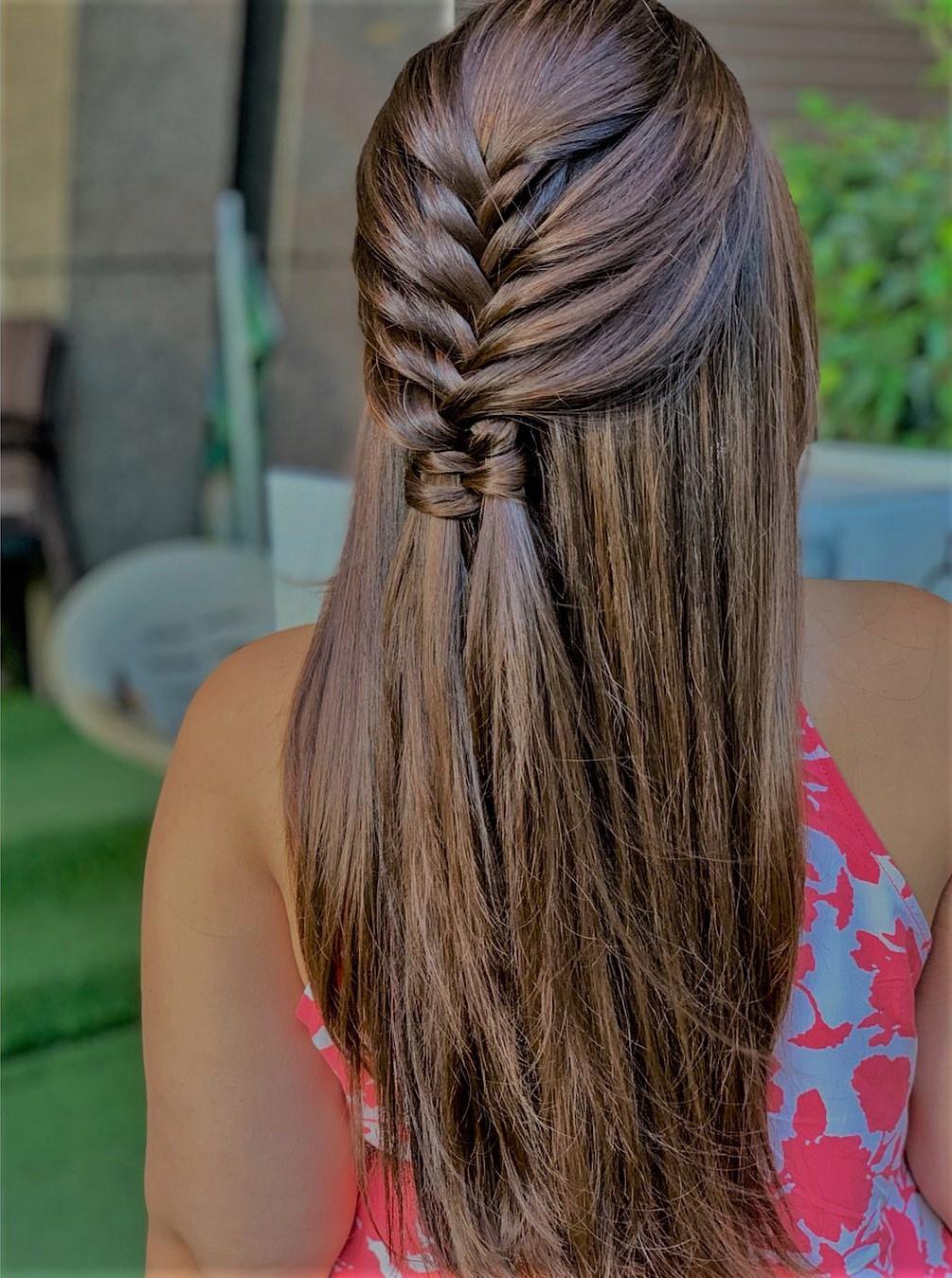 Image courtesy: Hot Air Balloon
If you are looking for modern hairstyles with Indian braids, this one is perfect for you. The simple French braid looks beautiful and the intricate knot at the end of the braid completes it. The incredible thing is that the braid is only made from a portion of the hair and the rest of it is left as it is.
This simple hairstyle is perfect for your outdoor Mehndi ceremony where the front locks will not come on your face and you will not have to use your mehndi-clad hands to get them out of your way.
3. Messy braid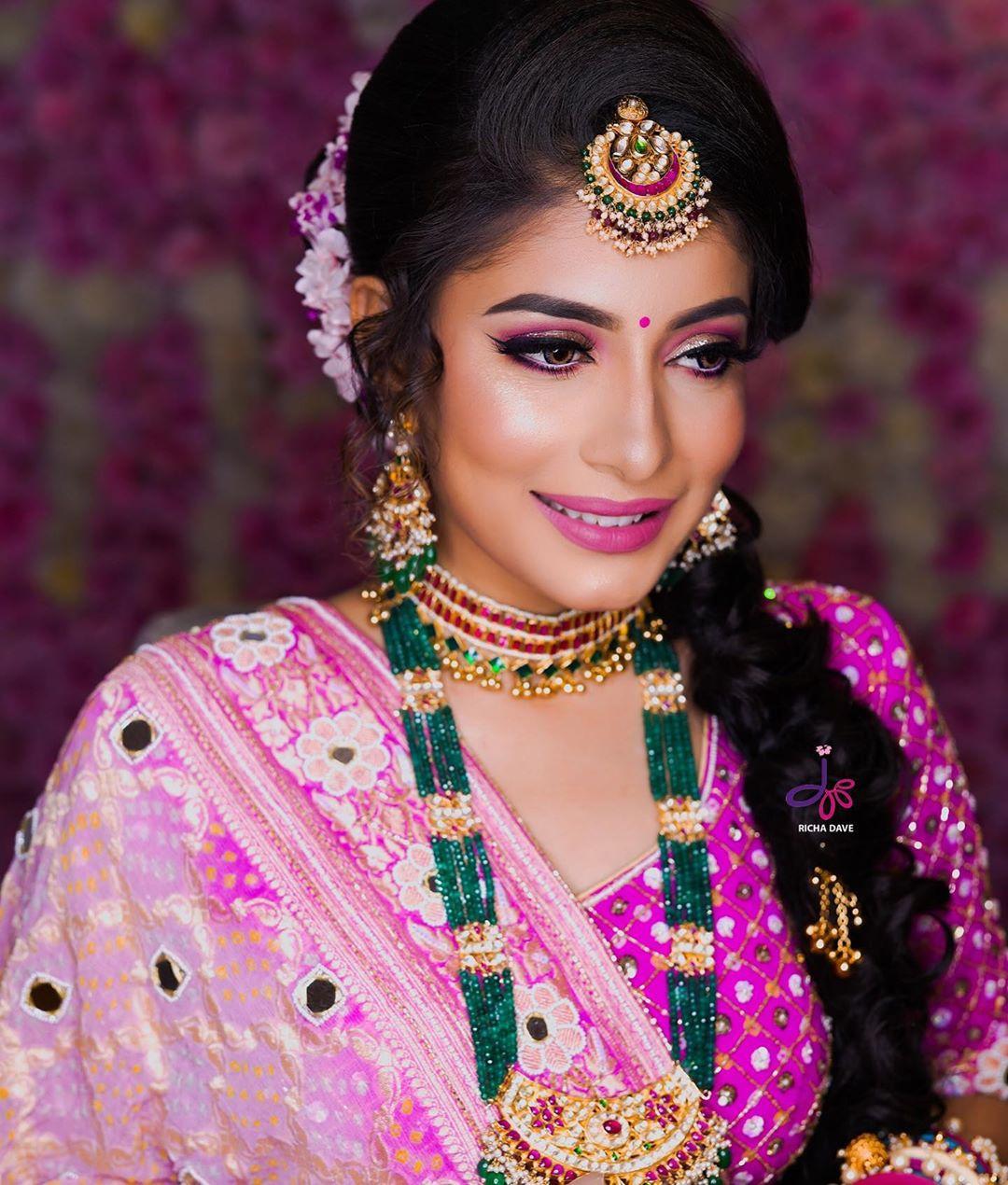 This hairstyle is a side messy braid and a puff in the front. You can get this hairstyle for a Sangeet ceremony or even a Haldi ceremony. To complete your look, you can even add a gajra and a Maang Tikka for the full traditional Indian look. The curly locks that define the face make a lot of difference and makes the hairstyle beautiful.
Fishtail braid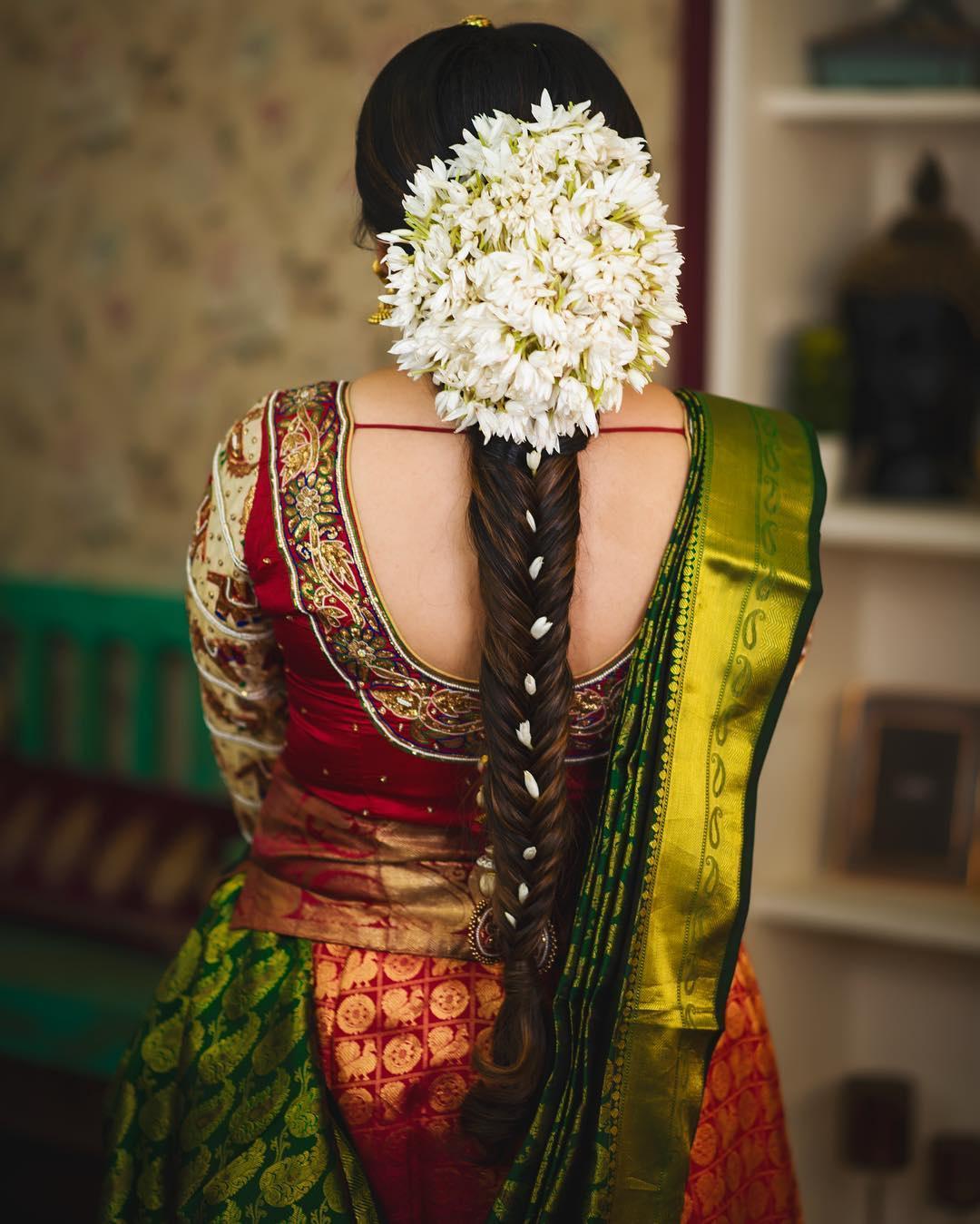 A fishtail braid is one of the most difficult to perfect when it comes to contemporary Indian braids. It takes a lot of precision to make a perfect fish tail. This hairstyle may look simple, but trust us it is not. Apart from a Gajra, you can also add roses or any other flowers in the braid to make it more beautiful.
This bridal hairstyle is perfect for your Sangeet ceremony where the braid will dance along with you on the dance floor. Pair a deep back blouse with this to let the braid shine on its own.
4. Mermaid braid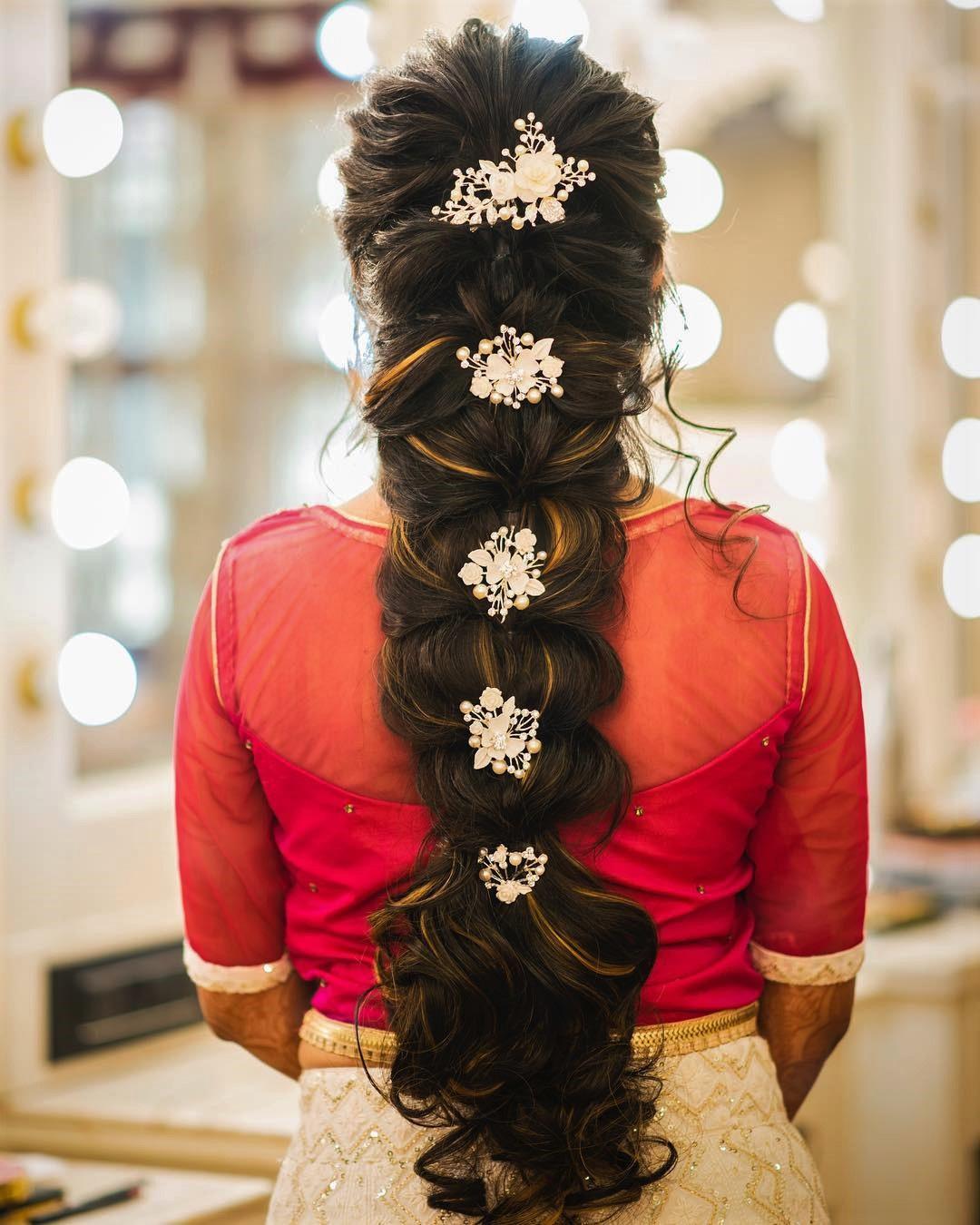 You may have heard the names of all the above Indian braids, but this is something different. A mermaid braid is the new type of plait in the market. We are in love with this hairstyle and have added it to our own wish list. The artificial flower accessories make the hairstyle even more beautiful. This look is perfect for your engagement ceremony where you will not hide your hair with a dupatta and can let the world see this masterpiece.
Hairstyles are a huge part of our looks and getting them perfect is not an option. Try something different this wedding season with these hairstyles featuring Indian braids. They are not only convenient but also look very sleek and elegant. If you are bored with the regular buns and straight or curly hairstyles, you should definitely give these a chance.
We hope you love these Indian braids just as much as we do and give them a chance to feature in your wedding looks be it a Mehndi, Sangeet, Haldi or even the wedding ceremony! Tell us your favourite in the comments section below!
Get in touch with these amazing hairstylists to ace every look!