Your tickets are here, your ride's available and you're more than ready for it. It's the days after your big day when you truly start a life together. It's your honeymoon and here's how you can sort your honeymoon packing list quickly and ensure that you can put more thought on just this special time for the two of you. Honeymoon packing could be a taxing activity if you don't know the basic right.
What to pack and what not to pack are things that you must be able to differentiate between if you want your honeymoon packing and the remainder of your honeymoon to be a stress-free vacation! So, in this article, we will help you understand a few basics of honeymoon packing and give you a deep dive into the things that you must take as you embark on this first vacation together. So, read our take on honeymoon packing for him and her an get going!
Going to your first vacation together as a couple makes this first vacation all the more travel. It would be the very first time since you got married that you would be just in each other's company and without anyone disturbing or day to day life getting on the pay of you living first few weeks of your marital-life is absolute bliss. So, take out ample time into deciding where you would like to head out for believing us what happens to be one of the most looked up to vacations as a couple. Once you narrow down on the place/destination do not shy away from shopping for clothes that are destination appropriate. We say go all out this time around, you totally deserve it.
So, read this listicle on honeymoon packing and figure out 'what to' and 'what not to' carry with yourself as you sway away to your romantic and dreamy getaway!
Things you can't afford to leave behind as you pack your bags for the honeymoon
Down below you will be introduced to a world of things that are essentials when one even begins to think about leaving for their honeymoon. Read what they are and prepare your to-do list, so that you don't forget even one of these honeymoon packing essentials!
Do pack essentials and double-check to make sure you have these on you. Forgetting even one of these has the propensity to make your great honeymoon plans backfire! So, prepare a listicle, strike every item one by one as you pack them into your bags and suitcases! Bookmark this checklist of honeymoon packing as it is better to be prepared than sorry, right?
1. Your passport - without which your honeymoon would be doomed from the start
2. IDs like your driver's license
3. Credit cards - very important, how else will you splurge your pockets on shopping
4. Flight tickets - keep a handy bag which contains both of your passports
5. Reservation confirmations (even if you have them saved on your phone, take print-outs with to avoid any trouble)
6. Photo-copies of everything in case you lose something or misplace a document
7. All the important phone numbers you need in case of emergencies
8. Prescription medication (if any) - not every country has the same kind of medicines and if you have been prescribed a certain kind, then to be on the safer side, carry them with you
9. Birth control
10. Camera - taking pictures when on your honeymoon is very important
11. Your visa - without that your honeymoon would be doomed from the start
12. Debit cards
1. Honeymoon Packing For Her:
This varies depending on where you're headed, the weather and kind of activities you'll be participating in such as adventure sports. For somewhere beachy you itinerary would .differ with that of a snow-capped area - so look out for the differentiation in the two carefully as you begin your honeymoon packing:
A light jacket or cardigan that can be worn over a shirt
2 pair jeans or leggings
A couple of day dresses + a dress for the evening
Four or five shirts or comfortable tops
A couple of shorts
Swimsuit, a cover-up as well as a sarong, you will definitely want to hit the pool with your husband in the back
Sneakers - just to be on the comfortable side
Walking shoes or sandals
Formal shoes
A purse - a small one and a big one both
Extra underwear, lingerie and socks - very important
Bridal Accessories (keep them limited)
2. Honeymoon Packing for Him:
Adjust according to your honeymoon destination, weather and more:
Two pairs of jeans
A couple of shorts
A light jacket
Four casual shirts or T-shirts
A couple of formal shirts
A swimsuit
A formal jacket for fancier places
Walking shoes or sandals
Sneakers
Formal shoes
Extra underwear and socks
3. Do remember to take these along as well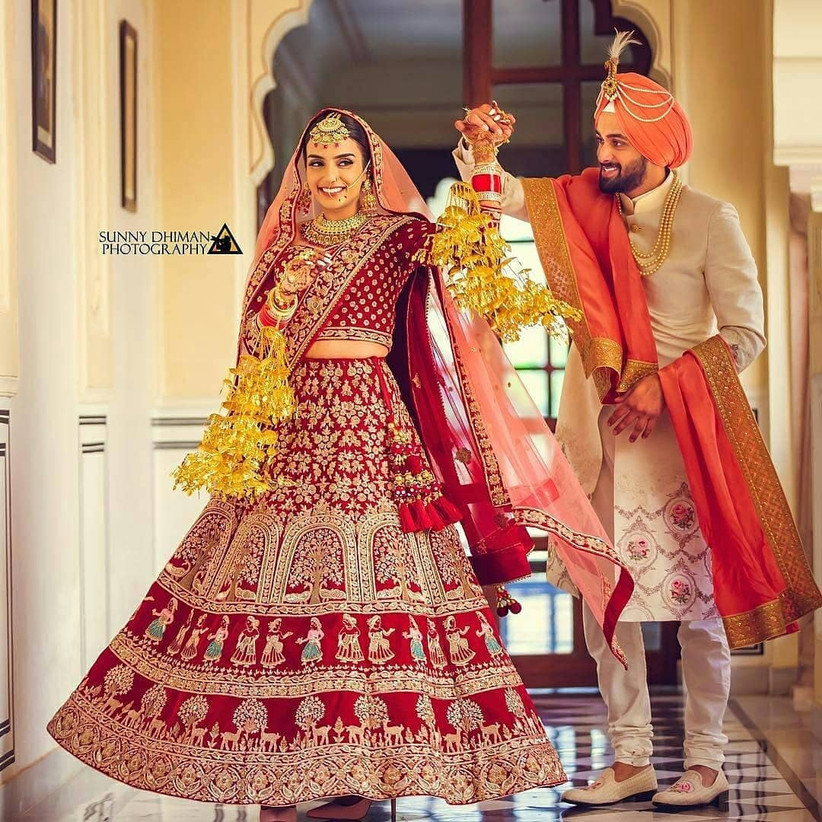 Image Courtesy: Sunny Dhiman Photography
Sunscreen, lip balm
Sunglasses
Band-Aids
Pain-killers, daily medication
Hats
Tampons or pads
4. Other things to add
Toothpaste
Deodorant
Toothbrush
Shower gel
Towels
Makeup remover
Cotton
Hair brushes
Hairspray
Contact lenses
Hair accessories
Razors
Skin lotion
Hair dryer
Shampoo and conditioner
5. Other useful tips
Do leave behind your contact details with your close family or friends just in case. Someone should know about your itinerary so that they can help you out if anything comes up. If you're going to a destination you're not familiar with at all and aren't sure about the availability of certain products you may require, do your research and take them along, if necessary.
All set to go? We hope you have a good honeymoon trip. We hope you found this guide to help you pack for what happens to be one of the greatest vacations of your married life. Follow this guide religiously and make your honeymoon packing experience lovely right away! Get going and don't waste anymore time!
Do remember to share reviews for your honeymoon planner so that others can also benefit from your experience.