10 Fun Food Stall Ideas We've Curated To Inspire Any Bountiful Bridal Banquet
Make the feast for your wedding a visual treat for all of your wedding guests. We bring you a range of some of the most trending food stall ideas to set up for your lavish wedding banquet.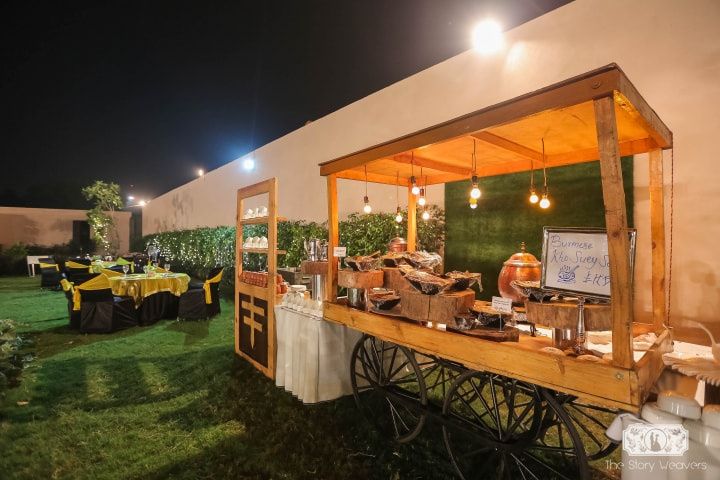 A wedding function is often about the memories that you create for yourself and your wedding guests. These include visual delights (in terms of your wedding decor) and culinary delights, based on your eclectic choice of wedding menu. Combine these two unique tastes together with these food stall ideas, which serve your tastes in the most visually appealing manner possible.
Food Stall Ideas over Simple Counters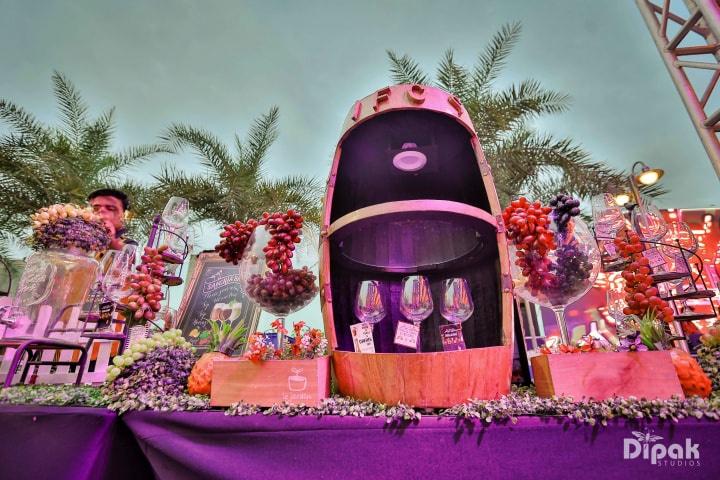 A lavish wedding banquet is not just about wowing your guests with the sheer range of culinary delights, it's also about how they are presented to them. And while one way is through personal attention, with servers walking up to them, that idea is not something that works with the sheer number of guests and the dishes you wish they'd sample at your feast.
Why Think About Food Stalls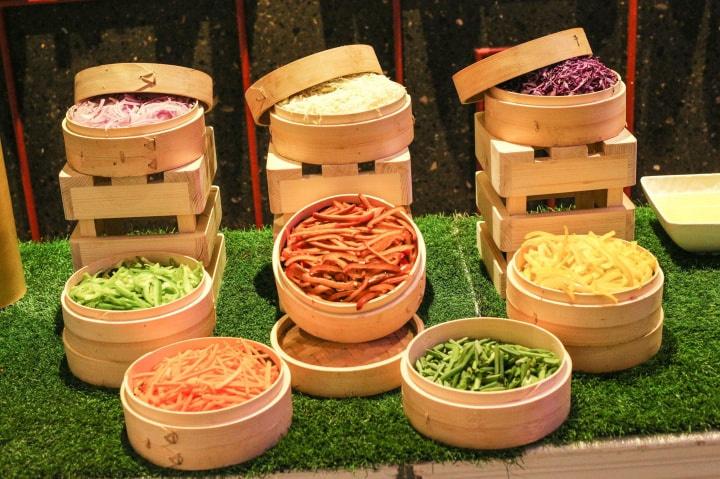 Setting up food counters and food stall ideas is a decision between two options. You may set them up as standalone points of attention or follow them through with your ideal wedding theme. These two are not one and the same thing and this is what we wish to explore with this set of food stall ideas that we've especially curated for you.
Food Stall Ideas and Inspirations
Go ahead and get inspired!
1. Point the way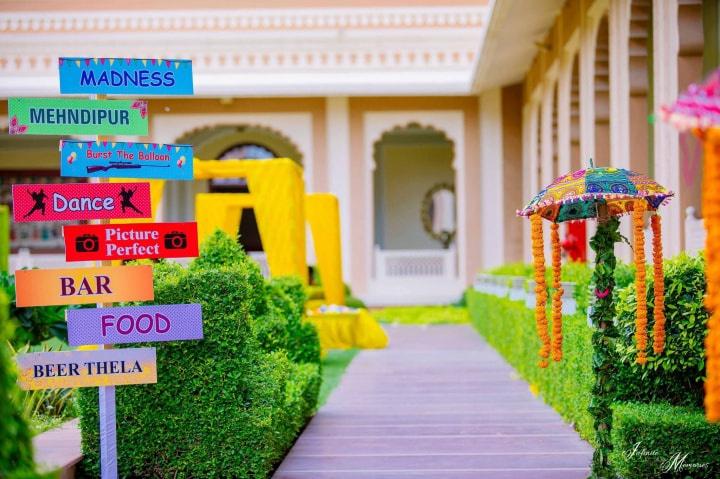 Getting there is half the experience for most things in life. That applies to your food stalls as well. Begin by plotting the journey to your inspirational food stall ideas - either with pointers across the venue, posters or laid down on the lane.
Over here, the signboard put up at a Mehndi function points the way to gourmet delights.
2. Garden inspiration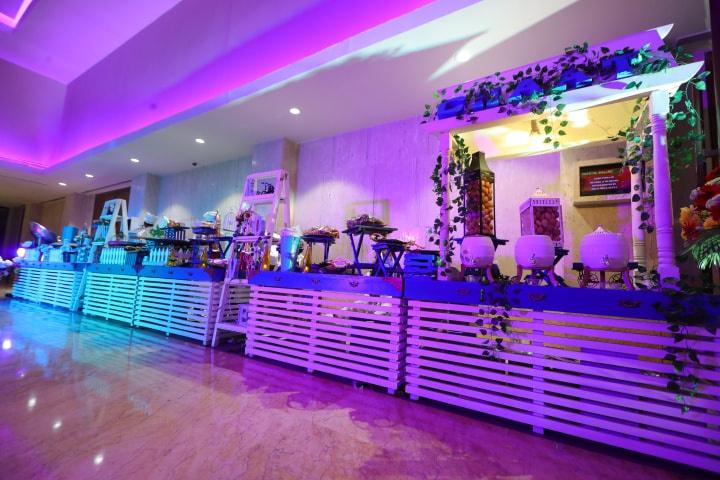 White picket fences, climbing vines and wooden stools to hold platters of plenty - that's the garden-style food setup one sees across a range of food stall ideas dotting garden/outdoor weddings with a woodsy thematic.
This inspiration can be worked either with complete counters or stand-alone stalls. It does lead to areas of wonder and aww across your wedding venue.
3. Desi, rustic inspiration (beverage counters)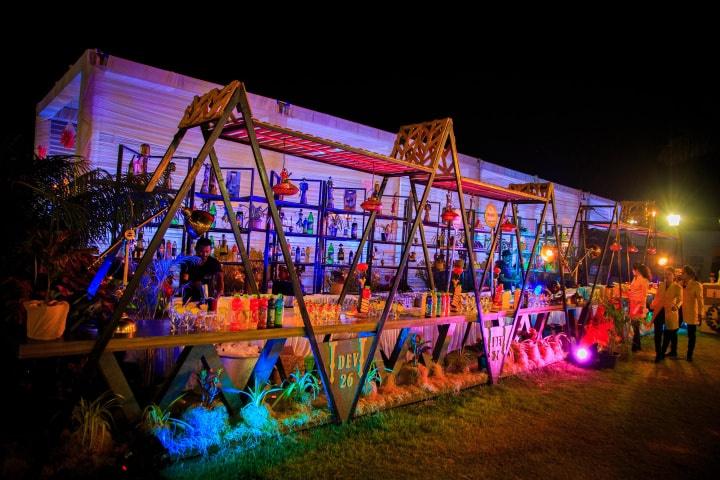 A rustic variation for a food stall idea, that adds an element of whimsy to your banquet setup, this look is distinct in its details. Straw, bamboo shoots, cut-out fonts - all add to the authenticity of the distinct, village inspiration.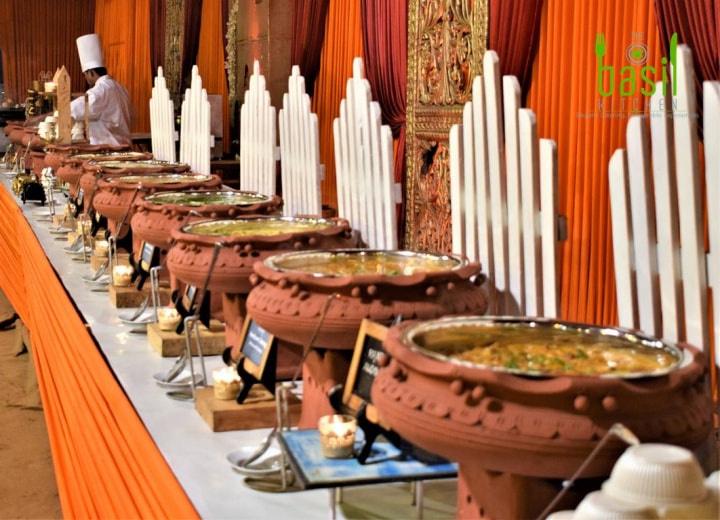 In the meantime, you can also consider earthen pots, pans and plates to your existing food stall ideas. These utensils will add a rustic feel to your festivities too.
4. Chai please!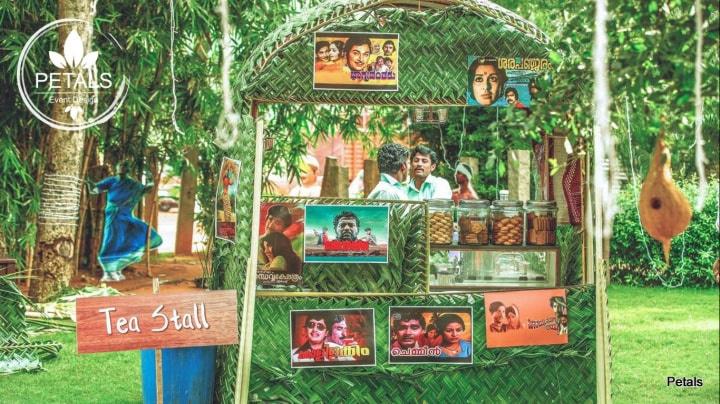 Instead of getting a tea service for the long hours of your wedding, consider setting up a tea stall or Chai wallah. As far as beverage food stall ideas are concerned, this authentic look adds an element of quirk if your idea is for a desi mehndi ceremony. It also works for Sangeet decoration and a day wedding setup.
5. Hydration centre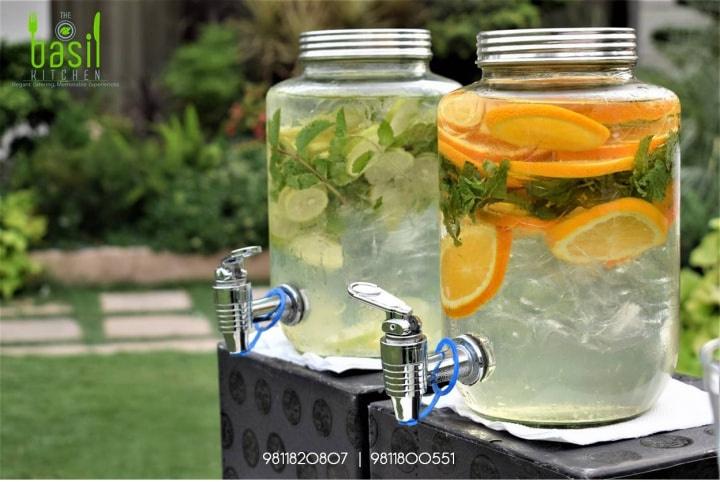 Think summer, think hydration. The other side of beverage food stall ideas from hot cuppa are icy, cool delights. An essential for a summer wedding, these can be something as simple as fruit water taps or a round table or a corner for refreshments.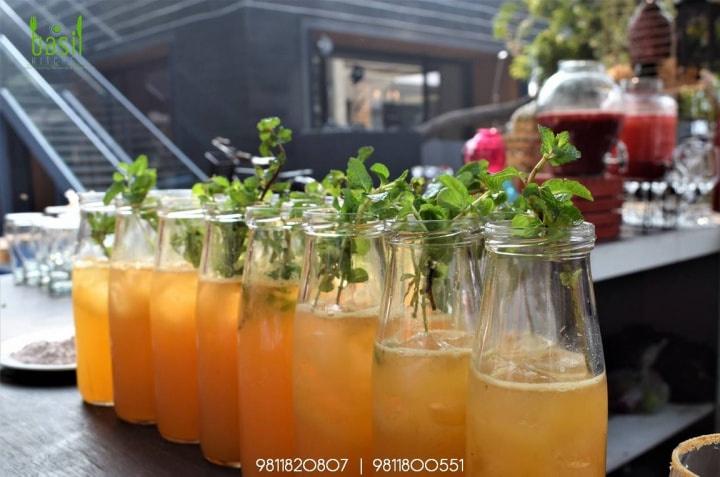 You can also think about a live stall, where guests can either get or make their own cocktails, mocktails and other liquid delights.
6. Food on wheels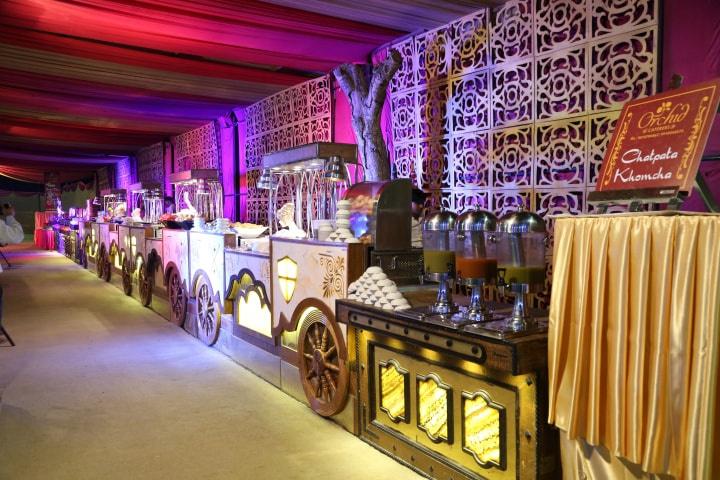 If you have a fascination for locomotives, cars or other vehicles, add it as a slice of quirk to your existing food stall ideas. You can convert full counters to be on wheels (as seen above) or add a few standalone setups to add to the experience.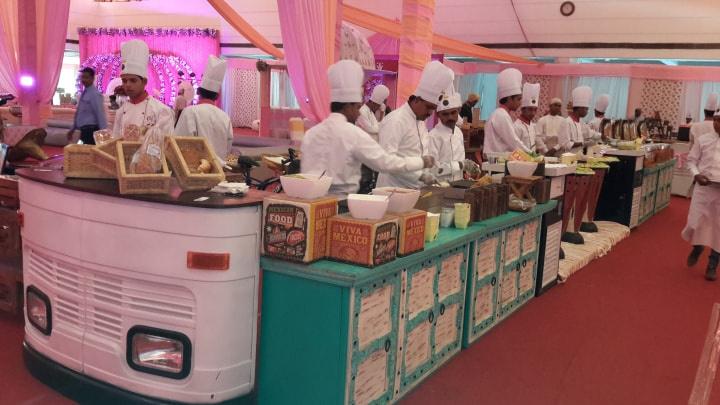 The truck front is a popular wedding decor installation, but adding it to your food counter can really make it pop!
7. Oriental counters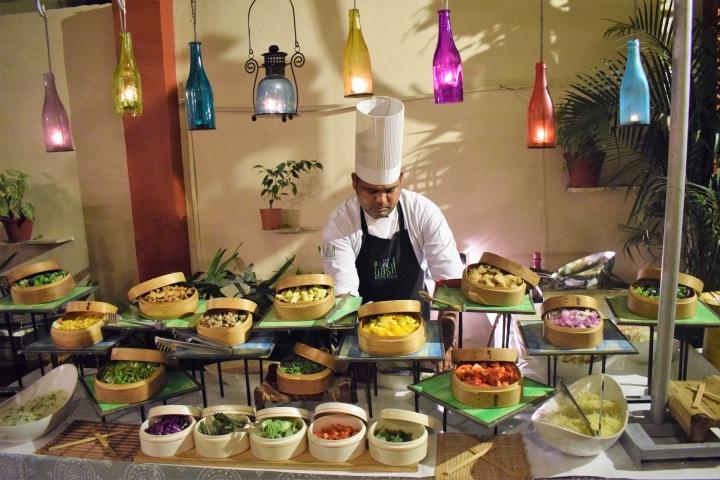 Oriental counters make for good fast food stall ideas, especially for a live counter. Make your own with dim sum steam boxes, bright colours, east Asian fonts, chopsticks and bamboo mats.
You can marry the two ideas completely together by having a live oriental counter, with sushi delights.
8. Vintage decor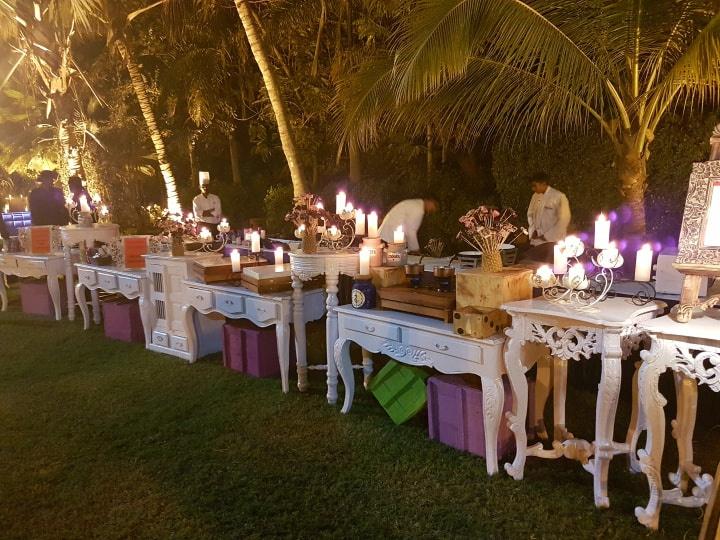 French, vintage counters in white or Découpage designs, with candles, miniature mirrors and floral elements add to the overall aesthetic of your wedding decor. It would work fabulously with platters of plenty (especially if these contain fresh fruits, salads or appetisers).
These ideas would also work with a decent slab of salad decoration.
9. Mithai Ki Dukan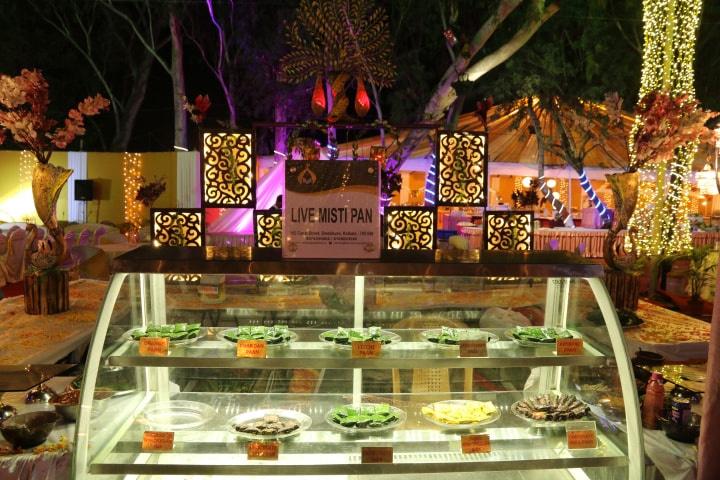 Think nostalgic notes and bring the 'Mithai ki Dukaan' to your wedding. With refrigerated counters holding your conventional sweet delights (or a sensation like these Mishti paan items).
You can also accommodate these food stall ideas to house cool beverages, sushi or even fresh seafood.
10. Dhaba-style food stall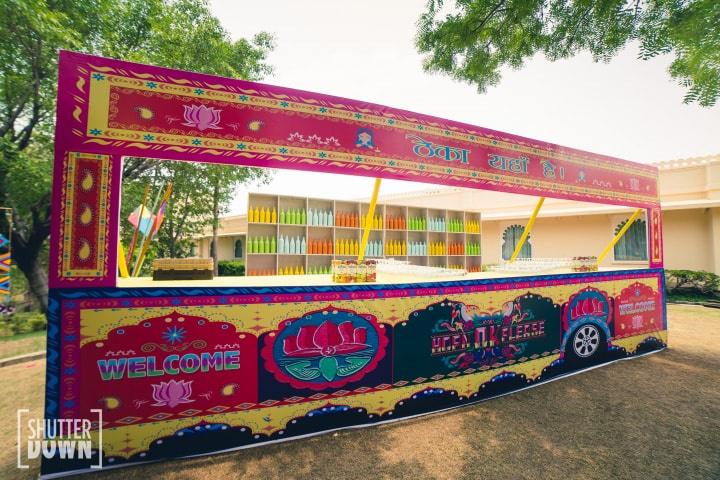 Themed food stall ideas add cool brownie points to your wedding banquet, be it like a farmer's market, a food truck or even a Dhaba-themed outlet, straight at your venue.
These add a flavour of authenticity to your wedding food as well. Imagine tawa chapattis, sarson ka saag and kadi chawal from a Punjabi Dhaba or seafood from a shack, straight at your wedding!
Loved going through these food stall ideas? Now add them to your own wedding.
Connect with your catering team or wedding decor team today.