This Couple Hosted a Small Home Wedding in Chennai With 50 People
Chandhya & Ashwin's intimate wedding in Chennai with 50 people had mesmerising decor that lit up the house in a breathtaking venue. Here's their story for some lockdown inspo!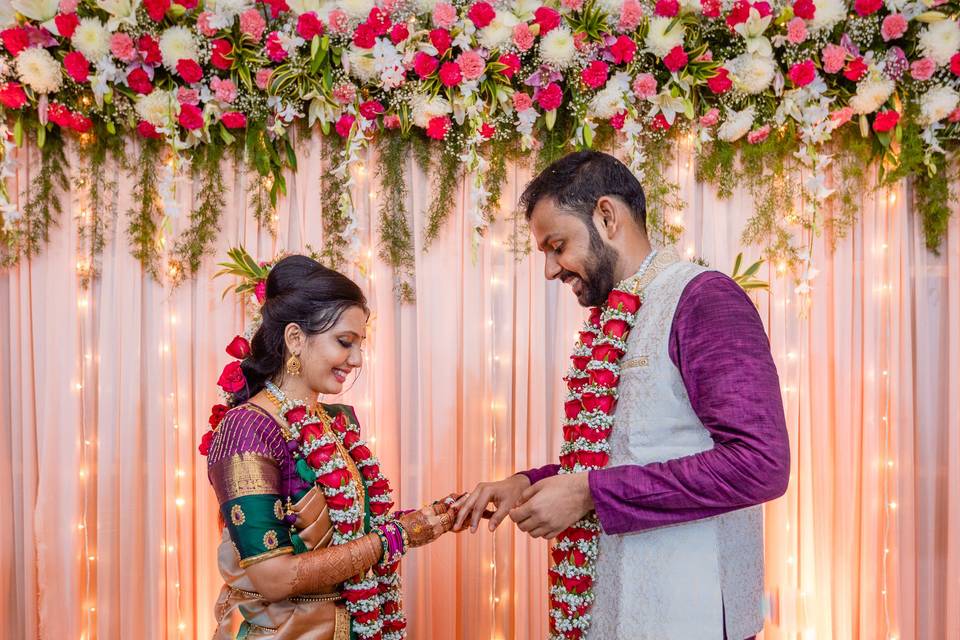 With more and more couples deciding to tie the knot amidst these times of uncertainty, we have another wedding story of Chandhya and Ashwin to melt your hearts. While the pandemic has pushed the pause button on many celebrations and the restrictions have made it even more difficult to keep up with the "new normal", there are some couples who are giving us goals.
#WeddingsInTheTimesOfCorona have been a choice made by many couples. Their enthusiasm and their efforts are only a testimony that love sweeps you off your feet in the most unexpected ways and at the most unexpected hours.
This newlywed couple from Chennai share their home wedding story with us and it is one to cherish forever. Chandhya and Ashwin hosted a warm and beautiful wedding at Chandhya's home and it was an intimate wedding to remember Read to know!
How Ashwin Met Chandhya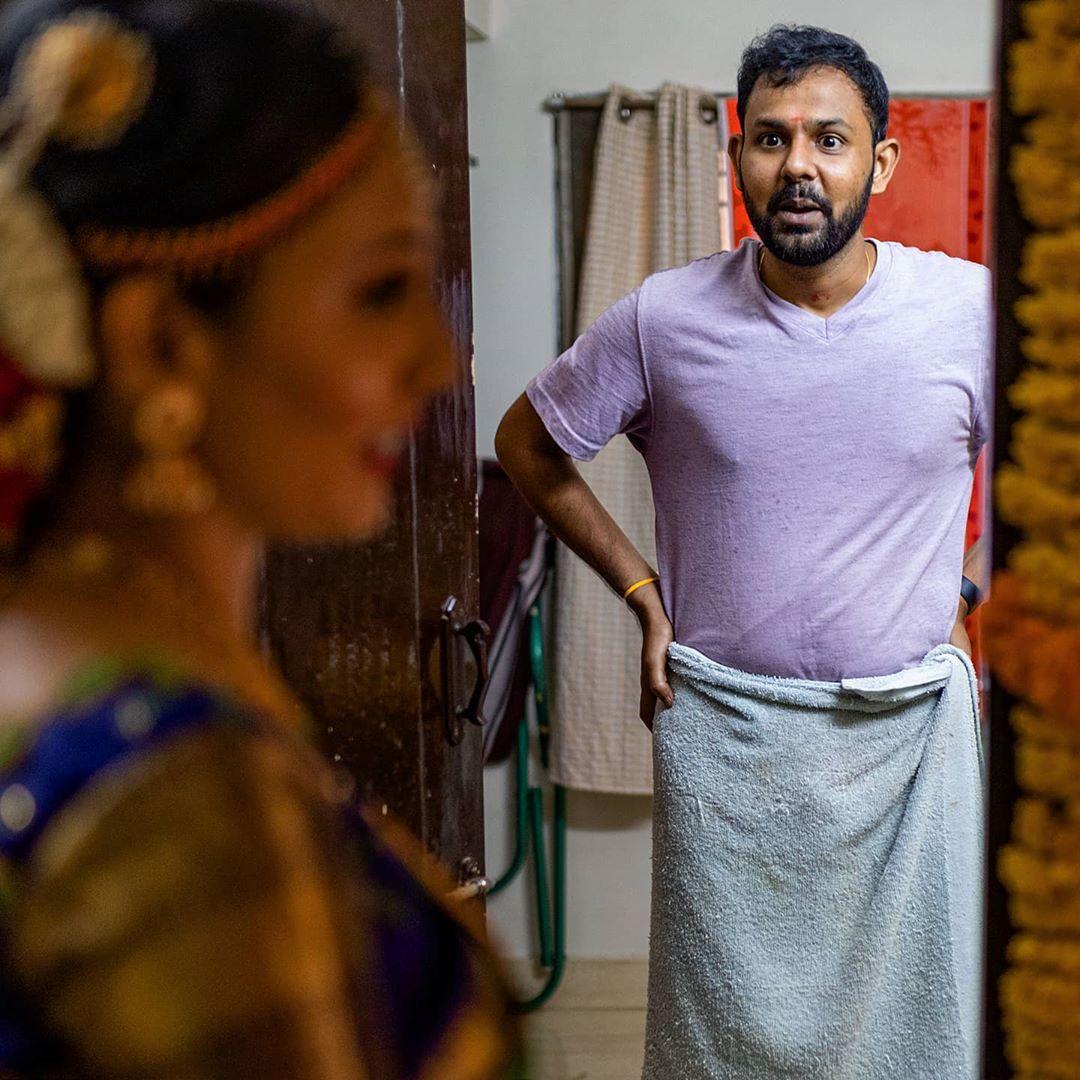 Chandhya tells us, "We graduated from the same college, where he was two years senior to me. But we barely knew each other at that time. We had our share of conversations on Facebook and Instagram. And one fine day he asked me for my number when he was on a trip to the Niagara Falls. And it was the start of something new." The majestic Niagara Falls was indeed one lucky trip!
Their courtship period lasted for about 2 years before they finally decided to tie the knot and begin their happily ever after.
Chandhya & Ashwin's Wedding in Tuticorin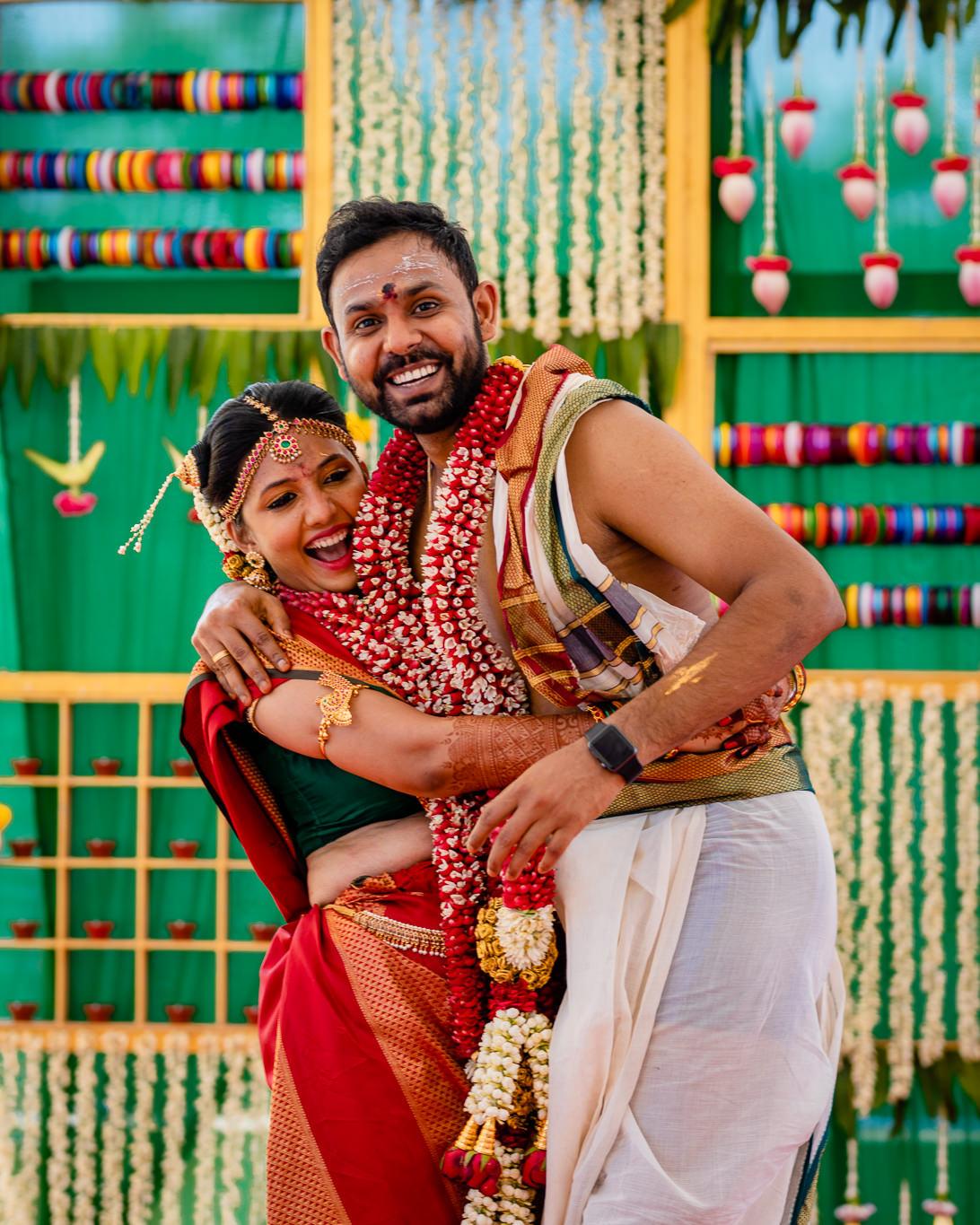 Chandhya tells WeddingWire India, "I'm from Tuticorin and he is from Chennai. We hosted our wedding at my home in Medavakkam, Chennai." The wedding was however originally planned as an outdoor wedding at Rinas Venue, ECR, Akkarai.
Chandhya says, "We followed all the Tambrahm ceremonies - Pandhakaal and Nalangu, Sumangali Prarthanai, Vratham, Engagement and Muhurtham." They celebrated all the pre-wedding ceremonies apart from the main wedding.
She further shares, "We had to postpone the dates to 6th and 7th June from the original dates, 25th and 26th April. We had to postpone the dates for my dad who was stuck in my hometown and his mom was stuck in Pune. So, we had to leave enough buffer to apply for E-Pass, arrange for their travel and have them complete their mandatory quarantine."
What Chandhya & Ashwin Wore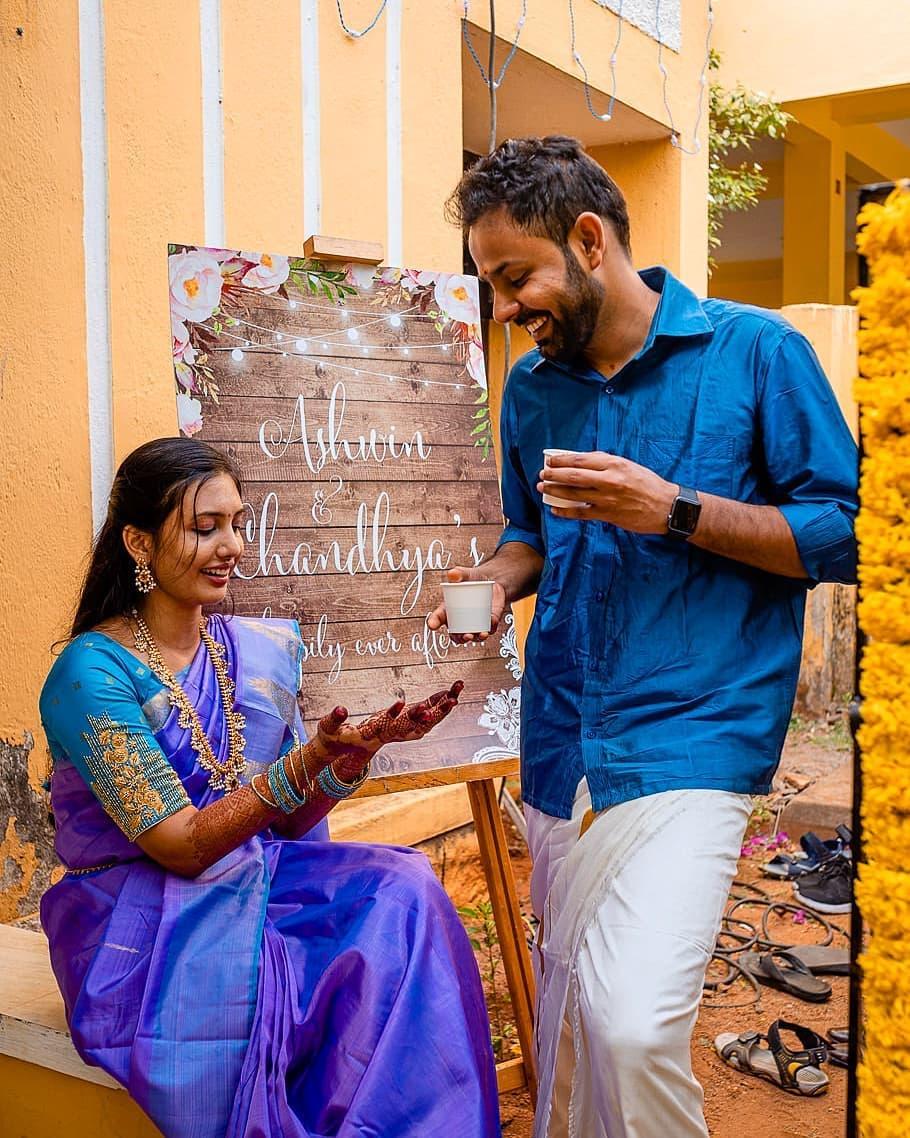 Chandhya looked drop-dead gorgeous on her wedding day. She said, "I purchased all my sarees from Sundari Silks, Chennai and VaraMahalakshmi, Kancheepuram. Mabia stitched my blouses. I rented my jewellery from Luxe Fashion Jewelry and Sagunthala Jewellers. Ashwin purchased all his attires from Sundari Silks and Manyavar."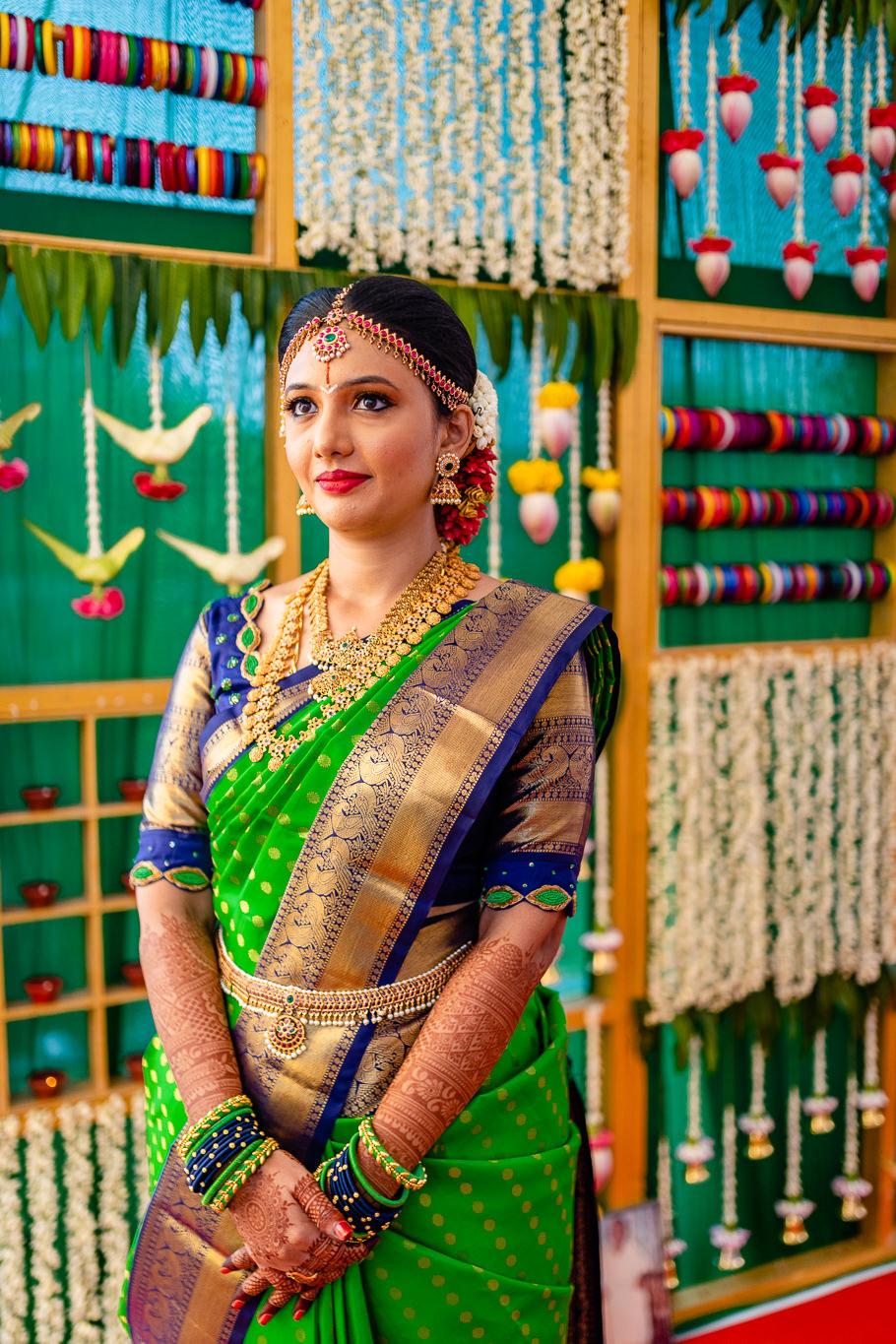 Their Wedding Planning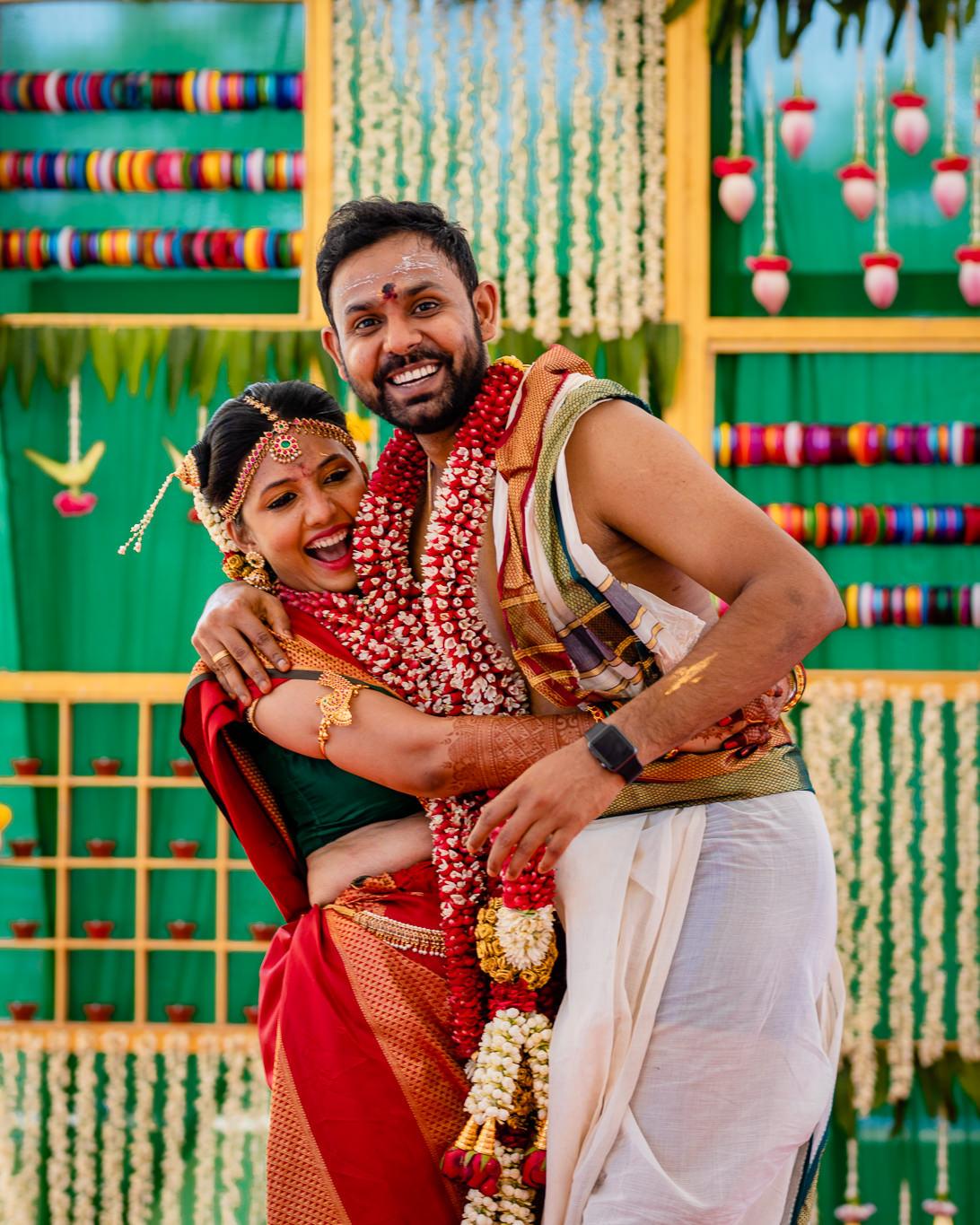 "We had casual conversations on this backup idea of hosting our wedding at my home in case if Rinas venue was no more a feasible option amidst the lockdown situation. Our Instagram stalking got us the right people who pulled off this beautiful home wedding. Since we had the vendors already in place for our wedding on the original dates, we had to make only minimal adjustments", says Chandhya.
The bride and groom's houses were just 6 kilometres away from each other and that made the travel easy breezy with their private vehicles.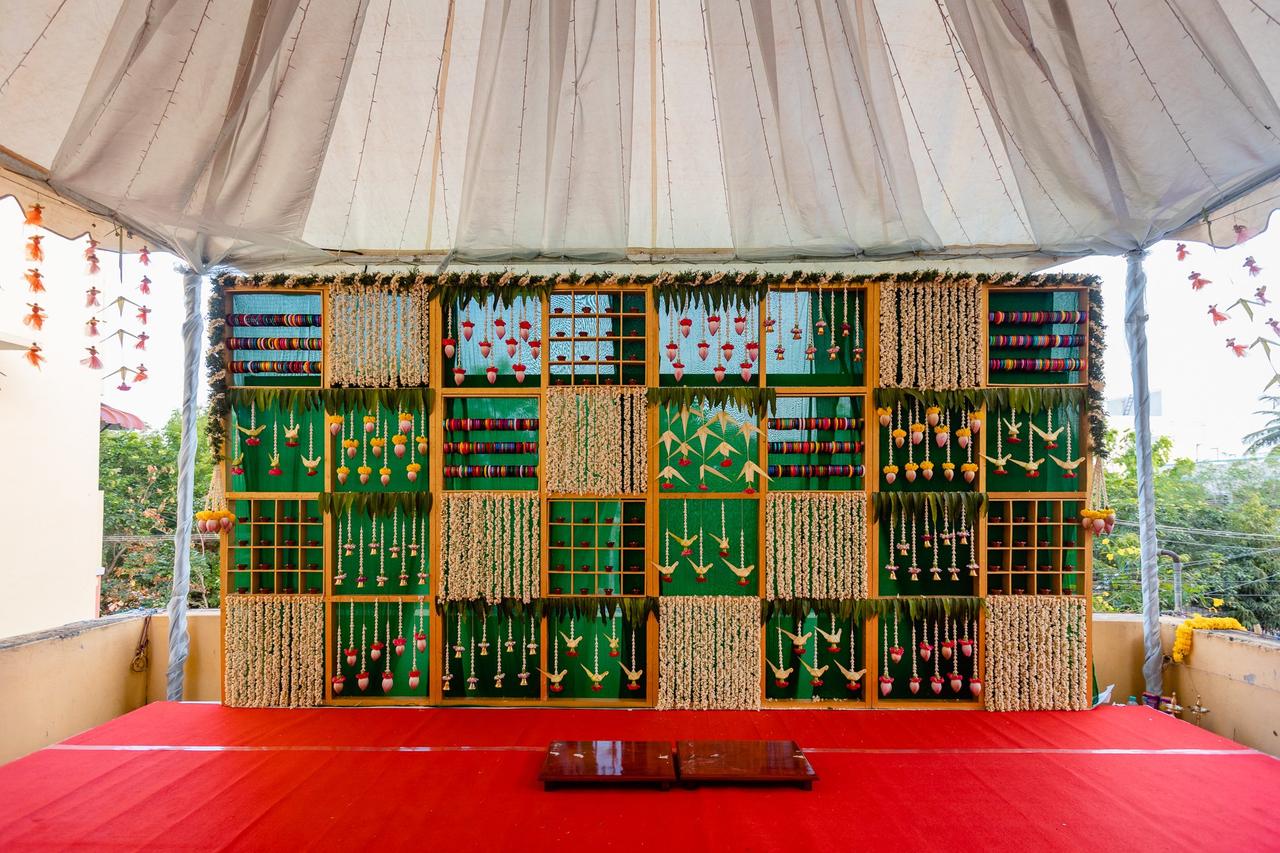 On being asked about the decoration of their intimate wedding and preps required to deck the home up, Chandhya says, "The wedding décor was done by Divya Jennifer and her team. The décor company's name is RedThread Eventz. We sent them the pictures of my home and discussed the events and the exact locations in my home for each event. Jenny and her team took it forward from there and got us grandeur decorations."
They had placed beautiful DIY bangle decorations and simple paper decorations with origami and the good old floral decor of course.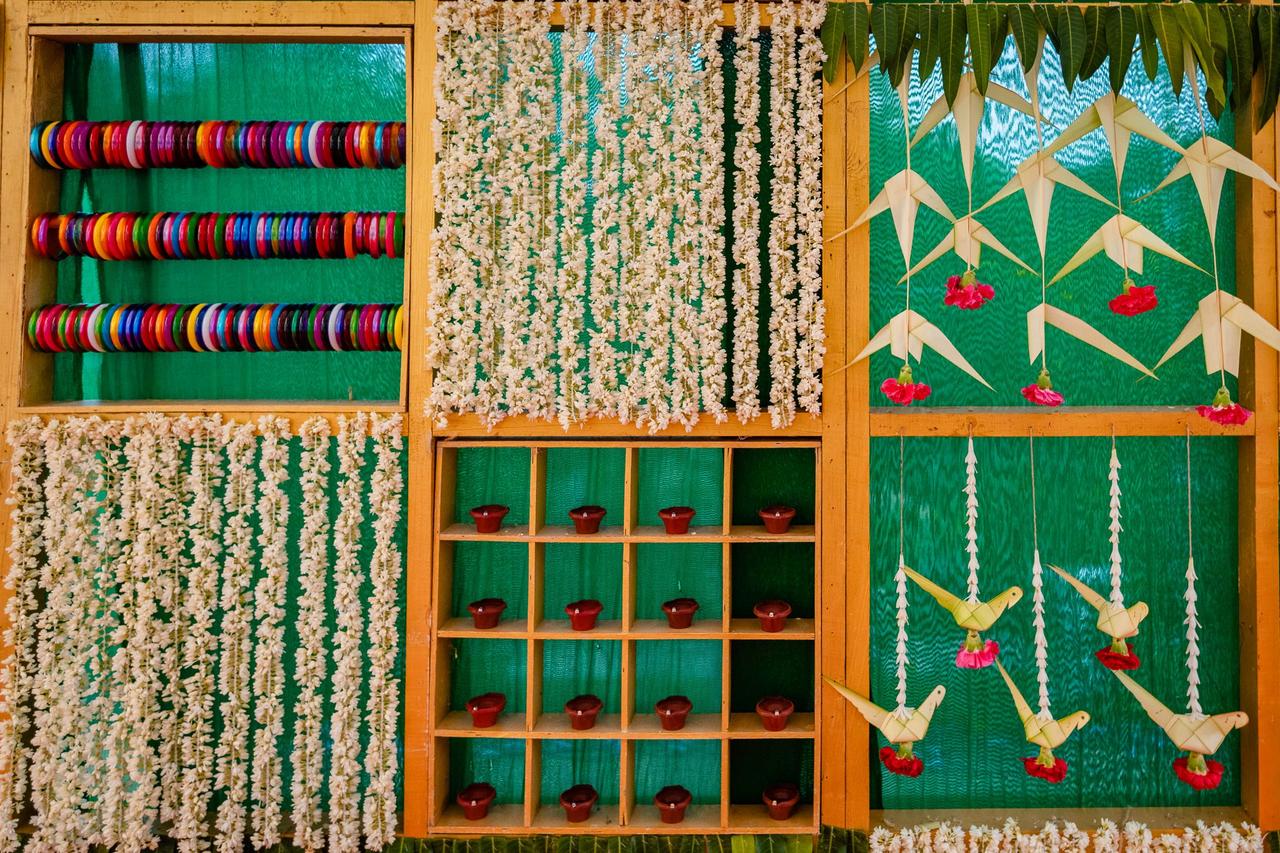 Apart from this, Chandhya had her makeup done by Makeup by Sowmya and Dhivyaa Ranganathan. She had taken help of a professional hairstylist, Sai Suvetha Hair and Makeup to get all dolled up for her big day.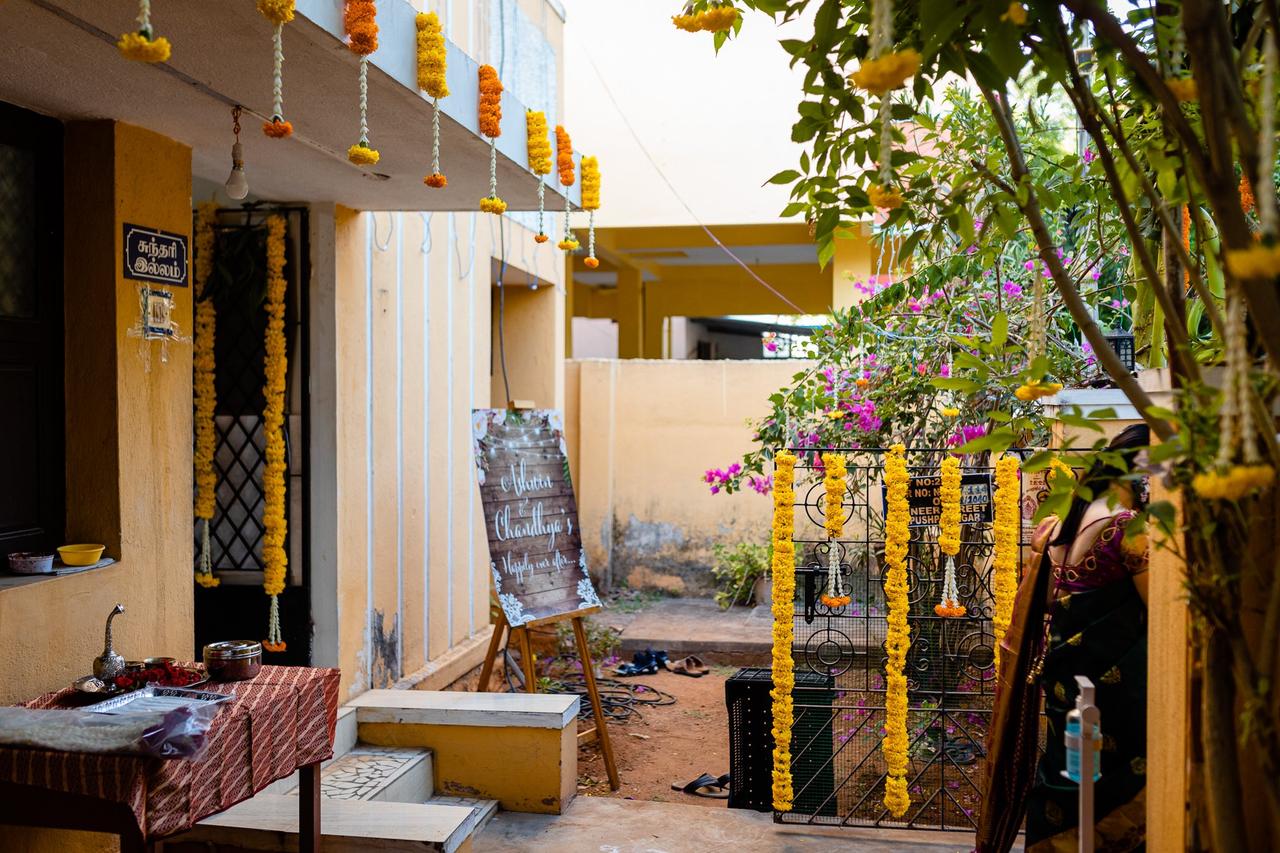 They also had hired professional caterers, Pattappas, to make it seamless on their big day.
While many weddings during the earlier stages of the lockdown had faced more restrictions and had to depend on more DIY, more and more resumption of business has made it possible to hire top wedding professionals now.
On being asked if they had to apply for permissions to host the wedding, Chandhya said, "No, we just had to avail the permissions from the Collector's office for conducting the wedding at my home. A two-day travel pass was required for the people travelling from outside Chennai but it was an individual's responsibility."
The Guests At Chandhya & Ashwin's Wedding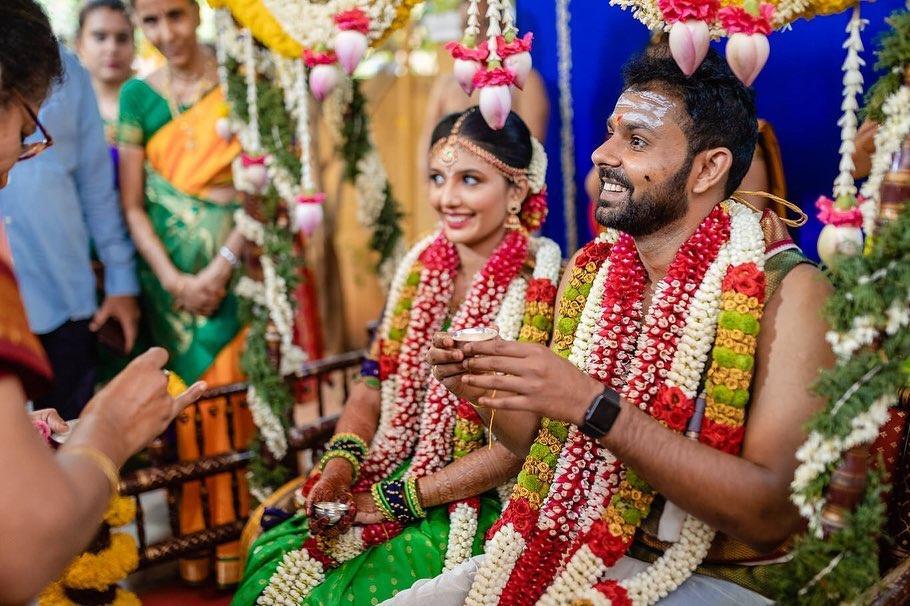 "We had around 50 people that attended the wedding and there were close to 150 people that witnessed the wedding on Purple Knot's live streaming. It was me and Ashwin that planned the whole wedding with my sister giving us a hand in some of the aspects of the wedding", says Chandhya.
The intimate small home wedding of Chandhya and Ashwin in Chennai was a beautiful one. Their wedding with all the professional help and preps is just a testimonial that normalcy is starting to gain pace after the ungodly hours of the pandemic.
They, however, plan on celebrating it again later, "For now, we want it to be more of a get-together type evening event in a hotel with the families and the friends from both sides attending the function or maybe we'll celebrate our one-year anniversary event with our friends and families if it takes quite a while for the situation to settle", says Chandhya.
Note: All images have been provided by the photographer, Frontal Knots by Ramkumar.R.
You could get in touch with the professional planners on board with us to plan your wedding seamlessly. The wedding photographers have gone out of the way to capture amazing photos from intimate weddings and you can avail impeccable services from the photographers listed with us.