Check These Stunning Wedding Nose Ring Designs Seen on Real Brides
The wedding nose ring is a traditional piece of jewellery that can be designed to suit your aesthetic. We bring you the latest trends of the season.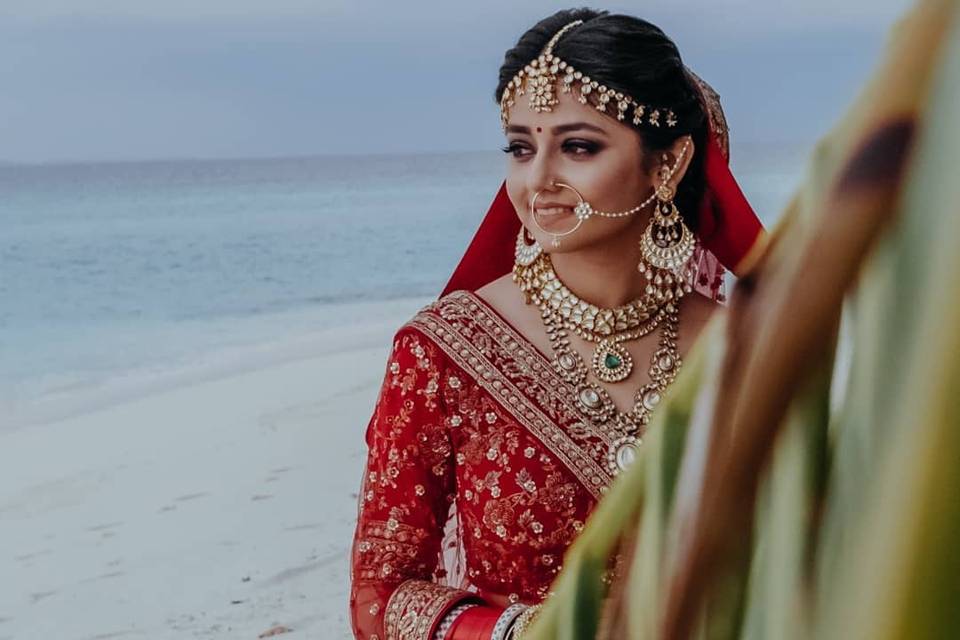 Every piece of jewellery that a bride wears on her wedding day holds rich cultural and historical value. From the Chura to the Maang Tikka, each piece accentuates the bridal attire while signifying the bride's entry into womanhood.
One accessory that's an essential part of the bridal trousseau is the wedding nose ring or the Nath. This nose ring is a symbol of marriage and the act of piercing your nose is seen as paying your respects to the Goddess Parvati.
In addition to holding cultural significance, the nose ring has also become a major fashion statement for many. Many celebrities have paired their traditional Indian outfits with a wedding nose ring to amp up their look.
If you are a bride on the hunt for the Nath, scroll through our list to gather some inspiration.
Pearls and stones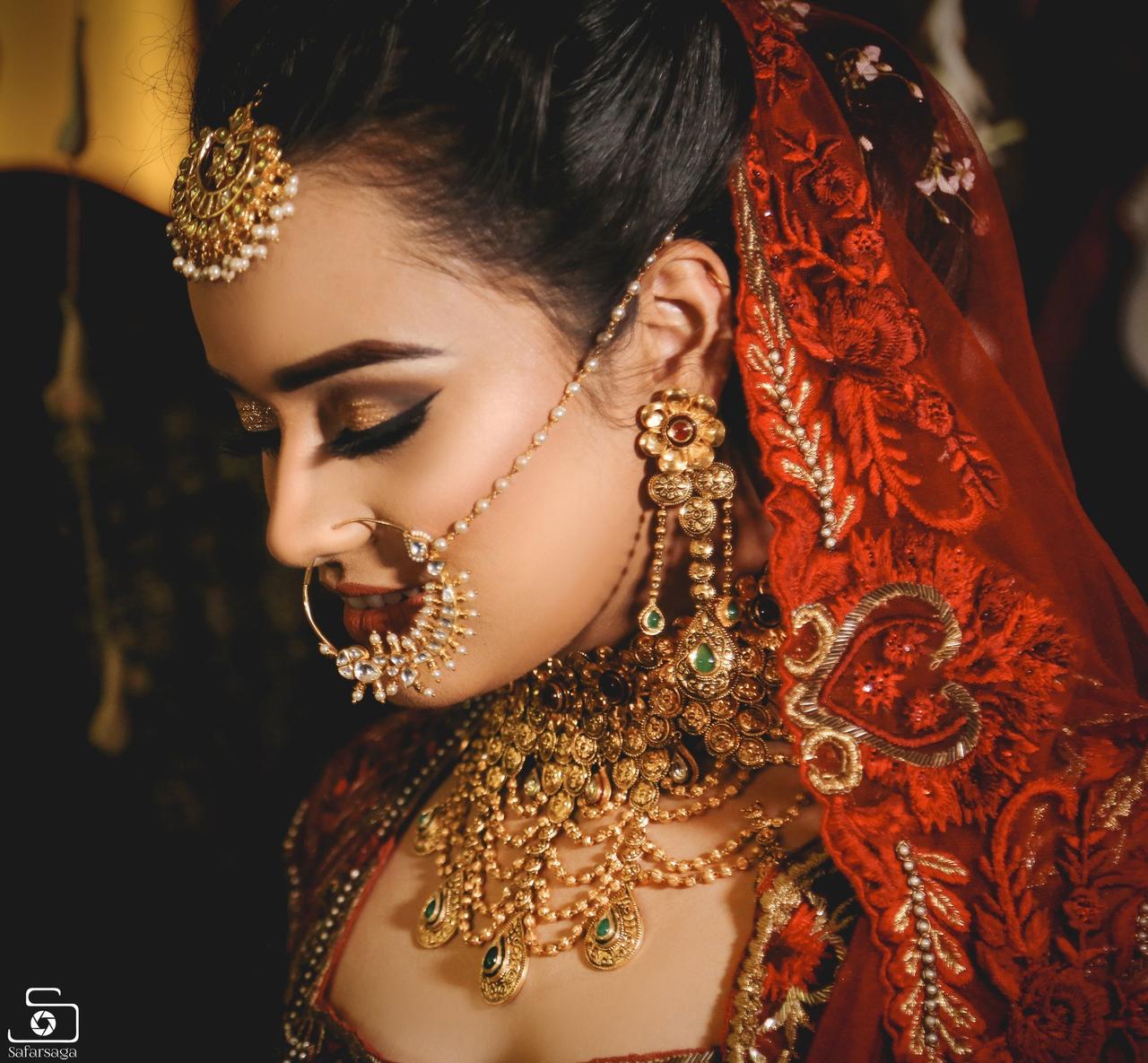 The wedding nose ring comes in various shapes and forms. It can either be an oversized hoop or a smaller nose ring. This bride has opted for the former with a Nath embellished with stones and pearls. The ring itself features Kundan stones of various sizes that are lined with small pearls.
This is strung together with pearls that are tucked behind the ear. A statement nose ring like this one can add some major bling to your bridal jewellery.
Kundan Stones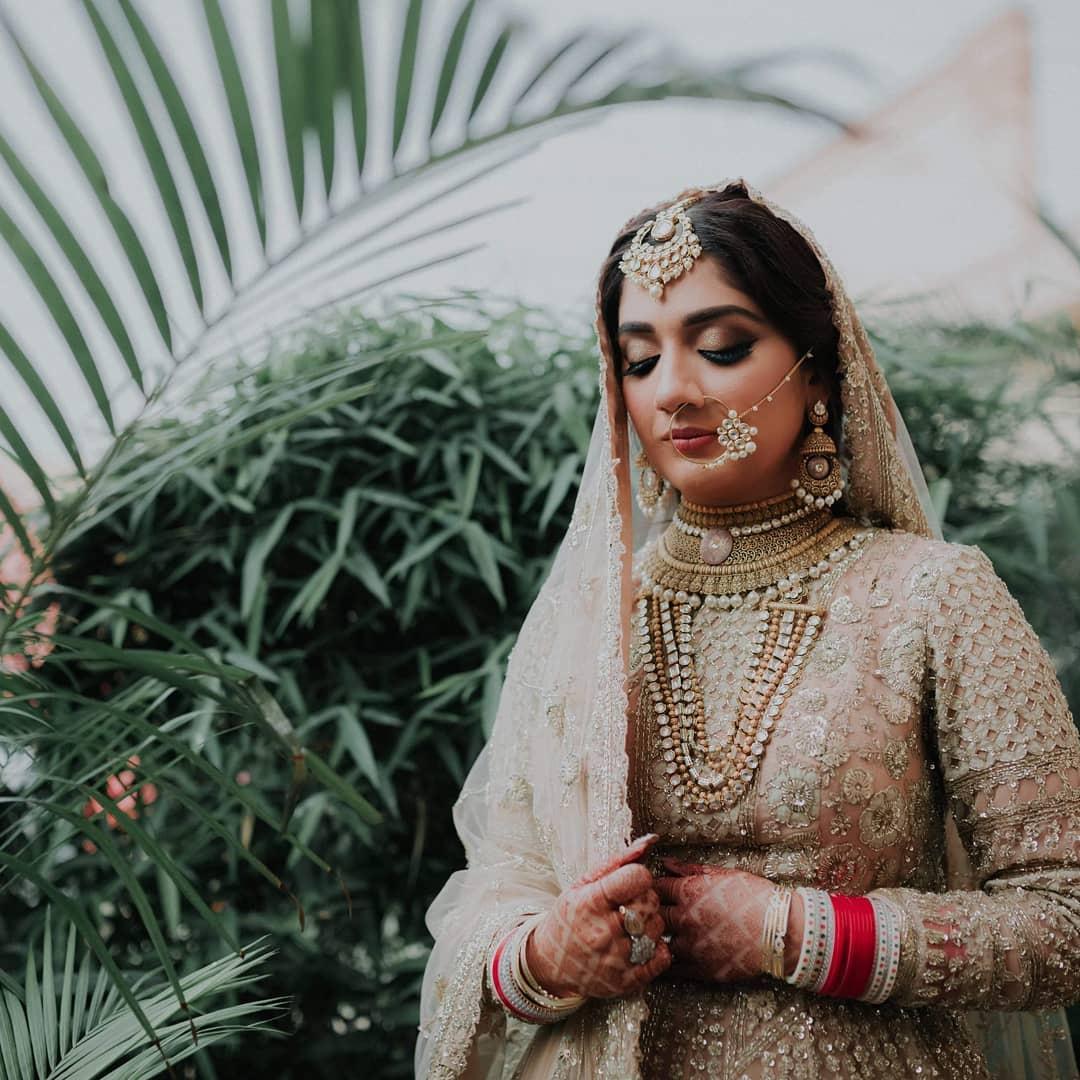 The wedding nose ring or Nath complements the rest of your bridal jewellery so you need to make sure that it follows a similar pattern. This bride is adorned in some large statement earrings with a pearl motif and a matching choker.
The style is replicated on the nose ring and the Mang Tikka as well. The Nath features a floral pattern at the centre made of stones and bordered with small pearls. This is tied together with a gold thread that is accented with small pearls. The Nath adds a modern touch to this traditional outfit.
Florals
While most traditional Naths come in gold or silver and are usually embellished with a pearl or stone details, you can always switch things up with something a little out-of-the-blue. The Mehndi ceremony is all about bright colours so your outfit and accessories need to resonate with this theme.
This bride has opted for a nose ring and a Maang Tikka made of flowers. The Nath is lined with flowers of different colours like red, yellow. It is paired with a Mang Tikka that has a collection of roses at the centre and is tied to the hair with a string of pearls.
If you are looking for a wedding nose ring that's colourful and festive, a Nath like this one is just what you need!
Golden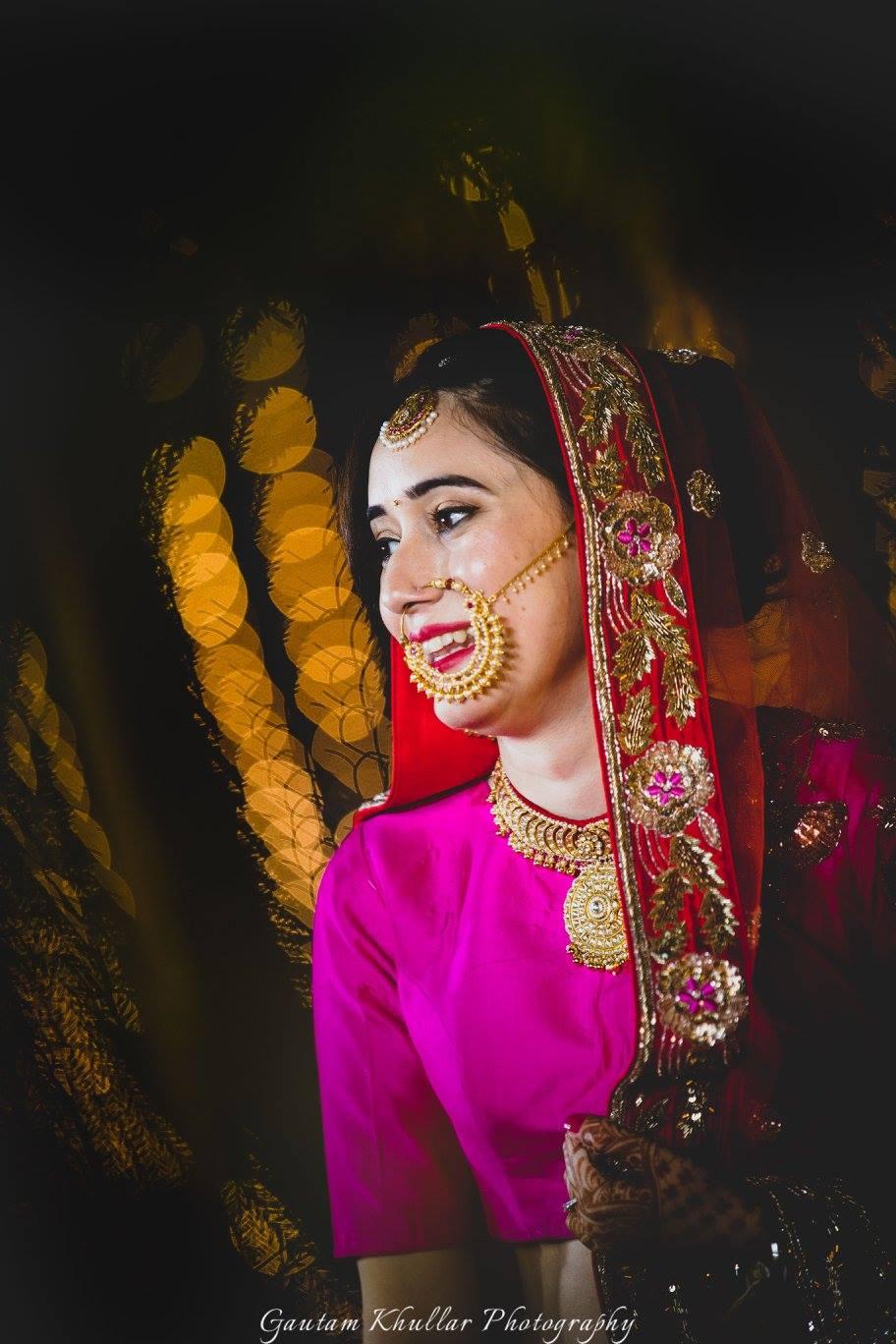 There are no rules that define how big or small your nose ring should be. If you consider yourself a minimalist, you can opt for a small Nath or if you wish to make a major fashion statement with your jewellery you can always wear an oversized one.
This bride's jewellery features a fairly simple necklace and Maang Tikka. To accentuate this minimalist look, she is wearing a large Nath. The nose ring in gold has a traditional pattern that falls in three layers, giving it a bold look.
It is tied to the back of the hair with a string of gold beads. A heavily embellished Nath, like this one, is perfect for brides who want to make a fashion statement with their bridal jewellery.
Modern Motifs
The wedding nose ring has become an accessory that many brides wear long after the big day. It has become a major fashion statement that can be worn with any ethnic attire. Hence, many brides are opting for a Nath that goes with more modern outfits as well.
This nose ring includes stonework that lines the nose ring on either side. A floral pattern is embedded in the ring as well. It is tucked to the back of the hair with a pearl motif.
You can pair this contemporary accessory with any salwar or lehengas. Just add some statement Jhumkas and you're good to go!
Small Nath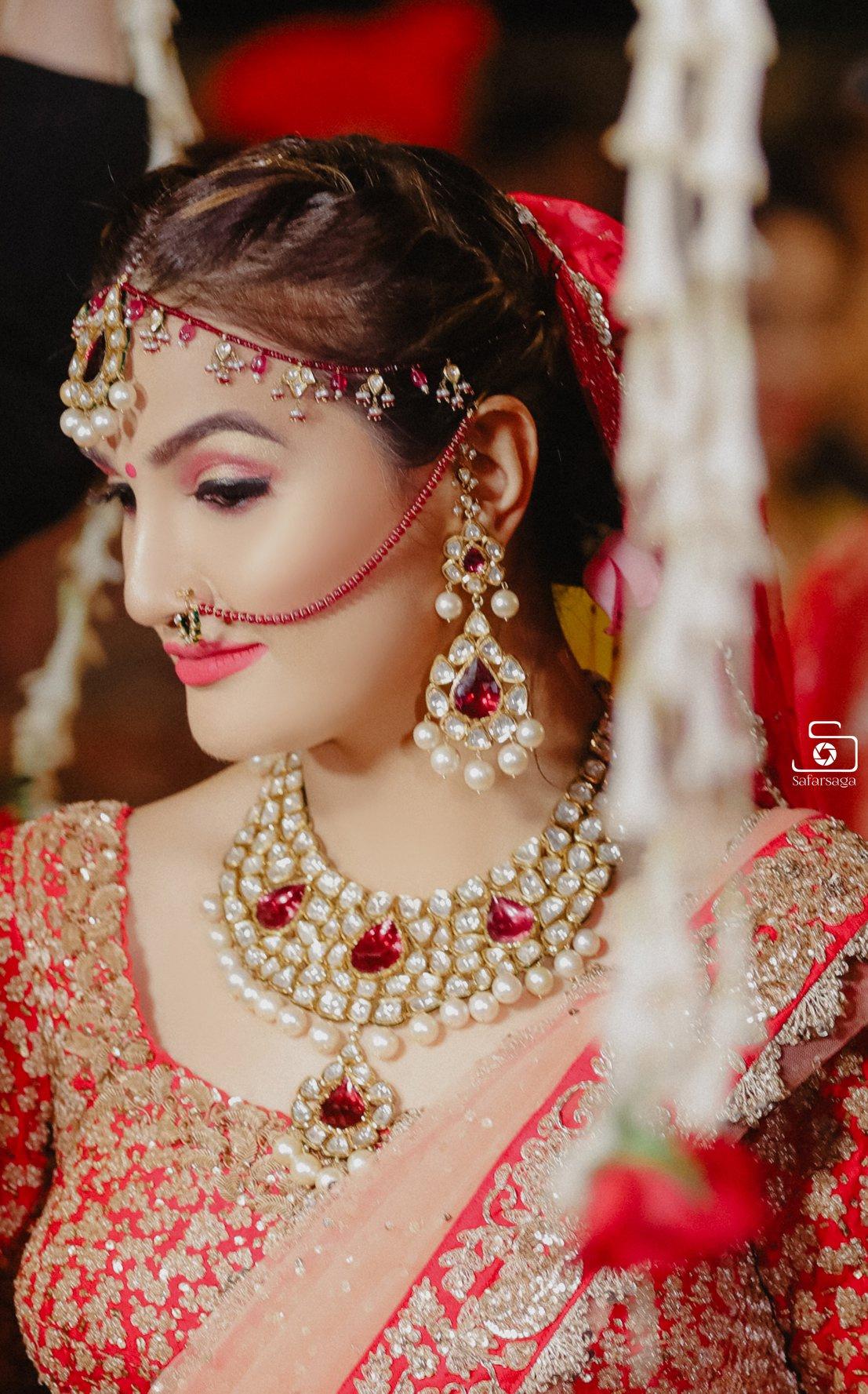 If minimalism is your style aesthetic, you can pick a wedding nose ring that goes with this theme. While traditional nose rings are large, many brides today are choosing to wear a smaller one.
Alternatively, if the other accessories in your bridal trousseau feature large statement pieces like a Jhumkas or necklaces, a small wedding nose ring can provide some balance. This bride's Nath is made of small white stones and is tied to the hair with a string of red beads.
It is paired with some large Kundan earrings and choker.
Ghungroo Nath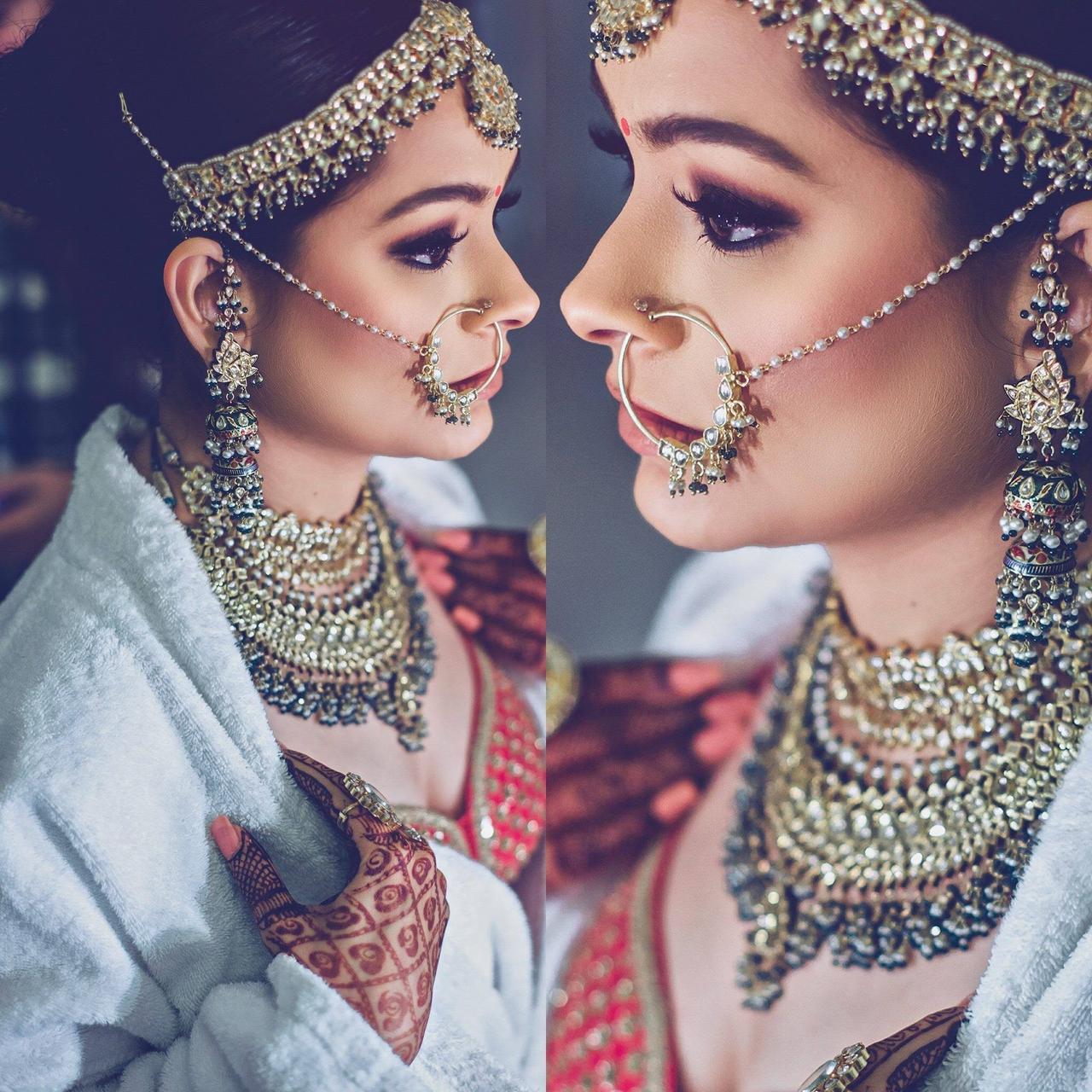 Ghungroo bells aren't just for your anklets, they can be added to your nose ring as well. This bride is wearing two nose rings. The first one features a simple white stone while the second one is a large nose ring that is enhanced with small white motifs.
Small Ghungroo bells hang from the individual stones and add a playful touch to the traditional Nath. The nose ring is connected to the back of the ear with a slim string of pearls. It is paired with a colourful Mang Tikka and some Jhumkas. You can style your hair in a bun to keep all the focus on this stunning Nath.
The wedding nose ring more commonly known as the Nath is a staple in every bride's trousseau. In addition to its rich cultural value, it also helps brides create a major fashion statement with its various shapes, sizes and designs.
Some brides prefer to go all out with a large Nath while others prefer something small and understated. Whatever your choice of Nath maybe, there's a style out there to suit every type of bride.
We hope these nose ring designs help you find the perfect piece for the big day.
Have any more ideas for wedding nose ring designs? Let us know in the comments below!